The unexpected development left the
Yankees
reeling and looking for a manager for the firt time since 1918. General manager
Ed Barrow
wanted future Hall of Famer
Eddie Collins,
but
Collins
wasn't interested.
Art Fletcher
, a longtime coach for the
Yankees
, also declined an offer to run the team.
Ruth
, meanwhile, had the perfect candidate in mind: himself. Why not? After all, he had been playing in the big leagues since 1914. He knew the game as both hitter and pitcher. ...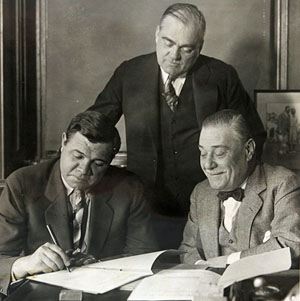 Ed Barrow looks over Babe Ruth's shoulder as he
signs a Yankee contract next to Colonel Ruppert.
"Hey, what's the matter with me?" wrote
Ruth
in his autobiography. "I had been with the
Yankees
organization 10 years; had been in baseball for 16 years; knew baseball."
Ruth
also saw other big-name stars -
Ty Cobb
,
Eddie Collins
,
Rogers Hornsby
,
George Sisler
,
Tris Speaker
- taking advantage of opportunities to become player-managers. Who was the biggest star among them? It was
Ruth
by a mile, of course. "I felt I had a better knowledge of the game than almost all of them,"
Ruth
wrote.
Surely
Yankees
owner
Jacob "the Colonel" Ruppert
owed him this opportunity. Managing a big-league squad was the only thing he hadn't done in baseball. Not only was he qualified, but the position would serve as a payback for all that he had done for the franchise.
Ruth
pleaded his case. "I told him I knew how to handle young pitchers because I had been one myself. I knew how to handle hitters because I was one myself."
Ruppert
resisted the idea. All those years of flaunting the team rules when he was younger, requiring both owner and manager to discipline the slugger, were coming back to bite
Ruth
.
Ruppert
, with his German accent, always pronounced the
Babe
's last name "
Root
." In turning him down, the team owner uttered the famous line that dogged the slugger for the rest of his baseball career: "You can't manage yourself,
Root
. How do you expect to manage others?"
Ruth
had a comeback, though. He wasn't a kid anymore. He was about to turn 35. He had a new wife and was raising two daughters.
Ruth
tried to convince
Ruppert
that he had matured. His wild days lay behind him. Besides, he reasoned, who else better to know whether one of the players was getting out of line. "I know every temptation that can come by any kid, and I know how to spot it in advance," he said. "If I didn't know how to handle myself, I wouldn't be playing today."
Ruppert
said he would consider it, and
Ruth
walked out of the meeting thinking that he had a chance. It turns out that he had zero chance. Not only did
Ruppert
not select
Ruth
, but the owner further offended his star by not personally informing him.
Ruth
learned that
Bob Shawkey
had filled the position through the newspaper, which he promptly threw across the room. That wasn't the end of the matter, however.
Ruth
writes that he "exacted revenge" from
Ruppert
by demanding a big salary for 1930. Initially he asked for $100,000, eventually settling for a two-year deal at an unheard-of $160,000. He also informed
Ruppert
that he wouldn't be as available to play in exhibitions during the
Yankees
' off-days, another big revenue source for the team owner. ...
[
The Yankees hired former P Bob Shawkey, who lasted only one year.
]
Shawkey
's firing also proved to be another source of frustration and embarrassment for
Ruth
. Again, the slugger went to
Ruppert
, asking to be manager. He pleaded his case for a second time. "I don't think [they] realized that I had matured, was finally a grown man with family responsibilities and not the pipe-smoking playboy [
Ruppert
and
Barrow
] had pulled the covers off in that hotel room in 1919,"
Ruth
wrote in his autobiography.
Ruppert
, though, recalled those moments and used them once again to deny
Ruth
the job. "He recited a long list of my early mistakes - he had somebody look them up-and at the end he shrugged. 'Under those circumstances,
Root
, how can I turn my team over to you?'"
Ruth
believed that if [
Joe
]
McCarthy
hadn't become available, he might have had a decent shot at the position. ... Even so,
Ruth
wrote of yet another snub: "It still hurt," and that hurt lingered for the rest of his life. He desperately wanted to be a manager.
Ruth
wanted the authority. He wanted to show that he could be a leader of men.
But no one had faith in him to do so. In 1933 he fumed when the
Washington Senators
named
Joe Cronin
as a player-manager.
Cronin
was all of 26 years old. "It made me scratch my head and wonder if I'd ever be mature enough to become a manager,"
Ruth
snarked. He also wrote that
Detroit
owner
Frank Navin
had asked if he might be interested in managing the
Tigers
after the 1934 season.
Ruth
said yes and asked if he could talk after he returned from a barnstorming commitment in Hawaii.
Navin
was put off by
Ruth
's inclination to honor his commitments. Instead, after spending $100,000 to buy
Mickey Cochrane
from
Philadelphia
,
Navin
made the catcher the new manager. "In looking back, I can't help but wonder whether those pennants would have gone to me instead of
Mickey
if I had run out of the first part of my Hawaiian contract,"
Ruth
wrote.
Ruth
was so desperate, he even signed with the lowly
Boston Braves
in 1935 because of a promise that he would become manager. He soon realized though, that the
Braves
had no intention of letting him run their team. Jilted and with his skills totally gone,
Ruth
retired after player only 28 games.