During my last year with the
Lakers
, the death of
Wilt Chamberlai
n in October of 1999 hit me particularly hard.
Wilt
was only two years older than I was, and when I got word that he was dead, I didn't believe it. In fact, it took nearly fifteen phone calls of my asking people "Is it true?" before I grudgingly accepted that it was. How could someone that strong and that athletic and that imposing be dead at the age of sixty-three? For as long as he played,
Wilt
was generally considered the greatest athlete in the world. He was also the most sensitive and insecure person I had ever been around. I thought I was sensitive and touchy, but
Wilt
took sensitivity to another level, constantly feeling unappreciated. As he always loved to say, "Nobody loves Goliath."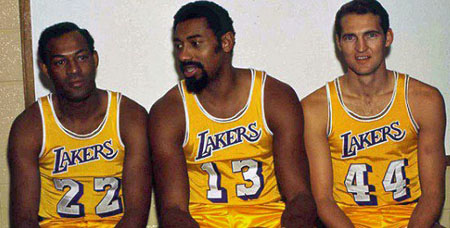 Elgin Baylor, Wilt Chamberlain, and Jerry West
I have been around a lot of big men in my life in professional basketball, but
Wilt
stood out as always being primed for an insult or a slight. He constantly complained that he would give parties at his hilltop home on Mulholland Drive and invite everyone—actually, he would have two parties in an evening: one for married couples and a much later party for singles—but that he often would go uninvited in return. In his book
Wilt
, he singled me out on more than one occasion as being one of the culprits, but I can promise you that
Wilt
ducked his head in the front door of my home in Brentwood, just off Sunset, on a number of occasions in the early seventies. He often expressed the opinion (as
Oscar
did) that the media loved me, that in their eyes I could do no wrong, but that he was seen as a villain.
I have so many memories of
Wilt
, and nearly all of them are funny ones. I remember during his beach volleyball period that he would arrive in his Rolls-Royce convertible at the Forum right before a game or practice with his light blue nylon shorts on and his flip-flops and sand in his hair. I never understood how he thought he would have enough energy to go out and play, but that was
Wilt
and he never felt he had to explain or justify anything (he could easily go for days without a real shower, blithely ignoring the deodorant and soap we would put in front of his locker, settling for a sponge bath instead). He of course insisted he was the greatest beach volleyball player of all time, but our teammate
Keith Erickson
, who actually played volleyball in the 1964 Olympics, said that while
Wilt
might have been the biggest and brightest star on the beaches of Santa Monica, he wasn't a great player.
He was, however, a great eater. Perhaps the most vivid memory I have of
Wilt
is from Kansas City, when we were playing the
Kings
. I got a call from
Wilt
asking me to come up to his room, but he did not say why. Once I got there, I found him sitting like some sort of Buddha in those blue shorts, wearing nothing but a towel around his neck, and literally surrounded by food from Gates Bar-B-Q—slabs of ribs, pulled pork, one-pound brisket sandwiches, French fries, onion rings, collard greens, hush puppies, sauce, bread to soak it all up with—and two liters of 7-Up, his favorite drink. He wanted me to join him, and I was flattered, but since I knew that I couldn't even get through half of one of those sandwiches, I politely said no. (But if I had joined him, my competitive spirit would have driven me to out-eat him, just as I "raced"
Bill Russell
to sleep—and won—when we flew back from the 2000 Olympics in Sydney.) That image of
Wilt
, alone in that hotel room, has never left me, and it is one of the reasons I think of him as perhaps the loneliest person I have ever known.
As for all
Wilt
's claims of having slept with twenty thousand women? That is such a joke, because he was with me a lot of the time. When his sister
Barbara
would stop in unannounced to see him, she would go searching for any sign that a female had been there, but she could never find anything, not an article of clothing, not a photograph, nothing. She even asked him about it. "
Dippy
," she said, "you say in your book that you slept with all these women, but you could have fooled me. I can't find a thing."
When
Bill Sharman
became coach of the
Lakers
in 1971, he wanted to institute what he called the morning shootaround—he had the radical notion that he could persuade the team to actually practice on the day of a game. When
Bill
played for the
Celtics
, he found himself so restless on game day that he would go to a neighborhood school and shoot baskets in order to relax and stay sharp. He felt the key to getting the team to agree to this was
Wilt
, who often didn't get out of bed until the afternoon. If
Wilt
could be convinced that it was a great idea, then it would happen.
Bill
was right, although
Wilt
made it clear that if the team started losing, he might have second thoughts. That was the year we won thirty-three games in a row, and the morning shootaround, much as the players dreaded it, became standard practice for all teams.
Bill
also felt it was important to ask
Wilt
if he wanted to be co-captain of the team, along with
Elgin
—that it would have great meaning for him—and asked my opinion. I told
Bill
that I thought it was a good idea, and it was, but I have often wondered why I was never captain of the
Lakers
before I retired.