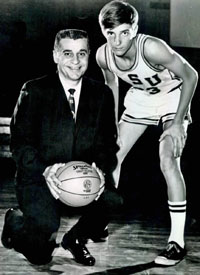 After we hired
Press
from
North Carolina State
, he came to me and said, "
X-Ray
, you gotta get
Pete
a job. I don't want him sitting around doing nothing. I want him to do some­thing other than play basketball." So I got him a job. We had a drugstore called Professional Pharmacy on campus, right behind Tiger Town.
Dick Kelly
was the owner of the pharmacy. He had played football at
Purdue
and was a foot­ball nut. He was also a basketball nut because he was from Indiana. I called
Mr. Kelly
and said, "
Dick
, they got this hotshot coming in here by the name of
Pete Maravich
. I don't know him, but his father is supposed to meet him this afternoon and I'll bring him over." And he said, "Okay,
Poppa
, send him over here, but he's going to work like everybody else." He hired a lot of students.
Back then they had home delivery, and kids would ride bikes around campus delivering prescriptions and all. I said, "Pete, you be over at Mr. Kelly's drugstore in the moring. He's going to hire you." About 4:30 that next afternoon, my phone rings and it's Mr. Kelly. He says, "Poppa, I'll tell you what, this is a unique guy you sent over here. His work habits are good, but you'll never guess. ... This morning when I got to the store to open it up, he was standing there at the door with a foot propped up on the brick wall with a basketball under his arm. So I said, "C'mon in, Pete, give me that basketball and we're going to put it back in the stockroom. You're working eight to five. You get a fifteen-minute break in the morning, an hour break for lunch, and a fifteen-minute break in the afternoon. But the rest of the time, you're going to be stocking this, stocking that, sweeping the floor, whatever." Pete says, 'Yes, sir.' At ten o'clock I tell Pete, 'Okay, you've got your break,' and he says, 'Mr. Kelly, can I have my bas­ketball?' He came back behind my counter and got back there by the shelves with his basketball and started in on his drills. He started spinning the ball, dribbling the ball between his legs, etc.
"'Fifteen minutes, time to go to work, Pete.' Basketball goes back on the shelf. ... 'Twelve o'clock, time for lunch.' 'Can I have my basket­ball?' Goes out into the parking lot, dribbling around through and behind cards. All that kind of stuff. Then in the afternoon I say, 'Okay, it's three o'clock. Time for a fifteen-minute break.' So then he starts doing a demo with the basketball in the drugstore. Now that ain't bad for business. He did his deal in the drugstore. Got those long aisles and he'd be dribbling down the aisles, going around women trying to get their shampoo or whatever."
Longtime sports media honcho Bud Johnson had two go-arounds with Pete Maravich, first when he was sports information director at LSU and later when he was the public relations director for the New Orleans Jazz of the NBA ... John son thus saw the Pistol in two different phases of his life, starting as a green freshman at Baton Rouge in 1966-67.
He was very young and immature when I first met him at LSU. He was very playful and very much wanted to hang out with his buddies and do things with them. After LSU football games, he and his friends Rich Hickman and Jeff Tribbett would go play basketball. While most fraternity boys would be out partying after football games, these guys would be hanging out together and playing pickup basketball.
I recall his years at LSU as his being a very frail athlete who didn't have much stamina. On those weekends when they'd play Saturday-Monday games in the SEC, and you could probably go back, look at the box scores, and see that on Saturday night he's gangbusters against Vanderbilt, and then Monday against Auburn he has a so-so ball game. Putting all the facts together, that heart defect that he had was showing itself to us, but nobody knew it. Considering his heart defect, if he had been a normal human being not playing basketball, he wouldn't have lived to be twenty-one years old. At least, that's what the medical people told me. ...
When I first met him, he was about six-four, 165 pounds. He didn't look physically imposing. At least, he didn't look like what the press clippings had made him out to be. No muscle tone. Long arms, long legs. All bones and big eyes. But God, he could handle a basketball. And I asked Press, 'Why did you give him all those drills at an early age?" and he said, "Because it gave him confidence. He was always the smallest kid on the team, and it gave him confidence he could do something nobody else could do.' And I think Press got caught up in it, because no matter what drill Press had given him, Pete had mas­tered it by the time Press had gotten home at the end of the day ... So he had to come up with something else to challenge Pete. So Press was challenged as well. He was giving him things for finger dexterity and various passes. Nobody else was doing that.