The First Tip-Off: The Incredible Story of the Birth of the NBA, Charley Rosen (2009)
The first professional basketball league was formed in 1898, seven years after James Naismith invented the game. Many others sprang up in the Northeast in the next 30 years.

These ephemeral leagues were plagued with profound difficulties, mostly arising from poor organization and insufficient funding. For example, in the absence of binding contracts, players routinely jumped from team to team, selling themselves to the highest bidder, oftentimes right before a game. Within the same league, some players performed for as many as five different teams each season. Nor was it unusual for entire teams to jump from one league to another. The most damaging result of the unstable rosters was that fans were unable to maintain a rooting interest in their local ball cllubs, and attendance inevitably dwindled as each season progressed.
Pawtucketville Athletic Club in the New England Professional Basketball League
The early pro rules allowed two-handed discontinued dribbles, which enabled players to simply bull their way to the basket. Head-butting a defender was deemed a savvy move. Also, with the aim of speeding up the game and preventing hometown fans sitting courtside from abusing visiting players with cigar butts and hat pins, most venues surrounded the court with some type of wire enclosure - either a self-supporting fence or a metal or rope "cage" that hung from the ceiling. Shoving an opponent into the fence was standard operating procedure. And since the ball was therefore always in bounds, the action was continuous and continually brutal - so much so that the lone referee who worked these games often chose to remain outside the cage, entering only to hand the ball to free-throw shooters before making a hasty exit. In lieu of handling the ball for center jumps after each score, the ball would be tossed into the cage just as a zookeeper might throw a chunk of meat to caged lions.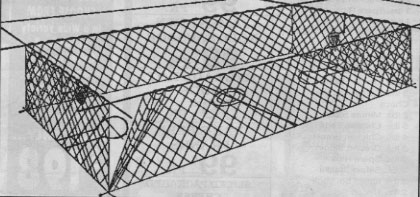 The first basketball "cage" was in Trenton's Masonic Temple.
Adding to the mayhem was the fact that free throws were awarded only if a player was fouled while shooting. All other fouls resulted in side-outs, with the player who was inbounding the ball being compelled to have his back against the cage while making his pass - a risky undertaking for visiting players.
Overall, the pro game was mostly an exercise in brute force and dirty tricks that appealed only to the most bloodthirsty of sports fans. Old-timers compared it to ice hockey played on wood and without skates. The college game, on the other hand, was cleaner and, because of the emphasis on finesse, was considered to be much more skillful than the pro version.