We beat New Orleans in the first round of the NCAA Tournament and beat Pittsburgh in the second round. Then we went to Charlotte to play Indiana and they were ranked No. 3 in the country. Two timeouts into the game, we were ahead 26-6, and the referees stopped the game because a bolt had come loose on the court and it was sticking up about a quarter inch. One of the referees, John Clougherty, called me and Bobby Knight out there, and John said, "I think we should wait a second until we get a maintenance guy to see if we can get this bolt hammered down." Bobby Knight said, "If we're going to do that, can we start the damn game over?"
We dominated the game inside, including 15 offensive rebounds in the first half, and we won 83-65. Then we played Arkansas, which was ranked No. 2 in the country. [Assistant Coach] Kevin Stallings prepared the scouting report for that game, and at our staff meeting, I said, "All right, give me a quick thought about Arkansas that I can share with the team."
Kevin said, "We have no chance. Their top seven guys are better at every position than we are. We have no chance."
"Kevin, don't say that. We can win the game."
"Coach, we have no chance."
"All right. I'm going to tell the team we're going to win the frickin' game."
"Coach, you know, that's worked in the past, but that isn't working this time."
"You just keep that to yourself."

And so we went to the team meeting that night, and I said, "Guys, we're in a great situation. We've already beaten the No. 3 team in the country, and now we're playing the No. 2 team, and we're going to win the game."
The players left and Kevin Stallings said, "You're crazy. We have no chance."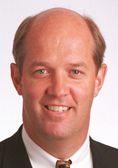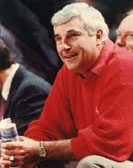 L-R: Mark Randall, Kevin Stallings, Bob Knight
We played two days later, and with five minutes to go in the first half, the score was tied. Then Arkansas scored the next 13 points and we wound up trailing by 12 at the half. At halftime I was talking to the staff outside our locker room, and I told Kevin, "You don't say a word, because we're still going to win this frickin' game."
I told the players, "This is what's going to happen. It's our ball to start the half. Let's get a great shot and knock it in and then we need one stop. Then let's get another great shot and get another stop. I'm only asking for two stops. Then let's come down and let's make sure we get a good look again and let's knock that in, and by then the lead falls from 12 to six and they'll probably call a timeout and then we'll see them bickering at each other."
We came out, moved the ball around and Terry Brown got a layup. Then we went down and got a stop. We came back down and Terry hit another layup. We went down and got that second stop, and then we came down and Mark Randall got fouled and made one of two free throws. We got a third stop and Alonzo Jamison hit a three-pointer to cut the lead down to four. Their coach, Nolan Richardson, called a timeout. As they were walking off the court, two of their guys, Roy Huery and Oliver Miller, were yapping at each other, and I grabbed one of our players and said, "See?"
We outscored Arkansas by 24 in the second half. It was a great win and we were going to the Final Four. The neatest part of the game came after­ward. My son, Scott, sneaked down on the court, came running up to me, and said, "Dad, you've got to let me go to the Final Four."
I said, "The whole family will go to the Final Four."