The Big O: My Life, My Times, My Game, Oscar Robertson (2003)
As the Indiana Star of Stars in 1956, Oscar was the most sought-after player in the country.

By the time I graduated from high school, 75 colleges had recruited me, in one form or another, with at least 40 schools contacting me directly. Only Wilt Chamberlain, who had signed the previous season to play at Kansas, had received more attention. Colleges had been in touch with me since my sophomore season, but during my senior year things got crazy. Calls came to my house and school on a daily basis.
Maybe other athletes have enjoyed the recruitment process. There's a lot to enjoy: the attention, the constant praise, the promises. To some degree, everyone likes being ro­manced. Make that almost everybody. I wasn't at ease with the process. In fact, I was extremely cautious about it, wary of all these people I didn't know. I sa them as part of the other world, the white world, a world that had made very few sincere overtures to me. Moreover, I had heard of situations where other black players felt awkward simply because of their unfamiliarity with the way things worked. There was the story of a player who took a recruiting trip to Nebraska. On the plane he asked the stewardess how much it would cost him to have a sandwich. Well, the sandwiches were complimentary, they were the in-flight meal, and he'd never been on a plane. He didn't know. And he came back from a recruiting trip with money in his pockets to pay for his trip back home. His mom thought they were buying him like a slave and made him send all the cash back. Then there were the stories of black players, like Bill Scott who went to white schools and excelled, only to be run from the team by their teammates who thought they were being shown up.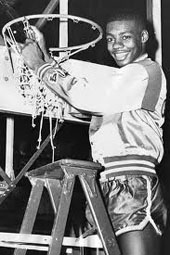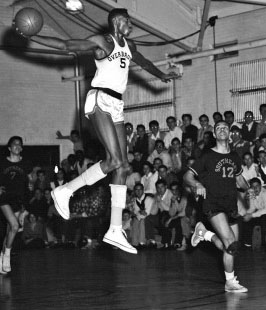 Oscar Robertson and Wilt Chamberlain in high school
I was by no means afraid of the future, but I also wasn't in any hurry to commit to any­thing. I started planning. I realized that where I attended college was a huge decision, and I wanted to make it carefully, on my own terms. I was going to play college ball some­where, that was for sure, and wherever it was going to be, I allowed myself to believe that the school I would choose would celebrate greatness the same way for everyone, regard­less of skin color. Maybe I was looking through rose-colored glasses, to believe there was such a place. But that's how I thought. If there were a college where merit mattered more than skin color, I'd find it. That would be where I would attend college.
NCAA rules were that colleges couldn't legally talk to me until after the Kentucky-Indi­ana all-star game, when my eligibility to play high school ball expired. So that bought me ome time. And once basketball ended, I was busy all spring with the track squad–I quali­fied for the state championships in the high jump. I also played around with the baseball team (in one game, they let me pitch, and I went the distance for the win, striking out ten, allowing only five hits). So long as I was involved with high school sports, recruiters weren't supposed to contact me. Of course, they still did. My did disconnected his phone three times. Guess all those recruiting folks didn't realize how little pull my dad had with me. Those recruiters could have become hsi best friends, and it wouldn't have affected my decision.
A publicity guy named Haskell Cohen, who worked for the NBA, wanted me to go to Duquesne. But that school turned me off when they suggested I be a bellhop at Kutsher's in the Catskills and play basketball all summer. They said it was the way to become an All-American, but I had to work in the summer, and not as a bellhop. Cohen didn't care. He spread rumors that I was virtually pledged to Duquesne. There was even a rumor that our house on Boulevard Place was part of a deal made so that I would play ball at Duquesne. I heard that I had been given a $250 watch and a wardrobe of clothes. I used to look at my wrist to see if it was true, but there was never any watch. I used to stare down at my clothes, shirts that I'd had for years and years, and laugh at my stunning wardrobe. One rumor, spread during the height of the recruiting competition, had a FOR SALE sign appearing in our yard. Absurd.
When my friend Don Brown got in some trouble with his father and couldn't drive, I drove us to school in Don's car; of course that sprarked rumors that I'd been given a car. The truth is, I didn't get my first car until after I graduated from high school, after I had made my decision, once recruiting was over. I got my first real job working for a business­man named Swanson that summer. I called him Swanney. He had a car wash and a construction crew. I worked on the crew, putting in asphalt all day long. It wasn't any harder than throwing hay into a moving wagon all day long, so I didn't mind it. Swanney told me if I worked to make my money, at the end of the summer he'd help me get a car. At the end of the summer, I had maybe three or four hundred dollars. I found a used Mercury for sale, two-tone brown, for about $500. He made up the difference, and boom, I had my first automobile.
Imagine going through your senior year of high school, trying to live a normal life while all these rumors that you're for sale to the highest bidder are flying around. Meanwhile, you're about to spend the summer putting in pavement and saving up money for a used, two-tone Mercury. Yes, people were tryig to wine and dine me. But I wasn't on the take, so tehre wasn't much they could give me.
To be continued ...