You Lose Some, You Lose Some, Eric Furman & Lou Harry (2004)
One of the greatest arguments in sports is the MVP argument, and it goes a little something like this:
On the one side, you've got the folks who oly want to know: who is the best player in the league? That's it. That's your answer. When you find him, you've found your MVP. No matter how good or bad his team is.
On the other side, the criteria is a bit different: which guy, if taken off his team, would cause his team to absolutely crumble? This side believes you must take into account the team's position in the standings. If said team is horrendous, then its best player isn't all that valuable. ... They're the people who believe there's a reason why it's MVP and not MOP (Most Outstanding Player). That V stands for Valuable, and to figure out who that is, they've got to go a little below the surface.
And for all their efforts, we'd like to present them with this treasure of a should-have-been-MVP example:
Billy Cunningham
.
Any good argument needs background info, and here's ours: In 1970-'71, the
Philadelphia 76ers
went 47-35, good for second in the NBA's newly formed Atlantic Division. Clearly the team's best player was
Cunningham
. He averaged 23.0 ppg. He led the team in rebounding ... and he was second on the team in assists ...
The following year, the
Sixers
traded G
Archie Clark
to
Baltimore
for
Kevin Loughery
and
Fred Carter
. They also obtained
Bob Rule
and
Bill Bridges
in trades. With all the new faces on this team in transition, the record suffered at 30-52. But the future looked bright, especially with
Cunningham
shining brightly. ...
This is where you will start to see how this situation is so appropriate to the argument:
Billy Cunningham
abruptly left the
76ers
after the 1971-'72 season to join the ABA's
Carolina Cougars
, and whatever part of the dam he had been holding together was suddenly a leaky - no, gushing - mess. The 1972-'73
Sixers
- sans
Cunningham
- were a disaster.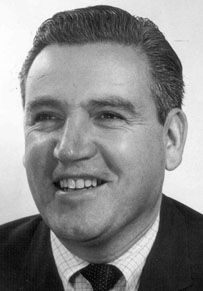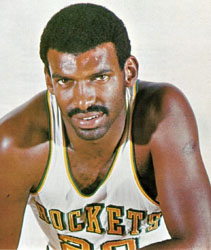 L-R: Billy Cunningham, Roy Rubin, John Q. Trapp
The bad stuff was in full effect when a new coach arrived in town:
Roy Rubin
, who had no previous NBA experience (although he spent eleven successful years at Division I University of
Rhode Island
). "It was a joke, like letting a teenager run a big corporation," team leader
Fred Carter
told
Sports Illustrated
some years later. The biggest complaints against
Rubin
were that he was in over his head; he wasn't familiar with the NBA style, nor did he know the players around the league. "We had [Hall of Fame G]
Hal Greer
on that team, and
Rubin
had no idea who he was. After we went 4-4 in preseason,
Rubin
said, 'I don't think
Boston
will be so tough.' We just looked at each other and laughed,"
Carter
said.
Rubin
's
Sixers
lost their first fifteen games, and put themselves into a bigger hole than the Grand Canyon. From those First Fifteen, "it was clear we were the league's universal health spa,"
Carter
explained. "If teams had any ills, they got healthy when they played us."
As you might be able to gather, the team didn't have much respect for
Roy Rubin
. Still, what
John Q. Trapp
did on December 20 was
way
over the line. In a 141-113 blowout loss,
Rubin
was trying to keep his troops fresh as they were run up, down, around and over by the
Pistons
. But when he sent a substitute in for
Trapp
,
John Q.
refused to come out of the game. He apparently wanted his garbage-time minutes. Badly. When
Rubin
insisted that the forward heed his instructions,
Trapp
told the coach to look behind the
Sixers
' bench. There, the legend goes, one of
Trapp
's consorts opened his jacket to reveal a handgun.
Rubin
gulped, turned back to the court, and left
John Q. Trapp
in for the rest of the game. No use getting killed just to hold a team under 140 points. ...
At the All-Star break,
Philly
got rid of
Rubin
. They named
Kevin Loughery
player-coach, and one of his first orders of business was to release
John Q. Trapp
. Which didn't change things too much - except for the coach's on-court safety level.
Still, the city of Philadelphia watched while its team struggled almost as much without
Rubin
as it did with him. It couldn't have happened to a more impatient bunch of fans. Philly sports boosters are known for their "What have you done for me in the last third seconds?" attitudes. They boo without must provocation; they curse with even less. ...
Maybe it's not all bad that these are the people who had to sit through an entire season that had the rival
Celtics
finishing
fifty-nine
games ahead of them in the standings. ...
Somehow, in February, the
Sixers
reeled off five wins in seven games. It's hard to come up with an explanation for it, so let's just move on. Because immediately following that five-of-seven streak came the thirteen losses to run out the year. ... Final record:
9-73
.
And there's the real story.
Billy Cunningham
was so important - so valuable - to his franchise, that when he left, the rest of the players regressed into the Worst Team in the History of the NBA.