Sparky
made it to the major leagues as a coach under manager
Preston Gomez
for the
San Diego Padres
in 1969. When lifelong mentor and un­official spiritual guru
Lefty Phillips
was named
California
manager for the 1970 season,
Sparky
made the switch to the
Angels
.
He never got the chance to put that
Angel
halo on his head. In one of those magical moments of fate,
Sparky
's career took a U-turn that not only changed his life, but also baseball's record books. ... It happened suddenly and unexpectedly on a typical autumn California day in October, 1969.
Sparky and Phillips had returned from lunch to the office of California An­gels General Manager Dick Walsh. The three were discussing the possibil­ity of trading for outfielder Alex Johnson when Walsh received a phone call. After hanging up the phone, he looked directly at Sparky.
"Do you want to manage the Cincinnati Reds?" Walsh ask.
The Cincinnati job was open, but the Reds had not tipped their hand on the candidates they were considering.
"Dick, please don't joke about something like that," Sparky replied.
"I'm not kidding," Walsh said. "That was Bob Howsam (general manager of the Reds) on the phone. You're going to be their new manager. You better give him a call."
Sparky drove to Phillips' house to call Howsam. But one of Howsam's questions regarding a Cincinnati pitcher named Jim Maloney, Sparky felt for sure he would not get the job.
"What would you do if a star pitcher decided to leave the field and just walk into the clubhouse?" Howsam asked.
"Mr. Howsam," Sparky replied. "I would very much like to answer that question. But if I did, I'd be lying because I have no idea in the world how I would ever handle anything until I'm there. If I'm not there on the spot, I can't tell you how I'd do it. All I can say is that I can guarantee you, it will get done. And it will get done right."
There was a little hesitation from Howsam. Sparky thought he did not like his answer.
"Do we have a deal?" Howsam asked. "What do you want?"
Walsh had suggested that Sparky ask for $35,000, which was a high fig­ure for a first year manager in those days. Howsam countered with $28,500.
"Do we have a deal?" Howsam asked.
"We have a deal," Sparky replied.
"All right, you're the new manager of the Cincinnati Reds," Howsam said.
Sparky thought he had heard Howsam correctly. He just had trouble be­lieving what he had heard.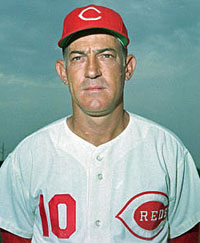 The Reds arranged for Sparky to fly to Cinci­nnati that evening for a press conference the next morning. The day after the press confer­ence, a headline in The Cincinnati Post read "SPARKY WHO?"
Certainly the headline was appropriate. The new manager of the promising Cincinnati Reds was a thirty-five-year-old lifelong minor lea­guer. Nobody knew who George An­derson was. And this Sparky sounded more like a cartoon.
Even Sparky had no idea when he was be­ing considered for the job. The Reds had not yet exploded into prominence. But they were next up on the launching pad. They were loaded with young talent and just a step away from erupting into nationwide notoriety.
"All I could figure is that when I played in Philadelphia, we won 60 games," Sparky said. "When I coached at San Diego, the Padres won 50 games. Bob must have figured I had only 110 wins on my side in the major leagues so I had to have a whole lot more hidden somewhere inside of me." ...
Howsam explained ... "A few years before, Sparky managed a Class A club at Rock Hill for me when I was general manager of the St. Louis Cardinals. Sparky had tremen­dous spirit and fight. He had great work habits. He loved baseball. I wouldn't say it was a gamble to hire him because I knew what he could do. I remember the 'Sparky Who?' headline. Everybody found out Sparky who."
So in spite of the shock of the baseball establishment, Sparky Anderson was off on a career at Cincinnati that didn't end until he set the franchise record of 863 victories. They went along with two World Championships and four National Legue pennants in a span of nine years.