December 19, 2014
Buck Ewing

Quotation


"What we take for granted today demanded comment, and evoked concern, during the closing decades of the nineteenth century when Americans were learning how to compete on playing fields. The issue was not out­right cheating, as in prizefighting and other sports of disreputable 'sporting men' that were notorious for their routine crookedness. Taking advantage of the rules was a different matter. Early baseball, which stood higher on the social scale than prizefighting but lacked full respectability until the 1920s, is full of amus­ing anecdotes of legal assaults on legality: a manager substituting himself as a foul ball sails toward the dug­out, just in time to catch it; a catcher throwing his mask a few feet down the first-base line to trip the runner; an outfielder juggling the ball as he trots to­ward the infield, preventing a runner from advancing on a sacrifice fly. Buck Ewing, a baseball manager ear­ly in the twentieth century, summed up this spirit: 'Boys,' he told his players during a spring-training ses­sion on strategy, 'you've heard the rules read. Now the question is: What can we do to beat them?'"

Michael Oriard, Reading Football: How the Popular Press Created an American Spectacle (1993)
Cardinals Clubhouse

Surprising '64 - World Series: Games 4, 5, 6

The Redbirds won two crucial games in Yankee Stadium on a grand slam and a three-run HR.


Cardinals Quiz - Which Hall-of-Famer am I?
Odd Baseball Facts

A 230-game schedule, nine innings with only one baseball, a player punching his manager.
Did You Know?

Red Ruffing certainly didn't exhibit Hall of Fame potential when he pitched for the Boston Red Sox.
The Ultimate Game

1962: Yankees @ Giants

Pitching continued to dominate in a Series between the best offenses in the two leagues.
Batter hits pitch twice

Mystery ballpark
Bob Gibson Stories
Stranger to the Game: The Autobiography of Bob Gibson with Lonnie Wheeler (1994)

Jim Ray Hart
,
San Francisco Giants
:
It was my first day in the big leagues in 1963, and in the opener of the doubleheader I'd had a good game against the Cardinals' Bobby Shantz. Between games, Mays came over to me and said, "Now, in the second game, you're going up against Bob Gibson." I only half­listened to what he was saying, figuring it didn't make much difference. So I walked up to the plate the first time and started digging a little hole with my back foot to get a firm stance, as I usually did. No sooner did I start digging that hole than I hear Willie screaming from the dubout: "Noooooo!" Well, the first pitch came in inside. No harm done, though. So I dug in again. The next thing I knew, there was a loud crack and my left shoulder was broken. I should have listened to Willie.
Gibson on his struggles early in the 1964 season: I was extremely irritable during my tailspin, of course, and to his credit - although I didn't see it that way at the time - Gene Mauch, the Philadelphia manager, effectively took advantage of my temperament one May night in St. Louis. I was leading the Phillies 7-1 in the fourth inning when Mauch ordered his pitcher, Dennis Bennett, to knock down Javier. It seemed that the Phillies had been indis­criminately throwing at several of our players all night, and after Javier went down I was compelled to toss a couple of hard ones over Bennett's head. Mauch knew I would do this, and he also knew that I was at the boiling point. He had been agitating me all night from the bench, trying his best to get me angrier and angrier. The next time I came to bat, he called in Jack Baldschun from the bullpen. According to what I was told by Dick Allen, the Phillies slugger who later played a year with us in St. Louis, Mauch had called down to his bullpen coach, Cal McLish, and ordered McLish to warm up both Bald­schun and Ed Roebuck. Then, as Baldschun walked to the mound, Mauch called McLish back and told him to have Roebuck ready because Baldschun was about to get thrown out of the game. The way I heard it - and the way it appeared to me at the time - when he met Baldschun at the mound Mauch told him he had four chances to get me. The first three came close and the fourth one nailed me in the left thigh. Without thinking, I flung my bat in Bald­schun's direction and headed for the dugout looking for Mauch, who was long gone by that time. Naturaly, I was ejected, which is exactly what Mauch was counting on. We won the game anyway, 9-2, but I hadn't lasted the five inn­ings required to pick up the victory, which would haunt me later in the season when I was closing in on twenty.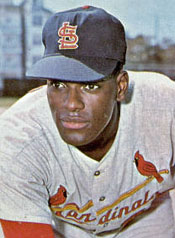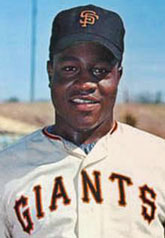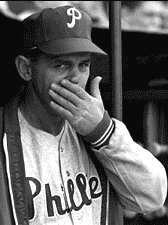 L-R: Bob Gibson, Jim Ray Hart, Gene Mauch
From
Joe Morgan: A Life in Baseball
,
Joe Morgan
and
David Falkner
:
Gibson was a notoriously fast worker as well as a ferocious competitor. If you so much as fiddled with the bill of your cap during an at-bat you were in for it. A fellow rookie on our team
[the
Houston Astros
]
named Aaron Pointer once fouled a Gibson pitch off his foot. When Pointer stepped out, Gibson didn't make a mental note to relay word to him that in the future he better watch out. Even though the count then was 0-2, Gibson drilled him in the ribs with the next pitch.
Bob Aspromonte, another player on our team, broke Gibson's rhythm in one game by briefly stepping out on him. Gibson hit him in the back with the next pitch. It sounded like a cannon shot. Aspromonte was out for almost a month. Gibson games lasted less than two hours - and the main reason was that no one was ever willing to stand in against him one second longer than was absolutely necessary.