The enduring photograph shows a smiling Jackie Robinson wearing a Montreal uniform and push­ing open a door that reads "DODGERS CLUB HOUSE KEEP OUT." This was just before the 1947 sea­son when Robinson became the first Black player to cross baseball's white threshold in what was called the Great Experiment.
"I have reason to think," Dodgers president Branch Rickey told Robinson at their first meeting in August 1945, "that you might be (the player to break the color barrier)."
While he'd been an exceptional athlete at
UCLA
- where he lettered in baseball, football, basketball and track -
Robinson
had played only one season with the
Kansas City Monarchs
in the Negro Ameri­can League after completing his military service.
So he was startled when scout Clyde Sukeforth told him that Rickey was interested in signing him to a contract, which Robinson assumed was for the all-Black Brooklyn Brown Dodgers. "I was thrilled, scared, excited," Robinson said after learning the truth and inking a contract for $600 a month with a $3,500 signing bonus. "Most of all, I was speechless."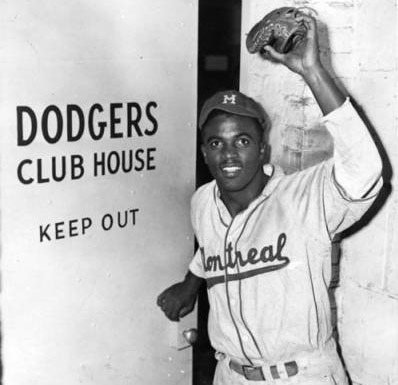 But before Robinson led the way for generations of Black players, he needed a year of seasoning with one of the Dodgers' Triple-A affiliates. Playing for St. Paul (Minn.) meant that Robinson would have to play in segregated Louisville and also in Indianapolis and Kansas City, where he was unlikely to be welcomed. So Rickey assigned him to Montreal as a 27-year-old rookie, reckoning that Robinson would encounter significantly less racial prejudice in a Canadian city with a team that had open-minded ownership. "Negroes fought alongside whites and shared the foxhole dangers," observed Royals presi­dent Hector Racine. "And they should get a fair trial in baseball."
That trial began at Spring Training in Florida, where Jim Crow laws were rigorously enforced. Al­though Robinson was born in Georgia, the son of a sharecropper and grandson of slaves, he grew up in California and hadn't lived with day-to-day discrimination.
Robinson and his wife, Rachel, got an unpleasant preview when they were bumped off two flights en route from New Orleans and then consigned to the back of the bus for the 12-hour ride from Pensacola to Daytona Beach, with the driver calling Robinson "boy."
Robinson was not allowed to live or dine with his white teammates. And when he and Rachel watched the Dodgers' exhibition games, they were required to sit in the right field bleachers with the rest of the "colored" spectators.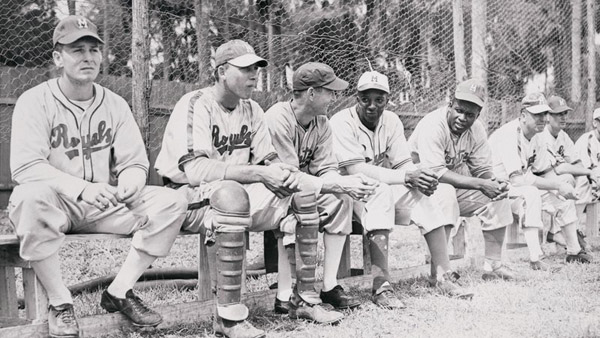 Montreal Royals players at 1946 spring training in Florida.
The Royals quickly found themselves to be undesirable opponents that spring. Jacksonville pad­locked its stadium. DeLand called off a day game, saying that the lights weren't working. In Sanford, Robinson was removed from the diamond by the police chief.
So the flight to Canada was a release for Robinson, who called it "my refuge from racism." "We were bruised when we arrived in Montreal," said Rachel, who likened their arrival to "coming out of a night­mare." "We had been mistreated and subjected to everything that racism can do to a couple."
What they discovered in their new home was smiling acceptance. The Robinsons rented an apart­ment, and Rachel was "totally shocked" that the French landlady invited her in for tea "instead of slam­ming the door in my face." Neighborhood kids carried her groceries.
The question now became how her husband would be treated once he donned the uniform of "les Royaux de Montreal." While he had two other Black teammates, pitchers John Wright and Roy Part­low, Robinson was an everyday player destined for the big club. He was the one in the spotlight.
John Wright and Jackie Robinson
His Opening Day debut at Jersey City before more than 52,000 fans at Roosevelt Stadium was considered a societal breakthrough. "This in a way is another Emancipation Day for the Negro race," Baz O'Meara wrote in the Montreal Star. "A day that Abraham Lincoln would like."
Robinson announced his presence emphatically with a three-run homer in his second at-bat. What was considered more newsworthy was that on-deck batter George Shuba shook Robinson's hand as he crossed the plate. "You could see he was just overwhelmed with joy," said Shuba, who played for seven seasons with Robinson on the Dodgers. "It was the exclamation point, that hit. I was the knock­out punch."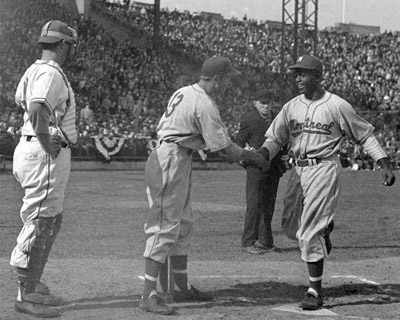 George Shuba shakes Jackie Robinson's hand as he crosses home plate after homering in Jersey City.
The homer was part of a 4-for-5 performance that displayed the full Robinson repertoire in one inn­ing. After beating out a bunt, he stole second, advanced to third on a groundout and then was balked home after faking a steal. "We never saw that kind of baseball," said Jersey City Giants third baseman Larry Miggins. But to the Black community, the day's stats were secondary to the impact that Robinson made simply by suiting up. "To Blacks, 1946 was the breakthrough," Willie Mays said. "That was orga­nized ball. I mean, forget about the majors."
By the time the Royals returned to Montreal, Robinson already was a popular figure. "Up in the stands, no one dared insult Jackie," said teammate Jean-Pierre Roy. "He was Black, but in their eyes and hearts, the fans didn't see that."
Robinson
's rivals undoubtedly did.
Syracuse
players tossed a black cat onto the field and said it was
Robinson
's cousin. In Baltimore, where International League president
Frank Shaughnessy
had advised the
Royals
not to play
Robinson
, the
Orioles
had said that they wouldn't take the field if he was in the lineup. "They didn't want to play the game," said
Royals
C
Herman Franks
, who later man­aged the
Giants
and
Cubs
. "We said, 'Well, you don't have to play, but we're still going out there.'"
While Robinson more than held his own on the diamond, the unrelenting pressure to excel wore at him. "Overestimating my stamina and understanding the beating I was taking," he said.
Yet while he missed the better part of a month with an injured calf muscle, Robinson still won the league batting title with a .349 average, was the leader in runs scored (113), had 66 RBI and stole 40 bases. "You're a great ballplayer and a fine gentleman," said manager Clay Hopper, a Mississippi native who'd begged Rickey not to assign Robinson to the club. "It's been wonderful having you on the team."
The Royals, who set a record for home attendance, won their first pennant in five years with their best record ever (100-54). And after going 1-for-10 in the first three games of the Junior World Series at Louisville ("Everything he did, they booed him," observed Colonels P Otey Clark), Robinson returned to heroic form for the final three contests. He knocked in the winning run in extra innings to even the series, went 3-for-5 with a double and a triple in Game 5, and had two hits in the game that won the title for the Royals. "Il a gagne ses epaulettes," ("He won his bars") chanted jubilant fans who carried Rob­inson around the infield.
The crowds outside the stadium were so overwhelming that Robinson had to sprint to avoid being engulfed by celebrants. "It was probably the only day in history that a Black man ran from a white mob with love instead of lynching on its mind," Sam Maltin wrote in the Pittsburgh Courier. The Great Ex­periment had survived its initial test.
"It started us thinking differently as a people," said
Buck O'Neil
,
Robinson
's
Monarchs
teammate. "We were acclimated to segregation and the embarrassing things they would do to us. But
Jackie
was cut out of a different piece of cloth."
Robinson walked into a different clubhouse in 1947 and donned a different uniform, which he wore for a decade. He played in six World Series, was elected to the Hall of Fame in 1962 and had his num­ber 42 retired across the majors. All of it was enabled by one wondrous year in Montreal where he could "feel my natural self."
"I don't care if I ever get to the majors," Robinson told himself as his plane departed for the States. "This is the city for me. This is paradise."