Foreshadowing Ray Chapman
It was no secret that [Yankees manager] Miller Huggins had a fondness for the Baltimore kid Chuck Fewster. Maybe Huggins identified with the skinny, almost gaunt, infielder. "Chick has everything," Huggins had said when he first evaluated Fewster before the 1918 season. "I have never seen a greater prospect." Fewster had many fans rooting for him as he was attempting a comeback from a near-fatal beaning in spring training 1920.
In an eerie foreshadowing of Ray Chapman's death, a fastball from Brook­lyn's Jeff Pfeffer had fractured Fewster's skull in a game in Jacksonville, Florida, on March 25. Like Chapman, Fewster had a reputation for crowding the plate. In both cases, the damaging pitches may have been strikes. In 1919 Fewster had been hit by pitches seven times. Like Carl Mays, Pfeffer was among those pitchers who hit many batters (he had hit fifty men from 1915 to 1917); they both had led their leagues in that category in 1917.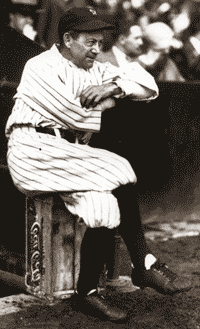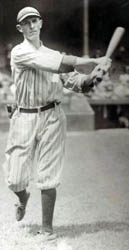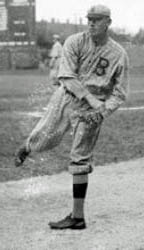 L-R: Miller Huggins, Chuck Fewster, Jeff Pfeffer
Originally, Fewster's injury was not deemed life threatening. Yet he could not talk, an indication that his vocal chords might have been paralyzed. The Yankee owners insisted that he return to Baltimore, his home and the home of Johns Hopkins, one of the nation's top hospitals. Doctors at Hop­kins diagnosed Fewster's worsening condition, operated to relieve the swelling and bleeding in his skull, and saved his life. While many newspa­pers predicted that his career was over, Fewster did return to play in 1920, albeit with only twenty-one at bats. Huggins planned to play him at second base and in the outfield in 1921, as he had in 1919 when Fewster hit .283.
Fewster was offered a few "head guards" made of cork and felt in the spring of 1921, but he refused them all. Observers were wondering if he would be plate shy, since many previously beaned players could not avoid the urge to pull out of their batting stance as the ball approached. Yet when he faced Pfeffer almost a year to the day after the beaning, it was the pitcher who seemed tentative, not his former victim. Fewster crushed Pfeffer's first pitch for a triple. "There are many kinds of courage in this world. Chick Fewster possesses all the kinds there are," wrote James P. Sinnott in the New York Evening Mail.