About then - the fall of 1942 - Larry MacPhail announced that he was leaving the Dodgers to go into the Army. ...
I was no party to the high-level discussions by the
Brooklyn
board and I had no idea what was going to happen, but the next thing I knew
Branch Rickey
had severed himself from the job with the
Cardinals
in St. Louis and was installed as
MacPhail
's successor at Brooklyn. I was delighted.
Rickey
came east and with
Mrs. Rickey
took a furnished apartment in Bronxville ... only a few miles from where
Lylah
and I were living ...
He had not been in the apartment in Bronxville very long before he called up and asked us to come visit.
Lylah
had never met the
Rickeys
. ... We went down for Sunday luncheon and it was very pleasant. Unless you were around the warm magnetism of
Mr. Rickey
in the bosom of his family in his own home, you really don't know what charm is.
Mrs. Rickey
was a doll, a living, breathing doll. She was just as much a personality in her own right as he was.
Rickey
, with all his strength and ability, never got one step ahead of
Mrs. Rickey
in all of his life, never once. I think maybe one of the reasons why
Rickey
went so far and so fast was because he had to set a gait according to his wife, and that was a pretty fast pace.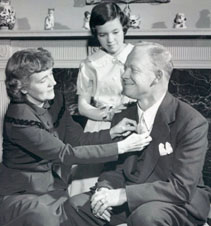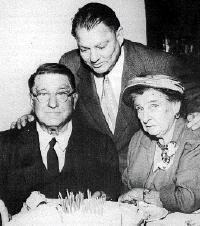 L: Red and Lylah Barber and their daughter Sarah
R: Branch and Jane Rickey and their son Branch Jr.
Lylah
and I were captivated by them. They were genuine human beings, people of sensitivity, gentle people. And wise. ... Certainly, the principal reason for the luncheon was that
Rickey
wanted to know me better. He wanted his wife to know me better, too, because I don't think he ever made a big decision in his life that he didn't talk over with
Mrs. Rickey
first. I remember hearing once that the two of them required very little sleep, that they used to sit up and talk things over late into the night.
Mr. Rickey
was very intelligently vocal. He didn't go to motion pictures, and I'm sure he didn't spend much time looking at television. He did not drink. He had his own life to live. He didn't have to be entertained. He liked to talk. He loved conversation.
So he would talk things over with
Mrs. Rickey
. She was his sounding board. She would listen, and then she would give her reactions. She had strong opinions, and she was not the least hesitant about giving them to this man. He did not always follow her advice or agree with her opinion. For instance, she told him not to start the
Jackie Robinson
thing. She told him that he had no business getting into that at his age, stirring up all of base­ball and all of the country and maybe getting into a thing he would never get out of until he went to his grave. As we used to say in Brooklyn, she left him have it about breaking the color line and bringing a Negro into baseball. She detailed the complications, the complexities, and ramifications, of what he planned to do. That was a long time before anybody knew
Jackie Rob­inson
's name - and I mean even in the
Rickey
household.
Branch Rickey
decided to bring
Jackie Robinson
into baseball two years before he knew who
Jackie
was.
Jackie
was the individual who emerged from the principle.
Mrs. Rickey was against the idea, and their six daughters and their only son asked Rickey to leave the thing alone, that he had enough going, that he was too old to take this problem on his hands. That was something, to have opposition, and reasonable opposition, from the people closest to him, the ones he loved, the ones whose opinions mattered beyond all others. But he went ahead anyway. Rickey wasn't headstrong much when he got that bit in his teeth, was he?