Because of the granite reliability of his pitching and his steady persona in a turbulent time, [
Tom
]
Seaver
is the touchstone to that 1969 [
Mets
] magic. The numbers speak to the passage of time. He was 25-7 with a 2.21 ERA. As the young
Mets
ran down the more seasoned
Cubs
in the National League East,
Seaver
went 10-0 with a 1.34 ERA in his last 11 starts. He was nearly perfect in six September turns: no home runs, no stolen bases allowed, no losses and no relievers.
Astoundingly,
Seaver
was 12-5 that year when
New York
scored just three runs or fewer (.706), the highest winning percentage in such low-scoring games in the live ball era (minimum 14 games since 1920). No better testament to his will exists than this:
Seaver
pitched the ninth inning 18 times and never surrendered a run or even an extra base hit.
Seaver
and
Virgil Trucks
('49) are the only starting pitchers to do that. ...
Seaver
was the happiest accident that ever happened to the
Mets
. Growing up in Fresno [CA],
Seaver
didn't make his high school baseball team until his senior year. He went to
Fresno City College
, where he was a good pitcher but nothing special, then transferred to
USC
, where he blossomed. In 1966 the
Braves
gave him a $51,000 contract, but commissioner
William Eckert
nullified the deal on a technicality: College players weren't eligible to sign once their seasons had started. (The
Trojans
had played two exhibition games.)
Eckert
announced a lottery for
Seaver
. Any team willing to meet the $51,500 bonus price could enter. Only three other teams did: the
Phillies
,
Indians
, and
Mets
.
On April 3, 1966,
Eckert
pulled the
Mets
' name out of a hat. Losers of no fewer than 109 games in each of their four years of existence, the
Mets
finally won something. They literally hit the lottery.
A year later
Seaver
was in the big leagues. He won 16 games and the Rookie of the Year award, then another 16 in 1968, when ninth-place
New York
had a very modest 73-89 record - the best in club history.
That offseason
Seaver
went back to
USC
to complete his degree in public relations.
Mets
GM
Johnny Murphy
signed him for $40,000, making him the highest-paid player on the team, and told other clubs that
Seaver
and lefthander [
Jerry
]
Koosman
were "the untouchables."
On March 18, 1969,
Seaver
told reporters, "I might be a supreme optimist, but I think we have a good chance to be in the World Series." By mid-June the
Mets
actually had a winning record (29-25) but trailed manager
Leo Durocher
's
Cubs
by 8 1/2 games. "We've got the best pitching in the majors,"
Seaver
said the day before a start at Dodger Stadium. "I think our pitching will hold up better than
Durocher
's. And it gets hot in Chicago in the daytime in July and August."
Seaver
beat
Don Sutton
the next night 3-1. The
Mets
would go 71-37 from that game on. They won in such improbable ways, they embarrassed magicians. They took both ends of a doubleheader 1-0, with each run driven in by a pitcher. They struck out 19 times and made four errors and won. They won when [Manager
Gil
]
Hodges
put the hit-and-run on with the bases loaded; the runner at third,
Cleon Jones
, sprinted so hard that the batter,
Jerry Grote
, had to check his swing for fear of maiming his teammate. He hit a bloop over the head of a first baseman for a three-run double. Of course.
Three years earlier
Time
asked in a famous cover headline, IS GOD DEAD? By October,
Seaver
had an answer. "God is a
Met
," he said. ...
Hodges had become the Mets manager in 1968.
"It's time, I think, we did something about that clown image of the
Mets
,"
Hodges
said when he was hired. He banned poker playing, instituted a curfew, put controls on drinking and fined players $25 a pop for mental mistakes on the field. ...
Hodges
brought with him as his pitching coach an old
Brooklyn Dodgers
teammate, [
Rube
]
Walker
... To protect
Seaver
and
Koosman
, as well as up-and-comers
Nolan Ryan
and
Gary Gentry
,
Hodges
and
Walker
used their young starters in a groundbreaking five-man rotation in '68 and again for most of '69. ...
Down the stretch in 1969,
Hodges
and
Walker
took the reins off.
Seaver
and
Koosman
, sometimes pitching on short rest, started 24 of
New York
's final 56 games. The
Mets
went 20-4. They blew past a wheezing
Cubs
team to win the division. ...
The Mets defeated the

Atlanta Braves

in the NLCS to win the NL pennant and face the

Baltimore Orioles

in the World Series.
"That guy believes in elves."
Orioles
3B
Brooks Robinson
, before Game 1, laughing at a writer who picked the
Mets
to beat
Baltimore
in the World Series.
Seaver
would run every day between starts to keep those hydraulic pistons that were his legs pumping strong. But after he beat the
Braves
9-5 in Game 1 ...
Seaver
strained a leg muscle shagging flies and had to take off three days from running before Game 1 of the World Series. He lost 4-1 in Baltimore, allowing three runs in the fourth inning. "I just ran out of gas," he said. ...
Seaver
took the ball again in Game 4, on short rest, with the
Mets
up 2-1. ...
Tom
held a 1-0 lead in the ninth when
Baltimore
put runners on first and third with one out.
Hodges
walked to the mound ... "If the ball is hit back to you, go to the plate if you can,"
Hodges
told
Seaver
. "We want to stop that run from scoring. How do you feel?"
"I'm running out of gas,"
Seaver
said, "but I still have a few pitches left." There was no way
Hodges
was taking him out of the game.
Robinson
, the All-Star who didn't believe in elves, smashed a line drive to RF. [
Ron
]
Swoboda
broke toward it. Each day
Swoboda
would work on his defense with coach
Eddie Yost
. He never took fly balls. He always took line drives and ground balls from 150 feet away - the hard stuff. Teammates and coaches always kidded
Swoboda
about his goofy ways. Bullpen coach
Joe Pignatano
used to tell him, "Don't think,
Swoboda
. You'll only hurt the team." But with these drills, "I figured out how to be a better outfielder,"
Swoboda
says.
He dived for the ball, a choice
Orioles
slugger
Frank Robinson
later called dumb because it risked having both runners score. But
Swoboda
snagged it for the second out. One run, not two, scored.
Seaver
went back out for the 10th. Again, two runners reached with one out. This time
Walker
ambled to the mound. "I'm getting tired, but I can continue,"
Seaver
vowed. He induced a fly ball and then, with his 150th pitch on short rest, and working his 296th inning of the year, he struck out
Paul Blair
.
Mets
magic finally showed up in the bottom of the 10th with another one of those Scotch-tape-and-bailing-wire rallies: a pop fly lost in the sun for a double, followed by a bunt, which the pitcher threw off the wrist of the runner at first for a game-ending error. Of course.
Seaver
covered 10 innings without allowing an extra-base hit. Only two pitchers ever had won a World Series game that way:
Christy Mathewson
in 1913 and
Carl Hubbell
in '33. Nobody has done it since
Seaver
.
Seaver
and
Koosman
started six of the
Mets
' eight postseason games ... A couple of hours after the clincher, a 5-3 win at Shea,
Seaver
and
Gentry
left the champagne-soaked clubhouse and headed out toward the field. They felt a pull to go back to the pitching mound ... and give thanks.
"We just wanted to see it or walk on it once more,"
Seaver
said then. ...
Seaver
climbed the dugout steps to the field. His shirt was open and wet ... When he and
Gentry
made it to the mound, they were not prepared for what they saw. "By the time we got there, it was too late,"
Seaver
said.
Thousands of fans had stormed the field after the last out, and as if to require physical evidence that the
Mets
really did win the World Series, they grabbed fistfuls of grass and dirt. Most of the mound where
Tom Seaver
did some of the best work in the annals of pitching was gone.
A few hundred fans still milled about, not wanting the moment to end. When they saw
Seaver
they let up one last, loud cheer.
Seaver
smiled.
"You deserve some congratulations too," he told them. "You people are amazing too."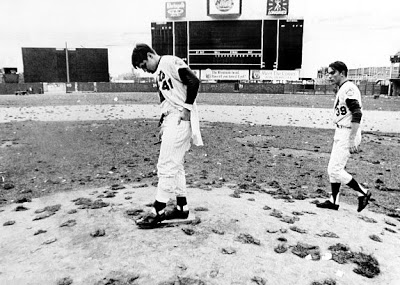 Seaver and Gentry visit the mound after the World Series clincher