Charlie
's daily phoning became even worse. He began using phones like they grew on trees, calling me more than twice a day. He began calling me so much that when we went on the road, I was forced to share an adjoining room with another club employee so that we could make arrangements for one of us to be in the room to answer the phone. Not that
Charlie
couldn't find me even if I'd disappeared. One off-day I was playing golf, about to putt on the eighth green, when a pro shop worker brought out a phone message. Guess who? I told the kid I'd call
Charlie
when I made the turn at the ninth hole. The kid said
Char­lie
wouldn't wait, and gently begged me to get in his cart and drive with him to the phone.
"Hey, Dick,"
Charlie
belched when I picked up the phone, "how's the club?"
"Which club do you mean?" I asked
Charlie
. "I'm standing here holding a bag full of them."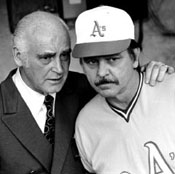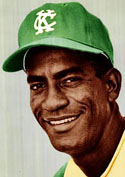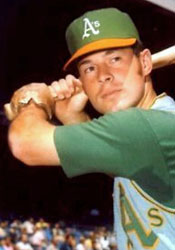 L-R: Charlie Finley and Dick Williams; Allan Lewis; Dick Green
Charlie
also turned my clubhouse into a hotel lobby. One day I arrived at the park and spotted this tall skinny black guy sitting in the back. I figured he was just another new batboy until he knocked on my office door.
"
Dick
, I'm
Allan Lewis
, your new player," he said, sticking out his hand. "
Allan
," I exclaimed, "nice to meet you."
I stood up, smiled, asked him to wait outside the office a second, closed the door behind him, and then picked up the phone. "
Charlie
!" I nearly shouted when the old man got on the phone. "Who in the hell is
Allan Lewis
?"
Turns out he was our new pinch runner, a sprinter from Panama whose lack of baseball knowledge
Charlie
considered incidental. "Just call him '
The Pana­manian Express
.'"
Charlie
kept saying. I protested: "
Charlie
, we have no uniform for
The Panamanian Express
. No equipment. No locker."
Charlie
just laughed.
Dick
wait until you see this guy run," he said. And so we saw. A few days after he arrived, The Panamanian Express took off from first base on a long fly ball, head down, arms and legs pumping, great form. And if only the ball had fallen in for a base hit. But the ball was caught, as
Lewis
learned upon arriving at third base. What's a
Panamanian Express
to do? He shrugged and ran across the diamond, across the pitcher's mound, back to first. Playing in parts of six seasons, all for
Charlie
,
Lewis
appeared in just 156 games and batted exactly 29 times. But hey, the guy could run.
And I shouldn't complain about just him.
Charlie
made 62 transactions that year, which has to be close to a record. All told, we put uniforms on 42 players. The worst part was that 12 of them played second base. Yes,
Charlie
didn't just try to influence my roster, he began trying to jimmy with my lineup, asking me to get a pinch hitter every time our second baseman batted. He figured that none of our second basemen could hit anyway, while all of them could field for a couple of innings. This was his rotating second baseman maneuver,
Charlie
's only in-game order that I felt compelled to carry out. After it cost us several wins by having the great-fielding
Dick Green
on the bench after three innings, and ultimately made a mockery of a playoff game, I finally ignored the order and prayed for my job. By then
Charlie
didn't notice, but only because he was too busy counting wins.
Charlie
's eccentricities were visible everywhere. In the spring of 1972 he de­cided to schedule us in an exhibition against a Japanese team in which a batter would strike out on two strikes and walk on three balls. So what if baseball had used different rules for 75 years?
Charlie
really thought this one would catch on, until our pitchers walked about 20 Japanese hitters and they beat the hell out of us. Call it an invention defeated by defeat.
That spring he also decided to start fooling around with an orange baseball, which he actually used in an exhibition game in 1973. I'll never forget how former
A's
outfielder
George Hendrick
, who we'd just traded to
Cleveland
, hit three homers for the
Indians
with the orange ball but afterward almost single-handedly killed the idea by telling then-Commissioner
Bowie Kuhn
that he couldn't pick up the spin on the ball. I think he just did that to get back at
Charlie
. Call it an invention killed by a grudge.
Charlie
also acquired a fetish for mules. Don't ask me why. Ask the mule. I'm referring to
Charlie
's trademark, appropriately named
Charlie O.
In 1972, after letting him clomp around in the background of the organization for years,
Charlie
decided the fucking mule should join the team. He let him graze in the hospitality suites underneath the Coliseum during playoff games and even allowed him to lick the ice sculptures. He let him graze on the field throughout the left field foul territory. One problem. Before every game the mule had this habit, probably nerves, of taking a big crap down the left field line. It got so bad that I'd have to explain things to the opposing manager during our pregame meeting at home plate. "The mule shits out there, and we can't always be cleaning it," I'd tell him. "So if a ball rolls in the shit, it's still in play." Right about then the opposing manager would shit.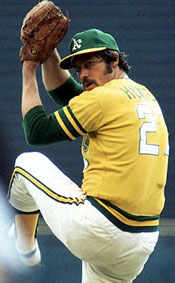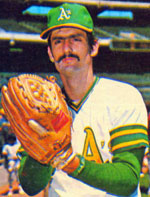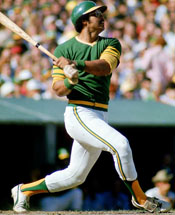 L-R: Catfish Hunter, Reggie Jackson, Rollie Fingers
Charlie
also suddenly had a thing for nicknames. He was the one who first referred to
Jim Hunter
as "
Catfish
" and who threw the "
Blue Moon
" in
John Odom
's name. But now he began begging
Vida
to call himself
"True" Blue
.
Vida
wouldn't do it.
Then there was
Charlie
's most noticeable promotion, a gimmick so unusual that some of us have been reminded of it every morning in the mirror for nearly 20 years. Late in July 1972 we were on a charter flight from Boston, and the team, as usual, was pissed off about something. This time it was
Charlie
's rule about no facial hair. It wasn't that they disagreed with it but that one highly visible member of the team was ignoring it.
Reggie
[
Jackson
] had started growing a beard and mustache and refused to shave it, and the guys were mad that he seemed to be having so much fun. Catfish finally decided to address the issue in proper
Oakland A's
fashion. He decided to rat on him.
Catfish
walked to the front of the plane where
Charlie
was sitting. "
Charlie
," he announced, "
Reggie Jackson
has facial hair. Lots of facial hair. And we don't think it's fair."
Finley
looked at
Catfish
and then gazed into space. "Oh, really?" he said.
By the time we landed in Chicago to drop
Finley
at his home, he'd concocted his solution. If facial hair had caused such a stir among the team, think what it would do for the fans. Not only didn't
Finley
reprimand
Reggie
, he offered $300 to anyone who would grow a mustache in the ensuing month and show it off at a promotion ingeniously called "Mustache Day."
And so the Mustache Gang was born - a baseball team that came to look like a protest march. The players were so confused by
Charlie
's edict that most of them also decided to grow their hair long. We became one messy group of players, which only helped to cultivate our image as a free-wheeling team. But we weren't that free-wheeling. A month later, as soon as he gave us our checks for $300 following the successful Mustache Day, about half the team ran into the clubhouse to shave. he other half - well, some of us kept our mustaches for the rest of the season. And for the next season. And the next.
To this day, as far as I know, several of those
A's
have never permanently shaved their mustaches. I'm one of them. You may have noticed another - a guy named
Rollie Fingers
. No, he didn't always own the most conspicuous mustache in sports. Like a lot of things with our team, his style started with
Charlie
.