Standing the Gaff: The Life and Hard Times of a Minor League Umpire,
by "Steamboat" Johnson (1935)
A Southern Association umpire recalls bizarre incidents in games in the Crescent City.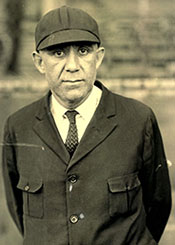 New Orleans in the days of Jules Heinemann when baseball was at its height was a tough spot for umpires, and I have had my share of jams there.
One of the run-ins that I remember most clearly was when Bert Niehoff had the Mobile club going for a pennant.
Let me say right here that Niehoff is a smart ca­pable manager, and as long as an umpire was hustling and keeping right on top of the play he would never give any trouble. Let an umpire give Bert the idea that he was asleep at the switch, or loafing on the job, and Bert could cause more trouble in five minutes than some of them could in a whole season.
Along in the middle of the game - it was a hot July afternoon - Bert came up to me and said - speak­ing of the New Orleans pitcher - "Steamboat, that fellow Craft is using something on the ball. Watch him."
Next inning I saw
Craft
going back to his hip pocket with his right hand, so I called time and ran out to the pitcher's box.
Craft
was standing there looking at me with his hands down at his side to see what I was going to do. I went behind him, reached into his pocket and brought out a long piece of licorice, such as small boys chew.
I said to
Craft
: "You're out of the game," and turned and started for the plate. Just as I got to the plate,
Craft
had come up behind me. He grabbed me around the neck, and he was not trying to pet me, either. I was so surprised I could do nothing for a minute, but I finally managed to jerk loose.
I maneuvered until I was backed up against the backstop and was swinging my mask at his head, as he kept coming in and mixing it with me. By this time, four or five players crowded around and stopped the fight.
Larry Gilbert
put in another pitcher, and the game was finished.
A crowd milled around the dressing room after the game, but I was not harmed. They all thought
Craft
had tobacco in his pocket and was just reaching for a chew; but I knew better and, besides, had the licorice. I sent it into
President Martin
with my report.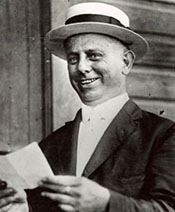 Jules Heinemann and the stadium that was named for him
It was in Heinemann Park, August 27, 1927, that one of the longest nine inning games on record was played, and one of the worst fights occurred that I ever saw on any ball field. There were 15,411 people in the park. Some 2,000 broke down the gates after they had been closed by order of
President Martin
, who was there to see the game, and rushed in.
Along in the middle of the game,
Ray Gardner
,
New Orleans
shortstop, was at bat.
Hollis McLaughlin
, the
Birmingham
pitcher, threw one so close to
Gardner
's head that
Gardner
took it for a bean ball. In a flash
Gardner
lost his temper and sailed out after
McLaughlin
.
Pel Ballenger
, the
Birmingham
third baseman, rushed over to help
Mac
. They be­gan to mix it up on the mound, and
Joe Sonnenberg
, a police captain who was at the game in civilian clothes, came out of the grandstand on the run to stop the fight.
Max Rosenfeld
,
Birmingham
second baseman, thought
Sonnenberg
was a fan and met him with a solid lick to the jaw. It was a fast, furious battle while it lasted, but the bluecoats stopped it and took
Rosenfeld
off to jail.
Umpires
Brennan
and
Shannon
and I, who were handling the game, told
President Heinemann
that we would not allow the game to be resumed until he got
Rosenfeld
out of jail, since the player had hit the police captain through a mistake. It took two hours to get
Rosenfeld
back from jail, and then we resumed play where we had left off.
The final score was 25 to 16 in favor of
New Orleans
. Fifteen two-base hits were made in all. The elapsed time from start to finish was 4 hours and 10 minutes.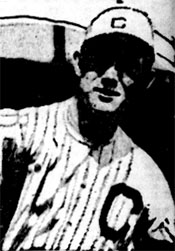 Late in the 1925 race Atlanta was playing in New Orleans. The game was close, and "Red" Torkel­son, usually an easy-going sort of player, was at bat. A good strike came over and I called it.
Red turned around and said: "Steamboat, that ball was not over the plate."
"It was," I said.
Red stepped out of the box and began calling me everything he could think of, and Red had an ac­tive mind.
"Out you go, Red," I said.
"You can't put me out," he said.
"But you already have been out for a long time," I said, and so out he walked.
Then Buddy Rezza came to bat, and he took up where Red left off, looking back and talking to me. I told him: "It will cost you less to look at the pitcher than at me."
Well, Buddy stepped out of the box and talked himself out of the game. That made two in all, and I knew I was in for it.
On my way to the dressing room I got a pop-bottle shower. The police rallied around and took the bottle shower, too, just to see that I got safely off the field. The crowd waited for me outside the park, so Superintendent of Police
Mooney
, since deceased, took me down to the police station in his car and several hours later took me to the Hotel Monteleone where the umpires were stopping.
1921: The

Yankees

, the

Giants

, & the Battle for Baseball Supremacy in New York
,
Lyle Spatz
and
Steve Steinberg
(2010)
New York
versus
Brooklyn
was baseball's most heated rivalry, one that did not need modern-day hype to express it. Long before shows of "hatred" for the other team were a way for fans to get their faces on televi­sion, the fans of each of these two clubs truly detested the fans and play­ers of the other and were quite willing to show their feelings. While relative position in the league standings was mostly irrelevant when the two teams played, the fact that they were two of the leading contenders for the [1921] pennant, as they had been the year before, only heightened the sense of drama. On two occasions in 1920, once at Ebbets Field and once at the Polo Grounds, police had to be called to end fights that had broken out in the stands.
The antagonism between the fans of the two National league clubs dated from well before the 1898 incorporation of the then independent city of Brooklyn into Greater New York. Losing their independent status likely in­flamed the sense of inferiority many Brooklynites harbored when comparing their city-turned-borough, large parts of which were still farmland, to Man­hattan, the "sophisticated" colossus across the East River. Similarly, those living in Manhattan had little or no interest in what went on in Brooklyn.
Joe Vila
, writing after the
Dodgers
' loss to
Cleveland
in the 1920 World Series, said this: "Dyed-in-the-wool New Yorkers didn't enthuse over the World's Series because the
Giants
and
Yankees
were not the participants. They were lukewarm in their sentiment for the
Brooklyns
for the reason that nothing on Long Island except the race tracks ever interests residents of Manhat­tan and the Bronx."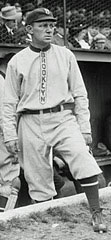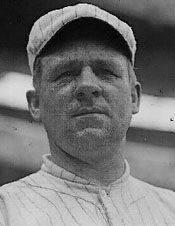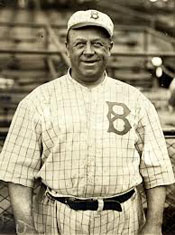 L-R: Bill Dahlen, John McGraw, Wilbert Robinson
Bill Dahlen
, the great turn-of-the-century shortstop, summed up the feel­ings of many, following his December 1903 trade from
Brooklyn
to the
Mc­Graw
-led
Giants
.
Dahlen
, who had played on some of
Brooklyn
's greatest teams, exacer­bated the borough's self-image of second-class citizenship by announcing, "It has always been my ambition to play in New York City.
Brooklyn
is all right, but if you're not with the
Giants
, you might as well be in Albany."
Adding fuel to the fire was the enmity between
John McGraw
and
Wilbert Rob­inson
, the two managers.
Robinson
had been yet another of
McGraw
's team­mates on the great
Orioles
teams of the 1890s. Despite the difference in their ages -
Robinson
was ten years older than
McGraw
- the two men developed a close friendship and later became business partners in a Balt­imore billiards parlor. In 1911
McGraw
added
Robinson
to his coaching staff, where he remained through 1913. Often at odds with each other during that last season, things came to a head after the last game of the World Series, which the
Giants
lost to the
Philadelphia Athletics
. At a re­union of some former
Orioles
at a New York saloon, a drunken
McGraw
criticized
Robinson
's coaching at third base in the afternoon's 3-1 loss.
Robinson
snapped back that
McGraw
's managing had been "pretty lousy" too. "This is my party. Get the hell out of here," snarled
McGraw
. Not to be outdone,
Robinson
showered him with a glass of beer on the way out. The feud would last for seventeen years before the two aging skippers would reconcile at the National League winter meetings in 1930.
The New Bat Cured the Stomach
Baseball's Great Moments, Joseph Reichler (1974)
Willie McCovey
, not an easy fellow to intimidate, was scared half to death. A loud thud had awakened him in the middle of the night. He leaped out of bed, switched on the light, and found his roommate,
Willie Mays
, lying on the floor.
Willie
had fallen out of bed and blacked out.
McCovey
summoned the club trainer,
Doc Bowman
, who revived
Mays
, gave him some pills, and got him back into bed.
That was early in 1961. The
Giants
had arrived in Milwaukee for a three-game series with the
Braves
, and
Willie Mays
was in a batting slump. He went hitless in seven times at bat in the first two games. In one of those games,
Warren Spahn
threw a no-hitter at the
Giants
.
Spahn
remarked afterward that he had never seen
Mays
look so bad at the plate. "I could tell that something was bothering him,"
Spahn
remembers. "He looked like he was having trouble holding up his bat."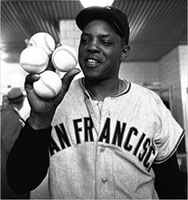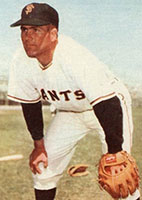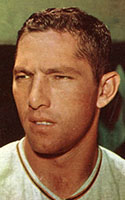 L-R: Willie Mays, Joe Amalfitano, Jim Davenport
Spahn
was right.
Willie
had had a persistent stomach ache. Nonetheless, the night before the final game of the series with
Milwaukee
, he and
McCovey
went for a midnight snack, and
Mays
, ignoring his stomach, decided on bar­becued spareribs. He should have known better. Afterward, he couldn't fall asleep. He began having sharp pains in his stomach. He became nauseous. That was the night
McCovey
found him unconscious on the floor.
Mays
felt a little better the next day, but he didn't hit the ball well in batting practice.
Joe Amalfitano
, a teammate, suggested he try his bat, which was a little heavier than
Willie
's.
Mays
felt a little more comfortable at the plate by the time the game started.
Lew Burdette
, always a tough pitcher for
Mays
, was on the moud for the
Braves
. He threw
Mays
a slider, and
Willie
hit it over the fence in left cen­ter, 420 feet away. So much for not feeling well. The same thing happened the next time
Mays
came to bat, in the third inning. This time the ball travel­ed about 400 feet. When
Mays
came up for the third time,
Seth Morehead
was pitching for the
Braves
. He threw
Willie
a sinker, and
Mays
really caught hold of it. The ball landed in dead center, over the fence, out of the park, and beyond the trees. Writers estimated that the ball traveled at least 450 feet.
Moe Drabowsky
, a right-hander, faced
Mays
the fourth time.
Willie
con­nected again but didn't get the ball high enough, and it went for a long line drive out to center field. In the eighth inning,
Don McMahon
, a flame-throwing righthander, was pitching for
Milwaukee
. He threw
Mays
a slider and
Willie
desposited it in almost the same spot that the third homer had landed.
It was his fourth home run of the game and tied the major league record. Only eight other players since the turn of the century had hit four home runs in a game, only four others in a nine-inning game.
Mays
drove in eight runs. One homer came with two on base, two with one on base, and one with none on. The last player to hit four homers in a game had been
Rocky Colavito
in 1959. No player has hit four homers in a game since
Mays
.
Mays
just missed a chance for five.
Jimmy Davenport
, who batted in front of him, was hitting in the ninth with two out and the crowd yelling for him to get on base. One might have thought they were playing in San Francisco instead of Milwaukee.
Davenport
bounced out to end the inning.
"In a way, I'm glad
Jimmy
didn't get on,"
Willie
says. "I'm not saying I wouldn't have liked a shot at a fifth home run, but I don't think I could have done it. I would have been pressing, knowing I could set a record that might never be equaled. I knew what I had done. I heard it over the loudspeakers.
"That was easily the greatest day of my life. I was already beginning to feel nervous waiting on deck. Funny thing, I wasn't nervous when I hit the fourth home run. That's because I never dreamed I'd hit it. I know I wasn't trying for it. I was just swinging. You're satisfied if you get two in a game, but when you get three, that's something you never expect. Four? That's like reaching for the moon."
Willie
's stomach ache had gone.
One Pitch Away: The Players' Stories of the 1986 LCS and World Series,
Mike Sowell (1996)
Gene Mauch managed the 1964 Phillies, who had a 6.5-game lead with 12 games to play and blew the pennant.
Mauch ... was the boy wonder of baseball managers. Thirty-eight years old, and he had the hottest ball club around. Five years on the job, and he had turned a bunch of losers into winners.
To appreciate the magnitude of what Mauch had achieved in Philadelphia, one had to go back to April 1960, when kindly old Eddie Sawyer abruptly quit as manager of the Phillies one game into the season.
"I'm forty-nine, and I'd like to see fifty," said the exasperated Sawyer, who had grown weary of his players' drinking and carousing.
That night, the phone rang in Mauch's hotel room in Pompano Beach, Florida, where his minor-league Minneapolis team was training. It was Philadelphia general manager John Quinn, who had first gotten to know Mauch ten years earlier when Quinn worked for the Boston Braves and Mauch was a sharp young infielder on the team.
"A friend of mine wants to know if you're interested in managing a major-league club," said Quinn.
"Who is it?" Mauch asked skeptically. "The Phillies?"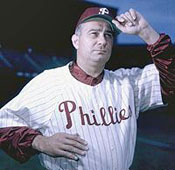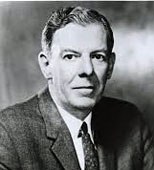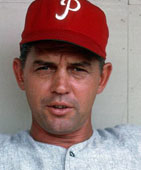 L-R: Eddie Sawyer; John Quinn, Gene Mauch
The Phillies — everyone in baseball knew about them. In the words of Phila­delphia columnist Sandy Grady, "The team's feature was the 'Dalton Gang,' boozy nightriders who set records for demolishing saloons."
The Phillies also were adept at losing games. Two last-place finishes in a row. Eight years since their last winning season.
Ten years earlier, when they won their last pennant, the youthful Phillies had been known as the "Whiz Kids." These aging and inept Phillies were the "Whiff Kids."
Mauch jumped at the offer.
It didn't take him long to start cleaning up the ball club. He weeded out the trouble­makers. He laid down his set of rules and enforced them with tough words and tough actions.
"Managing that team wasn't the hardest part," Mauch later told Grady. "First, you had to go into bars or bust down hotel doors to find them. It's a good thing I was a young man. An old one would never have survived."
But Mauch survived. And he taught his Phillies to play winning ball. Success did not come overnight, and in 1961 Philadelphia set a major-league record by losing twenty-three games in a row. But even in those losing years, the Phillies were coming together as a ball club.
Slowly, Mauch began to piece together the kind of team he wanted. It was a team of scrappers and hustlers and hard-nosed ballplayers. They moved up to seventh in 1962, fourth in 1963.
They would go on the field to warm up before a game, and with every throw by a Philadelphia outfielder, the bench players would shout at the opposition: "You ain't got no arms like those!" The Philadelphia hitters would take batting practice, and those waiting their turn at the plate would yell toward the enemy dugout: "You ain't got guys who can hit like they can!"
And Mauch, the team's ringleader, never missed a trick. In right field was a corrugated iron fence that balls bounced off at crazy angles. So, Mauch moved his bullpen from left field to right and had his spare pitchers use towels to signal the Philadelphia base coaches how balls were going to strike the fence. This enabled the Philadelphia base runners to know when to take an extra base and when to stay put.
Mauch shaved down the pitcher's mound to help his pitchers. He schemed and plotted from the dugout, once sending up seven pinch hitters in a row, another time putting three pitchers in his starting lineup. He changed pitchers while the same batter was at the plate to get the results he wanted.
No one knew the rules better than Mauch did. When an opposing catcher reached into the Philadelphia dugout to catch a pop foul, Mauch karate-chopped his arm to knock the ball loose. An argument ensued, but Mauch prevailed. The rule book stated that a player enters the other dugout at his own risk.
Mauch also used his fierce temper to motivate his players. In a celebrated incident in Houston late in the 1963 season, he reacted to a ninth-inning loss by knocking over the post­game buffet and throwing a pan of spare ribs across the locker room. What people overlooked was that after that outburst, the Phillies won five of their final six games to squeeze into fourth place, earning each player on the squad an additional seven hundred dollars.
The Bronx Zoo: The Astonighing Inside Story of the 1978 World Champion New York Yankees,Sparky Lyle with Peter Golenbock (1979)
I was on a team that won the pennant and the World Series, despite enough crap to last an entire career, and now that I've won the Cy Young Award everyone can say that
Sparky Lyle
was an important part of that team. ...
The best thing that happened to me was finishing the final two games of the play-offs against Kansas City and right after that winning the first game of the World Series against the Dodgers. The Royals were leading us in the play-offs, two games to one, and they needed only one more game to win. In the fourth game we were ahead 4-0 real quick, but in the fourth Reggie Jackson screwed up a couple of balls in the outfield, the Royals scored two runs, and with two outs and a runner on, Billy [Martin] brought me in. Ordinarily the fourth inning is much too early to bring me into a game. I'm a short relief pitcher. I pitch in the eighth and ninth when there's a lead that has to be protected. I'm the last resort, the guy who has to put his finger in the dike every night. But I guess Billy was desperate, so he brought me in in the fourth.
As I was warming up in the bullpen, Fred Stanley, our backup shortstop, was catching me, and when pitching coach Art Fowler called from the dugout and asked how I looked, Fred told him, "Sparky ain't got nothin', Art."
Billy
brought me in anyway, and when I got out to the mound and threw my warm-up pitches, my slider suddenly started to work right, and for the next five innings, it was the
Royals
who didn't have nothin'. I faced 16 batters and got 15 outs.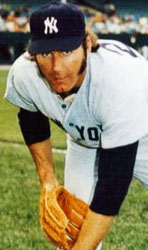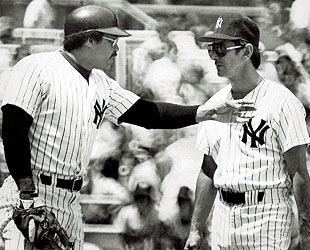 L-R: Sparky Lyle, Reggie Jackson and Billy Martin
I knew that the
Royals
weren't going to beat me. I had told [my wife]
Mary
, "I can't pitch in games when we're real far behind or ahead. I'm just not into the game." ... The best time for me to pitch is when we're ahead by a run or the score is tied. When the game is on the line. Against the
Royals
I was ahead by a run, and
Mary
was telling me that she was sitting in the stands watching me, and when everybody was hollering for the
Yankees
to score a few more runs, she was thinking, "No, I don't want them to score more runs." Later she told me, "I knew you weren't going to lose that game. You only had a one-run lead." And she was right.
After the game, the writers asked me, "Can you pitch again tomorrow?" I said, "Only four or five innings. After that, I might start getting tired." They laughed. They must have figured I was joking. We were losing 3-2 going into the top of the ninth of the final game. Paul Blair singled. Roy White walked, and Mickey Rivers singled up the middle to drive in a run to tie it. Willie Randolph drove in Roy with a long fly to put us ahead, and after we scored a fifth run, Billy brought me in to pitch the bottom of the ninth and end it.
I got the first guy out real quick, then the next guy up got a base hit. We were in Kansas City, and with Freddie Patek, their shortstop, up, everybody in the stands was ranting and raving and going crazy. Thurman [Munson] dropped the sign down, I threw Patek a slider, and he hit a nice one-hop­per to Graig Nettles at third, and that was it. A perfect double-play ball. Graig didn't even have to move. He caught it chest high, threw to Randolph at second, and bang, bang, it was over. All I remember is raising my arms high and jumping straight up in the air. Thurman started hugging me, and then there was a big pile of players around me. It was a great feeling, be­cause we had battled our asses off to win that pennant. ... All season long, we never gave up. ...
Also, what was important to me about our winning that game was that if we had lost, I am convinced that
George Steinbrenner
... would have fired
Billy
. There had been talk the last couple of weeks, yet despite the talk,
Billy
still benched
Reggie Jackson
in the final game, because the
Royals
were throwing a tough left-handed pitcher,
Paul Splittorff
, and
Reggie
doesn't hit the tough lefties.
Billy
knows that, too, and he decided to play
Blair
instead. Ordinarily it's no big deal when a manager does something like that, but last winter
George
had paid
Reggie
$2,930,000 to play for the
Yankees
, and
George
wasn't paying
Reggie
all that money to sit on the bench. When we heard
Reggie
wasn't going to start, we thought, "This guy" - meaning
Billy
- "has some balls." But then again,
Billy
and
George
had been fighting all year, usually after a fight between
Billy
and
Reggie
. And talk that
Billy
was going to get fired had popped up so often that after a while we stopped paying any attention to it. It was getting in the way of our playing. When
Billy
benched
Reggie
against
Splittorff
, my only reaction was "We'll be a stronger team with someone else playing right field and with someone else batting fourth against this guy." With him or without him, I knew the
Royals
weren't going to beat us.