As the story is told, one day when Gipp was a freshman at Notre Dame [1916], he was amusing himself by kicking a football. Every time he punted, the ball traveled well over fifty yards. An assistant coach happened to walk by and his eyes almost popped out. Quickly he called the boy over and said, "Hey, son! What's your name and where did you learn to kick like that?"
George Gipp laughed: "I learned in my fa­ther's backyard, on the sly. You see, Dad's a parson and never did like to see me fool around with a ball!"
The surprised coach could hardly believe it: "I don't know if you're pulling my leg, but any­way the Old Man wants to see you. Be out at the field tomorrow!"
But Gipp shook his head and replied: "I don't like football. Track's my sport!"
The coach rushed to Rockne to tell him the story. Rock knew how to make friends with fighting lads. One afternoon he invited Gipp to watch the team work out. Suddenly the Old Man said: "What do you think of it, son? Guess you wouldn't want to try it, it's a kind of rough game at that!"
Gipp flared: "Mr. Rockne, I could run right through that varsity line of yours if I had half a mind to do it. Give me a pair of football togs and I'll show you!" Quickly he trotted back from the dressing room. Rockne lined up his team and said: "Boys, the freshmen will take the ball and a fellow by the name of George Gipp will carry it. Stop him if you can!"
The whistle blew, Gipp took the ball through that varsity team like a wild mus­tang. Again and again he ripped the line into shreds. Finally Rockne called a halt, threw a fatherly hand around Gipp and said: "I'm convinced that for the next few years, Notre Dame is going to have great teams and that you will become one of the greatest players in the game. It's a tall order, son, but are we going to try it?"
For a minute the boy hesitated and then he grinned and replied: "I'll string along if you want me!"
Gipp was the son of a minister - yet his style of living was hardly a model for young America. Gipp was wild and full of mischief. At heart he was a gambler. He could do more with a deck of cards than a magician. Often, he would sit in poker games with professional gamblers and win their dough. Gipp's gambling and indifference to fame when playing football almost drove coach Rockne wild with rage.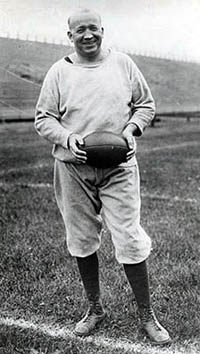 Once, during an Army-Notre Dame game, Rock became horrified when he saw his team using plays that he hadn't taught them. The men were having conferences at every op­portunity and were evidently making up plays as they went along. Suddenly a back who had never caught a pass in a game before shot down the field to receive a long and tricky toss from George Gipp. That play was too much for Rockne. Acting on the oft­proved-theory that if there was deviltry afoot, George Gipp was at the bottom of it, Rock ordered Gipp out of the game. Rockne said sarcastically: "George, I'm sorry my offense isn't good enough for you. It's too bad you had to go to all that trouble of making up plays on the field."
Gipp smiled and replied: "Now, coach, don't get yourself excited. I've got a hundred bucks bet on this and we've got to win it."
Coach Rockne almost collapsed from fury. But Notre Dame did win that game.
Often lazy, indifferent, an incurable gambler, George Gipp became Rockne's "cross to bear." Several times, Rock saved him from being kicked out ­of Notre Dame. But Gipp became the greatest football player in Notre Dame history and one of the greatest of all time. To play the last game of his college career, George Gipp arose from a sick bed. It was a bitter cold, wintry day. He wanted to play just once more. The stands roared for Gipp, and Rockne sent him into the game for his final appearance on a college gridiron. He returned to school sick. He was put to bed and never arose again.
George Gipp in life won many football games for Knute Rockne, and in death, too, he went on winning for Notre Dame. Years after his death, Knute Rockne used Gipp's name to inspire Notre Dame elevens to scale the heighs and win incredible victories. For Rock would often begin his strange dressing-room pep talks with - the story of George Gipp.
"I was with Gipp at the end, and he died in my arms," Rockne would tell his players. "I remember his last words. 'Rock,' he whispered, 'I know I'm dying. But when the going gets tough, just remind the boys that if they could - could score a touchdown for the Gipper, I'd hear about it - some place.'"
Then Rockne would wipe away a tear, and shout at his players: "This is the game! I want you to win it for Gipp!"
There is no counting how many games George Gipp won for Notre Dame long after he was dead. On the campus of Notre Dame, George Gipp still lives. He's always "the twelfth man on the field" in every game the Fighting Irish play.