"I'm Gonna Buy the Dallas Cowboys."
"Jerry Football," by Don Van Natta Jr., ESPN the Magazine 9/15/2014
It has become football lore that Jerry Jones was inspired to buy the Cow­boys after waking up with a five-alarm hangover during a fishing vacation in Cabo San Lucas, Mexico. After downing too many margaritas the night be­fore with his 23-year-old son, Stephen, Jones - by then an oil and gas baron worth more than $100 million - stayed behind at the hotel and, in a day-old newspaper, stumbled upon a brief story: "Bum Bright to Sell the Dallas Cowboys."
"Well, I wasn't up to par," Jones says. He called the office of Cowboys owner H.R. "Bum" Bright and said, "You don't know me from Adam. My name's Jerry Jones. But if I live, I'm gonna come straight back to Dallas and buy the Dallas Cowboys."
Jones returned home on the next plane and quickly became the team's top suitor. A fierce negotiator, Bright decided the final $300,000 separating him and Jones would be determined by a coin flip. (Jones called tails and lost.) The morning after they shook hands on the $151 million price tag. Bright called Jones at home and told him a group had just offered to buy the Cowboys for $10 million more. Jones said no to a quick $10 million profit. "I don't think Jerry would have sold the Cowboys for $100 million more," says friend Sheffield Nelson.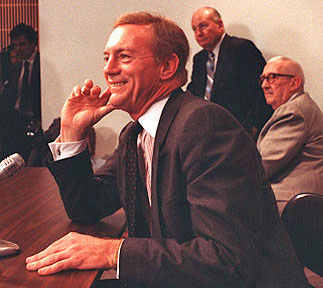 L:
Arkansas
G Jerry Jones with his future wife, Gene;
R: Jones at his first press conference as owner of the Cowboys;
Outgoing GM Tex Schramm is in the background in the dark suit.
Bright had come to despise Tom Landry, the legendary Cowboys coach who had won two Super Bowls in 29 years but whose ideas had grown stale and whose team reflected it: Dallas finished 3-13 in 1988, months before Jones bought the club. Many fans in Dallas wanted Landry out, and Bright offered to fire him before selling the Cowboys to Jones. Jones in­sisted he do it himself because, he says, "I needed to man up."
Hours after firing Landry, Jones introduced himself to the Dallas media as the team's new majority owner. "This is Christmas to me," Jones, then 46, told reporters. He spoke more about hiring old friend Jimmy Johnson, the University of Miami coach with a 52-9 record and a national title, than about the legacy of Landry. "I intend to have a complete understanding of contracts, jocks, socks and TV contracts," he said. Now Jones admits his tin-eared exuberance and lack of proper respect paid to Landry and Tex Schramm - the team's original president and GM who stood during the news conference while Jones sat - were unbecoming. The showing caused him to stumble with practically everyone in Texas, especially the media. "Jones was completely lost," Galloway, the Dallas Morning News columnist, wrote then.
Aghast at the criticism, Pat Jones called his son. "Jerry," Pat said, " I don't care if it works or not, you gotta make it look like it does. You use mirrors, smoke screen or something, because if you don't, you'll be known as a loser the rest of your life."