I was excited about going to
Ole Miss
, even if I didn't see myself as some cool guy about to make a splash at the biggest university in the state. ... Seven other freshman QBs came in with me in 1967, and that wasn't as unusual as it sounds. In those days, Division I schools could sign forty new players a year, and, with walk-ons, might very well field freshman teams of sixty or more play­ers ... Some coaches with the biggest budgets were notorious for stock­piling, for signing players just to keep them from going to a rival school. But they couldn't
keep
forty players a year because that would mean 160-man rosters. Clearly, some weren't expected to last. Those from smaller schools were long shots. Drew ordinarily wouldn't send a scholarship player to a Division I university like
Ole Miss
more than once in ten years.
I had that in the back of my mind when I got ready to go to Oxford, along with the very real possibility that
Coach Vaught
would do what he had a reputation for doing: move some of us to other positions. ... But that summer I got a break that boosted my chances. I was selected for the Mississippi High School All-Star game, to play for the North team coached by
Bob Tyler
of undefeated
Meridi­an High
, and
Tyler
liked to throw the ball. His QB,
Bob White
, another
Ole Miss
signee, was a high school All-American and, of course, was all set to be
Tyler
's starter in the game.
But
Bob White
had a bad knee, and early in the game he got hit hard and had to come out. I took his place - and immediately fumbled away the first snap. Fortunately, the North team's third QB wasn't a passer, so
Coach Tyler
left me in, and before the night was over, I had thrown for four touchdowns and ran for a fifth, and we won 56-33. When I was awarded the Most Valuable Player tro­phy afterward, I couldn't help thinking that I might not have played at all if
Bob White
had been healthy. ...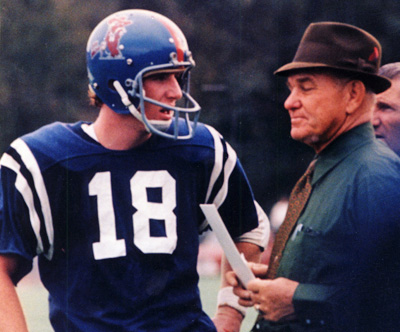 Archie Manning and Johnny Vaught
Wobble Davidson
saw that high school All-Star game, and there's another example of how thin the line is.
Wobble
had his own arbitrary ways of deciding who would play ahead of whom on the freshman team. Before his first practice, based solely on what he and his coaches had seen at these games or on film,
Wobble
would select his teams and designate position rankings by jersey color: red for the first team, blue for the second, white for the third, and so on. ...
On the first day, we eight QBs arrived to be counted, each of us sporting a shaved head from the freshman hazing process, and all of us scared to death. We waited for the jerseys to be passed out.
And when they were, mine was red. I was first-string.
Was I the best? I like to think so, but I'll never know and neither will they, because not only was I proud of that jersey, but I was possessive of it, too. I stayed number one throughout the freshman season. Would I have climbed up to first-team status if they'd given me the color jersey the eighth QB got ...? I like to think so, but we'll never know that, either.
Staying "in the red" wasn't easy, though. Freshman players, by NCAA rule, were separated from the varsity then ... The freshman team had only a four-game schedule, so we prac­ticed more than we played. But
Ole Miss
practices were long and tough, and making it tougher was that the freshmen played one-platoon then, meaning every player had to go both ways ...
As a hedge against possible injury, QBs played safety on defense, the farthest point from the ball we could get and still be in the game, but there was a lot of hitting, a lot of tackling, a lot of hard work. I weighed 170 pounds at the start, but
Coach Wobble
ran us like mad, and whenever I gave them my weight numbers ... it was wishful thinking. I was below 160 most of the time. Besides that, freshmen didn't get the best-fitting equipment, and I dug a deep purple crease across the bridge of my nose from my helmet banging down every time I made a tackle. The crease lasted the season. I thought of it as a combat ribbon.
... I had my share of downers those first weeks. The kind freshmen can expect when they're suffering through learning pains and home-sickness at the same time. In our opening game we got beat 28-0 by
LSU
's freshmen, and at free safety I guessed wrong on a pass play that resulted in an
LSU
touchdown and got my ass chewed by
Wobble Davidson
. We had a break after that game and the freshman players were allowed to go home for the weekend. Some never came back. I had thoughts along those lines myself. In fact, on Sunday when it was time to drive back to Oxford,
Buddy
said, "You ready to go?" and I gave him one of those long pauses.
But I had never quit anything I'd started, so what came out instead of "no" was "I guess so."
I had no more doubts, and a lot more fun, after that. The next week I inter­cepted three passes against
Alabama
and we won, and then threw for four touchdowns when we beat
Vanderbilt
. Our last game was against
Mississippi State
. The night before, we met with the varsity and got our marching orders. Our hair was finally growing out, and one of the varsity players said, "I guess you know this game means more than all the others combined. If you don't win, we're gonna cut off your hair again." We won.