In NCAA history, there have been 79 times a quarterback has thrown for at least 4,000 yards in a season; 65 of them have come since 2000. Mumme-influenced offense are so pervasive, in fact, that Auburn defensive coordi­nator Ellis Johnson says, "It's to the point now where the three or four teams we play a year that line up in two tight ends and a fullback are hard­er to prepare for. ..."
All this raises a rather obvious question: Why the heck did a godfather of modern college football coaching, a man with a career record of 137-118-1 through Week 2, just take a gig at an NAIA school that went 3-8 last year and plays its home games in a high school stadium? ...
Like countless Texas boys before and since, Mumme grew up enamored with football in the Lone Star State. In 1979, after an uneventful college career at Tarleton State and three years as an assistant coach at Moody High School, he interviewed for his first head-coaching job at Aransas Pass High. ... He wasn't the most experienced candidate. He didn't have a pre­pared speech or even a playbook. But he did have the ability to sell himself as an agent of change. He told Aransas and every team that would inter­view him that he had no use for three yards and a cloud of dust. His team was going to be fun to watch. It would throw the ball all over the field and get off plays as fast as possible. ...
After just a year, Mumme left Aransas Pass to be a passing coach at West Texas State. By 1982, he had climbed another rung up the coaching ladder when he joined UTEP as offensive coordinator at the age of just 29. It was there that the artist found his canvas. The downside was that coach Bill Yung's teams were so short on talent that UTEP won just seven games in the four years Mumme was there. The upside was that UTEP was in the Western Athletic Conference with Brigham Young and had access to the Cougars' game films. "They were splitting three and four wide receivers out on every play," Mumme says. "I didn't know what LaVell Edwards was do­ing, but I knew I wanted to do that."
Mumme still isn't sure why Edwards' innovative, spread-the-field attack didn't prove more influential at the time. Maybe other coaches assumed BYU's system was too hard to teach, or that it succeeded only because the Cougars were using older, more mature kids back from Mormon missions, Mumme says.
In any event, when the entire UTEP staff was fired in 1985, Mumme deci­ded to head back to the high school ranks, convinced it was where he'd fi­nally have the freedom to build on what he'd learned watching BYU. ... He broke out his BYU film and promised the kids at Copperas Cove that "we were going to take what LaVell was doing and put it on steroids." First, he put his best athletes at quarterback and wide receiver. Then he drastically widened the splits of his offensive line - a radical idea at the time. Practices were short. No Oklahoma drills, ever. And he might call the same play (one of only three the team would learn) 50 times in a row, mixing up only the formations. ... It worked. His first season, the team became an offensive juggernaut and knocked off two of central Texas' powerhouse football pro­grams ....
In 1989,
Iowa Wesleyan
--
an NAIA school with just 800 undergraduates -- hired
Mumme
... He cobbled together most of his staff on a minuscule budget but struggled to find an offensive line coach for $12,000 a year. "I had two people apply,"
Mumme
says. "One was offering to bring his gang with him from Los Angeles, and the other was
Mike Leach
."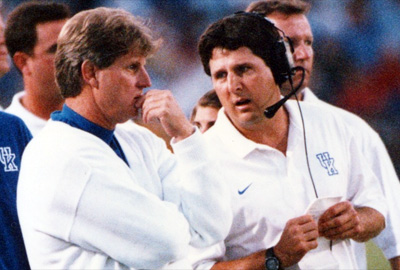 Hal Mumme and Mike Leach
In finding
Leach
, an alumnus and fellow acolyte of
BYU
,
Mumme
stumbled upon the
Paul McCartney
to his
John Lennon
. Neither one of them gave a damn about college football's hallowed traditions. ...On the field, no concept was too goofy. In addition to wide splits,
Mumme
and
Leach
decided to do away with three-point stances entirely, figuring (correctly) that it would help their offensive line get in position to pass-block that much faster. They decided to run every play out of the shotgun, which they predicted (correct­ly) would help the quarterback better see the field. ... Every team had a two-minute offense;
Mumme
and
Leach
just wanted to employ theirs two minutes into the game. And in their minds, the quarterback couldn't snap the ball fast enough. ... In their three years at
Iowa Wesleyan
, the
Mum­me
and
Leach
show went 25-10 and led the nation in passing once and finished second twice.
When Valdosta State came calling in 1992, Mumme and Leach took their now fully formed air raid act to Georgia, and they tore up the Division II NCAA record books as well, going 40-17-1. "We knew we were changing the game," Mumme says. "We just weren't sure if anybody else was going to change with us."
Tim Couch came to the University of Kentucky in 1996 as one of the most prolific high school quarterbacks ever ... But coach Bill Curry had him split­ting time and running the option. When the team started 1-6, Curry was fired. Seven games into his first year, the Wildcats' best prospect ever was all but gone.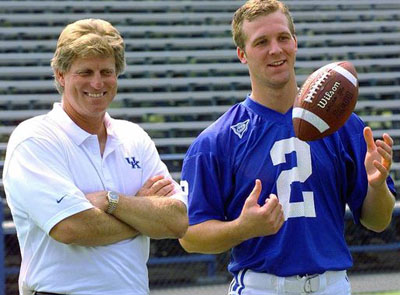 Hal Mumme and Tim Couch
Wildcats
athletic director
C.M. Newton
asked
Couch
to think about staying. There was this coach at
Valdosta State
he wanted to grab. He told
Couch
:
I want someone who is going to be Rick Pitino on grass. I think I've found him.
Fast-forward to the quarterback's first meeting with
Mumme
. "He says, 'You're going to throw the ball 55 to 60 times a game,'"
Couch
recalls. "That's all I needed to hear. But we all had question marks. We thought, 'This might work when you're at
Valdosta State
or
Iowa Wesleyan
, but not in this conference against these kinds of defenses.'"
Which is why, in retrospect, Kentucky's first game under Mumme in 1997, against state rival Louisville, feels like the first tremor of an earthquake. Couch threw for 398 yards and four touchdowns in a 38-24 win. ... Three weeks later at Indiana, Couch tied an SEC single-game record with seven touchdown passes. He threw for 355 yards in an overtime victory against Alabama, the first time Kentucky had beaten the Crimson Tide since 1922. "Early on, it was easy," Mumme says. "No one knew how to defend it."
Other coaches started paying attention. Urban Meyer, then the wide re­ceivers coach at Notre Dame, and Sean Payton, then the quarterbacks coach for the Philadelphia Eagles, were among those who made the pil­grimage to Lexington to see what this lunacy was about. "People thought we were nuts," Mumme says.
Mumme's final season at Kentucky was marred by scandal and infighting. ... Though Mumme wasn't implicated specifically, he was forced to resign from Kentucky in 2001 when it came to light that his recruiting coordinator had sent money to a high school coach in Memphis. ... But then a crazy thing happened. As Mumme moved down the coaching ladder -- short gigs at Southeastern Louisiana, New Mexico State and D2 McMurry -- his disciples installed versions of his air raid offense at schools around the country, plugging in better athletes and racking up big stats and victories.
Leach taught Mark Mangino the air raid offense at Oklahoma, and the following year the Sooners won a national title with it. Leach, now the head coach at Washington State, added his own wrinkles to the air raid at Texas Tech and passed on pieces of it to Sonny Dykes (Louisiana Tech, California), Art Briles (Houston, Baylor) and Dana Holgorsen (West Vir­ginia) ... Kevin Sumlin (Texas A&M) became friends with Mumme in the late 1990s at Mumme and Leach's annual offseason coaches gathering, even though he was then just an assistant at Minnesota. Sumlin added his personal touches as an assistant coach at Oklahoma under Bob Stoops -- more vertical routes and letting his quarterback run. ...
Mumme, meanwhile, has found contentment at Belhaven. He enjoys the simplicity of working small miracles. ... I'm listening to Mumme captivate 40 high school coaches with his own wild stuff. In a few months, he'll kick off his inaugural Belhaven season with two straight victories, outscoring oppo­nents 76-20. But at the moment, he's enjoying his role as the nutty profes­sor. "Let me diagram some plays here," he says. "I love this play. This is called the mesh. I once called this 53 consecutive times in a game." And as he takes the cap off his Sharpie, another generation of coaches starts scribbling.