A couple of years ago sportswriters of the Southwest Conference were call­ed upon to vote for the greatest football players to perform in the league over the last twenty years, or since World War II - an All-Era Eleven, so to speak.
The No. 1 choice was Doak Walker, brilliant backfield star at Southern Methodist University in 1945-49. Chosen in the same backfield, close to Walker in the voting, was Bobby Layne, who quarterbacked the rampa­ging Texas teams in 1944-47. Layne and Walker were teammates on the Highland Park High School team in Dallas - Layne a year ahead. They were the closest of friends who held each other in the highest respect and admiration. They went into the U. S. Merchant Marine together and came out at the same time. Only a quirk of fate kept them from playing on the same college team.
Bobby helped lead Highland Park to the bi-district title in 1942 and to the state high school semifinals in 1943. Upon graduation, he moved in with an uncle, a strong supporter of the Texas Longhorns, and played freshman varsity with Texas in 1944, while wartime restrictions against freshman play were waived. Walker, with another year at Highland Park, meanwhile led his team to the state high school finals.
When Doak was graduated from high school in 1945, the war was still in progress. He and his pal, Bobby, joined the U. S. Merchant Marine. The war suddenly took a quick and favorable turn, and their service was brief. On the last Saturday in October, 1945, Bobby and Doak reported to New Or­leans to receive their discharges from the service. It was a coincidence that their longtime friend and former coach at Highland Park High, H. N. (Rus­ty) Russell, also was in New Orleans on another mission. Rusty had moved in as assistant coach at Southern Methodist and the Mustangs were in the Crescent City for a game with Tulane. There was a happy reunion.
Also in New Orleans at the time was Blair Cherry, assistant to Coach D. X. Bible at Texas. Cherry was scouting SMU for the next week's game against his Longhorns. He was happy to see Layne but happier to see Layne's young friend and ex-teammate, Walker, widely sought by all Southwest Conference schools.
"Maybe we can get that boy to come to Texas," Cherry confided to Layne.
"Perhaps," said Layne, hopefully.
Doak was not committed but was leaning heavily toward his old high school coach, Rusty Russell, and his hometown university, SMU. Russell knew he couldn't dissuade Layne from returning to Texas but he hoped to keep Bobby from influencing the Doaker, and, somewhat ambivalently, he gave the two boys tickets to the SMU-Tulane game.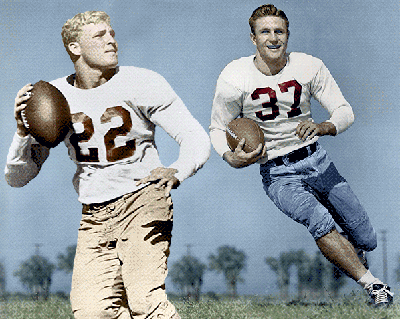 L: Bobby Layne, Texas; R: Doak Walker,
SMU
It was almost a fatal blunder. SMU played miserably, losing to Tulane 19-7. After the game, Layne said to Doak, "You better come to Texas with me. Let's go over and talk to Coach Cherry."
"Okay," Walker said, his mind not fully made up.
The two young men raced to Cherry's hotel. The story is that, as they were going up the elevator to the coach's room, Cherry was coming down ano­ther lift to check out. They missed each other completely.
Walker returned to Dallas and immediately enrolled at SMU. Layne re­turned to Texas. So the two buddies took separate roads and, instead of winding up in the same backfield, they became opponents. Within a week they were aligned on opposite sides of the field, launching one of the Southwest's most exciting and colorful personal rivalries.
Walker, who never had played a minute of college football, said afterward that he didn't know how he made such a quick transition. "Bobby and I got out of the service on Friday," he recalled. "On the following Monday," both of us were in uniform, practicing. The next Saturday we were playing against each other - I as a freshman, Bobby as a sophomore."
The first meeting of these two former teammates was dramatic. Walker ran 32 yards for a touchdown that put SMU ahead 7-0. Layne rallied Texas in the final period. Bobby passed to Dale Schwartzkopf for one touchdown and, after intercepting a Walker pass, threw to R. E. (Pappy) Blount for a 12-7 Texas victory.
Editor's note: Layne and Walker finally played in the same backfield for the

Detroit Lions

1950-55, during which time the

Lions

played in the NFL Cham­pionship Game three times, winning two.