"I am still so damn mad," he snaps. "I get madder, every day, about missin' him." Him is Johnny Football.
At the NFL draft two weeks earlier, Johnny Manziel, the freshman Heisman Trophy winner and Instagram antihero, had fallen to the first round's 16th slot, owned by the Cowboys. Twitter nearly imploded.
Among the organization's football minds, only Jerry Jones wanted Manziel. Stephen Jones, the Cowboys' executive VP in charge of player personnel, had lobbied hard against choosing Manziel. "I'm still so damn mad at Ste­phen," Jerry tells me, while Jones' younger son, Jerry Jr., says, "I'm the head of sales and marketing - where do you think I came down?"
But head coach Jason Garrett, his staff and the team's scouts had strongly advised against drafting Manziel. After all, Romo is entering the second season of a seven-year, $119.5 million contract, with $55 million guaran­teed. But he's also 34 years old and coming off his second back surgery in less than a year. The inevitable quarterback controversy, not to mention the three-ring circus of Romo, Manziel and Jones in Big D, would have distracted everyone and could have provided enough TNT - and TMZ - to blow up the team.
On draft night, fans and haters watched, enthralled, when Manziel fell in Jones' lap, their partnership looking preordained. In the draft room, Jones appeared anguished as he ground his No. 2 pencils in his right fist, the clock ticking. But Jerry Jones always gets what he wants, right?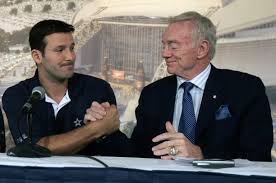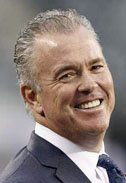 L: Tony Romo and Jerry Jones; R: Stephen Jones
No. Heeding everyone's advice,
Jones
selected
Notre Dame
offensive tackle
Zack Martin
, picking a player to protect
Romo
over a player who would have had
Romo
hearing footsteps. "I can't believe that Ringling Bros. and Barnum & Bailey Circus didn't buy the biggest elephant in the world," [former director of scouting for the
Cowboys
Larry
]
Lacewell
says.
In his suite during the George Strait concert, Jones introduces me to Romo, who asks about the subject of this story. Jones answers for me, "Passin' on Manziel for Romo."
The surprise draft decision reveals something not widely understood about his boss, Romo says: He selected a sound fundamental player needed to improve the offense, not the high-risk matinée idol of the draft. "More than anything," Romo says, "it just shows a lot of people that we're here to win - not just be a flashy program."
Jones is beaming. He returns the sell: "And what is amazing," Jones says, "is if there's anybody on this planet that could've handled Manziel compe­tin' with him ..." Jones drapes his left arm on Romo's right shoulder. "This guy could handle any damn thing - this is your fighter pilot. This is your fighter pilot. This is the guy you want goin' in, droppin' and winkin' at 'em, and comin' out and drinkin' beer. This is him. So he could handle it. It wasn't a question of not handlin' it." The analogy, such as it is, puts a smile on Romo's face.
But during our initial conversation at the Ritz-Carlton several weeks earlier, Jones speaks longingly about Manziel's potential benefits to the Cowboys, long-term. "If we had picked Manziel, he's guarantee our relevance for 10 years," he says. "The only way to break out is to gamble - take a chance with that first pick, if you wanna dramatically improve your team," adds Jones, who likens himself to a riverboat gambler. "That's why I wanted Manziel, but I was the only guy who wanted him. I listened to everybody ... and I'm ... not ... happy."
On the Radio City Music Hall stage, as Zack Martin donned a Cowboys baseball cap and hugged Roger Goodell, Jones seethed back in the draft room. "There's only one thing I wanta say," Jones whispered to Stephen. "I'd have never bought the Cowboys had I made the kinda decision that I just made right now."