Messengers kept coming down the aisle every few minutes. "
Pitt
's winning." They walked back and forth a couple more times on the flight back to Baton Rouge, ... giving the partial score of the
West Virginia
-
Pitt
game. It was too tedious for
Les Miles
and he finally had enough. "I'm not the guy who wants to get a partial score," the
LSU
coach said. ... "Give it to me at the end."
"Playing for a conference championship is awfully damn important here,"
Miles
said. "Even this past season [2011] we're going to hang two banners in this building. A Western Division banner and the SEC banner. Those are damn important things and they were dam important in 2007." ...
When the plane landed,
Miles
heard the final score:
Pitt
13, No. 2
West Virginia
9. It had all been lined up for the
Tigers
;
LSU
had a chance to play for the national champ­ionship.
West Virginia
had been a decisive favorite against the
Panthers
, who were just 4-7, but the
Mountaineers
unraveled. Their sensational QB,
Pat White
, dislocated his thumb in the second quarter, the
Mountaineers
lost three fumbles, and
WVU
be­came the sixth team ranked No. 2 in 2007 to lose. Pretty luck, huh? For
LSU
, that is.
Miles
sitting in his office in Baton Rouge four and a half years later, just smiled.
Pat McAfee
, an NFL-caliber kicker, ... had missed two makeable FGs for
West Virginia
. How could that happen?
Miles
turned his right hand over, the palm was up, and he kept smiling and gave a little shrug. A Bible was a few feet away on his coffee table. You knew what he meant. A blessing had flowed into his open palm. ...
"We got on the plane having won the conference championship,"
Miles
said. "We got off the plane with a chance to win the national championship. Are you kidding me? How wonderful all that was."
It was not so wonderful for
West Virginia
. After this bitter loss on a bitter-cold night, plenty of ill will followed. Some students gathered outside
McAfee
's off-campus apart­ment and started shouting threats and honking horns. Texts warned of abuse for miss­ing FGs from 20 and 32y. His car was vandalized and then there was the ultimate smack talk: a death threat.
"It was just a nightmare,"
West Virginia
coach
Rich Rodriguez
said after the game. "The whole thing was a nightmare."
For
LSU
, it was euphoria. Just to make sure the BCS did not dare slip anyone but
LSU
into the National Championship Game against
Ohio State
,
Miles
was given directives on the tarmac on whom to lobby in the media to make it all secure.
Les
the Lobbyist got on ESPN and started talking up the
Tigers
. Undefeated in regulation, he chimed, a phrase coined by his wife,
Kathy
.
LSU
(10-2) had lost to
Kentucky
and to
Arkansas
, both in triple overtime. They had clobbered No. 9
Virginia Tech
and beat
Tim Tebow
and No. 5
Florida
. They won at No. 18
Tennessee
and beat
Nick Saban
's first
Alabama
team in Tuscaloosa.
"
Georgia
wanted to say it was the hotter team and it should play
Ohio State
,"
Miles
said. "Well, I said the hell with them. We were the better team. They didn't even win their side of the conference. We had accomplished greatly, even if we didn't get in that last game. It didn't make any stinking difference where we played after we won the championship of this conference. But I'm glad we got the shot. It was going to give us a chance to get healthy.
Glenn
[
Dorsey
] needed the time off, and
Matt Flynn
[QB] didn't even play in the conference championship game. When we got healthy, well, you saw it."
The
Tigers
waxed the
Buckeyes
. They were good and lucky.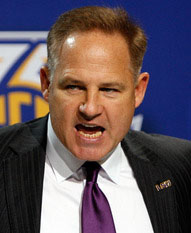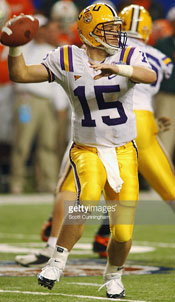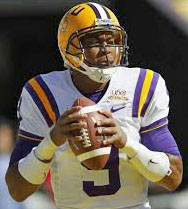 L-R: Les Miles, Glenn Dorsey, Matt Flynn, Jordan Jefferson
They were more than that, though. They were a together team. Some significant players on the '07 championship team, such as
Dorsey
, the All-American defensive tackle, were recruited by
Saban
... Then the
Miles
recruits were mixed in with the players left behind by
Saban
. A visitor to
Miles
's office wanted to talk about
Saban
's guys, but
Miles
held his hand up as a stop sign. "No, no," said
Miles
. "When I got here, they became my guys. ..."
The players, meanwhile, treated it as if they belonged to neither
Saban
nor
Miles
. They were
LSU
guys. That's how
LSU
has remained near the top of the heap in college foot­ball the last five seasons: Louisiana pride. People around the state recognize that high school players, staying in state, can deliver championship after championship.
"Eighty percent of the guys in the program were from Louisiana," said
Craig Steltz
, the safety for the 2007 team. "It doesn't matter for a lot of guys who the coach is,
Saban
or
Miles
. We are going to uphold the tradition of the program. We are going to wear the white jerseys and gold pants at home. We're going to run through the goalposts and walk down the [Victory] hill. The tradition is what has to be upheld through the years."
That was fine by
Miles
. Players first, coach second.
Miles
made the mistake one time of getting the order wrong. It still bugs him. He remembers referring to his guys after one game while he was the head coach at
Oklahoma State
as "they," and he has never fogotten it. "We were at
Kansas State
, and we got the s*** kicked out of us," he said. "We had suspended two FBs and had some injuries and it was just a bad day, and I, as a young head coach, put myself in a separate place and said 'they' when responding to a question. I had to apologize to my team. It so bothered me." ...
"We're playing
Tennessee
in the SEC Championship Game (2007).
Matt Flynn
is my holder; he's out, injured.
Ryan Perriloux
is my new holder. There is just a little differ­ence in how it all needs to mesh on the kick. Those things you as a reporter are never going to get from me."
Colt David
missed a 30y FG before the half in the 21-14 win over the
Vols
.
David
did not miss many 30y FGs in his career, but he had an alibi, a new holder.
Miles
refused to lay blame or enlighten.
It's why
Miles
did not jump down
Bobby Hebert
's throat publicly in the press conference following the 21-0 loss to
Alabama
in the national championship in January 2012.
Hebert
, a former NFL QB, popular radio talk-show host in New Orleans, and father of one of
Miles
's players, asked an agitated question about why
Miles
did not change QBs against
Alabama
with the offense flailing away. The answer was pretty obvious:
Jarrett Lee
, whom
Hebert
wanted in the game, had wilted in Tuscaloosa in the 9-6
LSU
win in November when
Lee
had to pass against
Bama
pressure.
Miles
wouldn't say publicly that
Lee
was not going to handle the frother-up
Alabama
defense any better in the rematch. ...
"You're never going to get comparisons from me for
Jordan Jefferson
and
Jarrett Lee
in that championship game,"
Miles
said. "I am going to stand for both of them. I love both of them."
Even after
Jefferson
went on an Atlanta radio station a month after the game and bashed the
LSU
game plan against
Alabama
,
Miles
kept quiet. Others in the program were incredulous at
Jefferson
's sniping.
Miles
had stood behind
Jefferson
after the QB was in a bar fight before the 2011 season and stuck with
Jefferson
as QB after a num­ber of poor passing performances. It wasn't just the game plan that cost
LSU
against
Alabama
; it was
Jefferson
's mishandling snaps from center and penalties that ruined some plays.
Miles
needed a flak jacket with his own side taking shots at him, but he was mum. ...
He is considered a player's coach, but he does not coddle players. He tells them rather directly, "When you sign up to come to this school, you are signing up to really exceed expectations."