Early in the spring of 1946, after Paul [Brown] had become coach of the Cleveland Browns, I drove over to Cleveland to ask him if there was a pos­sibility of my playing in the new league. He told me he knew of nothing whatsoever in the league's constitution or bylaws that would keep Negroes out. He said he was going to a league meeting soon and would be in touch with me later. I felt encouraged.
Now it so happens that at that time the Canadian League was beginning to compete for American football players, and not long after I visited Paul I heard from a coach named Lew Hayman, who invited me to play in Montre­al. That very year, Jackie Robinson was breaking into organized baseball in Montreal, and I had read that he was being accepted for the great ballplay­er he was. So I made up my mind that if I couldn't play for Cleveland, I would play in Canada. Early that summer, in order to get ready for the sea­son, I underwent surgery on an old knee injury and had the cartilage re­moved. Time was slipping by, and I had heard nothing further from Paul Brown, but Lew Hayman came to visit me and left me a plane ticket with instructions to report to the Montreal club in two weeks.
It was a Sunday ... and I was just about to pack up and go to Canada when I received a phone call from a fellow named Paul Hornung, a Colum­bus sportswriter. He had covered the Ohio State games and thought an awful lot of me, and now he was calling from the Browns' training camp at Bowling Green and wanted me to come to camp and try out. "I can't do that," I said, "I wouldn't feel right walking into camp without being invited."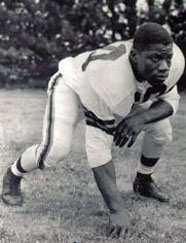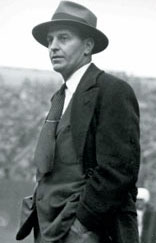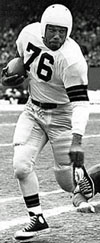 L-R: Bill Willis, Paul Brown, Marion Motley
Hornung said, "Now wait a minute. You just get over here." He said, "You just take my word for it that you can make this ball club, and as a matter of fact, I'll stake my reputation on it." Well, I said, "Look - I have a plane ticket to go to Canada. If I go to the Browns' camp it's going to cost me expen­ses." Then Hornung said, "Never mind about that. You just be here." He was so insistent that I finally said okay. I phoned Lew Hayman and told him what I was doing, and he bet me a new hat that I wouldn't make the Cleveland club.
Practice was just ending when I arrived in camp. When Paul Brown spotted me, he came across the field to greet me, and it seemed obvious from his manner that he had been expecting me. I imagine he'd put Paul Hornung up to phoning me. Why? I don't know why. Nor do I know if Paul knew any­thing about my surgery, but he asked me if I felt I could play football. "I don't know," I said. "I think so." I said nothing about my knee. I had been exercising it some, but the thing was still kind of gimpy. "Well, go get a uni­form and be out here tomorrow," Paul said, and the next day, toward the end of scrimmage, he put me in on defense at middle guard.
The five-man line was popular then, and as middle guard I played directly opposite the center, who on the Browns happened to be a player named Mo Scarry. He had gone over to the Browns after playing a couple of sea­sons in the National Football League and was very quick at snapping a football. In fact, he had the reputation of owning the fastest hands in pro football.
But the first time he snapped that ball back to Otto Graham, the QB, I hit right into him and drove him into Graham and broke up the play. As a mat­ter of fact, I broke up four straight plays. Scarry couldn't believe I was getting through him legally. He yelled, "Hey, check the offside!" ...
But what I had been doing, you see, was concentrating on the ball. The split second the ball moved, or the hands tightened, I charged. And I charged him a different way every time. I would go under him, then over him. I would bang off his left shoulder, then I would bang off his right shoul­der. I caught Graham every time, usually before he had even begun to pull away from center. My knee was still a little weak, but I figured I had to make the club that day.
"Yes, I had better check this for offside," Paul said when Scarry started complaining. Paul got down in a crouch in the linesman's position, and he stationed one of his assistants, Blanton Collier, right behind me. The offense ran three more plays, and all three times I charged through and caught Graham. Paul called off practice and told me to see him at his office that night. He signed me to a four-thousand-dollar contract and told me to say nothing to anyone. An announcement, he said, would be made at the proper time.
So that's how it all began. Although I was the first Negro player in the league, my arrival in training camp caused no commotion as far as I could tell. You see, in contrast to most professional teams, Paul had gathered most of his players from the Big Ten, and there were about six men I had played with at Ohio State. After I had been in camp for a week, as I recall, Paul announced that he had signed me, and again there was no commo­tion. And maybe that's why Paul decided to sign Marion Motley. He asked me one day if I would like a roommate. I said that would be nice, and he said, "Well, Marion Motley is going to be reporting." ...
In the beginning I played both ways, offense and defense, and up there in the line I'd hear the opponents getting ready for Marion - especially the Brooklyn Dodgers, who had quite a few bigoted players on the team. That is, there were many players who tried to create racial tensions while play­ing. You would hear them yell, "Get that big black blankety-blank!" or "Look out over this way! That black so-and-so is coming around here this time." They also had some choice words for me. When they stopped Motley, they would hold him up, keep him on his feet, so they could take shots at him. They would keep coming, taking whacks at him.
The first time we played the Dodgers, just about the whole lot of them piled on Marion. I started pulling guys off, saying, "Okay, boys, the play's over! Let's go!" Well, they had a five-by-five type, a guy about 260 pounds, and he wheeled around and said, "Keep your black hands off me!" I step­ped back a pace in case he tried to reach me with a punch, but I was angry and I kept my hands on his shoulder pads. Before anything more could happen, some of our players - Lou Rymkus, Lou Groza, and some of the others - raced over and broke it up. Then Rymkus told me there was no point in my getting into fights and risking being thrown out of the game. He said, "If anyone gives you a bad time, you just tell us. We'll take care of him." ...
I had some unpleasant moments in pro football, but the experience was much more pleasurable than unpleasant. I never had a run-in with a team­mate. I did not have the problems that Jackie Robinson experienced when he broke into the big leagues. Perhaps I was fortunate that I had played with or against many of the pros in college. And don't forget, we were a Paul Brown team. It has generally been overlooked, but I think it is accu­rate to say that Paul Brown was the Branch Rickey of professional foot­ball.
Oh yes - Lew Hayman, that fellow from Montreal who bet me a new hat I'd never make the Browns - he bought me a very nice Stetson.