Sean Payton's heart was racing almost as rapidly as his mind on the morn­ing of March 21, 2012. The Saints head coach remained in shock ... mo­ments after learning the NFL's verdict for Bountygate. ... Because the sur­reptitious program, involving at least twenty-two defensive players, viola­ted league poli­cies and had occurred under Sean Payton's watch, the NFL had banned him for the entire 2012 season.
Having expected a suspension of only perhaps a handful of games, Payton reeled from the harshest penalty ever handed to a head coach in the league's ninety-two-year history. It included a loss of almost $6 million from his $7 million salary. At this unimaginable low point, Payton, who hadn't missed a football season since his Pop Warner days, could think of only one person to consult. Five minutes after getting the shattering news, he dialed Bill Parcells.
Speaking via cell phone from his winter home in Jupiter [FL],
Parcells
calm­ed his former
Cowboys
lieutenant. During the brief conversation
Parcells
revisited an old lesson: collect as much information as possible before mak­ing any important decision. ...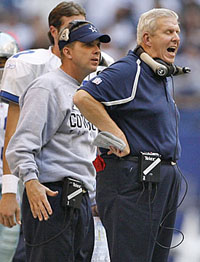 Sean Payton and Bill Parcells with the
Cowboys
The penalties could only be appealed to Commissioner Roger Goodell ... by an April 12 deadline. Parcells advised Payton, who'd set the process in motion, to use the intevening time for contingency plans. Owner Tom Ben­son empowered his disgraced head coach to find a temporary replacement, and early the next morning, Payton dialed Parcells again, this time with an impassioned plea: fill in for him as head coach for the season. Payton em­phasized his mentor's leadership qualities and his unique skill set as a for­mer GM, head coach, and linebackers guru.
"Listen, you can help us out here. You can do all those jobs."
Parcells replied, "I'll think about it."
The 49ers hadn't been the only team in late 2011 to quietly try luring Parcells back to the sidelines. In November, Penn State contacted him after firing Joe Paterno ... Parcells responded to that inquiry by recom­mending Eric Mangini, whom he'd taken an increased role in mentoring since the young coach had become estranged from Bill Belichick. So Penn State interviewed Mangini before hiring Belichick's offensive coordinator, Bill O'Brien.
After having shown zero interest in the Nittany Lions and briefly contem­plating the 49ers job, Parcells strongly considered accepting New Orle­ans's short-term gig. Despite being only five months away from age sev­enty, Parcells wanted to help one of his favorite pupils, someone he con­sidered to be like a son.
Parcells's NFL staffs, including the one in Dallas, had given small cash in­centives for statistics such as special-team tackles inside the 20-yard line, blocked kicks, and defensive turnovers. While those inducements technically violated league rules against salary-cap circumvention, the practice remain­ed widespread - it was the NFL's version of jaywalking. ...
Joining the Saints would mean only a six-month stint, and part of Payton's rationale on his replacement stemmed from intimately knowing Parcells's tendency to coach from year to year anyway. After Bill's Dolphins tenure, the Saints also provided an opportunity for him to burnish his legacy late by guiding an NFL-record fifth team to the posteason and, in a best-case sce­nario, punctuating his career with a third Lombardi Trophy. Conversely, Parcells faced a quandary: returning to the sidelines would reset the clock on his Hall of Fame eligibility. Five years after the 2012 season would put Parcells at age seventy-seven before his next crack. After being snubbed in February, however, Parcells refused to base his decision solely on the whims of Hall voters.
On March 27, Sean Payton made his first public comments since receiving his suspension. While taking questions from reporters at the NFL owners meeting at Palm Beach, Florida, he caused a tizzy in the sports world by broaching the possibility of Parcells as a temporary replacement. Parcells's friends, his family, the media, and his former players inundated the retired coach with calls, texts, and e-mails to offer opinions or glean insight. ...
Bill Parcells lived about twenty miles away from Palm Beach, so a few hours after Sean Payton's media Q&A the sullied coach took Saints execu­tive vice president and GM Mickey Loomis to a nearby golf course to meet Parcells for the first time. The threesome played eighteen holes, giving Loomis and Parcells an opportunity to get acquainted. In discussing the New Orleans gig with Payton, Parcells became increasingly intrigued. The Saints were an offensive juggernaut, led by one of the best players of his generation. Parcells had reached three Super Bowls with different quarter­backs, but he'd never coached a signal caller of Drew Brees's caliber.
The Pro Bowl quarterback had heard a great deal about Parcells from his head coach, and before New Orleans played in the 2010 Super Bowl, Pay­ton introduced Parcells to Brees. The retired coach enjoyed getting ac­quainted with the Purdue product, and Parcells sensed that the feeling was mutual. Brees was Parcells's type of player, based on his football passion and ultracompetitiveness. ... He relished his first chance to coach an all-time great at quarterback ... Nevertheless, Parcells maintained res­ervations about the job. Sure, Bountygate had upended the franchise and created turmoil, a situation that he enjoyed addressing. But New Orleans needed a leader to keep things from cratering until Payton's return, not someone to jump-start the franchise, which is what Parcells loved most.
Perhaps the most significant drawback involved Payton's staff. Parcells had no direct ties to anyone on it, a disadvantage compounded by the gig's brevity. Parcells said to himself, "So if things don't go well, people will say, 'This guy tried to change everything we were doing.' And if it does go well, people will says, 'Well, shit, he had a built-in advantage.'"
Still, Payton emphasized the pluses. For one thing, New Orleans's off-sea­son setup and practice structure were virtually identical to Parcells's sys­tem.
After about a week of vacillation, with the media reading the tea leaves daily, Parcells remained open to the job. But he wanted to ease his nag­ging concern about overseeing an unfamiliar staff, one likely to view him as a lame duck. So Parcells asked the Saints for permission to hire two disci­ples with head-coaching experience. The organization obliged, and Parcells took steps to lure Al Groh, Georgia Tech's defensive coordinator, and Eric Mangini, an ESPN analyst two years removed from guiding the Cleveland Browns.
While Tom Benson ... and Payton embraced the idea, Loomis seemed re­luctant about it, perhaps sensitive to the effect on the incumbent coaching staff. Also, some reports speculated that Parcells would land an executive role in the organization after Payton's return. "Who knows what Loomis really thought? I don't have any idea," Parcells says. "I don't know Loo­mis; I only met him once. But guys like me threaten guys like him." In early April, the appeals process for Payton gave Parcells an extra week to weigh matters, and he focused on his reservations.
Absent from the sidelines for six years, Parcells enjoyed retirement ... Par­cells had a sweet deal with ESPN, too, working a few times each year on prime-time specials like Bill Parcells' Draft Confidential.
Finally, Parcells remained uncertain about whether he possessed the en­ergy required to do things in his maniacal way. ... So on April 11, Bill Par­cells informed Sean Payton that he would be staying retired, but he offer­ed to be of assistance in any other way possible. When news broke about Parcells's decision, his friends responded with a mixed reaction that en­capsulated his own ambivalence. ... Bill Parcells felt at peace. "I'm at a different place in the world now."