Despite burying his mother shortly after the Cardinals won the 1926 World Series, Rogers Hornsby still had much to be happy about.
As the second-largest stockholder in the Cardinals, he earned a large dividend because of the record home attendance of 681,535 during the pennant-winning season.
He was also the second-highest-paid player in the majors, making more than $33,000 per year going into the third and last year of his contract.
But
Hornsby
was never one to be satisfied.
He was still irked over his run-in with owner Sam Breadon in Pittsburgh near the end of the '26 season.
He also resented Branch Rickey's meddling in on-field matters.
Rogers also seethed over Breadon's giving Rickey the $25,000 bonus for the Cardinals winning the pennant that the vice president's contract called for when the owner had never raised Hornsby's salary when he made him manager. Nor did Sam offer his skipper a championship bonus.
So Hornsby scheduled a meeting with Breadon.
Rogers wanted a three-year manager's contract at $50,000 per season. He also wanted to become the Cardinals' first vice president, which put him second in line to Breadon, ahead of Rickey.
But Breadon insisted that one year at $50,000 was "as far as I could reasonably see my way to sign."
All the conference did was make Breadon more determined to get rid of Hornsby.
At the annual major league meeting in New York, Rickey sounded out

Giants

manager John McGraw, who had made several attempts to acquire Hornsby.
What would the

Giants

be willing to offer? McGraw had had a bitter falling-out with his star 2B Frankie Frisch the previous August. So swap of the second sackers was proposed.
Rickey asked McGraw if he was aware that Hornsby would want to take charge and manage the

Giants

. Supremely confident, Mugsy brushed off the threat.
So Breadon held all the cards when he met with Hornsby December 20.
The owner again offered a one-year $50,000 contract with the added stipulation that Rogers must never again bet on horse races or even go to tracks or associate with horse racing people.
As Breadon hoped he would, Hornsby rejected that stipulation and told Sam what he could do with his ballclub (an impossible physical act).
After Rogers stormed out of his office, Breadon called

Giants

' owner Charles Stoneham and asked if his club was still interested in the trade.
Assured they were, Breadon insisted on a quality P as well as Frisch. So Stoneham included righthander Jimmy Ring.
Hornsby signed a two-year contract with the Giants for $36,500 per year.
Before he could take the field for

New York

, Rogers had to sell his Cardinals stock, which he did for $105 for each of his 1,167 shares.
He also had to endure a meeting with Commissioner Kennesaw Mountain Landis, who gave the first of many stern but futile lectures on the need to curb his gambling habits.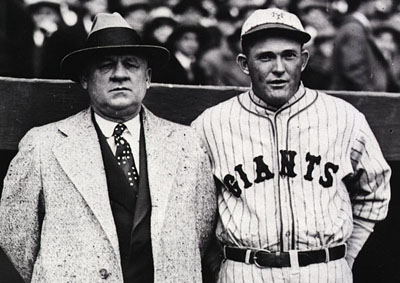 John McGraw and Rogers Hornsby
Mugsy doesn't look happy.
McGraw
would tolerate
Hornsby
for only one year before trading him to the
Boston Braves
.
After a season in the Hub City, Rogers joined the

Cubs

in time to help them win the 1929 NL pennant.

Cubs

owner Bill Wrigley made a stupid decision at the end of the 1931 season. Disenchanted with Joe McCarthy, who had led the club to the World Series in '29, Wrigley designated Hornsby as player-manager for 1932.
President Bill Veeck, Sr., was so disgusted by the move that he resigned. But Wrigley begged him to stay on, promising never to interfere in the operation of the club again.
Veeck put up with Hornsby for a year and a half before firing him August 2, 1932, to the great delight of the

Cubs

' players. Charlie Grimm took over and led the team to the pennant.
Hornsby played out his career back in St. Louis.
He started the '33 campaign with the Cardinals before joining the

Browns

as player-manager.
He lasted four more years with the

Browns

, playing sparingly. The team never finished higher than 6th during his tenure.
He would start the '52 season as

Browns

manager but move to

Cincinnati

later that season and the following one.
Rogers was inducted into the Hall of Fame in 1942.
His lifetime batting average was .358.
He won seven NL batting titles.