1926 - Game 7: St. Louis Cardinals @
New York Yankees

Lou Gehrig


Tony Lazzeri


Mark Koenig


Urban Shocker


Rogers Hornsby


Branch Rickey


Billy Southworth



Les Bell


Flint Rehm


Bill Sherdel


Graham McNamee


Pennant Races

The Yankees regained the AL crown after an absence of two years.

But it wasn't easy as the

Cleveland Indians

hung tough, finishing 2nd by only 3 games.
With Babe Ruth in tip-top condition after several poor seasons, manager Miller Huggins added youngsters Lou Gehrig at 1B (.313, 109 RBI, 16 HR) and Tony Lazzeri at 2B (.275, 117 RBI, 18 HR). Rookie SS Mark Koenig greatly improved the infield defense and hit a respectable .271.
Babe hit .372, second only to

Detroit

's Heinie Manush, scored a league-leading 139 runs, and drove in a league-high 146. He also led in walks (144), HRs (47), and slugging average (.737).
Three strong starters anchored the pitching staff: southpaw Herb Pennock (23-11) and righties Urban Shocker (19-11), and Waite Hoyt (16-12).

The St. Louis Cardinals won the city's first pennant in either league. Every other NL team had appeared in the World Series before the Redbirds made it.

The tight race went down to the second-to-last day. The Cards took first place on August 31 by half a game over the

Reds

. Despite playing their last 24 games on the road, the Birds maintained a lead the rest of the way ex­cept for one day when they slipped half a game behind. The league re­scheduled a rained-out game for the last Sunday of the season at Cincinnati, but the game became anti-climactic when the

Reds

lost 7 of 8.
Rogers Hornsby completed his first full year as player-manager after taking over from Branch Rickey, who continued as what today would be called General Manager. The added duty affected the Rajah's hitting, as his average dropped from .403 in '25, the third time in four seasons he topped the magic .400 mark, to a still-re­spectable. 317. He also missed 20 games due to injuries including two displaced vertebrae and infected boils. He hit consistently but with little power (11 homers after a league-leading 39 in '25).
Two other Redbirds equalled or bettered their skipper's performance. RF Billy Southworth, obtained in a trade with the

Giants

on June 14 - perhaps the worst of John McGraw's long and distinguished career - also hit .317 while 3B Les Bell topped the team at .325.
Flaky Flint Rehm won 20 games against 7 defeats to lead the hurlers. Bill Sherdel (16-12), veteran Jesse "Pop" Haines (13-4), and Vic Keen (10-9) also reached double figures in victories.
39-year-old Grover Cleveland "Old Pete" Alexander added 9 triumphs following his purchase from the

Cubs

June 22.

Just as the Cards benefitted from McGraw's foolish trade, they obtained Pete because of Joe McCarthy's antipathy toward alcoholics. Taking over from Bill Killefer after the 1928 season for his first major league position, Joe didn't tolerate Alexander's drinking, which the veteran pitcher claimed helped control his epilepsy. So the skipper put Alex on waivers. Pete signed with the Cardinals in part because Killefer was now Hornsby's pitching coach and Pete had gotten along well with Bill the year before.
Hornsby was fine with the old hurler's drinking, but Rickey arranged for a federal prohibition agent to follow Grover and other drinkers on road trips.

According to Bell, Hornsby challenged the team the first day of spring training. If there's anybody in this room who doesn't think we're going to win the pennant, go upstairs now and get your money and go on home, because we don't want you around here.

Hornsby had many spats with players throughout his managerial career. But his '26 Cardinals team seemed to have been a harmonious group, thanks in part to Rogers' simplifcation of signals, pitching instructions, and team regulations in general. C Bob O'Farrell recalled: Hornsby was a great manager as far as I'm concerned. That year in St. Louis, he was tops. He never bothered any of us.Just let you play your own game.

The owner of the

St. Louis Browns

,

Philip Ball

, had expanded Sportsman's Park after the 1925 season.

The

Browns

finished 1925 with a better record than their tenants, the Cardinals: 82-71 to 77-76.
Knowing that

Washington

's two-year reign as AL champs had been based on the pitching of 35-year-old Stan Coveleski and 37-year-old Walter Johnson, Phil liked his team's chances in '26.
So he added 12,000 seats to increase the capacity from 18,500 to 30,500. He justified the half-million dollar expenditure by proclaiming that Sports­man's Park would host the 1926 World Series.
He was right, of course, but not the way he hoped. His '26

Browns

crashed to 62-92 while the Cards improved to 89-65.

L: Sportman's Park hosting 1926 World Series; R: St. Louis World Series program

Hornsby suffered a personal tragedy right before the Series.

His 62-year-old mother died in Texas on September 29.
However, she left a dying request that her son stay with his team and make every effort to win the championship for St. Louis.
So the funeral was postponed until October 13.

When the Cardinals broke spring training in Texas, they played an exhibition game in Austin where Mrs. Hornsby had been hospitalized for several months. Thinking he might not get another chance, Rogers visited her. She told him his team would win the pennant and World Series. "I don't think you will ever see me alive again." When he tried to downplay what she said, she shook her head and said, "If I can live until the Cardinals win the pennant, I'll be happy."

L: Opposing managers before series; R: Ruth and Hornsby with Rogers' wife and son in background

Series Results

Saturday, October 2 @ New York:

Yankees

2 Cardinals 1
WP: Herb Pennock; LP: Bill Sherdel
Sunday, October 3 @ New York: Cardinals 6

Yankees

2
WP: Grover Cleveland Alexander; LP: Urban Shocker

Tuesday, October 5 @ St. Louis: Cardinals 4

Yankees

0
WP: Jesse Haines; LP: Dutch Ruether
Wednesday, October 6 @ St. Louis:

Yankees

10 Cardinals 5
WP: Waite Hoyt; LP: Art Reinhart
Thursday, October 7 @ St. Louis:

Yankees

3 Cardinals 2 (10 innings)
WP: Pennock; LP: Sherdel
Saturday, October 9 @ New York: Cardinals 10

Yankees

2
WP: Alexander; LP: Bob Shawkey

Each side produced heroes during the first six games.

Pennock twirled two complete game victories for the

Yanks

, who were top­heaving favorites over the upstarts from St. Louis.

Babe Ruth in his autobiography: Herb Pennock gave us a 3 games to 2 lead by winning the fifth game in 10 innings from Sherdel by a score of 3 to 2. We were a happy gang, going back to New York and needing only one more game to clinch the Series. We couldn't conceive of losing two games on our home grounds. But we didn't take into consideration how tough Alexander was going to be.

Alexander matched Pennock's feat for the Cardinals. Pete's second victory staved off elimination in Game 6. The 39-year-old still holds the distinction of being the oldest P in World Series history to throw a complete game.

After Game 6, Old Pete assured Hornsby that, if need be, I can throw four or five of the damndest balls they ever saw. Maybe a couple of innings. But I won't warm up.

Ruth clouted three HRs in Game 4 at Sportsman's Park, a mark that has been tied (as recently as 2011 by Albert Pujols) but never surpassed. Sportsman's Park was not new to the

Yankees

since they played 11 games there every season against the

Browns

.

Ruth homers during Game 4 in St. Louis off Flint Rehm

Game 7: Sunday, October 10 @ New York

The day of the climactic game dawned chilly and damp.

The Cardinals stayed at their hotel past the time they would normally have gone to the stadium because they didn't think there would be a game.

Bell recalled: Ordinarily we would have been out at the ball park by eleven thirty, but the day was so gloomy we just sat around the lobby waiting for word. Then Judge Landis [the commissioner] called up and said ..."We're going to play."
Ruth: It rained during the morning and cold blasts swept across the town. About 11 A.M. somebody sent out word that Judge Landis had called the game, but then shortly after noon we got word that Landis had ordered us to play if it was at all possible. And because of this uncertainty as to whether there would be a game many New Yorkers missed seeing one of the historic contests of baseball history.

In later times, the lights would have been turned on to illuminate the field on the dark day, but Yankee Stadium wouldn't have lights for 20 years.
The fog over the field lifted a half hour before game time.
The field was covered all night and morning by tarpaulins so the infield foot­ing would be good. But outfielders would have to watch for slippery spots.
Huggins came back with righty Waite Hoyt who gave up 5 runs in Game 4 but won. Hornsby selected 32-year-old Jesse Haines who had shutout the

Yankees

in Game 3 with his knuckleball and fast ball.
With fans wary of the weather, the attendance was only 37,708, 25,000 less than Game 6 the day before. The crowd control force of 335 police had little to do but stamp their feet and clap their gloved hands to keep warm.
Despite the low turnout, the final Series totals showed that 282,830 fans paid a record $1,182,754 to see the seven games.
The game was broadcast by Graham McNamee and Phillips Carlin from WJZ in New York to 21 other stations.

The New York Times printed a tran­script of the broadcast that provides the italicized statements in the play­by-play below.

St. Louis Cardinals Lineup

| | |
| --- | --- |
| Wattie Holm | CF |
| Billy Southworth | RF |
| Rogers Hornsby | 2B |
| Jim Bottomley | 1B |
| Lester Bell | 3B |
| Chick Hafey | LF |
| Bob O'Farrell | C |
| Tommy Thevenow | SS |
| Jesse Haines | P |

New York Yankees Lineup

| | |
| --- | --- |
| Earle Combs | CF |
| Mark Koenig | SS |
| Babe Ruth | RF |
| Bob Meusel | LF |
| Lou Gehrig | 1B |
| Tony Lazzeri | 2B |
| Joe Dugan | 3B |
| Hank Severeid | C |
| Waite Hoyt | P |

Yankee

Stadium during Game One of the 1926 World Series;

New York

World Series Program Cover



Waite Hoyt


Wattie Holm


Jim Bottomley


Jesse Haines


Earle Combs


Bob Meusel


Joe Dugan


Chick Hafey


Bob O'Farrell


Tommy Thevenow


Hank Severeid


Herb Pennock


Grover Cleveland Alexander


Packy Adams


Pat Collins


Ruth caught stealing to end the 1926 World Series.


Ed Barrow

1st inning

Holm leads off. He took over the CF spot after the regular, Taylor Douthit, was hurt in Game 4. Hoyt comes back from 3-0 to get a grounder to Gehrig.
Southworth hits a short fly on a 2-2 pitch to Meusel in LF.
Hornsby, only 5-for-24 in the Series, bounces a grounder just past the reach of the diving Lazzeri into CF.
Working fast and looking better than in Game 4, Hoyt induces Bottomley to foul out to Gehrig.
Combs smacks Haines's second delivery on a long line to CF where Holm makes a nice running catch.
Koenig grounds to Bottomley unassisted.
A tremendous volley of cheers greets The Babe as he steps to the plate. The crowd then boos as Haines throws three straight balls. They want to see their hero hit one. After the automatic strike, Haines throws ball four to hand Ruth his eighth base on balls of the Series.

Babe recalled in his autobiography: From a personal standpoint it was a good Series. Hornsby had his pitchers walk me a great deal. But even so I managed to get six hits, four of theem homers, in 20 times at bat, and hit an even .300.

Meusel swings viciously at the first pitch but misses. On 2-2, Bob cracks a single to CF, Ruth taking 3B.
Up steps Gehrig, the AL leader in triples with 20 (the most he would hit in a single season in his career). Lou cracks a hard grounder that Hornsby knocks down. The ball rolls a few feet away, but he retrieves it and throws out Gehrig to end the threat. McNamee on radio: If that shot had been three feet either way, it surely would have been a hit. Hornsby had to move fast to get in front of it.


2nd inning

Bell leads off with a liner that 3B Dugan snags to his left and over his head. That is another one that a few inches either way would have turned into a hit.
Hafey bunts the first pitch foul. He takes a strike, then goes down swinging.
O'Farrell set a Series record with five straight hits, all singles, in Games 4 and 5. With the count 1-1, Bob skies a long fly to RCF that Babe catches over his shoulder after a hard run to save a double and maybe even a triple. The Babe's batting average is not so high for the series, but he has given eve­rybody a chance to cheer at every game. The catch he just made is one of the best catches of the series.
As the sky brightens a little, Lazzeri strikes out on a 3-2 pitch.
Jumping Joe Dugan raps a single to CF.
On the 1-0 pitch to Severeid, Dugan tries to steal 2B. O'Farrell throws to Thevenow the SS at second and makes a bad throw. Thevenow gets it, however, on the first bounce and gets his man coming down to second. Nice work on Thevenow's part. ... Haines is using his fast ball almost exclusively. Another one - a little low, a ball. Haines is kicking the dirt around in the box now to get a more comfortable footing. Several pitches later, Severeid singles down the 3B line. Anyone but the slow-footed C would have ended up on 2B.
Hoyt hits the 1-1 pitch back to the mound to retire the side.

3rd inning

Waite gets two quick strikes on Thevenow but can't get the third one past him as the SS lines a single to LF. It is Tommy's ninth hit of the Series.

Ruth: There was another guy on the St. Louis team who was poison for us, and that was the little Cardinal shortstop, Tommy Thevenow. In the regular season's averages he ranked last of the regular players on both clubs; but in the World Series he came out top man, with a batting average of .417. He even clipped a home run at the Stadium ...

Haines bunts the first pitch to Gehrig who tags the batter as Tommy took 2B.
Holm fouls out to Severeid behind the plate.
Southworth gets hold of the first pitch and drives a fly to LF. The side is re­tired amid shouts, cries, and whistles.
Combs grounds a 2-2 pitch to Bottomley who beats the fleet CF to the bag.
Koenig is up. He is pounding the dirt off his shoes, getting the mud out of his cleats. ... Haines isn't using the curve so much, but when he does, he seems to have nice control. Koenig lifts a long fly to LCF that Hafey takes in.
Again the crowd is cheering Babe Ruth as he comes to the plate. As on his first plate appearance, the fans boo when Haines throws one out of the strike zone. With the count 1-1, Babe swats a high fly that lands in the RF bleach­ers to give the

Yanks

a 1-0 lead. Babe Ruth comes in after a slow jogging trip around the circuit, bows and takes off his hat to the crowd.
Meusel also hits the ball hard, but Hafey catches it in LCF.

Game 7: Waite Hoyt pitching purportedly to Rogers Hornsby. But there's a runner on 2nd base and Hornsby never came to the plate with a runner on 2nd during the game.

4th inning

Nobody has ever hit four HRs in any one series before, and as Babe goes into RF, the entire assemblage in the bleachers out there rises to greet him.
Thus begins the fateful inning that would cost the

Yankees

the Series.
The inning starts innocently enough with Hornsby bouncing back to the mound.
Bottomley raps a single to LF.
Bell, who homered the previous afternoon, smacks a grounder to Koenig, who boots it. Instead of two out and none on, the Cards have men on first and second with nobody out.
Waite jumps ahead of Hafey 0-2. Then Chick gets enough wood on the pitch to drop a Texas Leaguer between Koenig and Meusel to load the bags. Meusel could have got the ball without much difficulty if Koenig had stayed away from it.
O'Farrell lifts an easy fly to LF, but Meusel muffs it. A high fly was driven be­tween center and left. Meusel took the ball away from Combs, I think rightfully because Meusel has such a wonderful arm to throw home to catch the man and keep him from going in, but he dropped the ball. Tie game with the bases still full.
Thevenow raps a single to RF that scores Bell and Hafey to put the visitors ahead 3-1. I don't care who you are rooting for,

New York

or St. Louis, it doesn't make any difference. If you are any kind of a sportsman at all, you have got to feel kind of sorry for Waite Hoyt out there pitching a peach of a game and his team simply going blah on him.
Waite takes matters into his own hands, striking out Haines on three pitches.
Holm swings and misses a 1-1 pitch and threw his bat all the way down to 3B. Everything is slippery here today. The ball is terribly slippery and the footing on the field too. Wattie then grounds to Koenig who steps on 2B for the force to end the nightmare inning.
Haines' fast ball certainly has a zip to it today. Gehrig hits a long shot to the opposite field into the stands but just barely foul. He then walks.
On 2-1, Lazzeri lifts a long fly that Holm makes a very nice catch on. The

Yankees

are not playing a sacrifice game now, they are trying to hit them out.
Dugan hits a roller to the mound that sends Gehrig to 2B.
Severeid socks the first pitch. Oh boy, I hope to tell you Thevenow made a catch! Oh, what a catch of Severeid's liner. It was ten feet up if it was an inch and it started to go by SS Thevenow. ... He went up in the air four feet. ... What a catch!


5th inning

Southworth pops out to Gehrig.
Hornsby connects with the 1-1 delivery and drives a fly to Combs.
Bottomley hits a hard grounder to Lazzeri who throws to first to retire the side.
Huggins lets Hoyt bat for himself, and the P grounds out to SS.
Combs delivers a clean single over 2B.
Koenig lines out to Hafey in LF.
After the HR in the 3rd, Haines pitches carefully to Ruth. The crowd is giving Haines an awful booing for not pitching to Ruth. I don't know whether he has orders to shoot them outside or not, but the first one was very far from the plate. Babe takes first on the fourth wide one. Ruth looks disgusted as he throws his bat clear back to the dugout.
Meusel confirms the Cardinals strategy by bouncing the first pitch to Haines.


6th inning

Bell hits a long fly to LF.
Hafey grounds the first offering to Dugan, whose throw pulls Gehrig off the base for

NY

's third error of the game.
O'Farrell pops out to Dugan on the first pitch.
Thevenow is getting a beautiful hand from the crowd. He is getting it for that gorgeous catch. He has been playing quite a little baseball, not only today but during the entire series. With the count 0-2, Hafey takes off for 2B. Thevenow strikes out, and Severeid fires to Koenig to complete the DP.
For his second straight AB, Gehrig leads off the inning. He lifts a high foul fly down the RF line that goes into the stands. Bottomley was out there ready to take it. If he had an arm about two feet longer, he would have gotten it. Lou hit a grounder to Thevenow, who made another beautiful stop down there. Oh, it was a corker! Way over by second, he was running hard and he had to stretch out like an elastic band or something. That boy is some SS.
Lazzeri continues his bad day by striking out. The afternoon would only get worse for him.
Dugan drives a liner well over Thevenow's head for his second hit of the day.
Haines falls behind Severeid 3-0. Haines is getting into more three and two holes and is pitching them a little wilder. ... They are having a little conference now, Hornsby, Haines, and O'Farrell. After Hornsby and O'Farrell return to their positions, Jesse fires two quick strikes. Then Hank drives a liner to LF. Instead of playing it safe and conceding a single, Hafey tries to make a shoestring catch, but the ball gets away. Severeid makes it to 2B as Dugan, running at the crack of the bat, scores all the way from 1B. 3-2 Cardinals
Higgins sends Packy Adams out to run for Severeid and Ben Paschal to pinch hit for Hoyt with a chance to tie the game with a base hit. Haines zips a fast ball over the corner. [Paschal] seems to be crowding the plate too hard, and the umpire has warned him. Ben swings and misses to fall into an 0-2 hole. Here it is - a ball just outside. Haines evidently thought it was a strike, and he started in to the dugout ... He throws again, and the result is a high bounder that Haines grabs and throws to Bottomley just in time to avoid any further damage.

7th inning

Huggins brings in his ace, Pennock, to keep the Cards at bay. Pat Collins completes the new battery. Herb starts Thevenow with a curve for a strike. Tommy then grounds out 5-3
Despite signs of tiring, Haines hits for himself and launches the first pitch into LCF for a single.
Holm also makes good contact, driving the ball to Dugan who forces Haines at 2B.
With the count 3-0 on Southworth, Hornsby calls his RF to the on deck circle for a quick chat. After a strike, Southworth hits back to Pennock, who de­flects the ball to Koenig who tosses to first to retire the side.
With the top of the order coming up, you can't blame

Yankee

fans for get­ting their hopes up. And they rise even higher when Combs raps the 0-1 pitch over Thevenow's head, Tommy almost snatching another one.

Ruth: It was one of baseball's unforgettable innings.

Koenig bunts the first pitch to Bell at 3B to move Combs up one base.
Ruth up. They are having a conference in the middle of the diamond, the whole infield. ... The Babe is rubbing his bat and scraping his feet and getting himself set. After Haines throws ball one, McNamee concludes, He has got orders not to pitch to Ruth. He is throwing them away out. As the crowd voices its dis­pleasure, Haines completes the free pass. Ruth threw his bat about a hun­dred feet away. He stopped on his way to first base to tell Bob what to do to the ball.

Ruth: They gave me another one of those intentional passes that used to tear my guts out when I was itching to get hold of another home-run pitch.

Meusel wants to atone for his 4th inning muff. After he fouls the first pitch into the stands, O'Farrell goes to the box to talk to Haines. Bob hits the next pitch to Bell, who throws to Hornsby to force Ruth, Combs taking 3B.
Gehrig strides to the plate with the tying run 90' away. After a called strike and a foul, O'Farrell again visits the mound. Despite the 0-2 count, Haines pitches so carefully to Lou that he walks him to load the bases.
Lazzeri is up, and the crowd is again shouting, "Poosh-em-up-Tony," "Poosh-em-up-Tony." Again the Cardinal infield is all gathering around the pitcher's box. ... I think that the instructions at the last moment were to let Gehrig walk to get at the man who has already struck out twice today ... It is a long, long wait. I don't know what it is all about, a lot of conversation. Hornsby would reveal after the game that Haines had developed blisters on his pitching hand. So he calls for a new P from the bullpen beyond the OF wall.

Ruth

:

Haines was complaining of a blister on a finger and kept looking at his hands and shaking it. Hornsby finally came to the pitcher's box, talked to him a bit, and then beckoned out to the bull pen in left field for a relief pitcher. We had seen old Aleck trudge out there a few innings before, but two or three younger and fresher Cardinal throwers were warmed up and ready to step in - and we could hardly believe it when the old fellow himself came through the bull-pen gate and started walking slowly toward the infield. ... Hornsby met him in shoft left field and stopped him. For a long time Hornsby looked Aleck sharply in the eyes, and whatever he saw satisfied him. For he let him go the rest of the way to the box. Cardinal

3B

Les Bell

recalled the situation 52 years later.

I can see him yet, walking in from the LF bullpen through the gray mist. The

Yankee

fans recognized him right off, and you didn't hear a sound from anywhere in Yankee Stadium as they sat still and watched him. And he took his time. Grover Cleveland Alexander was never in a hurry, and especially not this day. ... He just came strag­gling along, a lean old Nebraskan, his face wrinkled, wearing a Cardinal sweater, his cap sitting on the top of his head and tilted to one side - that's the way he wore it. We were all standing on the mound waiting for him .... And don't think when Alec walked in it wasn't slower than ever - he wanted Lazzeri to stand up there as long as possible, thinking about the situation. When Alec reached the mound Rog handed him the ball and said, "There's two out and they're drunk

[meaning the bases were loaded]

and Lazzeri's the hitter."
"O.K.," Alec said. "I'll tell you what I'm going to do. I'm going to throw the first one to him fast."
"No, no," Rog said. "You can't throw him a fastball."
Alec said patiently, "Yes I can. If he swings at it he'll most likely hit it on the handle, or if he hits it good it'll go foul. Then I'm going to come outside with my breaking pitch."
Rog looked him over for a moment, gave a slow smile and said, "Who am I to tell you how to pitch?"
To show you what kind of pitcher Alec was and the kind of thinking he did, he said, "I've got to get Lazzeri out now. Then in the eighth I've got to get ... one, two, three. In the ninth I've got to get Combs and I've got to get Koenig, one, two, so when the big son of a bitch comes up there

[meaning

Babe Ruth

of course]

the best he can do is tie the ball game." He had it figured out that Ruth was going to be the last hitter in the ninth inning.
So we all went back to our positions and Alec got set to work. ... He was nearly 40 years old but, doggone, there wasn't another man in the world I would have rather seen out there at that moment that Grover Cleveland Alexander.

As he told Hornsby after Game 6, Alexander didn't warm up in the bullpen. Reaching the mound, he takes off his red sweater and throws his eight allotted practice pitches. (Some accounts say he threw only three or four.)
Lazzeri steps in. O'Farrell squats and gives a sign, but it's merely a decoy.

Alex later explained, He don't pay no attention to me, and I don't pay no attention to him ... I just pitch whatever I happen to want to pitch, and I know Bob will get 'em all.

True to his plan that had sent Tony home 0-4 in Game 6, Pete throws a curve that stays inside. 1-0. Then a high fast ball over the plate. 1-1. Lazzeri gets around on the next curve and drives it hard but foul into the seats down the LF line, just as Pete figured he would.

Ruth: With the count 1 and 1, Tony then hit a blazing line drive into the left-field stands, but it just curved foul. If the ball had been fair, it would have meant four runs, and Tony would have been the hero of the year. But it missed. That is baseball. The count on Tony was two strikes and one ball.

Alexander then fires a curve ball breaking low and outside that Lazzeri lunges at and misses. He struck him out! Alexander the Great comes in and strikes out Tony Lazzeri, retiring the side. The entire Cardinal team has rushed over to Alexander, petting him and patting him on the back, and are simply wild over him.

Afterward, Pete was asked how he felt after fanning Lazzeri. How did I feel? Go and ask Lazzeri how he felt. I felt fine. ... The strain naturally was on Lazzeri.
Ruth:

Lazzeri strikes out with bases loaded.

Final note on the

Alexander

-

Lazzeri

confrontation: Both men suffered from epilepsy.

Grover Cleveland Alexander

contracted the disease while serving in the Field Artillery in France during World War I. He was exposed to German mustard gas when a exploded near him, causing a partial hearing loss and triggering the onset of epilepsy. He suffered from shell shock and occasional epileptic seizures the rest of his life, conditions that exacerbated his problems with alcohol. His physical and emotional problems caused the

Cubs

to sell him to the

Cardinals

during the 1926 season.

Playing for

Salt Lake City

in 1925,

Lazzeri

batted .355 with 60 home runs and 222 RBIs over 197 games in the Pacific Coast League's extended schedule. Though the

Cubs

had a working agreement with

Salt Lake City

, they passed on

Tony

because of his epilepsy. The

Reds

did as well. But

Yankees

scout

Bill Essick

convinced GM

Ed Barrow

to sign

Tony

after making sure the player's insurance policy would cover his illness.

So the

Cubs

could have had both

Alexander

and

Lazzeri

on their roster in 1926.
8th inning
The Cardinals dodged a bullet, but they still have six outs to get. An in­surance run or two would sure help.
Hornsby leads off with a clean single over 2B.
Bottomley sacrifies his skipper to 2B, Dugan to Gehrig.
With the count 3-1 on Bell, McNamee tells his listeners, It is getting cold here. After a strike, Les skies to CF, Rogers holding his base.
Working slowly, Pennock throws a lovely drop for strike one to Hafey. Then he does it again. He has already won two games in this series, and he must be tired out. The next curve stays high, then Chick barely gets a piece of the next one to stay alive. He hits a shot to Dugan, who knocks it down, but can't make a play. But he keeps the ball out of the OF to keep Hornsby at 3B.
O'Farrell grounds the first pitch to Koenig who tosses to Lazzeri for the forceout as the

Yankee

fans breathe a sigh of relief.
With the count even at 1-1, Dugan raps a sharp grounder to Thevenow for the first out.
Collins comes to bat for the second time in the Series. The Old Master makes quick work of him on a foul out to Bottomley on the 0-2 pitch.
For some reason, Huggins has Pennock bat for himself. Perhaps he is con­ceding the third out so that Combs can lead off the 9th. Herb hits a low pop to Hornsby to complete Grover's plan for the 8th. Alex is pitching now as though he had not pitched for four or five days, as though he were a perfectly rested man.

9th inning
Thevenow hits an easy fly to Ruth on the 2-2 pitch. That reduces Tommy's average for the Series to .417, still plenty good enough to lead all hitters.
Alexander the Great is certainly getting some hand as he comes to the plate. They certainly are telling Alex that they think he is all right. Pete gets his bat on the 0-2 pitch and grounded to SS.
Holm smashes a hot grounder to Gehrig who wins the race to the bag. Grover will have to make do with a one-run lead.
Pitching with his usual smooth, easy motion against the top of the

Yankee

order, Alexander gets Combs to hit a 2-2 pitch to Bell who is playing at the edge of the grass. He snags it in between hops and throws to 1B. Two outs to go.
After taking a ball, Koenig hits a foul. Alex is working slowly, taking his time, evidently perfectly cool and calm. ... This is the best game of the whole series. After another foul, Mark punches a spinner off the end of the bat to Bell, who snares it to his right and delivers a sure throw to first. One out left.

At this point,

Alexander

had retired 24

Yankees

in a row going back to the 3rd inning of Game 6.

But that one out is the greatest hitter the game has ever known. Just as Old Pete predicted when he came into the game, the best the Babe can do is tie the game. Rogers Hornsby is now talking to one of the greatest pitchers in baseball to decide what to do about Ruth. It seems that Hornsby wanted Alexander to pass Ruth and Alexander didn't want to do it. ... Pete fires a strike, not showing any signs of walking Babe. The next pitch comes in a little outside. 1-1. Ruth fouls off the next delivery. One strike from the title. Here is what we came to see. There is danger of a HR tying the score, and Alexander the Great is pitching to Babe Ruth. Here it is - two balls. This is a duel. There is electricity in the air. Here it is again - a ball. Three balls and two strikes, and now they are booing Alexander, which is not fair. He walks him - a ball just outside. Ruth is again walked for the fourth time today. The last pitch didn't miss by much (an eyelash, recalled Bell).
That brings Meusel to the plate with one more chance to redeem himself. But as Alexander delivers the first pitch, Ruth takes off for second. O'Farrell, known for his strong and accurate arm, guns the ball to Hornsby who slaps the tag on him. For the only time in the World Series to this day, the final out came on a caught stealing.

Bell: We all froze for a second, then rushed at Alec. We surrounded him, the whole team, and pounded him around pretty good. He kept nodding his head and smiling and saying very softly, "Thanks, boys, thanks."
Ruth: We didn't get a hit off Alexander in the eighth and ninth innings. I was the last man to get on base, walking with two out in the ninth, my twelfth walk of the Series. I guess I again did something rash. I tried to steal second ... Ed Barrow once said that this was the only dumb play he ever saw we make. He felt that with such hitters as Bob Meusel and Lou Gehrig coming up, anything could have happened. But my thought in going down was to pull the unexpected on O'Farrell, and, if I succeeded, to put the "tying run" in scoring position.
Alexander admitted that he "forgot all about Ruth" on 1st.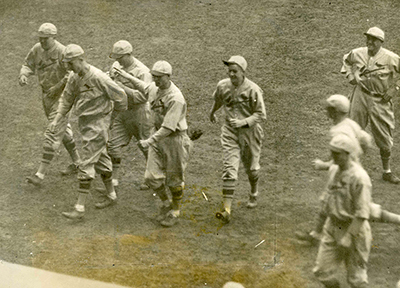 The Cardinals congratulate Alexander after the final out.
The defeat was the
Yankees
' third in their four World Series appearances to that point.
Postgame Comments
Hornsby: I want to tell everybody that Tommy Thevenow is the best SS in base­ball. ... He won the ball game. Of course, Alexander saved the game, but everybody knows what I think of Alex's pitching.
I had to take Haines out on account of an injured finger. He threw so many knuckle balls he rubbed the skin off and it was hurting his control. When he passed Gehrig in the seventh, he saw that he was going to have trouble getting the ball over with his bad finger, so I sent for Alex. He did the rest.
I want to say something, too, about the

Yankee

club and the

New York

fans. Our victory means all the more to us because we know that we defeated a great ball club. ... The

New York

fans treated us most generously. They could not have been kinder and, of course, we appreciate it. I do not think any visiting club ever was treated with more consideration by home fans.
Huggins was described as cheerful in defeat. There's nothing to say except that the Cardinals played wonderful defensive ball today - better than we did - and on the basis of their play they deserved to win. We were beaten by a great ball club, and I told Rogers Hornsby so when I congratulated him as soon as the game was over. Of course, we did not need today's performance to know that Alexander is a great P. I have said so twice before in this series, and I say so again.
I have one thing to say about errors my boys made. Those who would rather think about the errors than anything else should give a thought to the errors they didn't make.
Commissioner Kennesaw Mountain Landis congratulated Hornsby: It was a great series. You have a great club, and I congratulate you also on your playing personally.
In his syndicated column, Meusel called himself "the World's Series goat." I realize that our defeat today was largely due to an error of mine and to my failure to hit in a pinch. ... I become heartsick over it all. For if I had only caught O'Farrell's fly ball, we probably would have won the game, 2 to 0, instead of losing it ... There's no real ex­cuse I can offer for that muff ... It was an easy fly to catch. I guess in 10,000 tries for such a fly, I'd make a putout 9,999 times. But the tragedy for me is that today, of all days in my entire baseball life, I had to make the one muff at a time when it prac­tically won a ball game for the Cardinals and cost us the title. ... Twice opportunity came to me to smash out a hit that at least would have tied the ball game or maybe won it. And twice I failed.
Naturally, St. Louis went wild with joy when news came of the great victory.
Whistles, bells, and automobile horns joined in a terrific din.
Downtown streets, usually deserted on Sunday, were filled with fans in front of radio loud speakers and scoreboards.
Jubilant fans danced, threw their hats in the air, and hugged each other.
But in a foretaste of celebrations 50 years in the future, property damage was extensive, and two teenagers were killed when struck by automobiles. Approxi­mately 80 people were treated at local hospitals for injuries.
Sam Breadon

Aftermath

On December 20, Cardinal owner Sam Breadon traded Rogers Hornsby to the

New York Giants

for 2B Frankie Frisch and P Jimmy Ring.
Many reasons impelled Breadon to make the trade without the consent of his General Manager Branch Rickey.

Hornsby had an irascible personality and wasn't shy about criticizing Breadon tactlessly when he disagreed with his policies.
Rogers wanted a three-year contract while Sam offered only a one-year deal, albeit at $50,000 which would make him the highest-paid player in baseball after Babe Ruth.
Breadon also wanted Hornsby to stop betting on horse racing, which he refused to do.
And his "off year" with the bat in 1926 convinced Brea­don that Hornsby was slowing down.
John McGraw of the

Giants

had been trying to get Hornsby for most of the decade. So Sam finally decided to grant McGraw's wish, accepting a player, Frisch, that John considered a troublemaker.

Cardinal fans exploded at the news. The Mayor and Chamber of Commerce contact Commissioner Landis to see if the trade could be voided. Fans harassed Breadon as he drove his Pierce-Arrow through the city and made so many calls to his home that he disconnected his phone.
Breadon stated that the Cardinals were a good team with Hornsby and they will be a great team without him. This pre­diction proved correct as the Redbirds won the pennant in 1928, 1930, 1931, and 1934.
Debate continues to the present day concerning Alexander's sobriety level when he entered Game 7 of the 1926 World Series.
First of all, it was no secret that he was an alcoholic, particularly after serving as an artillery sergeant in World War I. He suffered from shell shock and returned home with a partial loss of hearing and ever-worsening epileptic seizures.
Stories of the 24 hours from the end of Game 6 to the end of Game 7 have ranged from Alex being sober because Hornsby told him he might need to use him in the final game to Pete going on a binder all night and sleeping off his hangover in the bullpen with a flask in his back pocket.
But in the same Sports Illustrated article cited above, Les Bell vigorously denied that Grover was drunk when he came to the mound in Game 7.
When you hear those stories about how Alec didn't think he might have to pitch the next day and was out all night celebrating and how he was hung over when he came in, that's a lot of bunk. I saw him around the hotel the night before, for goodness sakes. I don't say he didn't have a drink, but he was around most of the night. ...
There are so many legends associated with that strikeout [of Lazzeri]. They say that Hornsby walked out to LF to meet Alec, to look in his eyes and make sure they were clear. And so on. All a lot of bunk. ... If you stop to think about it, no man could have done what Alec did if he was drunk or even a little soggy. Not the way he pitched that day, and not the way his mind was working. Everybody knows that he was a drinker and that he had a problem with it, but he was not drunk when he walked into the ball game that day. No way.
In his autobiography, Babe Ruth repeated the common view about Alexander but added a surprising comment of his own. Everybody knew about the celebration old Aleck had attended that Saturday night, figuring he wouldn't be used again for the remainder of the Series. But not many knew that some of our own fellows had been out that same night - prematurely celebrating a Series victory that never came to us.
Video of 1926 World Series | Another video of 1926 World Series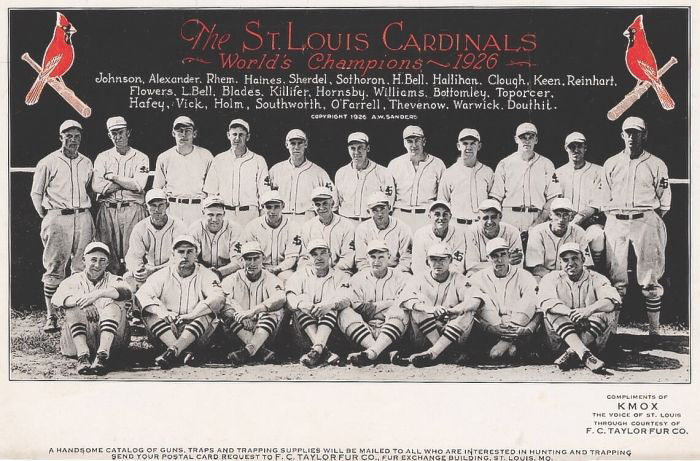 References: The Babe Ruth Story, Babe Ruth as told to Bob Considine (1948)
Rogers Hornsby: A Biography, Charles C. Alexander (1995)
The World Series, David S. Neft & Richard M. Cohen (1990); The Seventh Game, Barry Levenson (2004)
"Despite the Legend, Only the Bases Were Loaded in the 1926 Series When 'Pete' Alexander Ambled to the Pitcher's Mound," Donald Honig, Sports Illustrated, 10/9/78; Cardinals Journal, John Snyder (2010)
Next in this series: 1931 Athletics-Cardinals