1924 - Game 7:
New York Giants
@ Washington Senators
Pennant Races

Both leagues had three-time defending champions in the Yankees and Giants, both of whom were considered shoo-ins to repeat. But both had tough battles with surprising contenders.

The Giants went to the second-to-last day of the season before clinching the NL pennant over the Brooklyn Dodgers.

John McGraw's club led the league with an even .300 BA with six of the eight regulars surpassing that mark. OF Ross Youngs topped the team with a .356 mark while switch-hitting 2B Frankie Frisch finished at .328 and 1B George "High Pockets" Kelly hit. 324.
Mugsy's pitching staff was no slouch either, a third-best 3.62 ERA.

The Yankees had a fine season with 89 victories but finished second by two games to the Washington Senators.

The upstarts rose from fourth in '23 to first behind new 27-year-old player-manager Bucky Harris, whom the press christened as "The Boy Wonder."
Washington's first AL pennant provoked great joy across the nation in part because fans had grown weary of three straight all-New York World Series and also because the Senators' 36-year-old ace, Walter Johnson, would finally get a chance to pitch in the Fall Classic. The Living Legend had won over 350 games entering the season but showed no signs of decline as he led the league in both wins and ERA.
The victory was no fluke as three Nationals hit .324+: 1B Joe Judge (.324), RF Sam Rice (.334), and LF Goose Goslin (.344).
Johnson, of course, led the pitchers with 23 wins while southpaw George Mogridge added 16 and another lefty, Tom Zachary, 15. Harris also utilized a reliever in a style that presaged what became the norm decades later. Firpo Marberry recorded 15 saves long before that became even an unofficial statistic, starting only 14 games but relieving in 31.
Almost one hundred writers descended on the Nation's Capital to relay the story of "America's Team" to baseball fans in all 48 states.

Senators' victory parade October 1, 1924, after winning AL pennant.

Not even a disturbing incident that harkened back to the recent pain of the

Black Sox

scandal could dampen the nation's World Series fever.

The last Saturday of the season, the Giants nursed a 1.5-game lead as they hosted the 7th-place

Phillies

. A victory would clinch the crown regardless of what

Brooklyn

did in its game.
Before the game, Giants' reserve OF/1B Jimmy O'Connell approached

Philly

SS b with a proposition. It will be worth $500 to you if you don't bear down too hard against us today, he whispered. Sand told O'Connell to get away from him.
Heinie repeated the remark to his manager, Artie Fletcher, recently McGraw's most trusted coach. After the game, which the Giants won fair and square and during which Sand committed no errors and scored the

Phils

' only run, Fletcher arranged a meeting with NL President John Heydler the next day during which Sand repeated what O'Connell had told him.
Heydler immediately phoned Judge Landis in Chicago. The Commissioner arrived in New York on Monday morning and heard Sand's story, after which he summoned O'Connor.
The naive 23-year-old did not deny approaching Sand but claimed that coach Cozy Dolan put him up to it. Jimmy also mentioned that three of the Giants' stars, Frisch, Youngs, and Kelly, knew about the proposal. When Landis asked O'Connell if he realized that what he had just admitted would cause his expulsion from baseball, the young man answered yes.
The judge interrogated individually the other four O'Connell had mentioned. He became furious with Dolan, who answered every question with "I can't remember."
The day before the Giants left for Washington, Landis announced that O'Connell and Dolan had been placed on the ineligible list. The commissioner exonerated the other three players.
AL President Ban Johnson, who despised both Landis and McGraw, called for a Federal investigation of the case and proposed that

Brooklyn

replace the Giants in the World Series. And if

Brooklyn

isn't permitted to play, there should be no World Series at all.

Pittsburgh

owner Barney Dreyfus also called for cancellation of the Series and announced he would not attend.
Once the most-anticipated Fall Classic in history began, the matter was largely forgotten as no further creditable accusations of impropriety ever surfaced.

Managers Bucky Harris and John McGraw at beginning of 1924 World Series

Series Results

Saturday, October 4 @ Washington: Giants 4 Senators 3 (12 innings)
WP: Art Nehf; LP: Walter Johnson
Sunday, October 5 @ Washington: Senators 4 Giants 3
WP: Tom Zachary; LP: Jack Bentley

Monday, October 6 @ New York: Giants 6 Senators 4
WP: Hugh McQuilian; LP: Firpo Marberry
Tuesday, October 7 @ New York: Senators 7 Giants 4
WP: George Mogridge; LP: Virgil Barnes
Wednesday, October 8 @ New York: Giants 6 Senators 2
WP: Bentley; LP: Johnson
Thursday, October 9 @ Washington: Senators 2 Giants 1
WP: Zachary; LP: Nehf

President Calvin Coolidge with the "First Lady of Baseball" at his side as he throws out the first ball.

When Johnson lost Game 5 for his second defeat of the series, the Senators faced an uphill battle.

They had to win both remaining games without their ace starting either game. Harris would also be without his "assistant manager," SS Roger Peckinpaugh, who had to leave Game 3 with a leg injury and had not been able to return to action. 3B Ossie Bluege had moved to SS and Tommy Taylor took over at the hot corner. Fortunately, both remaining games would be played in Griffith Stadium in Washington.
25-year-old Tom Zachary kept the Nats alive with a tense 2-1 victory over 31-year-old Art Nehf. Boy Wonder led by example with a single in the 6th to knock in both runs.
Mrs. Calvin Coolidge, an avid baseball fan, dragged her unenthusiastic husband from the White House to Game 6 after he threw out the first pitch at Game 1. The First Couple would return for the finale. They were joined by many real Senators and Congressmen and other prominent people in government.
Baseball had gone a dozen years without a seventh and deciding game. There had been eight games in 1919, seven in 1920, and eight again in 1921 when the Series was best-of-nine but no ninth game for all the marbles. The Series had returned to first-to-win-four in 1922.
Game Six had hardly ended when lines formed at the ticket windows. Some exchanged old coupons for new and went home while others camped out all night to obtain their ducats the next morning.
Those who couldn't make it to Washington to join the 31,667 in the stands could listen to Graham McNamee's broadcast on the Westinghouse Network of radio stations in Pittsburgh, New York, Boston, and Chicago.
The weather continued beautiful, fair and cool.

Graham McNamee broadcasting the '24 World Series

Game 7: Friday, October 10 @ Washington

One the greatest battle of wits in World Series began before the game even started.
McGraw went with right-hander Virgil "Zeke" Barnes, the loser in Game 4.
Harris pulled a fast one on his older counterpart by employing a strategy concocted in Clark Griffith's office that morning. With everyone expecting him to start Mogridge, who had won Game 4, Bucky instead warmed up righty Curly Ogden, who had yet to appear in the Series. Since Curly had the fourth most starts on the club, the choice seemed reasonable, especially since Ogden had compiled a 2.58 ERA that was over a run less than Mogridge's 3.76.
But Bucky had no intention of letting Ogden pitch to more than a few batters. Mogridge would take his place in the first inning. If McGraw then switched to a right-handed lineup, he would lose a number of possible pinch-hitters. But if he decided to do that, Harris would bring in right-hander Fred Marberry.
McGraw turned in a lineup card with young Bill Terry, a left-handed batter, playing 1B and hitting fifth. Bill would eventually fashion a Hall of Fame career, but he had hit just .239 in his first full season in the bigs. However, "Memphis Bill" had blistered Washington pitching for 6-for-12 with a triple and a HR, which is why McGraw put him in the cleanup spot.
Harris figured he had a better chance of cooling off Terry with a left-hander while also putting Irish Meusel, a .310 batter from the right side in '24, on the bench. Kelly moved from 1B to CF.


Ross Youngs


Frankie Frisch


George Kelly


Joe Judge


Sam Rice


Goose Goslin


George Mogridge


Tom Zachary


Roger Peckinpaugh


Bill Terry


Irish Meusel

L: 1924

New York Giants;

R: 1924 Washington Nationals


Griffith Stadium 1924

Teams and umpires stand for the National Anthem before Game 7

Temporary LF bleachers at Griffith Stadium for World Series

New York Giants Lineup

| | |
| --- | --- |
| Fred Lindstrom | 3B |
| Frank Frisch | 2B |
| Ross Youngs | RF |
| George Kelly | CF |
| Bill Terry | 1B |
| Hack Wilson | LF |
| Travis Jackson | SS |
| Hank Gowdy | C |
| Virgil Barnes | P |

Washington Nationals Lineup

| | |
| --- | --- |
| Earl McNeely | CF |
| Bucky Harris | 2B |
| Sam Rice | RF |
| Goose Goslin | LF |
| Joe Judge | 1B |
| Ossie Bluege | SS |
| Tommy Taylor | 3B |
| Muddy Ruel | C |
| Curly Ogden | P |

1st inning

The leadoff batter for the

Giants

was 3B

Freddy Lindstrom

, playing because

Heinie Groh

had hurt his knee late in the season.

To this day,

Lindstrom

, at 18 years and 10 months, remains the youngest World Series participant.

Ogden struck out the right-handed batter on three pitches, the last a wide curve.
Curly then started walking toward the bench, but 2B-manager Bucky Harris called him back to pitch to switch-hitter Frankie Frisch. When Frankie walked, Harris replaced Ogden with George Mogridge as he intended to do all along. The southpaw had been warming up secretly under the stands.
Ross Youngs, a lefty, struck out on a wide curve. Then 3B Tommy Taylor threw out George Kelly.
Virgil Barnes also started impressively, a much different hurler from the one who surrendered nine hits and five runs in five innings in Game 4.
3B Fred Lindstrom fielded Earl McNeely's grounder and threw him out at 1B.
Harris struck out.
Barnes tossed out Sam Rice, who hit a weak roller to the mound.

2nd inning

3rd inning

Taylor threw out his third batter, Lindstrom, at first.
Frisch bunted and beat the throw at 1B.
Young popped to Judge.
Kelly forced Frisch, Bluege to Harris.
Taylor took three healthy swings and sat down.
Muddy Ruel went out, Barnes to Terry.
Mogridge continued his batting futility in the Series, striking out for the fifth time in his fifth AB.

4th inning

The pitching duel continued.
Terry fanned.
Bluege made a nice play on Wilson's "puzzling drive" and threw Hack out.
Bluege also got Jackson at 1B.


Mrs. Coolidge applauded Mogridge as he walked to the bench.

McNeely struck out on a drop curve.
Harris ended Barnes' perfect game with a bang, blasting a HR that just cleared the LF wall into the temporary bleachers.

President Coolidge and the whole crowd rose and cheered for more than a minute after Harris circled the bases with the first HR in Game 7 history.

Rice banged a low liner to LF, but Wilson made a shoe-string catch.
Terry fielded Goslin's grounder and beat him to the bag.

Hank Gowdy makes sure Bucky Harris touches the plate after his HR.

5th inning

Harris ran into short CF to snag Gowdy's blooper.
Bluege made another nice play behind 2B to throw out Barnes.
Lindstrom lined a double over Taylor's head down the LF line.
With a chance to tie the game, Frisch lined out to Goslin.
With Barnes continuing to throw his curve to every hitter, Judge grounded out 3-1.
Jackson made a neat stop and threw out his counterpart, Bluege.
Taylor struck out on curves.

6th inning

The crowd cheered when Walter Johnson went out to talk to Marberry in the bullpen in RF.
Youngs worked Mogridge for a walk.
With the count 3-and-1 on Kelly and the P needing to get one over, McGraw called for a hit and run that worked perfectly, a single over 2B that sent Youngs easily to 3B.
When McGraw sent up Meusel to hit for Terry, Harris countered by bringing in the righty, Marberry. With the Senators' infield playing back, Meusel flew to Rice in RF, Youngs scoring after the catch.
Wilson hit a grounder up the middle into CF, Kelly going to 3B.
Jackson grounded to Judge, who juggled the ball to allow Kelly to score the go-ahead run and Jackson to reach 1B, Wilson taking 2B.
Bluege let Gowdy's DP grounder go right through his legs. Wilson scored as Jackson raced to 3B.
Barnes lined out to Rice in short RF, Jackson holding 3B.
Firpo escaped further damage by striking out Lindstrom.
Two of the three

Giants

runs were unearned. The

McGraw men

could smell a world championship.
Kelly moved in from CF to 1B, Wilson shifted from LF to CF, and Meusel took over in left.
Barnes continued his masterful performance.
Ruel grounded to Lindstrom as did Marberry.
McNeely flew to Youngs.

7th inning

Frisch hit a foul fly that C Ruel caught leaning into the stands.
Youngs took a free pass to 1B.
On a hit and run, Kelly grounded sharply to Taylor, who had no choice but to throw to 1B.
Marberry ended the threat by grabbing Meusel's roller and tagging him out.
Senators fans packing the park and those listening on the radio grew restless as their heroes had only nine outs left against a pitcher on top of his game. Harris scratched a hit to SS.
But the excitement didn't last long as Rice bounced into a DP, Kelly to Jackson.
Goslin singled into RF.
However, Judge flied out to Wilson. Six outs left.

8th inning

Wilson fanned on three pitches.
Bluege juggled Jackson's grounder long enough for Travis to beat the throw - Ossie's second error of the game and the Senators' fourth.
But Marberry escaped trouble by getting Gowdy to fly out to Goslin and fanning Barnes.
With a chance to make up for his errors, Bluege fouled out to Gowdy.
32-year-old diminutive journeyman Nemo Leibold, hitting for Taylor, rapped a double down the LF line - the biggest hit of a ML career that would last only one more year.
Ruel broke his 0-for-18 Series drought with a single off Kelly's glove to send Leibold to 3B.
Rookie C Bennie Tate, with only 13 hits for the year, batted for Marberry and squeezed a walk out of the tiring Barnes.
Mule Shirley ran for Tate. McNeely hit a fly ball to LF but not deep enough to score Leibold.
To the plate strode Harris. He had made all the managerial moves but now had to come through as a hitter. And that he did, hitting a bounder that seemed headed for Lindstrom's glove but suddenly skipped over it into LF. Leibold and Ruel scored to tie the score and propel the crowd into delirium. Shirley stopped at 2B with a double.
McGraw took out Barnes - some might say several batters too late - and brought in Nehf who induced Rice to ground to Kelly to end the inning.

Muddy Ruel and Walter Johnson

9th inning

Was there any doubt what hurler Harris would bring in? With the crowd chanting, "We want Johnson!" "Old Barney" strode to the mound amid tremendous applause while Ralph Miller took over at 3B. The best P in baseball year in and year out despite toiling for losing team after losing team until this glorious season could still win a World Series game, an outcome that would please America. The late afternoon shadows from the grandstand would make his famous fastball even harder to pick up. After losing his two Series starts, the Big Train had one more chance to get a victory.
After Lindstrom popped to Miller, Frisch smashed a long drive to CF for three bases.
The Nats purposely passed Youngs, the

Giant

hitter they feared the most.
But that brought Kelly to the plate, the man who homered off the Big Train in his first AB of the Series. But this time the Old Master won the battle, striking out Kelly on three pitches.
With Meusel at bat, Youngs stole 2B. But Irish couldn't come through, grounding out to 3B.
The crowd was in a frenzy, exhorting their Senators for just one little run.
After Frisch threw out Goslin, Judge singled into CF.
Bluege hit a grounder to Kelly who threw to Jackson at 2B.
But Travis dropped the ball, Joe continuing to 3B as the SS tracked down the spheroid.
Now Washington had the same situation the

Giants

enjoyed in the top of the inning - runner at third with only one out. McGraw pulled Nehf in favor of "Handsome Hugh" McQuillan. During the change, the Senators gathered around the next batter, Miller, patting him on the back and urging him to get a run-scoring single, something he had already done twice in the Series.
But it wasn't Ralph's turn to be the hero. He grounded to Jackson who started a 6-4-3 DP to send the game into extra innings.

10th inning

Wilson walked.
But Jackson fanned, and Gowdy hit into a DP, 1-6-3.
Frisch threw out Ruel.
The cheering was deafening as Johnson came to the plate. A good hitter (.283 in '24 with 10 extra base hits), Walter smacked a long drive to LCF that brought the crowd to its feet. But Wilson made the catch a few feet from the fence. McNeely struck out.

11th inning

Crippled Heinie Groh,

NY

's regular 3B who had seen no action in the Series, pinch hit with his bottle bat for McQuillan and singled into RF. Speedy OF Billy Southworth trotted out to run for Heinie.
Lindstrom sacrificed, Judge to Harris.
Facing Frisch who had tripled off him two innings earlier, Johnson bore down. With the throng praying on every pitch, The Fordham Flash swung and missed three times.
Harris ordered another intentional pass to Youngs - his fourth base on balls of the day.
It proved to be a wise decision as Johnson once again struck out Kelly as the tense, silent crowd burst into cheers.
For the third straight inning, the Senators had the championship on their racket. McGraw sent his ace, Bentley, to the hill.
Harris flew out to Youngs.
Rice swatted a long drive to Wilson in LCF.
Goslin raised the excitement to fever pitch by dropping a Texas Leaguer into LCF and stretching it to a double.
Continuing the chess match of managerial moves, McGraw ordered Judge to be passed.
With the right-handed-hitting Bluege coming to the dish, John also swapped LF Meusel and RF Youngs. But Ossie's bad day continued as he grounded to Jackson who tossed the Frisch for the forceout.

Top of the 12th

Could Johnson continue strong into his fourth inning after twirling eight three days earlier?
Doubt must have crept into the minds of many when Meusel singled to RF as the setting sun dropped down behind the dome of the Capitol.
But the Kansas Cyclone K-ed Wilson.
Jackson grounded to Bluege who got the force at 2B.
Gowdy hit a soft fly to LF that nestled into Goslin's glove.

Bottom of the 12th - fortune shines on the Senators, twice!

Would this finally be the inning the Nats break through? They would have to do it starting at the 8th spot in the order. Youngs and Meusel returned to their previous positions.
Wouldn't it be great to get the leadoff man on? many fans must have mused. But Miller grounded harmlessly to Frisch.
The crowd groaned further when Ruel lofted a foul high over the plate.


55 years later, Lindstrom recalled the play this way.
Gowdy, our catcher, threw his mask aside and went after the ball. It looked like an easy one. But then the wind began carrying the ball back toward the plate and Hank moved with it. It still looked like an easy out. But then one of those fluke things happened. As he moved under the ball, with his glove up waiting to make the catch, Hank stepped right into that mask, lost his balance, slipped and fell, and the ball came down on the grass alongside of him.
By that time, I suppose, even a callow, eighteen-year-old boy like myself, who knew nothing about fate, should have begun to see the light. Washington was supposed to win this game and that's all there was to it.

New York

fans must have had flashbacks to 1912 when the

Giants

failed to catch an easy pop foul in the bottom of the 12th in Boston. Given new life, Ruel doubled his hit total for the game and the Series with a two-bagger past 3B.
Could the beloved Johnson be the hitting hero as well as the winning pitcher? He again got wood on the ball, sending a hard grounder to SS. Jackson caught up with Bluege when he fumbled the horsehide for his second error. (A future Hall of Famer, Travis had a horrible day, going 0-6 at the plate.) Ruel stayed put at 2B.


Lindstrom: [Jackson] said later that Ruel, coming down the line from second, had obscured the play for a moment and made him lose the cadence of the ball for just that split second. ... I was standing there with my hands on my hips wondering what could possibly happen next. I soon found out.

Up came McNeely, 0-for-5 on the afternoon.


The 26-year-old rookie from Sacramento CA had played in just 43 games for Harris but hit .330. He now had a chance to earn a spot in the pantheon of Senators' heroes.

Earl fouled the first pitch. Then fans groaned again as he rapped a grounder straight at Lindstrom - a sure DP. But ball hit something - a pebble, a hard piece of mud, an angel's toe, who knows? - and bounced high over Freddie's head into LF to send home Ruel, who had scored the tying run in the 8th, running as he never ran before with the winning run!


Lindstrom: Bentley ... got McNeely to hit a ground ball down to me. Well, it happened again. The ball hit a pebble - maybe the same darned pebble that Harris' ball had hit - and took a big kangaroo hop over my head and went out into left field. And here's Muddy Ruel charging down from second base with the winning run. You know, I don't think he could have scored if Irish Meusel in left field had anticipated my not taking the ball. If Meusel had been running in the moment the ball was hit I dont' think Ruel, not a fast runner, a slower runner in fact, would have even tried to score. But Meusel had no way of knowing that thing was going to bounce the way it did. By the time he got to the ball it was too late. ... The game was over.

Meusel didn't bother to throw home but continued running in with the ball. The rest of the

Giants

stood motionless and stunned and in the next instant the crowd swirled over the field and blotted out the quiet men in gray and the leaping ones in white. (New York Times)



Curly Ogden


Tommy Taylor


Virgil "Zeke" Barnes


Ossie Bluege


Travis Jackson


Firpo Marberry


Nemo Leibold


Art Nehf


Freddie Lindstrom


Hugh McQuillan


Hank Gowdy


Earl McNeely


Judge Landis and Clark Griffith
Pandemonium broke out.
Many danced on the dugout roofs and on the field, refusing to leave for more than an hour as darkness descended.
Another group, gathering at the Nats dugout, rushed to the clubhouse where they were met by a police cordon, the mass piling up. Caught in the rush was Commissioner Landis, who was besieged by autograph seekers.
Senators president Clark Griffith had to be rescued from the jam by friends. He found his way to a small porch outside the clubhouse office where his daughter was crying. Beseeched to give a speech, Griffith lifted the little girl up to the crowd and said: I'm too happy to make a speech, people, but it happened just as I wanted it to, with Walter winning it for us.
McNeely, author of the winning hit, was the first Senator thrown to the mob. After what happened to him, others began to seek the back door. Earl was struck about the head and body by overenthusiastic fans. Police finally rescued him. As the players left the clubhouse, fans clung to their automobiles.
The celebration continued all over the city throughout the night. The crack of pistols, the bang of fire crackers, honking of automobiles, bells, horns, whistles, and the overworked lungs of half-crazed fans blended into a deafening roar.
From the capitol up Pennsylvania Avenue to the White House surged a howling mob. Traffic cops were lost in the melee as thousands of autos became twisted in a honking gridlock.
All the years of cultivated dignity that the city had stored up exploded with a bang. The city that for nearly two centuries has been called upon to witness the biggest celebrations of a nation, tonight went wild over the first celebration that it could really call its own. (Associated Press)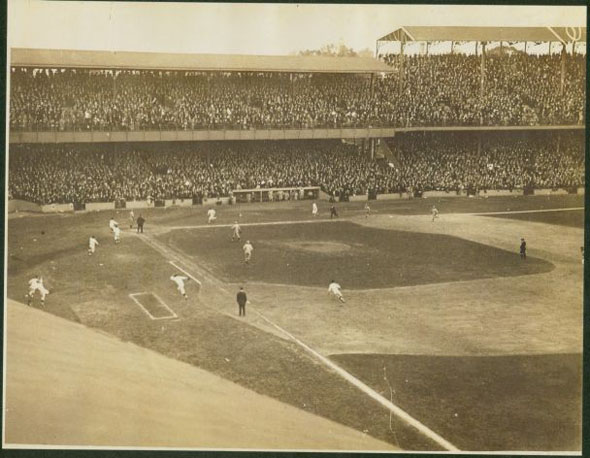 Ruel scores the winning run as the Senators and their fans go wild!
Postgame Comments
One of the reporters covering the Series was
Christy Mathewson
, long-time
Giants
ace who, like
McGraw
and
Ruth
, wrote a syndicated newspaper column. While serving in World War I,
Matty
had ingested poison gas during a Chemical Service training exercise. He returned to coach for
McGraw
from 1919-21. But with a weakened immune system, he contracted tuberculosis. By 1924, his health had precipitously declined. Wearing glasses, he spent his time in the press box hunched over, his body shriveled. He would visit the
Giants
at spring training in St. Petersburg, but even in the Florida sun he caught cold. He returned to the sanitarium in Saranac Lake NY where he died on October 7 during the 1925 World Series. 1924's seventh game was the last game he attended.
Aftermath
Lindstrom: McGraw didn't have much to say about it. He had seen enough baseball in his life to know when something had been taken out of his hands. You know the old saying, "That's the way the ball bounces." Well, it was never more appropriate than in the seventh game of the 1924 World Series.
As a matter of fact, I didn't talk to McGraw until later that evening, on the train going back to New York. He was in his drawing room ... He called me in and gave me a couple of shots of bourbon, to get me to quiet my nerves and forget about what had happened. I drank that whiskey on an empty stomach, had no resistance whatsoever to it, and it knocked me out. And I stayed knocked out, all the way home. When we got to New York, big George Kelly picked me up and threw me over his shoulder and carried me through Pennsylvania Station. I guess a lot of people who saw us must have wondered what happened. But it was just a kid coming home from his first World Series.
The receipts from the Series totalled a record $1,093,104 thanks to a record attendance of 283,695. Each Washington player received $5,730 while the

Giants

earned $3,820 apiece. (Jennings' estimate of $2000 difference was not far off.)

The editorial writer for the Richmond (VA) Times Dispath spoke for the vast majority of the nation: Washington has won the baseball championship of the world. It is one of the most popular achievements in the history of sport. If ever the country was united in one single hope, it was that the final victory should rest just where it is resting today. Fans have the highest regard for McGraw's battling athletes but there was an overwhelming current of sympathy for the team that represents more nearly than any other the nation at large.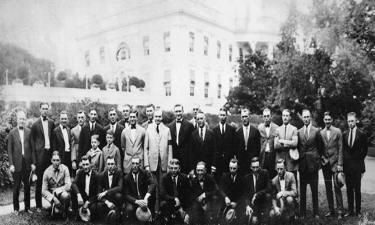 1924 World Champions visit President Coolidge at the White House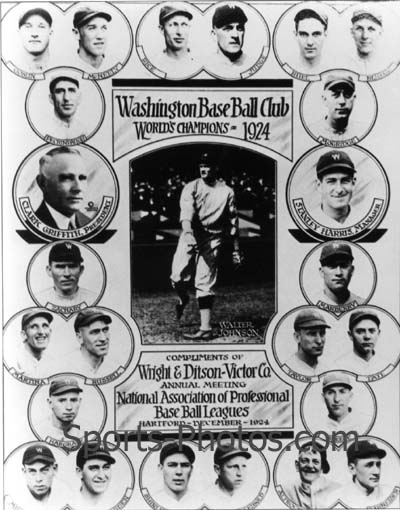 Next in this series: 1925 Senators-Pirates
References:
The World Series
,
David S. Neft
&
Richard M. Cohen
(1990)
The Seventh Game
,
Barry Levenson
(2004)
The

Washington Senators
,
Shirley Povich
(1954)
The October Heroes: Great World Series Games Remembered by the Men Who Played Them
,
Donald Honig
(1979)