Player-managers won the National League pennant every season from 1932-38.

1932: Charlie Grimm,

Chicago Cubs

1933: Bill Terry,

New York Giants

1934: Frankie Frisch,

St. Louis Cardinals

1935: Charlie Grimm,

Chicago Cubs

1936: Bill Terry,

New York Giants

1937: Bill Terry,

New York Giants

1938: Gabby Hartnett,

Chicago Cubs

Only two of the managers won the World Series - Terry in 1933 and Frisch in 1934.

The winning managers played these positions.

Grimm and Terry manned 1B.
Frisch patrolled 2B.
Hartnett caught.

During this National League streak, a player-manager won the AL title three times - SS Joe Cronin of the Washington Senators in 1933 and C Mickey Cochrane of the Tigers in 1934 and 1935.

It is no coincidence that this plethora of playing-managers occurred during the Great Depression when owners intent on skimping on costs were getting a two-for-one by paying a player extra to manage but still not as much as hiring a bench manager.

The NL pattern ended in 1939 when Bill McKechnie piloted the Cincinnati Reds to the crown.

Other player-managers who have led their teams to the league championship are listed below. * indicates he also won the World Series.

1903: 3B Jimmy Collins,

Boston Americans

*
1903: OF Fred Clarke,

Pittsburgh Pirates

1906: OF Fielder Jones,

Chicago White Sox

*
1906: 1B Frank Chance,

Chicago Cubs

1907: 1B Frank Chance,

Chicago Cubs

*
1908: 1B Frank Chance,

Chicago Cubs

*
1909: OF Fred Clarke,

Pittsburgh Pirates

*
1910: 1B Frank Chance,

Chicago Cubs

1912: 1B Jake Stahl,

Boston Red Sox

*
1915: C Bill Carrigan,

Boston Red Sox

*
1916: C Bill Carrigan,

Boston Red Sox

*
1920: OF Tris Speaker,

Cleveland Indians

*
1924: 2B Bucky Harris,

Washington Senators

*
1926: 2B Rogers Hornsby,

St. Louis Cardinals

*
1941: SS Leo Durocher,

Brooklyn Dodgers

1948: SS Lou Boudreau,

Cleveland Indians

*

Two of the skippers listed above were part-time players during the pennant year.

In 1916, 32-year-old Carrigan took the field in just 33 contests, with six of those just as a pinch-hitter.
Durocher appeared in only 18 games for the

Dodgers

in 1941.

Charlie Grimm

Bill Terry

Frankie Frisch

Gabby Hartnett
Bob Uecker

In 1967, C Bob Uecker of the Atlanta Braves started just 38 games but led the league in passed balls with 27. How do you suppose that happened?

If you guessed a knuckleballer was involved, you're right.

Uecker was the personal C of Phil Niekro because, says Bob, Joe Torre wouldn't do it.
Bob didn't mind. Least I got to play.

Ueck adjusted his mitt to handle Phil's wobbler.

When I played, they had real big catcher's mitts that al­ways handicapped me. Like an oversized first baseman's glove, it was heavy. It hindered me trying to catch the knuckler, so I went to a smaller mitt.

He removed the padding from the mitt until it was like a piece of skin. Still, it didn't help.

Always thought that was my greatest record be­cause I didn't play every game. Had I played every game, I would have set a record that would have been unapproachable.

In his second career as a broadcaster and comedian, Bob offered this advice on catching the knuckler:

The way to catch a knuckleball is to wait until it stops rolling and then pick it up.

Phil Niekro
By 1903, official scorers had begun placing a "W" or "L" alongside pitchers' names on score sheets to in­dicate the hurlers credited with the win or loss for their teams.

However, neither the NL nor the AL had clear guidelines for deciding the winning and losing Ps. For the most part, this was not a big problem in an era when pitchers completed most of the games they started and those who didn't were usually on the losing team.
Young John Heydler, assistant to NL presi­dent Harry Pulliam, attempted to rectify the deficiency by issuing periodic bulletins to his scorers with instructions on handling certain scoring situations.
The AL, however, had no counterpart to Heydler, resulting in a Wild Wild West ap­proach to determining winning/losing hurlers. Stung by public outrage following scoring de­cisions that continued Walter Johnson's 16- game winning streak in 1912, AL President Ban Johnson removed pitchers' wins and losses from league statistics for six years.
In particular, there was no rule requiring the starting P to complete five innings in order to be eligible for the victory. That requirement didn't take effect until 1950 when the leagues agreed on a rule book that included mandatory scoring regulations.

So scorers during the first half of the 20th century made a number of odd decisions concerning winning pitchers.

The oddest scoring decision occurred in a Federal League game on September 7, 1914 when a hurler who did not make a single pitch to the plate became the winning P. However, that circumstance would be han­dled the same way today. James Bluejacket, pitching for the

Brooklyn Tip Tops

, entered in relief with two outs in the top of the eighth inning against the

Pittsburgh Rebels

with his team behind 11-7. Jim immediately picked Steve Yerkes off 1B by 2' to retire the side. Then the "

Brookfeds

" (as they were called) plated 5 to take a 12-11 lead. Another P threw a scoreless 9th to get what today would be called a save.
Until 1969 when both leagues splilt into di­visions, teams that clinched the pennant be­fore the last weekend would give one or more of their top twirlers a "World Series Warm-up" start. The P would go a few inn­ings, then be relieved. As long as the starter left the game with a lead that his team never relinquished, scorers would award the victo­ry. On the last day of the 1934 seson,

Tiger

teammates Alvin Crowder and Tommy Brid­ges profited from this largesse to win both games of a doubleheader against the

St. Louis Browns

. Crowder went 4 innings, giv­ing up 8 hits and 4 runs but was credited with the 10-6 victory that took only 1:45. In the nightcap, Bridges pitched four hitless inn­ings before another starter, Elden Auker, took over for three as

Detroit

won 6-2 in in seven fewer minutes than the opener.
Two years later,

Brooklyn

manager Casey Stengel announced that his ace Van Lingle Mungo would pitch only the first two innings in the final game of the season against the

New York Giants

. The

Dodgers

belted one of

New York

's starters, Freddie Fitzsimmons, for 6 runs in those two innings on their way to an 8-3 win that pushed Mungo's season total to 18. The strange aspect of this con­test? It was the

Giants

who were going to the World Series against the

Yankees

, not the 7th place

Dodgers

!
Ewell Blackwell won 82 games in his 10-year ML career. One of them came July 18, 1949, in a game he started but lasted only four innings. His

Reds

scored 5 in the top of the third against the

Boston Braves

. After pitching four hitless frames, Ewell gave up a leadoff HR to Tommy Holmes in the 5th followed by a single by Alvin Dark. At that point, "The Whip" left the game complaining of a stomach ache and left the game. Reliever Eddie Erautt came to the rescue, pitching one-hit, no-run ball the rest of the way to complete the 6-1 victory. The official scorer, using his discretion, credited the win to Erautt but was overruled by the NL office, which changed it to Blackwell. If that situation had occurred the following year, the scoring guidelines would have handed Erautt the win without question. Blackwell's gift was the last case of a starter winning a game that was not shortened by rain in which he pitched less than five full innings.

Reference: "Origin of the Modern Pitching Win," Frank Vaccaro,
The Baseball Research Journal (Spring 2013)


John Heydler


James Bluejacket


Tommy Bridges & Alvin Crowder


Casey Stengel


Van Lingle Mungo


Ewell Blackwell
In 1954, the
Cleveland Indians
won 21 of their 22 meetings with the
Boston Red Sox
.
The

Indians

celebrated victory 111 times that season to end the

Yankees

' string of five straight AL pennants by eight games.
The

Red Sox

took fourth place despite finishing 16 games under .500 at 69-85. When the top two teams in the standings suck up 214 victories, there's not many for the other six clubs to share.
Included in

Cleveland

's dominance over the

Bosox

was a five-game sweep at Fenway Park June 11-14. Every member of the

Tribe

's "Big Four" got a victory: Bob Feller, Early Wynn, Mike Garcia, and Bob Lemon. The fifth starter, Art Houtteman, also joined the fun.
The only victory for

Boston

over

Cleveland

came the following Saturday in Cleveland 6-3. Ellis Kinder gained the win with 2 2/3 innings of relief from Sid Hudson. Lemon took the loss to drop his record to 8-4.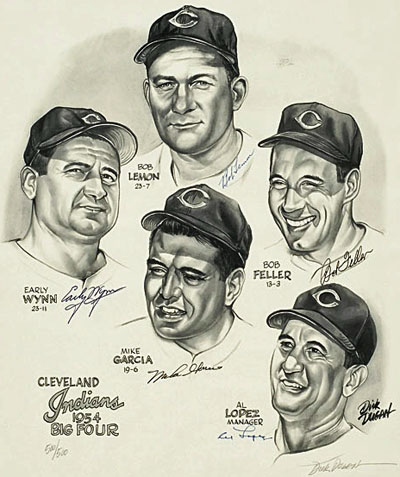 Cleveland's Big Four of 1954 with Manager Al Lopez

Mark Reynolds


Jim Palmer

After the 2010 season, Mark Reynolds held the dubious distinction of holding the top three spots in the record book for whiffs in a season with 223 in 2009, 211 in 2010, and 204 in 2008. But since then, three interlopers have horned in on Mark's monopoly.

2011 - Drew Stubbs, 205 Ks
2012 - Adam Dunn, 222 Ks
2013 - Chris Carter, 212 Ks

Mark's 223 in 2009 still stands at the top by one over Dunn, but his other two totals have fallen to 4th and 6th. He's also 12th with 196 in 2011. To show how baseball has changed over the decades, the Brewers signed Reynolds to a $2M contract with a possible $500,000 more in incentives for the 2014 season.

The top 15 on the current list of top strikeout "performances" in a season are all from the 21st century. Bobby Bonds is tied for 16th with 189 Ks in 1970 and is also 20th with 187 in 1969. If you're wondering about Rob Deer, he's a piker compared to today's players. His best (worst?) K year was 1987 when he fanned 186 times, which is now tied for 23rd after being 3rd when he first "accomplished" it.

---

Hall of Famer Jim Palmer pitched in 575 games for the Baltimore Orioles (his only ML team, 1965-84), including 17 in the post-season.

He faced 16,114 batters, striking out 2,212 of them.
Hitters knocked 303 HRs off him, but not a single one of them was a grand slam.

Quick Quiz

What was Jim Palmer's nickname?

(A) Crab (B) Yankee Killer (C) Stringbean (D) Cakes
In 1905, the Pacific Coast League scheduled called for each team to play 230 games from March 30 to December 3. On November 8, only one man watched the

Oakland Oaks

host the

Portland Beavers

.

In a Class AA American Association game in 1912 , the Columbus Senators and Kansas City Blues banged out 28 hits and 15 runs. Yet only one baseball was used the entire game.

The first two times P Burleigh Grimes was traded happened on January 9.

In 1918, the

Pittsburgh Pirates

traded Grimes, SS Charles Ward, and P Al Mamaux to the

Brooklyn Dodgers

for OF Casey Stengel, 2B George Cut­shaw and $20,000.
Nine years later to the day, Grimes went to the

New York Giants

in a three-way deal also involving the

Philadelphia Phillies

.
All told during his 18-year major league career, Grimes was traded, waived, or sold nine times, a high number in that era long before free agency.
You might think spitballer Burleigh wasn't all that good, but he actually won 270 games and won election to the Hall of Fame in 1964.

April 16, 1946, the Boston Braves opened the season against the Brooklyn Dod­gers.

Newly applied paint in some sections of the grandstand had not dried, and 5,000 or more fans left the game with soiled clothing. 330 patrons appear­ed at the club's offices with their smeared apparel right after the game.
The Braves took out an ad in the local newspapers the next day apologi­zing to the fans and promising to "reimburse any of its patrons for any ex­pense to which they may be put for necessary cleaning of clothing as a re­sult of paint damage."
More than 13,000 claims were filed, some from as far away as California and Florida.
Eventually, about 5,000 claims were honored ranging from $1.50 to $50 for a total cost to the Braves of $6,000.

March 28, 1977: Texas Rangers 2B Lenny Randle assaulted his manager Frank Lucchesi.

Randle was upset about being benched in favor of Bump Wills. When Len­ny complained publicly, Lucchesi responded, "I'm sick and tired of punks making $80,000 a year moaning and groaning about their situation."
Before an exhibition game a few days later, Lenny punched the 49-year-old Lucchesi in the face three or four times as well as landing other blows to the body before being pulled away by teammate Bert Campaneris.
Lucchesi required facial surgery to repair the damage, including several bone chips.
The

Rangers

suspended Randle for 30 days, costing him $9,000 in salary, and levied a $10,000 fine before trading him to the

New York Mets

. He also faced charges for aggravated battery.
In addition, Lucchesi sued Randle for $200,000 after being fired by the

Rangers

June 21, claiming consequences from the assault was the reason he was let go. The case was settled out of court.

Reference: A Stitch in Time: A Baseball Chronology 1845-2002, Gene Elston (2001)


Burleigh Grimes


Lenny Randle


Frank Lucchesi

Andrelton Simmons


Taylor Featherston


Jordan Pacheco


Bob Turley


Donnie Kessinger

May 2, 2015, saw three baserunners called out because they were struck by a batted ball in major league play that day. Two of the outs were the last of their games.

Atlanta's Andrelton Simmons was on 2nd with a double in the bottom of the 7th against the

Reds

when he was hit by a sizzling grounder off the bat of Jace Peterson. Watch video.
At Anaheim that same day, the

Angels

trailed the

Giants

5-4 in the bottom of the 9th with Santiago Casilla on 3B and Taylor Featherston pinch-running for David Freese on 1st. Matt Joyce cracked a sharp grounder that hit Featherston between 1st and 2nd to end the game. Watch video.
That evening, up the road at Dodger Stadium, the

Diamondbacks

trailed the

Dodgers

6-4 in the top of the 9th with two outs and Jordan Pacheco on 1st. With Pacheco running with the pitch, PH David Peralta hit a grounder to the right of 2B that hit the foot of Pacheco, who never looked toward home plate to see where the ball was going. Watch video.
According to the Elias Sports Bureau, only two ML games the last 13 years had ended with a runner struck by a batted ball. This points up the rarity of the event. Yet it happened twice on the same day!

Other oddities.