Though there was an abundance of seats available at the assembly center when we took over, that changed as we started turning things around. And while it felt then like it took forever to get things moving upwards, the truth is we started creating excitement in the first five years.
My good friend
Jim Talbot
has told me that he and several of his friends really thought about coming out to see us after a game we played in Kentucky in 1976. It was a game we lost, but the stories that grew out of it drew a lot of attention.
When we played against
Kentucky
we never got a break. This particular game is a perfect example of what it was like.
LSU
had never beaten
Kentucky
at Rupp Arena, but we were leading and it looked like we had a real good chance of breaking that string. One of our best players,
Kenny Higgs
, was from Kentucky. He was runner up for Mister Basketball in Kentucky. Anyway,
Kenny
was headed for a breakaway layup and a
Kentucky
player tackled him. It was clearly an intentional foul. I mean a fight almost broke out. The referees were trying to figure what to call. Is it intentional? Who gets kicked out? How many free throws does
Higgs
get? Does the basket count?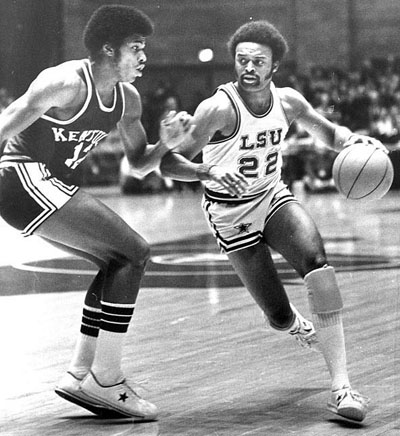 Kenny Higgs guarded by Larry Johnson in 1976 game in Baton Rouge
One referee had the ball in his hand and an assistant coach from
Kentucky
walked right over and punched the ball out of his hand. I can still see
Joe Hall
as he took his game program in one hand and slapped it hard against his other hand. He shouted, "That's bull what you're gonna do." So I walked over to where the referees were standing with
Joe
. Remember, I'm still a rookie, but I walked over and said, "What's going on?" The referee just looked at me and said, "Go sit down."
As I walked back toward our bench, I could not believe just because
Joe
has a big name and I have no name, the referee was afraid of him but not me. Boy, I was not going to let this happen. So I headed back there again and he told me to sit down again. I told the referee, "I'm not gonna sit down." To make a long story short, I got the technical and then they fouled practically our whole team out by the end of the game. I had no one left to put in the game. There was two and a half minutes to go. I had my last man in there and by that time it was obvious we were going to lose.
Joe
still had his first team in.
I said to myself, "You know what's happening here? It's the same thing that happened to my mother. She was in a bad spot, yet she shouldn't speak up. She had to take that welfare worker's stuff, she had to take that hard time from the landlady. I am not taking this." So I called timeout and walked over to the referee as calmly as I could. I took my coat off and I tapped him on the shoulder. I wasn't trying to get a technical, but I said, "Hey, I just want you to look over on my bench. We had a 12-point lead when this whole thing fell apart. I want you to look at my guys over there heartbroken." He just rolled his eyes and said, "What about it, Coach?" He was trying to be kind of smart. I told my assistant to take the huddle and I went back to the referee and said, "What about it? It's very simple. You've broken their hearts because this game has totally gotten out of hand. You and I both know that's not fair." I took off my coat and I said, "You've taken everything away from us. I've had all my starters foul out. I've got no one left to put in the game, so you might as well have a part of my wardrobe too. Here, take my sports coat." He looked at me like I was crazy and he said, "Oh no, I am not taking." I said, "No, please take it. You've got everything else."
He turned his back on me so I thought I should make an impression on this guy. He's going to remember this, and maybe the next time he'll give us a break. "Well, if you won't take my coat, I'll tell you what I'm going to do. I'm taking it and I'm throwing it out right in the middle of that court." He waved his hand at me and said just go sit down. When he said "go sit down" like I was a junior high coach, I took off toward center court where
Kentucky
had a great big blue letter
K
painted right in the middle. I took off my sports coat and spun in around on my finger like a propeller and let it fly. It twirled around in the air and then floated down just perfectly on top of that
K
, completely covering it up. The
Kentucky
fans went nuts. Back home, people like
Jim Talbot
heard about it and decided they had better come out and get a look at this team.
I really felt it was what I had to do at the time. Pretend you are a referee.
Dale Brown
comes in the league. Who is
Dale Brown
? He is just a guy from North Dakota. The weak referees were not ever going to give me a break, and there were some very very very weak officials in this league at one time.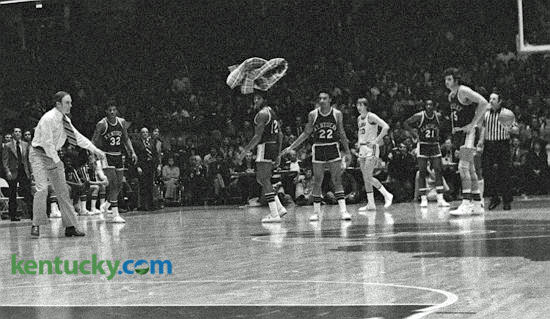 Dale Brown tosses his sport coat at
Kentucky
.