From the
Introduction
In a very real sense, this book was born on February 28, 1976—
Dean Smit
h's forty-fifth birthday. It was on that afternoon that a very nervous reporter from
Duke
's student newspaper,
The Chronicle
, timidly introduced himself to the great man in a corner of the
North Carolina
locker room in Carmichael Auditorium.
North Carolina
had just finished beating
Duke
, 91–71, dropping
Duke
's record to 13–13. The outcome wasn't a surprise.
Carolina
was ranked fourth in the country and had run away with the ACC regular season title, finishing 11–1. The
Tar Heels
were 24–2 and had four players on their roster who would be on the U.S. Olympic team—coached by
Dean Smith
—that summer:
Mitch Kupchak
,
Walter Davis
,
Tommy LaGarde
, and the great
Phil Ford
.
Duke
had
Tate Armstrong
. Who was my excuse to talk to
Dean Smith
.
Armstrong
had been lighting up ACC gyms all winter, a one-man show on a struggling team.
Duke
coach
Bill Foster
was in his second season, trying to rebuild the fallen
Duke
program.
Armstrong
had just finished his freshman season when
Foster
arrived and was now a junior.
Armstrong
did have some help from a superb freshman named
Jim Spanarkel
, but the
Blue Devils
were overmatched in the ACC—as their 3–9 conference record proved. For the season,
Armstrong
was averaging 24.2 points per game—making an astounding 52 percent of his shots. That was with no three-point shot and no shot clock, and with other teams gearing their defenses to stop him. He was a slender six foot two and spent as much time on the floor after being knocked down as he did in his shooting motion. He had scored 29 points that day against
Carolina
. I was going to write a column making the case that if ever a player from a team that finished seventh in a seven-team conference deserved consideration for player of the year, it was
Armstrong
. I might have been just a tad biased.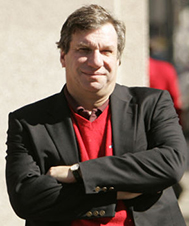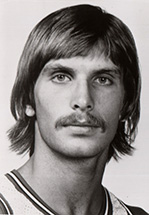 L-R: Dean Smith, John Feinstein, Tate Armstrong
Smith
was talking to another writer when I walked up. When he finished the conversation he'd been having, he looked at me as if to say, "And?" Finding my voice somewhere, I said, "
Coach Smith
, my name is
John Feinstein
and I work for
The Chronicle
, the
Duke
student newspaper…" I had my hand out as I spoke and
Smith
shook it, stopping me before I could go further by saying, "I know who you are. I read the column you wrote last month saying that
Bill
[
Foster
] should copy some of what we do here to rebuild over at
Duke
. I thought you were very fair to us…for someone from
Duke
." I had been more than fair. I had been gushy. But that wasn't the point. I was standing in front of
Dean Smith
and he was telling me he had read something I had written. I was, to put it mildly, stunned. As I've written often in the past, it was later that I learned that the
North Carolina
basketball office subscribed to every newspaper in North Carolina—the major national papers and all the student newspapers in the ACC. An assistant coach was assigned to comb through the papers and clip anything relevant to
Carolina
for
Smith
to read. He would put the clips in his briefcase and read them on airplanes. Still stunned, I somehow got my question out about
Armstrong
. I'm not sure he ever answered it. Instead, he talked about how proud he was of
Ford
and
Davis
, but especially
John Kuester
, for the defensive job they'd done that day on
Armstrong
—even if he had scored almost half of
Duke
's points. Somewhere in the middle of the answer he asked me where I'd grown up. I said New York. "City?" he asked. I nodded. "Well," he said, "I guess that explains why you understand basketball." Do you think he completely owned me at that moment? I asked one more question. Early in the game, when it was still close, a couple of calls had gone against
Carolina
. Some of the students had started a profane chant. It didn't last very long, because
Smith
walked straight to the scorer's table, took the PA microphone, pointed in the direction of the students, and said, "Stop. Now. We don't do that here. We win with class at
Carolina
." They stopped. Instantly. When I asked about the incident, he smiled again. "I was disappointed that happened," he said. "It won't happen here again." Then he added, "We're not
Duke
." And, at that moment,
Duke
was miles and miles from being
North Carolina
.