The night of December 5, 1980, was unseasonably warm in Greensboro, North Carolina. To most sports fans around the country, it was football season. The NFL was entering the final month of the regular season. College football teams were preparing for bowl games. In the state of North Carolina, though, it was already college basketball season. In a sense, it was always basketball season. ...
Mickie Krzyzewski
thought she understood that. She had been living in North Carolina for more than eight months, and just by reading the newspa­pers, she understood clearly that the job her husband had taken on the previous March was going to be a lot more pressurized than the one he had held for five years when he was the coach at
Army
. ...
There was only one place in the country where rivals like
Duke
and
North Carolina
might meet so early in the season, and that was in the Atlantic Coast Conference, specifically in North Carolina. Every season, long before conference play began, the four schools known collectively as the Big Four made the trip to Greensboro to play a two-night tournament ... It was one thing to play a quality opponent early in the season. It was quite another to play an opponent you would meet twice more during conference play and perhaps again in March, in the ACC Tournament. It was also very much another thing to play a game that brought your fans out in full voice when you were still trying to figure out what kind of team you might have. "I think the players enjoy it,"
Dean Smith
often said. "I know the fans and the media enjoy it. It's us old coaches who aren't so thrilled about it." ...
Mickie Krzyzewski
was accustomed to crowds of perhaps a thousand people coming to watch her husband's team play in the old
Army
field house. There had been more people than that in the building during the first two games he had coached at
Duke
, but Cameron Indoor Stadium wasn't close to sold out, and the atmosphere had been somewhat louder than the school library, but hardly intimidating. Now though, as she walked into the Coli­seum with
Charles Huestis
, one of
Duke
's vice presidents, it occurred to
Mickie Krzy­zewski
that this was different from anything she had seen in the eleven years she and
Mike
had been married. "Toto, we're not in Kansas anymore," she murmured to herself ... She noticed all manner of people holding signs that said "Need Two" or "Need Four, Will Take Two." "They scalp tickets for this thing?" she asked
Huestis
, almost rhetorically. ...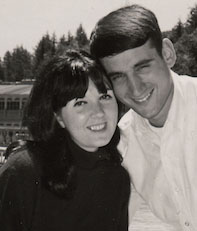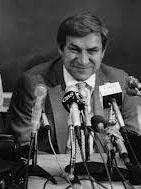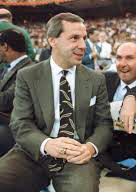 L-R: Mickie and Mike Krzyzewski, Dean Smith, Roy Williams
Duke
had a good team, led by senior forwards
Gene Banks
and
Kenny Dennard
and junior guard
Vince Taylor
.
North Carolina
, as always, had a great team, keyed by future Hall of Famer
James Worthy
, senior All-American
Al Wood
, and freshman center
Sam Perkins
, who would go on to score more than 15,000 points in seventeen NBA seasons.
The game swayed back and forth to the very end. With time running down,
Duke
trailed 78–76 and had the ball.
Banks
missed a shot and the ball was deflected out-of-bounds—off a
Tar Heel
hand.
Duke
would inbound under the
Carolina
basket.
Except for one thing: the clock had run to zero during the skirmish for the ball underneath the basket.
Krzyzewski
instantly charged to the scorer's table, convinced there should be at least one second left on the clock to give his team a final chance to tie the game. There were no tenths of a second on the overhead scoreboard clock in those days, and there was no video replay available, so it was a very tough case to make.
As he continued to argue with the clock operator and the two referees,
Krzyzewski
saw
Smith
walking up to him, hand extended.
"Good game," he said.
Krzyzewski
ignored the proffered hand. "The goddamn game's not over yet,
Dean
," he said.
But it was. The officials, having consulted with the clock operator, waved their arms to indicate the game was over and headed for the locker room. There was nothing left for
Krzyzewski
to do.
He turned to
Smith
and put out his hand.
Smith
was never one for long postgame handshakes. In fact, before the days when teams started lining up to shake hands, he always ordered his assistant coaches and his players to head directly to the locker room when the buzzer went off—win or lose.
"It wasn't about sportsmanship," he said. "It was about avoiding trouble, especially at the end of a close game. A lot of times when we lost, teams would celebrate at midcourt. Tem­pers could be hot, and you didn't want anything to happen if someone on one side said something to someone on the other side." The charge to the locker room was always led by
Smith
's top assistant,
Bill Guthridge
. ...
While
Guthridge
was leading everyone in light blue to the safety of the locker room,
Smith
would stay behind to shake hands with the opposing coach. The handshakes rarely lasted very long.
"
Dean
was usually a 'Good game' and gone guy,"
Krzyzewski
said. "On that night, I didn't let him do it."
In fact, when he finally turned to shake
Smith
's hand,
Krzyzewski
wouldn't let it go.
Smith
, already more than a little annoyed by
Krzyzewski's
initial response, said nothing when they finally shook hands and started to pull away.
Krzyzewski
, a little younger and a little bigger, gripped his hand tightly and pulled
Smith
a few inches in his direction. "At least acknowledge that it was a hell of a game,
Dean
," he said.
Smith
didn't feel like acknowledging anything at that moment.
"I'm going to remember this," he answered.
"Good,"
Krzyzewski
said pointedly. "I hope you do."
The two men glared briefly at each other before parting.
A few feet away,
Roy Williams
witnessed the exchange. He was
North Carolina
's number-three assistant coach and, normally, would have been in the locker room. But, because of the potential issue with the clock, he had walked down behind
Smith
to deal with any questions—Should there be one second left if the game wasn't over? Two seconds? Where would
Duke
inbound from? Could
Carolina
substitute?—that might arise as a result of
Krzyzewski
's attempt to keep the game alive. As a result, he saw and heard everything that was said.
Many years later, he remembered the exchange quite vividly. "My first reaction was being kind of angry," he said. "I didn't like the idea that anyone would talk to Coach
Smith
like that. I have to say, though, looking at
Mike
at that moment, the thought went through my mind, 'There's no backdown in this guy.' I didn't like what I was hearing and seeing, but I respected it."
Sitting up in the stands,
Steve Vacendak
,
Duke
's associate athletic director, turned to his boss, Athletic Director
Tom Butters
, at the instant when he saw
Krzyzewski
refuse
Smith
's initial attempt at a handshake. "
Tom
," he said, "we got the right guy."