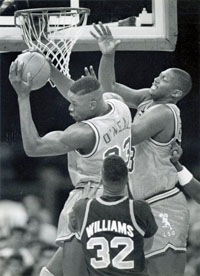 I was jealouos of Stanley Roberts. It was obvious the coaches liked how he was way better than how I played. They were always talking about him, even though he was cutting class and getting in trouble and messing up. Stanley was really talented. He could shoot step-back jumpers and turnarounds. He had some great moves. He could even shoot threes. The problem with Stanley was he just didn't seem to care enough.
And I guess you could say I cared too much.
I wanted to be good. I liked the way it felt when I put up numbers and people slapped me on the back and gave me high fives. It was great with the ladies, too. Everybody loved the basketball players on campus. I was only seventeen years old when I showed up at LSU, but I was almost seven feet tall and ready to start my fabulous new life. ...
LSU was the perfect place for me. It was what I was used to - fairly small, down to earth, not uppity, with lots of nice people. It was also a six-hour drive from my mom. I had to see my mom. But fortunately, back then, a plane ticket on Southwest was $59, so I got plenty of time with her. The other good thing about LSU was they helped us get jobs in the summer, all on the up and up. We made $15 an hour. We got $7 per hour during the summer and the other $8 an hour was alloted back to us during the school year. I also qualified for the Pell Grant, which helped low-income students pay for school, so for the first time in my life I actually had some cash. I was convinced I was rich. Free food in the dining hall and some pocket money. I had died and gone to heaven.
The time I spent at LSU was the best three years of my life. Dale Brown was an excellent coach and an even better person. He's one of my best friends in the world. He stuck up for me a hundred different times.
One of the things I liked about Coach Brown was he never promised me anything. When I got to campus he said, "If you work hard, anything can happen, but we've got this other guy named Stanley Roberts who is pretty doggone good."
Stanley. There he was again. That damn guy.
But here's the problem. I really liked Stanley. Everyone did. He was a cool dude. He wouldn't hurt anyone, except himself.
He was a Proposition 48 player, which meant his grades weren't quite good enough to play right away, so he had to sit out his first year and not play basketball. When I got to Baton Rouge, even though he had been there a year, it was his first basketball season.
Stanley had a 1979 Oldsmobile Toronado, and it was my job as the rookie freshman to drive him around. I'd take him to the clubs, wait for him outside, and mingle with the people going in and out. I loved it. I got to know so many people that way.
My freshman season in 1989-90, we were expected to do great things. We had Stanley and we had Chris Jackson, who had led the country in scoring the year before. Chris liked to shoot the ball. He could score from anywhere. We also had me, but nobody understood what that really meant yet.
Even though he had these two seven-footers to choose from, Chris still jacked it up about thirty times a game. Chris had Tourette's syndrome. It made him shout out random things for no apparent reason. It took some getting used to. I didn't really understand it. He needed to take some medication, and he hated it because sometimes it made him sick. Chris was off on his own a lot, so I never really got to know him very well. ...
I was humbled my freshman year. I thought I was The Man. What I realized when I got to LSU was that everyone there was The Man. Everyone was on scholarship, so I had to go all the way back down to zero. I had so much to learn about the game of basketball. In one of our first intrasquad scrimmages, Stanley was scoring on me and I was trying to guard him, and Coach was yelling to me, "Shaq, three-quarter him!"
I had no idea what he was talking about, but I was too embarrassed to tell him that. So I came down and I dunked on Stanley thinking that was going to make it all okay. But Stanley rolled out and spun away from and Coach started yelling again. "Three-quarter him!" Finally I stopped and said, "Coach, I don't know what you mean."
Coach Brown was very patient with me, but he was on me right away about my free throws. ...
One day Coach Brown came up to me in practice and said, "You know what I'm going to do? I'm going to get you to shoot underhand. Rick Barry, who is in the Hall of Fame, was the best at it."
"Coach," I pleaded with him, "please don't do that. Please don't make me shoot that granny shot. It's embarrassing."
I really didn't want to shoot them that way. When I was a kid, someone else suggested that approach before and Sarge told me to forget it. "That's a shot for sissies," my father told me.
Coach Brown said, "Okay, I'll tell you what I'm going to do. We're going to chart your free throws every day, separate from the team. You are going to be assigned a trainer, assistant coach, or manager with you at the basket every day. If you keep practicing and can shoot seventy percent or better, I'll let you keep taking them the way you are."
I shot 72 percent leading up to the season, but once I got in the games my percentage dropped to 56 percent. A lot of it was mental. If I was feeling good, I'd make them; if not, no chance. I could never get comfortable from the line, although I had a habit of making big free throws when it mattered. In our tournament game against Georgia Tech, for instance, I was 9 of 12 from the line. Why? I don't know.
I didn't start the first four games of the season, because, I think, Coach Brown was worried about people expecting too much. But once people saw me play, they said, "Okay, this kid is serious about being great."
What they meant was, I wasn't like Stanley.
Looking back, I realize in many ways Stanley made me who I am. It was good to have someone there who was better than me. He had it all - girls, money, cars. Everyone loved him. What got in his way was his partying. That day in the dungeon when I went after him with the trash can, Stanley was hungover. He was there trying to sweat out the alcohol. I'm thinking, Imagine how good he'd be if he hadn't been out all night.
I didn't drink, and after watching what it did to Stanley and some of the other guys, I was pretty sure I'd never be a drinker.