Yankees southpaw Joe Page was known as a pitcher with "a great arm and a lousy head. He threw hard and hoped for the best, not knowing where the ball would go." Mana­ger Bucky Harris made two decisions regarding Page for 1947, his fourth season with the club. Harris demoted him to the bullpen and made him Joe DiMaggio's roommate. Trying to imitate Joe D helped Joe P focus more on and off the field. He still drank but wasn't such an ugly drunk anymore. In the process, Page gained much needed confidence.
Page led the American League in games finished with 44. (17 of the games have retroactively been classified as saves, which also led the league.) He struck 116 batters, 39 more than the year before, against 72 walks.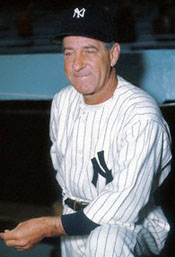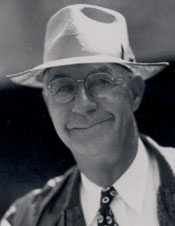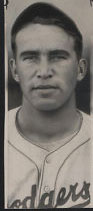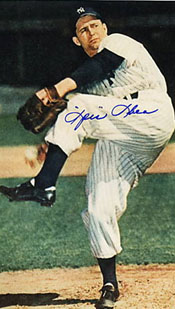 L-R: Bucky Harris, Burt Shotton, Hal Gregg, Spec Shea
Joe had appeared in three of the first six games of the Series. He pitched the last four innings of the Yankees' 5-3 victory in Game One. Then he threw three scoreless innings in the 9-8 loss in Game Three. He blew the lead in Game 6, giving up four runs in four innings.
Both managers were in a quandary concerning a starting pitcher.
Brooklyn
skipper
Burt Shotton
, who had used at least three pitchers in each of the six games, said, "I have ten of 'em [pitchers], and I'll use 'em all if I need to." He decided to go with right-hander
Hal Gregg
, who had given him nine good innings across two games, giving up just one run.
Burt
told
Hal
to throw as hard as he could for as long as he could.
Harris
was expected to start
Bill Bevens
on two days rest after losing a no-hitter and Game 4 with two outs in the ninth inning. However, he decided to go with
Spec Shea
on only one day's rest with
Bill
first up in the bullpen.
Spec
had held the
Dodgers
to two runs in 14 innings in Games 1 and 5.
Brooklyn
drew first blood in the second on LF
Gene Hermanski
's triple, singles by C
Bruce Edwards
and RF
Carl Furillo
, and, after
Bevens
replaced
Shea
, 3B
Spider Jorgensen
's double.
The Yankees cut the lead in half in the bottom of the inning on two walks and SS Phil Rizzuto's single.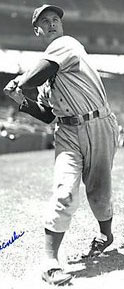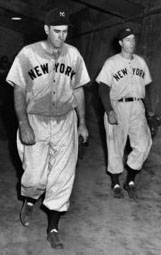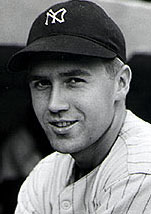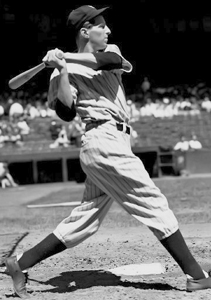 L-R: Gene Hermanski, Bill Bevens, Joe DiMaggio, Bobby Brown, Tommy Henrich
Bevens
held the
Dodgers
at bay through the top of the fourth. That allowed the
Yanks
to take the 3-2 lead in the bottom of the inning on a walk, a single, pinch-hitter extraordinaire
Bobby Brown
's double, and LF
Tommy Henrich
's one base hit.
Harris summoned Page to start the fifth. Red Barber told this story about Harris's selection of Page: "Harris rang the [bullpen] phone and [bullpen coach Johnny] Schulte got on. Harris asked about Page. Schulte said, 'He ain't got nothing.' Harris said, 'I don't care what he ain't got ... send in Joe Page.'"

Henrich added this to the story: "Larry MacPhail was hiding on the steps leading to the dugout; he couldn't stand the excitement in his mezzanine seat. He said later he knew what Bucky was thinking: that Page was the man he wanted. Now they were telling him that Page had nothing. MacPhail said Harris turned to him and said, 'Well, it means as much to you as it does to me.' Larry said he shrugged his shoulders, telling Harris it was his decision. Then Bucky turned to Coach Frank Crosetti and said, 'Give me Page.'"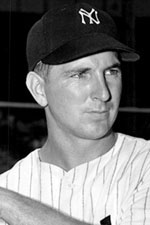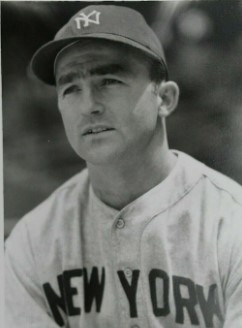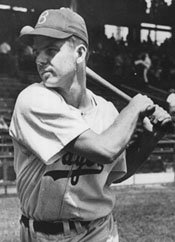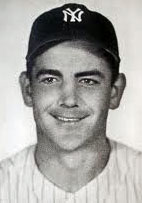 L-R: Allie Clark, Billy Johnson, Eddie Miksis, Aaron Robinson
After
Page
retired the first six
Dodgers
he faced, the
Yankees
added an insurance run in the bottom of the 6th.
Rizzuto
beat out a bunt near the pitcher's mound for his third straight one-base hit. Showing that he was committed to
Page
for the rest of the game,
Harris
let him hit for himself. As
Page
missed a second stab at a bunt,
Phil
stole second. Two batters later,
Harris
did something that seems incomprehensible today. He sent up righthand-batting
Allie Clark
to pinch-hit for
Yogi Berra
against southpaw
Joe Hatten
. The move paid off as
Clark
singled home
Rizzuto
to make it 4-2
Yankees
.
Page
retired the
Dodgers
1-2-3 in the 7th to extend his streak of batters retired to nine.
The Yankees got another break in the bottom of the 7th to add an extra run to their lead. 3B Billy Johnson hit a high drive to left-centerfield. Eddie Miksis, a utility infielder playing the most notorious sun field in baseball, turned the wrong way, and the ball sailed over his left shoulder for a triple. C Aaron Robinson hit another fly toward Miksis, who caught this one, but Johnson raced home easily.
Given a three-run lead,
Page
continued to mow down the
Dodgers
. 12 in a row.
With Harris giving no thought to a pinch-hitter, Page grounded out in the bottom of the 8th.
The
Dodgers
finally got a base runner against
Page
in the top of the ninth when
Miksis
lined a one-out single. That gave
Brooklyn
the same number of hits as the
Yankees
–seven. C
Bruce Edwards
then became the first player in history to end a World Series by grounding into a double play.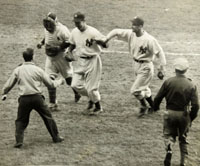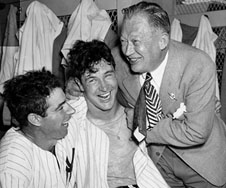 L-R: Page leaves the field in triumph; Joe DiMaggio, Page, and Larry MacPhail.
Harris
enjoyed his second World Series crown as a manager after
leading the

Washington Senators

to the 1924 title
. "If that wasn't the greatest series, it will do until a better one comes along. Whew! I'm glad it's over and proud of my club. The players deserve all the praise you can heap upon them. ...
Shea
wasn't quite ready.
Bevens
hurt his arm in the fourth. But that
Page
! The way he took over was a revelation. Here's to
Joe Page
" (raising his glass).
Page: "I'm just about the happiest guy in the world. This makes up for everything, particularly that cuffing they gave me yesterday. They had their fun then. I had mine today. I had it, and they didn't. I really poured it on. I threw one slider. That went to Walker. I threw one curve. Hodges hit that one foul into the stands. All the rest were fast balls."
DiMaggio was unusually elated. "What a way to win. That man Page. What a pitcher when the chips are down. Was he great!"