Congratulations, Wakey Leaks.
Wake Forest
's game-plan breach from a highly unlikely source - radio analyst and former assistant coach
Tommy Elrod
- managed to make already-paranoid college football coaches even more paranoid. That is no small achievement. ...
Practices open to the media are now typically a distant memory. Television announcers who watch practice and receive inside access to the team are closely scrutinized by coaches. Covered fences prevent prying eyes from seeing anything at practice. During games, coaches even cover their mouths when talking to their players or into their headsets in case any alert lip-readers might be watching. ...
In 2015, then-
Georgia
coach
Mark Richt
approached an AL.com reporter at practice during the week of the
Georgia
-
Alabama
game. The reporter was one of several journalists shooting video of receivers running routes with QBs near the end of a media-viewing period.
"[
Richt
] asked what was being filmed and asked that tight shots of certain routes not be shown," AL.com wrote a couple of days before
Alabama
routed
Georgia
38-10. "The coach said he didn't want
Alabama
seeing what they were doing at that moment.
Richt
then asked that all video recordings cease. The three viewing periods were open to photographers and videographers. Restrictions on what could be filmed were not listed on an advisory to media viewing practice."
When
Mike MacIntyre
became
Colorado
's coach, he initially allowed the majority of his practices to be open to the team's fans. That lasted one season.
"I got burned,"
MacIntyre
said in 2015 about open practices ... "Last fall camp I did more, but I also got burned off that. I know for a fact, but I definitely want to do it."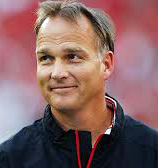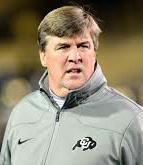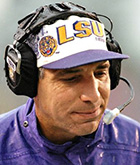 L-R: Mark Richt, Mike MacIntyre, Gerry DiNardo
As
LSU
's interim coach last season,
Ed Orgeron
opened practices far more than predecessor
Les Miles
had.
Miles
hadn't opened an in-season practice to reporters since at least 2006.
Orgeron
opened certain periods, especially on Mondays, which he called "Tell the Truth Monday" for coaches to honestly analyze players' mistakes.
Whether
Orgeron
will stay this open as
LSU
's permanent head coach remains to be seen. In an interview last fall,
Orgeron
said he wanted to be more open with the media.
[
LSU
Coach
Gerry
]
DiNardo
had open practices everywhere he coached. During the week of an
LSU
-
Georgia
game, then-
Bulldogs
coach
Jim Donnan
called to tell
DiNardo
he needed to read some blogs.
"They were telling everyone what we're doing at practice,"
DiNardo
says. ...
"I always stressed, 'Let's not share our ideas with the wrong people,'"
DiNardo
says. "When I was at
LSU
,
Brad Scott
was at
South Carolina
. We didn't play each other on the schedule. He asked to send his offensive staff to
LSU
during an off week. I said,
'Brad
, I just can't do it.' You never know where your coaches will be in the future."
Sometimes coaches even take advantage of visits with other staffs to help their own recruiting.
In 2013,
Clemson
brought in a strong recruiting class but lost highly recruited defensive linemen
Carl Lawson
and
Montravius Adams
to
Auburn
at the very end.
Clemson
assistant coach
Jeff Scott
said
Lawson
and
Adams
told him that
Auburn
's superior housing for athletes was a major factor in their choices.
So one day after meeting with
Auburn
coach
Gus Malzahn
's staff,
Scott
decided to see the
Auburn
apartments for himself. He snuck into one of them and asked a player if he could take some pictures. "He didn't know who I was, but I'm in there taking pictures of his room,"
Scott
says.
Scott
showed the pictures to
Clemson
coach
Dabo Swinney
and university officials. Now the university is in the process of spending $2 million on renovations for an apartment complex that houses football players and non-athletes. ...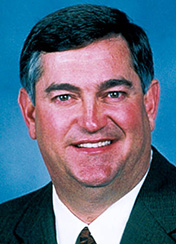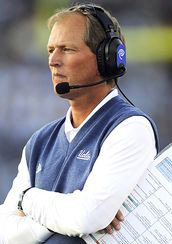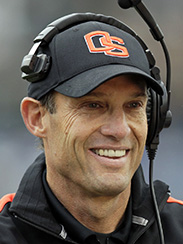 L-R: Brad Scott, Rick Neuheisel, Mike Riley
[Former
UCLA
coach
Rick
]
Neuheisel
remembers how he once got considerable blowback from fellow coaches about a rule that most of them wanted, but they were suspicious because he was the one proposing it.
At a meeting of the American Football Coaches Association,
Neuheisel
proposed more leniency for medical redshirt players. By limiting a medical redshirt to no more than three games, he wanted playres who got hurt early in the season to have the ability to return later to beef up rosters as injuries mount. Most teams just have a doctor fudge that the player was hurt the whole year anyway when in fact he can often return,
Neuheisel
says.
"Every head coach looked at me like I was trying to pull a fast one on them,"
Neuheisel
says. "It's the perfect scenario of the world of paranoia. They think because
Rick Neuheisel
has this reputation of being creative, the rule is a deal-breaker. I realized then the deal wasn't so much the rule I proposed, it was me. They didn't trust me.
After that incident,
Neuheisel
took different approach with rules. One year at the Pac-12 coaches' meetings,
Neuheisel
wanted to increase the conference's travel-squad numbers (60 players per team) closer to the Big Ten and SEC limits (70 players).
But
Neuheisel
knew he was toxic, especially in a room with so many big egos, such as
Stanford
's
Jim Harbaugh
and
USC
's
Carroll
. So
Neuheisel
had then-
Oregon State
coach
Mike Riley
pitch the idea.
"
Mike
is the nicest guy in the world, so he pitched it to the ADs and we got 70,"
Neuheisel
says. "Had
Rick Neuheisel
pitched it, we'd still be at 60. ..."