A few minutes after 8 a. m.
LeSean McCoy
walks into a windowless room on the first floor of the
Bills
' headquarters in Orchard Park, N.Y. He ... straps on a virtual-reality headset to stare down an NFL defense. In the 13-by-16-foot room, which is lined with FieldTurf, the eighth-year running back stands over a hash mark and peers through the goggles at a wall-mounted TV. His position coach,
Anthony Lynn
, cues up a running play from practice.
"Oh, this is crazy!"
McCoy
says with a giggle. "Ha!
Jim Brown
would have loved to have this."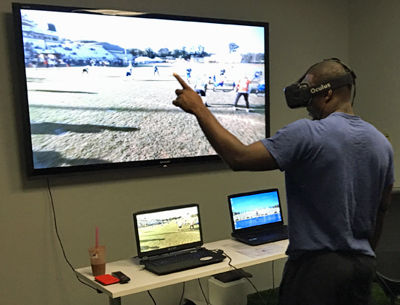 LeSean McCoy doing virtual reality practice
Reps, even mental ones, come at a premium 12 days before the season opener. In a 25-minute session designed to strengthen the mind's eye,
Lynn
applies constant pressure in the form of timed quizzes. Whether running the ball, staying in to block or releasing on a pass route, a back has about seven seconds between the breaking of the huddle and the snap to line up and pinpoint his assignment. That's how long
Lynn
gives
McCoy
to make his reads on this Tuesday morning. In between those bursts,
Lynn
teaches.
"Rewind that," he says, breaking down a pass play. "Now, if that was an option route, oh, my goodness! You'd kill them on the inside move right there."
McCoy
takes another look, reciting the defensive front, the protection call, the coverage and how he should run his route. "We are running option routes,"
Lynn
says of the Week 1 game plan for the
Ravens
, "and I have all these coverage looks on tape for you. Get you some mental visuals."
"Nice!"
McCoy
says, adjusting the mask. "Can I get this at home, too?"
This isn't
Jim Brown
's NFL, and it hasn't been for a long time. Virtual reality aside, today's game is an aerial spectacle; a league record for passing yards has been established each year since 2009. Backs are so devalued that only three were taken in the first round over the past four NFL drafts. (Ten were chosen over the previous four.)
The new way of thinking: The guys who run the ball are interchangeable and replaceable - even the veterans. ...
Buffalo
was one of four teams that ran more than they threw last season (509:465), and its 152.0 yards per game and 4.8 yards per carry were league highs. Yet the job of a running back is misunderstood even in
Buffalo
's locker room.
Defensive players occasionally mock the backs by asking,
What, exactly, do you do in the film room anyway?
Rookie
Jonathan Williams
, a fifth-round pick out of
Arkansas
, recently overheard one of the athletic trainers saying he wished he could be a running back, because it seemed so simple. "I told him, 'No!'"
Williams
says, still stunned. "We have to know a lot of stuff!"
The
Bills
' game plan against the
Ravens
on Sunday contained nearly 50 running plays. Each came with an alignment (where the back lines up), designated footwork (there are at least a dozen varieties) and an aim point (what to run toward). As the back approaches the line of scrimmage, he makes his primary read off one defender. The best backs can almost simultaneously read a second defender - just like top QBs can read two safeties at once - and sense where daylight exists amid the chaos of violent collisions. Each play also has something called a "big alert," a presnap read that signals a favorable matchup for the back to seize. Something as simple as taking the wrong first step can muck up the timing of a carefully orchestrated play. ...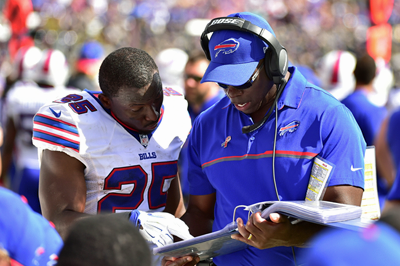 McCoy and Anthony Lynn
When
Lynn
retired [as an NFL RB], in 2000, backs were responsible for reading one or two defenders when blocking on pass plays. Because defenses have diversified in lockstep with offenses, and because blitzes are better disguised than ever, backs must often scan up to six defenders to identify and block the most dangerous potential rusher.
The
Bills
had 10 protections in last week's game plan, each requiring adjustments at the line; the backs had to study about 30 base and nickel pressures of the
Ravens
' defense. By kickoff,
Lynn
had held 10 mini-meetings to go over theses protections alone, but the
Ravens
(two sacks, six QB hits) cooked up some new surprises.
Whether the ball is on the ground or in the air,
Lynn
's primary goal is to find ways to slow down an impossibly fast game for his players. To help one of his younger backs,
Mike Gillislee
,
Lynn
asked third-string QB
Cardale Jones
to record audio of the Week 1 play calls so
Gillislee
could visualize responding (in seven-second increments, of course).
Lynn
also employs a method he calls "deep practice" - making the game harder during the week so it seems easier on Sundays. He has his guys do read-and-reaction drills from six yards deep instead of seven to give them less time to make a decisions. During a recent special-teams period
Lynn
put
McCoy
behind an "offensive line" of five garbage cans and rattled off
Baltimore
pressures at lightning speed, baiting
McCoy
into making mistakes as he made the protection calls.