Playoff Lenny
Ron Higgins, Tiger Rag Extra: LSU's Super Bowl Six, March 2021
Leonard Fournette showed up for work, 13 days before the start of his fourth NFL sea­son as a running back for the Jacksonville Jaguars. The former LSU all-American, the fourth overall pick in the 2017 NFL draft, was feeling healthy which was a good sign. Because when he had some pop in his well-used legs, he produced a pair of 1,000-yard rushing seasons as a rookie when he helped the Jaguars to the AFC championship game and in 2019 when he accounted for 30.6 percent of the Jags' offense.
Though there had been some turmoil in the months leading to the 2020 season–Jack­sonville declined Fournette's fifth-year option in his contract last May and tried to unsuc­cessfully trade him and his $4.2 million salary–he was happy to get back to work in the midst of the coronavirus pandemic.
Until that Aug. 31 morning when he pulled up at the entrance of the fenced Jaguars' practice facility. "Someone was at the gate saying (head) Coach (Doug Marrone) wants to see me," Fournette recalled. The meeting didn't last long. Marrone told a stunned Four­nette he was releasing him from the team. "There was no explanation," Fournette said. "It just happened; it was a terrible feeling."
A couple of days later in a press conference, Marrone explained why he cut Fournette. "At the end of the day, we feel the skill sets of the guys that we have (can replace Four­nette), and really that's what led to the decision," Marrone said.
For the first time in his football life that started on the playgrounds of New Orleans' Seventh Ward and traversed through St. Augustine High and LSU, the guy who always had been running back No. 1 on every depth chart, who got the most carries, who shoul­dered the offensive load against defenses stacked to stop him, was told he was not good enough to stay on a roster.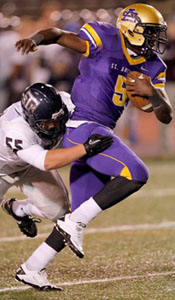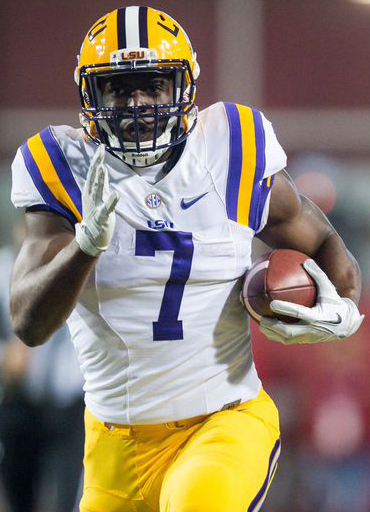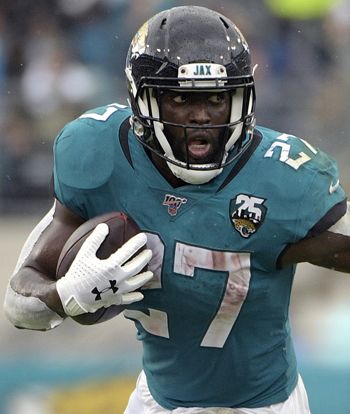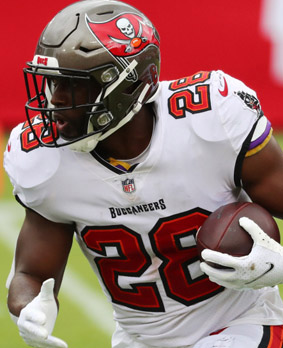 Leonard Fournette with
St. Augustine
,
LSU
,
Jacksonville
, and Tampa Bay.
Just about six months later to the day, he officially signed with a new team and around three weeks removed from his 26th birthday, Leonard Fournette walked off his homefield in Tampa on the night of Feb. 7 a Super Bowl champion after the most satisfying game of his career as the starting running back for the Tampa Bay Bucs.
The former first-round draft choice that Jacksonville dumped without taking any trade deal to get players in return had just run through the defense of defending Super Bowl champion Kansas City for 89 yards including a 27-yard third-quarter touchdown on 16 carries. He also caught four passes for 46 yards, not dropping any ball thrown his way or the Lombardi Trophy awarded to the Bucs for their dominating 31-9 Super Bowl 55 victory.
In Zoom media interviews afterwards, Fournette was asked to reflect on his journey from the Jacksonville cut list to being sized for a Super Bowl championship ring after his performance of redemption. "I don't have to say too much," Fournette said with a thin smile. "You all know, we all know, I'm just blessed, so I'm going to leave it there."
He didn't say it, but Fournette was probably hoping that Maronne, the coach that gave up on him, got an eyeful in his crowning moment of glory. Maronne certainly had time to watch the game since he was fired Jan. 4, a few days before Fournette started his four-game romp through playoffs in which he ran for 300 yards and three TDs on 64 carries and caught 18 passes (21 targets) for 148 yards and 1 TD.
"He was amazing and just did it all, blocked, ran, just had an incredible season," said Bucs' 43-year old seven-time Super Bowl champion QB Tom Brady, who Fournette calls "Old Head." "We got him pretty late and he just showed up big. It was amazing how he performed in the biggest moments. Just so proud of him."
Fournette's regular season stats, 397 yards rushing and six TDs on 97 carries and 36 receptions for 233 yards in 13 games with three starts, were a far cry from his 1,000-yard rushing seasons as a Jaguars' rookie in 2017 and in 2019 when he averaged a combined 19 carries per game.
His role for most of the 2020 regular season - as a backup to starter Ronald Jones - was completely foreign to him and difficult to swallow. Suddenly, Fournette was living in a world that former LSU backup running back Darrel Williams had tolerated for four years of college and three NFL seasons with the Chiefs.
"It was a tough year for me," Fournette said. "As a competitor you want to be out there, you want to compete. You want to play as hard as you can and help the team."
Todd McNair, Tampa Bay's running backs coach who played eight NFL seasons as a third-down back, a lead blocker and special teams player, sympathized with Fournette. But he also gave him tough love.
"The biggest thing with Leonard was him accepting his role and accepting he wasn't THE superstar, wasn't THE man," McNair said. "Some guys since high school have gone through their whole career where they've been coddled. Sometimes when you get released, you have to be shocked into reality like this can go on without you. If you're self-reflective, if you're true and honest with yourself, you can say, 'OK, maybe I need to change this; maybe I need to change that.'
"With any team that's successful, the approach is, 'What can I do for my team, not what can the team do for me?' It's a testament to the way Leonard embraced his role. You never know in this league. You can be THE man one minute, you could be traded the next."
Every time Fournette got discouraged during the season, he took solace in family time just as he did for a week after being cut. "I was chilling with my kids (after he was cut)," Fournette said, "and I realized they are my why in why I do this, they are why I play, this is what I'm doing it for, I'm doing it for them. I just tried not to lose focus on the bigger picture of what's going on and just kept going forward."
When Jones missed the final three regular season games after contracting COVID, Four­nette stepped into the starting spot and never took his foot off the gas. Just as he did with the Jags' 2017 three-game playoff run when he ran for 272 yards and four TDs on 70 car­ries to earn the nickname "Playoff Lenny," he came alive while discovering a new truth. His vastly lighter regular season workload resulted in considerably fresher legs in the biggest games of the year to write a storybook ending to a season that started for him as a nightmare.