At
Woodlawn
(High School in Shreveport LA) the QB playing in front of me was a high school All-American named
Trey Prather
. But rather than being discouraged because I wasn't the varsity QB, and pouting, I practiced as hard as I could, believed in my ability, and waited for my chance. Coach (
Lee
)
Hedges
was always supportive. ...
I was our starting QB my senior year. I didn't have a lot of experience, but I had raw talent and a rocket arm, so I attracted the attention of college scouts.
More than 200 colleges offered me track scholarships [
Terry
broke the national high school record for the javelin throw.] - I even got track scholarship offers from a school in Europe - but as it seemed pretty certain no one was about to start a professional javelin-throwing league, I knew that if I was going to have a career in sports it was going to be in football. Among the few major colleges to offer me a football scholarship was
Baylor University
.
Baylor
is a fine Baptist university in Waco, Texas, whose motto is
Pro Ecclesia, Pro Texana
, which roughly translates, "
Terry
can't even understand the motto, so no way is he going to go there." But I did go there for a visit, and it was an impressive place. ... During my campus visit I spent time with a player I knew from high school - and I was shocked at what I saw: Shocked! We were in his room, and from beneath his bed he pulled out a six-pack of beer and offered me a drink! I had never had an alcoholic drink in my life, and I wasn't about to attend a Christian college where football players kept alcohol under their beds. ...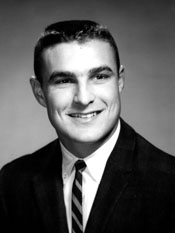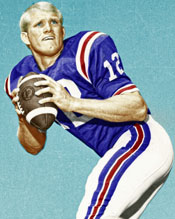 L-R: Trey Prather, Terry Bradshaw @
Woodlawn
, Terry Bradshaw @
Louisiana Tech
I was also offered a scholarship to
Louisiana State University
.
LSU
had a great football tradition, and there was a lot of pressure on me to accept that offer. I was ambivalent, even before I knew what that meant. While it was an honor to have been offered the scholarship, I wasn't sure I could compete in big-time college football. I had played only one year of high school football. I had no real confidence in myself. And a year earlier
LSU
had recruited the very same player I sat behind in high school. He was one year ahead of me - and he was sitting on the bench. Now, if the QB who had put me on the bench in high school was sitting on the bench his own self in college, what were the chances that I was going to play ahead of him? ...
Just about everybody I knew - as well as a lot of people I didn't know - wanted me to go to
LSU
. I didn't know how to tell them that I didn't feel comfortable in Baton Rouge, so I purposely flunked the entrance exam. I have never much liked people who make excuses for their failures. I am not claiming that I could have passed that exam easily if I had wanted to go to
LSU
. I'll never know if I could have passed it; I know I didn't study for it, I didn't care about it, and I definitely didn't want to go to
LSU
. And I also didn't pass the test. ...
To qualify for a scholarship you had to get 16 - when I took the test a second time I got 15. Instead of being upset about it, I was relieved. All it meant to me was that I couldn't go to
LSU
. Of course, I absolutely could not imagine how failing that test would affect my life. If I had known how it would damage my reputation, how it would cost me a fortune in endorsements, how embarrassing it would be, I would have put some real effort into studying, and I could have failed that test with style!
Instead I attended
Louisiana Tech University
in Ruston, LA. My high school preparation began paying big dividends as I sat on the bench for two years. ... yet I continued to believe without any doubt that I was on my way to a career in professional football. ...
At the end of my sophomore year I began to see my dream slipping away from me. I don't quite remember how it happened - my father might have made the phone calls - but we got in touch with a coach at
Florida State University
who invited me to transfer. My older brother,
Gary
, and I got in the car and started driving to Tallahassee to meet the coaching staff. But before we could get there, the coaches at
Tech
found out we were on our way and threatened to inform the NCAA that
FSU
was tampering. By the time we got to Tallahassee, no one on that coaching staff would even meet with us.