Ole Miss
averaged 48y per punt against
LSU
that evening. It was almost unfair that
Jake Gibbs
was good at this, considering how good he was at everything else, too. He was the
Rebels
' quarterback and would become the SEC's player of the year in 1960. A stud base­ball player, he also led
Ole Miss
to its first SEC title in 1959 and ended up playing parts of 10 seasons as a catcher for the
New York Yankees
. He hit 25 career home runs and was named to the College Football Hall of Fame in 1995. Now
that's
well-rounded.
Good punting was also unfair, seeing how incredible
Ole Miss
' defense was. It was always strong under head coach
Johnny Vaught
, but it was particularly dominant in 1959. The
Rebels
allowed only three touchdowns all year, and all three were either because of special teams or a turnover deep in their territory. Opponents didn't sustain a scoring drive of double-digit yardage all year.
The defense was so good that
Vaught
often didn't even wait until fourth down to punt. Granted, quick kicks were still rather common in the late 1950s, but with
Ole Miss
it was almost a sign of arrogance. "Sure, our offense is pretty good, but we'll go ahead and give the ball back to you. You know you can't do anything with it."
For most of the game
Vaught
was right. If
Gibbs
' kick with 10 minutes left in Baton Rouge had bounced out of bounds as intended,
Ole Miss
probably would have cruised to a 3-0 win in Baton Rouge in the biggest game of the season. With a win, the
Rebels
would have almost certainly become the SEC's third AP national champion in three years. It would have been the perfect culmination of what had become a 13-year building process for
Vaught
in Oxford.
Ole Miss
had experienced scattered success before
Vaught
, but nothing like this. After going 17-3 in his first two years and winning both the SEC and the Delta Bowl in 1947, his
Rebels
had taken a brief step backwards, then surged forward again. Between 1952-63,
Ole Miss
would lose more than twice in just one season. The
Rebs
finished in the top 10 in 1952, 1954, 1955, and 1957, and finishing 9-2 and 11th in 1958 had been a source of disappointment.
From 1959-62, the
Rebels
would dominate college football in the South. But the 1959 squad was
Vaught
's best and one of the best in the sport's history. All the punt had to do was bounce out of bounds for
Ole Miss
to clinch immortality.
Unfortunately for the
Rebels
, it checked up. On a sloppy field on a muggy Halloween evening at Tiger Stadium, it bounced right up into
Billy Cannon
's hands.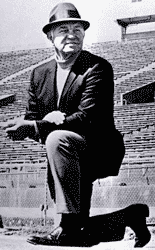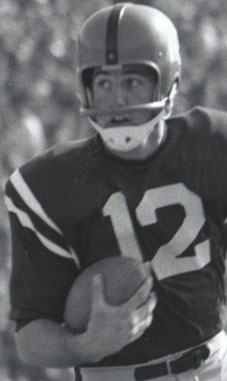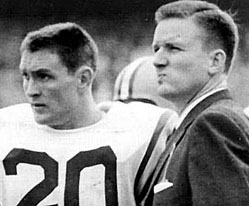 L-R: Johnny Vaught, Jake Gibbs, Billy Cannon and Paul Dietzel
It rained about a third of an inch on Halloween 1959 in Baton Rouge. High of 80, average humidity of 97 percent. It was a throwback to weeks earlier, a sticky late-summer day in mid-autumn. The soupy vibe permeated even the black and white footage of the game.
This might have been the most anticipated game in either program's history. Former
Army
offensive line coach
Paul Dietzel
had taken the
LSU
job in 1955 at the age of only 30; what his resumé lacked in quantity, it made up for in quality. He had played for
Sid Gill­man
at
Miami (OH)
in 1946-47, spent two years as
Bear Bryant
's line coach at
Ken­tucky
, and spent three years under
Red Blaik
in West Point.
It took
Dietzel
only four seasons to pull off what
Vaught
hadn't yet accomplished: a No. 1 ranking. Utilizing a deep squad, he used a three-platoon system - the White team (first-stringers), the Gold team (second-stringers), and the Chinese Bandits (a third string made of
LSU
's most energetic, physical reserves) - to soften opponents up and roll to an 11-0 record. The
Tigers
finished a perfect season with a 7-0 win over
Clemson
in the Sugar Bowl.
This didn't sit particularly well with
Ole Miss
or its fans.
LSU
had basically cut in line, and an already strong regional rivalry had grown nuclear. When
Ole Miss
came to town on Halloween, a packed house of 67,500 awaited. No. 1 vs No. 3: This was the toughest ticket in college football. Legend has it that someone traded his car for seats. An even more cre­ative legend tells that someone offered his wife.
LSU
hadn't lost for nearly two full years, and
Ole Miss
hadn't lost for nearly one. The winner would become the de facto national title favorite. ...
Over the next 10 to 12 years, the college football universe would finally become fully inte­grated. In 1959, however, it was still a foreign, unrealistic concept in certain areas. Among other things, it made
Ole Miss
's scheduling anything but novel. The
Rebels
played
Mem­phis
23 times in non-conference play from 1949-74,
Houston
17 times between 1952-70, and
Arkansas
10 straight years from 1952-61. They played series against teams like
North Texas
,
Chattanooga
,
Trinity
(Texas),
Hardin-Simmons
, and
Tampa
throughout the 1950s and 1960s.
Predictably, then, the 1959 season started against
Houston
... A confusing new
Houston
offense had
Ole Miss
on its heels at the beginning of the game [but] the
Rebels
cruised 16-0.
The
Rebel
offense struggled a bit the next week in Lexington, too. But after a scoreless first half against
Kentucky
,
Ole Miss
drove 42y in six plays to take a 6-0 lead ...A field goal and a late touchdown gave
Ole Miss
a second-straight 16-0 win.
Ole Miss
was all-defense so far. The offense would begin to play its part, at least until the trip to Baton Rouge.
Ole Miss
and
LSU
had combined to allow just 13 points in 12 combined games. Defense that good doesn't only require down-to-down dominance; it also requires a little extra stiffening when the opponent gets a rare scoring opportunity.
To be continued ...