Wilt: Larger Than Life, Robert Cherry (2004)
Born in 1936, Wilt Chamberlain grew up in West Philadelphia.
Surprisingly, the young Wilt disliked basketball, believing it was a game for sissies. What he loved to do was run. "I'd play kids' games with my brothers and sisters, games like hide-and-go-seek. Most of them were older than me, so I had to learn to run fast or I'd have never won a game."
Wilt attended George Brooks Elementary School, six blocks from his home, and there, as a member of the track team, he had his first contact with organized sports. ...
As a fourth-grader, Wilt was selected to anchor the school's 300-yard shuttle relay team in the renowned Penn Relays, the track competition held annually at Franklin Field on the University of Pennsylvania's campus. He also ran in a track event held in Convention Hall in Philadelphia where, many years later as a professional basketball player, he and Bill Russell would hold their titanic battles. But at this point in the story, he was a skinny fourth-grader running the final 75-yard lap, leading his team to victory. "The applause made me tingle all over," he remembered, vowing then and there to become a track star.
He undoubtedly would have, but for the changes to his body. By age 10 he was already 6' tall. By junior high school he couldn't keep track of his height, so quickly was he growing. "One summer I went down to Virginia for a vacation with some relatives, and when I came back home my sister Barbara met me at the door and said, 'Who are you? I don't know you.' She was probably kidding," concluded Wilt, "but I did look different. I had grown four inches."
Once asked by a high school teammate how he managed to have such a strong upper body while having such skinny legs, Wilt replied, "I used to go down and pick cotton at my uncle's place."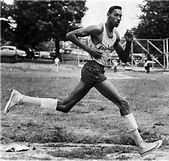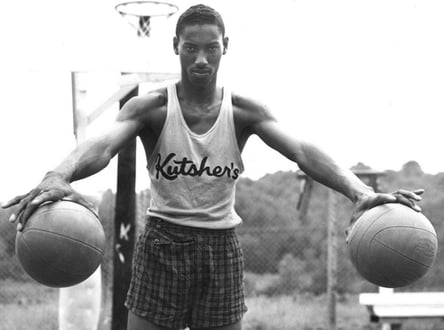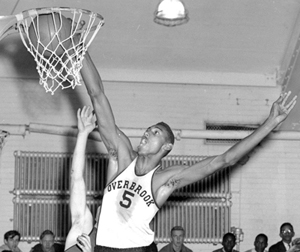 Young Wilt Chamberlain
It was during such summers in Virginia that mosquitoes mercilessly attacked him, leaving festering sores that permanently scarred his then-spindly legs. Self-conscious about the scars and his rail-thin legs, and wishing to protect himself from blows to his tender shins,
Wilt
wore knee pads over his shins and high socks when he realized that his size made him a natural for basketball. To keep the socks up,
Wilt
, who claimed he couldn't afford tape, used rubber bands. And to make sure he always had a ready supply, he slipped a wad of rubber bands around his wrist during a game. He wore rubber bands on his wrist off the court, as well, until he was about 45 years old - and they became his trademark. In a 1986 interview with
Sports Illustrated
,
Frank Deford
asked
Wilt
, "Where are the rubber bands?"
Wilt
's reply: "I kept wearing them because it reminded me of who I was, where I came from. Then suddenly, almost two years ago, I felt that I just didn't need that reminder anymore. ..." Another
Wilt
trademark was the headband, which he popularized as one of the first players to wear one when he played for the
Los Angeles Lakers
in the latter part of his career.
Wilt
was particularly friendly with four neighborhood boys, all of whom attended elementary, junior high, and senior high school with him. Their bond was a love of basketball, and they spent much of their childhood at the nearby Haddington Recreation Center, where they learned to play the sport - indoors in winter, outdoors in summer. All five of these childhood friends ... eventually played on the same high school team. And of these close childhood friends, all but one were starters on their championship high school team. ...
"Some of his childhood friends and I always talk about how mature my brother was for his age," (
Wilt
's sister)
Barbara
recalled. "Maybe it was because he played on so many teams [with older players] once he decided, at age 13, on basketball. He played for the YMCA, ... the Police Athletic League [PAL], at the Haddington Recreation Center, and for the Vine Memorial and Mt. Carmel Baptist Churches." ...
In 1953 he led his YMCA team to the national title at High Point NC. ...
Wilt
's siblings, childhood Philadelphia friends, and
Overbrook High School
classmates called him by the nicknames he preferred: "
Dippy
," "
Dip
," or "
Dipper
." ...
Wilt
explained in newspaper interviews the origin of his nickname:
When I was about 10, I was kind of big for my age, and I was always bumping my head in doorways and places where the ceilings were low. I was playing in an empty house one day with some boyfriends, and I ran smack into a low-hanging pipe and gave myself a beautiful black eye. My pals got a good laugh and told me next time I ought to dip under when I came to something like that. They started calling me "the Dipper" after that, and it became "Dipper" and then just "Dip" or "Dippy."
In the fifties one could field a top professional basketball team comprised
only
of players who had attended Philadelphia high schools, which is what
Eddie Gottlieb
, owner of the
Philadelphia Warriors
, did in the 1959-60 season. That squad featured
Tom Gola
,
Ernie Beck
,
Paul Arizin
,
Guy Rodgers
, and
Wilt Chamberlain
, all graduate of Philadelphia high schools (and all, save
Wilt
, graduates of Philadelphia colleges). ...
In
Wilt
's time, the mid-fifties,
Overbrook
's student population was 60 to 70 percent white, 30 to 40 percent black. Almost all of the white students were lower-, middle-, or upper-middle-class Jews ...; the blacks were lower- to lower-middle-class from the formerly Jewish but, by mid-fifties, almost entirely black sections of West Philadelphia. The school had a proud academic and athletic tradition, with little, if any, racial tensions. ...
George Willner
, an
Overbrook
graduate ..., recalled an incident in 1954 when
Wilt
came to the
William B. Mann
schoolyard in Wynnefield, which was
Willmer
's elementary school:
I'm 5'6" now, but at that time I was even shorter; and Wilt was 6'11". And it was me and Wilt against five other guys. He said to me, "Don't worry about it. Nobody's gonna score on us." And nobody did.
Larry Einhorn
was nine or ten when, on another occasion,
Wilt
came to the
Mann
schoolyard:
In walked Wilt and Allan Weinberg, who played on the varsity with Wilt. What Wilt did, I'll never forget: to show his athletic prowess, he took a football and lifted his right leg and threw the football under his leg the length of the schoolyard.
In his later years,
Wilt
wore an
Overbrook
letter jacket for interviews, for appearances on television sports show, and to basketball games. ... On more than one occasion,
Wilt
said that his years at
Overbrook
were the happiest of his life.
Jack Ryan
, sportswriter for the
Philadelphia Evening Bulletin
, gave
Wilt Chamberlain
the nickname "
Wilt the Stilt
" when
Dippy
was a 6'11", 200lb sophomore at
Overbrook High
.
Wilt
hated the name until the day he died. "It makes me think of ... some freak in a sideshow," he said. He asked friends not to call him that. But headline writers loved it: "The
Stilt
Gets 44 as
Overbrook
Wins."
Overbrook
won the Public League championship in
Wilt
's first season - his sophomore year. He tallied 34 points in the championship game against
Northeast High School
, whose star player was G
Guy Rodgers
, who would earn All-American honors at
Temple University
and play with
Wilt
on the
Philadelphia Warriors
as part of an NBA career that earned
Guy
a place in the Basketball Hall of Fame.
Overbrook
then faced
West Philadelphia Catholic
, the defending city champion.
Bob Devine
, a member of the team who would play at
Notre Dame
, remembered how his team prepared to face
Wilt
.
We put a junior varsity player on a table in front of the basket. When we would shoot, he would knock down all the shots. And ... Brother Anthony ... ran around with a window pole. Every time we'd shoot, he would knock down the ball. We had to shoot higher so Wilt could not block our shots. We Just practiced all week long doing that.
The Catholic champs put four men on
Chamberlain
, two in front and two behind him. The fifth player ran the floor.
Wilt
scored 29 of
Overbrook
's 42 points, but his teammates played poorly. Also,
Billy Lindsay
of
West Philadelphia Catholic
had the game of his life, hitting 12 of 13 from the field and eight from the foul line for 32 points to lead
West Catholic
to the city championship, 54-42.
In the spring,
Wilt
turned to his first love - track. He won the Public League high-jump championship as a sophomore. His high school coach said that
Wilt
's stride could have made him one of the best runners ever. If the money that is now available to world-class track stars had been available then and if professional athletes were allowed to compete in the Olympics,
Wilt
would have entered in the decathlon.
His junior year,
Chamberlain
scored a high school record 71 points in a game against
Roxborough
.
Overbrook
easily won the Public League title again with
Wilt
scoring 40 points in the final game against
Northeast
. Then he tallied 32 as the
Panthers
took the city title, defeating
South Catholic
74-50 to complete a 19-0 season.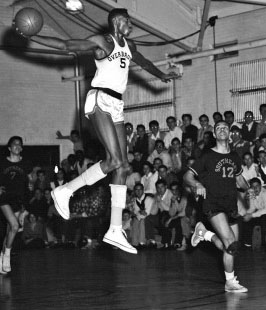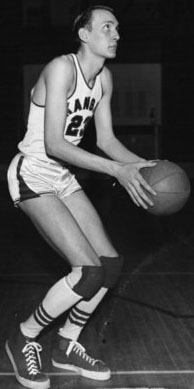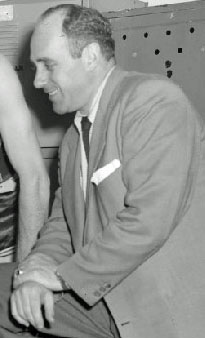 L-R: Chamberlain; B. H. Born; Red Auerbach
It was common in those days for summer resorts in the Catskill Mountains to hire college basketball players as bellhops, in part to play on the resorts' basketball league.
Eddie Gottlieb
, owner of the
Philadelphia Warriors
and one of the founders of the NBA, dreamed of
Wilt
playing for his club. He helped
Wilt
secure a summer job at Kutsher's Resort the summer between his junior and senior years of high school. The world's tallest bellhop made $13 a week plus tips. More importantly, he played for the resort basketball team. The coach was a young man whose parents, frequent guests at the hotel, asked the
Kutshers
to hire in 1950. His name was
Arnold "Red" Auerbach
, who became the coach of the
Boston Celtics
later that year.
That summer, 6'9"
B. H. Born
, who had just finished his career at
Kansas
, played against
Wilt
in the resort league.
Born
recalled: "
Red Auerbach
told
Chamberlain
that I was an All-American, the NCAA MVP, and I'd probably eat him up, so he was to just do the best he could against me. Until after the game, I couldn't understand why
Wilt
was so mad and trying so hard.
Red
had sicced him on me."
Wilt
, a high school junior, outscored
Born
, the college All-American, 25-10. "He just chewed me up," said
Born
. "I decided that if there were high school kids in that part of the country that good, I wasn't going to make it in the pros for very long." So
Born
eschewed the NBA and played industrial league basketball with the
Caterpillar Tractor Company
.
Auerbach
tried to convince
Wilt
to attend college in New England so that the
Celtics
, under the NBA's territorial draft rules, could draft him.
With the money he earned at
Kutsher
's,
Wilt
bought a 1947 Oldsmobile for $700. Buying cars and maintaining them would be a lifelong hobby for him.
By his senior year,
Chamberlain
was the most famous high school athlete in the country with articles about him in national magazines like
Life
and
Sport
. He was now an even 7' tall.
Overbrook
lost only once his senior year, a controversial one-point defeat in a season-opening holiday tournament to
Farrell High
of Western PA. The officiating was so bad that the
Farrell
fans apologized to
Wilt
and his coach and teammates after the game.
Wilt
broke his own scoring record in January with 74 points against poor
Roxborough
. The new mark lasted only a month until
"Stodie" Watts
scored 78 in a suburban Philadelphia league game. No problem.
Wilt
scored 90 the next week.
The
Panthers
easily won the Public League championship for the third straight year, beating
West Philadelphia
78-60 in a game held at the Palestra on the
University of Pennsylvania
campus. In the city finals,
Overbrook
walloped
West Catholic
83-42.
Wilt
's high school athletic career wasn't over. After skipping track as a junior, he returned his senior year to win the Public League high-jump championship again, jumping 6'1". He also won the shot put title with a throw of 46'10 1/2."
All talk turned to where
Wilt
would attend college or if he would skip college and go directly to the NBA.
To be continued ...
Wilt: Larger Than Life, Robert Cherry (2004)
In the early years, the National Basketball Association had both a regular and a territorial draft, the latter of which allowed a team to draft a college player from its geographical area in exchange for a first-round draft pick. The thinking among the NBA owners was that local college stars would attract fans and alumni to the professional game - and the struggling league needed all the fan support it could muster. The draft radius extended 50 miles from the city in which the professional team was located.
With
Wilt Chamberlain
due to graduate from high school,
Eddie Gottlieb
lobbied to change the territorial draft to include high school players.
Ned Irish
, the equally strong-willed owner of the
New York Knickerbockers
, was against such a modification, but
Gottlieb
prevailed and the league owners voted seven to one for the new rule in April 1955. Soon thereafter,
Gottlieb
became the first person to invoke the territorial draft to secure the right to a high school athlete, picking
Wilt
four years in advance of the 1959 draft. Luckily for
Gottlieb
- though some would say luck had nothing to do with it -
Wilt
did not attend a college in a city located within 50 miles of an NBA team, for in that case
Gottlieb
's
Warriors
would have lost the rights to
Wilt
in the 1959 draft. ...
No athlete before, and not many since, has been pursued by as many colleges as was
Wilt
. In this, as in so many areas, he was the "first." "He got 120 offers," recalled
Cecil Mosenson
(
Wilt
's high school coach). "
UCLA
told him they'd make him a movie star. Other colleges told him they'd send him to dental or medical school. An alumnus from the
University of Penn­sylvania
came over in a big limousine and said,
'Wilt
, why don't we take a ride to New York tomorrow and take a look at what
Harry Winsto
n, the big jeweler, has." Coach
Mosenson
was even offered a coaching position - if he could deliver
Wilt
.
Where will
Wilt
go? The sporting public - and more than a few college coaches and boosters - wondered in the winter and spring of 1955. How big a story was it? After
Wilt
selected a college,
Life
, then the most popular magazine in the country, featured a five-page story on the effort to recruit and land him.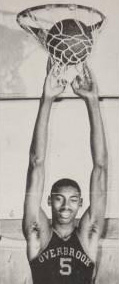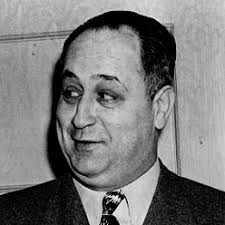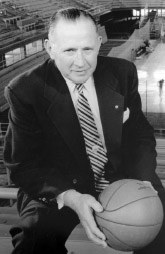 L-R: Wilt Chamberlain in
Life
magazine, Eddie Gottlieb, Phog Allen
Wilt
wanted to attend college outside Philadelphia, great as the Philly tradition in college basketball was - and is. "He didn't want another big city," recalled
George L. Brown
, a friend and adviser. Southern schools did not want blacks at that time, so that eliminated the great basketball power
Kentucky
. When people thought of college basketball in 1955, no one thought of the far West or Pacific Northwest. ...
Wilt
wasn't interested in New England and passed on New York because he didn't want to be that close to Philadelphia. So that left the Midwest, whose colleges produced some of the country's finest basketball and where
Wilt
visited the numerous universities, including
Kansas
.
Don Pierce
, then sports information director at
Kansas University
, saw a photo of
Wilt
in 1952 and has been credited with bringing
Wilt
to the attention of the school's basketball coach, the legendary
Forrest "Phog" Allen
, whose voice supposedly sounded like a fog horn, thus the memorable nickname. And surely
B. H. Born
, the
Kansas
All-American almost run off the court by
Wilt
in the summer of 1954 in the Catskills, had told
Phog
about the young Philly phenom.
But it wasn't until the winter of 1955 that
Allen
began to recruit
Wilt
and actually saw him play.
Allen
flew to Philadelphia in January 1955 and attended the
Overbrook
-
Germantown
game. That evening
Wilt
received a local award as "the outstanding scholastic athlete in Philadelphia." Coach
Cecil Mosenson
recaptured the event: "
Phog Allen
came to the Clivenden Award Banquet and introduced himself to me. Then he sat down with
Wilt
's mother and he
schmoozed
her. And she loved him."
When
Mosenson
and
Mrs. Chamberlain
talk to
Stilt
about attending
Kansas
,
Wilt
was not enthused, but because the school sent plane tickets,
Wilt
and
Mosenson
took a trip to Lawrence, Kansas, a lovely university town located 40 miles from Kansas City.
Mosenson
recalled that "before taking off, it was snowing, and they had to deice the plane. When we arrived in Lawrence at about 3:00 in the morning, there must have been 50 people waiting for us."
Phog Allen
assembled a lineup of distinguished Kansas citizens, black and white, to win
Wilt
's heart for the university. ...
"It was common knowledge that
Eddie Gottlieb
also encouraged
Wilt
to go to college in Kansas in order to keep him away from an NBA city," alleged the late
Alex Hannum
, who had been an NBA coach. Even if true, there were other Midwestern schools that would have enabled
Gottlieb
to select
Wilt
under the territorial draft because there was not a profes­sional basketball team within 50 miles of them.
What
Kansas
most had in its favor was
Phog Allen
, one of college basketball's greatest coaches.
Allen
won or shared 24 conference championships in his 39 years at
Kansas
... and had helped to coach the United States Olympic team to a gold medal in 1952. ...
There was one more element in
Wilt
's decision, although it was not likely the deciding factor: "There were incentives,"
Wilt
's high school coach,
Cecil Mosensen
, recalled. ... And unless you believe in the tooth fairy, one has to assume that many other schools pursuing
Wilt
also offered "incentives," by which coach
Mosenson
means money.
Wilt
told reporters for several New York newspapers in 1985 that he received approximately $4,000 from "two or three god­fathers" when he played at
Kansas
. This was in addition to the standard college scholarship of the time, which in 1955 included free room and board, tuition and books, plus $135 a year for selling football programs and helping with other athletic jobs, which was worth about $1,100 per year in 2002 dollars.
Told that
Wilt Chamberlain
had selected
Kansas
from the hundred-plus schools that had pursued him,
Phog Allen
is reported to have said, "I hope he comes out for basketball."
Valvano: They Gave Me a Lifetime Contract, and Then They Declared Me Dead,
Jim Valvano and Curry Kirkpatrick (1991)
Jim Valvano entered his third season as head coach at North Carolina State.
The reason I was so confident going into the season of 1982-83 had nothing to do with how good I thought our team might be on the court, but it had everything to do with what had happened off it. I loved our personnel: I figured
Sidney Lowe
and
Dereck Whittenburg
would be one of the best guard combinations in the country. We also had a little mad bomber in
Terry Gannon
and a very talented freshman scorer in
Ernie Myers
. That backcourt would be simply terrific. Up front,
Thurl Bailey
was just coming into his own as a senior; he was a late developer who would go on to have an illustrious career at
Utah
in the NBA. This was our nucleus of veterans. But we also had two younger players, "
Co
and
Lo
" (
Cozell Mc­Queen
and
Lorenzo Charles
), something we really had been missing in the past two years: a center who could neutralize the middle and a crunching power forward to muscle the boards. ...
That previous spring, we (ACC coaches) voted to recommend to our athletic directors that the ACC institute the three-point shot and the 30-second clock. This came about after some long and, shall we say, vociferous infighting among those present. ...
I felt that the clock and the three-pointer would be good for game, but by the same token I had a team that was not suited for an up-tempo contest. In addition, we were one of the biggest culprits in stall ball. I had to do what was best for my ball club. I had a hard time explaining my contradictory thoughts on the subject. I did know this: If I went through another year of coaching like the last one, I would blow my brains out.
Ours had become a game of coaches, not players. We had taken a beautiful, action-packed thing and made it into a chess match. It took about as long as a game of chess, and about as many points were scored. It was ridiculous and horrible. The players all wanted to play, not hang back. The fans wanted it; everybody wanted it. ...
Twelve other conferences would legislate new rules over the summer; we were the catalyst for the whole country. And we wanted to make a bold statement - even though we'd have to adjust back to the old rules during the NCAA tournament, and we knew that might hurt our teams. We ended up with the shortest (shot) clock and the shortest (three-point) distance. The game in the ACC was the most fun in all of college. And a blast for
North Carolina State
.
The changes helped us win the national championship, to be precise.
I kept thinking about how the '82-'83
Wolfpack
could combine the best of our first two years in Raleigh. My first season we ran well, but we didn't have a good halfcourt offense. The second year we played excellent defense ... But we didn't run at all. That's when I first put together my plan for two different styles of ball on the same team. With a three-guard lineup, we could press and run. I also had the personnel for a power lineup that could be deliberate and pound it inside. ...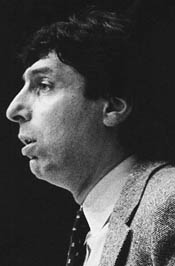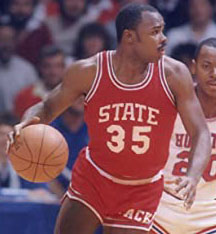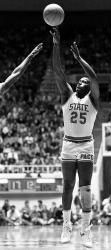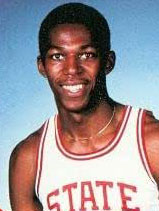 L-R: Jim Valvano, Sidney Lowe, Dereck Whittenburg, Thurl Bailey
The first big game for us was
Michigan State
at home. I knew the
Spartans
would spread the court and slow the tempo. Our new rules only applied to league games, unless the oppo­nent agreed to them.
Jud Heathcote
, the
Michigan State
coach, didn't. So it was a game like the year before, and they had three future pros,
Sam Vincent
,
Kevin Willis
, and
Scott Skiles
, playing it.
It turned out to be a heck of a game with a great ending. We were ahead by two points with 17 seconds left, when
Michigan State
called time-out with the ball.
Vincent
had been killing us all night, so we decided to go with a 1-3 zone and a chaser. But who would chase
Sam
?
We had a guy named
Harold Thompson
who had earned his scholarship every year by winning a game for us defensively. He was the obvious choice, but
Harold
had only played a few seconds in the game. What happened if they shot early, missed, then fouled
Harold
? What if he missed and they got another chance? What if? What if? Our entire defense would be based on
Harold
's ability to stop
Vincent
. This was risky, which is what bench coaching is all about. If it works, you're smart. If it doesn't, you're a bum.
What happened?
Harold
stole the in-bounds pass,
Thurl
hit a couple of foul shots, we won 45-41 and I avoided being a bum for another day. ...
We played a series of games under both the new and the old rules: winning against
Clemson
76-70 under the new, losing to
Missouri
under the old; and losing to
Ralph Sampson
and the
Cavs
88-80 in a heartbreaking game in which
Dereck Whittenburg
broke his foot.
Starting with
Georgia Tech
in Raleigh (whom we blew away) and ending with
Duke
in Dur­ham (whom we also blew away), there was a 14-game stretch which I have always referred to as our season-within-a-season. Obviously, we had to start all over. What style do we play? What kind of defense? What's the rotation on substitutions? We thought
Whittenburg
was gone for the season, when in actuality he did return after those 14 games. But it was a dif­ferent team he returned to, a better team, a team that had found itself, a team that would go on to win the national championship. And that season-within-a-season was the foundation.
I still think it's the best coaching job our staff ever did. We started out 2-4, then won seven of our next eight games. Had it not been for a one-point loss to
Notre Dame
, we'd have nailed all eight. And the unsung hero was
Ernie Myers
.
Ernie
started off by scoring 27 points against
Georgia Tech
. That was great. But the edu­cation of our new team started in a beating by
North Carolina
. Before the game, I showed
Ernie
the backdoor play
Carolina
likes to run. I told the staff he'd get beat the first time they tried it, and sure enough,
Michael Jordan
whipped by him right away.
Ernie
looked over at me on the bench and just shook his head.
That was all right. Even the 18-point licking was all right. What I couldn't stand was that for the first time, I felt the team didn't believe me. They didn't believe we could get the job done without
Whitt
. I ripped into them in the locker room. "If you guys don't believe, if any of you can't have the same dream I do, then get the hell out of here because I don't want you around. If it's three or five or whatever, we'll go on without you. We lost a player, but that's over with. I didn't promise it would be easy. It's a long, hard struggle. But we will get this thing done with or without you."
Valvano: They Gave Me a Lifetime Contract, and Then They Declared Me Dead,
Jim Valvano and Curry Kirkpatrick (1991)
I was 8-6, my best player had a broken foot, and
Carolina
had beaten us seven times in a row, when I got a call from (Athletic Director)
Willis Casey
. Many thoughts went through my mind on the way to his office. I was pleasantly surprised when
Willis
in­formed me that, not only was he pleased with my performance, but he wanted to dis­cuss a long-term contract.
Dean Smith
had recently signed a 10-year contract at Cha­pel Hill, and
Willis
felt that the basketball coach at
State
should have the same. Con­sidering that
Dean
had won a national championship, an Olympic gold medal, and was one of the winningest coaches in the history of the game - my being 8-6, I thought it was a fair offer. I always felt that
Willis
' confidence in me was one of the things that enabled me to coach the team to a national championship. ...
Among other things, coaches are basically schizophrenic. We are pessimistic to the press and among fellow coaches, but to our teams, we are the eternal optimists. This was true for the
Carolina
game, as well. The closer we got to this one, I talked public­ly about how great the
Heels
were and how many things could go wrong for us. It was all negative. In the locker room, however, I was extremely positive to the team, telling them how well they'd prepared and practiced. "We're ready, gentlemen," I said. "There is no way you can lose this one tonight." Then, after they'd left, I turned to my staff and said: "No shot. Geez, these poor kids could get absolutely killed."
However, this time we played a strong game from start to finish. Two technical fouls on
Carolina
in the first half may have been the key. (
Terry
)
Gannon
hit four free throws, and we led at the half, 37-36. We built the lead to seven points late in the game before our foul shooting went south. Then, we missed three straight one-and-ones and I started panicking on the bench. "Can't anyone make a damn free throw?" I screamed.
"I can," said a voice from down the bench. It was none other than
Cozell McQueen
, who was not famous for his pinpoint foul shooting. What the heck, I thought, nobody else could make them. Immediately,
Carolina
fouled
McQueen
and with 17 seconds left and
N.C. State
leading by 66-63, he calmly hit two big ones to clinch our victory over the
Heels
.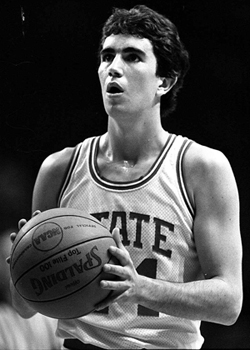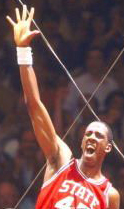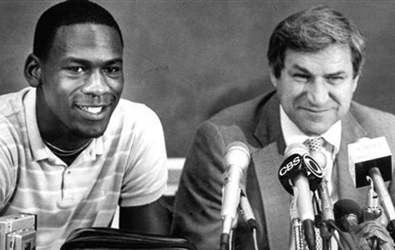 L-R: Terry Gannon, Cozell McQueen, Michael Jordan and Dean Smith
This was the game where
Michael Jordan
scored 17 points and
Gannon
scored 15. It was the game
Lowe
finished off by bounce-passing through his legs to
Bailey
for a game-ending dunk. It was the game after which the
State
kids cut the nets down. Late in the game,
Dean
came over to say he was happy for me, and I believe he was sincere. How could anybody
not
be happy for me?
Dean
had won only eight thousand games; gimme one or two somewhere.
It had been quite a while since
State
had beaten
Carolina
in football or basketball, and our fans celebrated in Reynolds for more than an hour. No one would leave. The rush of emotion made me so giddy - we had played with the clock, beaten a great team, gone up and down with them and actually won - that I felt we could beat any­body. At one time, amid all the celebration,
Whittenburg
himself was sitting up on the goal, dressed in street clothes. If that wasn't a true vision of the future, I don't know what was. One week and one day later
Whitt
was back in the
N.C. State
lineup. ...
Although
Whitt
rejoined the team, we now had to adjust to his presence, and in fact, we lost to
Virginia
and then to
Maryland
.
After the
Maryland
game, I was very disappointed. I thought our tenth loss had criti­cally hurt our NCAA chances. Everybody was talking about us going NIT now. But then came Senior Day against
Wake Forest
, the final home game in Reynolds, and the team exploded for 130 points, the highest total of any team in the conference that season. ... Threes? Try 16 three-pointers for the
Wolfpack
. I think
Mama Valvano
could have hit a couple of threes that afternoon.
It was precisely the way we were playing nearly two months before, when
Whitten­burg
broke his foot. The ironic thing was that I feared we still could get left out of the NCAA bids unless we won the ACC tournament. I felt that three bids were locks from the ACC -
Carolina
,
Virginia
, and
Maryland
- and the fourth would be between us and
Wake Forest
. And, to boot, our first-round game in the ACC's was against
Wake
, the team we had just destroyed by 41 points.
You think I'm crazy, right? Well, in Atlanta at the ACC's,
Wake
cut the deficit by a cool 40. That's right, we won by the skin of our wolf-teeth, 71-70, and only because
Danny Young
barely missed a shot from halfcourt at the gun. Looking back, the significant decision came with about 20 seconds left when
Wake
called time-out with the score tied at 70. Unlike what we later did all through the NCAA tournament, this time we elected not to foul. I didn't want them on the line. I just felt we could make a defen­sive play, so I told our guys to get in their faces,
make
them beat us. If we were going to lose, lose aggressively. Sure enough,
Lowe
made a steal, giving us the ball. After our own time-out,
Charles
was fouled and made the winning free throw.
Game number two ... was against
North Carolina
. ... The game was strange. We led by five late in the second half, but
Carolina
came back to tie. We had the last shot, but
Lowe
got stripped and
Carolina
got the final try instead, a 30-footer by
Sam Perkins
that just missed. I watched that baby from an angle and it looked in all the way. I think it took five minutes to get there. I
know
it took five minutes off my life. Actually, the ball did go in. Then it came out. In the overtime, the
Heels
mirrored that shot. They were in, then out.
Carolina
seemed to have the game locked up with a six-point lead and 2:13 left, but then we resorted to the strategy that we would use throughout our journey to the NCAA championship the next month. How can I put this in the simplest way? Okay; we fouled.
Sonofagun.
Deano
was way ahead of me here, too. My staff had always discussed a special strategy where if we had a lead late in the game and the other team was fouling us and we made our two free throws, why not foul them back? The best they can do is make their two, you get the ball and the situation is the same. Even if you miss yours, foul the other team's worst shooter. He may miss and you lose nothing. That's in lieu of letting the other team shoot the three and go ahead and maybe beat you. Well, that's exactly what
Dean
did in this game. Rather than permit us to foul, have the
Heels
shoot one-and-ones and then have us look for the three-point bombs, Dean fouled us back to put pressure on us. I recall shouting, "They're fouling
us
!" more than a few times. It was a gutsy strategy.
Luckily for us, though, we made our free throws and the
Heels
missed theirs. We cut the lead to four,
Wittenburg
swished a three-pointer and later drove the baseline for a score. Held in check through regulation,
Dereck
scored 11 points in the overtime and we won 91-84.
Now we were finally in the ACC finals, on the cusp on one of my fondest dreams, winning the ACC title. ...
Continued below ...
Valvano: They Gave Me a Lifetime Contract, and Then They Declared Me Dead,
Jim Valvano and Curry Kirkpatrick (1991)
I still laugh when I read that because the ACC tournament no longer decides the only NCAA representatives, the intensity and desire to win it are diminished. What a crock! I'll tell you one thing: We were fairly fired up. We were about to play
Virginia
, the best college team over the past for years, with the nation's premier player in
Ralph Sampson
and with a winning streak of three YEARS against us. We were probably as emotional for that game as any in my entire tenure in Raleigh.
We came out smoking and led 12-1. Remember, we had been ahead of these guys by 16 points back in January, so we knew they could be had. As seemed to happen every game, though, we couldn't stand prosperity.
Virginia
came back and led 59-51 with about eleven minutes left in the game. ... But there was plenty of time left. Another terrific
State
comeback - we went ahead by nine points - only enabled us to withstand still another embarrassing drought fromt he foul line. We kept missing free throws, and the clock didn't seem to move.
Our lead was still three points when the littlest player in the game made the biggest play. As
Sampson
went up for a shot on the inside,
Terry Gannon
stripped him clean.
Ralph
had 24 points and 12 rebounds, but
Thurl Bailey
matched
Sampson
's points and
Lorenzo Charles
matched his rebounds for us. Nevertheless, if Sampson had scored there and maybe gotten fouled, the game might have been tied.
As it was, we kept our three-point lead until there was six seconds left,
Virginia
ball. We had decided to try to keep the ball from
Othell Wilson
. In fact, we were successful in doing this, and
Doug Newburg
, not nearly as quick as
Wilson
, was forced to dribble up the court and make the play. Our pressure was successful;
Newburg
finally passed off, but the shot came after the buzzer. We were the new ACC champions.
Of course, I cried. Standing there watching the joy on all our players' faces, I couldn't imagine feeling any better or more fulfilled. ...
When we were on the plane coming into Raleigh, there were rumors that a large crowd had gathered. Somebody suggested we land on an outer runway and sneak away so we wouldn't have to deal with the mobs. Uh, just a moment. I had another suggestion. How about if you strap a parachute on me so I can
dive
into the crowd? What, are you kidding me? We win the ACC's and the guy suggested we sneak away! ...
Then came the NCAA draw. And, sonofagun, if they didn't do it to us again. Did we get
Kansas
, or
Alabama
or
Seton Hall
or some school anybody had ever heard of? No. They came up with
Pepperdine
, a toothpaste. Those were the jokes, of course. I knew who
Pepperdine
was. I knew they were an outstanding team. I knew the coach
Jim Harrick
(who has gone on to resurrect the
UCLA
program where other "name" guys have failed). I knew they'd be licking their chops for us ... Not to mention, we would have to travel to Corvallis, Oregon to play the first round. We were the ACC champs, and we had to go to the end of the world to play. ...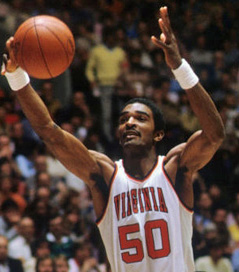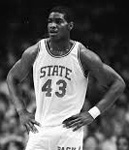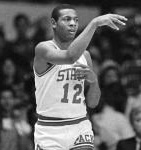 L-R: Ralph Sampson, Lorenzo Charles, George McClain
In truth, it may have been a blessing for us. It gave me a chance to use that wonderful coaching word, "focus." We were going to be able to "focus" on the game because there wasn't much else to "focus" on in Corvallis.
We played awful, missed our first 12 shots, and didn't score for over five minutes. There was a difference from the last time, though. We were a team with a lot of character and with a cause. Most of all, we could play defense. Our defense had kept us in many games, and it did again. Also - a big factor -
Pepperdine
played as lousy as we did. Friends back East told me that the game was so bad, when we fell behind by eight points late, everybody turned the TV sets off and went to bed. ...
The regulation game ended 47-all after
Pepperdine
missed two crucial foul shots. In the first overtime, we were down 57-51 with 1:10 to play. To make matters worse, (
Sidney
)
Lowe
fouled out with 45 seconds left. At :29 we were behind 59-55. Playing catch-up the whole night, we couldn't quite catch up.
Then we had to foul
Dane Suttle
, the
Waves
' best player and an 84% free-throw shooter. That's about the time you tell the bus driver to rev the engines. We're goin' home, Jack; it was nice while it lasted. You don't tell the kids that - you still coach the hell out of the contest. But in the back of your mind, you're thinking of the off-season and how it will be unpacking the woods and irons.
But
Suttle
missed!
George McClain
, a sub guard who earlier in the season had been hospitalized for spinal meningitis, had just come in for
Lowe
. He took the outlet pass from
Charles
and threw the best pass he would ever throw at
State
to
Bailey
roaring down the middle. Bang, a dunk! We fouled immediately.
Suttle
again. We had to. We wanted him to feel the pressure from that first miss.
The kid missed again. Now we came down with the ball, and
Pepperdine
fouled
Dereck Whittenburg
with nine secodns to go. At this point I sent in McQueen, a lefty with the danging arms of an octopus on hormone pills, for a better chance to tap the rebound back out to our guys in case
Dereck
missed. It was one of those spot decisions that worked out, although it didn't look too snappy at the time. Sure enough,
Lo
and
Co
began arguing over who should take the second spot along the lane. I had to holler at
Charles
to get out of there.
What happened next defied logic, again:
Whitt
did miss. And
McQueen
was there for the tap-back, a play made famous, incidentally, by
Dean Smith
at
Carolina
. Steal from the best, I always say. But instead of tapping the ball back as I had hoped,
Cozell
caught the ball and went back up to shoot himself. Oh no!
Ohhhh ... yes!
The ball bounced over every inch of that rim before falling through.
Pepperdine
didn't call time-out; I think they were too shellshocked. They ran it up the side, took a long shot and missed. Double overtime!
We knew we would win now.
Pepperdine
had gone from high-fiving and celebration on the bench to looking hopelessly lost on the court. Most people believe our run to the NCAA title started in the ACC tournament. But I've always known our "Team of Destiny" tag began with that shot by
McQueen
against
Pepperdine
. We won after the second OT, 69-67.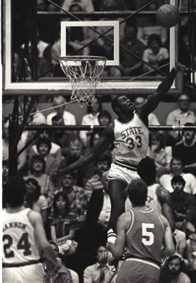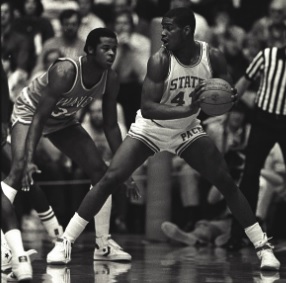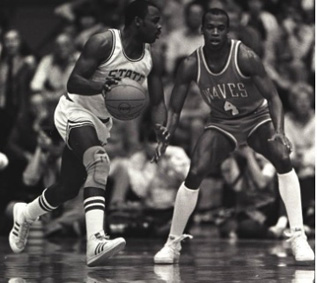 North Carolina State-
Pepperdine
Action
Continued below ...
Valvano: They Gave Me a Lifetime Contract, and Then They Declared Me Dead,
Jim Valvano and Curry Kirkpatrick (1991)
Before the game I had told
Frankie Dascenzo
of the
Durham Sun
that if we got by
Pepperdine
, we could go all the way and win the whole thing. I really believed that. I honestly felt that if we could just get over that first giant hurdle, we had the type of team to win the championship. In the locker room afterward, I told the guys exactly that. We were in the hands of Fate now. A different guy each night was going to come through for us. ...
We had motivated ourselves for the first NCAA victory. Motivation for our second game came from the opponent,
UNLV
, when
Vegas
' star forward
Sidney Green
said he was "not impressed" with
Thurl Bailey
. "He didn't show me very much,"
Green
said. You think I didn't Xerox that baby a few times and put it up in the locker room?
It's a cliche, but believe it: We coaches will use anything for an edge, a psych tool, a mind ploy.
Bailey
would end up just about matching
Green
- 25 points and nine rebounds to 27 and 10 - and our team played great. The problem was, so did
Vegas
.
As a team moves through the tournament, the competition obviously becomes better and better. Well,
Vegas
might have been as talented a team as
Houston
. I know
Jerry Tarkanian
's club was the best defensively. Now it became a battle of wills, of execution, of who was the healthiest, deepest, most fit; who had the most nerves and guts.
With over eight minutes to go against Las Vegas, the competition obviously becomes better and better. Well, Vegas might have been as talented a team as Houston. I know Jerry Tarkanian's club was the best defensively. Now it became a battle of wills, of execution, of who was the healthiest, deepest, most fit; who had the most nerves and guts.
With over eight minutes to go againt
Las Vegas
, we were behind by 12 points. But we'd been behind before; we were used to being behind. I had always told the kids: "Let's just get in position to win." That was a coach's job, to get his team in position. It sounds like a simple thing, but, in fact, a few years later, I read that a successful CEO who was giving a speech to a management seminar told
them
their jobs were to put their people in position to win. And he told them he had taken that philosophy from the 1983
North Carolina State
basketball team!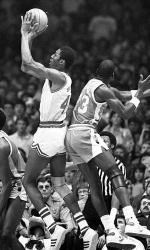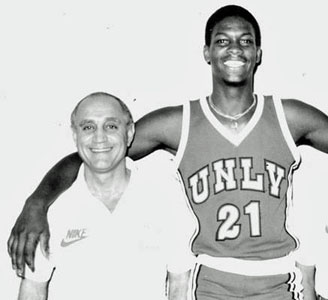 L-R: Thurl Bailey, Jerry Tarkanian and Sidney Green
The score and time always dictated how we positioned ourselves since we always seemed to be behind, that dicated press and foul. Rush the ball up the floor, score, time-out, foul. After we fought back against
Vegas
to within three points, 67-70; after
Bailey
hit a jumper with 37 seconds left to make it 69-70; after we called time-out and elected to foul
UNLV
; after the
Rebels
'
Eldridge
(
El Cid
)
Hudson
a 68% free-throw shooter, missed - we were in position to win again. This time, we didn't call time-out. Instead, we rushed down the floor, hoping to catch
Vegas
off guard. I remember what happened next in slow motion. I even remember what we called the play: 5-play.
Whittenburg
started a drive to the basket with eight seconds to go, but he was cut off and let loose a 20-footer. The ball glanced off the front of the rim, where
Bailey
was there to tap it back, but that missed too. In the scramble, three
Vegas
guys should have gotten the ball, but they didn't; they bumbled.
Thurl
came up with it one more time. Slo-mo. Slo-mo. Off-balance, falling,
Thurl
tried a banker from the sharp angle ... Good!
Holy God! We rushed the court, thinking the game was over, but
Vegas
still had three seconds to make something happen. Their last play didn't come close; the shot went over the backboard. We won 71-70.
In the last minutes,
Bailey
had scored 16 points, most on turn-around jumpers at critical times, including the game-winning ones. I didn't ask
Sidney Green
if he was impressed.
Following our fourth victory over a Top Five team in the past month, we left Corvallis for Ogden, Utah, and the West Regional, knowing there was something Very Special at hand. We were confident. We were excited. Nobody was going to beat us now. I was so sure of all this,
Pam
and I took a detour to San Francisco for some serious R and R.
In the first place, because the Regionals were all in the West, we figured it was useless to return to Raleigh, where the players wouldn't be able to get anything done in school, much less on the court. We were getting video tapes from home in the mail, showing one pep rallly after another. We thought it better to stay away from all the pep. ...
In Ogden, all the teams were in the same hotel -
Virginia
,
Boston College
, and us - except the home team,
Utah
. The
University of Utah
is in Salt Lake City, an hour away from Ogden, but you get the picture. First, we had to play a couple of Western teams on the West Coast. Now we got to play
Utah
in Utah. Nice, huh? Think we had
Rodney Dangerfield
's problem?
It's interesting how viewpoints change. In Ogden, all the officials and reporters and hotel and restaurant people remarked upon how loose the
Wolfpack
players were in comparison to
Virginia
, whose players seemed tight and nervous. Several years later - try my last season at
State
- the
N.C. State
coach took heavy heat for promoting such an "unstructured" environment: a loose, open, laissez-faire program. Back then, the way we did things seemed appealing to folks. Not to mention that it won a national championship. ...
Continued below ...
Valvano: They Gave Me a Lifetime Contract, and Then They Declared Me Dead,
Jim Valvano and Curry Kirkpatrick (1991)
Utah
had gained the regional with an emotional upset victory over
UCLA
, and I knew
Utes
' coach
Jerry Pimm
would have them prepared. They played very tough defense until we kept moving back further out and taking those three-pointers we had learned to shoot in the ACC. They didn't count for three points now - and
Pimm
told his team at halftime: "Don't worry. They can't keep shooting that way" (i.e. 59%). He was right. In the second half, we shot 78.9% and won 75-56.
Virginia
beat
Boston College
in the other game, so the West Regional final would be a repeat of the ACC final.
North Carolina State-
Utah
action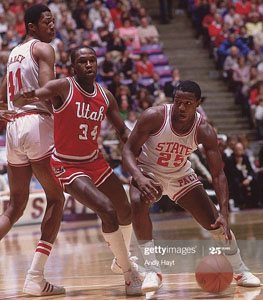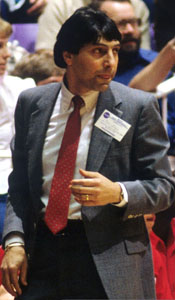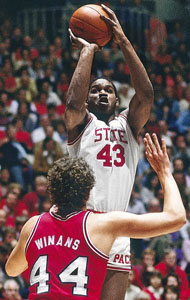 L: Dereck Whittenburg dribbles as Thurl Bailey sets a screen.
M: Jim Valvano on the sidelines.
R: Lorenzo Charles shoots.
I knew that in a Big Game, playing another team from our conference would be easier than playing a stranger. It's called Familiarity. It doesn't breed contempt so much as a sense of confidence that you
can
play with the other guys. There's no fear, no ascribing to them a higher rating than they deserve. This may sound self-serving, but that is precisely why I've always felt our victory over
Houston
in the championship game in '83 was a bigger upset than
Villanova
's over
Georgetown
two years later. ... Against
Virginia
, as big a game as it would turn out to be, I knew we would be relaxed and play up to the level of the game.
It was a great regional final.
Virginia
skipped out ahead by seven points, but we came back and it was virtually nip and tuck to the wire.
Sampson
slammed in a dunk with about a minute and a half to play, to give the
Cavaliers
a 61-59 lead. But then
Whittenburg
arched in a 22-footer. We decided - one more time - to make them win the game from the foul line. We chose to foul our old pal,
Othell Wilson
.
Wilson
made the first but missed the second, so we were in a position to win again: down 62-61, with possession of the ball.
This time we decided not to wait for the last shot; we were going to take the first available opportunity to score.
Whittenburg
drove the lane and dished off to
Charles
, who went up hard for the basket. Bop! he was fouled by
Sampson
.
Lo
was going to the foul line with two shots and 23 seconds left.
During the time-out, all I talked about was what we were going to do after
Lorenzo
made
both
shots. This time I remembered
Abe Lemons
' advice; I didn't want any black cows in this huddle. No negatives. I focused only on the positive. "
Lo
, Baby," I told
Charles
, "this is it. We've come this far. Team of Destingy. The Cardiac Pack. It's on you. Knock them both down. When you do, we're calling time-out again. Then we'll talk about defense. But there is no defense now, baby, because you are the man. Brooklyn, New York's own
Lorenzo Charles
. The guy from the Big Apple. My guy,
Lo
. Do it, baby."
Oh, I was positive. I was so positive. I made myself sick. That time-out never seemed to end. I wanted it to end, because I didn't have anything more to say. At least I didn't want to say anything else. As the seconds ticked off. I kept encouraging
Lo
. I had to practically bite my tongue off to keep myself from screaming anything else. Like ...
This is what the hell we're going to do when this S.O.B. misses both of these &*%$# free throws!
As soon as the horn went off and the team started out on the floor, I grabbed
Sidney Lowe
and told him what to do if
Lo
missed.
Lorenzo
, however, truly my guy, knocked in both shots, and
Terry Holland
called time-out for
Virginia
. There were 17 seconds left. Our defensive strategy was simple. It was the same we had played the whole game: one man on
Othell
, one man on
Ralph
, and then a triangle zone around
Ralph
. We wanted anybody but those two to shoot the ball. We had
Sampson
surrounded, and the criticism that
Holland
got later about not getting the ball to his 7'4" center was totally improper. Plain and simple,
Virginia
couldn't because we wouldn't let them.
North Carolina State-
Virginia
action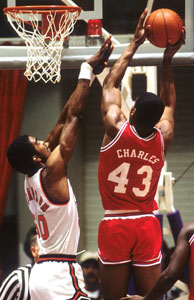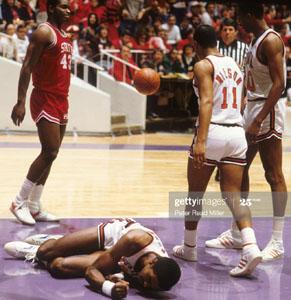 L: Lorenzo Charles shoots over Ralph Sampson.
R: Sampson floored.
Our defense was no surprise to
Virginia
.
Terry
knew me well enough to know that my teams tried to stop the opposition's best players. He had to know I was going to guard
Sampson
and
Wilson
. Because if
Wilson
had beat us, I would have screamed into the night about what I should have done to keep the ball out of his hands; if
Sampson
had beat us, I would have gone out and put a bullet in my brain. But if some other
Cavalier
got lucky and hit the open shot that we were giving him, I could go home and sleep like a baby.
Bottom line, this was one of those times when everything a coach planned came out the way he planned it. On that occasion it was as if God was paying me back for 20 years of losing at
Syracuse
by 57, of watching the
Iona
last-ditch chances fall away. All of a sudden all those stored-up atrocities were paid back. Because what happened in Ogden was that
Tim Mullen
of
Virginia
, who hadn't scored all night, who
hadn't even taken one shot
all night, got the open 18-footer - and missed it. After the ball bounced off the rim,
Wilson
got the rebound. But his attempt got nothing but air and fell short; I'm not sure if
Othell
was trying a lop pass to
Ralph
or a shot, but it didn't matter. ...
The arena at Ogden was circular; long into the night after the game, I remember simply waking around it. Around and around. Had it finally happened? Yes, we were going to the Final Four! ...
We finally came home to Raleigh because we ran out of underwear, but our pre-Final Four practices were ridiculous. I opened them up to the public, so we had about four to five thousand pepole there every afternoon. We got nothing done. People would just stand and cheer for every little move we made. Actually, I would have preferred for the season to have ended right there. We wouldn't play any more games; we'd just continue practicing and have the multitude come and cheer us. We'd sign autographs and pose for pictures and that would be it.
Continued below ...
Valvano: They Gave Me a Lifetime Contract, and Then They Declared Me Dead,
Jim Valvano and Curry Kirkpatrick (1991)
We left for Albuquerque, the site of the Final Four, a day early, and we had an absolute ball. I knew this was the basketball moment of my life, but I wasn't about to let that detain me from having a fun week. ... I told our team: "We've had a lot of big wins. We've had a lot of fun. This is the ultimate, and we may never get back here again. But let's not make this life of death. Let's continue to have fun."
I'll never forget the Friday-afternoon practice when we came onto the floor of the
Uni­versity of New Mexico
's "Pit." There were nearly 12,000 people in the stands, about half of them coaches. Every year the coaches' national convention is held in conjunc­tion with the Final Four, so the four mentors of the lucky teams are always under the surveillance of their peers. It was intimidating, to say the least.
I told the team that I had spoken at a lot of annual business conventions where there's a keynote speaker, and that this Final Four would have its keynote speakers as well. There'd be two of them, the two winners on Saturday. I think we started winning our semifinal game against
Georgia
right then, a day early.
The fact that the
Bulldogs
had beaten
North Carolina
in a stunning upset in the East Regional helped get our players' attention, believe me. Still, we knew everybody con­sidered ours the consolation game, that
Houston
-
Louisville
was the heavyweight division and the survivor of that game would undoubtedly win the championship. I called the doubleheader "the A-game and the Jayvees."
We were worried about
Georgia
's speed and offensive rebounding, but right away their terrible shooting neutralized the
Dogs
. We led 33-22 at halftime after
Georgia
began the game by missing 19 of its first 23 shots. We pushed the lead to 59-41 with about six minutes to play. The mistake I made came then, ironically the same error
Houston
Coach
Guy Lewis
would get crucified for two nights later in the champion­ship game. We spread the court and held the ball; I figured
State
being an agricultural school, we should have been able to milk a lead. Wrong. We ended up struggling to finish and won 67-60.
Actually, one of the features of this first game was when the
Houston
Phi Slamma Jammas
entered the arena in their workclothes, all ready for battle, and sat right behind our bench. The crowd went wild. Of course, the
Houstons
couldn't hear the noise. Most of the
Cougars
still had their Walkmans strapped around their heads.
North Carolina State-
Georgia
action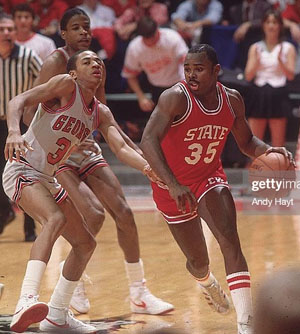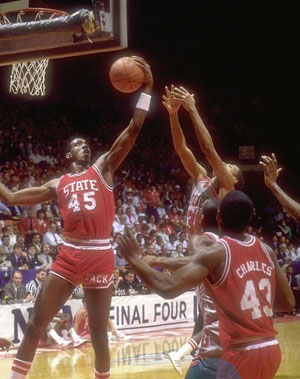 L: Dereck Whittenburg dribbles. R: Thurl Bailey grabs a rebound.
When I returned to the Pit floor, the
Houston
-
Louisville
game was at halftime. Later I wished I had missed the second half too, for what transpired before my eyes was in­credible.
Louisville
was playing high above the rims early in the second half and seemed to be in control with an eight-point lead, but then
Houston
started stealing, blocking and dunking everything in sight. Women and children were not safe.
Brent Musburger
and
Billy Packer
were not safe. In a few seconds,
Houston
went from eight behind to eight ahead, with as fearsome an explosion as I have ever seen. One steal, breakaway and dunk by
Houston
's
Benny Anders
was so invigorating, a good part of the
Cougar
bench got up and huddled around a nearby TV monitor so they could watch the instant replay.
Myself, I was excited and depressed at the same time. I knew that everybody was going to root for us, but that nobody thought we could win. That was the exciting part. The depressing part was, I thought they might be right. This could be a 50-pointer.
As expected, nobody gave us a chance on Monday night. The commentators and columnists were fairly brutal in describing what a horrendous mismatch the champion­ship game would be. I particularly recall
The Washington Post
's
Dave Kindred
's line: "Trees will tap dance, elephants will ride in the Indianapolis 500, and
Orson Welles
will skip breakfast, lunch and dinner before
State
finds a way to beat
Houston
."
Well, the staff and I spent all day and night Sunday and all day again Monday figuring out how to enter Babar at Indy. Our team certainly didn't believe what was being written. We didn't beat the numbers five, four, three, and two teams in the country by giving up. People had also forgotten that we had played nine games against teams ranked number one that year.
Our decisions were fairly simple. We would set the tempo: When we wanted to run, we would run; if we wanted to slow down, we'd do that too. We never wanted
Houston
to get out on the break. Another part of our plan was not to allow any dunks, practically the
raison d'etre
of the
Phi Slamma Jammas
. We were going with the three-guard offense to draw them away from the basket. We wanted to get
Akeem
in foul trouble. We had to shoot well. And the game had to be in the 50's for us to have a chance to win.
Continued below ...
Valvano: They Gave Me a Lifetime Contract, and Then They Declared Me Dead,
Jim Valvano and Curry Kirkpatrick (1991)
I gave one of my best pregame talks of my life. It wasn't one of those out of Drawer 26, Speech #23. It was very sincere, and it took a lot longer than our normal meeting. We went over everything about the game, from halfcourt to full-court sets, rebounding positioning, out-of-bounds plays, last-second deals. I bet we stayed in there a full hour.
Sure, I'm a seat-of-the-pants coach. We've never been a system team. Against
Georgia
we played a certain way, and against
Houston
we were going to play a different way. I think what I do and what we've always done is change things during a game, adapt, adjust. I think I'm good at that. We had tremendous confidence for this championship game. Can you ima­gine what it was like to get the ultimate challenge against the number one team in America - with the entire basketball world thinking you had no chance? With a club that has just won nine straight games, beaten numbers four, three and two ... without a clock ... without a three-pointer? And we're going against a team that only plays zone? Some teams have a smalelr margin of error than others;
Houston
's was very small. Force them out of their transition game, and they could get very frustrated.
"Now I want to tell you guys something," I began in the locker room before the game of our lives. "I've waited all my career to be in this position, to be playing on the last day, to be playing for the national championship. And I'm telling you this. Everybody in America thinks we're holding the ball.
Houston
thinks we're holding. But we're not. They're all wrong. We're going to go out there and shove it right down their throats."
I was a Rat again, and every last one of these guys, my guys at
N. C. State
, was a Rat. I got right up in the faces of the whole starting team.
"You,
Sidney Lowe
! This is your last game ever. You're the finest point guard I've ever coached and tonight you are going to play flawlessly. You are going to go out and handle and dish and play the game of your life and lead us to the national championship.
"And you,
Dereck Whittenburg
! You've come back from the dead. They said you'd never play again. You're going to get those passes from
Sid
and hit those downtown J's from all over the gym and lead us to the national championship.
"And you,
Cozell McQueen
! You're getting every rebound there is tonight. You're going against
Akeem the Dream
and you're going to do a job on him and lead us to the national championship.
"And
Lorenzo Charles
! You're going to get inside position and power for points and re­bounds and lead us to the national championship.
"And
Thurl Bailey
! You're going to hit jumpers. And grab rebounds. And block shots. And dunk the dunkers. You're going to jump and bang and control the glass and lead us to the national championship!"
I told them we were going to go when we wanted to and stop when we wanted to, and that not only were they going to play the game of their lives, but I was going to coach the game of my life, too.
"We're going to leave this locker room and we're going to knock
Houston
right on their asses," I shouted.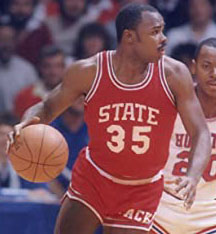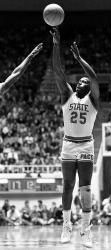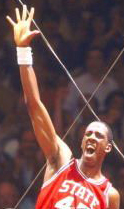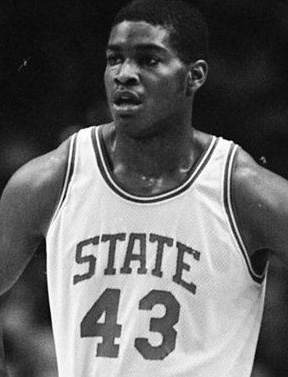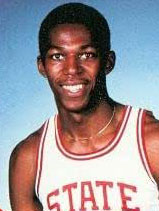 L-R: Sidney Lowe, Dereck Whittenburg, Cozell McQueen, Lorenzo Charles, Thurl Bailey
The place erupted. The team ran out of that locker room sky-high. I think we could have de­stroyed some small nations, we were so hyper. We started out with a dunk (by
Bailey
) and took 18 shots in the first five minutes of the game.
Houston
took six. The only problem was, we didn't make many of those 18. I was a maniac, of course, but that didn't seem to matter.
N.C. State
played just about as perfect a half as we could. We got four fouls on
Clyde Drex­ler
. We held
Houston
to 25 points. We led 33-25, showing everybody that we could play with the vaunted favorites. Our defense was solid, and
Houston
wasn't doing things at will on the offensive boards either.
At halftime I became very selfish because I wanted to win so badly. To have come that far with an eight-point lead and then lose the national championship would have broken my heart. I told the kids they had 20 minutes to make their mark on history. I said: "Please be­lieve this. Never, ever, for the rest of your life in whatever you do - insurance, selling cars, teaching, television, banking, anything - never will you have the feeling that will come when that final horn blows and you have won this game. Should we lose, it will haunt you the rest of your days. You will ask yourself why, what could you have done? I'm not telling you now to remember what a wonderful journey it's been and just go out there and have fun and do the best you can. No. It's too close. I'm saying, let's go and out and win the national champion­ship. There's no reason not to now."
All my fears came to fruition at the beginning of the second half. We were drained emotion­ally, flat. And
Houston
was too great a team not to make a run at us. We scored only two points in the first ten minutes,
Houston
scored 17, and suddenly it was 42-35 for the
Black Hats
. Still, we weren't getting beat by dunks or rebounds or because we were getting run out of the gym.
Houston
was romping because we couldn't score.
With just under ten minutes to play,
Cougar
Coach
Guy V. Lewis
gave us the break we needed.
Houston
slowed the tempo and went into its infamous delay game, the Locomotion. I know why
Lewis
did it. Let's face it, we all do it. I'd done it against
Georgia
two days earlier and it almost cost us the game. It's just general game maintenance. Where it failed
Houston
, though, was that they were such a poor free-throw shooting team, 60.9% on the season, 57.3% during the tournament, and (as it turned out) only 10 of 19 in this champion­ship game.
Lewis
tried to eat a little clock, and the only reason that was wrong is because it didn't work.
Also, it was wrong because fouling is what we did. We fouled as a strategy. I wasn't going to get to the final game and let the clock go when I was losing. If we were going to lose, I didn't care if the margin was by 20 or by one. We were going to determine the outcome of the game. They would have to hit their free throws to beat us.
We tried fouling
Drexler
first. He knocked in two, so we didn't touch him again. We fouled other people. We had clawed back to within 52-48 when
Whittenburg
hit two baskets to tie the score at 52. (The
N.C. State
team hit six of our last seven outside shots in the game.) When the clock got down close to a minute, we wanted to foul their freshman point guard,
Alvin Franklin
. We did this with 1:05 remaining,
Whitt
doing the hacking honors.
I don't necessarily think players choke, not players who help teams win 26 straight. What they do is miss. Just as when a batter strikes out or a running back fumbles or a golfer misses a five-foot putt. The pressure of making free throws late in the championship game is immense.
Franklin
just missed.
When we got the rebound, I knew we would win the game. It's that simple. It had happened so many times before. We called a time-out with 44 seconds left to set up exactly what we wanted to do, a play we had used all year:
Lowe
in the middle with the ball, making some­thing happen. As soon as the clock got under 10 seconds,
Sidney
was supposed to go for the basket. If they came at him from
Gannon
's side, the dish would be to
Terry
for the shot. If they sent help from
Whittenburg
's side,
Dereck
would get the ball. If they stayed tight,
Lowe
was to continue penetrating to see what happened underneath.
Give credit to
Houston
: They knew we wanted the last shot. They knew we weren't going to take just anything quick; we wanted to win the game or go into overtime. The
Cougars
played a good halfcourt trap stopping all penetration. A couple of times we got bent out of shape, and
Houston
almost stole the ball. Exerting tremendous pressure, the
Cougars
forced
Bailey
in the corner to throw a sloppy pass out to
Whitt
.
Anders
came this close to intercepting, which would have been good-night because he had clear sailing for a breakaway dunk that would have won the game.
My heart went into my throat as
Whittenburg
barely controlled, searched for the basket and the clock at the same time and hurled up his final 30-footer. The amazing irony was that
Charles
, on the opposite side of the basket, saw the ball falling short, and
Olajuwon
, in textbook rebounding position facing the basket, did not.
Akeem
never even jumped.
Loren­zo
did, grabbed the ball with both hands and smashed it home.
North Carolina State
had won the national championship!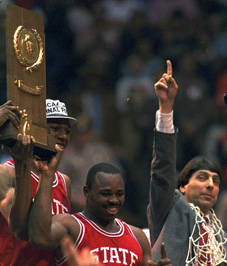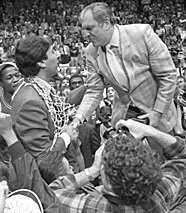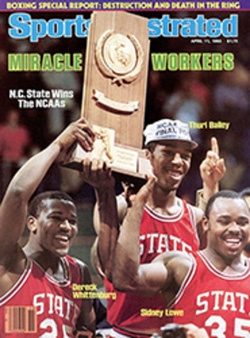 L-R: Charles stuffs the winner;
And there I was searching for someone to hug. I had told Lo in the huddle to make believe anything near the rim was a hubcap, but this was ridiculous. People were running every which way, everybody was hugging everybody. I knew the TV cameras were on me, and yet I couldn't find one person to hug! Where was I running? I was running around looking for Dereck because I had dreamed of this moment all my life and I knew I was only the 28th coach in history to win the NCAA title and that sixty million people were watching and I had been hugging Whitt after all our games because he was my designated huggeer and I thought I'd be making history myself here. ...
Then I got out in the middle of nowhere, and there's Whitt ... hugging somebody else!
So I ran left, looking for somebody else to hug. Everybody was hugging somebody else. I ran right, looking. Every was hugging. There was nobody left to hug! I had just won it all and I had nobody to hug! I finally found my athletic director, Willis Casey, my boss, a bit old and out of shape but a very nice man. He gave me my break. He grabbed me. He hugged me. Wonderful! Great! Finally a hug! He wasn't Whitt, but a hug's a hug. And then Willis Casey kissed me square on the mouth!
I had just won the national championship, ... sixty million have watched me running around like a maniac ... and then I fell into the arms of a 65-year-old, out-of-shape old man who kissed me square on the mouth! The guy watching in Dubuque must have thrown down his beer and said: "Mabel, come look at this." I felt the Thrill of Victory and the Agony of Defeat all at the same time.
But I did recover long enough to tell everybody how much I loved Albuquerque, "the greatest city the Lord ever made," I said. "My wife is going to be pregnant - she doesn't know this yet - and I'm going to name the kid Al B. Querque."

West by West: My Charmed, Tormented Life, Jerry West and Jonathan Coleman (2012)
Jerry West is the General manager of the Los Angeles Lakers.

The stress of acquiring
Kobe Bryant
and
Shaquille O'Neal
in the summer of 1996 sent me spiraling downward and into the hospital for exhaustion for a few days. The elation of what should have been—and eventually was—one of my greatest accomplishments as general manager simply did not last. When I returned from Atlanta and the press conference that announced the signing of
Shaquille
(he was there to play in the Olympics),
Karen
and my sons had made up signs that welcomed me home as if I were a conquering hero. I was excited, that's for sure, and even went so far as to say that, aside from the births of my children, it was the happiest day of my life. But then I experienced such an emotional letdown, and my depression, which has plagued me all my life, reared its ugly head once more.
The whole process of acquiring those two players had been tedious and nerve-racking. In the case of
Shaquille
, it felt as if we were being teased all the time, that a carrot was being held out that I couldn't quite grab hold of. ... I was on the phone constantly, at all hours of the day and night, trying to clear cap space, my son
Ryan
by my side.
Shaquille
was upset that Orlando and its citizens didn't seem to think he was worth $100 million (the team took a poll, and the results were overwhelmingly against), and he was aware that
Alonzo Mourning
had just gotten a new contract for $115 million from
Miami
. The problem was that the best we could offer was $98 million (and
Orlando
went up to $99 million), and yet I had the sense that
Shaquille
wanted to come to us, and also have the opportunity to be in Hollywood and get into the entertainment business. Every time we thought we were reaching an accord with
Shaquille
's agent,
Leonard Armato
, another roadblock emerged, something else seemed to be conspiring against us. Eventually, though, with the full support of [owner]
Jerry Bus
s (who essentially told me to do whatever it took) and our eleventh-hour success in persuading the
Vancouver Grizzlies
to acquire
Anthony Peeler
and
George Lynch
, we were able to make the deal for seven years for $120 million.
In order to get
Kobe
, which we'd done first, we gave away our starting center,
Vlade Divac
, a crazy thing to do and a point of personal sadness to me. We had drafted
Vlade
in 1989 based on reports coming out of Europe and our watching his Yugoslavian national team play the
Celtics
, first on television and then, repeatedly, on film. All of our scouts were opposed to drafting
Vlade
, thought I was nuts, but
Vlade
turned out to be a terrific player—his hands were like a spider's web—and an even better person. I will never forget picking him up at the airport. He had two brown duffel bags full of personal belongings and little else (reminding me a little of myself when I'd gone off to college).
Vlade
turned out to be the embodiment of the American Dream.
I've already mentioned this but it can't be emphasized enough: trading a player—one asset for another, or two or three others—or releasing a player was the thing about my job I despised the most. You become attached to the players, you get to know their families. In an ideal world, a deal benefits both sides. Sometimes that was the case, but often it was not.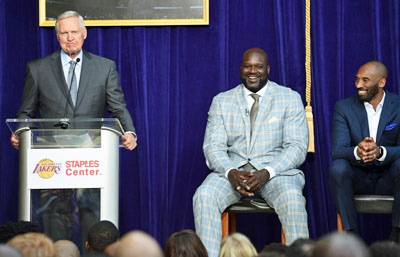 Jerry West, Shaquille O'Neal, and Kobe Bryant
In any event, the deal for
Kobe
almost didn't go through.
Mark Fleischer
,
Vlade
's agent, suddenly announced that
Vlade
was going to retire.
Bob Bass
, the general manager of the
Charlotte Hornets
(who were going to take
Kobe
with the thirteenth pick), phoned to say that they were backing out. "
Bob
, we have a deal, goddamn it," I told him. "
Vlade
is not going to retire. Trust me." I got
Mitch
[
Kupchak
] involved because I was so irritated that
Bob
would go back on his word and I didn't want to deal with it any longer. I'd had it, and so I asked
Mitch
to carry on. There was also a future first-round pick we were supposed to get, which very few people know about and which we never got anyway.
Vlade
did not want to leave the
Lakers
, and eventually,
Vlade
's wife talked him out of retiring; when he later played for the
Sacramento Kings
, he made our lives miserable.
But
Vlade
wasn't
Shaquille
. Nobody was.
The thing that angered and upset me the most in the
Shaquille
situation was the growing suggestion—from
Orlando Magic
executives—that we had tampered with him. When I learned that the commissioner's office was investigating that possibility, I considered resigning. I was interviewed on
Charlie Rose
that November and said as much. I had been at
Leonard Armato
's Santa Monica office and he'd been at my house only when we were allowed to begin talking, and not one second before (just as would happen in 2010 with
LeBron James
, when teams had the official green light to trek to Ohio and make their case). How in the hell is that tampering? When the All-Star Game was played in Cleveland in February of 1997, the fifty greatest NBA players of the league's first fifty years were honored, and I didn't go. I had recently had surgery on my nose for a deviated septum and didn't feel up to attending. At least that is what I said, and my family was angry with me. The real reason was that I was still upset about the tampering allegation, the notion we had done something illegal. If you work for
Jerry Buss
, you are not going to cheat. So to be accused of that and for them to want an investigation, I just couldn't believe it. I'd always loved
Red Auerbach
—hated him too—but I never loved him more than when he came out and said it was sour grapes. It may not have been reason enough for me not to attend, but I still didn't go, and
David Stern
, the commissioner, and other people in the league office were not happy about it. The other two players who didn't show up were, ironically,
Shaquille
(who was injured) and
Pete Maravich
(who was dead).
The deal for
Kobe Bryant
could not have been completed, would never have gotten done, were it not for
Arn Tellem
,
Kobe
's original agent and my close friend. When we had the sense that the
New Jersey Nets
might take
Kobe
with the eighth pick in the draft,
Arn
helped persuade them not to; basically, he told them, and had
Kobe
's parents tell them,
Kobe
had no interest in playing for
New Jersey
. I didn't need to watch much of
Kobe
's workout at the Inglewood YMCA, going one-on-one with
Michael Cooper
(even though he was forty, he was still in good shape), to know that he was someone I coveted, that we had to have him.
Earvin Johnson
said he had never heard me more excited about a prospect. In fact, I thought that
Kobe
was possibly better than the players we had on the team at the time. Never in my life have I seen a workout like that. When I said I had seen enough, I meant it. I knew who he was, and just from looking at his eyes, I knew what he wanted. Even though he was only seventeen years old,
Kobe
was a once-in-a-lifetime player who could cast his shadow on the franchise for years to come. His fierce competitive drive was innate, could not be purchased on the street or in a store or anywhere. You need to possess more than a little nastiness to play basketball at the highest level, and
Kobe
had that in abundance. You need to have the cold-bloodedness of an assassin, and he possessed that too. He clearly modeled himself on
Michael Jordan
, which was fine. But I had no idea how long it would take him to mature and develop, and I did worry that it might take him a while to fit in.
The Lakers won three consecutive NBA titles with Shaq and Kobe (2000-01-02) and made the finals in 2004.