Wilt: Larger Than Life, Robert Cherry (2004)
Born in 1936, Wilt Chamberlain grew up in West Philadelphia.
Surprisingly, the young Wilt disliked basketball, believing it was a game for sissies. What he loved to do was run. "I'd play kids' games with my brothers and sisters, games like hide-and-go-seek. Most of them were older than me, so I had to learn to run fast or I'd have never won a game."
Wilt attended George Brooks Elementary School, six blocks from his home, and there, as a member of the track team, he had his first contact with organized sports. ...
As a fourth-grader, Wilt was selected to anchor the school's 300-yard shuttle relay team in the renowned Penn Relays, the track competition held annually at Franklin Field on the University of Pennsylvania's campus. He also ran in a track event held in Convention Hall in Philadelphia where, many years later as a professional basketball player, he and Bill Russell would hold their titanic battles. But at this point in the story, he was a skinny fourth-grader running the final 75-yard lap, leading his team to victory. "The applause made me tingle all over," he remembered, vowing then and there to become a track star.
He undoubtedly would have, but for the changes to his body. By age 10 he was already 6' tall. By junior high school he couldn't keep track of his height, so quickly was he growing. "One summer I went down to Virginia for a vacation with some relatives, and when I came back home my sister Barbara met me at the door and said, 'Who are you? I don't know you.' She was probably kidding," concluded Wilt, "but I did look different. I had grown four inches."
Once asked by a high school teammate how he managed to have such a strong upper body while having such skinny legs, Wilt replied, "I used to go down and pick cotton at my uncle's place."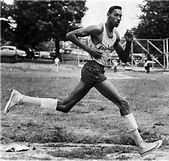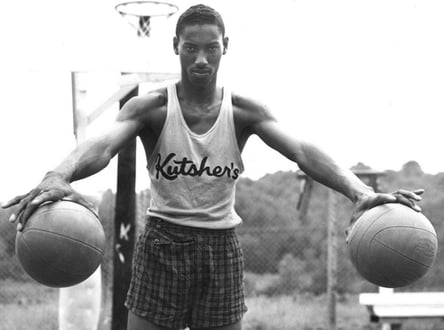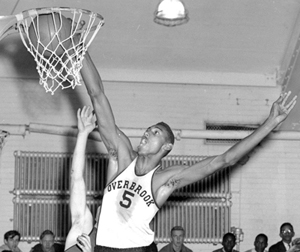 Young Wilt Chamberlain
It was during such summers in Virginia that mosquitoes mercilessly attacked him, leaving festering sores that permanently scarred his then-spindly legs. Self-conscious about the scars and his rail-thin legs, and wishing to protect himself from blows to his tender shins,
Wilt
wore knee pads over his shins and high socks when he realized that his size made him a natural for basketball. To keep the socks up,
Wilt
, who claimed he couldn't afford tape, used rubber bands. And to make sure he always had a ready supply, he slipped a wad of rubber bands around his wrist during a game. He wore rubber bands on his wrist off the court, as well, until he was about 45 years old - and they became his trademark. In a 1986 interview with
Sports Illustrated
,
Frank Deford
asked
Wilt
, "Where are the rubber bands?"
Wilt
's reply: "I kept wearing them because it reminded me of who I was, where I came from. Then suddenly, almost two years ago, I felt that I just didn't need that reminder anymore. ..." Another
Wilt
trademark was the headband, which he popularized as one of the first players to wear one when he played for the
Los Angeles Lakers
in the latter part of his career.
Wilt
was particularly friendly with four neighborhood boys, all of whom attended elementary, junior high, and senior high school with him. Their bond was a love of basketball, and they spent much of their childhood at the nearby Haddington Recreation Center, where they learned to play the sport - indoors in winter, outdoors in summer. All five of these childhood friends ... eventually played on the same high school team. And of these close childhood friends, all but one were starters on their championship high school team. ...
"Some of his childhood friends and I always talk about how mature my brother was for his age," (
Wilt
's sister)
Barbara
recalled. "Maybe it was because he played on so many teams [with older players] once he decided, at age 13, on basketball. He played for the YMCA, ... the Police Athletic League [PAL], at the Haddington Recreation Center, and for the Vine Memorial and Mt. Carmel Baptist Churches." ...
In 1953 he led his YMCA team to the national title at High Point NC. ...
Wilt
's siblings, childhood Philadelphia friends, and
Overbrook High School
classmates called him by the nicknames he preferred: "
Dippy
," "
Dip
," or "
Dipper
." ...
Wilt
explained in newspaper interviews the origin of his nickname:
When I was about 10, I was kind of big for my age, and I was always bumping my head in doorways and places where the ceilings were low. I was playing in an empty house one day with some boyfriends, and I ran smack into a low-hanging pipe and gave myself a beautiful black eye. My pals got a good laugh and told me next time I ought to dip under when I came to something like that. They started calling me "the Dipper" after that, and it became "Dipper" and then just "Dip" or "Dippy."
In the fifties one could field a top professional basketball team comprised
only
of players who had attended Philadelphia high schools, which is what
Eddie Gottlieb
, owner of the
Philadelphia Warriors
, did in the 1959-60 season. That squad featured
Tom Gola
,
Ernie Beck
,
Paul Arizin
,
Guy Rodgers
, and
Wilt Chamberlain
, all graduate of Philadelphia high schools (and all, save
Wilt
, graduates of Philadelphia colleges). ...
In
Wilt
's time, the mid-fifties,
Overbrook
's student population was 60 to 70 percent white, 30 to 40 percent black. Almost all of the white students were lower-, middle-, or upper-middle-class Jews ...; the blacks were lower- to lower-middle-class from the formerly Jewish but, by mid-fifties, almost entirely black sections of West Philadelphia. The school had a proud academic and athletic tradition, with little, if any, racial tensions. ...
George Willner
, an
Overbrook
graduate ..., recalled an incident in 1954 when
Wilt
came to the
William B. Mann
schoolyard in Wynnefield, which was
Willmer
's elementary school:
I'm 5'6" now, but at that time I was even shorter; and Wilt was 6'11". And it was me and Wilt against five other guys. He said to me, "Don't worry about it. Nobody's gonna score on us." And nobody did.
Larry Einhorn
was nine or ten when, on another occasion,
Wilt
came to the
Mann
schoolyard:
In walked Wilt and Allan Weinberg, who played on the varsity with Wilt. What Wilt did, I'll never forget: to show his athletic prowess, he took a football and lifted his right leg and threw the football under his leg the length of the schoolyard.
In his later years,
Wilt
wore an
Overbrook
letter jacket for interviews, for appearances on television sports show, and to basketball games. ... On more than one occasion,
Wilt
said that his years at
Overbrook
were the happiest of his life.
Jack Ryan
, sportswriter for the
Philadelphia Evening Bulletin
, gave
Wilt Chamberlain
the nickname "
Wilt the Stilt
" when
Dippy
was a 6'11", 200lb sophomore at
Overbrook High
.
Wilt
hated the name until the day he died. "It makes me think of ... some freak in a sideshow," he said. He asked friends not to call him that. But headline writers loved it: "The
Stilt
Gets 44 as
Overbrook
Wins."
Overbrook
won the Public League championship in
Wilt
's first season - his sophomore year. He tallied 34 points in the championship game against
Northeast High School
, whose star player was G
Guy Rodgers
, who would earn All-American honors at
Temple University
and play with
Wilt
on the
Philadelphia Warriors
as part of an NBA career that earned
Guy
a place in the Basketball Hall of Fame.
Overbrook
then faced
West Philadelphia Catholic
, the defending city champion.
Bob Devine
, a member of the team who would play at
Notre Dame
, remembered how his team prepared to face
Wilt
.
We put a junior varsity player on a table in front of the basket. When we would shoot, he would knock down all the shots. And ... Brother Anthony ... ran around with a window pole. Every time we'd shoot, he would knock down the ball. We had to shoot higher so Wilt could not block our shots. We Just practiced all week long doing that.
The Catholic champs put four men on
Chamberlain
, two in front and two behind him. The fifth player ran the floor.
Wilt
scored 29 of
Overbrook
's 42 points, but his teammates played poorly. Also,
Billy Lindsay
of
West Philadelphia Catholic
had the game of his life, hitting 12 of 13 from the field and eight from the foul line for 32 points to lead
West Catholic
to the city championship, 54-42.
In the spring,
Wilt
turned to his first love - track. He won the Public League high-jump championship as a sophomore. His high school coach said that
Wilt
's stride could have made him one of the best runners ever. If the money that is now available to world-class track stars had been available then and if professional athletes were allowed to compete in the Olympics,
Wilt
would have entered in the decathlon.
His junior year,
Chamberlain
scored a high school record 71 points in a game against
Roxborough
.
Overbrook
easily won the Public League title again with
Wilt
scoring 40 points in the final game against
Northeast
. Then he tallied 32 as the
Panthers
took the city title, defeating
South Catholic
74-50 to complete a 19-0 season.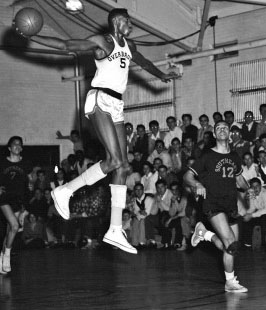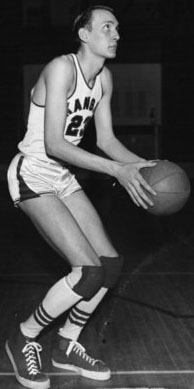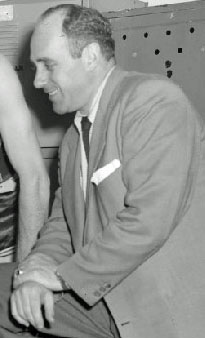 L-R: Chamberlain; B. H. Born; Red Auerbach
It was common in those days for summer resorts in the Catskill Mountains to hire college basketball players as bellhops, in part to play on the resorts' basketball league.
Eddie Gottlieb
, owner of the
Philadelphia Warriors
and one of the founders of the NBA, dreamed of
Wilt
playing for his club. He helped
Wilt
secure a summer job at Kutsher's Resort the summer between his junior and senior years of high school. The world's tallest bellhop made $13 a week plus tips. More importantly, he played for the resort basketball team. The coach was a young man whose parents, frequent guests at the hotel, asked the
Kutshers
to hire in 1950. His name was
Arnold "Red" Auerbach
, who became the coach of the
Boston Celtics
later that year.
That summer, 6'9"
B. H. Born
, who had just finished his career at
Kansas
, played against
Wilt
in the resort league.
Born
recalled: "
Red Auerbach
told
Chamberlain
that I was an All-American, the NCAA MVP, and I'd probably eat him up, so he was to just do the best he could against me. Until after the game, I couldn't understand why
Wilt
was so mad and trying so hard.
Red
had sicced him on me."
Wilt
, a high school junior, outscored
Born
, the college All-American, 25-10. "He just chewed me up," said
Born
. "I decided that if there were high school kids in that part of the country that good, I wasn't going to make it in the pros for very long." So
Born
eschewed the NBA and played industrial league basketball with the
Caterpillar Tractor Company
.
Auerbach
tried to convince
Wilt
to attend college in New England so that the
Celtics
, under the NBA's territorial draft rules, could draft him.
With the money he earned at
Kutsher
's,
Wilt
bought a 1947 Oldsmobile for $700. Buying cars and maintaining them would be a lifelong hobby for him.
By his senior year,
Chamberlain
was the most famous high school athlete in the country with articles about him in national magazines like
Life
and
Sport
. He was now an even 7' tall.
Overbrook
lost only once his senior year, a controversial one-point defeat in a season-opening holiday tournament to
Farrell High
of Western PA. The officiating was so bad that the
Farrell
fans apologized to
Wilt
and his coach and teammates after the game.
Wilt
broke his own scoring record in January with 74 points against poor
Roxborough
. The new mark lasted only a month until
"Stodie" Watts
scored 78 in a suburban Philadelphia league game. No problem.
Wilt
scored 90 the next week.
The
Panthers
easily won the Public League championship for the third straight year, beating
West Philadelphia
78-60 in a game held at the Palestra on the
University of Pennsylvania
campus. In the city finals,
Overbrook
walloped
West Catholic
83-42.
Wilt
's high school athletic career wasn't over. After skipping track as a junior, he returned his senior year to win the Public League high-jump championship again, jumping 6'1". He also won the shot put title with a throw of 46'10 1/2."
All talk turned to where
Wilt
would attend college or if he would skip college and go directly to the NBA.
To be continued ...