In the fall of 1997,
Michael Jeffrey Jordan
, once of Wilmington, North Carolina, and now of Chicago, Illinois, arrived in Paris, France, with his team, the
Chicago Bulls
, to play a preseason tournament run by McDonald's, one of his principal corporate sponsors, as well as a very important corporate sponsor of the National Basketball Association. Even though it featured some of the better European teams, the tournament was not, in terms of the level of play, likely to be competitive for a top NBA team like the
Bulls
. Nor was it supposed to be: It was a part of the NBA's relentless and exceptionally successful attempt to showcase the game and its star players in parts of the world where basketball was gaining in popularity, particularly among the young. It was also done in no small part because it delighted the league's corporate sponsors by opening up and solidifying critical international markets. Not surprisingly, the American players did not take the competition very seriously. (Nor did their announcers. When the
Celtics
played in the tournament a few years earlier, their longtime announcer,
Johnny Most
, a man who did not always have an easy time with the names of American players, gave up completely, and fans back in Boston were treated to, "And so the short guy with the mustache throws it in to the tall guy with the beard. ...")
The
Bulls
arrived to play for the hamburger championship of the world, as they often did these days, with all the fanfare of a great touring rock band. They were the Beatles of basketball, one writer had said years before, and in fact they flew over in the 747 normally used by the Rolling Stones for their tours. There had been a time when
Michael Jordan
had regarded France as a kind of sanctuary, a place where he could vacation and escape the burden of his fame, sitting outdoors in front of a cafe and savoring the role of anonymous tourist. His appearance on the Olympic Dream Team five years earlier and his subsequent mounting international fame had ended that. His gross income had more than doubled, but he had lost Paris; he was as recognizable and as mobbed here as anywhere else. Huge crowds waited outside his hotel all day long hoping for the briefest glimpse of the man French journalists called the world's greatest basketteur. At the games themselves, the French ball boys seemed unwilling to serve their own team and wanted to work only with the
Bulls
. Some of the French players inked
Michael
's number, 23, on their sneakers as a means of commemorating their brush with greatness. At Bercy, the arena in which the games were played, copies of his uniform jersey sold for the equivalent of a mere eighty dollars.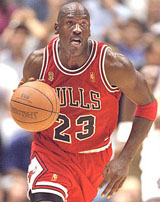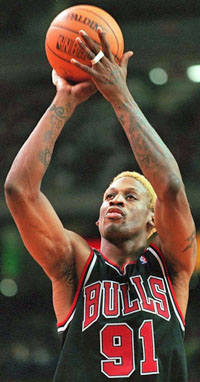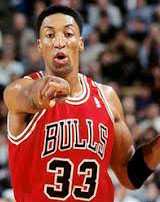 L-R: Michael Jordan, Dennis Rodman, Scottie Pippen
JORDAN AWAITED LIKE A KING
read the headline announcing his arrival in the sports daily L'Equipe. The games had been sold out for weeks, and the French press seemed ready to give
Jordan
head-of-state treatment and cut him some slack — when, during a press conference, he confused the Louvre, a great museum, with the luge, a dangerous winter sport, no one came down hard on him, though it was just the kind of mistake an American might make that normally the French would have seized on with great enthusiasm, to show the barbarity of the new world.
MICHAEL HAS CAPTURED PARIS
said another newspaper, and a writer added, "The young Parisians lucky enough to get into the Bercy must have dreamed beautiful dreams, for their hero had been everything they could have hoped for." Noting that
Jordan
was wearing his celebrated beret, journalist
Thierry Marchand
enthused, "We shall be able to call him
Michel
."
France-Soir
went even further: "
Michael Jordan
is in Paris," it said. "That's better than the Pope. It's God in person." The games themselves were not, in fact, very good; if anything, they were just short of an embarrassment. The
Bulls
performed sluggishly but managed to beat
Olympiakos Piraeus
of Greece in the Final.
Jordan
's celebrated teammates
Dennis Rodma
n and
Scottie Pippen
were not there, and
Toni Kukoc
, once the best player in all of Europe, scored five points.
Jordan
scored twenty-seven, but was not pleased to have to play without two critically important teammates. Staying home would have been more restful, as his toe was infected.
Jordan
was well aware that the true triumph of Paris belonged less to him than to
David Stern
, the commissioner of the league. The tournament was not merely a reflection of the growing internationalization of the sport, which
Stern
helped engineer, but a celebration of the NBA's connection with McDonald's, one of America's blue-chip companies.
Stern
, surrounded by most of the NBA executive staff and all sorts of McDonald's executives, had a wonderful time. Almost everybody in the basketball structure who was anybody had come. There was one notable exception, and that was the absence of
Jerry Reinsdorf
, the
Bulls
' owner, who rarely showed at things like this.
Stern
had pushed
Reinsdorf
to come and enjoy some
nachas
, a Yiddish word for pleasure, but that kind of nachas did not seem to appeal to the
Bulls
' owner, a man who seemed to prefer his privacy to the semi dubious glitter and adulation that even an owner could be a part of at occasions like this. In addition, there had been a good deal of speculation at the last moment among the NBA people as to whether one other VIP,
Dick Ebersol
, the head of sports for NBC, would come. There was a powerful rumor sweeping Paris that even though the McDonald's championship coincided with the start of the World Series,
Ebersol
, whose heart was said to belong to basketball rather than baseball, would come to Paris instead of sitting in some highly visible box seat being seen by his own cameras at the Series. Appropriately, given the symbiotic relationship between television and big-time sports,
Stern
and
Ebersol
were very close.
Ebersol
was wont to call
Stern
his boss, and
Stern
was wont to call
Ebersol
his.
Stern
was the most passionate and sophisticated of modern imagemakers, and it was
Ebersol
's company that determined which images went out to the nation.
Stern
understood, as not everyone in the world of sports did yet, that image was more important than reality in their business. He monitored the league's coverage of his sport very closely, and often seemed to take quite personally any departure on the part of the broadcasters and their cameras from what might be considered an image upgrade. In fact, when he had first ascended at the NBA, at a time when the league's image was still largely negative, he had been famous for calling network executives on Monday to complain about any image downgrade that might have taken place on Sunday.
Both
Ebersol
and
Stern
had a shared stake in the good name and the public image of basketball, especially in the public behavior of its best players, and the two men had worked closely in a collaboration that had seen a dramatic rise in the popularity of the sport, and in time in its network ratings as well. That the question even arose of whether
Ebersol
would bag the World Series for exhibition basketball games against weak opponents in a foreign land for a cup handed out by a hamburger company showed how much the fortunes of the two sports had changed in recent years. This World Series, between
Cleveland
and
Florida
, did not, as it was about to begin, seem to the average fan a particularly tantalizing one; it seemed to lack the sense of a traditional rivalry, or at the least, some degree of geographical animosity. It pitted a Miami team, one that few fans knew very much about, against a Cleveland team that was talented but not well known. Neither team, to the general sports public, had yet created any kind of persona. There was no rivalry, neither historic nor geographic, between the two teams. Eventually
Ebersol
had stayed in America to watch the Series.
Stern
had teased him about that—"
Dick
, if you want to stay back in the States and watch the lowest-rated World Series in history, feel free to," he had said. (
Stern
was wrong: It was not the lowest-rated World Series; the one in 1993, when for the first time the NBA Finals had been rated higher than the World Series, was.)