1965:
Cleveland Browns
@ Green Bay Packers
This series covers the history of the NFL through the prism of its yearly championship games.
Note: The gray boxes contain asides that provide interesting material but could be skipped
without losing the continuity of the article.

Don Chandler


Carroll Dale


Zeke Bratkowski


Phil Bengston


Ron Kostelnik


Lionel Aldridge


Lee Roy Caffey




Vince Lombardi had stewed for nearly three years.

Green Bay had not won the West since 1962.
Paul Hornung's suspension for gambling for the '63 season set off a chain of events that caused the Packers to fall short in both '63 and '64.
So he started the first day of training camp of 1965 by giving his players an ultimatum: This year we are going to be number one! If you don't think we're number one, I don't want you playing for me! If you can't go out there and win, pack your gear and go home!

Most of the Packers had played in the championship games of '60, '61, and '62. But a number of newcomers were expected to help return the team to the top in '65.

Hornung could no longer do the kicking. Having lost his confidence after being out a year, he cost the Pack several games in '64 by missing PATs and FGs, including five of the latter in one game against the

Colts

.
So Lombardi traded a third round draft choice for Don Chandler, whom he knew from his time as an assistant with the

Giants

. Chandler saved a roster spot by doing both the punting and the placekicking.

One of the reasons the

Giants

parted with

Chandler

was that

Don

pro­posed a novel plan for participating in the 1965 season. With his business interests in Tulsa demanding more of his attention, he asked permission to split his week, taking care of business in Oklahoma before returning to New York for several days of practice. Coach

Allie Sherman

and owner

Well­ington Mara

summarily refused his request. When

Chandler

first met with

Lombardi

after the trade, he proposed the same arrangement.

I thought I had heard all the coaching speeches

,

Don

recalled.

I was convinced of what I wanted to do, and I told him that when we first sat down. An hour or so later, I couldn't wait to change my plans. I'll say this about Vince Lombardi: he was hypnotic when he wanted to be. I remember the first time I sat in when he delivered one of those pregame speeches. When it was over, I was afraid to miss a field goal, not because we might lose, but because I'd have to face him afterward.

Other important additions included WR Carroll Dale from the

Rams

and C Bill Curry, drafted out of Georgia Tech.

The Packers shot out of the gate fast, winning their first six games.

In the weaker Eastern Conference (which went 1-13 vs the West), the

Browns

easily retained their title.

The

St. Louis Cardinals

hung with

Cleveland

at first, matching their 4-1 start. But the

Cards

. wracked by injuries, won only one more game to fall to a tie for 6th in the conference.
The

Dallas Cowboys

compiled the best season in their six-year history, winning their last three and five of their last seven to break even, 7-7, good enough for a second-place tie with the

Giants

.

The main question mark hanging over the Packers as they prepared for the title game was the health of their QB.

Starr suffered from severely bruised ribs. Just lifting his right arm caused pain. Two days before the big game, Lombardi told reporters, If I told you Bart was going to start, I might be wrong. And if I told you he wasn't going to start, I might not be telling the truth. I just won't know for sure until he warms up on Sunday.
Vince's two RBs, Hornung and Jim Taylor, both 30, suffered the usual aches and pains of a grueling season, but each pronounced himself ready to go. Taylor had a pulled groin muscle, and Hornung contended with a twisted knee, a sprained wrist, and sore ribs. In addition, WR Boyd Dowler nursed a bad ankle and two damaged ribs. DT Ron Kostelnik had a sprained knee.

There was no way

Taylor

would miss a confrontation with his nemesis,

Jim Brown

.

Jimmy

from

LSU

was obsessed with

Jimmy

from

Syracuse

, whom

Lombardi

called the greatest player in NFL history. After every game,

Tay­lor

wanted to know how many yards his rival had gained.

I'm always aware of Brown

, said

Taylor

.

When we meet head-to-head, I want to do better than he does. I think about it.

The

Green Bay

FB was the only runner to dethrone

Brown

from the rushing leadership during his nine years in the league. In 1962,

Taylor

gained 1,474y, 478 more than

Brown

.

The other Packer obsessed with Brown was MLB Ray Nitschke, whose defense was determined to limit the greatest weapon in the league. An intelligent runner who played FB like a HB, Brown read his blocks and knew where his teammates and the defenders were at all times.
In particular, Nitschke & Company worked hard to stop the

Browns

' bread-and-butter play - the power sweep. Run from a double-wing set, the play was designated "Flip-8" when run to the right and "Flip-9" when run to the left.

Browns QB Frank Ryan: The trick was to get the ball to Jim when he was in full speed. Jim was so fast and so quick that if we could get the ball to him and he could get around end, he could be effective.
C John Morrow: We only needed to give him a crack - 18 inches - and he would be in the secondary. But one way or another, he'd get the yards. Jim got the job done.
The toss sweep was Brown's favorite play because it usually got him into open space where he could create. That's when I'd go into my bag of stuff. They're in trouble now. I'm in their territory, 55 things happening at once. I'm moving, evaluating their possible moves, trying to outthink and outmaneuver them, using my speed, quickness, and balance.
Writers sometimes referred to the Browns QB as Dr. Ryan since he had re­ceived a Ph.D. in mathematics from Rice University. His dissertation was entitled, "A characterizatoin of the set of asymptotic values of a function holomorphic in the unit disk."

From studying film, Nitschke became convinced that stopping Brown required a village - specifically, the entire Green Bay D that allowed the fewest yards in the league by a whopping 571y over second-place

Dallas

. DEs Willie Davis and Lionel Aldridge would have to turn Brown in with help from OLBs Dave Robinson and Lee Roy Caffey. And when Brown turned in, Nitschke, like a heat-seeking missile, would make the tackle.

D coordinator

Phil Bengston

met with

Nitschke

late in the practice week to go over the defensive signals. Whenever

Cleveland

lined up in the double­wing set,

Bengston

would signal from the sideline the adjustments

Ray

would call before the snap. To disguise the defense in an attempt to con­fuse

Brown

,

Bengston

employed several different schemes against the sweep depending on whether the CB, LB, or S was responsible for stepping up and containing the play.

Lombardi stressed to his squad that the team that ran the ball better would win on Sunday. Rushing was stronger than passing for each team, as the offensive stats showed: Passing yards -

Browns

9th, Packers 12th; rushing yards - Packers 1st,

Browns

3rd. Total offense -

Browns

3rd, Packers 5th.
Without making a public announcement, Lombardi decided to start Starr after Saturday morning's practice when Bart said he felt fine.

The

Browns

benefitted from a week of rest while the

Packers

and

Colts

slugged it out for the West crown.

Coach Blanton Collier announced that second-year WR Paul Warfield would start for the first time all season after suffering a cracked collarbone against the College All-Stars in the annual preseason game. Warfield had played a key role in the

Browns

' title game victory in 1964 by drawing double cover­age from the

Colts

that freed the other WR, Gary Collins, to haul in three TD passes.

Cleveland

's only questionable performer was T Dick Schafrath, the leader of the O-line. He wasn't able to work all week because of a pulled hamstring.
The

Browns

had coasted down the stretch after clinching the division with three weeks to go. They lost to the

Rams

in Los Angeles and squeaked past the depleted

Cardinals

. So the nagging question for

Cleveland

was whether they could regain the edge that had propelled them to 10 victories in their first 12 games.
Oddly, the championship game marked the first visit of the

Browns

to Green Bay for anything other than exhibition games.

The Browns worked out at Lambeau Field the day before the game.

The turf was frozen but fast, just what they wanted for their ground game.
However, the forecast for Sunday called for snow in the morning, changing to sleet and freezing rain as the day progressed.
To avoid distractions, the team spent the night in Appleton WI, 30 miles SW of Green Bay. That decision would create a problem Sunday morning.

CBS televised the game nationwide.

Ray Scott, Ken Coleman, and Frank Gifford handled the telecast.
Jack Drees and Jim Morse manned the radio broadcast which was heard around the world via Armed Forces Radio.
1965 Cleveland Browns

| | | | | | | |
| --- | --- | --- | --- | --- | --- | --- |
| # | Player | Pos. | Hgt. | Wgt. | College | Exp. |
| 11 | Jim Ninowski | QB | 6-1 | 205 | Michigan State | 8 |
| 13 | Frank Ryan | QB | 6-3 | 200 | Rice | 8 |
| 20 | Ross Fitchner | DB | 6-0 | 185 | Purdue | 6 |
| 23 | Larry Benz | S | 5-11 | 185 | Northwestern | 3 |
| 24 | Bobby Franklin | S | 5-11 | 180 | Mississippi | 6 |
| 27 | Walter Roberts | FL | 5-9 | 165 | San Jose State | 2 |
| 30 | Bernie Parrish | DB | 5-11 | 195 | Florida | 7 |
| 32 | Jim Brown | FB | 6-2 | 230 | Syracuse | 9 |
| 34 | Mike Howell | DB | 6-1 | 195 | Grambling State | 1 |
| 35 | Galen Fiss | LB | 6-0 | 225 | Kansas | 10 |
| 36 | Charlie Scales | HB | 5-11 | 210 | Indiana | 6 |
| 38 | Stan Sczurek | LB | 5-11 | 230 | Purdue | 5 |
| 40 | Erich Barnes | DB | 6-2 | 200 | Purdue | 8 |
| 41 | Ralph Smith | TE | 6-2 | 215 | Mississippi | 4 |
| 42 | Paul Warwick | FL | 6-0 | 190 | Ohio State | 2 |
| 44 | Leroy Kelly | HB | 6-0 | 200 | Morgan State | 2 |
| 48 | Ernie Green | HB | 6-2 | 205 | Louisville | 4 |
| 49 | Walter Beach | CB | 6-0 | 190 | Central Michigan | 6 |
| 50 | Vince Costello | LB | 6-0 | 230 | Ohio | 9 |
| 51 | Dale Lindsey | LB | 6-2 | 225 | Kentucky, Western Ky. | 1 |
| 56 | John Morrow | C | 6-3 | 245 | Michigan | 10 |
| 60 | John Wooten | G | 6-2 | 235 | Colorado | 7 |
| 62 | Dave Memmelaar | G-T | 6-2 | 245 | Wyoming | 7 |
| 66 | Gene Hickerson | G | 6-3 | 250 | Mississippi | 8 |
| 67 | Sid Williams | DE | 6-2 | 235 | Southern | 2 |
| 69 | Jim Kanicki | DT | 6-4 | 270 | Michigan State | 3 |
| 70 | John Brown | T | 6-2 | 250 | Syracuse | 4 |
| 71 | Walter Johnson | T | 6-4 | 265 | New Mex.St., Los Ang.St. | 2 |
| 73 | Monte Clark | T | 6-6 | 265 | USC | 7 |
| 74 | Dick Modzelewski | DT | 6-0 | 250 | Maryland | 13 |
| 76 | Lou Groza | K | 6-3 | 240 | Ohio State | 20 |
| 77 | Dick Schafrath | T | 6-3 | 255 | Ohio State | 7 |
| 80 | Bill Glass | DE | 6-5 | 250 | Baylor | 8 |
| 81 | Jim Garcia | DE-T | 6-4 | 250 | Purdue | 1 |
| 82 | Jim Houston | LB | 6-3 | 240 | Ohio State | 6 |
| 83 | Johnny Brewer | TE | 6-4 | 230 | Mississippi | 5 |
| 84 | Paul Wiggin | DE | 6-3 | 240 | Stanford | 9 |
| 85 | Clifton McNeil | FL | 6-2 | 185 | Grambling State | 2 |
| 86 | Gary Collins | FL | 6-5 | 215 | Maryland | 4 |
| 87 | Tom Hutchison | TE | 6-1 | 190 | Kentucky | 3 |

1965 Green Bay Packers

| | | | | | | |
| --- | --- | --- | --- | --- | --- | --- |
| # | Player | Pos. | Hgt. | Wgt. | College | Exp. |
| 5 | Paul Hornung | HB | 6-2 | 215 | Notre Dame | 8 |
| 10 | Dennis Claridge | QB | 6-2 | 220 | Nebraska | 1 |
| 12 | Zeke Bratkowski | QB | 6-2 | 210 | Georgia | 12 |
| 15 | Bart Starr | QB | 6-1 | 200 | Alabama | 10 |
| 21 | Bob Jeter | DB | 6-1 | 200 | Iowa | 3 |
| 22 | Elijah Pitts | HB | 6-1 | 205 | Philander Smith | 5 |
| 24 | Willie Wood | DB | 5-10 | 190 | USC | 6 |
| 25 | Tom Moore | HB | 6-2 | 215 | Vanderbilt | 6 |
| 26 | Herb Adderley | DB | 6-0 | 205 | Michigan State | 5 |
| 31 | Jim Taylor | FB | 6-0 | 215 | LSU | 8 |
| 34 | Don Chandler | P-K | 6-2 | 215 | Florida | 10 |
| 35 | Allen Jacobs | FB | 6-1 | 215 | Utah | 1 |
| 37 | Tommy Crutcher | LB | 6-3 | 230 | TCU | 2 |
| 40 | Tom Brown | S | 6-1 | 190 | Maryland | 2 |
| 41 | Junior Coffey | HB | 6-2 | 215 | Washington | 1 |
| 43 | Doug Hart | DB | 6-0 | 190 | Texas-Arlington | 2 |
| 46 | Hank Gremminger | DB | 6-1 | 200 | Baylor | 10 |
| 50 | Bill Curry | C | 6-3 | 235 | Georgia Tech | 1 |
| 57 | Ken Bowman | C | 6-3 | 230 | Wisconsin | 2 |
| 60 | Lee Roy Caffey | LB | 6-4 | 240 | Texas A&M | 3 |
| 63 | Fuzzy Thurston | G | 6-1 | 245 | Valparaiso | 8 |
| 64 | Jerry Kramer | G | 6-3 | 245 | Idaho | 8 |
| 65 | Ray Nitschke | MLB | 6-3 | 235 | Illinois | 8 |
| 67 | Dan Grimm | G | 6-3 | 245 | Colorado | 3 |
| 70 | Bud Marshall | T | 6-4 | 270 | Baylor, S. F. Austin | 1 |
| 71 | Lloyd Voss | DE-T | 6-4 | 255 | Nebraska | 2 |
| 72 | Steve Wright | T | 6-6 | 250 | Alabama | 2 |
| 74 | Henry Jordan | DT | 6-2 | 250 | Virginia | 9 |
| 75 | Forrest Gregg | G-T | 6-4 | 250 | SMU | 10 |
| 76 | Bob Skoronski | T | 6-3 | 250 | Indiana | 10 |
| 77 | Ron Kostelnik | DT | 6-4 | 260 | Cincinnati | 5 |
| 80 | Bob Long | WR | 6-3 | 205 | Wichita State | 2 |
| 81 | Marv Fleming | TE | 6-4 | 230 | Utah | 3 |
| 82 | Lionel Aldridge | DE | 6-3 | 255 | Utah State | 3 |
| 84 | Carroll Dale | WR | 6-2 | 200 | Virginia Tech | 6 |
| 85 | Max McGee | WR | 6-3 | 205 | Tulane | 12 |
| 86 | Boyd Dowler | WR | 6-5 | 225 | Colorado | 7 |
| 87 | Willie Davis | DE | 6-3 | 245 | Grambling State | 8 |
| 88 | Bill Anderson | TE | 6-3 | 210 | Tennessee | 8 |
| 89 | Dave Robinson | LB | 6-3 | 245 | Penn State | 3 |
Unfortunately, the weather forecast was right on target.
A snow storm hit the area Sunday morning.

When Jim Taylor woke up at 8 AM and looked out the window, I liked what I saw, he re­called. I knew the snow was going to equalize some things. He and his family had moved into a motel Friday to avoid having to pay another month's rent on their leased home.

The busses bringing the

Browns

to Green Bay were caught in a massive traffic jam compound­ed by the fact that highway crews had cleared the southbound lanes but not the northbound lanes heading into Green Bay.
As a result, a 40-minute trip stretched to nearly two hours. So the

Browns

arrived at Lambeau Field much later than anticipated. Some players stepped off the bus unnerved at having their pregame rituals upset.

Observing the Browns' arrival, Cleveland Plain-Dealer sportswriter Hal Lebovitz noted that only Jim Brown seemed to have his game face on.

Meanwhile, the thick layer of straw covering the field at Lambeau had been removed by men with pitchforks while another crew removed the tarpaulin.
Helicopters hovered just over the grandstands, blowing the fresh snow off the seats. Two bulldozers pushed mounds of snow off the gridiron and piled it into large banks along the sidelines. High schoolers also pitched in, shoveling snow off the field.
As game time approached, the snow picked up again, mixed with freezing rain as the tempera­ture rose to just above freezing. The uncovered field turned to mush.

When the

Browns

finally took the field, they were disgusted with the conditions. Wearing a white

Cleveland

warmup jacket,

Brown

ran gingerly for a few steps, then slid in the snow. The look on his face was not nice. Earlier in the week, he had expressed fear that the field in Green Bay would be frozen or snow covered and not suited to his talents.

On the other end of the field,

Taylor

told guards

Jerry Kramer

and

Fuzzy Thurston

,

It's

Packer

we ather.

The fans agreed. One woman slipped on the ice and broke her leg. But she refused to go to the hospital until the game was over.

As the heavy snow obliterated the yard lines, the NFL supervisor of officials placed small red flags ten yards apart along each sideline.

Hornung

recalled years later,

It was cold as hell, and it was muddy. But that was our kind of field.

The governor of Wisconsin,

Warren Knowles

, flew to Green Bay from Madison, but his plane couldn't land because of the heavy snowstorm and was forced to return to the capital city.

In the Packers clubhouse, Starr's ribs ached, but he was ready to go. He wore makeshift rib pads that the team trainer made for him and took some shots to deaden the pain.

Starr in his autobiography: Although I was experiencing some pain, I knew that it would be di­minished by a flow of adrenaline before kickoff. But I also realized that one clean blow to my ribs could force me out of the contest. The possibility that I might be unable to lead our team in such an important game troubled me.

High schoolers help shovel snow.


Carroll Dale catches underthrown ball as Walter Beech slips down.


Bob Jeter and Tom Moore break up pass to Gary Collins.


Bill Glass tries to tip Bart Starr's pass.


Starr consults with Lombardi.


Starr passes.


In the trenches


Taylor darts through the hole.



Ryan sacked.


Starr surveys the defense.


Taylor runs behind chop block.


Forrest Gregg - 1


Forrest Gregg - 2


Starr makes one of his 47 handoffs on the afternoon.


Hornung tries to elude Ross Fichtner.


Boyd Dowler snags pass.


Elijah Pitts leave the field with a face full of mud.


Hornung on the run


Nitschke knocks pass out of Brown's hands in EZ.


Nitschke saves TD.


Mud Bowl


Hornung through the hole.


Brown on the move


Another one of Hornung's 18 carries.


Dick Modzelewski and Vince Costello


Hornung looks for an opening.


Taylor leans in.


Muddy warriors: Hornung, Kramer, Thurston


Taylor pounds one more time.


Hornung follows Tom Moore late in game.


Ghost Warriors: Modzelewski, Wiggin, Johnson


Spent warrior.


Taylor and Hornung give Lombardi a ride.


Lombardi and Hornung leave triumphant.


Primitive conditions demand primitive football, and that's what 50,852 brave souls saw.

Quarter 1
The snow had stopped by kickoff, but the footing was soft and mushy as melting snow covered the field. The yard lines had been cleared. However, the conditions worsened when it started to rain.
When he kicked off to start the game, Lou Groza set a record for most appearances in a championship game. Tom Moore returned the kickoff from the goal line to the 22. Starr alternated passes and runs to move to two first downs. A 3rd-and-6 completion to Taylor to the 36 lengthened the possession. Two plays later, Starr threw to Hornung open over the middle to the 47.

Starrs throws an early pass.

After Jimmy banged to the

Cleveland

48, Starr surprised the

Browns

with a long pass to LE Carroll Dale. Unable to get enough mustard on the ball with his bandaged ribs, Starr underthrew the pass. Dale came back for it as the defender, Walter Beech, slipped down. Carroll caught the ball on the 15 as the S, Ross Fichtner, also overran the play and lost his footing, and scooted into the EZ. Don Chandler converted. Packers 7

Browns

0 (11:08)

Starr explained the TD after the game. That wet ball just slipped. It squibbed off my hand when I threw it, and it never would have been a score except that Dale made it one. I threw short. Dale stopped, came back, caught it, and went by Beach when he slipped. On a day like this, you need everything.
Bart later recalled why he went for the jugular so soon. We knew it had to be bad for them pyschologically, so we hit them right way.

Starting from the 34 after the kickoff, Jim Ryan started strong with three straight completions, the last one putting 6 on the board. First, he lofted a beautiful pass down the right sideline to Jim Brown running a step ahead of Dave Robinson, who pushed Jim out at the GB 36. Then LE Paul Warfield took a ball down the seam to the 17.

Lombardi pulled CB Doug Hart from the game after Warfield's reception and never put him back in. Bob Jeter replaced him.

From there, Ryan saw his other flanker, Gary Collins, get loose from CB Herb Adderley and hit him in the EZ. Collins caught the ball just before careening into the snow bank off the edge of the field. The holder, Bobby Franklin, fumbled the snap. Groza picked it up and threw it to Franklin, who was downed at the 7. That broke a string of 96 in a row for Groza. Packers 7

Browns

6 (10:07)

Ryan fades to pass.

Willie Davis

on the

Browns

' passing attack.

They surprised us with that. We were set to stop Brown. We thought they would try to establish their running game first and then pass. So we didn't have the big pass rush right at the start. Our LBs weren't firing through because on those sweeps they'll try to string it out and give the pursuit a chance to come up. We weren't looking for passes that early. It was a fine play selection by Ryan.

The Pack's second possession didn't go nearly as well as the first. On 3rd­and-12, Jim Kanicki and Bill Glass sacked Starr on the 8. That led to ex­cellent field position for the

Browns

 when Leroy Kelly fair caught Chandler's punt at the GB 39.
From there,

Cleveland

took the lead. After Brown gained 2, Ryan hit War­field to the 24. Following two runs for 7y, Ryan failed to connect with Paul behind the goal posts in the EZ. So Groza booted a 24y FG.

Browns

 9 Packers 7

Early action - Brown tries to find running room.

The lead didn't survive

Green Bay

's next possession. Starting from their 23, the

Packers

drove deep into enemy territory. A holding call against LB

Tom Costello

on

Hornung

produced the initial first down. Then

Paul

scooted around LE, shook off several tacklers, and continued for 34y to the

Cleveland

39. Next,

Starr

found

Dale

open at the 25, and

Carroll

ran for 7 more. Then

Taylor

and

Hornung

took turns carrying the ball and blocking for each other.

Taylor

for 7, then 4.

Hornung

for 4,

Taylor

for 5, and

Hornung

2 more as the period ended with the ball on the 6.

Green Bay

had run 20 plays to

Cleveland

's 9.

End Q1:

Browns

 9

Packers

 7

Brown runs through one of the few big holes he found all day.

Brown tries to get loose.

Quarter 2
The

Browns

sent in extra linemen for their goal-line defense. Hornung met a stonewall on 2nd down. Then Starr tried to pass but was dropped at the 8. So Chandler booted a 15y FG. Packers 10

Browns

 9 (13:14)
The visitors went three and out as the Pack would not let Brown turn the corner, and LB Lee Roy Caffey dropped Jimmy as soon as he took the handoff on a 3rd-and-1 play. Gary Collins propelled his first punt to the GB 25.

Every time Brown swept wide, Nitschke started yelling "Here they come! Here they come!" as he sprinted into position.
Willie Davis, called "Dr. Feelgood" by his teammates, said Ray was our rah-rah guy, our chatterbox, and he was directing us where to go. On one play, Brown came to Davis's side and Willie realized he'd be one-on-one with the Great One. Anytime you found yourself one-on-one with Jimmy Brown, you immediately looked for help. On this play, I was one of the first ones there to meet him, and it was just Jimmy and me, and the one thing on my mind was, "I've gotta stop this guy." When Davis made the stop, he heard Nitschke behind him, Hey, Doctor, that's the way to go.

A steady drizzle continued as the temperature inched above freezing, and the field turned to mud. The Packers made one first down when Starr hit Boyd Dowler down the middle at the 39 to convert a third down. But after a sideline completion to Dowler netted 7, the

Browns

stuffed Hornung twice for no gain. Chandler punted to the 15.

Starr throws from the pocket.

On 3rd and 10, Willie Wood intercepted Ryan's pass and returned to the 10. Cutting across the field in the opposite direction of the receiver, Willie tipped the ball and caught it on the rebound while on the run.
But the Pack could get no more than a FG from there as a motion penalty against Hornung set them back 5. Starr threw three straight incompletions. Chandler extended the lead to four points with a 23y FG. Packers 13

Browns

9

Nitschke and Jeter surround Brown.

After a clipping penalty on the return,

Cleveland

started at the 16. Two Brown runs moved the chains to the 39. But on 3rd-and-2, Ron Kostelnik broke through to drop Jimmy from behind for a yard loss. Collins got off a sensational punt that went out of bounds on the 4.
Using their timeouts, the

Browns

capitalized on the great kick to put three points on the board before halftime. First, the defense made a big play. On 3rd down, Starr tried to trick the defense with a pass. But Beech wasn't fooled and stepped in front of Hornung to intercept just in bounds at the 30.
On 1st down, Ryan went for broke, throwing long to Collins at the 1. But Bob Jeter and Tom Brown had him double-covered and knocked the ball away. Nitschke blitzed on 2nd-and-10, drawing a blocker and enabling Robinson to sack Ryan for a loss of 5. But Frank got back into FG range by faking to Brown, then throwing a swing pass to him. Jim barreled to the 21. That set up Groza for a 28y FG. Packers 13 

Browns

 12 (0:48)

Browns C John Morrow recalled his war with Nitschke that day. Ray won some battles, and I won some battles. He was trying not to get tied up too much in the line, and I was trying to cut him off. On one play, we were going to pass, and he knocked the crap out of me with his right elbow. I guess he just wanted to vent himself a little bit.

Two runs by Taylor ran out the clock.
HALFTIME SCORE: Packers 13 

Browns

 12
The statistics reflected the score. Green Bay gained 158y to

Cleveland

's 135. On the ground, the Pack held an 80-49 edge. The two QBs were reasonably efficient under the conditions: Starr 6-for-12, Ryan 5-for-9.

Brown tries to get up as Gary Collins returns to huddle.

Hornung cuts in behind Gregg as Glass is blocked by Taylor.

The rain stopped for halftime, but the marching bands played on the sidelines to avoid churning up the field any more. But as the teams came back out, rain mixed with snow came down again.

Quarter 3
With each unit wanting to set the tone for the second half, the

Browns

 gained one first down on Ryan's 3rd down pass to Collins at the sideline for 17y to the 46. But after two incompletions, Lionel Aldridge sacked Frank at the 38. Elijah Pitts took Collins' line drive kick over his shoulder going toward the goal line at the 20 and was trapped back at the 10.

One of Taylor's 27 carries.

As on their last possession of the first half, the Pack started deep in their territory. But they imposed their will on the

Browns

up front as they covered 90y in 11 with just two passes. After two runs by Hornung and two by Taylor moved out to the 26, Starr connected with Dowler for a 1st down at the 38. Jimmy handled the ball three straight plays, gaining 16 on the ground before grabbing a pass for 10 more to the

Cleveland

36. Starr faked a handoff to Taylor to the weak side and gave the ball to Hornung, who followed great blocking by Forrest Gregg and Taylor over RT to the 15. After Jim pushed for 2, Paul swept LE and cut back behind Kramer's great block for the TD. Packers 20

Browns

12 (5:45)
High fog rolled in as Chandler kicked to Roberts, who returned to the 31. A face mask penalty on Ryan moved the ball all the way to the GB 47. Jim ran twice for 12y and a 1st down. After Ryan hit Collins to the 27, one of the key plays of the afternoon transpired. Brown circled long down the middle. Ryan looped a pass to him under the goal posts, but Nitschke reached out a hand at the last second on the slightly underthrown ball and wrenched it from Jim's grasp in the EZ.

Nitschke: A linebacker can't go deep like that ordinarily, and it wasn't a normal pass pattern for Jimmy. He had his hands on the ball. You have to play the ball on something like that, and I'm not as agile as he, but I felt like he was going to get the ball, and he ran straight down the middle on that pattern, and I stayed with him. He got the ball, but it's possible our contact jarred it loose.
Brown: Nitschke is a good tackler, big, smart, and fast. He touched a goal line pass to me just enough to keep me from catching it.

On 3rd down, Ryan started to pass but lost control of the ball and was smothered by Davis and Caffey at the 30. Groza came out for a FG try from the 37, but DT Henry Jordan got a hand on the ball and it dropped harmlessly in the EZ.

Afterward, Jordan explained the block. As they were coming out of the huddle, Nitschke said he wanted to hit inside the G, and Lionel Aldridge pulled the T out, and I sort of sneaked in between them and, luckily, I got my hand on it.

With the fog descending and a light snowfall, the action took on a ghost-like aura as the Pack started from their 20. Starr hit Dale for a third-down conversion to the 34. Two Taylor runs gained a 1st down and ran out the period.
END OF Q3: Packers 20 

Browns

 12


Hornung follows Taylor and Thurston.


Taylor follows Hornung through the fog.

Quarter 4
The relentless march continued. After Hornung misfired on a HB pass to Dale, Starr showed how to do it, connecting with Dowler on a drag pattern to the

Cleveland

38 to gain a new set of downs. Taylor ran twice for almost 10y, then dove over the top for the first down at the 27. He advanced another 4 before exiting to a big hand as Tom Moore took his place. The

Browns

finally drew the line and stopped Hornung for 2y on two carries. So Chandler banged through a 29y FG that tied a record shared with many of three FGs in a championship game. Packers 23

Browns

12 (9:28)

Starr hands to Hornung.

The Eastern champs needed a lift, and Kelly gave it to them by returning the kickoff out to the 43. Ken Coleman told CBS viewers that there was no problem with their TV sets. It was the fog that was obscuring the action. The Packer defense descended on Ryan & Company like a fog with a sack on 3rd down that led to another fine Collins punt, this one to the 7 with 7:45 on the clock.
Desperately needing a turnover to set up an easy score, the

Browns

almost caught Starr in the EZ as he tried a 2nd down pass. But Bart wiggled out to the 2. Taylor then fought his way back to the original line of scrimmage at the 7 to give Chandler more room to punt.

Taylor cuts back to avoid Wiggin.

Cleveland

tried for the block, but Ralph Smith hit Chandler just after the ball left his foot. The roughing penalty made it first down at the 22. Hornung and Taylor pounded the crestfallen

Browns

for 13y to move the chains again. But the massed defense held Green Bay to just 2y on three runs as the clock ran down to two minutes. When play resumed, Chandler kicked to Walter Roberts at the 17, and "The Flea" returned 10y.

Elemental football

Ryan threw a desperation pass for Collins racing down the right sideline, but Adderley intercepted at the GB 26 to extinguish all hope for the visitors.
With fans gathering at the edges of the field, the Packers ran out the clock. Lombardi first took out Hornung to give fans a chance to applaud, then Starr.
FINAL: PACKERS 23

BROWNS

12


Taylor fights to get away from Costello.


Starr hands to Tom Moore as the clock runs down.

Fans flooded the field and went after the goal posts.
The Sport Magazine MVP award, a new Corvette, went to Jim Taylor.
Final statistics:
First downs: Packers 21

Browns

8
Rushing: Packers 47-204

Browns

18-64
Passing: Packers 19-10-1/128

Browns

18-8-2/97
Return yardage: Packers 7-71

Browns

7-166
Fumbles-Lost: Packers 0-0

Browns

0-0
Penalties: Packers 2-20

Browns

3-35
Punting average: Packers 3-38.3

Browns

4-46.0
The most amazing statistic was no fumbles by either team, quite an achievement in the snow and mud.
The Packers ran 66 plays, a whopping 30 more than the

Browns

.
Hornung led all rushers with 105y on 18 carries while Taylor added 96 on 27 attempts.
Brown gained only 50y on 12 carries.
After going 5-for-9 in the first half, Ryan completed only 3 of 9 in the second half for just 115y overall. That was 32 less than Starr (10-for-18).
Each Packer earned about $7,000 while the Browns made $4,600 apiece.
Postgame
Green Bay Locker Room
Lombardi: This is not the best football we've ever had, but it is a team of real fine character. It's got a great deal of perseverance. It never even began to count itself out. A lot of things happened to us this season, but the players closed their mouths and never said a word to the press or anyone. They kept their mouths shut about injuries and a number of things. Vince recalled the team's mid-season slump when they failed to score more than a single TD in all but one of six games. A lot of teams may have folded, but we stayed right in there. Then he turned to the last game's strategy. You have to control the ball against the

Browns

if you are going to beat them. He minimized the effects of the elements. We planned to stick to basics as much as possible. We're a pretty basic team anyhow. On his aging RBs: I think there's a little spark left in them. I also thought Bart Starr called a great game.
Told he and Taylor performed like rookies, Hornung replied, We felt like rookies. And when you win, you feel like rookies. Paul also said, The snow reduced their speed down to ours. Was the footing good? Yes, considering that it was muddy and slippery. Questioned about Donny Anderson, the

Texas Tech

superstar HB signed by the Packers over the weekend, Paul said, He's going to be a great back. He's got all the tools. Asked if he expected Anderson to take his job, the veteran grinned. I might still be here. You got to sign rookies, but let's wait and see about that. He then grabbed his buddy Taylor. Us two old timers are just hanging on, aren't we?

When Hornung learned that Taylor had been voted the MVP, he threw his jersey to the floor in disgust. To pick anybody but Bart Starr is ridiculous, he said loud enough for several nearby reporters to hear.

Jimmy said the heavy field hampered him somewhat. I couldn't cut and drive too good. It was like having only one leg to run on. ... I've been playing on a leg and a half all year, but I've still got enough spring in me to play this game of football and overcome it.
Nitschke disclaimed any individual credit. No one player makes this defense. Our defense with the Packers is an 11-man unit. ... To me, playing against Jimmy Brown is a challenge. Any time you have to play against a guy like that, you try to do a better job than you do normally. He called the

Browns

FB a real gentleman.
Davis revealed the Packers' defensive strategy. We keyed on Jim Brown. We knew he was the man to stop. With the wet field, we gambled that Brown would have to run more on the inside than outside. We left the outside open. ... The first guy was to set the pattern and slow him down. The second guy had to get him. Sometimes it took a third guy. That's the way we stopped Jim - the man we had to stop.
G Jerry Kramer whooped it up when he heard that Taylor had won the MVP award. I knew it! I knew it would be either Jimmy or Paul. I kept asking them during the game, "If I win the car for you, what'll you give me?" I told them I wanted part of the car if I was going to block for them. I never did get Jimmy pinned down on it, though.
CB Doug Hart was philosophical about being replaced after only two plays. I rode the bench, but I'm not crying. We won, and how can you beat that?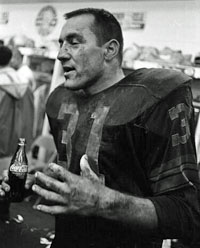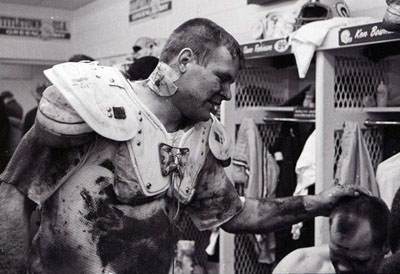 L: Taylor relaxes. R: G Jerry Kramer pats C Ken Bowman on the head.
Cleveland Locker Room
Collier: Their possession game was excellent. The "big play" to me is the third down situation when you have to make a first down. They made it. We didn't. Vince Lombardi has done a fine job coaching his team. They ran hard; their line charged. We made too many mistakes. We're better than this, but I don't want to take anything away from them. He refused to use the field conditions as an excuse. We both played on the same field. Naturally, it's a factor. But that's part of the game. The amazing thing is that there were no fumbles. We simply had the misfortune of being unable to execute when we had people open. A missed block or an error makes it difficult to get the ball to them, and you can't make mistakes against a team like this. ... The weather did hurt our passing game, but that's no excuse. We lead the league in our running game. But we couldn't turn it on today. It's a shame two fine football teams couldn't play on a field that would give the fans a run for their money. Blanton singled out Bart Starr for praise. He used his running and passing with exceptional intelligence. He also praised the Packers' defense as the best we've faced in years.
Owner Art Modell: Our outside game killed us because field conditions kept us from going in that direction. We couldn't run our sweeps. We had to stay to the inside, and they knew it. But this was the way the Big Umpire (he looked toward the heavens) called it, and that's the way it goes. I'm not embarrassed or ashamed of our performance. Give all the credit to the Packers. They deserve it.
Ryan: No club can stop Paul Warfield and Gary Collins, and they couldn't do it either. I simply didn't get the ball to them. I think if I had done my job better, certainly the outcome could have been different. But that's the game of football. Several things contributed to it - the condition of the field, the weather - a lot of things. ... I felt very sharp going into the game. I felt I was going to hit on every pass I threw. ... No, there were no surprises via the Packers. The team that executes is the team that wins. Frank mused, Wouldn't it have been nice if, after that touchdown pass, the clouds had parted, and the sun had come shining through. When a writer said, Lombardi probably wouldn't have allowed that to happen anyway, Frank smiled sadly. No, I suppose not.
Brown was asked how they contained him. Well, I didn't break away for a long gain. Is that what you mean? But that wasn't the key. Their ball control was the thing. They had the ball most of the second half. If we got the ball more, we could have moved. Actually, we didn't figure on an extensive running game ... I was to be more of a receiver than a runner today. Our men would get open. It was a matter of the field being slippery. However, he refused to use the field as an alibi. The footing was the same for everybody. But now you can see why the league is looking toward warmer climates for a new franchise. When the field like it was today, there are many things you can't do effectively. But Jim praised the Packer defense. Willie Davis is their leader in the line, and they've got two great defensive backs in Herb Adderley and Willie Wood. As for Ray Nitschke at middle linebacker, well, he seems to know where I'm going before I know myself. I noticed that he was keying on me. He's as tough as anybody.
DT Paul Wiggin: What makes us feel so bad is that we knew, going into the game, their strongest point was ball control. They beat us before with this. They won the division title with this. They know they'll win with 23 points. It's enough. And yet we permitted them to control the ball. That's why I feel so bad. It was up to us up front, and we didn't contain them. He added with a sigh, I did my best.
Glass: They caught us in the right defenses. It wasn't because of lack of effort. We often were in what we call our "destroy" defense, which means we play them head-to-head. This gives their tackle a chance to hook us. This was great for their inside game, and they were lucky to catch us in that defense just when they tried the inside. That's why they made yardage. It's a horrible feeling to come out of this game a loser when you know you should win. I'm convinced more than ever we're the better club.
1965 NFL Championship Game participants in the Pro Football Hall of Fame.
Browns
:
Jim Brown
,
Lou Groza
,
Leroy Kelly
,
Paul Warfield
Packers
:
Herb Adderley
,
Willie Davis
,
Forrest Gregg
,
Paul Hornung
,
Henry Jordan
, Coach
Vince Lombardi
,
Ray Nitschke
,
Dave Robinson
,
Bart Starr
,
Jim Taylor
,
Willie Wood
1965 NFL Champion Green Bay Packers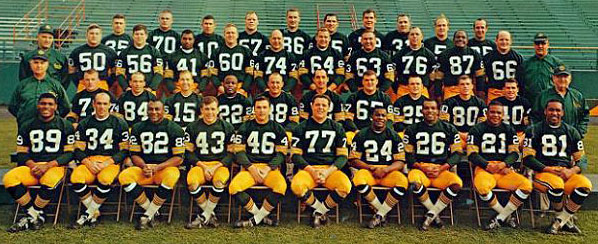 References:

When All the World Was

Browns

Town: Cleveland's

Browns

and the Championship Season of '64

,

Terry Pluto

(1997)

Nitschke

,

Edward Gruver

(2002)

America's Quarterback: Bart Starr and the Rise of the National Football League

,

Keith Dunnavant

(2011)

Bart Starr: When Leadership Mattered

,

David Claerbaut

(2004)

The Fire Within

,

Jim Taylor

with

Kristine Setting Clark

(2010)

Starr: My Life in Football

,

Bart Starr

with

Murray Olderman

(1987)

Magnificent Seven: The Championship Games That Built the Lombardi Dynasty

,

Bud Lea

(2002)

<! END OF COLUMN ONE>