1963:
New York Giants
@ Chicago Bears
This series covers the history of the NFL through the prism of its yearly championship games.
Note: The gray boxes contain asides that provide interesting material but could be skipped
without losing the continuity of the article.

Roosevelt Taylor


Richie Petitbon


Ed O'Bradovich


Doug Atkins


Del Shofner


Sam Huff



One of the most important events of the 1963 NFL season occurred on April 17.

That's the day commissioner Pete Rozelle indefinitely suspended

Green Bay

RB Paul Hornung and

Detroit

DT Alex Karras.
The charge was gambling on their own teams as well as other NFL teams.

With each of their main competitors missing a main cog, the Chicago Bears seized the opportunity to win the Western Division for the first time since 1956.

Their only loss came in Week 6 against the

49ers

in San Francisco, 20-14.
The Bears also tied two games (

Pittsburgh

and

Minnesota

in back-to-back 17-17 games weeks 10 and 11) to finish a half-game in front of the 11-2-1

Packers

, whom the Bears beat twice, 10-3 in the season opener in Green Bay and 26-7 in Chicago week 10.
68-year-old George Halas deployed the best defense in the league, by far. The '63 edition of the Monsters of the Midway gave up only 144 points in 14 games (10.3 per contest), a whopping 62 less than the second place

Packers

.
MLB Bill George, a 12-year veteran, quarterbacked the defense. After an automobile accident in 1961, George played in pain in 1962 and had a subpar season. He felt he had something to prove going into the '63 season. Joe Fortunato and Larry Morris joined Bill to form what many considered the best linebacker corps in the NFL.

DE Ed O'Bradovich: John Unitas said one time that he only feared one man in the NFL, and that man was Bill George. Not because of his physical prowess but because of his mental approach to football. Bill had such great knowledge and such great insight. He was a walking encyclopedia out there. He had a photographic memory, and he would know what all the other teams' tendencies were.
Oddly, LLB Joe Fortunato called the defensive signals, not George.

Bears linebackers: Johnny Morris, Bill George, Joe Fortunato

The Bears led the league in interceptions with 36 out of Allen's zone defense. S Roosevelt Taylor led with nine, closely followed by fellow New Orleans native Richie Petitbon, the other safety, who had eight. The cornerbacks, Dave Whitsell and Bennie McRae, each snared six.
The rugged line featured Ed O'Bradovich (6-3 255), who had missed half the season because of injury, and Doug Atkins (6-8 247) on the edges and Stan Jones (6-1 250) and Earl Leggett (6-3 265) in the middle.

Jones played on the offensive line for the Bears for nine years before D-coordinator George Allen asked him to fill a void on the defensive line. Stan's role was run control while the ends harassed the passer. He had actually retired after the 1962 to become a fulltime teacher in the Washington D.C. area. But Allen talked him into playing again. Jones entered the Pro Football Hall of Fame in 1991.

33-year-old Bill Wade directed the ball-control, balanced offense that gained 2,493y through the air and 1,679 on the ground and finished third in the NFL by running 911 plays. He preferred to throw short, his favorite target being rookie TE Mike Ditka, who caught 59 balls for 794y–both stats topping the team.

A Chicago writer said of Wade: He doesn't smoke, he doesn't drink, he doesn't swear, and he doesn't like the company of those who do. He was a deeply religious, articulate independent thinker.

The Eastern conference race resulted in the New York Giants' third straight #1 finish and sixth in the last eight years.

25 of the 33 players on the 1962 finalists returned.
In contrast to the Bears, Allie Sherman's

Giants

were known for their powerful offense.
With Charlie Conerly's retirement, 37-year-old Y. A. "Yat" Tittle had the quarterback job to himself and responded with an outstanding season. His 36 touchdown passes set an NFL record.
Tittle's favorite receivers were Pro Bowlers Del Shofner (64 receptions for 1,181y) and Frank Gifford (42/657).
The running back committee combined for 1,181 rushing yards.
While not as formidable as the Bears eleven, the

Giant

defense finished fifth overall in the NFL.
Future Hall of Famer Sam Huff led the unit from his middle linebacker position. Sam missed one of his defensive tackles after Roosevelt Grier was traded to the

Los Angeles Rams

in exchange for DT John LoVetere and a high future draft choice.

Commissioner Rozelle asked Bears owner-coach George Halas to move the game to Soldier Field.

Rozelle wanted the increased seating capacity as well as lights in case overtime extended the game beyond sunset .
When Halas refused, Pete moved the kickoff from 2 PM to noon CST. By starting at noon, we will have four and one-half hours of good light, explained Rozelle. And that should be enough to complete the game. However, he added that, should darkness force the game to be halted, it would be resumed on Monday.
The teams had not met during the regular season.
The

Giants

entered the fray favored by one point or by odds of 11 to 10.
Bear success would depend in large measure on how much pressure they put on Tittle to upset his timing. The key matchup featured old adversaries: OLT Roosevelt Brown,

NY

's best blocker, against RDE Atkins, the Bears' best pass rusher.
Halas and his staff spent the two weeks prior to the title contest watching film of the

Giants

. The Old Man explained: Football is so much more complicated today than it was in the old days, even though the basic requirements are still good blocking and tackling. All the coaches spend hours going over game movies. The defenses are so much stronger now. In the old days, we used to spend one day a week on defense. Now it's 50-50, offense and defense.
Defensive coordinator George Allen was especially fanatical about film study. He wanted to know exactly what the

Giants

would do on each play, based on field position, the game situation, and yards needed for a first down. He wanted his defense so well schooled that they would recognize the formation as soon as the opponent came to the line of scrimmage.

This would be the sixth meeting between New York and Chicago in the championship game.

1933 - Bears 23

Giants

21 at Wrigley Field
1934 -

Giants

30 Bears 13 at Polo Grounds
1941 - Bears 37

Giants

9 at Wrigley Field
1946 - Bears 24

Giants

14 at Polo Grounds
1956 -

Giants

47 Bears 7 at Yankee Stadium

Both teams tested various types of footwear during their workouts the day before the game.

QB Wade wore sneakers, but most of his teammates went through their drills in cleats.
The

G-men

tested cleats, sneakers, and ripple-soled shoes.
Players on both teams expressed satisfaction with the condition of the field and agreed that, barring an exceptional freeze, they would wear cleats Sunday.

NBC again owned the TV and radio rights to the game for $926,000.

It would be aired throughout the U.S. and Canada with the usual local area blackout.
However, Rozelle contracted with three auditoriums in Chicago to carry the game on closed-circuit television. The 26,000 fans who packed the halls added an estimated $50,000 to the revenue for the game.
The TV announcers were Chris Schenkel (

Giants

) along with Jack Brickhouse and George Connor (Bears).
Manning the radio booth were Jim Gibbons and Pat Summerall.
1963 New York Giants

| | | | | | | |
| --- | --- | --- | --- | --- | --- | --- |
| # | Player | Pos. | Hgt. | Wgt. | College | Exp. |
| 14 | Y. A. Tittle | QB | 6-0 | 190 | LSU | 13 |
| 15 | Glynn Griffing | QB | 6-1 | 200 | Mississippi | 1 |
| 16 | Frank Gifford | FL | 6-1 | 195 | USC | 12 |
| 20 | Jimmy Patton | DB | 5-11 | 185 | Mississippi | 9 |
| 21 | Allan Webb | DB | 5-11 | 180 | Arnold | 3 |
| 22 | Dick Lynch | DB | 6-1 | 200 | Notre Dame | 6 |
| 23 | Louis Guy | HB | 6-0 | 190 | Mississippi | 1 |
| 24 | Phil King | FB | 6-4 | 225 | Vanderbilt | 6 |
| 25 | Dick Pesonen | DB | 6-0 | 190 | Minnesota, Minn.-Duluth | 4 |
| 29 | Alex Webster | FB | 6-3 | 225 | North Carolina State | 9 |
| 33 | Albert Gursky | LB | 6-1 | 215 | Penn State | 1 |
| 34 | Don Chandler | K | 6-2 | 215 | Florida | 8 |
| 37 | Charles Killett | HB | 6-1 | 205 | Mississippi, Memphis St. | 1 |
| 39 | Hugh McElhenny | HB | 6-1 | 195 | Washington | 12 |
| 40 | Joe Morrison | DB | 6-1 | 210 | Cincinnati | 5 |
| 48 | Eddie Dove | PR | 6-2 | 180 | Colorado | 5 |
| 49 | Erich Barnes | DB | 6-2 | 200 | Purdue | 6 |
| 53 | Greg Larson | T | 6-3 | 250 | Minnesota | 3 |
| 60 | Ken Byers | G/DE | 6-1 | 240 | Cincinnati | 2 |
| 62 | Darrell Dess | G | 6-0 | 245 | North Carolina State | 6 |
| 63 | Bookie Bolin | G | 6-3 | 240 | Mississippi | 2 |
| 64 | Mickey Walker | G | 6-0 | 235 | Michigan State | 3 |
| 65 | Bob Taylor | DE | 6-3 | 240 | Maryland Eastern Shore | 1 |
| 66 | Jack Stroud | G | 6-1 | 235 | Tennessee | 11 |
| 70 | Sam Huff | LB | 6-1 | 230 | West Virginia | 8 |
| 71 | Lou Kirouac | G-T | 6-3 | 250 | Boston College | 1 |
| 75 | Jim Katcavage | DE | 6-3 | 235 | Dayton | 7 |
| 76 | John LoVetere | DT | 6-4 | 280 | Compton CC | 5 |
| 77 | Dick Modzelewski | DT | 6-0 | 250 | Maryland | 11 |
| 78 | Lane Howell | T-DT | 6-5 | 255 | Grambling State | 1 |
| 79 | Roosevelt Brown | T | 6-3 | 255 | Morgan State | 11 |
| 80 | Joe Walton | TE | 5-11 | 200 | Pittsburgh | 7 |
| 81 | Andy Robustelli | DE | 6-1 | 230 | Arnold | 13 |
| 82 | Tom Scott | LB | 6-2 | 220 | Virginia | 11 |
| 85 | Del Shofner | SE | 6-3 | 185 | Baylor | 7 |
| 87 | Jerry Hillebrand | LB | 6-3 | 240 | Colorado | 1 |
| 88 | Aaron Thomas | E | 603 | 219 | Oregon State | 3 |

1963 Chicago Bears

| | | | | | | |
| --- | --- | --- | --- | --- | --- | --- |
| # | Player | Pos. | Hgt. | Wgt. | College | Exp. |
| 9 | Bill Wade | QB | 6-2 | 200 | Vanderbilt | 10 |
| 10 | Rudy Bukich | QB | 6-1 | 195 | Iowa, USC | 11 |
| 17 | Richie Petitbon | DB | 6-3 | 205 | Tulane | 5 |
| 22 | Billy Martin | HB | 5-11 | 195 | Minnesota | 2 |
| 23 | Dave Whitsell | DB | 6-0 | 190 | Indiana | 6 |
| 24 | Roosevelt Taylor | DB | 5-11 | 185 | Grambling State | 3 |
| 25 | J. C. Caroline | DB | 6-0 | 185 | Illinois | 8 |
| 26 | Bennie McRae | DB | 6-0 | 180 | Michigan | 2 |
| 28 | Willie Galimore | HB | 6-1 | 185 | Florida A&M | 7 |
| 29 | Ronnie Bull | HB | 6-0 | 200 | Baylor | 2 |
| 31 | Joe Fortunato | LB | 6-1 | 225 | VMI, Mississippi State | 9 |
| 33 | Larry Morris | LB | 6-2 | 225 | Georgia Tech | 9 |
| 34 | Joe Marconi | FB | 6-2 | 225 | West Virginia | 8 |
| 43 | Larry Glueck | DB | 6-0 | 190 | Villanova | 1 |
| 46 | Angelo Coia | E | 6-3 | 195 | Citadel, USC | 4 |
| 47 | Johnny Morris | HB | 5-10 | 180 | Cal-Santa Barbara | 6 |
| 49 | Charlie Bivins | HB | 6-1 | 210 | Morris Brown | 4 |
| 50 | Mike Pyle | C | 6-3 | 250 | Yale | 3 |
| 60 | Roger Davis | G | 6-3 | 240 | Syracuse | 4 |
| 61 | Bill George | LB | 6-2 | 235 | Wake Forest | 12 |
| 63 | Bob Wetoska | T | 6-3 | 240 | Notre Dame | 4 |
| 65 | Tom Bettis | LB | 6-2 | 230 | Purdue | 9 |
| 67 | Ted Karras | G | 6-1 | 245 | Indiana | 6 |
| 70 | Herman Lee | T | 6-4 | 245 | Florida A&M | 7 |
| 72 | Jim Cadile | G | 6-4 | 240 | San Jose State | 2 |
| 73 | Steve Barnett | T | 6-2 | 255 | Oregon | 1 |
| 74 | Bob Kilcullen | DE | 6-3 | 245 | Texas Tech | 7 |
| 75 | Fred Williams | DT | 6-4 | 250 | Arkansas | 12 |
| 76 | John Johnson | DT | 6-5 | 260 | Indiana | 1 |
| 78 | Stan Jones | DT | 6-1 | 250 | Maryland | 10 |
| 80 | Bob Jencks | E | 6-5 | 225 | Miami (OH) | 1 |
| 81 | Doug Atkins | DE | 6-8 | 255 | Tennessee | 11 |
| 83 | Roger Leclerc | LB-K | 6-3 | 235 | Trinity (CT) | 4 |
| 84 | John Farrington | E | 6-3 | 210 | Prairie View | 4 |
| 87 | Ed O'Bradovich | DE | 6-3 | 255 | Illinois | 2 |
| 88 | Bobby Joe Green | K | 5-11 | 175 | Florida | 4 |
| 89 | Mike Ditka | TE | 6-3 | 230 | Pittsburgh | 3 |
For the third year in a row, the championship game was played in frigid conditions.
The thermometer registered 10° at game time and dropped 2° during the game.

The Bears had used blowers borrowed from O'Hare Airport on the field all week. Each day after the grounds crew used the blowers, the field was re-covered with hay and a tarpaulin spread over it.
When the hay was removed several hours before kickoff, the ground was spongy. But within an hour it began to freeze. By game time, it was solid, ribbed, spiked ice rock.
Patches of ice dotted the out of bounds area, especially in the grandstand end of the field where shadows prevailed early.
The crowd included the two mayors: Robert Wagner of New York and Richard Daley of Chicago.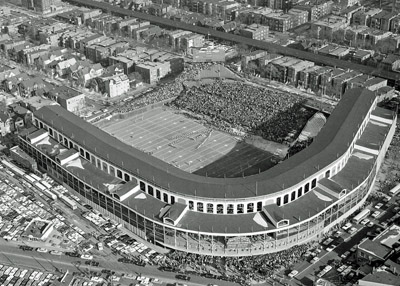 Wrigley Field 1963
A standing room crowd of 45,801 saw the better defense stifle the better offense.

Ted Karras and Fred Williams before the game


Toss of the coin


Billy Martin


Bill Wade runs.


Dick Pesonen


Dick Lynch


Erich Barnes


Bennie McRae


Frank Gifford


Larry Morris hits Joe Morrison.


Ronnie Bull


Joe Marconi


Willie Galimore


Jim Katcavage


Jerry Hillebrand


Larry Morris


Johnny Morris


J. C. Caroline


Don Chandler


Davey Whitsell


Darrell Dess


Roger Leclerc


Bears defend their goal line.


Bob Wetoska protects Wade from Jim Katcavage.


Angelo Coia


Hugh McElhenny


George Halas counsels Bobby Joe Green.


Ed O'Bradovich runs with his interception.


Jack Stroud pulls down O'Bradovich.


Halas on sideline.


Tittle sobs on the bench as the game ends.


Quarter 1
The Bears won the toss and elected to receive. The

Giants

chose the wind, which came in from left field. The players danced around to keep warm while waiting for the kickoff. Billy Martin fumbled the kickoff in the end zone but elected to take it out. That was a bad decision as he made it only to the 10. After two runs gained five, QB Billy Wade rolled out and ran to the 23 for a first down. Two runs sandwiched around an offside penalty put the ball on the 29. At that point, the first break of the game occurred. Having seen from the films that MLB Sam Huff went to his right on pass plays, Wade faked a pass, then ran through the spot Huff vacated. When DBs Dick Pesonen and Dick Lynch hit the quarterback, his cold hands fumbled the ball, and DB Erich Barnes recovered at the 41.

Y.A. Tittle's habit was to start slowly. I prefer something routine - an orthodox running play, not a pass. I want the team to get the feel of the contact with a hitting play. Y.A. preferred to work to his right, to FL Frank Gifford and either TE, Aaron Thomas or Joe Walton.

Y. A. Tittle fades back as Doug Atkins, Larry Morris, and Joe Fortunato rush.

The Bears went into their standard 5-3-3 defense that they played all day. True to form, Tittle handed to FB Joe Morrison for a yard. Then Y.A. faked a quick throw to the left and threw his signature screen pass to Morrison in the right flat. Joe who scampered out of bounds on the 29 for a first down.

Doug Atkins tackles Joe Morrison.

Three straight runs, Phil King for three, Morrison for six, then four, moved the chains again. On first down from the 16, Morrison gained a tough 2y up the middle. Then Tittle threw over the head of DB Bennie McRae to Frank Gifford at the right edge of the end zone. Chandler kicked the PAT.

Giants

7 Bears 0 (7:38)

Tittle in his autobiography: Frank worked on Chicago halfback Bennie McRae for a couple of plays and then told me in the huddle, "Y.A., I can beat him easy on a zig-out." So I threw a zig-out off play action, and Gifford easily beat him for the touchdown.
There was only one problem; just as I got rid of the ball, Larry Morris blitzed through and hit me across the left leg. I felt a twinge behind my knee. I walked it off and then went back into the game. I could feel that there was something wrong. I said to Kyle Rote, "I hope I can last this out. My knee is starting to get stiff."

Tittle watches throw as Larry Morris hits him.

Ronnie Bull returned the kick 8y to the 18. With the

Giants

playing a 6-1 defense on running downs and 4-3 on passing downs, Wade threw a third-down flare pass to the left side to FB Joe Marconi, who scampered to the 30 to move the chains. After a 3y run and an offside penalty on

NY

, Willie Galimore escaped a bull rush by DE Jim Katcavage only to be dropped for a loss by LB Jerry Hillebrand on the 36. After Wade threw incomplete to Morris, Bobby Joe Green, second in the league in punting at 46y average, boomed the ball to Eddie Dove, who was downed immediately at the 27.

Billy Wade passes.

Doug Atkins

recalled:

The

Giants

came out and didn't seem to be fazed by the weather, scoring on a long drive in the first quarter to take the lead. ... We went back to the sideline and said we couldn't let him

[

Tittle

]

do that to us all day. So we decided we were going to get after Y.A. In the first series we had played a basic defense, but then we started going after him. We were much more aggressive, blitzing extra guys. We hit him every chance we got.

Following two runs that gained seven, Larry Morris, one of the best blitzing linebackers in the league, broke through and tackled Tittle around the ankles on the 26. So Don Chandler, who punted and place-kicked, boomed a 51-yarder to Johnny Morris, who returned 4y to the 24.
Galimore cut outside to the 30, where he fumbled, DB Dick Pesonen recovering on the 31.
Tittle went for the jugular right away. Convinced that Davey Whitsell was the frail link in the Bears defense at weakside corner, he threw into the end zone to his favorite receiver, Del Shofner, whom the Bears double-covered all day with Whitsell and S Roosevelt Taylor. Del jumped and got both hands on the ball but couldn't hang on. Some speculated that he lost sight of the ball as it came from the bright sunlight into the shadows of the grandstand. It would be the closest the

Giants

receptions leader would come to a completion on this frigid afternoon.

Atkins

:

Tittle hit a receiver named Del Shofner right in his hands with a pass. I don't know if his hands were cold or what, but it bounced right off them. Hell, I could have caught that one. If he would have caught that pass, the

Giants

would have been in command, and I think they would have won. But that's what kind of a season it was for us. We got just about every break.

The next snap produced the first outstanding play by the superbly prepared Bears defense. With onrushing linemen bearing down on him before he could get set for a long pass, Tittle, without a glance, lobbed a short pass to his safety valve, Morrison, in the flat. But RLB Larry Morris had floated out with the running back and picked off the aerial at the 20. The former Georgia Tech fullback set sail down the field all the way to the five where G Darrell Dess brought him down. Just like that, the momentum had swung 180° and given the Bears an opportunity their offense might never have produced.

Morris: We knew they liked to throw the screen on second down, and I guess I smelled it. I didn't know the screen was coming until Tittle sent a guy in motion. His key was to look right and give the left tackle and end time to slip over to the left. I'm no halfback, but I was trying to go all the way because I was scared of being hit. I was so tired, I knew I was going to get caught. For the first 30y, I was praying no one would catch me. For the next 30y, I was praying someone would catch me.

Bull ran over the left side to the two. Then Wade sneaked into the end zone. Bob Jencks converted.

Giants

7 Bears 7 (0:15)
Roger Leclerc kicked off to the eight to Charles Killett. He fumbled, and Charlie Bivens recovered for the Bears on the five. But a flag lay on the turf back at the kickoff point to mark an offside infraction.

Atkins stalks Y. A. Tittle. The quotation is Doug's.

Quarter 2
Leclerc kicked off again, this time the opposite way. Dove took it at the 14 and ran to the 38. Before the first snap, DT Fred Williams jumped offside and hit Tittle. After the penalty, runs by Morrison and King left the visitors a foot short of a first down. Joe took care of that on third down with a run to the 49.

Larry Morris upends Morrison.

Tittle sent both his flankers, Gifford and Shofner, deep and had Aaron Thomas drag underneath from left to right. The tight end grabbed the pass in stride, turned upfield, and tiptoed down the sidelines until he could no longer stay inbounds at the 13. Aiming this runs at DRT Williams, who had recently returned from injury, Tittle handed to King twice for gains of eight and four. Morrison then banged up the middle for a first down at the two. With a second touchdown within easy reach, Tittle decided to send his big backs wide instead of continuing to pound straight ahead. First, Joe tried to sweep right, but, with Atkins in his path, cut back, and was downed by big Doug at the line of scrimmage. Undaunted, Tittle sent Morrison the opposite way to the wide side of the field only to have the other defensive end, Ed O'Bradovich, cut him down for a loss at the six. On third down, Tittle called for a pass. But the Bears were ready and had all receivers covered. So YAT tossed a flare pass that bounced out of the hands of King, who was dogged by Fortunato. That forced the

Giants

to settle for a Chandler field goal from the 13.

Giants

10 Bears 7 (9:49)

O'Bradovich takes down Morrison as he tries to run wide inside the 10.

Chandler kicked into the wind to the 12. Bull fumbled the ball, picked it up, and ran to the 21, where Barnes upended him. The

NY

secondary played a zone defense except that Dick Lynch covered the weak side end man-to-man. Looking into the sun from that end. Wade threw long for Johnny Morris, who had the ball but dropped it as he fell to turf at the 45. On the next snap, Bill again looked deep for 6'3" Angelo Coia, who ran a step behind Lynch. But the pass sailed too long. Then Wade avoided the rush and threw incomplete toward Ditka. So Green punted to Hugh McElhenny, who returned 10y to the 43.
Tittle started his series with a long throw for Thomas that was almost intercepted by S Richie Petitbon. On a draw play, King broke loose over the right side to the Bear 47 for a first down. King then ran the identical play for nine more. Alex Webster, who had missed the latter part of the season because of injury, came in at fullback and drove to the 32. Continuing to mix up his calls, Tittle threw long to Gifford, who caught the ball out of bounds. Knocked down by Larry Morris, Tittle got up and limped off the field. From his vantage point in the radio booth, former

Giant

Pat Summerall said, I doubt he'll be back.

Halas recalled the play like this: Tittle drifted back to pass. Larry Morris red-dogged. He got through the line. He slipped. He continued ahead full force, bent double, steadying himself with his hands, advancing on all fours. Tittle also slipped and began to fall to the side. Although off balance, the threw the ball. A second later Morris struck Tittle's left knee with his shoulder. Both went down. Morris helped Tittle to his feet. When Tittle put weight on his left foot, pain shot through him. Teammates helped him from the field. Bears' fans cheered. That might not have been the sportsmanlike thing to do but I would not accuse them of being poor sportsmen. I put the cheers down to a feeling of relief that comes to everyone when a threat has passed.
Tittle: We had the ball on the Chicago 32 - first and 10. I dropped back to pass to Gifford, but I stumbled on the hard ground and fell as I got rid of the ball. Again, Morris came crashing through the line and dove onto my bad knee. This time the pain shot clear up my leg. It was like someone had stuck a knife in the knee joint. I could hardly limp off the field. This time I knew it was bad.
I was taken to the dressing room, and Doc Sweeny and Dr. Anthony Pisani, an orthopedist, took a look at my knee.
"It's killing me," I told them. "I can't even bend it."
Dr. Pisani asked me where the pain was, and I pointed to the spot. He froze it with a spray and then gave me a needle. I don't know what it was, and at the time I didn't give a damn. I was too busy cussing my luck. When the guys came in at half, I acted as though it wasn't that bad. I didn't want them to see me looking as bad as I felt.
Morris recalled: I tackled him, and he couldn't walk when he rose. I think I hit him just as he planted his foot. We were good friends, and I certainly did not intend to hurt him.

With six minutes left, rookie QB Glenn Griffing rushed in. He had thrown only 40 passes, completing 16. He hand to Hugh McElhenny, who carried to the 30. On third-and-seven, Atkins hit Griffing as he threw, and the ball fell to the turf. So Chander trotted out to try a field goal into the wind from the 37. J. C. Caroline got a hand on the ball. So the Bears took possession on the 20.
Wade threw to to Coia cutting across from right to left at the 38, and he ran out of bounds 4y further upfield. The clock stopped at 5:38. Flags went down on the next play as Bull drove to midfield. After an illegal procedure markoff, Wade went to the air, but the pass went in and out of Johnny Morris's hands as Barnes and Hildebrand hit him. Wade was also hit hard just as he threw by DT John LoVetere. Marconi ran a draw to the 37. Then Billy finally found Ditka, who caught the ball on his knees just short of midfield. The 5y penalty had taken its toll on the drive. So Green punted out of bounds inside the five. An official slipped down hard on the ice at the sideline on the shaded end of the field as he tried to mark the spot.
Griffing came back in as the

Giants

had their backs to their goalposts at the two. To make matters worse, the footing was more treacherous at that end of the field. After two runs gained 3y, Sherman resorted to 1930s football and sent in Chandler to punt on third down. But Allie must have gasped as Don almost dropped the ball as he held it out to punt. That didn't prevent him from getting off an outstanding kick that Taylor took on the bounce on the Bear 38 where he was belted hard by several

Giants

. Play stopped for the two-minute warning.
Marconi ran another draw for 1y before Wade threw two incompletions. DE Andy Robustelli racked up the quarterback on the second heave. Green punted high but not long - out of bounds at the 19.
With a neophyte signal-caller and only 1:05 left, the

Giants

ran the ball twice to run out the time. HALFTIME:

Giants

10 Bears 7

Halas

on what he told the team at halftime:

You can't bawl heck out of them at a time like that. You've got to give them counsel, encouragement.

In the

NY

locker room,

Tittle

's left knee was shot with novocaine and cortisone and strapped up. It was left to him whether or not to return to the game

. Tittle

:

I knew the team was concerned about my condition, so before they went out for the second half I said, "I don't know if I can play on this damned thing. But even if I can't, I am convinced we can whip these guys. We're ahead now. We can stay there."
Once out on the field, I began to throw some warm-up passes behind the bench. Sherman asked me, "How does it feel, Y.A.? What do you think?"
"It could be worse, Al, but let me give it a whirl."
A couple of warm-up passes told me I was severely handicapped. I couldn't drop straight back to pass; I was forced to backpedal, which made me a lot slower.

Quarter 3
McElhenny, wearing sneakers, took the kickoff on the eight and raced all the way to the Chicago 46 where Taylor made a touchdown-saving tackle. Tittle came in and handed to his old

49er

buddy McElhenny twice for two each time. Facing third-and-six, YAT would have to throw - the first big test for his knee. He was hit as he flipped a swing pass to Morrison who ran to the 35 where he fumbled. The Bears recovered, but the whistle had blown the ball dead.

Halas

:

Our Bill George picked up a

Giants

' fumble but the referee said the ball had been whistled dead. After the game, I studied the film. The fumble did come before the whistle.

Tittle spotted Gifford breaking away from McRae on a down and out. But the ball hung up in the wind, allowing Bennie to knock it down.

Tittle

:

On our first series I came up against a third-and-seven situation and had no choice but to throw the ball. I called a

Green Bay

special - one of our favorite patterns - and dropped back to throw to Morrison in the flat. Joe made a first down. "Hot damn, maybe I can do it after all," I thought.
The thought was short-lived. On the next play I overshot Gifford on a sideline square-out pattern. He was wide open waiting for the ball, but I couldn't plant on my front left knee, and my pass was late.

On third down, YAT tried to connect with Shofner for the first time, but Whitsell wrestled it away on the 26.
The Bear possession started with a linebacker, and Joe ran to the 45. After an incompletion, Wade fired down the middle to Marconi, who snared the ball at the 35 and continued for 14 more. Wade went back to his fullback, but the ball sailed out of reach. Taking the next snap, Billy spotted Coia heading toward the end zone. But S Jimmy Patton broke up the pass and saved a touchdown. When the next aerial went in and out of the hands of Johnny Morris, Leclerc attempted a field goal from the 28. It was long enough but wide left with 11:31 on the clock.
Starting with an offside penalty on the Bears that made it first-and-five at the 25, the

Giants

ran McElhenny twice to move the chains to the 31. Tittle stayed on the ground, but a third down run by Morrison ended up 1y short of another first. So Chandler punted into the wind to Morris, who fair caught on the 19.
Sticking to the air with the wind at his back, Wade threw down the slot to Ditka to the 37. The refs tacked on 15y for a personal foul against Barnes.

Halas

recalled:

It had been a clean game. Penalties totaled only 60 yards. Once Huff had piled onto Wade after Wade had been brought down. "Nice going, Sam," Wade said in reverse praise. Huff shrugged. "Well, don't run the ball so often, Bill," Huff said. After another pileup, Ditka told Erich Barnes that Barnes was being unnecessarily rough with Johnny Morris. Barnes' fist found its way through Ditka's face mask. The referee was watching. He stepped off 15 precious yards against the

Giants

.

Bull took a screen pass to the

NY

44. Wade followed with a pass to Morris on the 45, from where he was driven back to midfield by Barnes as the crowd booed. On third-and-two, Wade saw the linebackers up close preparing to blitz. So he sneaked through a hole the linebacker vacated for the first down. Two plays later, Bill threw incomplete to Morris, but an offensive interference penalty on Ditka moved the ball back to the Bears 45. After another futile pass, Robustelli rushed from Billy's blind side and dropped him on the 36. Green punted to McElhenny on the 26, and he was belted down by several tacklers at the 35.
What came next was Tittle's second fateful mistake. With rushers pouring in as the blockers moved outside to form a screen, YAT floated a pass to Morrison. But LDE O'Bradovich, smelling out the play, drifted into the flat, grabbed the ball. and returned 10y to the 14 where G Jack Stroud tackled him from behind. Tittle had not had a screen pass stolen during the entire regular season but now had two in this game.

O'Bradovich: I caught it with one hand. Reminded me of the days when I used to grab those passes at Illinois. It was great, just great. I'll tell you, I had eyes for that end zone. But somebody got ahold of me.
Before the snap, the linebacker behind him, Joe Fortunato, told Ed, Just watch for the screen. O'Bradovich recalled: At the snap of ball, my man [Stroud] kind of engaged me, but weakly. You could just read it - he didn't set up and then fire at you, he just kind of drifted back. ... I just planted my right foot, and I remember I went out into the flat. Lo and behold, Tittle drops back, throws the ball, and I snatch it with my left hand and that was it. But the fact of the matter was we knew it was coming.

Wade wasted no time throwing into the end zone for Marconi, but Hillebrand almost intercepted. Bull ran right but couldn't turn the corner and gained only one. On third down, Wade straightened up and flipped a quick look-in to RE Ditka who caught it at the five and was ridden down at the one by Pesonen. First and goal.

Assistant Chuck Mather, who manned the phone on the sideline during the game, recalled: Luke Johnsos was foremost in his day at calling plays from the press box. He called down a quick pass to Ditka. We had not practiced it for some time. Besides, when you are the near the 10-yard line, it's an ironclad defensive rule to never let the tight end out. So I said, "Luke! No! No! It'll never work." Luke persisted. I sent it in. Ditka was smart enough to move out three yards from the right tackle.
Ditka: I should have scored. I really should have, but the safety made a really good tackle on me. He kind of caught me before I could get my shoulder down and stood me up, so I didn't have any momentum. If I could have gotten my shoulder down, I could have scored ...

Wade tried to sneak in but didn't move forward enough. So he tried again behind C Mike Pyle of

Yale

and scored. Bears 14

Giants

10 (1:50)

Wade (9) sneaks for the go-ahead touchdown.

Pyle

had grown up in the Chicago area, and his father had season tickets for many years. Considered one of the best straight ahead blockers in the league,

Mike

recalled:

I had to be shot up for the last three games and the championship game against the

Giants

. I had both groin muscles shot up with a spinal needle - it was about three or four inches long. You are playing for a championship, you don't even think about it. I told them I want to play.
Larry Morris had torn his knee up, and he kept getting shots in it to get through the season. When they went to operate, it was all ground up. The whole cartilage was nothing but dust.

Dove returned the kick from the 10 out to the 31. Knowing the

Giants

had to pass, George Allen inserted a fifth defensive back, J. C. Caroline, in place of a linebacker in what the D-coordinator called his "nickel" defense. After McElhenny went nowhere off the right side, Morrison zipped through a hole to the Bear 49 where Taylor's ankle tackle saved a touchdown. Despite the good gain on the ground, Tittle decided to tried to go long for Thomas, but Petitbon broke it up. Errant passes to Gifford and Shofner stopped the march. Morris caught the punt and was hit immediately at the 19.
End of Q3: Bears 14

Giants

10

Quarter 4
After running the ball only four times during the third quarter, the Bears wanted to control the ball and run the clock now that they led and were moving against the wind. But after Bull gained two, Wade fired down the middle. Patton almost intercepted the low throw. On the sideline, Halas put both hands over his head when his quarterback went back to pass and turned his back–he couldn't watch. Then Billy inexplicably threw another incompletion. Green's end over end kick bounced to the

NY

39. On first down, Morrison fought to the 45. But the next snap saw Joe pick up a first down but fumble. Petitbon recovered at the Chicago 49.
After Bull ran twice for a net of 4y, E John Farrington came in with a play. Wade threw to Johnny Morris who went out of bounds at the 38 to move the chains. Back to pass again, Wade escaped the rush and broke clear briefly until Robustelli got a paw on his ankle to take him down at the 33. Bull then pushed to another first down at the 28. But two runs and an incompletion brought up 4th down. Leclerc kicked straightaway from the 34 but, like his previous attempt, the distance was fine but wide right with 8:22 to play.

Tittle: I was still putting the ball in the air in the fourth quarter, but it was no use. The Bears knew I had to throw and they were dropping everyone but George Halas into the secondary to cover my receivers. They knew darn well that, because of my knee, I couldn't put any zip on my passes. The ball was wobbling end-over-end, and there was nothing I could do about it.

Morrison slanted off tackle for seven to the 27. But Joe was slow getting up. So Webster replaced him at fullback. Old pro McElhenny advanced to the 30 for a first down. Faking the same run, Tittle spotted Shofner behind Whitsell and Taylor, but the ball sailed over Del's head. YAT fumbled the next snap but recovered on the 32. He limped noticeably to the huddle. That didn't keep him from throwing down the middle to Webster who snagged the aerial at the 45 and continued to midfield. An incompletion and a loss of three by Webster produced a crucial third down. Tittle connected with Gifford, who went out of bounds at the Chicago 36 to stop the clock at the 4:59 mark. YAT started the new series by throwing over the head of an open Thomas. Then Tittle flipped to Morrison for no gain. On third-and-10, Morris hit the quarterback as he threw a high wobbly pass that was intercepted in the end zone by McRae with four minutes left.

Tittle passes as McIlhenny guards against Atkins.

Wade stuck to the ground this time. On second-and-9, Bull escaped tacklers behind the line and ran out of bounds 3y beyond the first down mark. After Ronnie ran twice for 7y, the

Giants

called a timeout. On third down, the former Baylor Bear plunged to the 43. But the measurement showed that he was inches short.

NY

timeout at 1:52. Play resumed with the Bears in punt formation. Green grabbed the high pass and boomed a punt to the 16.
Tittle & Company had 1:40 and one timeout to traverse 84y with their ancient backfield: Tittle 37, McElhenny 34, and Webster 32. (King and Morrison were hurt.) Tittle hurled a quick one to Thomas, who ran out of running room at the 26. First down. Tittle's next target was McElhenny, who tried to get out of bounds but was tackled inbounds at the 34. So

NY

used its last timeout. After Hugh took another swing pass for 11 to the 45, he struggled to get away from tacklers and return to the huddle. Atkins belted YAT as he threw a long incompletion to Morrison. Then Tittle tried to connect with old reliable Gifford on the sideline, but Frank caught the pigskin out of bounds. Time stopped at 0:32. Gif grabbed the next throw, was belted immediately by McRae, but broke away to the 40 with 17 seconds left. Another throw out of bounds to Gifford used up seven more ticks. So Tittle made one last desperate attempt to pull out the victory from the Bears 39. As Halas prayed on the sideline, YAT sent a big balloon floating all the way to the end zone. Waiting for it was Petitbon. When the ball fell into Richie's hands for Chicago's fifth interception of the afternoon, Tittle flung his helmet down, exposing his bald pate, not once but three times, kicked the dirt, and walked off. Playing with yards of tape around his twisted left knee, Y. A. had completed only 8-of-21 during the second half with four interceptions.
Wade sneaked away the final two seconds as pandemonium broke loose.
FINAL: CHICAGO 14

NEW YORK

10

Halas shouted in triumph as he raised his hands in the air in the touchdown signal before assistant coach Phil Handler embraced him in - what else? - a bear hug.
Jack Brickhouse reported to the TV audience: Down on the field, the Bears are all around their coach, George Halas, congratulating him.
O'Bradovich tossed his helmet into the left-field bleachers. The fan who caught it returned it 20 years later. Ed proudly displayed his championship "hat" in his den.
For the second year in a row, the Sport Magazine MVP award, a Corvette sports car, went to a defensive player - Larry Morris.
Final statistics:
First downs: Bears 14

Giants

17
Rushing: Bears 31-93

Giants

38-128
Passing: Bears 28-10-0-129

Giants

30-11-5-140
Return yardage: Bears 11-147

Giants

6-118
Fumbles-Lost: Bears 3-2

Giants

2-1
Penalties: Bears 5-35

Giants

3-25
Punting average: Bears 7-41.0

Giants

4-43.3
Postgame
Chicago Locker Room
When Halas joined his team in the dressing room, he found everyone tense. He raised his right fist high an shouted, "Go!" His boys broke loose. Someone lit a cigar, but Halas admonished him to put it out. No smoking in the clubhouse. The Bears gave the game ball to George Allen. Halas personally led the cheers for the franchise's first championship since 1946. Ditka ran around inviting everyone to his spacious bowling alley-restaurant. Everything, and I mean everything, is on the house. Mike grabbed Halas's hand and said You did it for us, coach.
As George Connor interviewed Halas, his former coach, live on NBC television, the Bears sang a ditty that caused stations to cut away from the game. Hooray for George! Hooray, at last! Hooray, for George! He's a horse's ass! The name of the honoree would change from game to game.
Halas called the victory, his sixth in a championship game, my biggest personal satisfaction. This was great, just great. I would have to rank this up with the 73-0 win over the

Redskins

. ... We started the season with the No. 1 defense, and we ended it with the No. 1 defense. ... Like mountain climbing, the guy who reaches the top is the one who persists, the guy who stays with it. If there was any award to be given out, it should be to the team, the way they came back in the second half from the misfortunes and disappointments. Papa Bear responded to a question about whether he would retire this way: I may have something to say about that after the Pro Bowl, but with us playing the College All-Stars next year in Chicago, I might have to come back for that. Besides, where is a 68-year-old man going to find another job anyway?
Standing with the game ball, Allen explained his defense's approach. We had to destroy Tittle's accuracy as best we could, then leave it to the sescondary to pick off the passes that went astray. Five interceptions today, that makes 41 for the year. That's a remarkable accomplishment.
Larry Morris: When I came out of the game, George Halas hugged me. One of our assistant coaches came up to me afterwards and said, "Larry, you're the first player I have ever seen Coach Halas hug." Before the game, Fred Williams, Bill George, and I had a pool where we said if any of us should win the MVP, we would share the award. When I won the car, I had to give Fred and Bill a thousand dollars each.
Joe Fortunato: We had a pretty good tendency chart on the

Giants

. We followed that chart. They did just about what George Allen had predicted they would do, based on their past tendencies. What I'm saying is they would do certain things in certain situations. We just followed that all the way through the game. A good example was O'Bradovich's interception. We called it in our huddle.

Ditka recalled: I thought we played the game awfully close to the vest offensively; we didn't really open it up at all. We just did the things we always did, and our defense just hung in there and fought with them.
Sherman offered no alibis after losing the title game for the third straight year. The Bears played a good game. I can't say enough for my boys and anybody who says Tittle can't win the big ones just doesn't know football. He's played and won more big games in the last three years than anyone. And he went out and played the second half today when very few men would have played. ... He was great on one leg. All you writers who have said Y.A. never wins the big games don't understand football and don't understand this great athlete, who is the only man around who would have played in the second half with a leg like that. ... The way things were going, this team could have broken down between the halves, but they went out and played themselves a hell of a game.
Tittle had hidden his face beneath the hood of his

Giants

cloak as he ran through booing Bear fans into the dressing room because he didn't want them to see him crying. Now he sat on a table, holding onto his left leg which had a torn ligament. He touched gently at the ugly swelling on the left side of his knee. McElhenny, a cigarette in his lips, came up and put his hands on either side of Tittle's shoulders. Y.A.'s longtime teammate with the

49ers

didn't say a word.
Finally, the

Giants

QB commented on his second half performance: I just couldn't get back fast enough to get set. ... The Bears had a real good pass rush, but the problem was I just couldn't run.

Tittle on his state of mind when the game ended: I never felt lower than I did at that moment. No defeat had ever been as hard to take. In the dressing room I eased my aching body on to a stool and cried. Gifford's locker was next to mine and he, too, was wiping away the tears.
Sherman walked over to both Frank and me. He put his arm on my shoulder and whispered, "Y.A., you're still the greatest. We had them today. You had them. It's not your fault. I know how much you wanted this one. I wanted it, too, but there will be other chances for both you and me."
He then put his hand on Gifford's shoulder and whispered something to him. Frank was still leaning aainst the locker with his face to the wall. His body was shaking, and I knew he was terribly upset.

G Jack Stroud on his QB: It took a heck of a man to do what he did today. He couldn't run. That's why he wasn't up to par. It threw his passing off. Usually he does not need much time. He throws quickly but with a bad leg he had to take longer. It took him longer to get in the drop back position.
Sam Huff: Fourtenn points and they win a championship.
Del Shofner was almost in shock. Never before had he gone through an NFL game without catching at least one pass. I don't know why. The field was okay. The pass that I dropped in the end zone was miserable, just plain miserable.

Erich Barnes recalled: The Bears couldn't move on us, and we couldn't move on them. When Tittle got hurt, we should have called three running plays and punted when we were in the lead. That was a funny game because I was playing against my former team, guys I liked and respected. ... we felt we were head-and-shoulders better on offense than the Bears. Now the defense we felt was a standoff, because we were both good.
Aftermath
500 loudly cheering fans greeted the

Giants

upon their arrival at recently renamed John F. Kennedy Airport.
The fans lined both sides of the corridor at the airport terminal. They bore signs that said, "Welcome

Giants

, First in the Hearts of New York Fans" and "Y. A. Tittle. Please Come Back for Another Season."
Mayor Daley arranged a special meeting of the city council to honor the Bears. A band played, and the fire department glee club sang. The Mayor gave the team a 4'-high trophy dedicated to John F. Kennedy, who had been assassinated a little over a month earlier. Daley proclaimed, The Bears are the greatest football players in the world.
1963 NFL Championship Game participants in the Pro Football Hall of Fame.
Bears
:
Doug Atkins
,
Mike Ditka
,
Bill George
,
Stan Jones
, owner/coach
George Halas
Giants
:
Roosevelt Brown
,
Sam Huff
,
Andy Robustelli
,
Y.A. Tittle
, owner
Wellington Mara
The gross receipts totaled $1,426,000.
The players' pool came to $393,400.
The Bears got $5,900 apiece.
Each

Giant

earned $4,218.
References:

Nothing Comes Easy: My Life in Football

,

Y.A. Tittle

with

Kristine Setting Clark '63: The Story of the 1963 World Champion Chicago Bears

,

Gary Youmans

and

Maury Youmans

(2004)


The Football Game I'll Never Forget: 100 NFL Stars' Stories

, selected by

Chris McDonell

(2004)

Papa Bear: The Life and Legacy of George Halas

,

Jeff Davis

(2005)

Bears in Their Own Words

,

Richard Whittingham

(1991)

Top of Page

<! END OF COLUMN ONE>