This series covers the history of the NFL through the prism of its yearly championship games.
Note: The gray boxes contain asides that provide interesting material but could be skipped
without losing the continuity of the article.

Carroll Rosenbloom


Weeb Ewbank


Jim Lee Howell


Pat Summerall


Tom Landry


Johnny Unitas


Raymond Berry


Alan Ameche


Lenny Moore


Sam Huff


Vince Lombardi

A new champion emerged in the Western Conference.

The NFL gave the city of Baltimore a second chance in 1953 after the

Dallas Texans

bombed in their only season the previous year.
The

Colts

had been a charter member of the All-America Football Conference and one of the three AAFC franchises merged into the NFL in 1950.
But the ownership threw in the towel after two NFL seasons and returned the franchise to the league, which awarded it to Dallas.
The new Baltimore owner, Carroll Rosenbloom, kept the "Colts" nickname. However, as an expansion team stocked by the league's rejects, the club struggled to become competitive. They went 3-9 in 1953 and 1954.
Under new coach Wilbur "Weeb" Ewbank, Baltimore started to improve in 1955, achieving a 5-6-1 record followed by a 5-7 mark.
Stockpiling talent, Ewbank produced a 7-5 record in '57, just one game behind the

Lions

and

49ers

. Fans began flocking to Memorial Stadium to watch the city's only major league professional team.
Finally, the 9-3 Colts made it to the top in 1958, one game ahead of the

Rams

and

Bears

.

As happened in the West the year before, the 1957 East race required a playoff to determine the winner.

The

New York Giants

, just two years removed from the NFL championship, lost two of their first four to fall behind the fast-starting

Cleveland Browns

.
After the

Giants

handed the

Browns

their first loss on November 2, the New Yorkers defeated the Colts at home 24-21, Baltimore's first loss after six wins.

The loss to the

Giants

stuck in the

Colts

' craw. DT

Art Donovan

recalled:

In the last minute of the game as the

Giants

let the clock run out, they were standing across the line of scrimmage, laughing at us. I said, "You rotten bastards," and I picked up some stones on the field and started throwing them at them. Man, I wanted another shot at them."

DE

Gino Marchetti

:

The

Giants

were cocky. I remember reading that Charlie Conerly had said after our first game that the

Giants

"out gutted" us. That article was on our bulletin board weeks before the championship game.

Then an upset loss to the

Steelers

two weeks later put The Big Apple team under the gun. They could not afford another loss if they were to stay one game behind

Cleveland

heading into the regular season finale December 14 against the

Browns

in NYC.
Jim Lee Howell's club did what they had to do, sweeping the three games to put themselves in position to gain a tie.
Pat Summerall launched one of the most famous kicks in NFL history, a 49y field goal in the snow and wind with 2:40 on the clock to defeat the

Browns

13-10.
That led to a rematch the next week in Yankee Stadium in even colder weather but without the snow. The "11 Hangmen" of Tom Landry's defense held Jim Brown to a measly 8y in seven carries, pitching a shutout to take the East crown 10-0.

Pat Summerall kicks winning FG against

Cleveland

.

Colts coach Weeb Ewbank learned organization and talent assessment from Cleveland's Paul Brown.

Weeb first worked under Brown, his college classmate, at the Great Lakes Naval Station in 1943. After the war, Ewbank became the line coach for the

Cleveland Browns

in 1949, a position he held until he took the Colts job in 1954.
Like Paul, Ewbank demanded perfection in practices. But he threw in an occasional trick play to break the boredom.
Players worked hard for Weeb, particularly QB Johnny Unitas and E Raymond Berry, who ran pass patterns long after practice ended. Unitas was in the midst of a streak of 25 consecutive games with at least one TD pass, an NFL that would continue through Game 46.

Unitas

had gotten a tryout with the

Colts

in February 1956 while working as a construction worker ($125/week counting overtime) and playing for a semipro team in the Pittsburgh area ($15/game).

John

had quarterbacked

Louisville

before being cut by his hometown

Steelers

.

Watching

Unitas

for two hours,

Ewbank

liked the way the kid dropped back to pass, his ability to look at one receiver and throw to another, how quickly and accurately he delivered the ball to the destination, and his command of the huddle.

So the legend was born that the

Colts

had found their QB for the princely sum of 80 cents, the cost of a phone call from Baltimore to Pittsburgh.

Described as "pencil-legged" and "ungainly,"

Unitas

had large hands and quickly gained a reputation for toughness. He would wait until the last second for a receiver to come open, with the result that he was often drilled by a rusher just after he released the ball.

Unitas

learned

Berry

's timing to the point that the QB threw the ball

as

the receiver made his cut, not

after

he made the move.

Unlike his mentor, who invited the "messenger guard" system with the

Browns

, Ewbank allowed his QB to call his own plays.

Unitas: Our coach never called the plays. He turned the game plan over to me. The guys up in the press box, they would ask me, "What do you want to know?" I said, "If you can find any kind of a tendency on them as far as their rushing linebackers, let me know. Otherwise, just sit there and enjoy the game." Once in a while, Weeb would send things in to me like, "Tell John to make the first down," or "Tell John we gotta score a touchdown here," but that was fine with me. The decision was mine.

Third-year HB Lenny Moore enhanced both the ground and aerial attacks, as evidenced by his 598y rushing and 938y receiving during the '58 campaign. The Penn State product joined Unitas and Berry on the All-Pro squad.

Berry insisted that Moore join him and Johnny in the after-practice practices so that Unitas could "time up" with Lenny as he did with Raymond.

225-lb FB Alan Ameche led the team in rushing with 791y. The Heisman Trophy winner from Wisconsin provided the power to complement Moore's finesse.

For some reason, Ewbank never liked Ameche. He felt Alan had been "spoiled" in college. Gino Marchetti: Alan worked hard, he played hard, he was a good blocker. He did everything that was asked of him, but Weeb would never give the guy a break. The only thing I can think of is one thing. Alan had a habit of always being barely late for everything ... meetings, practice, pregame meals. Things like that really bothered Weeb. Raymond Berry: Alan came in here as Heisman Trophy winner, and he had a personality that was very extroverted, and he had a tremendous sense of humor and laughed a lot. I think maybe Weeb took that as not caring or being too lackadaisical, but that just wasn't the case. ... I'm sure Alan got a good bonus for signing a contract, and Weeb probably didn't like that either. I think Weeb thought Alan was paid too much, and he had too much hype and reputation. Ameche retired from football after a relatively brief six-year career, in part because Ewbank made it clear he didn't want Alan back after the FB rehabbed an Achilles tendon injury.

The Colts led the NFL in both yardage (4,539) and points (381, the most by an NFL team in seven years).
The defense ranked second to the

Bears

in yards allowed (3,284) and trailed only the

Giants

in points against (203).
The undisputed leader of the defense was E Gino Marchetti, a 31-year-old, seven-year veteran. Baltimore boasted the stingiest run defense in the NFL (1,291y).

Teammates admired

Marchetti

not only for his rugged play in the trenches but also because of his background. Son of Italian immigrants,

Gino

fought in the Battle of the Bulge in World War II and was a member of the division that was the first to make contact with Soviet troops in Germany.

Marchetti

didn't play college football until after the war. He was a member of the

undefeated (and last) San Francisco Dons team of 1951

.

So the championship game would match the irresistible force of the Colts offense, #1 in points scored, against the immovable object - the Giants defense that had allowed the fewest points in the league.

The

New York

platoon centered around MLB Sam Huff, Landry's "coach on the field." Joining the All-Pro from West Virginia were Harland Svare and Bill Svoboda.
An excellent defense requires a solid front four, and the

Giants

enjoyed that in the persons of DEs Andy Robustelli (an All-Pro) and Jim Katcavage and DTs Roosevelt Grier and Dick Modzelewski.
The "umbrella" secondary consisted of CBs Carl Karilivacz (fresh from the

Lions

' 1957 champions) and Lindon Crow and safeties Emlen Tunnell, an 11-year veteran, and Jimmy Patton.
Wizened veteran Charlie Conerly led Vince Lombardi's ball-control offense, which ran for more yards than it gained through the air (1725 to 1605). Conerly could hand the ball to HBs Frank Gifford and Alex Webster or FB Mel Triplett.
Gifford led the team in both rushing yardage and pass receptions, although E Bob Schnelker took top honors in receiving yardage with 460.
The

Giants

' three losses came in games in which they surrendered 27, 23, and 31 points. Every time they held the opposition below 22 points, they put a "W" on the board.
Ewbank praised his title game opponent. They're a great team. I've never seen a team with as much desire. We'll have to play our best game of the year to win.

You would think

New York

would ride momentum into the championship game after winning five straight do-or-die games.

But the extra game left the

Giants

, particularly the defense, bruised and battered. Rosey Grier hurt his knee in the playoff game against

Cleveland

and would not last until halftime against the Colts.
The less experienced but younger team, the Colts, not only had a week to rest and prepare for Baltimore's first championship game but also had clinched the West Division title two weeks earlier. With nothing at stake, they had lost both games on their season-ending West Coast trip - to the

Los Angeles Rams

30-28 and to the

San Francisco 49ers

21-12.
The oddsmakers, apparently not impressed that the

Giants

won their last five games while the Colts came in with a two-game losing streak and lost to

New York

in the regular season, established Baltimore as a 3.5-point favorite.

A larger than usual contingent of visiting team fans was expected for the game at Yankee Stadium.

Over 20,000 Colts fans drove and rode special trains and busses up the coast to cheer on their heroes.

Owner Carrol Rosenbloom enticed Baltimore followers to make the trip to the Big Apple by offering to pay half the train fare for each individual.

Baltimore had already established a reputation for the college-like atmosphere at Colts games with a 125-piece band, cheerleaders, a horse mascot, and colored hats and banners.

The horse didn't make the trip to New York. He was replaced by two men in a silly costume.

The

Giants

allowed the Colts' band to march on the field before the kickoff and join a local high school band for the National Anthem.

The game would be televised coast-to-coast on NBC starting at 2 PM EST.

The

Giants

' TV announcer, Chris Schenkel, along with Chuck Thompson of the Colts would man the mikes.
The $200,000 TV fee would add to the amount the players of the contending team would split.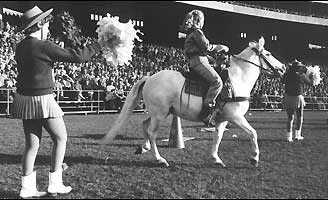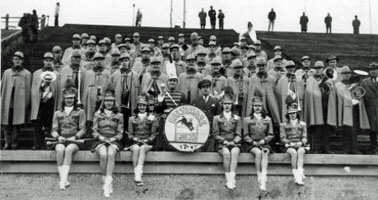 Colts cheerleaders, mascot, and band

1958 Baltimore Colts

| | | | | | | |
| --- | --- | --- | --- | --- | --- | --- |
| # | Player | Pos. | Hgt. | Wgt. | College | Exp. |
| 14 | George Shaw | QB | 6-1 | 183 | Oregon | 4 |
| 17 | Ray Brown | P | 6-2 | 195 | Mississippi | 1 |
| 19 | Johnny Unitas | QB | 6-1 | 195 | Louisville | 3 |
| 20 | Milt Davis | DB | 6-1 | 190 | ULCA | 2 |
| 21 | Art DeCarlo | DB | 6-2 | 195 | Georgia | 6 |
| 23 | Carl Taseff | DB | 5-11 | 190 | John Carroll | 8 |
| 24 | Lenny Moore | HB | 6-1 | 190 | Penn State | 3 |
| 25 | Jack Call | HB | 6-1 | 200 | Colgate | 2 |
| 26 | Lenny Lyles | KR | 6-2 | 200 | Louisville | 1 |
| 31 | Billy Pricer | FB | 5-10 | 210 | Oklahoma | 2 |
| 35 | Alan Ameche | FB | 6-0 | 220 | Wisconsin | 4 |
| 36 | Bill Pellington | LB | 6-2 | 235 | Rutgers | 6 |
| 41 | Jackie Simpson | DB | 5-10 | 185 | Florida | 1 |
| 44 | Bert Rechicar | K-TE | 6-1 | 210 | Tennessee | 7 |
| 45 | L. G. Dupre | HB | 6-11 | 190 | Baylor | 4 |
| 47 | Johnny Sample | DB | 6-1 | 205 | Maryland Eastern Shore | 1 |
| 50 | Buzz Nutter | C | 6-4 | 230 | Virginia Tech | 5 |
| 52 | Dick Szymanski | C-LB | 6-3 | 235 | Notre Dame | 4 |
| 55 | Leo Sanford | LB | 6-1 | 225 | Louisiana Tech | 8 |
| 60 | George Preas | T | 6-2 | 245 | Virginia Tech | 4 |
| 63 | Art Spinney | G | 6-0 | 230 | Boston College | 9 |
| 65 | Steve Myhra | K-LB | 6-1 | 235 | Minnesota/North Dakota | 2 |
| 66 | Don Shinnick | LB | 6-0 | 230 | UCLA | 2 |
| 68 | Alex Sandusky | G | 6-1 | 235 | Clarion | 5 |
| 70 | Art Donovan | DT | 6-2 | 260 | Notre Dame/Boston Coll. | 9 |
| 76 | Gene Lipscomb | DT | 6-6 | 285 | None | 6 |
| 77 | Jim Parker | T | 6-3 | 275 | Ohio State | 2 |
| 78 | Ray Krouse | DT | 6-3 | 265 | Maryland | 8 |
| 79 | Sherman Plunkett | T | 6-4 | 290 | Maryland Eastern Shore | 1 |
| 80 | Andy Nelson | DB | 6-1 | 180 | Memphis State | 2 |
| 81 | Ordell Braase | DE | 6-4 | 245 | South Dakota | 2 |
| 82 | Raymond Berry | E | 6-2 | 185 | SMU | 4 |
| 83 | Don Joyce | DE | 6-3 | 255 | Tulane | 8 |
| 84 | Jim Mutscheller | E | 6-1 | 205 | Notre Dame | 5 |
| 89 | Gino Marchetti | DE | 6-4 | 245 | San Francisco | 7 |

1958 New York Giants

| | | | | | | |
| --- | --- | --- | --- | --- | --- | --- |
| # | Player | Pos. | Hgt. | Wgt. | College | Exp. |
| 11 | Don Heinrich | QB | 6-0 | 180 | Washington | 5 |
| 13 | Don Maynard | PR | 6-0 | 180 | Texas El Paso | 1 |
| 16 | Frank Gifford | HB | 6-1 | 195 | USC | 7 |
| 20 | Jimmy Patton | DB | 5-11 | 185 | Mississippi | 4 |
| 21 | Carl Karilivacz | DB | 6-0 | 190 | Syracuse | 6 |
| 22 | Billy Lott | FB | 6-0 | 205 | Mississippi | 1 |
| 24 | Phil King | KR | 6-4 | 225 | Vanderbilt | 1 |
| 29 | Alex Webster | HB | 6-3 | 225 | North Carolina State | 4 |
| 30 | Bill Svoboda | LB | 6-0 | 210 | Tulane | 9 |
| 33 | Mel Triplett | FB | 6-1 | 215 | Toledo | 4 |
| 34 | Don Chandler | P | 6-2 | 215 | Florida | 3 |
| 41 | Lindon Crow | DB | 6-1 | 195 | USC | 4 |
| 42 | Charlie Conerly | QB | 6-1 | 185 | Mississippi | 11 |
| 44 | Kyle Rote | HB | 6-0 | 200 | SMU | 8 |
| 45 | Emlen Tunnell | DB | 6-1 | 185 | Toledo/Iowa | 11 |
| 48 | Ed Hughes | DB | 6-1 | 185 | Tulsa | 5 |
| 55 | Ray Wietecha | C | 6-1 | 225 | Northwestern | 6 |
| 60 | Melwood Guy | T-G | 6-3 | 250 | Duke | 1 |
| 62 | Bob Mischak | G | 6-0 | 235 | Army | 1 |
| 66 | Jack Stroud | T-G | 6-1 | 235 | Tennessee | 6 |
| 68 | Al Barry | G | 6-2 | 240 | USC | 5 |
| 70 | Sam Huff | LB | 6-1 | 230 | West Virginia | 3 |
| 71 | M. L. Brackett | DE-DT | 6-5 | 250 | Auburn | 3 |
| 72 | Frank Youso | T | 6-4 | 255 | Minnesota | 1 |
| 75 | Jim Katcavage | DE | 6-3 | 235 | Dayton | 3 |
| 76 | Roosevelt Grier | DT | 6-5 | 285 | Penn State | 4 |
| 77 | Dick Modzelewski | DT | 6-0 | 250 | Maryland | 6 |
| 79 | Roosevelt Brown | T | 6-3 | 255 | Morgan State | 6 |
| 80 | Ken MacAfee | E | 6-2 | 210 | Alabama | 5 |
| 81 | Andy Robustelli | DE | 6-1 | 230 | Arnold | 8 |
| 84 | Harland Svare | LB | 6-0 | 215 | Washington State | 6 |
| 85 | Bob Schnelker | E | 6-3 | 215 | Bowling Green | 6 |
| 88 | Pat Summerall | K | 6-4 | 230 | Arkansas | 7 |
| 89 | Cliff Livington | DE | 6-3 | 220 | UCLA | 5 |

Charlie Conerly

Don Heinrich

Bert Rechichar

Don Maynard

Alex Webster

Svoboda tackles Ameche.

Lindon Crow

L. G. Dupre

Ameche scores first TD.

Huff blocks Mhyra's FG try.=

Bill Pellington

Art Donovan

Jim Parker

Berry makes a diving catch.

Berry catches TD pass as Tunnell arrives too late.

Several hours before the game, Coach Ewbank plastered the visitors' locker room with signs saying "We outgutted them" in big black crayon letters.

Those were the words Conerly had used in the Yankee Stadium dressing room after the game to explain the

Giants

' 24-21 victory over Baltimore November 9. The Colts knew they had outgained

New York

despite Unitas missing the game with a broken rib and a punctured lung.
At about the same time, a lone Colt walked the field. Raymond Berry noticed a slippery spot near the

Giants

bench where some water had been dumped when the tarpaulin was removed. It was the only place on the field that wasn't dry and hard. So he decided to wear the special shoes the equipment manager had devised for him with two regular cleats in the front, two regular cleats in the heel, and two slightly longer mud cleats in between.

Berry was no physical specimen. He wore contact lenses during games, and one of his legs was slightly longer than the other, which required him to wear one built-up shoe at all times. He didn't like wearing the special mud cleats. They were uncomfortable, but I had a feeling.

Ewbank passed out maps to his players showing where all the soft spots were on the field. Not known for emotional speeches, Weeb gave one to his men before the game, reminding them of how they were unwanted by other teams.

Unitas,

Pittsburgh

didn't want you. We got you for a 75-cent phone call. Lipscomb, the

Rams

got rid of you. We got you for a hundred bucks. Berry? One leg shorter than the other, with bad eyesight to boot. ... So you should win this game for yourselves.

In the

Giants

dressing room, Coach Howell told QB Don Heinrich that he would start the game. Jim Lee liked to use the backup for the first few series to "feel out" the opposition so that Lombardi and Conerly could look over the defense from the sidelines. Then, with the help of the coaches in the press box, they could modify the game plan when Charlie entered the game. Heinrich and Conerly had split the twelve regular season starts 50-50.
The

Giants

spent a chunk of the morning deciding how to divvy up the playoff shares. Instead of galvanizing the team, the discussion detracted from their preparation.

Gifford and Huff nearly came to blows over the share for backup QB Jack Kemp, the future Congressman and vice-presidential candidate who served as emergency third QB but who never got into a game. Gifford argued for a full share while Huff, representing a defense that felt they carried the offense all year, favored a minimal payout.

After the frigid weather of early December in NYC , the NFL lucked out on championship day - temperature in the 40s and dry with little wind.

Still, the game was not a sellout with 6,979 empty seats. Since the game was not a sellout, NFL Commissioner Bert Bell refused to lift the blackout in a 75-mile radius of New York. If we ever start valueing the TV audience more than the paying public, we'll be in trouble, said Bert.
Part of the blame could be placed on a newspaper strike that had shut down the Big Apple dailies since December 12.
The game turned out to be a classic that far more than the 64,185 in attendance would claim to have seen in person.

Quarter 1
Both teams started shakily.
The

Giants

won the flip and elected to receive.
Bert Rechichar, formerly a starting LB for the Colts but now limited to kickoff duty, sent the ball into the EZ where rookie KR Don Maynard downed it.
Heinrich began with two passes. The first fell incomplete but the second went to Alex Webster for 7y. On the play, LLB Leo Sanford suffered a leg injury and had to be helped off the field.

The little noticed injury played a key role in the game. Berry recalled: Our FG kicker, Steve Myhra, was Sanford's backup. Steve had to play the whole game for Leo, and pretty much played the game of his life. But most importantly, I think, Myhra didn't have to stand around on the sidelines waiting for the big kick. He wasn't the greatest FG kicker in the world, you know. He couldn't think about that now. He was too busy playing football.

After the delay, Henrich threw another errant aerial, and Don Chandler punted to Carl Taseff, who made a fair catch at the Colt 30.
HB Lenny Moore tried a sweep but was thrown for a loss of 3. FB Alan Ameche got those yards back plus four more. Facing his first third down of the game, Unitas went back to pass. It was hard to tell if he ran a predetermined QB draw or (more likely) went forward to avoid the rush. But he was hit and fumbled forward. DB Jim Patton fell on the ball at the 37.
But on the second play, Heinrich lost control of the ball as he pulled away from C, and DE Gino Marchetti covered the pigskin on the Colt 45.

Marchetti admitted that he gained an edge on the blocker in front of him by anticipating the snap and beating it by a split second. I guess about ninety or eight-five percent of the time I played offside. I got into the neutral zone ... When asked why officials didn't penalize him, he replied: I got warned a lot. But they never threw a flag? No, because I'd get warned and I'd say, "Jesus, thanks a lot." Or after a play, I'd say, "How'd I look that time?" I tried to be nice. But I got as much as I could get. ... I wasn't way over ... but I was right on the border, just over the border.

Three snaps later, Unitas turned the ball over again, throwing a 3rd-and-5 pass into the hands of DB Lindon Crow at the

NY

45.
With Henrich still at the helm, the

Giants

could do nothing with the good field position. After two runs netted -1, Don hit FB Mel Triplett for 6. So Chandler punted, Taseff again signaling for a fair catch, this time at the 15.
Unitas finally got his offense in gear. He threw to Moore racing down the right sideline. Lenny outjumped Crow for the ball, then continued to the

NY

25 where Patton took him down from behind.

Moore rolled onto the ball when he was tackled. I thought I broke a rib. I came to Weeb at the sideline and said, "I can't turn. I can't bend. I can hardly breathe." He said, "Don't say anything. Don't tell anybody. Does John know?" "Hell, Weeb," I said. "John knows everything." "Well, tell him he's gonig to have to use you as a decoy." "He knows that."

After Ameche gained 5, HB L. G. "Long Gone" Dupre lost a yard and a 5y delay of game penalty made it 3rd-and-11. When Moore could gain only 2 on a flare pass to the right, Myhra, who made only 4 of 10 FGs during the season, missed a 31y FG. However, the

Giants

were offside. But Huff broke through and blocked the next try from the 26.
Conerly finally entered the fray for the

Giants

' fourth possession. On second down, Gifford broke loose around LE for 38y to the Colts 31 before LB Bill Pellington made the tackle around the ankles. But Art Donovan stopped Triplett after a gain of only 2 around LE. Two incompletions brought on Pat Summerall. The hero from two weeks earlier boomed a 36y FG.

Giants

3 Colts 0 (2:02 remaining in the period)
Lenny Lyles returned Chandler's kickoff 19y to the 21. Unitas hit Moore for 5, then Dupre gained 3. But Unitas's 3rd down pass went awry to bring on punter Ray Brown. Crow took in the kick at his 39 but lost 10y trying to get around the outside as the period ended.
END OF QUARTER 1:

Giants

3 Colts 0

Gifford

would recall the opening period as

the worst first quarter in the annals of championship football, before or since. Unitas

admitted later that the

Colts

were a "little intimidated" by the

Giants

and Yankee Stadium.

L: Marchetti blocks Heinrich's pass; R: Marchetti chases Triplett.

Moore takes handoff.

L: Ameche runs. R: Unitas shows how high he holds the ball when he throws.

Quarter 2
Conerly tossed to Gifford in the left flat. As Frank tried to break the tackle of Big Daddy Lipscomb, he lost the ball, which squirted forward. T Ray Krouse fell on it at the

NY

20.
The Colts turned the break into the go-ahead TD. Moore ran for 4, Ameche got 5 and then 1 at RT for a first down on the 10. Lenny took a handoff around LE. He juked past crashing CB Karl Karilivacz to avoid a loss, then broke loose until Patton pushed him out on the 2. Then Alan smashed through an opening behind LT Jim Parker into the EZ. Myhra kicked the point. Colts 7

Giants

3 (12:34)

Ameche scores Colts' first TD.

All-Pro DE Andy Robustelli was having no success against Parker. Huff recalled: Andy couldn't get around Parker; he couldn't come under him; he couldn't go over him. The immovable object, that's what Jim Parker was.
Robustelli: I used to think there wasn't a big tackle I couldn't outmaneuver. But Parker was too strong, too smart, too good. Robustelli would get to Unitas only once all afternoon.

Rechichar kicked short to T Roosevelt Brown, who lateralled back to Triplett, who ran to the 33. On second-and-9, Charlie connected with flanker Kyle Rote for 14 ot the 34. But Conerly was sacked for a loss of 9. A double reverse, Conerly to Gifford to Webster, gained 4. An incompletion on 3rd down brought on Chandler, who punted to Jackie Simpson. Instead of making a fair catch, the rookie from Florida fumbled when hit immediately by FB Billy Lott and G Buzz Guy, the latter recovering on the 10.
But the comedy of errors continued as Gifford lost the ball on the first play when hit by CB Milt Davis on a LE sweep. DE Don Joyce (one of two former Tulane players in the game along with

Giants

LB Bill Svoboda) jumped on the pigskin.

Rosey Grier

took himself out of the game, unable to challenge G

Art Spinney

on one leg. Unfortunately, the

Giants

, with only 15 of the 36-man roster specializing in defense, didn't have a backup DT. So OT

Fran Youso

replaced

Grier

the rest of the game. But

Youso

needed help on every play to know what to do.

Huff

patted him on the right cheek (not the one on his face) or the left to signal which way to go. No pat meant the play was coming straight at him.

In the groove now, Unitas led a 90y TD march. The key plays were a 10y pass to Ameche on 3rd-and-5, a Moore sweep for 10, a Unitas scramble to escape the rush for 16 on 3rd-and-7, and a 13y pass to Berry, who made a diving catch and slid out of bounds in front of Karilivacz at the 21. From there, Ameche gained 6. Then Unitas faked to Ameche, turned, and fired to Berry wide open in the EZ between S Emlen Tunnell and CB Jimmy Patton. Colts 14

Giants

3 (1:20)

Huff on his adversary: You couldn't outthink Unitas. When you thought run, he passed. When you thought pass, he ran. When you thought conventional, he was unconventional. When you thought unconventional, he was conventional. When you tried thinking in reverse, he double-reversed. It made me dizzy. It bothered me. We were one of the greatest defensive teams ever put together. ... But we didn't have a defense for Unitas.

New York

ran three plays after the kickoff before the gun sounded. The home team gained only 86y the first 30 minutes.
END OF THE HALF: Colts 14

Giants

3 at halftime.

L: Unitas passes as Spinney (63) walls off Modzelewski.

R: Ameche runs as Dupre blocks Karilivacz.
References:

NFL Top 40: The Greatest Pro Football Games of All Time

,

Shelby Strother

(1988)

When the Colts Belonged to Baltimore

,

William Gildea

(1994)

The Football Game I'll Never Forget; 100 NFL Stars' Stories

, Selected by

Chris McDonell

(2004)

Johnny U: The Life & Times of John Unitas, Tom Callahan

(2006)

100 Yards of Glory: The Greatest Moments in NFL History

,

Joe Garner

and

Bob Costas

(2011)

Lombardi and Landry: How Two of Pro Football's Greatest Coaches Launched
Their Legends and Changed the Game Forever

,

Ernie Palladino

(2011)

Alan Ameche: The Story of "The Horse," Dan Manoyan

(2012)

The Pro Football Hall of Fame 50th Anniversary Book: Where Greatness Lives

, ed.

Joe Horrigan

and

John Thorn

(2012)

Top of Page

<! END OF COLUMN ONE>