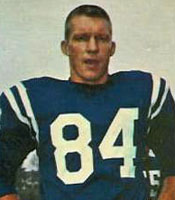 Jim Mutscheller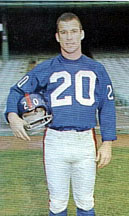 Jimmy Patton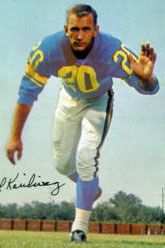 Karl Karilivacz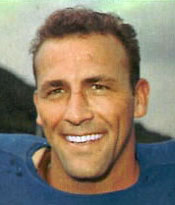 Cliff Livingston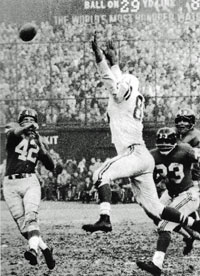 Conerly passes as Marchetti rushes.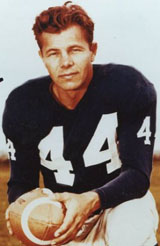 Kyle Rote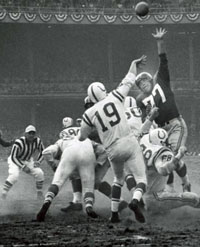 Unitas passes over Modzelewski.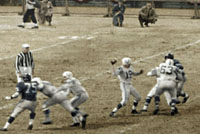 Unitas passes from pocket.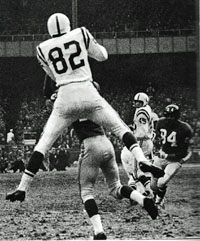 Berry makes one of his 12 receptions.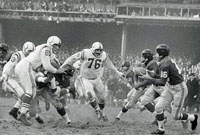 Big Daddy zeroes in on Gifford.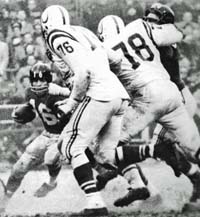 Lipscomb and Ray Krouse pursue Gifford.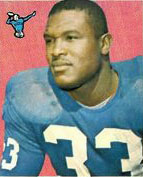 Mel Triplett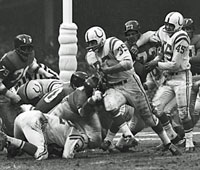 Giants converge on Ameche during goal-line stand.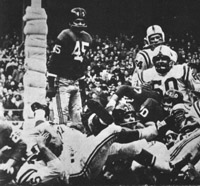 Giants stuff Ameche.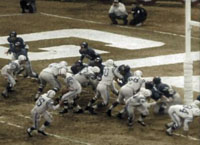 Unitas pitches to Ameche, who fails to pass on 4th down.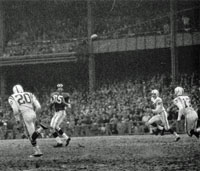 Schnelker catches 46y pass to set up Giants go-ahead TD.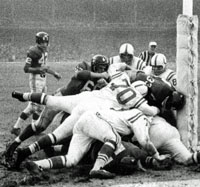 Triplett squeezes past goal post into end zone.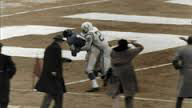 Davis fails to stop Gifford from scoring go-ahead TD.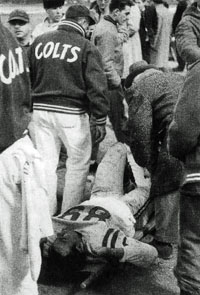 Marchetti put on stretcher.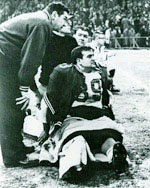 Marchetti watches from sidelines.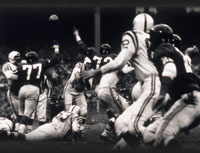 Unitas passes to Berry in front of Karilivacz.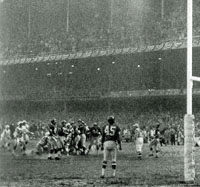 Myhra's tying field goal sails through the uprights.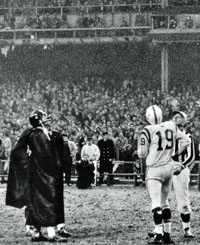 Unitas calls the OT coin toss.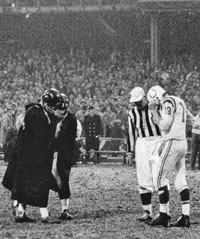 Giants win the flip.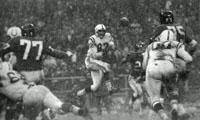 Berry catches in front of Karilivacz.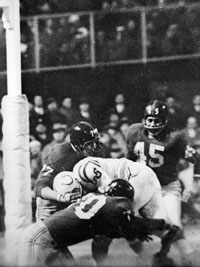 Ameche gains one.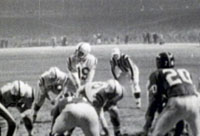 Unitas calls signals before final snap.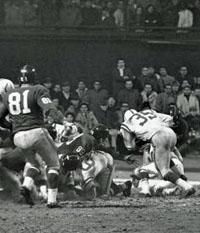 Ameche plunges for winning TD.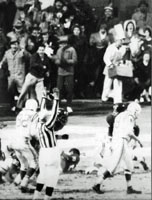 Unitas walks off with no show of emotion.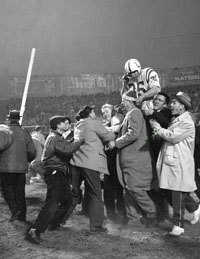 Ameche carried off as the goal posts come down.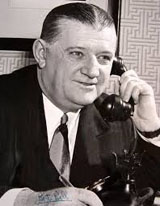 Bert Bell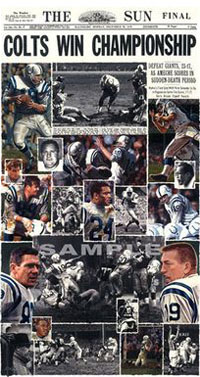 Baltimore Sun front page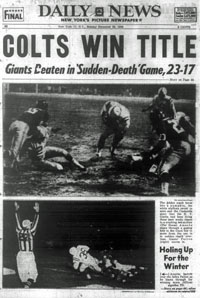 New York Daily News front page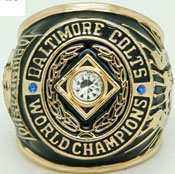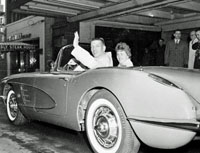 Mr. and Mrs. Unitas in their new Corvette.
The
Colts
led the
Giants
14-3 as the teams went to the dressing rooms.
As the Colts Marching Band and cheerleaders entertained the Yankee Stadium crowd, Ewbank told his men not to play conservatively the second half but to assume they were two touchdowns behind and go out and get at least two to tie.
Quarter 3
Lennie Lyles ran back Don Chandler's kickoff from the goal line to the 19. HB Lenny Moore gained five before Johnny Unitas got the first down at the 32 on a pass to TE Jim Mutscheller. Moore ran a reverse but lost 7. Then LE Raymond Berry ran a hook pattern. S Jimmy Patton tackled Ray at the 40 shortly after he caught the ball. Right after Ray hit the ground, MLB Sam Huff came running in and landed on him just inside the Colts sideline.

Sam's action drew no flag but did cause Colts coach Weeb Ewbank to take a swing at him! Weeb threw a left hook that got me right in the face mask. "What the hell's wrong with you, Weeb?" I said. "Are you losing it?" The coach said after the game that he was enraged because Huff kneed Berry after he was down. Huff should have been kicked out of the game!

An offside penalty turned 3rd-and-two into 3rd-and-seven. Unitas swung a pass to HB L. G. Dupre that gained only three. So Ray Brown kicked to Don Maynard, who ran it back 9y to the

Giants

21.
But the Colts continued their domination of the

NY

offense. On 4th-and-18, Chandler punted to Moore, who fair caught the ball on the Colt 41.
Unitas started with a toss down the middle to Mutscheller who caught the ball just before being undercut by Patton on the

NY

27, a gain of 32y.

When Jim went to the sideline to catch his breath, Bert Rechichar, determined to play some role other than kicker, hurried into the huddle at tight end. I see you made it, Bert, said Unitas. For Christ's sake, hurry up, the sub replied, before Weeb sees me!

On 3rd-and-nine, Unitas connected with Berry on another hook for 11 to the 15 as CB Carl Karilivacz and Huff converged on him. Next, U hit Moore on a slant-in for 12. With 1st-and-goal from the three, the Colts had a chance to salt the game away, given how well the defense was handling the

Giants

. But defensive coach Tom Landry's proud warriors drew a line in the dust aided by the slippery turf at that end of the field and a miscommunication in the Colts huddle.
1st down: FB Alan Ameche slants left looking for an opening for 2y to put the ball just a yard from the stripe.
2nd down: Unitas sneaks over left guard but is pushed back short of the goal line.
3rd down: Ameche plunges into left tackle but is piled up for no gain.
Ewbank made no move to send in the field goal team.
4th down: Ameche sweeps right but loses four.

On 4th down,

Unitas

called the play "428," a RHB pass, a play he knew the

Giants

wouldn't expect. But

Ameche

didn't catch the "4," the digit that made it a pass.

We hadn't run the thing for years

,

Alan

explained.

I thought it was just a straight pitchout. Mutscheller didn't block Cliff Livingston at all, so he had me before I took two steps. I blew it. Jim was wide open in the end zone. Mutscheller

:

I'm standing there by myself. Alan couldn't throw at all, you know; he threw like a girl. But even Alan could have completed that one. Ewbank

expressed no regret about going for it instead of kicking a field goal.

A touchdown would have killed them. If we'd scored there, they would have been buried.

The goal-line stand energized the

Giants

who quickly got back in the game thanks to a weird play.
On 3rd-and-2 from the 13, QB Charlie Conerly faked a pitch to HB Frank Gifford and, under a heavy rush from DE Gino Marchetti, passed to flanker Kyle Rote who caught it in stride going down the middle. Kyle eluded two tacklers before being caught from behind by DB Andy Nelson, then Brown, at the Colts 35, causing a fumble. Before those three could get to their feet, HB Alex Webster, trailing the play, picked up the loose ball and continued to the 1, where DB Carl Taseff brought him down. In just three snaps, the field had tilted 98y in favor of the home team!

A heavy smoker who sneaked puffs on the sideline, Webster admitted he was completely out of gas at the end of the 86y play.
Rote: I didn't really fumble. The guy pulled the ball away. But there it was on the goddamn ground, and I just went numb. You know what? Thank God for Alex Webster.

Given a chance to score the TD after his heads-up play, Webster gained nothing. Then FB Mel Triplett banged over just to the right of the goal post. Summerall kicked his first PAT of the day. Colts 14

Giants

10
Continuing their momentum, the

G-men

sacked Unitas for a loss of seven to force a three-and-out.
Starting the next possession from their 19, the

Giants

began moving again. Webster ran for three, then E Bob Schnelker snagged his first pass of the afternoon for 17 down the seam.
END OF QUARTER 3: Colts 14

Giants

10.

Preas (60) protects Unitas.
Quarter 4
On 1st-and-10 from his 39, The Marlboro Man (AKA Charlie Conerly) faked handoffs to two men before throwing to Schnelker, this time for 46 to the 15. Nelson made the tackle. From there, Conerly went back to past, slipped momentarily, but gathered himself and threw to Gifford on the left sideline at the six. DB Milt Davis met the ball carrier at the two, but Frank pushed into the end zone.

Giants

17 Colts 14 (14:07)

On the TD play, Conerly took advantage of something revealed in the Polaroid photos that owner Wellington Mara took from the press box during the first half. The Colts secondary shifted to the strong side. So Charlie threw to Gifford on the weak side.

Unitas started strong to answer back. He hit Moore for 11 and Berry for 13. On 3rd-and-nine, Crow was called for interference on Mutscheller at the

NY

38. But the Colts could not take advantage of the gift as Ameche lost a yard and two incompletions made it 4th down. So Rechichar, the long-distance kicker, tried a 46y field goal. But the boot fell just short.
On the second snap, Conerly connected with TE Ken MacAfee for 15 to the 39. Three runs - Gifford two, Triplett seven, and Frank again for again - gained another first down on the Colt 46. But the

Giants

lost a chance to run more time off the clock and possibly extend the three-point lead when HB Phil King fumbled backward when hit by DT Big Daddy Lipscomb right after taking the handoff. DT Ray Krouse covered the ball on the

NY

42.


G

Al Barry

, the man primarily responsible for blocking

Lipscomb

, limped badly from a smashed toe he'd sustained against the

Browns

the previous week.

Barry

:

Big Daddy heard about it, and before the game, he was real friendly and he seemed real concerned as he asked which foot was bothering me. Like an idiot, I told him. He must have mashed my bad toe five or six times during the game.

Unitas went long to Moore who caught the ball just out of bounds at the goal line. It was the Colts' first long strike since the 60-yarder to Lenny in the first quarter. After another misconnection, Unitas went back to Berry for 11 to move the chains to the 31. But successive sacks by DE Andy Robustelli and DT Dick Modzelewski set the Colts back 19 and forced a punt.

With time running down, sportswriters and broadcasters voted for the MVP award. Charlie Conerly won the balloting based on his 10-of-14 performance for 187y and a TD. The announcement would be made at the end of the game.

The

Giants

gained a first down when Conerly passed to Webster on the right sideline for 10 to the 24. After two runs right at Marchetti,

New York

faced 3rd-and-four at their 40. Next came a play that is discussed to this day. Gifford took a handoff and started right behind two pulling guards. Marchetti slipped Schnelker's block and tackled Frank near the 44 just before Lipscomb came barreling in. Everyone in the pile got up except Gino who stayed prone with what turned out to be a broken right ankle.

Marchetti: I was able to slip my blocker and get out into the flow. Gifford ran right and I tackled him. To make sure Frank didn't go any further, Big Daddy hit the whole pile. He just wasn't going to let anybody or anything get to the 44y line. Daddy, not Gifford, was the one who broke my ankle.
It was a good thing Gino's father wasn't watching the telecast. Worried that Gino would get hurt, Mr. Marchetti never watched his son play, in person or on television.

After a few minutes, Marchetti was carried off on a wheeless stretcher. Then the officials measured for the first down and found the ball a foot short.

Gifford

:

A runner knows when he makes a first down. It was close, but there's never been any doubt in my mind that I made that one. In all the confusion around Gino's injury, the refs blew the spot. Then, even though we only had about a foot to go for the first down, I think the decision to punt was the right one.


With the injured

Colt

lying right where the play ended, referee

Ron Gibbs

picked up the ball and held it until

Marchetti

was carted off. When he put the ball back down, he put it near his back foot instead of his front foot.

For the 2008 program "The Greatest Game Ever Played," ESPN hired an analyst to study the available footage of the play and use 21st-century computer techniques to determine whether Gifford made the first down based on where he landed when tackled. Conclusion: He was short by nine inches.

Marchetti

told his stretcher bearers to put him down just outside the sideline so he could watch the rest of the game.

After all those years when we were so bad, I wanted at least to see the finish.

Vince Lombardi urged head coach Jim Lee Howell to go for it and Landry agreed, but the head coach elected to punt.

The

Giants

players wanted to run the ball at

Ordell Brase

,

Marchetti

's replacement. G

Jack Stroud

:

We only need four inches. We would have run through a brick wall at that point.

Taseff made a fair catch on the 14 with 2:20 on the clock.

Berry recalled: I said to myself, "Well, we've blown this ballgame." The goalpost looked a million miles away.

Thus began what is arguably the most famous drive in NFL history, one that even young fans have heard about.
Play 1: Calling two plays at a time, Unitas passes incomplete to Mutscheller, who was double covered as he ran down the hash marks. Two minute warning.
Play 2: Incompletion on an underthrown pass to Dupre.
Play 3: Unitas finds Moore, who went down 12y and turned back, for a first down at the 25.
Play 4: Another underthrown pass to Dupre.
Play 5: Unitas to Berry on a slant-in, and Ray runs through several arm tackles for 25y to the 50. Timeout with 1:05 showing.

Early in their relentless practice sessions, Unitas asked Berry what he would do if a linebacker moved out to cover the L-pattern or square-in. Raymond replied, I guess I'd give him an outside fake like this, try to make him come after me, then jump underneath him like this. Neither mentioned the strategy again until the Colts broke the huddle on Play 5 of the drive, and Harland Svare moved in front of Berry. Ray glanced at Unitas, who smiled. John had called a ten-yard square-in for me. I went to the line, and there was Svare. I'll never forget the look John gave me, the look that we gave each other. I made that fake I had described to Unitas two years earlier, and Svare came right after me. I jumped underneath him, and John zipped it on a perfect line about seven yards down the field. I ran for the rest of the first down.

During the timeout, Landry takes the double team off Moore and puts it on Berry.
Play 6: Knowing the defense was expecting sideline passes that would allow the receiver to step out and stop the clock, what Landry called "prevent mode," Unitas fakes a pitchout and hits Berry over the middle again for 15 to the

NY

35. Baltimore took its last timeout with 0:43 left.

Huff: Unitas threw that ball right by my ear. I was in the right place, but I couldn't get my arm up in time. It whooshed past the ear hole of my helmet. I go to bed every night hearing, "Unitas to Berry," "Unitas to Berry," said Sam, imitating famed PA announcer Bob Sheppard. His voice echoed in my head.

Play 7: Unitas to Berry who bends down like an infielder to take the low throw inches off the ground, turns, breaks a tackle, and runs for 22y to the 13.

Berry

:

There was just enough time for the kicking team to come on and tie it. ... Decades later, I asked John, "Why, all of a sudden, did you come to me three times in a row?" ... He smiled and said, "Because I figured you'd catch them, Raymond." John wasn't overly analytical. He was instinctive. You know, when something like that is going on around you, you miss a lot of it. You don't grasp it all. Because we didn't have time to huddle, the

Giants

were also operating without perfect communication. So all of us were in a different rhythm. The game had kind of moved inside our heads. That's the two-minute drill in spades. Maybe the whole deal came down just to how well John and I knew each other. Landry

:

We were looking for a pass and went into a special defense. Both linebackers, Svare and Livingston, were over on the strong side to double up on Moore. Patton and Karilivacz doubled Berry. Huff played pass, and they caught us.

Play 8: With no time to think and feel the pressure, K Steve Myhra rushes in with the field goal unit and, without a huddle, kicks a 20y field goal.
Colts 17

Giants

17 (0:10)

Backup QB George Shaw served as Myhra's holder. As he left the sideline, Syzmanski told him, For crissakes, George, don't fumble the ball. So Shaw kept repeating to himself, Don't drop the ball, don't drop the ball. It felt like a hunk of ice, he said afterwards. Years later, George admitted, I've woken up since then in the middle of the night, thinking, "Don't drop the ball."

Myhra kicks tying field goal.

After Maynard returned the kick to the 18, Conerly ran a sneak to run out the clock.

The police made Marchetti move off the edge of the field and into the locker room. They didn't want to, but they had to. "It could end any second now," they said. "If the stands empty, you'll be trampled." The head trainer agreed with the move. Gino was getting a little shocky ... It had turned really cold. Gino recalled the quiet of the locker room. We were underground, and the crowd noise was muffled. There was no radio. It was terrible. When asked how much his leg hurt, he replied: I'd have cried if I wasn't Gino Marchetti.

Many of the players on both sides thought the game had ended in a tie and that the teams would split the proceeds fifty-fifty. The

New York

captains, Bill Svoboda and Rote, had no idea what to do until an official came over to lead them to midfield for the coin toss.

In 1941, the NFL passed two rules that affected the 1958 season.

--If a division race ended in a tie, a playoff would be held, as the

Giants

and

Browns

had done the previous week to settle the East championship.

--If a playoff game ended in a tie, the teams would play a sudden-death overtime. This rule had never been applied for 17 years.

On the NBC TV broadcast,

Colts

announcer

Chuck Thompson

, retaking the mike for the OT after calling the first half, told the audience:

Something historic that will be remembered forever is happening today, ladies and gentlemen.
Overtime
With Marchetti unavailable, Unitas represented the Colts for the coin toss. As the visiting captain, John called "tails" but lost and kicked the dirt, fearful that his offense might never get the ball if the

Giants

scored on their first possession. The Colts chose to go kick toward the same goal as in the first quarter, the one in front of the outfield bleachers where most of the Colts fans were located.

The 37-year-old Conerly, already exhausted by the grueling contest, could barely drag himself onto the field for the overtime. As Unitas led the march to the tying field goal, Charlie told his good friend Gifford, I just can't go on anymore. Frank told him, Boy, you're going to have to go some more. I can't, replied the exhausted QB.

The

Giants

desperately needed to score on their possession and win the game to keep their spent and frustrated defenders off the field. Rechichar kicked to Maynard, who lost the ball in the lights. He fumbled, recovered, and returned 10y to the 20. Rookie Johnny Sample replaced the injured Milt Davis at cornerback, but the

Giants

didn't seem to notice. They ran Gifford at Brase for four. Then Conerly threw an incompletion low and outside to Schnelker. On third down, Charlie rolled right and tried to run for the first down, but MLB Bill Pellington pulled him down 2' short. This time, no one argued against Howell's sending in Chandler. Taseff returned the 52y punt to the 20.

Sample

called the first OT possession

the three longest plays of my life.

On the

Giant

sideline,

Summerall

had "a feeling of inevitability" when the

Colts

took possession.

Unitas

:

We felt we had the game then. We had the game locked up in the third period and almost blew it. We were disgusted with ourselves, and we struck back at the

Giants

with a sort of blind fury. Ameche

:

John told us, "We're going to go right down the field and score." No doubt about it. You could just feel the confidence.

Now came the second most memorable drive in NFL history.
Play 1: With Huff helping Karilivacz on the right side with Berry, Dupre starts wide and cuts back over right tackle for 11 to the 31.
Play 2: Moore races down the right sideline, but Crow stays with him and breaks up John's long pass.
Play 3: Dupre for two to set up 3rd-and-eight.
Play 4: Seeing Huff and Karilivacz drop into coverage early as LE Berry heads downfield, Unitas tosses a flare pass in the left flat to Ameche, who runs for eight and a first down on the 41.

Berry: Ameche lined up in the backfield. I was split out. His route was a wide flair. I was running a hook pattern, and Svare was trying to help Karilivacz with me, instead of covering Ameche. ... To catch the pass that John threw Alan, you couldn't have just ordinary hands. Ameche made the first down by less than a yard.

Play 5: Dupre again runs behind the right side of his line and gains four.
Play 6: Modzelewski beats G Alex Sandusky, shoots in, and sacks Unitas for a loss of 8.
Play 7: On 3rd-and-14 from the 37, Unitas wants to throw to his right but, with no one open, escapes the rush to his left and passes to Berry, who comes back to the ball and gains 21 to the

NY

42.

Berry

:

3rd-and-14. Here's where attention to detail paid off. John scrambled left, and I ran a route we called "come open late." I was the third choice on this play. I cut a stutter-step pattern straight into that muddy spot that I had found before the game. Behind me, Karilivacz slipped and fell right on his butt. I didn't see him go down - I was already turned toward John - or we would have had a touchdown. Unitas flapped that big left hand at me, signaling "Take off!" But I didn't react quickly enough. So he just drilled me in the hands. First down in

Giants

territory. Now those two mud cleats weren't bothering me a bit.

Play 8: Unitas calls an audible at the line, a trap play for Ameche who takes the ball just before Modzelewski arrives and bursts 23y to the 19, where Patton drags him down.

Some of the players regard the trap play as Unitas's best call of the game.
Berry: Our audible system consisted of colors. Red was the live color. So, when Unitas came to the line of scrimmage, he'd go, "Blue 81! Blue 81! Set! Hut!" But this was a red call, a two-hole trap. Sam Huff had started cheating to the left, trying to help out on all these quick passes. ... If I hadn't loafed on the play, Ameche might've scored. My job was to get to the safety, and my excuse was that I was dragging and worn out. That play never breaks for more than two or three yards, anyway.
Unitas: Sam kept dropping back a little more, a little more. Also, Modzelewski had just sacked me two plays before. I figured he'd be pumped up and trappable. If Art Spinney could trap Modzelewski, and Buzz Nutter could cut back on Spinney's man ... then all George Preas had to do was shield Huff a little - he didn't even have to block him - and Ameche could shoot through. There wasn't anything magical about it. I didn't pull it out of a hat. The defense told me what to do. It's what you worked on all year, when you practice the two-minute drill.

Play 9: The

Giants

finally guess right and stop Dupre for no gain at right tackle.
Play 10: Unitas hits Berry on a slant-in. Leaning forward to make the grab, Ray falls on the 10 but lunges to the eight before being covered. 1st and goal.

TV viewers across the country didn't see the finish of the play. Someone in the crowd had knocked a cable loose in the end zone. An NBC staffer on the field pleaded with an official to delay the game. Today, television gets whatever it wants from the NFL. But not in 1958. The official ignored the request and play continued.

Play 11: Ameche gains 1y.

What appears to be a well-dressed drunk runs onto the field and leads stadium police on a merry chase before being caught. During the stoppage, the dislodged cable is reconnected, and the live picture reappears on black and white screens across America.
It turns out that the "drunken fan" was actually an NBC employee, Stan Rotkiewicz, who was doing some statistical work on the sideline.
NBC personnel may have gotten the idea from a New York Times article earlier that year on televised sports. The author asked a CBS producer what would happen if the signal were interrupted during an event. The producer joked that they would likely send someone onto the field acting like a drunk to delay the game.
During the interruption, Unitas came to the bench to see what Ewbank had in mind for the next play. Well, Ameche's a fine ball carrier, said the coach, who seemed content to run the ball, then kick the field goal. Unitas didn't say a word when I mentioned Ameche. He just stood there starting at me, like he couldn't quite remember who I was.

Play 12: With the nation watching again, Unitas makes his most daring call. He drops back, freezes Crow with a pump-fake to Moore going into the end zone, then lofts the ball to Mutscheller who twists to catch the ball on the two. His momentum carries him out of bounds just outside the pylon.

Ewbank: He (Unitas) came up with that pass. I almost fainted on that one.
Unitas: The strong-side linebacker Livingston) took an inside position on Mutscheller, which surprised me. ... You'd expect him to play Jimmy straight up, if not a little on the outside. The defensive back, Lindon Crow, was well into the end zone. And I knew Crow had to worry about Lenny Moore coming out of the backfield. Really, they were the only two defenders in the picture. ... So Jimmy was open on a diagonal from the very first step he took. People said it was a gamble, but they couldn't see what I was seeing. If Jimmy had been able to keep his footing on the icy sideline - his momentum basically slid him out of bounds - he would have walked into the end zone ... I actually overthrew him a little. It was my fault that it wasn't a touchdown. When asked by a reporter afterward why he risked an interception when a short field goal could end the game, Johnny replied, When you know what you are doing, you're not intercepted.
Mutscheller: The play was called for Alan. But when John checked off, I didn't think a thing of it. He was always pulling out plays we hadn't run since training camp. If he thought this would work, so did I. You could tell from his confidence that he was going to make it work. Everyone in the huddle got confidence from him. ... John never stopped telling me, "Geez, Jim, I tried to make you the hero." But then, if I had scored that touchdown, Ameche wouldn't have been able to sell all those hamburgers (at his restaurant chain).

Play 13: Against a stacked front expecting a run to the Colts left side with Huff in a three-point stance, Ameche puts his head down and careens untouched through a big hole at right guard into the end zone with 6:45 left in the extra period.
FINAL SCORE: Colts 23

Giants

17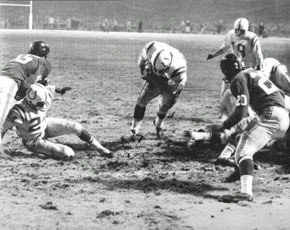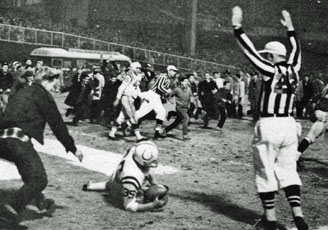 Ameche scores!
Mutscheller: The play was "sixteen slant." What was in John's head is that, earlier, we had been going straight up the middle and not making it. He wanted the fullback to slant into the six slot, right tackle. It was a pretty big hole.
Preas screened off Huff, and Moore, lined up at right half, did the same to Tunnell. Mutscheller made a seal block on Livingston, driving the defender into Katcavage.
Unitas simply turned and walked off the field. Nelson: You weren't going to see him jump up and down. He didn't have to do that. It was one of the best things about him.
Sandusky: All game long, my man was Dick Modzelewski. To this day, my dominant memory is how exhausted I felt when it was over.
The Colt fans stormed the field and carried Ameche off on their shoulders. Others tore down the goal post at the winning end.
C Buzz Nutter ran after a security guard and retrieved the game ball.
In the locker room, Marchetti heard cleat sounds on the ramp to the door. It burst open, said Gino. And there was Buzz Nutter with the football, saying, "We're world champions." And he gave the ball to his captain. Gino replied: But I'm not the only one here. Hell, I oughta cut this thing up in fifty pieces. I never saw a game that had so much. So many players who made such big plays.
DE Don Joyce: It was dusk, the lights were on. Banners were flying. We were world champions and I was in such awe. I walked off the field and stopped three diferent times. I didn't want to leave.
The writers revoted and chose Unitas to receive the Corvette that went to the MVP. Country boy Conerly, the winner on the first vote, probably would have given the car to his wife. Perian Conerly wrote in her book Backseat Quarterback about her husband's fooball career, For months afterward, I had nightmares about Dorothy Unitas driving gaily around Baltimore in "my" Corvette.
Final statistics:
First downs: Colts 27

Giants

10
Yards rushing: Colts 39-138

Giants

31-88
Passing: Colts 40-26-1

Giants

18-12-0
Return yardage: Colts 9-72

Giants

9-105
Fumbles-Lost: Colts 2-2

Giants

6-4
Penalties: Colts 3-15

Giants

2-22
Punting average: Colts 4-50.8

Giants

6-45.7
Twelve players and three coaches who participated in the '58 title game are enshrined in the Pro Football Hall of Fame.
Colts
:
Raymond Berry
,
Art Donovan
,
Gino Marchetti
,
Lenny Moore
,
Jim Parker
,
Johnny Unitas
, Head Coach
Weeb Ewbank
Giants
:
Roosevelt Brown
,
Frank Gifford
,
Sam Huff
,
Don Maynard
,
Andy Robustelli
,
Emlen Tunnell
, Offensive Coordinator
Vince Lombardi
, Defensive Coordinator
Tom Landry
You can add
Giants
owner
Tim Mara
and Vice President/Secretary
Wellington Mara
.
Postgame
Baltimore Locker Room
Ewbank praised his team's rally after hugging and kissing his players. That's charac­teristic of a great team, to come from behind. And they have been doing it all season. We just had to win because this was the better ball club out there. We never gave up. That's us! Weeb blamed the slippery footing for the failure to score after gaining a first-and-Goal from the 3. If we had scored then, the

Giants

would have been forced to do things they didn't plan. Instead, they hit on a couple of passes that changed the game.
Reporter Dave Anderson asked Unitas if he was taking a chance on the pass to Mutscheller right before the winning TD. Weren't you risking an interception? John replied, When you know what you're doing, you don't get intercepted.

Years later, a Baltimore writer asked Unitas the same question. John just laughed. "Hell," he said, "if Mutscheller wasn't open, I'd have thrown it away. Once you've figured out what's the right thing to do, all you need then is the nerve to do it. I've always liked touchdowns better than field goals ... Nothing against Myhra, but I had more confidence in me.

When a reporter asked why he had gone for the TD in OT rather than a field goal, Unitas made a joke about having made a bet on the game, in which the Colts were 3.5-4.5 point favorites. That led to a stern reprimand from Commissioner Bell.

I got my ass handed to me, John told a friend. I didn't even know what the points were! I didn't even know how the points worked! Unitas said the commissioner closed their conversation by saying, You're the best advertisement we ever had.

G Art Spinney yelled just one phrase over the roar of the celebration. We out-gutted them! (Take that, Charlie Conerly!)

Berry: I remember very vividly that after the game, we were outside Yankee Stadium near our buses and saw Bert Bell, the commissioner of the NFL, out there. He was talking to someone, and I was watching him. I could tell he was very emotional - he was crying. ... It wasn't for several years that I began to realize what Bert Bell had realized. He knew something that day the rest of us didn't. That game was a huge turning point for the National Football League. Bert had been nursing the NFL along, and he knew it had grown up that day.
New York Locker Room
Howell explained his decision to punt on the

Giants

last possession before OT. A lot of the players wanted to go for it on fourth down. But we had a great punter in Don Chandler and the best defense in the league. And there wasn't but a few minutes left. I thought the only way we were in trouble was if they blocked the punt.
Lombardi on Unitas: He has every gift a great QB needs in abundance.
Despite the bitter defeat,

Giants

owner Wellington Mara expressed optimism for the future after such a riveting game. We're gonna sell out next year.
Gifford sat at his locker disconsolate over his poor play. Lombardi tried to cheer him up. Don't worry about it, Frank. If it wasn't for you, we wouldn't even be here.
The next time
Vince
and
Frank
spoke would be at the end of January at a steakhouse where
Lombardi
told "my halfback" that he was leaving to become the
Packers
head coach. (
Vince
would find another multi-purpose HB in Green Bay in the person of
Paul Hornung
.) Despite his immense success there,
Vince
never got over the defeat in the '58 title clash.
We had it won, and we gave it away. We had the world championship in our hands, and we couldn't hold it. I know it must have been a thrilling, exciting game to watch, but I didn't watch it that way. I knew we were the better team. I knew we were going to win. When we didn't, I couldn't accept it.
The "Ed Sullivan Show" aired live coast-to-coast each Sunday night on CBS-TV. A staff member offered Unitas $500 to stay in New York and appear on the program that night. But Johnny wanted to return to Baltimore with his teammates. The offer was sweetened to $700 but Johnny said, Talk to Ameche. So the FB who scored the winning TD was introduced onstage by Sullivan that night (for the original $500) rather than the QB who became a household name overnight.
The teams split 70% of the total income of $698,646.
The winners' share was $4,719 apiece. The Colts also received $25,000 from the team's TV-radio sponsor, the National Brewing Company, and another $25,000 from a "friend of the team" believed to be Rosenbloom's gambling pal Lou Chester.
Each

Giant

got $1,607 less than each member of the Colts.

Donovan: That was damn good money in those days. Even if we had to pull a shift of overtime to get it. What the hell, play a game like that, you might as well go ahead and win it, you know. It was just one helluva day. One helluva day.
30,000 greeted the
Colts
at the Baltimore airport. People ran onto the tarmac, surrounded the team bus, danced on its roof, and rocked it so hard the players feared the bus would topple. Finally, the police cleared a path so the bus could reach its destination.
In the
New York Daily News
Monday morning,
Gene Ward
wrote,
In years to come when our children's children are listening to stories about football, they'll be told about the greatest game ever played - the one between the

Giants

and Colts for the 1958 NFL Championship.

The game is almost universally credited with igniting the explosion of interest in pro football that would, within a decade, lift the sport to #1 in America.