This series covers the history of the NFL through the prism of its yearly championship games.
Note: The gray boxes contain asides that provide interesting material but could be skipped without losing the continuity of the article.

Hunk Anderson


Luke Johnsos


Sid Luckman


Bronko Nagurski


Sammy Baugh


George Cafego


Note original date of game before Eastern Division playoff postponed final a week





The war had taken its toll on the NFL as it had on every other aspect of American life.

By the summer of 1943, more than 350 NFL players served in the mili­tary, and teams struggled to assemble competitive rosters.
With both owners serving in the military, the

Cleveland Rams

sus­pended operations for the season.
The draft was mostly a waste of time as college players not already in the military were likely to enlist or be drafted soon. The '43 draft is the first that did not produce a member of the Pro Football Hall of Fame.

The league owners seriously considered suspending operations for the '43 season. But they decided to press forward with some big adjustments.

The two Pennsylvania teams, the

Steelers

and Eagles, combined to form one team, listed in the standings as Phil-Pitt but called the "Steagles" by the fans and writers. The new club split the home games between the two cities.
The NFL passed a free substitution rule that allowed players to enter and leave games without restriction.
The league also reduced the roster limit from 33 to 25.
Still, the declining quality of play would best be exemplified by the No­vember 7 game in which neither the Lions nor the Giants produced a point. It remains the last scoreless tie in NFL history.


The defending East and West champions had to adjust their strategy because of player losses.

The biggest Bear loss was owner-coach George Halas, serving as rec­reation officer for the Seventh Fleet in the Pacific Theater. 1943 would be the first year in the history of the franchise, which began in 1921, that Halas would not be involved as a player, coach, or general manager. Instead, Hunk Anderson and Luke Johnsos would continue the co- coach setup they began near the end of the '42 season when Halas received his commission. To avoid military service, the two coaches had to maintain fulltime jobs in addition to coaching football.
Only half of the Bears' 32-man roster for the '42 title game returned. And Johnsos and Anderson sweated out the military status of QB Sid Luckman, who planned to join the Merchant Marine if his draft number was called.
Fortunately, Luckman played the entire season because the Bears re­lied more than ever on his passing. The Pride of Columbia threw 202 passes, 83 more than in any previous year of his career. His 2,194 passing yards, 28 TD passes, and 219.4 ypg all led the league.
As training camp began, Anderson decided the Bears needed help. So he asked Bronko Nagurski, who had retired six years earlier when Ha­las wouldn't raise his salary, to return. The 35-year-old legend agreed on two conditions: that he play T instead of FB for only one year. His very presence gave the entire team an emotional lift since the younger players had heard Halas talk about Bronko constantly.
Chicago benefitted from the addition of two ex-

Rams

: speedy HB Dante Magnani who would produce 708y rushing and receiving; and 6'3" E Jim Benton, who would catch 13 passes for 235y in 1943.
In the East Division, the Redskins welcomed back only 14 from their '42 championship roster. Also, with Ray Flaherty in the military, Dutch Berg­man took over the club. Like Anderson, Dutch was a Notre Dame alum­nus.
But one fact remained unchanged: Washington went only as far as TB Sammy Baugh led them. The TCU product had arguably the greatest season any athlete ever had. He led the league in most of the passing stats that Luckman didn't: Attempts, completions, and completion %. He also showed his versatility by simultaneously leading the NFL in punting (45.9y average) and interceptions (11). No other player has ever pulled off a passing-punting-defending trifecta like that.

The division races went down to the wire and beyond.

After tying the

Packers

in the traditional opener at Green Bay, the Bears won their next eight games. On November 14, the Giants welcomed the Big Apple's hometown hero with Sid Luckman Day. All he did was throw seven TD passes to break the record of six set just the week before by Baugh. (Sid's record has been tied six times - as recently as 9/5/13 by Peyton Manning - but never surpassed.)
But the next week, the Bears' win streak ended at Washington 21-7 when Luckman played sparingly because of the flu.
With

Green Bay

only a game behind, Chicago had to cop its annual fi­nale against the crosstown

Cardinals

, who hadn't won a game all sea­son. Nagurski agreed to move to FB to improve the blocking and run­ning. Sid left his hospital bed still weakened by the flu and fired four TD passes in the 35-24 come-from-behind victory to win the West on No­vember 28.
At that point, Washington still had two more games to play, both against the Giants. With a 6-1-1 record compared to NY's 4-3-1, the Redskins needed to win only one of the two games to fill the berth in the championship game.
But the Giants won both, 14-10 in New York, then 31-7 in D.C. That ne­cessitated a third straight game between the two rivals. Despite playing at the Polo Grounds again, the Redskins saved their best game for last, romping 28-0.

Both division champions had to respond to accusations of improper conduct.

The

Bears

were charged with violating War Manpower Commission rules. An investigation revealed no wrongdoing because pro football player was considered a fulltime job.
Some suspected the

Redskins

of consorting with gamblers after the

Skins

lost the last two games against the

Giants

to force a playoff game which they then won handily.

Thus concluded the NFL's "most exciting and turbulent season" (The Sporting News).

Aided by the extra playoff contest, attendance rose more than 35% from 1942.
Because of the Eastern playoff, the title game was moved back to Sun­day, December 26, the latest a season had ever extended.
The delay gave Luckman even more time to study the Redskins and prepare a devastating game plan.

The Bears entered the title clash as 12 to 5 or 7.5 point favorites. Chicago bookies gave 10 points.

Part of the reason for the inflated odds was Coach Bergman's unexpect­ed announcement that George Cafego, the #1 pick in the 1940 draft from Tennessee who had been acquired from Brooklyn in midseason, would start at TB in place of Baugh. Was Sammy injured? Bergman ex­plained that the Bear line was not up to par physically, implying that he wanted to run at them more. Was this a smoke screen? Would Sammy take the first snap as he always did?
Anderson couldn't believe his team was favored at all. Somebody's crazy. They beat us 21 to 7 last time, and we haven't played for a month. How do they figure we're favorites?
Hunk remembered 1942 when the favored Bears fell to these Redskins.
A subtext of the game was the possibility that this would be the last of Luckman's career since he would enter the maritime service January 3.
Another subplot involved Anderson and Johnsos proving they could win a championship without Halas directing them.

Bergman had brought his Redskins to Purdue University in Indiana for three days of practice.

Dutch was more concerned about his team's physical condition than its psychological makeup. Lou Rykmus is a doubtful starter. We may have Dick Farman in uniform, but I doubt if he'll play. Wilbur Moore may see a little action - mostly on defense - even though he's still ailing. And there's been an unusual session of flu and colds. However, I can honestly say that our boys are more confident of winning this one than they were before they whipped the Bears in November.
Baugh: I ain't as worried about the Bears as I am that danged cold weather in Chicago. We can handle the Bears. I just don't know whether we can handle that goddamned hurricane coming off Lake Michigan.
Knowing his team had the youngest roster in the league, All-Pro FB Andy Farkas proclaimed: The Bears are a bunch of old men. We'll outhit them and outquick them.
Washington returned 800 of its allotted 1,200 tickets. The poor sale in the Nation's Capital was attributed to wartime transportation difficulties and the Redskins having to play an extra game to make the final.
If the predicted good weather came to pass, "Cloudy with rising tempe­rature reaching 40 degrees," a crowd of 35,000 was expected to pack Wrigley Field to watch a passing duel between the two greatest gun­slingers in football history.

The Bears' locker room before the game served as Homecoming Headquarters.

Commander Halas took a Christmas leave to travel halfway around the globe from the Pacific to make it in his dress blues and seaman's cap.
Ken Kavanaugh, stellar E on the 1940-41 teams, visited from the Eight Air Force.
Bear greats of previous decades, George Trafton, Red Grange, and Clyde Brumbaugh, joined in the festivities.
Anderson looked around at the joviality more akin to a night out with the boys and worried that his squad would lack focus. So he expelled all visitors, including his former boss.
1943 Chicago Bears

| | | | | | | |
| --- | --- | --- | --- | --- | --- | --- |
| # | Player | Pos. | Hgt. | Wgt. | College | Exp. |
| 2 | Gary Famiglietti | FB/HB | 6-0 | 225 | Boston U. | 6 |
| 3 | Bronko Nagurski | FB | 6-2 | 226 | Minnesota | 9 |
| 4 | Harry Clarke | HB | 6-0 | 186 | West Virginia | 4 |
| 6 | John Siegal | E | 6-1 | 203 | Columbia | 5 |
| 7 | Bill Geyer? | HB | 5-10 | 173 | Colgate | 2 |
| 8 | Dante Magnani | HB | 5-10 | 192 | St. Mary's (CA) | 4 |
| 9 | Bill Osmanski | FB | 5-11 | 197 | Holy Cross | 5 |
| 12 | Jim Benton | E | 6-3 | 200 | Arkansas | 5 |
| 13 | Bob Snyder | HB | 6-0 | 200 | Ohio | 6 |
| 15 | Al Matuza | C/LB | 6-2 | 200 | Georgetown | 3 |
| 16 | George Musso | G-T | 6-2 | 262 | Millikin | 11 |
| 17 | Pete Gudauskas | G | 6-2 | 222 | Murray State | 2 |
| 19 | Dom Sigillo | T | 6-0 | 230 | Xavier (OH) | 1 |
| 20 | Jim Logan | G | 6-10 | 190 | Indiana | 1 |
| 21 | Daniel Fortmann | G | 6-0 | 210 | Colgate | 8 |
| 23 | Connie Mac Berry | E | 6-3 | 215 | N. C. State | 4 |
| 25 | Ray Nolting | HB | 5-11 | 185 | Cincinnati | 8 |
| 26 | Al Hoptowit | T | 6-1 | 217 | Washington State | 2 |
| 29 | Doug McEnulty | HB | 6-3 | 215 | Wichita State | 1 |
| 30 | George Wilson | E | 6-1 | 199 | Northwestern | 7 |
| 35 | Bill Steinkemper | T | 6-2 | 220 | Notre Dame | 1 |
| 36 | Fred Mundee | C | 6-1 | 220 | Notre Dame | 1 |
| 37 | Bob Masters | HB | 5-11 | 200 | Baylor | 5 |
| 42 | Sid Luckman | QB | 6-0 | 197 | Columbia | 5 |
| 46 | Al Babartsky | T | 6-0 | 225 | Fordham | 4 |
| 48 | Joe Vodicka? | HB | 5-10 | 189 | Illinois Tech | 1 |
| 57 | Ray McLean | HB | 5-10 | 168 | St. Anselm | 4 |
| 66 | Clyde Turner | C | 6-1 | 190 | Hardin-Simmons | 4 |
| 76 | Hampton Pool | E | 6-3 | 221 | Stanford | 4 |
| 82 | Tony Ippolito | G | 5-10 | 220 | Purdue | 1 |

1943 Washington Redskins

| | | | | | | |
| --- | --- | --- | --- | --- | --- | --- |
| # | Player | Pos. | Hgt. | Wgt. | College | Exp. |
| 11 | Al Fiorentino | G | 5-8 | 200 | Boston College | 1 |
| 12 | Lou Rymkus | T | 6-4 | 223 | Notre Dame | 1 |
| 15 | Roman Bentz | T | 6-1 | 225 | Tulane | 1 |
| 16 | Steve Slivinski | G | 5-10 | 215 | Washington | 5 |
| 18 | Ken Hayden | C | 6-0 | 205 | Arkansas | 2 |
| 19 | Joe Aguirre | E | 6-4 | 220 | St. Mary's (CA) | 2 |
| 20 | Bob Seymour | FB | 6-2 | 205 | Oklahoma | 4 |
| 21 | Richard Farman | G | 6-0 | 216 | Washington State | 5 |
| 25 | Frank Seno | HB | 6-0 | 185 | George Washington | 1 |
| 26 | Vic Carroll | C-E | 6-3 | 230 | Nevada | 8 |
| 27 | Joe Zeno | G | 5-11 | 235 | Holy Cross | 2 |
| 28 | Bob Masterson | E | 6-1 | 213 | Miami (FL) | 6 |
| 29 | Eldon Werkheiser | T | 6-0 | 195 | Dubuque | 1 |
| 30 | Coye Dunn | HB | 6-0 | 198 | USC | 1 |
| 31 | Bob Masters | HB | 5-11 | 200 | Baylor | 7 |
| 32 | George Cafego | HB | 5-10 | 169 | Tennessee | 2 |
| 33 | Sammy Baugh | QB | 6-2 | 180 | TCU | 7 |
| 34 | Ray Reutt | E | 5-11 | 200 | V. M. I. | 1 |
| 35 | Wilbur Moore | HB | 5-11 | 180 | Minnesota | 5 |
| 36 | Willie Wilkin | T | 6-4 | 269 | St. Mary's (CA) | 6 |
| 37 | Joe Pasqua | T | 6-1 | 225 | SMU | 2 |
| 38 | Jack Jenkins | HB | 6-1 | 210 | Vanderbilt | 1 |
| 39 | Frank Akins | HB | 5-10 | 200 | Washington State | 1 |
| 41 | Leo Stasica | HB | 5-11 | 195 | Colorado | 2 |
| 42 | Ray Hare | QB | 6-1 | 205 | Gonzaga | 4 |
| 43 | Oliver Oja | T | 6-0 | 210 | Georgetown | 1 |
| 44 | Andy Farkas | FB | 5-10 | 195 | Detroit | 6 |
| 47 | George Smith | C | 6-3 | 214 | California | 4 |
| 48 | Tony Leon | G | 5-9 | 195 | Alabama | 1 |
| 51 | Clyde Shugart | T | 6-1 | 220 | Iowa State | 5 |
| 53 | Jack Smith | E | 6-1 | 200 | Stanford | 2 |
The day dawned as predicted with the unseasonably mild weather.
34,320 drove or took the "ell" to Wrigley Field to get away from the dreary world news for a few hours.
Harry Wismer once again broadcast the game on coast-to-coast radio thanks to the sponsorship of Wilson Sporting Goods. Guy Savage assisted Harry.
Quarter 1
Those who wondered if the Bears would be rested or rusty thought the latter throughout the first period.
Baugh did not start the game but came in soon after the kickoff to punt, Luckman gathering in the boot. Halas recalled: Sid took the ball and ran, knees high, through the Redskins until only Sammy Baugh was between him and the goal. Sammy dived at Sid. A knee hit Sammy in the head and knocked him out. Sammy was carried off. After the trainer ministered to him on the field, Baugh retired to the sideline where teammates consoled their weeping leader until he was taken to the dressing room.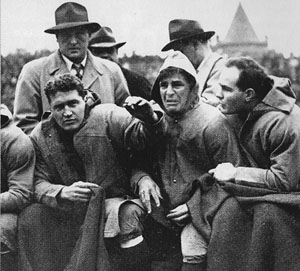 Baugh cries on sidelines after getting kicked in the head during 1943 Championship Game.
Baugh later recalled: I got whacked early in the game, knocked out. I couldn't re­member anything. ...They took me out and ... were asking me all these questions about all kinds of damn things, and I don't remember if I could answer them or not. ... I had a concussion, they told me later.


Denied the anticipated duel between two great QBs, many fans may have wished to get their money back. They would see Luckman take Baugh's role as star on both sides of the ball as Sid would set a record for TD passes with five and INTs with three in a playoff game.
An interference ruling by Referee Roland Gibbs helped set up the first score of the day late in the opening period. The call on Cafego's 21y pass intended for E Joe Aguirre put the ball on the 3. FB Farkas then moved the ball inside the 1 as the gun sounded.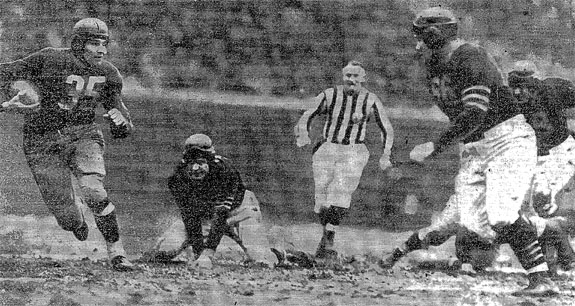 Wilbert Moore (35) tries to maneuver unsuccessfully around Bulldog Turner (66) in Q1 action.
Quarter 2
On the first snap, Farkas barreled over RT from less than a yard out to put the Skins in front 7-0 after Bob Masterson booted the PAT.
Luckman then went to work starting from his 33 to tie the game three minutes later. He connected with Ray McLean for 29y to the Washington 36. After Nagur­ski bucked for 5, Johnsos, one of the first coaches to sit in the pressbox during games, sent word to the Bear sideline that it was time for a screen pass. So the "black-haired Brooklynite" threw a pass behind the line of scrimmage to the left to HB Harry Clarke who benefitted from a well-timed block just as he received the ball and scooted 31y behind three more blockers to score with Ray Hare dangling from his waist. Thanks to the free substitution rule, Bob Snyder came in and kick­ed the EP. (A Bear from 1937-1941, Snyder had spent the '42 season teaching the T formation to various college teams. He returned to provide a backup QB should Luckman be called to duty.)
Later, the Bears ate up 70y in eight plays to tally again. Luckman began by giv­ing the ball to Bronko three straight times for 19y. That set up a 12y pass to E Hampton Pool. Then Sid ran for 24 around LE to the Redskins 21 after getting away from T Clyde Shugart. Two plays later from the 18, noticing no Skin lined up over the C, Sid broke loose on a QB sneak. Knocked down on the 7, he got up and continued to the 3. (No "down by contact" rule in those days.) Nagurski pushed over LT from there to make it 14-7 after another Snyder conversion. The crowd cheered for five minutes after Bronk's score.



In the waning minutes of the first half, the

Bears

noticed a visitor sitting on their bench. It was none other than

Redskins

owner

George Preston Marshall

in his trademark raccoon-skin coat. Alerted by a player, acting General Manager

Ralph Brizzolara

leaped to his feet in his box seat and screamed at

Marshall

, who beat a hasty retreat.

Brizzolara

sent assistant trainer

Jackie Goldie

after the Wash­ington magnate.

Goldie

called Chicago's Finest, who escorted

Marshall

under the stands.

When he returned to his box seat,

GPM

proclaimed,

You can say for me that Briz­zolara is not a gentleman, and I'll never speak to him again.

After the game,

Brizzolara

was still fuming.

That's the lowest way there can be of trying to win a game, to sneak down to our bench, apparently to steal the instructions we're giving our players. Yes, we threw him out - not invited him out.
Marshall

protested he had merely come down to the opponents' bench to visit and said he thought the half would end by the time he got there. He insisted his arrival there while play was still going on was merely a case of poor timing and not an effort to eavesdrop.
Quarter 3
Any hope that the Skins would close the gap evaporated within 2:29 of action. Escaping the pass rush to his right, Cafego threw down the middle but the only man near the ball was Luckman, who returned the INT 21y to the Washington 36.
On the first play, Sid lobbed a pass in the right flat to Dante Magnani who side­stepped Frank Seno and wove his way clear across the field, just barely eluding the diving Cafego into the EZ. Snyder made it 21-7.
At the behest of Coach Bergman, the team doctor reexamined Baugh and cleared him to return to the field. However, it took Slingin' Sammy a while to get into the swing of the action.
Their next TD demonstrated the "trickeration" of the Bear offense. After an ex­change of punts, Luckman snared Sammy's pass on his 18 and ran to the 36. Starting in a straight T formation on third down, Luckman sent the LH in motion to the right. At the snap, as Luckman faded back, RH Magnani started to his right, then curled back across the middle. On what today might be called a "middle screen," the Bear line let the rush come through. Retreating, Sid flipped the ball to Dante coming from his right to start the Italian speedster on a 66y jaunt to the EZ with nary a hand laid on him although LB Bob Seymour chased him 40y before making a futile attempt at a diving tackle at the 12. This time Snyder missed the kick with 4:27 remaining.
Just to show what might have happened had he been able to play the entire game , Baugh directed a drive that culminated in a 17y pass to Farkas, who ran the last 9 unopposed into the EZ. Masterson again converted.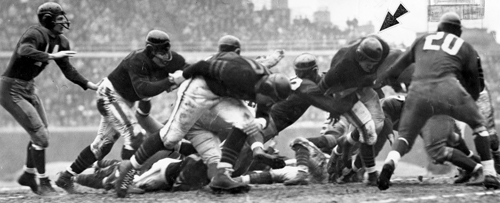 Luckman moves through the line.
Quarter 4
The Bears kept the ball for nearly 12 minutes of the final period, scoring two more TDs before Washington's consolation score in the waning moments.
Never one to play favorites, Luckman tossed high to Benton in the EZ behind Lee Stasica. The 29y TD topped a 56y drive at the start of the period and broke the record for scoring passes in a playoff game. The Bears surprised the Skins with an onside kick, recovering at their 47 after a receiver touched it. (Punishment for Marshall's antics?) From there, Luckman's aerial attack wiped out a 15y holding penalty and gave him a chance to crown the advance with a playoff record fifth TD aerial. Facing third down at the Redskin 45, Luckman handed to Nagurski who gained the first down, knocking Baugh groggy in the process. Luckman walked over and helped his counterpart to his feet. From the 16, Sid put LH Magnani in motion to the right, faked a throw as he back-pedaled with the snap, then ran to his right and fired on the run to Clarke at the 2. Harry fell into the EZ as a de­fender chopped him down.
Baugh hit consecutive tosses, one to Wilbur Moore for 24 and the other to Aguirre from 25y out to make the final score a more respectable 41-21.
With the game sewed up, Luckman had some fun throwing a 9y pass to Bronko, who finished with 34y in 11 carries. Johnsos said it was the first aerial he could ever remember Nagurski snaring in competition.



Luckman

later recalled how he and

Baugh

walked off the field after the game. Having come to the

Bears

after

Nagurski

retired,

Sid

said,

Sammy, can you im­agine what he must have been like in his prime?
Sam

said,

I remember. He was the most powerful human being I ever played against.
Bears celebrate with Commander Halas

Final statistics:

First downs: 14-11 Bears
Yards rushing: 169-50 Bears
Passing: Bears 27-15-0/286y, Redskins 24-11-4/199y
Return yardage: 204-124 Redskins
Fumbles-Lost: Redskins 2-2, Bears 0-0
Penalty Yards: Bears 8-81, Redskins 3-35
Postgame comments
Anderson: That line of ours really rose up to the occasion, better than they did in the

Green Bay

game. After that four week layoff, we weren't gunshy and went to work. The Bronk had spark for them, and they really blocked for him.
Johnsos on Marshall sitting on the Bears' bench: George just wanted to be on the winner's side.
Luckman, who took the longest time to remove his uniform because of well-wish­ers: I knew it was my last game for a while, and I really wanted to make it a good one. Say, how many yards did I make running, 64? Boy, I was watching those Red­skins and, when they thought I was going to pass and didn't chase me, I lit out on 'em. Sid added: I can honestly tell you we won all those games and the champion­ship because Coach Halas was still there. His vision, his character, his personality were with us.
When Bronko reached for the game ball, Luckman protected it zealously. But I'm all through now, Bronk protested. Sid just smiled. This was my last game too, and I want this ball as a souvenir. I'll buy you a dozen footballs for around the house, but this one I'm keeping.
Nagurski explained that he came out of retirement only because George Halas wanted me to but insisted I can't forever keep listening to Halas' songs. I'm too old.
Halas still had hope. Sure, the Bronk will play again. He was great out there against the Redskins. We're counting on him for next year. Concerning the game, George said, Those were the Bears of old. They played perfect strategy out there. They ran over the Redskins early in the game, gave them a terrific physical licking. Thus they restored the old-time Bear terror, which hasn't always existed the past two seasons.
The players shared $68,679.50 out of the total receipts of $120,500, the biggest pot to that time.
Each Bear took home $1,135.81 per man.
The Redskins' share amounted to $754.60 each.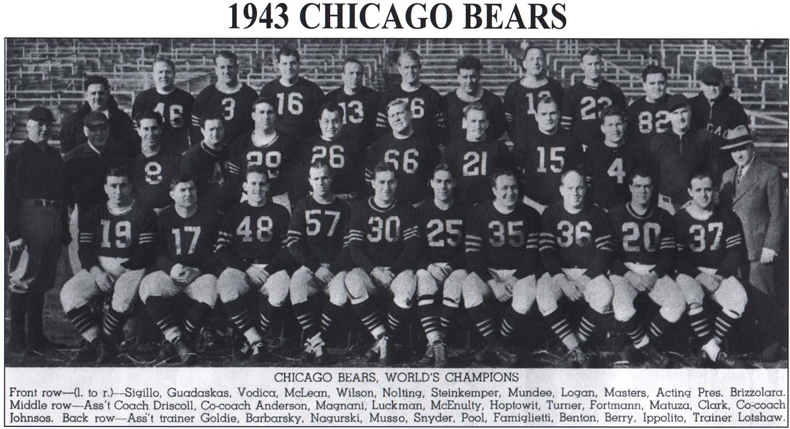 Follow-up
NFL Commissioner Elmer Layden fined Marshall and Brizzolara $500 each for "conduct not reciprocal to public confidence."

Bergman resigned as

Washington

coach, citing the press of other business.

G Danny Fortmann, who had earned an M.D. at the

University of Chicago

while playing for the

Bears

, retired to devote his time to his surgical practice. He moved to Los Angeles where he was team physician for the

Rams

from 1947-53. Se­lected All-Pro for six consecutive years, Danny was inducted into the Pro Football Hall of Fame in 1965.

True to his word, Bronko Nagurski never played another down in the NFL. He continued his pro wrestling career until retiring in 1960 at age 52. He was elected to the Pro Football Hall of Fame as a charter member in 1963. His son Bronko Jr. played football at

Notre Dame

and became an all-star OT in the Canadian Foot­ball League with the

Hamilton Tiger-Cats

.
References: Championship: The NFL Title Games plus Super Bowl, Jerry Izenberg (1970)
Halas on Halas: The Autobiography of George Halas with Gwen Morgan and Arthur Veysey (1979)
Papa Bear: The Life and Legacy of George Halas, Jeff Davis (2005)
Monster of the Midway: Bronko Nagurski, the 1943 Chicago Bears, and the Greatest Comeback Ever, Jim Dent (2003)
Chicago Bears History, Roy Taylor (2004); What a Game They Played, Richard Whittingham (1984)

<! END OF COLUMN ONE>