1985 - Game 7:
St. Louis Cardinals
@ Kansas City Royals

Mark Gubicza


Danny Jackson


Bud Black


Dan Quisenberry


Vince Coleman


Jeff Lahti


Ozzie Smith exults after game-
winning HR vs Dodgers

The Kansas City Royals won the AL West for the second consecutive season and the sixth time in ten years.

When a division-winning team ranks second-to-last in the entire league in bat­ting average and seventh in runs scored, you know their strong suit is pitching.
Dick Howser's Royals ranked second behind

Toronto

in ERA at 3.49.
The leader of the staff was 21-year-old Bret Saberhagen, who won 20 and lost only 6 while compiling a 2.87 ERA. That performance would earn him the AL Cy Young Award.
Lefty Charlie Leibrandt went 17-9 with an even lower ERA - 2.69. Three other hurlers won in double digits: Mark Gubicza (14-10), Danny Jackson (14-12), and Bud Black (10-15).
Closer Dan Quisenberry recorded 37 saves to lead an otherwise mediocre (at best) bullpen.
3B George Brett was far and away the best hitter on the club. His .335 average was 57 points higher than any other starter. His 112 RBIs outdistanced the #2 man, 1B Steve Balboni, by 24. "Bye Bye" Balboni did lead the club in homers with 36 to George's 30. Brett also topped the club in runs with 108, 21 more than CF Willie Wilson.
Wilson and LF Lonnie Smith gave Howser speed on the bases with 43 and 40 stolen bases respectively. They joined with RF Darryl Motley to form a fleet out­field that was needed on the artificial turf of Royals Stadium.
The Royals showed their grit by coming back from a 3-games-to-1 deficit to

To­ronto

to win the AL pennant. Brett won the ALCS MVP Award by hitting .348 with 3 HRs and 5 RBI.
Howser had continued the philosophy that

Cardinals

manager Whitey Herzog had established in KC from 1975-79. Playing in a spacious home park with artifi­cial turf in one of baseball's smaller markets, the Royals emphasized speed, de­fense, and pitching.

The St. Louis Cardinals prevailed in the NL East in a tough battle with the New York Mets.

The

Redbirds

led the NL in batting average (.264) and runs (747 - 41 more than 2nd place

Houston

). They did this despite ranking second-to-last in HRs with 87.
Deploying "Whitey Ball" at its best, the Cards stole an incredible 314 bases, the most in the NL since 1920 and 132 more than 2nd place

Chicago

. LF Vince Cole­man personally accounted for over 1/3 of that total, his 110 ranking third all time.
The staff also ranked 2nd in ERA at 3.10, behind the NL West champion

Dodgers

' 2.96.
The major changes in the starting eight from the 1982 World Series champs were Jack Clark, the team leader in HRs with 22, at 1B in place of Keith Hernandez (traded to the

Mets

in '83), Terry Pendleton at 3B in place of Ken Oberkfell (traded to

Atlanta

in '84), and Coleman and Andy Van Slyke in the OF.
With Coleman at the top of the lineup and another speedster, Willie McGee, batting second, 2B Tom Herr drove in 110 runs in the third hole, 27 more RBIs than he had in any other season of his career.

Herr on Coleman: What he gave to our lineup was instant speed, instant run-scoring potential. ... He just created such havoc out there ... Pitchers were so preoccupied with what he was doing ... He not only changed the way pitchers pitched to batters after him, he changed how the infielders played. He really was an offensive force.

Brought to

St. Louis

in another of Herzog's brilliant trades, southpaw John Tudor joined '82 holdover Joaquin Andujar at the top of the starting rotation, each hurler registering 21 wins. Tudor led the league in shut­outs with 10 for a nifty 1.93 ERA. After starting the season 1-6, he went 20-2 the rest of the way, including 11-0 to end the season. Danny Cox added 18 victo­ries.

December 12, 1984, the

Cardinals

acquired

Tudor

and

Brian Harper

from the

Pittsburgh Pirates

for

Steve Barnard

and

George Hendrick

.

Since

Hendrick

was his only real power hitter,

Herzog

and GM

Dal Maxvill

acquired

Clark

from the

Giants

the following February 1 for

David Green

,

Dave LaPoint

,

Gary Rajsich

, and

Jose Uribe

. The two trades made it possible for the

Redbirds

to contend for the '85 pennant.

With Bruce Sutter having departed via free agency to

Atlanta

, Herzog used righty Jeff Lahti and southpaw Ken Dayley as his closers until bringing up 26­year-old rookie Todd Worrell at the end of August - just in time to qualify for the post-season roster. The 6'5" flamethrower saved five games down the stretch along with three holds and won three games as the

Cards

held off the

Mets

by three games. The

Cardinals

with their "bullpen by committee" were 88-0 in games they led after eight innings.

Herzog

on the '85

Cardinals

compared to the other teams he managed:

They may have been the best. That was sure the most fun I've had as a manager, the perfect team for the way I like to operate.

After losing the first two games at Dodger Stadium in the NLCS, the

Birds

ripped off four straight wins, the last two coming on dramatic 9th inning HRs off

L.A.

closer Tom Niedenfuer - the first by the unlikeliest

Card

of all, Ozzie Smith, the second by Clark.

Jack Clark connects against

Dodgers

The

Cardinals

paid a heavy price in defeating the

Dodgers

. Before Game 4 in St. Louis, a bizarre accident cost the club the services of their leadoff man and great base stealer.

Rain began falling while the

Redbirds

worked out before the game. So the grounds crew began to pull the tarpaulin onto the field.
The tarp was located in a covered trough parallel to the 1B line through the coach's box. A truck was hooked to the tarp at its midpoint. As the truck began to pull the tarp up and out of its runway, Coleman and Terry Pendleton were talking between the foul line and the pitcher's mound.
As Vince recalled, We're not paying attention, just like you and I talking. It would've either gotten me or it would've got Terry, because you can't hear it. Next thing I know, it was tugging on my leg. It knocked me down. And you know how they say, "When you're in fear of your life, you don't feel a thing?" This thing weighed a ton, and I didn't feel anything because I'm thinking it's going to crush me. The tarp weighed 1,200 pounds spread over 180 feet.
The truck stopped, but Vince's leg had already been caught under the tarp all the way up to his hip. The crew had to roll the tarp back into its resting place to extricate him. Vince was carried off on a stretcher. At first, his injury was consid­ered only a contusion so that he would miss only that night's game. But an MRI soon revealed that his left fibia was cracked, and his season was done.

Vince Coleman in agony after being caught in the tarpaulin.

The

Cards

defeated the

Dodgers

three games in a row after Coleman's injury to take the pennant, but his absence would take a toll on their offense in the Series.
Despite the loss of their sparkplug,

St. Louis

was the prohibitive favorite in the Fall Classic, which was quickly dubbed the "Show Me" Series and the I-85 Series, the latter because of the Interstate highway linking the two cities at opposite ends of Missouri.

| | |
| --- | --- |
| | Royals Stadium |


Danny Cox

Tito Landrum

Brian Harper

Ken Dayley

George Brett

Series Results

Saturday, October 19 @ Kansas City:

Cardinals

3 Royals 1
WP: John Tudor; LP: Danny Jackson
Sunday, October 20 @ Kansas City:

Cardinals

4 Royals 2
WP: Ken Dayley; LP: Charlie Leibrandt

Tuesday, October 22 @ St. Louis: Royals 6

Cardinals

1
WP: Bret Saberhagen; LP: Joaquin Andujar
Wednesday, October 23 @ St. Louis:

Cardinals

3 Royals 0
WP: Tudor; LP: Bud Black
Thursday, October 24 @ St. Louis: Royals 6

Cardinals

1
WP: Jackson; LP: Bob Forsch
Saturday, October 26 @ Kansas City: Royals 2

Cardinals

1
WP: Dan Quisenberry; LP: Todd Worrell

L: Whitey Herzog and Dick Howser; R: Charlie Leibrandt

The

Redbirds

extended their winning streak to five by taking the first two games of the Series in Kansas City. Both were low-scoring affairs.

Herzog moved CF Willie McGee to the leadoff spot and Ozzie Smith from 8th to 2nd. The

Cards

managed to score enough in Game One to win 3-1 behind Tudor with a save to Worrell.
Charlie Leibrandt shut out the

Birds

through eight innings and led 2-0 entering the top of the 9th. Dick Howser decided not to bring in his closer, Dan Quisen­berry, and the

Cards

finally got to Leibrandt. McGee doubled down the LF line, but the next two batters went out. Given the go-ahead on a 3-0 pitch, Clark whacked a liner into LF to score McGee and keep hope alive. With Leibrandt still on the mound, Tito Landrum doubled down the RF line, sending Clark to 3rd. Cesar Cedeno was walked intentionally to fill the bases. Pendleton smashed a double down the LF line to clear the bases. Finally, Howser called in Quisenber­ry to retire the side, but the damage had been done.
Since no team that won the first two games on the road had ever lost the World Series, the

Cardinals

had reason to be confident as the teams traveled across the state to the Mound City.

As

Tommy Herr

recalled, the

Cards

also had reason for concern.

We did come out of Kansas City with a 2-0 lead, but they were both games that were real pitchers' duels. We didn't really hit like we were used to hitting, and still we won those games. Going back to St. Louis, we really felt we wanted to end the Series at home. ... Bret Saberhagen beats us in Game 3. ... It was the third straight game where we really didn't hit. There was a trend developing.

The Cardinals could not close out the Royals at home.

Tudor pitched another gem in Game 5, a 3-0 victory.
But the Royals took Game 5 to extend the Series.

Game 6 remains one of the most controversial in Fall Classic history.

In a rerun of Game 2, the contest pitted Leibrandt against Danny Cox. Both were superb.
The game moved along scoreless until the

Cards

broke through in the top of the 8th on a two-out bloop single by PH Brian Harper scored Pendleton from 2nd.
Ken Dayley mowed down the Royals in the bottom of the inning, striking out two, including George Brett.
Dayley took the mound for the bottom of the 9th. But when Howser sent right­hand-hitting Darryl Motley up to hit for RF Pat Sheridan, Herzog brought in Worrell to close the Series and extend the

Cardinals

streak to 89-0 when leading after eight innings.


A lifelong

Cardinal

fan in New Orleans yelled at the TV:

No, Whitey! Don't do it! Leave Dayley in! He's pitching great!

Pinch hitter Jorge Orta chopped a ball between 1st and 2nd. Clark fielded it and tossed back to Worrell covering the bag. Although Orta was out by at least a foot, 1B umpire Don Denkinger ruled safe, provoking a loud protest from the

Cardinals

and Herzog.

Two views of the first play of the bottom of the 9th, Game 6.

Notice how umpire Denkinger is looking at Worrell's glove and not at the base.
Todd Worrell and Tommy Herr can't believe Denkinger's call.


Steve Balboni


Dane Iorg acknowledges the fans after his winning hit in Game 6.

When play resumed, Balboni lifted a high foul that came down just in front of the 1B dugout. Clark ran over, looked twice at Porter, then apparently couldn't pick up the ball again and it dropped. Given new life, Bye Bye lined a single to LF, Orta taking 2nd.
Jeff Sundberg bunted, but Worrell make a clutch throw to get the runner at 3rd.
But with PH Hal McRae at bat, a pitch got past C Darrell Porter to put men on 2nd and 3rd anyway. So Herzog ordered a free pass for McRae.
With the bases loaded, PH Dane Iorg, a former

Cardinal

, blooped a single off his fists to RF that scored the tying and winning runs.


Years later,

Herr

still recalled the 9th inning of Game 6:

The bottom of the ninth was such a nightmare. Ken Dayley had finished up in the 8th. Dayley was an extremely hot pitcher. He had blown the

Dodgers

away to get us into the World Ser­ies ... But Whitey was afraid of Hal McRae and his ability to pinch-hit, and because of that, he wanted to bring in Todd Worrell, the right hander. And that's not taking anything away from Todd, because he had pitched very well too, but when I look back on it, I always wonder, "What would have happened if we had just left Kenny in there?" ... The inning started with Jorge Orta hitting a little topper halfway between the pitcher and first baseman. Jack made the play and tossed to Todd, and Orta was clearly out. I had a perfect view of it. And Den­kinger blows the call. ... I went over and got right in Denkin­ger's face. It was just unbelievable. ... The important out of an inning is the leadoff out. If we get that out, we win the ball game. I'm convinced of that. Not only don't we get the call, but the emotional upheaval it created - we were just screaming at this guy - it kind of got us off what we needed to do to finish that game out. After that there were a series of things. Steve Balboni hit a pop-up down the 1B line that Jack kind of mis­judged around the dugout steps. ... We get a mix-up on the catcher getting crossed up, and it was a passed ball, and then Iorg hit a jamshot into right to win the game.
Obviously, we were a devastated team after that. We felt like we had gotten ripped off. And it was just too much to bounce back from. Whitey was incredulous. He was really upset at Denkinger, really fired up. We all kind of felt we had one taken away from us.

Howser proclaimed afterward, I'm the luckiest man on the face of the Earth right now.
Herzog couldn't let it go. I know damn well he didn't beat the play. How can he beat the play if he steps on his foot? If you don't get the best umpires, this is the kind of crap you get. They've got guys who could get in trouble umpiring the Fort Wayne Daisies. We had the World Series won. We had it won, and an umpire blows it. And now we've got this guy coming up behind the plate who screwed us. And I mean screwed us.
Denkinger: It was a bang bang play. The throw was high. In my judgment, the runner was on first before the catch.
Game 6 hero Iorg: This is what you dream about when you're a little boy.
St. Louis Lineup

| | |
| --- | --- |
| Ozzie Smith | SS |
| Willie McGee | CF |
| Tom Herr | 2B |
| Jack Clark | 1B |
| Andy Van Slyke | RF |
| Terry Pendleton | 3B |
| Tito Landrum | LF |
| Darrell Porter | C |
| John Tudor | P |

Kansas City Lineup

| | |
| --- | --- |
| Lonnie Smith | LF |
| Willie Wilson | CF |
| George Brett | 3B |
| Frank White | 2B |
| Jim Sundberg | C |
| Steve Balboni | 1B |
| Darryl Motley | RF |
| Buddy Biancalana | SS |
| Bret Saberhagen | P |
Jim Palmer, Al Michaels,

Tim McCarver


Bret Saberhagen


Willie McGee


John Tudor


Lonnie Smith


Frank White


Terry Pendleton


Jim Sundberg


Darryl Motley


Buddy Biancalana


Darrell Porter


Saberhagen after final pitch


Brett hugs Saberhagen.


Game 7: Sunday, October 27 @ Royals Stadium

ABC telecast the Series with Al Michaels, Jim Palmer, and Tim McCarver in the booth.
In what was billed as the greatest seventh game pitching matchup in more than 20 years, each team went with its ace, Tudor for the

Cardinals

and Saberhagen for the Royals. the youngest P ever to start a Game 7. Brett's wife had given birth to their first child the previous morning.

Saberhagen had been a 19th round draft choice of Kansas City three years earlier. He went so low because, in his senior year of high school in Reseda CA, his fastball quit moving and fell off to 75 mph. Scouts suspected a rotator cuff injury. Only Guy Hansen, the Royals' scout in the area, hung around for a second look. The Saberhagen family sought a second opinion from a chiro­practor, who diagnosed the problem as a build-up of lactic acid in the arm. With treatment, Bret regained his fastball.

But Palmer in his pregame analysis pointed out that Saberhagen had been ho­ping for another shot at the

Cards

since he won Game 3 whereas Tudor, having pitched more innings than he ever did in a season, had figured his season was over after he won Game 4. Jim didn't now how prescient his comment would prove to be.
The audience settled back for what turned out to be the Game 7 that is tied for the most lopsided in history with the finale of the 1934 World Series.

The lifelong

Cardinal

fan in New Orleans, disgusted by the outcome of Game 6 and knowing his team had no chance since they weren't hitting, didn't even bother to watch Game 7. In fact, that fan didn't watch a single pitch of the game until he was preparing this article.

Game time temperature was 62° with a strong breeze blowing toward LF.
Herzog reportedly said before the game, We have no more chance of winning than the man in the moon as long as that guy (Denkinger) is behind the plate.

1st inning

SS Ozzie Smith, one of the heroes of the

Cards

NLCS victory but just 1-for-19 in the World Series as the replacement for Coleman at the top of the order, flew to Willie Wilson in CF.
CF Willie McGee, the NL batting champion, followed suit.
2B Tommy Herr popped to SS.
Tudor had been 6-0 in the regular season when pitching on three days rest.
Former

Cardinal

Lonnie Smith popped to Andy Van Slyke in short RF.
Wilson bounced to SS Smith.
3B George Brett whacked a shoulder-high fast ball into RF for a single.
2B Frank White also went after the 1st pitch and skied to McGee near the warning track in CF.


2nd inning

1B Jack Clark poked an outside fastball off the end of his bat into RF for a single.
Van Slyke (0-for-7 in the Series) lined a pitch inches foul down the RF line. Then he became Saberhagen's first K victim.
3B Terry Pendleton flew to CF.
LF Tito Landrum popped to Brett on the first pitch.
Tudor began showing signs of not being sharp.
C Jim Sundberg, who scored the winning run the night before, flew to CF.
1B Steve Balboni walked on a 3-2 pitch.
RF Darryl Motley also worked a full count, then clubbed a high fly just barely foul down the LF line. He broke his bat in anger. After switching bats, he swatted a low sweeping curve just inside the LF foul pole for a 2-run homer.
SS Buddy Biancalana lined to Pendleton.
With no designated hitter in the World Series in odd years, Saberhagen struck out.
Royals 2

Cardinals

0


3rd inning

C Darrell Porter (2-for-12, .186) flew to LF.
Tudor tried to bunt twice unsuccessfully, including on strike three.
Smith, who seemed to have been swinging harder than normal after hitting the dramatic HR to win Game 4 of the NLCS, grounded out 4-3.

Lonnie Smith walked on a 3-1 count. That gave Tudor, who walked 1.6 batters per game during the season, his second base on balls. It was the first time John had walked the leadoff batter in 127 innings.
Wilson fouled to Van Slyke in the RF corner.
With the runner going, Brett tried to get out of the way of a high inside fastball. It hit his bat and rolled down the 3B line for a base hit.
With Bill Campbell throwing in the

St. Louis

bullpen, the Royals executed a double steal. As he ran toward 3B, Pendleton made a nice short hop pickup of Porter's throw to avoid further damage. With Saberhagen throwing so well, Herzog brought his infield in. White then walked on a 3-2 pitch that wasn't close. Whitey began screaming at Denkinger from the dugout.
With the crowd on its feet screaming, Tudor walked Sunberg on another full count to force in a run.
That finished the night for Tudor, his earliest exit since April 22.

When he left the mound,

Tudor

walked into the

Cardinal

locker room and punched a metal fan. He went to the hospital and received stitches in the index finger of his pitching hand.

Balboni began Campbell's tenure on the mound with a ground single between SS and 3B to score two.
Motley chopped to Clark who made the play unassisted as the runners ad­vanced to 2nd and 3rd.
Bob Forsch and Ricky Horton got loose for the

Cardinals

.
Biancalana was given a free pass to get to the pitcher.
Saberhagen went down swinging.
Royals 5

Cardinals

0

Herr was not surprised by Tudor's early exit, as he explained years later. Tu­dor went out there in Game 4 very, very sore-armed. He was at the end of his rope. He gave it everything he had that game and put us up 3-1, and I'm sure he felt he wouldn't have to pitch again ... Tudor started the last game, and he was spent. He really had nothing left. I'm sure he didn't figure he'd have to pitch a Game 7 after we were up 3 to 1.

4th inning

Saberhagen continued to coast.
McGee bounced to 2nd.
Herr, only 4-for-23 without Coleman at the top of the lineup, flew to LF.
Clark went out 6-3.

Campbell continued on the bump and got Smith to slice a liner to Van Slyke.
Wilson stroked a single over Ozzie's head. It was his tenth hit off

Cardinal

pitching.

The

Royals

' CF had entered the Series determined to put to rest the night­marish memories of the 1980 Fall Classic against

Philadelphia

in which he hit .154 and struck out a Series record 12 times.

It took me two years to get over 1980, and 1980 was on my mind when we started this Series. But when I got my first hit, I forgot all about it.

With Willie on the move, Brett lined a single to LF. The runner had to stop at 2nd.
But Wilson took care of that by stealing 3rd without a throw while White was batting. Frank then hit the next pitch straight to Pendleton who started an around-the-horn DP.

5th inning

Van Slyke lined to CF.
Smith caught Pendleton's fly.
Landrum picked up the

Cards

' second hit with a grounder through the hole at 3rd. That gave Tito, playing only because of Coleman's injury, a hit in every game of the Series.

And Landrum did this after hitting only .194 in September. He recalled: I was in a zone. It was mazing. It clicked from my first at-bat. "Wow, I'm in real time, and everybody else is in slow motion." I couldn't wait for the next at-bat. I couldn't wait for the ball to be hit to me. ... I didn't have time to get nervous.

Porter skied to Wilson.
Sunberg lined a single to RF.
Herzog called for Jeff Lahti to face Balboni. For the third time in two nights, Steve grounded a single between Pendleton and Smith.
Motley ripped a single to RCF to send home Sunberg.
Biancalana went down swinging.
Saberhagen bunted to Clark, who threw to Smith for the force at 2nd.
Leadoff man Smith came up for the fourth time. He drove the ball between Pendleton and the 3B bag to score both Balboni and Saberhagen. Lonnie cruised into 3rd.
Wilson hit a chopper over the mound and just beat Herr's throw to 1st as Smith scored.
Southpaw Horton came in to face Brett. Already 3-for-3, George lined the first pitch into CF to send Wilson to 3rd.
With the count 1-1 on White, Herzog made a double switch, bringing in Joaquin Andujar to pitch and sending Mike Jorgensen to LF, batting 9th. Unwittingly, the

Cardinal

skipper had just thrown a match into a powder keg.
White bounced a 3-2 pitch just over Pendleton's leaping glove to put KC into double figures.
With the count 2-2 on Sunberg, Andujar threw a pitch that tailed just off the inside corner. When Denkinger called it a ball, Joaquin pointed in and came toward the plate. Herzog hurried out to protect his pitcher and got into it with Denkinger, venting all the rage that started with Don's call the night before. Whitey got tossed and then really got in the ump's face.

Cardinals

came out of the dugout and surrounded Denkinger as his crew mates came to his assis­tance. When play resumed, Andujar threw another tailing fastball that Denkin­ger called ball four. That set off Joaquin again, who came running in and got in the ump's face and led to his ejection. Several

Cardinals

had to restrain the hotheaded P.

Herzog

was the first manager ejected from a Series game since

Billy Martin

in 1976 and the first one ever to get thrown out of a 7th game.

Andujar

was the first player ejected in the Fall Classic since

Cincinnati

's

Clay Carroll

in 1970.

Herr

recalled:

The Denkinger situation was like a bomb waiting to explode. After he blew the call in Game 6, Whitey made a comment, "We got him behind the plate tomorrow. What do you think that's going to be like?" That was the history. And Joaquin had come off a game where he felt he had gotten squeezed in his previous outing. Now he's out there, and he throws one that's a borderline pitch. He doesn't get the call aagain, and he just goes off. It was a predictable thing for us if you knew Joaquin.

Bob Forsch took the mound with the bases loaded and uncorked a wild pitch to Balboni, Brett scoring the 11th run. Steve then flew out to CF to finally end the six-run inning.
Royals 11

Cardinals

0


6th inning

Lynn Jones replaced Lonnie Smith in LF.
Jorgensen ground out 4-3.
Ozzie doubled his hit total for the Series with a single to LCF.
McGee flew to RF.
Herr popped to SS.
Motley lined a single to CF.
Biacalana rapped into a 4-6-3 DP.
Saberhagen struck out looking.


7th inning

The

Cardinals

finally put two men on base in the same inning.
Clark flew to deep LF.
Van Slyke singled to RF - his first hit of the Series.
Pendleton followed with another single to RF.
Steve Braun pinch hit for Forsch and flew to CF, Van Slyke taking 3rd after the catch.
Porter drove the ball to deep RCF where Motley pulled it in to preserve the shutout.
Ken Dayley toed the slab and got three flyouts.
Jones to RF.
Wilson to deep CF.
Brett to CF, the first time he had been retired all evening.

8th inning

Jorgensen grounded out 1B unassisted.
Smith fouled out to 3B.
McGee went down 4-3.
Dayley mowed down the Royals again, adding fuel to the fire of

Cardinal

fans who wished Whitey had left Ken in for the 9th inning in Game 6.
White flew to LF.
Sundberg popped to Herr.
Balboni hit it in the air for a change - to Van Slyke in RF.

9th inning

With the only suspense being whether he would preserve his shutout, Saber­hagen breezed through the 9th, showing no signs of fatigue as the fans stood and cheered every pitch in anticipation of the Royals' first World Championship.
Herr grounded to his counterpart, White.
Clark flew to CF.
Van Slyke flew to Motley in deep RCF.
FINAL: ROYALS 11

CARDINALS

0

The Royals became the first team ever to win the World Series after losing the first two games at home.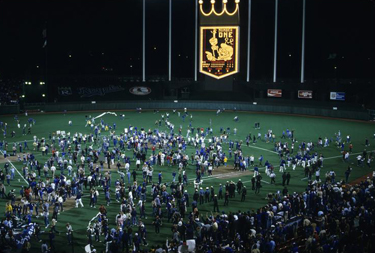 Postgame
Bret Saberhagen won the World Series MVP Award after allowing only one run in 18 innings.
The

Cardinals

set a dubious record by hitting only .185, a new low for the World Series.
Denkinger commented on the 5th inning ejections to a pool reporter.
Andujar came off the mound, screaming that the pitch was inside (meaning an inside strike). I told him one more, and he's gone. Whitey came out and started yelling. He was using vulgarity. He was gone. We got settled down, started again, one pitch, Andujar starts again. He's gone. Don added that Whitey brought up Saturday's call after he was ejected.
Royals Clubhouse
Brett, who had been Howser's staunchest defender during difficult times, yelled at the skipper as they dashed into the clubhouse, You're the best manager there is.
Howser: I'm not surprised we did it. I"m surprised at how we did it, a blowout game. ... We just never stopped believing in ourselves. I can't tell you the times we have been counted out in the regular season, the playoff, and the World Series. No one on this team knew the meaning of the word "quit." Character is a word that I would apply to each and every member of our team. But Dick Howser can't take credit for that. Their parents had a lot to do with that, and I mean it. Per­haps thinking about the criticism he received that he couldn't manage under pressure, Dick said: I have never panicked, and I have never doubted my ability, not as a player, coach, or mana­ger. I said all my life that I would do it Dick Howser's way. Not the owner's way, or the parking lot attendant's, not my mother-in-law's way. The day I make a move in a game just because people are telling me I should will be the day I doubt myself.
Before the game, Saberhagen had said, I can't be disappointed with the year this team has had and with this baby. But if we do win the seventh game, it might make me go into labor. After the game, he added: I can't imagine having a bigger year in my life. I'm standing on cloud nine.
Motley, who started the Royals' scoring with a two-run HR: It's a great feeling. It's something I've always dreamed about. It's a dream come true.
Hal McRae: I never said it for print, but I've never felt so confident of anything in my life. We could see they didn't have any pop, and our pitchers could jam them.
Sundberg: In a way, I feel bad for the

Cardinals

. They're a good ballclub, and people didn't get to see what kind of a good hitting and running club they really are. But you have to credit our pitching. They did the job.
Dan Quisenberry recalled how the Royals had come back from 3-games-to-1 down aganst

Toronto

and then repeated the feat against

St. Louis

. They kept pushing our backs to the wall time and again. But you know what? We found out that wall has rubber padding, and we just bounced right off.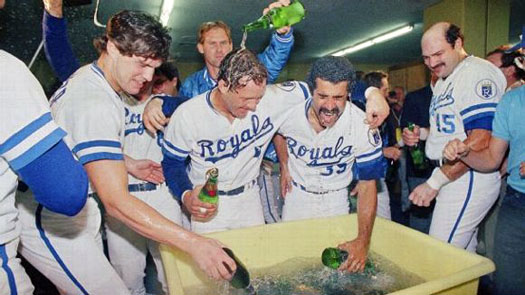 Herzog said he didn't mind being kicked out of the game. I didn't mind leaving. I'd already seen enough. All I'll say is that I don't think we should have been out there playing this game. Denkin­ger knew he blew the call Saturday night, and so did 200 million other people. ... We should have put it away last night, and we didn't. Whitey tipped his hat to the Royals but reluctantly. I don't think the Royals would win our division. I don't think they'd win the American League East. But give them credit. In a series like this, pitching dominates. ... John couldn't make the pitches. Saberhagen pitched great, but when you only get 13 runs, you don't deserve to win the Series. They had good stuff, but it wasn't that good, or they'd have won 135 games. When asked if he wanted the volatile Andujar back for 1986, the White Rat replied, Why sure. He'll probably win 20 games. He won 20 by August. He wins 20 by the All-Star break, and he'll be back. He likes the ball. He'll probably pitch our third or fourth game.

Despite what he said,

Whitey

had had enough of

Andujar

's antics and asked GM

Dal Max­vill

to trade the P to

Oakland

in the off-season.

Tudor had come within two outs in Game 6 of being voted the MVP of the Series after pitching superbly in Games 1 and 4. The Series came down to one game, and that ended in a mess. It will be hard to forget. I don't know if I can feel worse this this. When asked about his encounter with the clubhouse fan, he replied, It was a stupid thing to do.
Attendance totaled 327,494 (average 46,785).
Each member of the winning team received $76,342.
The losing player's share was $54,922.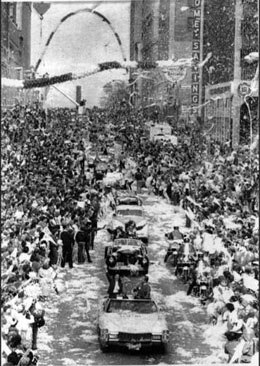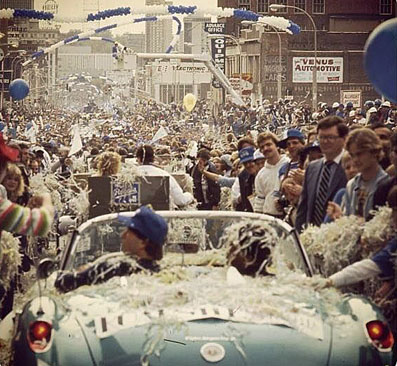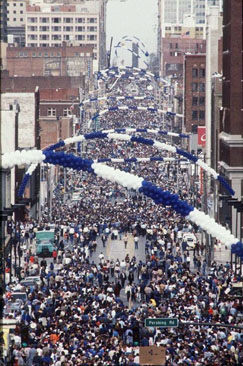 Kansas City celebrates the Royals' championship.
Game 7 of the 1985 World Series was the biggest black mark on Whitey Herzog's Hall of Fame career. Instead of telling his team to put the bad call behind them and take a positive approach to the deciding game ("we'll still win"), he pouted and used Denkinger as an ex­cuse for failure, practically telling his team they had no chance. When you resent the fact that you have to play one more game, it's hard to win.
In 2017, Herzog recalled 1985 Game 7 for Cardinals Magazine: Because of the Game 6 call, Denkinger hadn't gotten any rest with everybody calling him. Even the commissioner let him know he had blown the call. His fuse was short when I went out after Joaquin threw a ball that was borderline. Joaquin wanted to know if it was high, and instead of saying yes or no like umpires usualy do, Denkinger starts going out to the mound. I went out there and said, "What are you doing? Get your (butt) behind home plate. He only asked if you called the pitch high." Denkinger said something back to me, and I said, "Well, if you had done your job last night, we wouldn't be out here." That was the first time I ever got kicked out without using profanity. I needed Joaquin to get us to the seventh inning, and he lasted one batter. Here we are in the fourth inning and him and I are having a Budweiser in the clubhouse watching the seventh game on TV. That was the worst day I ever spent in the game.
Dick Howser
died tragically of brain cancer less than two years after winning the 1985 World Series. The baseball stadium at his alma mater,
Florida State
, is named for him. The
Cardinals
fan in New Orleans, also a
Seminole
, decided that the '85 championship, with
Coleman
's injury and
Denkinger
's bad call, was the Almighty's gift to
Dick
before his early death.
References:
The World Series
,
David S. Neft
&
Richard M. Cohen
(1990)
The Spirit of St. Louis: A History of the

St. Louis Cardinals

and

Browns
,
Peter Golenbock
(2000)
The Seventh Game
,
Barry Levenson
(2004)
Cardinals

Magazine
, "
Tito
's Time,"
Stan McNeal
(2015)