1973 was a wacky year in baseball.
Yankee

pitchers Fritz Peterson and Mike Kekich swapped wives during spring training, causing Commissioner Bowie Kuhn to denounce their immorality.
The American League introduced the designated hitter. As a result, the composite AL batting average rose 20 points to .260.
The

New York Mets

won 82 games, tied for fifth most in the National League but good enough to win the NL East and allow them to upset the mighty

Reds

to qualify for the World Series.
In the Junior Circuit, the

Baltimore Orioles

won 97 games, the most in the major leagues, but did not go to the World Series because of their three games-to-two loss to the Oakland A's in the ALCS.
After his A's surprised the baseball world by defeating the Cincinnati Reds in the 1972 World Series, meddlesome owner Charles Finley made a number of changes in the roster.
Exiting Oakland were OF Matty Alou and 1B Mike Epstein as well as Orlando Cepeda, who would have made an excellent DH. The A's also traded one catcher, Dave Duncan, for another, Ray Fosse of the

Indians

.
Still, fielding what The Sporting News called "the best lineup in the league," the A's were favored to defend their AL championship.
Finley also improved the club Trilloby acquiring speedy CF Billy North from the

Cubs

for journeyman P Bob Locker. North provided a serious upgrade offensively and defensively over Angel Mangual in the middle of the OF, allowing Reggie Jackson to move to RF.
Charlie plugged the DH hole by obtaining 1B Deron Johnson.
The '73 Athletics won one more game (94) than their '72 counterparts.
Jackson led the AL in runs, home runs, RBIs, slugging %, OPS and OPS+ (the latter two statistics not calculated until years later). As a result, he ran away with the MVP vote, finishing first on every ballot.
The pitching staff sported a trifecta of 20-game winners: Ken Holtzman (21-13), Catfish Hunter (21-5), and Vida Blue (20-9).
The A's led the Junior Circuit in runs by a whisker (3) over

Kansas City

and were second in ERA (3.29) to

Baltimore

.
| | |
| --- | --- |
| Charles Finley and Dick Williams | Yogi Berra |
While the Junior Circuit went as expected, the NL produced a surprise winner.
The

Mets

felt they had a team that was better than the "miracle" 1969 team. The pitching staff, led by Tom Seaver, the NL Cy Young winner, could stand against any in baseball.
But injuries plagued Yogi Berra's team from the start. C Jerry Grote fractured his throwing hand wrist. SS Bud Harrelson fractured his hand. Then, after coming off the disabled list, went back on with a fractured chest bone. To make matters worse, closer Tug McGraw lost his touch. After garnering five savevs in April, he blew seven leads or saves the next three months as his ERA ballooned to over 5. As a result,

New York

spent July and the first week of August in last place in the NL East.
Fortunately, no one else took control of the division. Heading into Sep­tember,

NY

had "risen" to 5th place but were only 4.5 games behind co-leaders

St. Louis

and

Pittsburgh

.
The

Mets

went 19-8 the rest of the season, jumping from 4th to 1st in three days (September 18-21) during a seven-game winning streak. Down the stretch, McGraw coined the phrase "You gotta believe!" but, more importantly, backed up his words with 10 saves in September, including three the final week.
While second-to-last in the National League in runs, the

Mets

were third in ERA, only .01 behind

St. Louis

.
Meanwhile, West champion Cincinnati was the heavy favorite to defend their NL crown, especially after they beat Seaver in Game One 2-1.
But John Matlack fired a two-hit shutout in Game 2 and the

Mets

pounded out a 9-2 victory behind Jerry Koosman in Game 3.
But the

Reds

eked out another 2-1 triumph, this one in 12 innings, to set up one game for the title with the same starters as Game One. This time, Tom Seaver won the duel and the NLCS 7-2.
New York writers called the pennant "Miracle #2."
The
Mets
and
A's
split the first two games of the World Series in Oakland.
Ken Holtzman outdueled Jon Matlack 2-1 to take Game One for the home team.
But the

Mets

rebounded to win an exciting but ugly Game 2, 10-7, in 12 innings. 42-year-old Willie Mays, saying goodbye to America before retiring, singled in the tie-breaking run in the top of the 12th to end the longest World Series game in history (4:13).

Unfortunately, Mays also lost a line drive in the sun that sailed over his head and failed to catch a liner that he was have handled easily in his prime. To make matters worse, he stumbled and fell while rounding 2nd on a single and had to crawl back to the bag rather than continue to 3rd. Afterward, Willie called it "the toughest day I can ever remember."
A's manager Dick Williams said that the loss in Game Two caused Finley to "lose his mind." The skipper was referring to what came to be known as "The Andrews Affair."
2B Mike Andrews committed two of Oakland's five errors in the game, both of which contributed to the

Mets

' four-run 12th. Altogether, half of

New York

's 10 runs were unearned.
Finley wanted to get Andrews off the team but was thwarted by the fact that each World Series team's roster was set before the Series began and could not be changed except for an injury. So as the team prepared to fly to New York for Game 3, Charlie tried to force Mike to sign a letter written by team physician saying he considered Andrews no longer able to play because of a shoulder injury and should be placed on the disabled list. However, Mike refused.
Dick Williams wrote this in his autobiography: "As I packed my bags for our immediate trip to New York [for Game 3], I thought the issue had been resolved. Charlie had tried to do one of the most heartless, gutless things I'd ever seen, but he'd failed. And maybe if I tried hard enough, I could forget about it. Then, about 45 minutes later, I walked outside to the bus and there was Andrews, unloading his bags from the equipment truck and crying. It turned out he'd signed the form under further heavy influence from Charlie. ... And that was it. I was in tears, and I was finished. At the moment I grabbed Mike's limp hand and wished him good luck, I decided that I'd need good luck too. Because I was getting the hell away from Charlie Finley. I was going to leave the Oakland A's whether they won or lost this Series."
When the A's worked out at Shea Stadium on the off day before Game 3, each player wore an armband with Andrews' number 17. Reggie Jackson said, "Half of my thoughts are on the mucking up that Finley has done, and half my thoughts are on Tom Seaver" (the

Mets

' starter in Game 3). Reggie also said he wants to organize a mass holdout in the spring.
Captain Sal Bando told the press he wanted to be traded. The press also picked up information from "insiders" that said that "manager Dick Williams is on his way out."
Jackson, the Oakland player representative, told reporters that many A's were close to mutiny over the Andrews case. Asked if a boycott of the World Series were possible, he said, "There are many players close to that way of thinking." But Reggie tempered that remark by saying the A's would probably play "and we'll win the series, but that will be it. We want no more to do with Finley after that."
Charlie said the whole affair had developed because of a lack of cumminication between management and players. "The A's not only are a great ballclub, they are a colorful ballclub. We all speak our minds, me and them. Sometimes we speak before we have the facts."
The morning of Game 3, Kuhn announced that Finley could not activate infielder Manny Trillo and ordered him to reinstate Andrews, who had gone home to Massachusetts and couldn't rejoin the team until Game 4. So Williams was forced to play Game 3 with only 23 players.

The other missing player resulted from two September events. First,

Finley

sold

Jose Morales

to the

Montreal Expos

on September 18. Two days later,

Billy North

tore his ankle ligaments.

Morales

would have replaced

North

on the post-season roster but was not available.

Finley

tried to add

Trillo

for the World Series, but

Kuhn

said no. So

Charlie

got on the loudspeaker before Game One of the Series, with the Commissioner in attendance, and announced that he wanted

Trillo

but

Kuhn

wouldn't allow it. Once again, the

A's

staff and players were embarrassed by their owner's behavior.

Just before Game 3, Finley called Williams and demanded that he tell the team the owner's side of the Andrews story. Dick reluctantly did so, knowing his players realized the words weren't really his. But the skipper went further. As he recalled, "I'd set a record by managing a Charlie team for three years without being fired, and that was enough. I was resigning after the Series. I told them, 'This is the hardest thing I've ever done, but somebody has to stand up to this man, and it's going to be me. I added that if anyone leaked the story to the media, I would deny it.'"
Was there any way the distracted A's could win Game 3? Could a team in such turmoil win the World Series?
New York was excited about Game 3.
Scalpers were demanding and getting $100 for a $15 box seat.
According to the New York Visitors and Convention Bureau, an influx of 10,000 visitors for the Series would add $12 million in extra business for the city.
54,817 packed Shea to watch the expected pitching duel between Tom Seaver and Catfish Hunter. An estimated 34,000,000 viewers watched on NBC TV starting at 8:30 PM local time.
Rain from earlier in the day had left the area, creating a pleasant evening with a slight breeze blowing toward RF.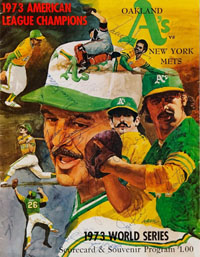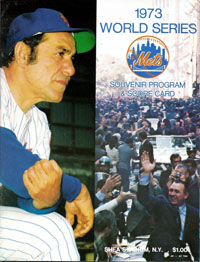 Starting Lineups


Batting Averages are regular season.

Oakland Athletics

| | | |
| --- | --- | --- |
| Bert Campaneris | SS | .250 |
| Joe Rudi | LF | .270 |
| Sal Bando | 3B | .287 |
| Reggie Jackson | RF | .293 |
| Gene Tenace | 1B | .259 |
| Vic Davalillo | CF | .188 |
| Ray Fosse | C | .256 |
| Dick Green | 2B | .262 |
| Catfish Hunter | P | 21-5 |

New York Mets

| | | |
| --- | --- | --- |
| Wayne Garrett | 3B | .256 |
| Felix Millan | 2B | .290 |
| Rusty Staub | RF | .279 |
| Cleon Jones | LF | .260 |
| John Milner | 1B | .239 |
| Jerry Grote | C | .256 |
| Don Hahn | CF | .229 |
| Bud Harrelson | SS | .258 |
| Tom Seaver | P | 19-10 |
1st Inning
SS Bert Campaneris (2-for-10 in the Series) fouled to C Jerry Grote.
LF Joe Rudi picked on a Seaver fastball and lined it off the LF wall for a double.
3B Sal Bando fouled on a sharp-breaking slider.
RF Reggie Jackson got some boos as he stepped in thanks to his declaration during the playoffs that he hoped

Cincinnati

won the NL pennant because "I'd rather play against the best." The crowd went wild when Seaver fogged three strikes past the AL leader in HRs and RBIs.
Catfish Hunter, with a 4.38 ERA on the road during the '73 season vs 2.51 at home, started poorly. Lefthand-hitting Wayne Garrett, whom

Mets

fans hoped was the answer to the

Mets

franchise-long search for a 3B, smacked a hanging curve high over the auxiliary scoreboard in RF.

When SS Felix Millan followed with a first-pitch single to LF, Blue Moon Odom started warming up in the bullpen.
On a hit-and-run with SS Campaneris moving over to cover 2nd, Rusty Staub punched a grounder through his vacated position, Millan racing to 3B.
Williams hustled to the mound to calm down his ace.
Cleon Jones stepped in sporting the best average in the Series, 5-for-9 (.444). A wild pitch sent Millan home to make it 2-0. Then Hunter struck out Jones.
1B John Milner bounced back to the mound, but Catfish, seeming to take his eye off the ball to look at the runner, dropped the ball to put runners on 1st and 2nd. After five errors in Game 2, the A's now had another to start Game 3.
With a chance to have a big inning, Grote went down swinging, and CF Don Hahn lined out to LF.


Mets

2 Athletics 0


Williams

recalled: "We seemed awfully out of sorts. As a sign of things to come,

Catfish Hunter

allowed a homer to the first

Met

he faced ... and then allowed another run after two singles and a wild pitch. It seemed the

A's

had finally met a distraction that was bigger than them ..."

Hunter

: "I just made some bad pitches in the first inning. The pitch to

Garrett

was a low fast ball. I wanted to get it inside but instead it was away."
2nd Inning
Seaver continued strong, striking out the side to give him five in a row.
Gene Tenace, the hero of the '72 Series, went down on only three pitches - two fastballs and a curve.
CF Vic Davalillo was caught looking on a 3-2 fastball on the outside corner.
C Ray Fosse whiffed on a fastball.
SS Bud Harrelson, a hero to

Mets

fans because his fight with Pete Rose during the NLCS, hit a short fly to Davalillo in CF.

Bud Harrelson fights Pete Rose after Pete's hard slide into 2B in NLCS Game 3.

Seaver popped the first pitch over the

Mets

dugout. Tenace went into the photographer's area to spear it.
Garrett brought the fans to their feet with another liner down the RF line but this one curved foul into the stands. Then he walked.
Millan hit a soft liner to Campaneris.
3rd Inning
Would Seaver tie Mo Drabowsky's World Series record of six Ks in a row? 2B Dick Green ended the suspense by grounding the first pitch to Garrett.
Hunter, who went 1-for-1 during the season when Williams had his hurlers bat at the end of the season to prepare for the Series, made contact, lining out to Hahn.
Campaneris swung late on a fast one, singling to RF.
Rudi, 4-of-9 after his single in the 1st, grounded into a 6-4 forceout.

Battling injuries, Staub hit one off his fists to Rudi, who caught in running into foul territory.
Jones bounced the first pitch to Bando.
Milner became the second

Met

to draw a walk. Hunter, who walked only 2.4 batters per nine innings during the season.
Grote forced Milner, 6-4.

4th Inning
Jones made a nice running catch of Bando's line drive inside the LF line.
Seaver pleased the crowd again by fanning Jackson.
Tenace, who was 4th in the AL in walks, drew his fourth pass of the Series.
Davalillo hit a little grounder in front of the plate. Grote grabbed it but threw wide at 1B. The scorers ruled the play a single.
Fosse hit a bounder over Seaver's head. Harrelson charged and threw the batter out at 1st.
Hahn rapped a fast grounder just inside the 3B line into the corner for a ground-rule double when a fan interfered with the ball. Bando was chagrined that he didn't react better to the ball.
Odom and Paul Lindblad went to work in the A's bullpen.
Harrelson flew to Jackson, who fired the ball on the fly to 3B to squelch any thoughts of Hahn advancing.
With a chance to help his own cause, Seaver looked at a 1-2 curve.
Pitching coach Wes Stock trotted out to talk to Hunter. The purpose of the visit quickly became apparent when Hunter intentionally walked Garrett.
Millan bounced the first pitch down the 3B line. It bounced away from Bando for a single to load the bases.
With a chance to break the game wide open and give the

Mets

a seemingly insurmountable lead with Seaver pitching so strong, Staub hit the first pitch to Hunter to retire the side.
5th Inning
Seaver continued his overpowering pitching, striking out Green, Hunter, and Campaneris on 12 pitches. That gave his nine for the game.
Jones bounced out 1-3.
Milner smashed a long drive that hit high off the wall in RF. Jackson fielded the carom perfectly and held John to a single.
Rudi caught Grote's looping fly.
Hahn hit the first pitch to Rudi.
6th Inning
Rudi, the A's best hitter the last three weeks, drove the ball 396' to the RCF fence, but Hahn made a leaping catch.

Joe hit the ball hard every time up and explained why after the game. "How fast is Seaver? He's Nolan Ryan fast. ... I always look fastball and luckily I was able to see the ball good tonight ... in fact, I'm seeing the ball the best I have all year."

Bando also tested Hahn, who turned two different ways and watched the ball fly past him for a double.

Berra

: "

Hondo

[

Hahn

] catches

Bando

's double most of the time. He thought he was three or four feet closer to the wall than he really was. It wasn't his fault. They took out three feet of turf to fix up the infield [after the fans tore it up at the end of the NLCS victory over the

Reds

] and that left the track two or three feet longer than usual. He could have gone back far enough to get it if he knew how far away from the fence he was. It's my fault too. I made a mental note to tell him about that when I was driving here today. I just forgot it. And it cost all of us."

Bearing down, Seaver continued his mastery of Jackson, fanning Reggie for the third time on two curves and a sizzler.
Tenace fell behind on a curve before smacking a liner that hooked into the LF corner. Bando crossed the plate with the A's first run.

Tenace: "I didn't figure he would throw me a fast ball, but he did. He threw it down and in. I hit a heck of a pitch. Seaver has great stuff, and he's a great competitor. He's like Catfish. They challenge you."

Davalillo hit the ball hard to Millan, who tossed to 1st to end the threat.


Mets

2 Athletics 1
Harrelson smashed a liner through the box into CF.
Oakland's short relievers, southpaw Darold Knowles and Rollie Fingers, got up in the pen.
With everyone expecting a bunt, Seaver couldn't get it fair in three tries.
Hunter broke a curve over the outside corner to send Garrett back to the dugout with the bat on his shoulder.
Millan stroked a liner into LCF that Davilillo ran down.
7th Inning
8th Inning
Seaver faced the top of the A's order. What he feared took place as Campaneris hit the first pitch for a single into LF.
Bert, who stole 34 bases during the season, took off on the first pitch and stole second despite Grote's perfect throw. Replay showed that Russ Goetz's call could have gone either way.

Campaneris was asked afterward if he was aware of Grote's fine arm. "Any time I be on base, my job is to try and get to second. I gotta try, especially in time like this. There's no pressure in World Series on me. ... I get the outside of the bag with m right foot. I usually go on my own. I watch Seaver on television in the playoffs. ... Seaver is slow in his move to home plate. So I get the jump and I go."

Rudi hit the next pitch on the ground past 1B Milner to send home the tying run.

Berra implied afterward that Milner should have snagged Rudi's grounder. "Looked like maybe John didn't get his glove down far enough. But the ball was hit very hard. Don't forget that."

Bando bunted down the 1B line. Milner fielded the ball and, without looking toward 2nd, threw to Millan at 1st. Grote was visibly upset that the throw wasn't made to 2nd.
Yogi Berra went to the mound to ask Seaver if he wanted to pass Jackson intentionally. The answer was no.
Reggie finally put the ball in play, flying to Hahn on the first pitch.
After taking two curves for strikes, Tenace swung threw a fastball.
Athletics 2,

Mets

2
With the crowd clapping, Knowles set the

Mets

down in order.
Hahn grounded out 6-3.
Harrelson, from Hayward CA in the A's backyard, skied to short LF.
Jim Beauchamp batted for Seaver and lined out to LF on the first pitch. So neither starter would get a decision in the game.

Berra

explained afterward why he hit for

Tom Terrifi

c: "It was cold out there, his arm was stiffening, and I figured he had pitched enough."


Williams

: "I was thrilled when the

Mets

had to take him [

Seaver

] out for a hitter."
9th Inning
Berra did not bring in Tug McGraw, who pitched six innings in relief in Game 2. Instead another veteran southpaw, Ray Sadecki, took over the pitching duties to face back-to-back lefthanded hitters.
Davalillo rapped the ball off Millan's glove into RF. At first the scorers called it a hit but changed the call to an error.
Bourque bunted the ball hard between the mound and 1B. With Milner charging the plate, no one covered 1B.
Allan Lewis pinch ran for Bourque. After a delay, Berra called for Tug McGraw, the man who created the

Mets

' slogan "You gotta believe!"

After pitching six innings in Game 2 following extensive use down the stretch, McGraw admitted he was "exhausted." However, he added, "Tomorrow's an off day, and then we don't play until Tuesday night, so that's an extra few hours. ... So I should be all right by then."
Berra on why he brought in Tug: "The bullpen said he was throwing good, and he told me before the game he could go. He can field bunts real good. He gets off the mound better than Ray."

The first batter Tug faced was Ted Kubiak, who entered the game in the bottom of the 7th at 2B. With both corners charging, Kubiak bunted two curve balls foul. Still bunting with two strikes, he took a ball, then bunted on one hop to McGraw, who threw to 3rd to easily force Davalillo.
Angel Mangual pinch-hit for Knowles and took a called third strike.
Campaneris worked the count full, then hit an easy fly to CF. McGraw had worked his magic again. The fans gave him a standing ovation as he walked to the dugout.

Lefty Paul Lindblad took the mound. Davalillo switched from CF to 1B, with Mangual taking his place in the outfield.
Garrett popped to SS on the first ptich.
Millan grounded to SS.
Fingers began throwing again in the bullpen.
With the count full, Staub again hit to the opposite field, but this time the ball found the LCF gap, bouncing over the wall for a ground-rule double.

Tenace took a foul tip in the groin during the inning. Bando, the A's emergency C, pleaded, "Get up, Gino, please get up." Sal got his wish.

Williams ordered an intentional walk to righthand-hitting Jones to bring up Milner.
Yogi went with his 1B. With a chance to win the game, John fell behind 0-2, then lined a pitch that looked for a moment like it would sail over Jackson's head. But Reggie snagged the ball to send the game to extra innings.

It was the first time a World Series had two extra-inning games since 1952 and the first time since 1933 that a Series had back-to-back free baseball.

10th Inning
Would Williams have his hands tied in extra innings because he had only 23 players at his disposal? The only position player at his disposal was Billy Conigliaro. Perhaps Dick would have to use a pitcher as a pinch-hitter.
Throwing mostly screwballs to the righthanded batter, McGraw fell behind Rudi 3-1 before getting him to hit a liner that Jones grabbed.
Bando hit a single down the RF line. It looked like an easy double but Sal tripped rounding 1st. Staub's throw appeared to beat the runner at 2nd, but Millan couldn't handle it as he dived into the runner. Single and E4 - his third in the Series.
Swinging on the first pitch as he did in the 8th, Jackson bounced to Millan, Bando taking 3rd.
Berra went to the mound to confer with his battery. As a result, Tenace was given an intentional pass after he failed to offer at two pitches outside the strike zone.
When Davalillo hit a screwball high into RF, McGraw started for the dugout as Staub caught the ball to end the threat.
Facing sudden death again, Lindblad got the first two batters, Grote and Hahn, to ground to 2B.
Then the pesky switch-hitter Harrelson poked a grounder into RF.
Out came Willie Mays to hit for McGraw. Wouldn't it be a storybook ending if the future Hall of Famer drove in the winning run? But with the crowd cheering, Mays hit the first pitch into the hole. Campaneris fielded it and fired to Kubiak for the forceout.

McGraw on his heavy work load. "My arm is used to that kind of work. If my arm begins to tire, I would get wild. The catcher would notice that I'm not throwing the ball where I wanted. But tonight I was throwing it where I wanted, except that one pitch to Sal Bando which he hit into the LF corner."



11th Inning
With McGraw out because of the pinch-hitter, Berra went to righthander Harry Parker.
One of the best athletes on the A's, Lindblad hit for himself. He got good wood on the ball but lined straight to Harrelson.
Kubiak, a switch-hitter, walked on four pitches.
With one out, Williams didn't order Mangual to bunt, especially with Garrett playing shallow at 3rd. Angel swung at missed at a 2-2 fastball, but the ball bounced away from Grote. Kubiak ran to 2nd,and Mangual to 1st. But, after some confusion, Angel was ruled out because 1st base was occupied. It was the 14th A's batter to strikeout, 12 of them attributed to Seaver.
With the game on the line, Parker got ahead of Campaneris 1-2. After fouling a curveball and taking a ball, Bert lined a single into LCF, scoring Kubiak. Campy continued to 2nd, but Garrett cut off the throw home and threw to Millan to retire the batter. Athletics 3

Mets

2

Campeneris

: "I hit a high fastball for the winning hit ... I don't think

Parker

wanted to get it up that high." He added, "I no worry about the scouting reports. They mean nothing to me. I hit like a lot of the Latin players. I go up there swinging the bat. Like this one that win the game. I hit the high fastball not too hard, but I hit it good enough."


Kubiak

said afterward: "It's the biggest run I ever scored. But all I did was run.

Campy

got the hit.

Longtime

Mets

reporter

Jack Lang

likened

Grote

's missing the third strike on

Mangual

to send the winning run to 2nd to

Mickey Owens

' infamous muff of a third strike on

Tommy Henrich

that would have ended the 4th game of the 1941 Series. Instead of the

Dodgers

tying the Series at two games each, the

Yankees

rallied to take a 3-1 Series lead.

Garrett tried to check his swing on a high breaking ball from Lindblad, and wouldn't you know it? The ball sailed into CF to put the tying run on 1st with no outs.
Williams came out and called for Fingers to face Millan despite the fact that Rollie had not been effective in the Series, with an ERA close to 6.
Following the rule that you play for the tie at home and to win on the road, Yogi ordered Millan to bunt. He succeeded, bunting hard to Bourque at 1B, Garrett taking 2nd.
Staub took a strike, then popped to Mangual in short CF.
It was all up to Jones. Fingers fired a fastball outside, then a slider on the outside corner. After a ball just outside, Jones swung late and fouled back. Then he hit a grounder to Campaneris, who fired to 1st for the final out of the three hour 15 minute marathon.
FINAL SCORE: ATHLETICS 3

METS

2
Postgame
A's Clubhouse
Dick Williams still thought the series would go seven games. "They have a super team, and I don't care what their record was ... we're not taking them lightly."
Reggie Jackson couldn't enjoy the victory because of all the turmoil in the days before the game. "I'm a marked man. When the game ceases to be fun, I quit. I've taken care of my money. I've invested well. But I wouldn't mind being traded from Oakland." He was especially upset that owner Finley had promise to "preside" at a team meeting Monday night. "That man wouldn't come into the clubhouse," Jackson said. He praised his team's performance. "Every time we have an incident like this, we win. We seem to pull harder together after something like this. We all get tight." He was philosophical about his 0-for-5 performance against Seaver. "He's the best pitcher in baseball, isn't he? I don't know about the other guys on the club, but he pitched super to me. I didn't get anything good to hit all night. We got by their best so now all we have to do is go out and win two more. And I believe we can do it right here, too."
Campaneris was asked, "Is it the machismo that makes you so good?" Bert broke into a big smile and said, "Si, si, that is it. It is the Campy machismo. I take charge. I like for me to be the hitter when the winning run is on the base."
Catfish Hunter was happy that Paul Lindblad got the win. "He has been my roommate for the last five years."
Gene Tenace was asked about playing a less prominent role in this Series than in '72, when he was the MVP. "I'm just trying to forget about last year and go with what's happening now. If there's any added pressure on me because of the Andrews thing, I don't feel it."
Mets Clubhouse
Yogi Berra praised Campaneris. "He won't kill you with the long hit - although he might. But he'll hurt you in a dozen other ways."
Grote hadn't talked to the press all season and didn't respond well when asked about his passed ball that allowed Kubiak to reach 2nd and score the tying run. "It wasn't the first bleeping error I ever made, and it won't be the last bleeping error I ever made. And be sure you spell 'bleeping' right."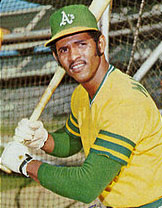 Angel Mangual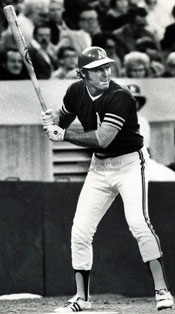 Deron Johnson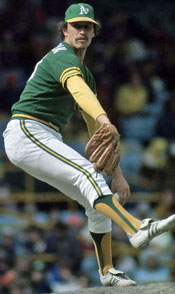 Ken Holtzman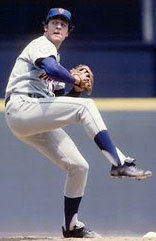 John Matlack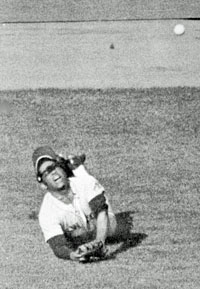 Willie Mays fails to catch line drive in Game 2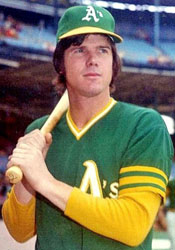 Mike Andrews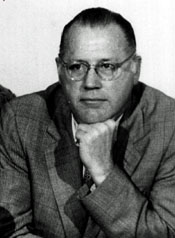 Bowie Kuhn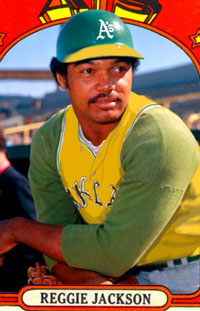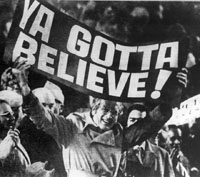 Mayor John Lindsay shows the slogan.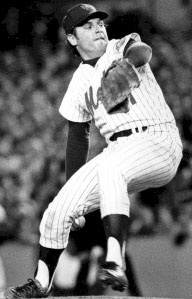 Tom Seaver throws in Game 3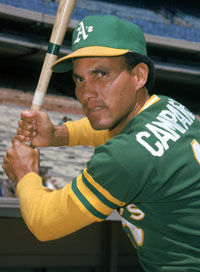 Bert Campaneris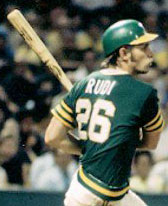 Joe Rudi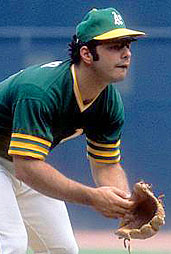 Sal Bando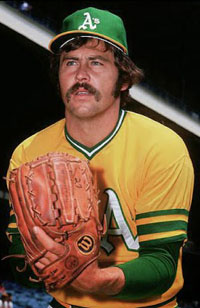 Catfish Hunter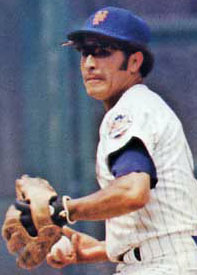 Felix Millan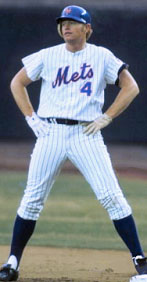 Rusty Staub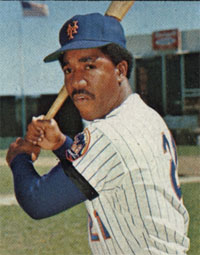 Cleon Jones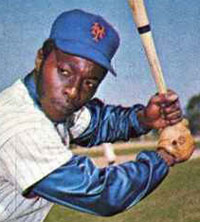 John Milner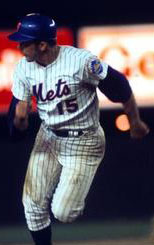 Jerry Grote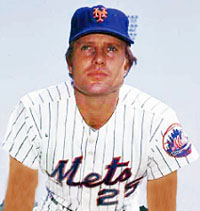 Don Hahn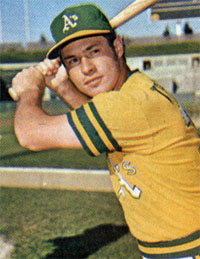 Gene Tenace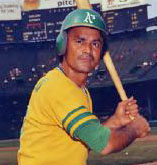 Vic Davalillo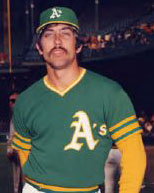 Ray Fosse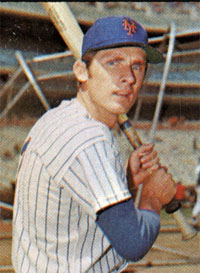 Bud Harrelson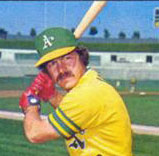 Dick Green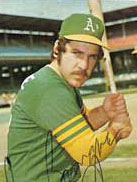 Pat Bourque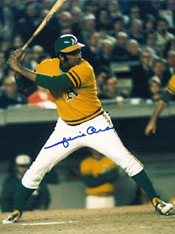 Jesus Alou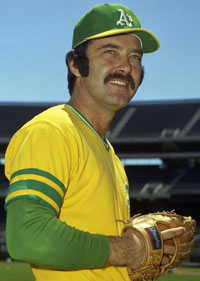 Darold Knowles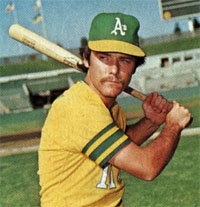 Ted Kubiak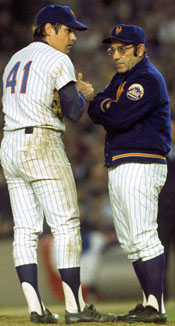 Berra confers with Seaver.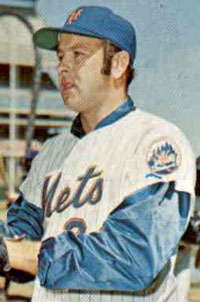 Jim Beauchamp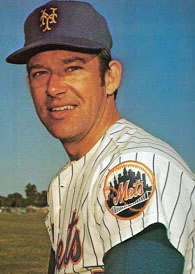 Ray Sadecki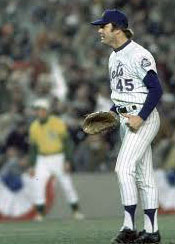 Tug McGraw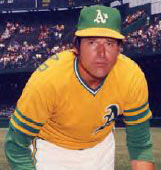 Paul Lindblad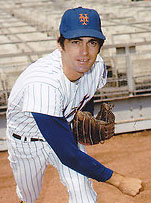 Harry Parker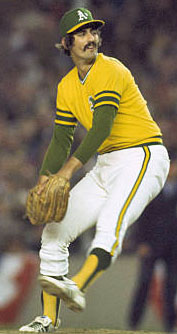 Rollie Fingers saves Game 3.