Oscar Vitt


Alva Bradley congratulates Bob Feller on his 20th win in 1940


Mel Harder


Del Baker and Schoolboy Rowe


Mickey Cochrane and Walter Briggs


Rudy York


Hank Greenberg


Tommy Bridges


Bobo Newsome


Barney McCosky

The

New York Yankees

entered the 1940 season as the favorites to win their fifth straight AL pennant.

Without their rock at 1B, Lou Gehrig, for the first full season since 1924, Joe McCarthy's club suffered another setback when Joe DiMaggio wrenched his knee in the last exhibition game.
Shockingly, the

Yanks

lost eight in a row in early May to fall into last place with a record of 6-14.
As May turned to June, the teams at the top of the standings were the surprising

Boston Red Sox

, the

Cleveland Indians

, and the Detroit Tigers.

Although Cleveland was doing well, many players were dissatisfied with manager Ossie Vitt.

In his autobiography, ace P Bob Feller summarized the team's attitude this way:
Vitt made a habit of climbing all over his men when they made a mistake, of speaking with dripping sarcasm to the reporters about his players. When he was talking to our pitchers he said our hitters were killing us, and vice versa. He kept the team in turmoil, and his moves during games were something we disagreed with often and so did the writers. ... It didn't help that his wife advised him in his managerial decisions by consulting the stars for signs about who should pitch the next day.
After holding a secret meeting, Feller and ten other players led by veteran P Mel Harder, met with owner Alva Bradley on June 14. Harder told Bradley, We think we have a good chance to win the pennant, but we'll never win it with Vitt as the manager. If we can get rid of him, we can win. The owner acknowledged the validity of the players' case without agreeing with every specific complaint but said he would not fire Vitt because mid-June was too early for such a drastic action.
Unfortunately, someone - perhaps an aspirant for Vitt's job - leaked the story of the meeting to a reporter, and the wrath of the fans and ridicule of the baseball world descended on the

Indians

. They were dubbed "Vitt's Crybabies," the "Bawl Team," the "Boo Hoo Boys," and the "Half Vitts."
The bad publicity forced the players to issue a public statement withdrawing all statements referring to the resignation of Oscar Vitt. We feel this action is for the betterment of the Cleveland Baseball Club.

But the whole affair energized the Indians.

Feller: We decided to go around Vitt. We worked with his coaches ... We used our own set of signals, worked our own strategy during games and ignored the head man as much as we could.
Cleveland won six of their next seven games to move into first place on June 20. They remained there through July 17 when Detroit, piloted by second-year manager Del Baker, overtook them.
But the

Indians

regained the top spot August 11 and stayed in first place until a six-game losing streak at the beginning of September, including a three-game sweep by the Tigers, dropped them back to second.
While all this was going on, the

Yankees

had overcome their sluggish start to rise to third place, staying close enough to keep the heat on

Cleveland

and Detroit.

Baker had rewarded owner Walter Briggs's faith in giving him another year after the Tigers finished fifth in 1939 by building his club into a strong contender for the '40 pennant.

A major problem for Baker was that Rudy York, one of his best hitters, was a lousy C. York would fit much better at 1B.
The only problem with that move was that the Tigers had the best 1B in the league in Hank Greenberg.

As a coach for player-manager Mickey Cochrane, Baker had worked tirelessly with Greenberg on his fielding, particularly on pop flies. Known for his uncanny ability to read pitchers, Del also helped Hank with his hitting from the 3B coaching box against a hurler who tipped his deliveries. If Baker detected a fast ball coming, he would yell a phrase with the word "come" in it, such as "Come on, Hank, paste this one." If he detected a curve, Del would use the word "get. "All right, Hank, get on now!" The other AL clubs knew what was going on as did many reporters, who constantly referred to Greenberg as a "guess hitter." Finally, Hank had enough, and told New York writer Dan Daniel in a 1938 interview: Time and again you have written that I am strictly a guess hitter. Writers all over the circuit have spread a similar impression. And all of you have given to the fans the idea that I wait for Baker's dope on every pitch, and unless I get the right tip from Del I do not swing. ... Up to now I have been quite content to let folks think I was a sort of Charley McCarthy, with Baker pulling the strings. ... But the importance of such information as I have accepted has been exaggerated. ...

Baker persuaded Greenberg to move to LF - in return for a healthy bonus - and shifted York to 1B.
The switch worked. Greenberg was adequate in LF, and York played in every game and would drive in 134 runs, second on the club behind Hank's 150.

The Indians visited the Motor City on the second-to-last weekend of the season for a three-game series tied with the Tigers at 85-61.

The Briggs Stadium crowd rode the visitors unmercifully, yelling "Crybabies!" at them, trying to stuff baby bottles into the players' pockets, and booing them throughout each game.
The

Indians

held a 4-1 lead behind Harder in Game 1, which attracted 22,508 on a Friday afternoon. When Mel got into trouble in the 8th, Vitt brought in Feller, but Bob, showing signs of being worn down after leading the league in innings pitched for the third straight season, gave up three straight hits, and the Tigers won 6-5.
The next afternoon, 42,320 saw Schoolboy Rowe shut out

Cleveland

5-0 to run his record to 16-3 and push the Tigers to a two-game advantage.
But the

Indians

, desperate to avoid a sweep, won the Sunday finale before 56,771. Feller gave up eight hits and walked five but won 10-5 as the

Indians

knocked Tommy Bridges out of the box in the second.

The Tigers gained the game back on the Indians during the next week when Cleveland split a pair with the Browns while Detroit took a doubleheader from the White Sox. Bobo Newsome won his 20th game with two innings of relief in the opener, then threw a complete game 3-2 victory in the nightcap.

So as the American League pennant race entered its final weekend, it was clear that the Yankees' four-year run of World Series appearances would end.

The standings on the morning of Friday, September 27, looked like this.

| Team | W | L | W-L% | GB |
| --- | --- | --- | --- | --- |
| Detroit | 89 | 62 | .589 | -- |
| Cleveland | 87 | 64 | .576 | 2.0 |
| New York | 86 | 64 | .573 | 2.5 |
| Chicago | 80 | 71 | .530 | 9.0 |
| Boston | 77 | 72 | .517 | 11.0 |
| St. Louis | 66 | 85 | .437 | 23.0 |
| Washington | 63 | 87 | .420 | 25.5 |
| Philadelphia | 53 | 96 | .356 | 35.0 |

As luck would have it, the Tigers ended the season with a three-game series at Cleveland.
The

Indians

' only hope lay in sweeping their visitors.

The press and fans expected Detroit manager Del Baker to counter Feller in the opener with either Rowe or Bridges since neither of them had pitched since the previous weekend. But the Detroit skipper had another idea.

As the crowd of 45,553, including approximately 20,000 female fans in the lower LF stands on Ladies' Day, arrived at their seats, they needed to consult a scorecard to determine the identity of the Tiger starter.

Giebell recalled: When it was time for the pitchers to warm up - Feller and myself - they thought that maybe it was a farce or something, but it didn't turn out that way.
Retaliating for the way their team had been treated in Detroit the previous weekend,

Cleveland

fans in the LF stands, most of them women, bombarded the Tigers as they took the field to warm up with tomatoes, oranges, grapefruit, and lemons.
Greenberg and some of his teammates tried to laugh it off, posing for pictures eating the fruit and occasionally throwing some back to the shouting lady admirers. Earl Averill and Barney McCosky shook hands with many of the ladies and autographed baseballs and programs.

Just prior to the game, Baker received a copy of the New Testament from a Cleveland resident who was a Tiger fan. The man wrote in the accompanying letter that the owner carried it all during the World War and it brought him luck.

Starting Lineups


Batting Averages at game time

Detroit Tigers

| | | |
| --- | --- | --- |
| Dick Bartell | SS | .233 |
| Barney McCosky | CF | .336 |
| Charlie Gehringer | 2B | .313 |
| Hank Greenberg | LF | .340 |
| Rudy York | 1B | .320 |
| Bruce Campbell | RF | .281 |
| Pinky Higgins | 3B | .273 |
| Billy Sullivan | C | .311 |
| Floyd Giebell | P | 1-0 |

Cleveland Indians

| | | |
| --- | --- | --- |
| Ben Chapman | LF | .283 |
| Roy Weatherly | CF | .303 |
| Lou Boudreau | SS | .295 |
| Hal Trosky | 1B | .299 |
| Beau Bell | RF | .282 |
| Ken Keltner | 3B | .254 |
| Ray Mack | 2B | .287 |
| Rollie Hemsley | C | .267 |
| Bob Feller | P | 27-10 |


Dick Bartell


Charlie Gehringer


Bruce Campbell


Pinky Higgins


Hal Trosky


Beau Bell


Ken Keltner


Billy Sullivan


Ray Mack


Rollie Hemsley


Jeff Heath


Detroit owner Walter Briggs congratulates Floyd Giebell.

1st Inning

Feller walked Dick Bartell, but Barney McClosky hit into a 4-6-3 DP. The Tigers protested the out call at 1B by umpire Harry Giesel.
Charlie Gehringer flied to RF.
Baker decided to hedge his bet on Giebell by having Rowe warm up in the bullpen at the start of the half inning.
As Hank Greenberg took his place in LF, he was greeted by four or five articles of food, but none came close. However, that was only a preview of what was to come.
After Ben Chapman walked, Roy Weatherly hit a high fly to LF. As Hank went after it, fans peppered him with oranges, lemons, and tomatoes. He grabbed the ball out of what looked like a meteor shower. The Tigers charged off their bench in protest, causing home plate umpire Bill Summers to take the P.A. microphone from the field announcer and say: Ladies and gentlemen, the management of the Detroit ball club will remove their team from the field if the throwing does not stop. Every time a fly ball is hit and a Detroit player is interfered with, the umpires will call the batter out. Fans drowned out most of the announcement with boos.
When play resumed, Lou Boudreau hit a liner right to 1B Rudy York, who stepped on the bag for an unassisted DP.

| | | |
| --- | --- | --- |
| Ben Chapman | Roy Weatherly | Lou Boudreau |

2nd Inning

Greenberg skied a fly that CF Weatherly lost in the sun. The ball dropped for a double.
When York flew out to RF, the Tigers had a runner on 3rd with only one out.

At this point, the game was again delayed by a nasty incident. When the 1st inning ended, Rowe and C Birdie Tebbetts, who had been warming up in the bullpen at the end of the LF boxes, sat down to watch the action. That made them targets for a fan in the upper deck. He lifted over the railing a long basket containing green tomatoes and four beer bottles, then dropped it on Tebbetts as accurately as though he had a new United States bomb sight. The basket hit Birdie on the back of the head and knocked him unconscious. Policemen seized Carmen Guerra, a 25-year-old Cleveland iceman, as the attacker. Eight officers carried the heavy-set redhead down the stadium ramp. Tebbetts heard the shouts as the police came near with their captive. Birdie shook off his daze, ran through the seats, caught up with the attacker, and smashed a right-handed punch to the face before being hauled off by teammates. After the game, Tebbetts and Tiger officials refused to press charges against Guerra. However, the Cleveland police still held him on a charge of disorderly conduct and set arraignment for the next day. It turned out that the police arrested the wrong man.

After the delay, Bruce Campbell drew a base on balls, but the

Indians

turned their second DP in as many innings, 6-4-3 this time on Pinky Higgins's grounder.
Throwing a good curve and a "hopping" fast ball, Giebell set

Cleveland

down 1-2-3.
Hal Trosky popped to SS.
Beau Bell grounded out 3-1.
York retired Ken Keltner unassisted.

3rd Inning

4th Inning

5th Inning

The Tigers looked like they would add to their lead after Higgins walked and Sullivan singled him to 3rd.
But Giebell grounded to SS Boudreau who threw to C Hemsley. Having no chance to make it home, Higgins tried to return to 3rd but Rollie's throw to Keltner beat him to the bag.
Feller then induced his third DP of the day, Boudreau stepping on 2nd and throwing to 1B.
The home team's 5th also started promisingly.
Hemsley singled to LF, then moved to 2B on a wild pitch.
Giebell made the big mistake of walking the opposing hurler.
But once again, the youngster kept his composure and worked out of the jam.
Chapman took a strike, fouled off a bunt attempt, then fanned.
Weatherly smashed the hardest hit of the game, but Campbell made a neat running catch in RCF.
Boudreau fanned.
Curses! Foiled again.

6th Inning

For the fifth time in six innings, Detroit put the leadoff man on base, this time on a free pass to McCosky.
After Gehringer fouled out to 1B, McCosky was cut down stealing, Hemsley to Mack.

The

Cleveland

SS suffered a deep spike wound in his left leg on the play but stayed in the game. Several stitches were required to close the cut.

Following a base on ball to Greenberg, York skied to SS.
The rookie induced three groundouts: Trosky to 2B, Bell to SS, Keltner to 3B.

7th Inning

Once again, the first batter reached first, Campbell taking the base on Feller's 7th walk.
Trying for an insurance run, Baker gave the steal sign, but Hemsley again rose to the occasion, 2-4.
Higgins flew out to RF, and Sullivan went down 4-3.
This kid's got to break some time.
The crowd got excited when Mack singled on the infield, and Gehringer botched a DP grounder.
Feller sacrificed successfully to put runners at 2nd and 3rd with one out.
With the

Indians

a base hit away from tying the game, Giebell struck out Chapman for the third time and got Weatherly on a grounder to 3rd.

After Chapman struck out to leave a total of six men on base for the game, a fan tossed an egg toward him but missed. The tosser was probably saving the egg for a Tiger but instead expressed his disgust at his team's performance.

8th Inning

Feller issued his 8th walk - to Bartell after Giebell fouled to 3B.
Following McCosky pop to 2B, Bartell stole 2B and advanced to 3rd on Boudreau's error.
But Gehringer missed a chance to extend the lead when he bounced to SS.
Six outs to go. We got to make something happen with our 3-4-5 hitters coming up.
Still cool as a cucumber, Giebell got Boudreau and Trosky on pop ups to C and 2nd respectively.
Bell created a flicker of hope with a single, but Keltner flied to Campbell.
This can't be happening!


9th Inning

Feller finished strong with his second 1-2-3 of the afternoon.
Mack flew to CF, York fouled to 3B, and Campbell struck out.

Cleveland reporter Gordon Cobbledick wrote: It was ironic that Feller was beaten in the best game he has pitched against the Tigers this year. He was tired and he was wild, but he allowed only three hits, one of which was an easy fly that Roy Weatherly lost in the sun. He, too, was in trouble several times and each time he pitched his way out.

Last chance! We need to get the leadoff man on.
Showing no signs of fatigue, Giebell retired Mack on a fly ball to CF.
Hemsley went down Higgins to York.
Down to his last out, Vitt sent up Jeff Heath to pinch hit for Feller. But Jeff bounced to York who stepped on the bag to start the Tiger celebration.
Can you believe it? The rookie outpitched the best hurler in the league!
FINAL SCORE: TIGERS 2

INDIANS

0

York kept running toward the mound, holding the final out ball up in the air "like a scalp."
The Tigers mobbed, hugged, and jostled Giebell before hoisting him on their shoulders for a royal exit.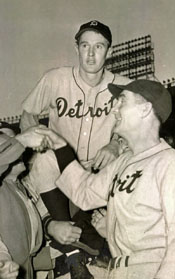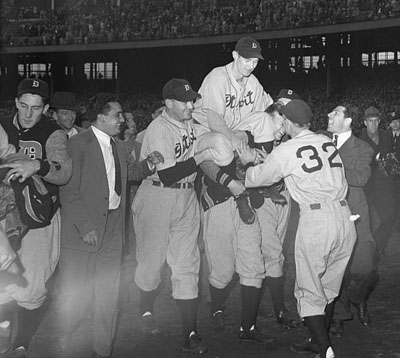 Giebell carried off.
Postgame
Tigers Clubhouse
As the Tigers poured into their locker room, Baker yelled, Did I pick him or didn't I pick him? If I never pick another one, I picked on today! Hank Greenberg replied, You did, Del! You deserve all the credit. ship today.
Pinky Higgins slapped his manager on the back, then turned to shake the hand of Rudy York. But Schoolboy Rowe pushed in. How come you're so damn formal? said Schoolboy to Rudy as he planted a big kiss on the cheek of the grinning York.
A touching site was Walter Briggs, the Tigers' co-owner or owner since 1919, in a wheel chair in the middle of the room with tears in his eyes receiving congratulations from delirious players and fans. Though in ill health, Briggs insisted on making the trip to Cleveland. This is the greatest moment of my life, he said as he greeted Baker. And I guess you will never forget this moment.
Giebell was one of the last in the dressing room. The veterans had mobbed, hugged, and even punched him, leaving him breathless, disheveled, but very happy as camera bulbs flashed all around him. Mr. Briggs congratulated his young hero. You were great, youngster. I predict that you are going to have a great future with the Tigers. Then Floyd walked to his locker and started to peel off his uniform. How does it feel to pitch the championship game? he was asked. It's nothing to get excited about, he replied nonchalantly. I think that I should have been with the club all season. The rookie explained that ten of his 17 losses at Buffalo were by one run.
Baker was naturally proud of how his pitching selection worked out. Even though I make 100 bum pitching guesses before I retire, they can't take this one away from me. I had a hunch that the kid would deliver, but I never dreamed that he would pitch such a perfect game. He was great in the pinches. With his poise under fire, he should do us a lot of good next season Del also cited an unsung hero. Sullivan caught a perfect game. He handled the youngster in flawless style. A lot of people will overlook Billy's work, but he deserves plenty of credit.
The Detroit manager explained why he wasn't surprised his Tigers won. My wife had a dream two months ago and wrote to me when we were in Philadelphia. ... She wrote me that the Tigers would win on the third day from the end of the season and in Cleveland. Ain't that somethin'? She hit it right on the dot. (Mrs. Baker modestly admitted at the hotel that she was indeed a soothsayer.)

Baker told the story of receiving the "lucky" copy of the New Testament before the first pitch. The man asked that the book be returned after the game. But Del wondered if the lender would let him keep it through the World Series.

Tebbetts on his beaning: I went out like a Keystone comedy cop, but the victory was worth a banged up noggin.
Steve O'Neill, who had been Giebell's manager at Buffalo just a few weeks earlier, put a hand on Floyd's shoulder. I told you, boy, said Steve. Thanks, boss, said the modest winning P. The boy's got it, O'Neill told reporters. Cool as ice, never rattled, a fine control pitcher. You didn't see him at his best today, though. He usually is ahead of the batter instead of behind him.

The clinching victory earned Giebell a piece of the Tigers' World Series money even though he was ineligible to play in the Fall Classic because he was called up after September 1.

Cleveland manager Ossie Vitt appeared to congratulate the Tigers and his former teammate, Del Baker. The best team won, said Vitt. The gamest team won, replied Baker. The only

Indian

player to congratulate the AL champions was Harry Eisenstat, a former Tiger.

Indians

' vice president C. C. Slapnicka sent this telegram to Baker: Your superb handling of the Detroit club was a vital factor in your team's victory. Your percentage play and judgment were excellent. We are with you 100 per cent and sincerely hope that you also are victorious in the World Series.
Indians Clubhouse
Feller: I concede defeat. Beyond that, I haven't anything to say.
Chapman was puzzled by the female fans. They brought plenty of ripe tomatoes to the park. How come they didn't fire a few at me?
P Johnny Allen: We didn't win, but we made 'em battle until the third-to-last day to beat us. Then he seemed to speak for his whole team in expressing happiness that the

Yanks

didn't win again. As long as we couldn't bag the pennant, I'm tickled that Detroit won. Four times in a row is enough for any club.
Postscript
The Tigers lost the World Series to the

Cincinnati Reds

in seven games. Read the story of Game 7.
Despite O'Neill's plaudits, Giebell never won another major league game. He appeared in 17 games in 1941 with a 6.03 ERA before returning to the minors for good.
On October 28,

Cleveland

owner Bradley announced, "We have decided not to renew Oscar Vitt's contract."
References:
Now Pitching Bob Feller
,
Bob Feller
with
Bill Gilbert
(1990)
Del Baker
,
Rob Neyer
,
sabr.org
"1940
Cleveland Indians
," baseball-reference.com (2015)
"Remembering the
Cleveland
Crybabies,"
Glenn Miller
, glennrmillerwrites.wordpress.com (2018)