This series covers the history of the AFL through the prism of its yearly championship games.
Note: The gray boxes contain asides that provide interesting material but could be skipped
without losing the continuity of the article.

Pop Ivy


George Blanda


Charlie Hennigan


Tony Banfield


Abner Haynes


Bud Adams (L) and Lamar Hunt


Curt Gowdy


The American Football League entered its third season full speed ahead.

Despite having their third coach in three years, the Houston Oilers again won the Eastern Division crown.

The coach was Lee "Pop" Ivy, who had compiled a 15-31 record with the

Chicago/St. Louis Cardinals

from 1958-61.
With almost all the talent from the two-time defending league champions still on hand, the

Oilers

finished 11-3 to take the East crown by 1.5 games over the Boston Patriots.
Again led by ageless QB George Blanda, a 13-year pro veteran, the offense led the league in yardage with 4,971. George had plenty of weapons to choose from, although star RB Billy Cannon suffered a back injury in Game 3 that would change his career.

Cannon: I still had speed, but I couldn't cut as well. My movements were a little more tentative. I'd lost something off my edge. I was playing well but not the way I'd played in '61 and not the way I felt I should be playing.

Cannon gained almost as many yards receiving (451) as rushing (474) in the double wing formation that Ivy installed.
5'6" FB Charley Tolar, AKA "the Human Bowling Ball," led the club in rushing with 1,012y. Charley Hennigan again topped the receivers with 54 catches for 867y.

Tolar had an unusual off-season occupation: oil well firefighter.

The defense finished second in the AFL in yards allowed (4,130). LCB Tony Banfield and RDE Don Floyd made the All-Pro team. Banfield combined with LS Jim Norton for 14 interceptions.

The Western Division race produced a new champion.

After the Los Angeles/San Diego Chargers took the first two titles, the Dallas Texans jumped to the top rung.
Hank Stram's outfit, the youngest in the league with an average age of 23, reversed the

Oilers

finishes in yardage, topping the league in defense (3,951y allowed) and finishing second in offense (4,862y).

Texans

owner

Lamar Hunt

, the Founding Father of the AFL, had taken a chance on

Stram

in 1960.

Hank

's entire career had been spent in college but never as a head coach. He had forged a reputation as an offensive in­novator in stops at

Purdue

,

Notre Dame

,

SMU

, and

Miami (FL)

.

Hank

also took a risk in moving to the AFL since the future of the fledgling league was in doubt. To protect himself, he insisted on a salary of $20,000 for the first season. The investment didn't pay dividends until '62 after the

Texans

went 14-14 in their first two years of existence.

The key to Dallas's offensive success was new QB Lenny Dawson, whom Stram had coached at

Purdue

. Len led the AFL in completion percentage (61.0), TD passes (29), and yards per attempt (8.9 - a stat computed retro­actively).

After a fine career at

Purdue

,

Dawson

had spent five seasons in the NFL, three with

Pittsburgh

and two with

Cleveland

, without success.

I started maybe two games and never started and finished a game ... I asked Paul Brown for my release

[in 1962]

because they had drafted a QB, and I thought that, after five years there is no way I am going to get an opportunity. He was kind enough to give it to me ...

When no NFL team picked up

Dawson

on waivers,

Stram

outbid several other AFL teams to sign him.

Hank

rebuilt

Len

's fundamentals from the ground up, literally, and turned him into a Hall of Fame QB.

HB Abner Haynes joined Dawson on the All-Pro 1st team after gaining a combined 1,622y rushing and receiving. SE Chris Burford led the club in re­ceptions with 45 for 645y despite missing the last three games with a knee injury. He would not play in the championship tussle.

Haynes was revered in the AFL because he had chosen the AFL after being drafted by both leagues. So no one could call him "an NFL reject." In 1961, he scored a record five TDs in one game. The next year, he set another record with 19 TDs in a season. His popularity and importance was so crucial that, after one Dallas game, the PA announcer told the fans: Please drive carefully on your way home. The life you save may be Abner Haynes'.

The defense was built around All-Pro LBs Sherrill Headrick and E. J. Holub as well as S Johnny Robinson and DEs Jerry Mays and Mel Branch.

The two Lone Star State teams met twice during the regular season.

The Texans humiliated the

Oilers

on a dark, rainy October 28 in Houston, 31-7. Dallas accounted for six of Blanda's record 42 interceptions for the season and also recovered three fumbles.
But

Houston

gained revenge the next Sunday in the Cotton Bowl, 14-6. Run­ning the ball twice as many times as the week before, they won the turnover battle 3-1. Would the

Oilers

maintain that approach in the championship tiff?
Over the three years of the AFL, the two clubs had split six games, making Dallas the only club to even tie the

Oilers

in their head-to-head series.

The title clash was billed as "the well-balanced Dallas Texans" against the "pass-minded Houston Oilers."

The

Oilers

were favored by 6 1/2 points.

Houston

's attack, as in 1960 and 1961, centered on Blanda's "explosive passes," which accounted for about 2/3 of the team's yardage, backed by the running of Tolar and Cannon.
Dallas blended the "brilliant passing" of Dawson, who was chosen AFL Play­er of the Year, with the power and speed of FB Curtis McClinton, the Rookie of the Year who gained 937y running and receiving, and Haynes, the AFL's second-leading ground gainer. The Texans gained 2,456y on passes and 2,407 rushing - an almost perfect split.

Stram recalled his game plan. Pop Ivy ... liked his backs to blitz often. I thought two tight ends could neutralize their blitz, leaving the remaining defen­sive backs to go man-for-man against our flankers, both of whom had great speed.

Houston owner Bud Adams wanted to move the championship game to spacious Rice Stadium.

However, the university refused to allow its site to be used for a professional game, especially the day after it hosted the Bluebonnet Bowl. The bowl win­ners,

Missouri

, stayed over for the pro game.
So the game would be played in Jeppesen Public Schools Stadium with its 32,000 seat capacity. Temporary stands were installed that allowed the at­tendance to reach 37,981 - a record for any AFL game. The game had sold out in three hours a week earlier.

December 22, the day before the game, the city of Houston voted to approve a bond issue to fund a new domed stadium.

ABC would televise the contest nationally starting at 2 PM CT with Curt Gow­dy and Paul Christman at the microphones and Jack Buck on the sidelines.
1962 Dallas Texans

| | | | | | | |
| --- | --- | --- | --- | --- | --- | --- |
| # | Player | Pos. | Hgt. | Wgt. | College | Exp. |
| 10 | Jimmy Saxton | HB | 5-11 | 175 | Texas | 1 |
| 12 | Eddie Wilson | P | 6-0 | 190 | Arizona | 1 |
| 14 | Bobby Ply | DB | 6-1 | 190 | Baylor | 1 |
| 16 | Len Dawson | QB | 6-0 | 190 | Purdue | 6 |
| 20 | Bobby Hunt | S | 6-1 | 185 | Auburn | 1 |
| 26 | Frank Jackson | FL | 6-1 | 185 | SMU | 2 |
| 28 | Abner Haynes | HB | 6-0 | 190 | North Texas State | 3 |
| 30 | Jack Spikes | FB | 6-2 | 210 | TCU | 3 |
| 32 | Curtis McClinton | FB | 6-3 | 225 | Kansas | 1 |
| 35 | Smokey Stover | LB | 6-0 | 227 | NE Louisiana | 3 |
| 42 | Johnny Robinson | S | 6-1 | 205 | LSU | 3 |
| 45 | Dave Grayson | DB-KR | 5-10 | 185 | Oregon | 2 |
| 48 | Duane Wood | CB | 6-1 | 200 | Oklahoma State | 3 |
| 54 | Ted Greene | LB | 6-1 | 230 | Tampa | 3 |
| 55 | E. J. Holub | LB | 6-4 | 235 | Texas Tech | 2 |
| 56 | Walt Corey | LB | 6-2 | 240 | Miami (FL) | 3 |
| 60 | Al Reynolds | G | 6-3 | 250 | Tarkio | 3 |
| 63 | Marvin Terrell | G | 6-1 | 235 | Mississippi | 3 |
| 64 | Curt Merz | DE | 6-4 | 265 | Iowa | 1 |
| 65 | Jon Gilliam | C | 6-2 | 240 | Okla. St., Tex.A&M-Com. | 2 |
| 66 | Sonny Bishop | G | 6-2 | 245 | Fresno State | 1 |
| 69 | Sherrill Headrick | LB | 6-2 | 240 | TCU | 3 |
| 72 | Paul Rochester | DT | 6-2 | 255 | Michigan State | 3 |
| 74 | Jerry Cornelison | T | 6-4 | 250 | SMU | 3 |
| 75 | Jerry Mays | DT | 6-4 | 250 | SMU | 2 |
| 77 | Jim Tyrer | T | 6-6 | 280 | Ohio State | 2 |
| 79 | Charley Diamond | T | 6-2 | 260 | Miami (FL) | 3 |
| 81 | Tommy Brooker | E-K | 6-2 | 235 | Alabama | 1 |
| 82 | Bill Miller | E | 6-1 | 195 | Miami (FL) | 1 |
| 84 | Fred Arbanas | TE | 6-3 | 240 | Michigan State | 1 |
| 85 | Bill Hull | DE | 6-6 | 245 | Wake Forest | 1 |
| 86 | Dick Davis | DE | 6-2 | 230 | Vanderbilt, Kansas | 5 |
| 87 | Mel Branch | DE | 6-2 | 230 | LSU | 3 |

1962 Houston Oilers

| | | | | | | |
| --- | --- | --- | --- | --- | --- | --- |
| # | Player | Pos. | Hgt. | Wgt. | College | Exp. |
| 15 | Jacky Lee | QB | 6-1 | 190 | Cincinnati | 3 |
| 16 | George Blanda | QB-K | 6-2 | 215 | Kentucky | 14 |
| 20 | Billy Cannon | HB | 6-1 | 205 | LSU | 3 |
| 22 | Bob Suci | DB | 5-10 | 185 | Michigan State | 1 |
| 23 | Bobby Jancik | DB-KR | 5-11 | 180 | Lamar | 1 |
| 27 | Fred Glick | S | 61 | 195 | Colorado State | 4 |
| 28 | Charley Frazier | E | 6-0 | 190 | Texas Southern | 1 |
| 30 | Mike Dukes | LB | 6-3 | 235 | Clemson | 2 |
| 31 | Doug Cline | LB | 6-2 | 230 | Clemson | 2 |
| 32 | Dave Smith | FB | 6-1 | 210 | Ripon | 2 |
| 33 | Gene Babb | LB | 6-3 | 215 | Austin | 6 |
| 35 | Tom Goode | LB | 6-3 | 245 | Mississippi State | 1 |
| 40 | Tony Banfield | DB | 6-1 | 185 | Oklahoma State | 3 |
| 41 | Mark Johnston | CB | 6-0 | 205 | Northwestern | 3 |
| 43 | Jim Norton | CB | 6-3 | 190 | Idaho | 3 |
| 44 | Charley Tolar | FB | 5-6 | 200 | Northwestern State (LA) | 3 |
| 45 | Larry Onesti | LB | 6-0 | 195 | Northwestern | 1 |
| 52 | Bob Schmidt | C | 6-4 | 250 | Minnesota | 4 |
| 55 | John Frongillo | C-G | 6-3 | 255 | Baylor | 1 |
| 61 | Bob Talamini | G | 6-1 | 255 | Kentucky | 3 |
| 63 | Hogan Wharton | G | 6-2 | 250 | Houston | 3 |
| 70 | Al Jamison | T | 6-5 | 250 | Colgate | 3 |
| 73 | Bill Herchman | DT | 6-2 | 245 | Texas Tech | 7 |
| 75 | Don Floyd | DE | 6-3 | 245 | TCU | 3 |
| 76 | Walt Suggs | T | 6-5 | 260 | Mississippi State | 1 |
| 77 | Rich Michael | T | 6-3 | 240 | Ohio State | 3 |
| 78 | Ed Culpepper | DT | 6-1 | 255 | Alabama | 5 |
| 80 | Gary Cutsinger | DE | 6-5 | 245 | Oklahoma State | 1 |
| 81 | Bob McLeod | TE | 6-4 | 240 | Abilene Christian | 2 |
| 82 | Ed Husmann | DT | 6-2 | 245 | Nebraska | 10 |
| 86 | Bucky Wegener | DE-G | 5-10 | 245 | Missouri | 1 |
| 87 | Charley Hennigan | WR | 6-1 | 185 | Northwestern State (LA) | 3 |
| 88 | Willard Demveall | E | 6-4 | 225 | SMU | 4 |
| 89 | Bill Groman | WR | 6-0 | 195 | Heidelberg | 3 |


Charlie Tolar


Billy Cannon


Jerry Mays


Mel Branch


E. J. Holub returns interception.


Jack Spikes


Bobby Jancik


Bob McLeod


Jim Norton


Fred Arbanas


Abner Haynes pulls in pass and runs into end zone.


Willard Dewveall falls into end zone with TD pass.


Mike Dukes


McClinton carries.


Frank Jackson


Doug Cline


Gary Cutsinger


Ed Husmann


Johnny Robinson


Walt Suggs


Dave Smith


Stram instructs Haynes.


Brooker on sidelines


Chiefs carry Brooker off field.

Hank Stram didn't like the weather as the busses took his team to the stadium.

Blustery winds off the Gulf of Mexico would make passing hard and kicking, a Texans' weakness, even more difficult.
As he walked around the turf while the teams warmed up, he said, I hate this field. Look at it ... mostly mud. But underneath it's concrete. Poorly laid concrete. That gives the pass receivers a big advantage. The defense has to play them loose.
Pop Ivy had many of the same thoughts. If the wind bothers Blanda, we'll be in a load of trouble. But George had assured him that the wind wasn't as bad as it might seem.
Ivy told his team, If we win the championship three years in a row, we'll be con­sidered one of the great teams in all of football, not just the AFL.
A drizzle fell during warmups but stopped before kickoff. The television crew asked that the lights be turned on.

The Texans were tense in their locker room before the game.
LB Sherrill Headrick moaned that he didn't feel well. Let's go back to Dallas, he said while the team physician massaged his back. Sherrill always gets sick, grinned injured E Chris Burford. He gets sick before every game. He has for three years.
FB Jack Spikes said, I've been nervous for two days. There's more excitement to this than there is to a big college game. Besides, a lot of college guys never get to play in a bowl game.

The Texans dominated the first half.

Quarter 1
Dallas started from the 28 against the 15 mph wind. Dawson called three straight running plays before having to punt.


Houston

began its possession from its 44. The typical formation had Charlie Tolar just behind and outside one end of the line and Billy Cannon in a simi­lar position on the other side. Sometimes, one of the two moved behind Blanda. After two fullback runs gained five, Blanda passed to Hennigan to the 32. Cannon, wearing a back brace, got outside left end to the 26. Tolar then gained seven for another first down. Then it was Charlie up the middle for one, and Cannon on a power sweep around right end to the 12. Blanda faked to Tolar and handed to Billy, who again turned the right corner before DT Jerry Mays knocked him out of bounds at the five. But the Texans rose up and blunted the momentum. Mays and MLB E. J. Holub wrapped up Cannon at the four. Blanda turned and lateralled to Cannon around left end. But another former

LSU

player, DE Mel Branch, and DB Dave Grayson fired through and dropped the runner for a 4y loss. Will Blanda pass now? Yes, but he was hit just as he threw. The ball sailed be­hind Tolar into the hands of Holub under the crossbar. The 235 lb freight train ran out to the 48 to not only end the threat but give the Texans excel­lent field position.

Cannon runs behind John Frongillo's block on E. J. Holub.

After rookie FB Curtis McClinton gained seven, Dawson threw to his fellow All-Pro, HB Abner Haynes, who caught the low pass while on the ground at the 36. 1st down. On 3rd-and-three, Lenny rolled right in Stram's innovative "moving pocket" and hit FB Jack Spikes at the 15 to move the chains again. But the drive bogged down. So rookie E-K Tommy Brooker booted a 16y field goal. Dallas 3

Houston

0 (4:30)
Taking the kickoff, Bobby Jancik meandered from the 10 to the 28. Under a rush, Blanda dropped the ball off to safety valve Tolar who advanced to the 36. Then a crossbuck to Charlie through a big hole at LT behind Cannon's block made it 1st-and-10 from the 44. On 3rd-and-6, George hit his 6'4" 235 lb TE Bob McLeod to the Dallas 40. But at that point, three pass plays gain­ed nothing. So Blanda tried a field goal from the 47. It was long enough with the wind but just wide left.
The quarter ended one play later.
Dallas 3

Houston

0


Curtis McClinton runs early in the game.

Quarter 2
Spikes bolted 33y down left sideline to the

Oiler

45. 15 more was tacked on for a face mask violation. Dawson scrambled to 28, then rolled right and threw on the run to Haynes who took it in stride just beyond DB Tony Ban­field's reach and raced down the sideline into the end zone. That climaxed a drive that covered 80y in just four plays. Dallas 10

Houston

0


Houston

went three-and-out. So Jim Norton, 2nd in the league in punting, booted to Haynes, who made a fair catch at the Dallas 31.
Dawson & Company gained several first downs before punting into the end zone.
The

Oilers

' next possession ended quicker than the previous one. On 2nd down, in what appeared to be a mixup between Blanda and Charlie Henni­gan, Grayson stepped in front of a Blanda pass on the midfield stripe and returned to the 29.

Dave Grayson returns interception as Cannon chases.

McClinton and Haynes alternated carrying the ball until Abner slashed through the left side from the two. Dallas 17

Houston

0 (3:40)
Staring into the face of another humiliation at home against the Texans, the

Oilers

got a spark when Jancik returned the kickoff 48y to midfield. Finding more success down the middle than on the flanks as Dallas double-team Hennigan on almost every play, Blanda hit McLeod to the 30. But three plays later on 4th-and-five, the

Oilers

went for it. However, Blanda's throw to E Willard Dewveall was knocked down.
Not sitting on the lead but throwing safe passes as time wound down, Daw­son faked a draw and threw to Haynes, who ran 8y to the 33. After the two­minute warning, two runs gained four before Dawson made a quick flip to TE Fred Arbanas down the middle to the

Houston

49. With the wind, another first down might set up a field goal try. Timeout Dallas at 0:39. When play re­sumed, Dawson threw long to Haynes out of bounds. It wouldn't have counted anyway because of a holding penalty.
Halftime score: Dallas 17

Houston

0

Abner Haynes rambles.

The weather changed during the second half. The temperature dropped 25° and the wind picked up even more.

Quarter 3
Jancik got another good return, 31y to the 33. Blanda had proven he could lead his team from behind. Three times during the season, he had been removed from the game because of poor play only to return and lead a comeback. The

Oilers

moved 67y against the wind in six plays: (1) Blanda over the middle to Dewveall to the Dallas 43. (2) Tolar on an inside handoff to the 39. (3) Charlie up the middle from the other wing for 13. (4) Blanda to Dewveall to the 15. (5) Holub al­most intercepted the next pass, which fell incomplete. (6) Dewveall fell into the end zone as he caught the ball. Dallas 17

Houston

7

Stram: George Blanda came out in the third quarter behind a slot double­wing. We were playing it safe, trying to protect our big lead with zone coverage, and old George just picked at the soft spots, patiently taking short yardage we were conceding.

You can't comeback if your defense doesn't hold the opposition. The

Oiler

D took the field with fire in their eyes. Disaster nearly struck the Texans on the kickoff when a hard hit forced Grayson to fumble. But G Marv Terrell recov­ered at the 29. LB Mike Dukes set the tone on the first snap by dropping McClinton for a loss of five. A defensive holding penalty gave Dallas a first down, but the next series ended with a punt.


Houston

drove to midfield before facing 4th-and-three at the 46. The crowd yell­ed "Go, go!" But Ivy was unmoved. Norton angled his punt for the coffin cor­ner, and the coverage team stuffed Frank Jackson at the five.
Three runs gained a 1st down at the 15. Then the

Oilers

dodged a bullet when Dawson looped a pass just over head of Spikes in the clear down left seam. After opening up the defense with that pass attempt, Dawson gave the ball to Haynes, who broke loose over left tackle to the 29 where LB Doug Cline tackled him from behind. Dawson stumbled as he went back to pass and was snowed under at the 19. On the next snap, LE Gary Cutsinger got his paw on Haynes' arm just as he took the handoff from the quarterback. That caused a bobble that DT Ed Husmann covered at the 20.
Blanda flipped a quick pass over the head of Tolar. On 2nd down, S Johnny Robinson snagged Blanda's pass headed toward an open Dewveall and raced from the goal line all the way to the 37.
Any momentum that carried over to the Dallas offense was extinguished when Cline red-dogged and sacked Dawson at the 28. The Texans ended the period with no points scored with the wind.
Dallas 17

Houston

7

Dawson sacked as Ed Culpepper comes in to help.

Quarter 4
The

Oilers

began the period with 2nd and 10 on their 43. Blanda fired to his favorite receiver of the afternoon, Dewveall, for nine. Cannon ran around the left side for five. Then Blanda threw down the middle to McLeod at the 15. Amid shouts of "Go, go!" Blanda tried the same play but misfired. Then came a strange play that took the steam out of the drive. Blanda's pass was bat­ted by a charging lineman into the hands of T Walt Suggs, who lateralled back to Blanda. But Walt would have been better off dropping the deflection since George was dropped for an 8y loss. Undaunted, George saw Cannon in the end zone, but Robinson made another great play, hitting his old

LSU

teammate as the ball arrived. So Blanda booted a field goal from the 31. Dallas 17

Houston

10 (11:00)


Blanda boots field goal out of Bill Groman's hold.

The

Houston

D-line continued its domination of the Texans' O-line. When three plays gained little, Wilson punted into the wind to the Dallas 49. The

Oilers

took advantage of the short field to tie the game. Blanda threw a quick look-in to Cannon to the 33. Facing 3rd-and-three, George found Billy again. He was downed immediately at the 10.

Cannon catches as Walt Corey comes over.

The Old Man rolled right and hit Hennigan sliding down at the one. Tolar pushed over right tackle to pay dirt. Blanda booted the tying point. Dallas 17

Houston

17 (5:58)

Stram: We got a little rain, and the field grew progressively worse. Like some thoroughbreds, however, George Blanda was a great mudder and was just enjoying himself no end as he marched his guys deep into our territory ...

Grayson decided to run out the kickoff from 5y deep in the end zone. But Mark Johnston and Bill Herchman hauled him down on the 15. Matters got worse when an ineligible receiver downfield penalty moved the ball half the dis­tance to the goal with a loss of down. Two runs gained only three but at least ran some time off the clock. Wilson's kick traveled only 22y to the 41.
Knowing the

Oilers

might already be in range for the winning field goal, the Dallas defense stood tall. Holub hit Tolar for a loss of one. The Blanda-McLeod combo clicked for eight. On 3rd-and-three, George tried a swing pass to Tolar that wasn't close. So the Ancient One lined up a 42y field goal. With the wind over his right shoulder, he needed to play a hook. But MLB Headrick, with Grayson in his wake, smashed over the blockers and slammed an angry hand squarely against the football.

Headrick almost never rushed a place kick. He left that job to his quicker teammates. But I took a step forward, saw a hole, and instincts took over, I guess.

Dallas took over at its 40 with 3:10 on the clock - plenty of time to drive close enough for a field goal attempt, albeit against the wind.
After a 1y run, Dawson had plenty of time to survey the field before finally finding Arbanas at the 49 just before the two-minute warning. On 3rd-and-one, McClinton banged into the pile. The ball was spotted just across midfield strip. The measurement revealed a 1st down by the length of the football with 1:44 remaining. But the new series saw the Texans go backward to their 40. So Wilson punted to the 31 with a mere seven ticks on the clock.
Dallas rushed one and dropped ten. Blanda waited, then threw what in later years would be called a "Hail Mary" that sailed too high at the 10.

Next came the most famous coin toss in football history.

As the visitors, the Texans would call the toss.

Stram: Our offense had produced zero points for two quarters, and our punting wasn't the world's best, so I decided that if we won the toss, we would elect to kick and defend with the wind at our backs.

During the three-minute break, Stram instructed his captain, Haynes, on what he wanted to do. If we win the toss, we don't want to receive. We want the wind. If they win the toss, we want to kick to the clock [with the wind].
One of the officials, Bob Finley, interrupted the discussion. We're ready for the toss. Haynes said, Okay, but coach wants to talk for a second. Finley: Ab­ner, get your butt out here or it's fifteen yards.
Haynes and

Oilers

captain Al Jamison shook hands. With Jack Buck holding a field mike close so that the entire nation could hear the dialog, Referee Harold Bourne flipped the coin as Haynes yelled "Heads." "Heads it is," said Bourne.
"We'll kick to the clock," blurted Abner. Bourne explained that Dallas had to option to receive or defend. "We'll kick," Haynes repeated. Since he didn't take a goal, he gave

Houston

that choice. Jamison wasted no time in saying, "We'll take the wind."

Abner Haynes calls the coin toss.

The Dallas bench went wild. Not only would the Texans have to kickoff, but they'd have to do it against the wind.
Buck went to the Dallas bench for an explanation. G Marvin Terrell told him, Abner made a mistake.

Stram

recalled:

Abner just said it wrong. As soon as he said the word "kick," the

Oilers

automatically had their choice of which side of the field they wanted. It was a mistake you don't like to make. But what can you do after it's made. ... The tension level in the stands and on the field was tremendous; the play­ers were exhausted and fired up at the same time. "Abner," I said, "listen. Forget about it.

Everybody

, forget about it. It's ancient history. We still got to win the game. That's the only thing that's important. Win the game! Lamar Hunt

, an unpretentious owner if there ever was one, sat in the stands with other

Dallas

fans. He missed the infamous coin toss because he took his small son to the bathroom.

1st Overtime Period
Brooker laid the ball on its side on the tee and kicked low to Janzik at the 20. Bobby returned 14y. Blanda started strong, hitting Dewveall to the 42. But instead of running for the remaining yard, George threw two incomple­tions to Cannon on the right side.
Dallas started from its 22 after the punt. On 3rd-and-eight, Dawson back-pedal­ed deep and threw over the rush to McClinton, who gained only six. Wilson's punt into the wind was fair caught by Jancik at the

Houston

45.
Cannon weaved through right tackle to the 49. Tolar headed left but crashed into Holub at midfield. Charlie left the game and never returned. Amazingly, it was the first injury of the hard-fought fray. Blanda flipped a pass down the middle, but Robinson picked it off and fought his way to the

Oiler

47.
But the Texans could not take advantage of the excellent field position. On 3rd down, Dawson faded back to throw but was sacked by Husmann. So Wilson punted dead on the 11.


Houston

needed to at least move the ball away from its goal line 20-30y be­fore having to punt. Cannon tried the right side but got only to the 14. Do you chance a pass deep in your territory? Blanda did and cooly hit Dewveall on a slant-in from the left to move the chains to the 25. Then George pulled a dipsy do out of his bag of tricks. He handed the ball on a draw to Tolar's replacement at fullback, Dave Smith. He immediately lateralled back to Blanda, who threw incomplete to Cannon. Billy showed the effects of his back injury as he could not bend over to catch the ball that hit his thigh pad. Curt Gowdy pointed out to the TV audience that the game was now the longest ever played, exceeding the famous 1958 NFL Championship Game between the

Colts

and

Giants

. On 3rd-and-six, Blanda retreated and lobbed a flare pass to Smith, who ran to the 36 to keep the drive alive. Following a swing pass to the left to Cannon, who dodged the first tackler before Holub downed him after a gain of four, George hit Hennigan sliding at the 50. 1st down. A light rain began falling. After another misfire, Blanda connected with McLeod at the 40, and the tight end fought to the 35. The 54y drive nudged the

Oilers

into field goal range, but the quarter was about to end! Blanda had made field goals of 42 and 54y during the season. And he would have a 15mph wind at his back.

Cannon: In the huddle, I told George, "Kick the ball through there, and let's get this thing over with and go home." But he said, "No, I want to run this play first."

"This play" called for a fake to Cannon off-tackle and a rollout to the right. Blanda threw a pass that was intercepted by 6'7" rookie DE Bill Hull on the 26. The former basketball player at

Wake Forest

ran the ball back to midfield with one minute to go before the change of directions.

Hull: We were rushing only three guys against their spread, so I dropped off to become a fourth linebacker - kind of a strange position for me, a little uncom­fortable, but [Stram] would do things like that, and they worked. George Blanda threw the ball right to me; he had no idea I was there. It surprised me, but I wasn't about to drop it.

Two McClinton runs gained a net of two to run out the clock.

We were a little tired, Stram recalled, but I think we were more concerned with winning. After we had that big lead so early, we were very determined.

2nd Overtime Period
The game now went where no game had ever gone before - a 6th period. Who would be the hero? Would it be someone you'd expect like Blanda or Cannon or Dawson or Haynes? Or would it be an unexpected individual? It turned out to be the latter. Facing 3rd-and-seven, Dawson flipped to Spikes at the 45, and the third-year man from TCU, who began the season as the starting fullback before suffering a leg injury in Game 4, hustled to the 38 to earn the 1st down. It was Dallas's deepest penetration since the first half. Then Jack cut through left tackle, veered outside, and sprinted all the way to the 19.

Dawson: Their blitz had been coming from alternate sides all game. This time they guessed wrong. They came from the right, and we ran to the left.
Spikes: It was an off-tackle play. McClinton kicked their linebacker out. Arbanas blocked down on their end, and Al Reynolds knocked down their safety. The rest was easy.

Although in field goal range already, Dawson decided to stay with the player with the hot hand. Determined to avoid a sack at all costs, Lenny somehow elu­ded the rush and threw to Spikes who was open at the five. But Jack tripped as he pivoted to grab the ball, and it fell incomplete. McClinton came back in but was hit low as soon as he took the handoff by Herchman for no gain. Then Dawson sneaked forward and slightly to the right to put the ball in the center of the field at the 17. Len called timeout and went over to consult with Stram.

Stram: We weren't much better at kicking field goals than we were at punting. Our kicker, Tommy Brooker, didn't have great range or much consistency. We always held our breath on field goals that year. Especially this one. ... The field was sloppy, and I was worried about how well Tom Brooker might do, kicking on that muddy surface. "Tommy," I said on the sideline, "make sure you keep your head down and still and kick it through." "Don't worry, Coach," he shot back. "I'll kick that sucker right through there."

The

Oilers

called timeout to "ice the kicker" as we say today. Ivy ordered an 11-man rush. Brooker returned to the field and tried to clean the mud out of the cleats on his kicking shoe.

Teammates tried to relax Brooker in the huddle. But the product of Bear Bryant's Alabama program exuded confidence. Boys, it's over. We've got it.

Dawson knelt at the 24 and placed the ball for the rookie kicker, who calmly booted the pigskin through the uprights. The clock stopped with 12:06 showing. The game had lasted 77 minutes and 54 seconds.
FINAL SCORE: DALLAS 20

HOUSTON

17

Brooker boots winning field goal.
Both Stram and Brooker were hoisted onto the shoulders of jubilant Chiefs.


Jack Buck interviewed winning coach Hank Stram on the field right after the game. Little did they know they would be paired on the radio broadcasts of Monday Night Football for 18 years (1978-95).
Video of 1962 AFL Championship Game (many gaps)
The Outstanding Player Award went to Jack Spikes, who gained 77y on 11 carries and another 24 on two receptions. Above all, he accounted for 29y on the winning drive.
Dawson tried only 14 passes, completing 9 for 88y. Most importantly, he threw no picks.
Blanda, on the other hand, took to the air 46 times but connected on only half, 23. He gained 261y but was intercepted a staggering five times.
Final statistics:
First downs: Texans 19 Oilers 21
Yards rushing: Texans 54-199 Oilers 30-98
Passing: Texans 14-9-0/38 Oilers 46-23-5/261
Return yardage: Texans 10-222 Oilers 6-139
Fumbles-Lost: Texans 2-1 Oilers 0-0
Penalties: Texans 6-42 Oilers 6-50
Punting average: Texans 8-31.3 Oilers 3-39.3
The gross receipts totaled $170,000.
Each Texan earned $2,261.80.
$1,471.09 went to each Oiler.
Postgame
Dallas Locker Room
Stram: This was the greatest team effort I have ever seen. This team never gave up. They just stayed in there and fought. ... I've never seen a team work harder to win a football game. These kids wanted to win a football game and they went out and did it. ...

Houston

was too good a foot­ball team to not come back like they did. We knew it might happen, but they did it despite all we could do. ... There's no doubt Holub's interception was one of the top two or three plays in the game. Instead of 14-7, it was 17-0. We were very confident at the half. On Robinson's hit on Cannon in the end zone: It probably was a game-saving play, as it turned out. On "Li'l Abner's Goof" (as one writer called it): Everybody was excited and tugging at Ab. He just didn't understand the option.
Brooker on his winning kick. It never occurred to me that I would miss.
Haynes: It took us three years to get it (the championship), but, boy, it is worth it. I thought I'd go blind before it was over. Abner revealed that he cut an eye in Q3 and was bothered with bleeding the rest of the game.


Entering the locker room, Lamar Hunt was overcome with emotion. He reached up to an overhanging water pipe and did three quick chinups, punctuated with a war whoop. A non­drinker, he even took a brief sip of champagne.

Owner Lamar Hunt (L) accepts the congratulations of Commissioner J

oe Foss (C), as Coach Hank Stram tries to dry out.

Texans douse their coach.

Texans exult with their owner (lower left).
Ivy: I'll lose sleep for years to come over that one. We had them on the ropes all the second half and even in the overtime period. We just couldn't capitalize on all the chances we had. ... We hand­cuffed everything they tried.
Blanda talked about Dallas jumping to a 17-point lead. We were probably keyed up too high and a little sluggish. ... Dallas was a conservative team. If we played it that conservative, we would never score.
1962 AFL Champion Dallas Texans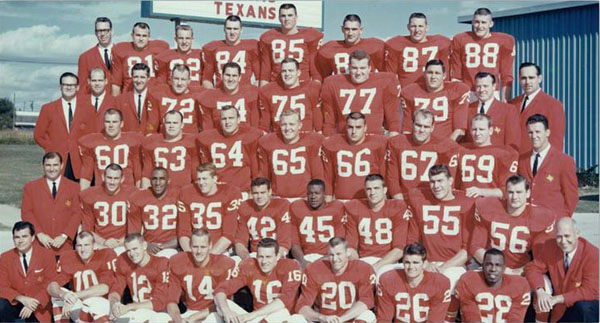 References:

The Little League That Could: A History of the American Football League

,

Ken Rappoport

(2010)

NFL Top 40: The Greatest Pro Football Games Ever Played

,

Shelby Strother

(1988)

Billy Cannon: A Long, Long Run

,

Charles N. deGravelles

(2015)

They're Playing My Game

,

Hank Stram

with

Lou Sahadi

(1986)

The Other League: The Fabulous Story of the American Football League

,

Jack Horrigan

and

Mike Rathet

(1970)

Top of Page

<! END OF COLUMN ONE>