This series covers the history of the AFL through the prism of its yearly championship games.
Note: The gray boxes contain asides that provide interesting material but could be skipped
without losing the continuity of the article.
John Hadl


Ernie Ladd


Lou Saban


Glenn Bass


Elbert Dubenion


Pete Gogalak


Billy Shaw


Jerry Robinson


Daryle Lamonica

The San Diego Chargers defended their AFL West Conference championship but just barely.

After winning six in a row to run their record to 7-2-1, they lost three of their last four to limp home 8-5-1. That was still good enough to top the Kansas City Chiefs by 1.5 games.
San Diego's roughly 2-to-1 passing-to-rushing ratio reflected the league's over­all imbalance.
The key to the offense was WR Lance Alworth, who led the league with 13 touchdown receptions and ranked near the top with 20.2y per catch.
Throwing to Alworth were two quarterbacks, John Hadl, who started eight games, and Tobin Rote, who started the other six. Hadl's completion % of 53.6 was second highest in the AFL.
FB Keith Lincoln and HB Paul Lowe combined for 1128y on the ground.
Three Chargers made the AFL All-Star team: T Ron Mix, DE Earl Faison, and DT Ernie Ladd.

The East produced the five-year-old league's two best teams, record-wise.

The 12-2 Buffalo Bills and 10-3-1 Boston Patriots were the only two double-di­git winners in the eight-team circuit.
Lou Saban's Bills didn't clinch the spot in the AFL Championship Game until the last day of the regular season when they defeated the defending East champion Patriots 24-14 at Fenway Park. The victory avenged a home loss November 15, 36-28, as well as the defeat in the East Division playoff game in 1963.

A linebacker and captain on

Paul Brown

's

Cleveland

team of the AAFC,

Saban

had been head coach of the

Boston Patriots

when the AFL started in 1960. He joined the

Bills

two years later.

Jack Kemp

recalled,

He was one of the great coaches from the early days of the American Football League, along with Sid Gill­man, Al Davis, and Hank Stram. Bills

receiver

Ed Rutkowski

:

Saban knew how to press that button in all of us and how to get the best out of us. I remember when we had our first two wide receivers go down ... I had to go in with Glenn Bass. I think the first game I was going to start ... was against the Jets. So I stayed after practice to work on my pass routes and everything else. The Thursday before the game, ... I'm walking off the field after practice, and coach comes over to me and says, "You know, Ed, whether we win or not depends on your perform­ance." I said, "What do you mean?" "Well, this game rests on you. You better have a hell of a game, otherwise we're going to lose." Well, I was all fired up. I had one of the best games of my life. And I found out years later at one of our reunions that he said the exact same thing to Glenn Bass. Booker Edgerson

on

Saban

:

He was a good man. You could believe him. ... he treated everybody the same. He was a great motivator. He could give you a pep talk. He used to tell me, "If you don't catch the ball, I'm going to cut you." That was motivation enough for me.

Buffalo featured the only defense in the league to yield less than 1,000y for the season. On the other side of the ball, 250-lb FB Cookie Gilchrist accounted for 981y on the ground, more than the 913y total the Bills gave up on 300 carries - an AFL record. Needless to say, Buffalo led the league in rushing yards (2,040).

Gilchrist had been placed on waivers in early November after clashing with head coach Saban. The Bills had reeled off nine victories without a defeat with Cookie in the lineup, but, with owner Ralph Wilson's consent, it was agreed that Gilchrist be placed on waivers. The big fullback, however, contacted QB Jack Kemp and pleaded for another chance. Kemp heard Cookie out and believed he was really sorry. Jack in turn contracted key leaders on the team, who agreed that Gilchrist could return if he would apologize to the team for the in­cident and guarantee that he would play his heart out. After a two-hour meet­ing, Saban relented.

Quarterback play was not the Bills' strong suit. Jack Kemp completed only 44.2% of his passes with 13 touchdowns and twice that many interceptions. No one receiver stood out with WR Glenn Bass leading the club with 43 receptions but Elbert Dubenion gaining the most yards, 1139, on 42 catches. Gilchrist was third, adding 345 to his rush­ing yardage on 30 passes.

After being Buffalo's Offensive Most Valuable Player in 1961, Bass was re­leased by Saban after the Bills opened the 1963 campaign with back-to-back losses. Glenn drove 16 hours to his home in Wilson NC only to return to Buffa­lo the next day. I just disagreed with his assessment. I drove back and went to his home and told him that I didn't feel like I'd been treated fairly and didn't agree with his decision and that I would be on the taxi squad and prove my worth. So I was a halfback on the taxi squad for a couple weeks, and then I was placed back on the roster.

The Bills employed rookie Pete Gogolak, who booted 19 of 28 field goals, including one that beat the Chargers 27-24 in San Diego Thanksgiving Day to complete the home-and-home sweep. By contrast, San Diego K George Blair had been hurt most of the season. Lincoln, a fine fullback, took over the chore but made only five of 12 field goal attempts.

Born in Hungary,

Pete Gogolak

came to the U.S. when his family escaped the Communist regime there. He brought with him his love of soccer. The football coach at his high school in upstate New York recruited him to kick for him and didn't insist that he change his "sidewinder" soccer approach, booting the ball with his instep instead of his toe. He set records at

Cornell University

before signing with the

Bills

. He thus brought another innovation to the AFL that eventually spread throughout all levels of football.

Gogolak

:

They took a chance on me, in the 12th round. Back then there were no specialists at all. Nobody from the NFL touched me. So I went up to Buffalo ... Jack Kemp was the quarterback. Jack never wanted to hold for me because he said somebody once kicked his finger. I basically made the team because I kicked a 57-yard field goal in the first exhibition game ... I think

(owner)

Ralph Wilson said, "We're going to keep this guy. He might bring some people to the stadium."

The All-Star team included six Bills: Gilchrist, G Billy Shaw, T Stew Barber, DT Tom Sestak, LB Mike Stratton, and S George Saimes.

A second round pick from Georgia Tech in 1961, Shaw moved directly into the starting lineup at left guard and became the anchor of an outstanding line. He is the only member of the Pro Football Hall of Fame who played his entire career in the AFL. Shaw on Coach Saban: Lou was always looking for perfection, and he just had a vision from his viewpoint on the sidelines. And Lou was a very, very intelligent person, and he could see things on the field.

In the weeks before the 1964 AFL and NFL championship games, the National Academy of Sports put this question to its members: "Does the NFL have an obligation (to the public) to accept the AFL's invitation for an all-pro championship game?" The sports editors voted 51% in favor, 42% opposed, and 7% indifferent. The results were more interesting when broken down by city. The sports editors in AFL cities favored the mo­tion 69%-31%. Editors from NFL cities also voted in the affirmative but by a smaller margin: 52% to 37% with 7% indifferent. In non-league cities, the vote was negative: 48% no, 45% yes, 7% indifferent.

The Chargers received a piece of coal in their Christmas stockings.

Gillman announced that leading receiver Alworth was "definitely out" of the championship game "unless there's a magic whirlpool. I haven't been able to find one yet." Lance had been hurt in the first quarter of the previous week's game when he was blocked by

Oakland

LB Archie Mattos. Alworth suffered a hyper-extension of the left knee, which means it was bent in the direction in which knees aren't supposed to bend. How tough a blow is it? Sid asked rhetorically. You tell me. It's obvious. But we have some things left. Alworth added, I can hardly walk. I can only bend the knee half way.
He said that Jerry Robinson would take over at flanker for Alworth. The former

Grambling

star had seen limited action during the season, catching 10 passes for 93y and no touchdowns. He was also used on the punt return and kickoff teams.
The Chargers coach also named Tobin Rote as his quarterback in what would be the 36-year-old's final game before retirement. John Hadl had started eight of the 14 games under center but had thrown two interceptions in the 21-20 loss to the

Raiders

.

Hadl: The day before the championship game in Buffalo, Sid told me he was going to start because of his experience in championship games. I went haywire. We had a big fight about it.

Saban had also created a quarterback controversy by starting second-year pro Daryle Lamonica in the all-important final game against Boston. However, with the chips on the line against San Diego, he would go with eight-year veteran Jack Kemp, who had started the first 13 games.

A subplot of the big game was that Buffalo had claimed Kemp from San Diego in 1962 for the $100 waiver price. Jack still made his home in San Diego.

Alworth's injury, coupled with a threat of snow, established the weather-hardened Bills as strong favorites to bring their football-crazy city its first pro football champion­ship going back to the All-American Football Conference.

Standing room tickets were grabbed up and War Memorial Stadium was expect­ed to be bulging with 5,000 people above the normal capacity of 37,500.
Kickoff was set for 2 PM EST, with ABC televising nationally. Curt Gowdy would supply the play-by-play while Paul Christman would serve as color analyst.
It would be ABC's last telecast of an AFL game.
1964 San Diego Chargers

| | | | | | | |
| --- | --- | --- | --- | --- | --- | --- |
| # | Player | Pos. | Hgt. | Wgt. | College | Exp. |
| 18 | Tobin Rote | QB | 6-3 | 211 | Rice | 15 |
| 19 | Lance Alworth | WR | 6-0 | 185 | Arkansas | 3 |
| 20 | Gerry McDougall | FB | 6-3 | 225 | UCLA | 3 |
| 21 | John Hadl | QB | 6-1 | 215 | Kansas | 3 |
| 22 | Keith Lincoln | FB | 6-1 | 215 | Washington State | 4 |
| 23 | Paul Lowe | HB | 6-0 | 205 | Oregon State | 5 |
| 25 | Dick Westmoreland | DB | 6-1 | 190 | North Carolina A&T | 2 |
| 29 | Jerry Robinson | E | 5-11 | 190 | Grambling State | 3 |
| 30 | Bob Horton | LB | 6-2 | 230 | Boston University | 1 |
| 33 | Kenny Graham | S | 6-0 | 210 | Washington State | 1 |
| 38 | Jacque MacKinnon | E | 6-4 | 235 | Colgate | 4 |
| 45 | Speedy Duncan | DB | 5-10 | 180 | Jackson State | 1 |
| 47 | Bud Whitehead | S | 6-0 | 185 | Florida State | 4 |
| 49 | Jimmy Warren | CB | 5-11 | 175 | Illinois | 1 |
| 50 | Chuck Allen | LB | 6-1 | 225 | Washington | 4 |
| 52 | Don Rogers | C | 6-2 | 240 | South Carolina | 5 |
| 55 | Frank Buncom | MLB | 6-2 | 235 | USC | 3 |
| 61 | Ernie Park | G | 6-3 | 255 | McMurry | 2 |
| 64 | Pat Shea | G | 6-1 | 250 | USC | 4 |
| 65 | Sam Gruneisen | C-G | 6-1 | 240 | Villanova | 3 |
| 71 | Fred Moore | DT | 6-3 | 255 | Oklahoma, Mem. St. | 1 |
| 72 | Gary Kirner | G-T | 6-3 | 255 | USC | 1 |
| 74 | Ron Mix | T | 6-4 | 250 | USC | 5 |
| 75 | Ernie Wright | T | 6-4 | 270 | Ohio State | 5 |
| 76 | Henry Schmidt | DT | 6-4 | 255 | USC, Trinity (TX) | 6 |
| 77 | Ernie Ladd | DT | 6-9 | 290 | Grambling State | 4 |
| 78 | Walt Sweeney | G | 6-4 | 255 | Syracuse | 2 |
| 79 | George Gross | DT | 6-3 | 270 | Auburn | 2 |
| 82 | Bob Mitinger | LB | 6-2 | 230 | Penn State | 3 |
| 83 | Dave Kocourek | TE | 6-5 | 240 | Wisconsin | 5 |
| 85 | Bob Petrich | DE | 6-4 | 250 | West Texas A&M | 2 |
| 86 | Earl Faison | DE | 6-5 | 270 | Indiana | 4 |
| 88 | Don Norton | E | 6-1 | 190 | Iowa | 5 |
| 89 | Ron Carpenter | LB | 6-2 | 230 | Texas A&M | 1 |

1964 Buffalo Bills

| | | | | | | |
| --- | --- | --- | --- | --- | --- | --- |
| # | Player | Pos. | Hgt. | Wgt. | College | Exp. |
| 3 | Pete Gogalak | K | 6-1 | 190 | Cornell | 1 |
| 12 | Daryle Lamonica | QB | 6-3 | 215 | Notre Dame | 2 |
| 15 | Jack Kemp | QB | 6-1 | 200 | Occidental | 8 |
| 20 | Bobby Smith | HB | 6-0 | 205 | North Texas | 1 |
| 22 | Charley Warner | DB-HB | 6-0 | 175 | Prairie View | 2 |
| 23 | Eugene Sykes | S | 6-1 | 200 | LSU | 2 |
| 24 | Booker Edgerson | CB | 5-10 | 185 | Western Illinois | 3 |
| 25 | Oliver Dobbins | DB | 6-0 | 180 | Morgan State | 1 |
| 26 | George Saimes | S | 5-11 | 185 | Michigan State | 2 |
| 30 | Wray Carlton | HB | 6-2 | 225 | Duke | 5 |
| 34 | Cookie Gilchrist | FB | 6-3 | 250 | None | 3 |
| 40 | Ed Rutkowsi | KR | 6-1 | 200 | Notre Dame | 2 |
| 42 | Butch Byrd | CB | 6-0 | 210 | Boston University | 1 |
| 45 | Hagood Clarke | DB | 6-0 | 205 | Florida | 1 |
| 46 | Ray Abruzzese | DB | 6-1 | 195 | Alabama | 3 |
| 47 | Willie Ross | FB | 5-10 | 200 | Nebraska | 1 |
| 50 | Al Bemiller | G | 6-3 | 245 | Syracuse | 4 |
| 51 | John Tracey | LB | 6-3 | 225 | Texas A&M | 6 |
| 52 | Walt Cudzik | C | 6-2 | 230 | Purdue | 11 |
| 55 | Paul Maguire | P | 6-0 | 230 | The Citadel | 5 |
| 58 | Mike Stratton | LB | 6-3 | 225 | Tennessee | 3 |
| 64 | Harry Jacobs | LB | 6-1 | 225 | Bradley | 5 |
| 66 | Billy Shaw | G | 6-2 | 260 | Georgia Tech | 4 |
| 67 | Joe O'Donnell | G-T | 6-2 | 260 | Michigan | 1 |
| 70 | Tom Sestak | DT | 6-5 | 265 | Baylor, McNeese State | 3 |
| 72 | Ron McDole | DE | 6-4 | 265 | Nebraska | 4 |
| 73 | George Flint | G | 6-4 | 240 | Arizona State | 3 |
| 75 | Dudley Meredith | DT | 6-4 | 280 | Florida, Lamar | 2 |
| 77 | Stew Barber | T | 6-2 | 250 | Pnn State | 4 |
| 78 | Jim Dunaway | DT | 6-4 | 275 | Mississippi | 2 |
| 81 | Bill Groman | WR | 6-0 | 194 | Heidelberg | 5 |
| 84 | Ernie Warlick | TE | 6-3 | 235 | North Carolina Central | 3 |
| 85 | Glenn Bass | WR | 6-2 | 200 | East Carolina | 4 |
| 88 | Tom Day | DE | a6-2 | 250 | North Carolina A&T | 5 |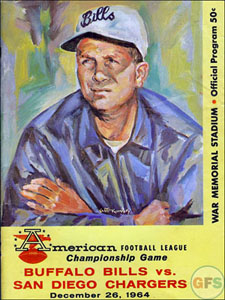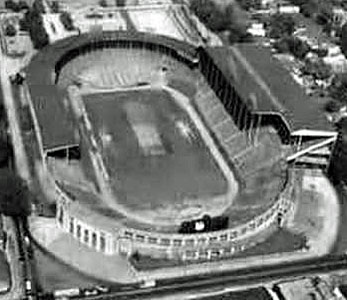 War Memorial Stadium

Joe Collier


Keith Lincoln bursts up middle on game's first play.


Lincoln catches a pass on San Diego's opening drive.


Lincoln blocks as Tobin Rote passes.


First quarter action


Kemp flees Bob Petrich.


Speedy Duncan roars upfield with the kickoff.


Ron Carpenter stalks Kemp.


Gilchrist rumbles in Q2.


Second quarter action


Jack Kemp calls signals.


Rote confers with Coach Gillman.


Ron McDole tackles Paul Lowe.


Butch Byrd


Stratton intercepts Rote's pass that he wanted to throw over Don Norton's head.



Late action


Dick Westmoreland


Keith Kinderman


Cookie and Jack exult.

The Californians couldn't help but be pleased with the game day weather.

The thermometer reached an unseasonable 47°.
However, the morning rain left the field damp and slippery in spots, especi­ally along the edges and in the end zones. Sand was spread on the worst spots.

Buffalo

's defensive coordinator

Joe Collier

recalled:

Sid Gillman was fit to be tied because our field was in terrible shape. That was the only practice field we had. We just wore it out. ... So the field was not very conducive to the

Chargers

, who were based on speed. Gillman threatened to call the game off. He called the commissioner. We had bigger guys on the defensive line in those days than most teams. ... And our linebackers were big. We played in the mud and the snow a lot, and big guys have a little bit of an advantage. Billy Shaw

:

Ernie

[

Ladd

]

and Kansas City's Buch Buchanan were the largest in the league at that time. Ernie was a mammoth presence. He was so big and strong, he didn't have to be mean. ... When the lineups were introduced before the championship game, ... I was on the sidelines. He came to the middle of the field and pointed at me. People said it set me on fire. I just know I was scared.

A record playoff crowd of 40,242 saw the complexion of the game change on one first quarter play.

Quarter 1
The Chargers started like a house afire. Starting from the 20, FB Keith Lincoln burst up the middle 38y on a draw play as G Walt Sweeney and T Ernie Wright moved out DT Jim Dunaway to open a gaping hole. Then Lincoln got five at the middle. From the spread formation Gillman put in for the game, QB Tobin Rote tossed to Lincoln on a button hook for 11 and on the next play pitched to TE Dave Kocourek, who had maneuvered in behind DB Charlie Warner. Then came a 26y pass from Rote to Kocourek, who grabbed the ball running down the right side of the end zone to climax the drive that took only 2:11. Chargers 7 Bills 0 (12:49)
After a good kickoff return, Buffalo moved from its 40 to its 49 on runs by Wray Carlton and Cookie Gilchrist. But an incompletion brought in Paul Maguire, who punted to the seven.

Jack Kemp sets up to pass.

San Diego again started strong, striking quickly to their 34. Then came the play that would forever be known as the "hit heard round the world." On a 2nd-and-10 situation with DT Tom Sestak in his face, Rote threw a swing pass in the left flat to Lincoln. The ball and All-Star LB Mike Stratton arrived simultaneously, the tackler smashing his shoulder into Keith's midsection. The fullback who had averaged 13y per rush to that point, left the game with the help of three Chargers. He would not return. Video of the hit ...

Stratton in the locker room: I thought Lincoln had nothing more than the breath knocked out of him. I never realized I had broken a rib.
Years later, Mike recounted the play. They always ran kind of a curl pattern to the wide receiver and would run a flare with the back. It seemed as if the quarterback would take his cue from the linebacker. If the linebacker was in the line of fire and far enough back, they would dump it off to the running back. They'd already run that once or twice, so I decided, "I'll try something new." When I saw the pattern develop, I just turned my back to the quarterback and took several steps to the wide receiver, then stopped and turned back and went back toward the quarterback. If they caught me, the most they could do was throw to the wide receiver. I started back for Lincoln, and I saw they were throwing to him. It was just, put your head down and try to dig the dirt because, golly, if Lincoln caught the ball in time to give me a juke, hell, he could have been gone.
Lincoln recalled: We were pretty confident about how we had just scored. But we decided we were going to show Buffalo a new look on offense. We called it a delayed double-flare action to the left side. I went out of the backfield for a flare pass. ... The first time Tobin looked at me, Stratton was about 20 yards downfield. He saw me out there, knew I was his man. So he started coming. In the meantime, Rote decided he was coming to me; the rush was in on him; he threw the Goddamn ball to me like you'd throw a snowball down a chimney. It seemed as though it would never get to me. And just as the ball got to me, Stratton hit me. It was a solid hit, a clean one, nothing dirty about it. When I went up for the ball, I exposed the sides of my chest and stomach area. That's where Stratton hit me. He separated my sternum, rib case.
Stratton: You just kind of get up and go back to the huddle. I didn't have any idea what was happening. When we got back to the huddle, all of us looked over there. I think Harry Jacobs, the middle linebacker, went ahead and called the defense that we were going to run for the next play. We were getting ready to break the huddle, and Lincoln was still down.
Joe Collier: I later told a writer from Sports Illustrated that a thrill went up and down the bench. When that was in the magazine, I got 10 or 15 letters from people saying I was a sadist: "How could you say that after he got hurt?"

"The hit heard round the world ..."

L: Mike Stratton belts Keith Lincoln. R: Ron Mix tries to help his fallen teammate.

Starting from their 36, the

Bills

moved into scoring position.

Jack Kemp

found

Glenn Bass

for 19y, then

Ernie Warlick

for 15 to put

Buffalo

in busi­ness with 1st-and-Goal from the 10.

Warlick had been a three-time All-Star in the Canadian Football League, where he had played with Kemp before joining the Bills in 1962.
Kemp was known for his toughness. The story goes that Gillman put him on waivers because Jack had fractured his finger on the helmet of a rush­ing lineman, and Sid believed Jack wouldn't recover from the injury. Jack took a football to a doctor and told him, I want you to set this finger on the profile of the football.

Wray Carlton

carried twice to the five before a pass to

Elbert Dubenion

failed. So

Pete Gogolak

, "the side-saddle kicker," rammed through a 12 yarder.

Chargers

7

Bills

3

In a twinkling, the

Chargers

almost made it 14-3.

Leslie "Speedy" Duncan

took the kickoff 6y deep in the end zone and raced upfield. Behind expert blocking, he rambled 71y to the

Buffalo

35. The last men standing were

Gogalak

, who didn't even wear shoulder pads, and former

Charger Paul Maguire

, who just managed to pull him down. The run set a record for a kickoff return in an AFL championship game. However, the effort was wasted when, two plays later,

Rote

went against conventional football wisdom that says never throw crossfield when you're rushed.

Warner

picked off the pass and returned to the

Bills

28.

Gilchrist

rolled down the sideline for 31y. Then

Kemp

located

Warlick

for 27. The period ended with the

Bills

facing 4th down at the eight.

End of Q1:

Chargers

7

Bills

3

George Gross (79) and Earl Faison (86) converge on Cookie Gilchrist.

Quarter 2
The field goal unit came out. But Daryle Lamonica, the holder, got up and tried to circle left end only to be brought down by big Earl Faison at the five, a yard short of the first down.

When asked after the game why he called for a fake field goal, Saban said, I didn't call for it. Daryle spotted a weakness in San Diego's defense and felt he could roll out for a first down. He called the automatic and out, and two outside men missed the call.

The visitors moved to the 21 before John Hadl punted to the Buffalo 45.
This time, the Bills weren't to be denied. Kemp hit swift Elbert Dubenion for 18. Gilchrist and Carlton gained a first down at the 27. Dubenion picked up eight on a reverse. Then, Kemp, about to be thrown for a big loss, flipped a 15y pass to Gilchrist to the four. Carlton plowed through right tackle to pay dirt from there.
Bills 10 Chargers 7 (7:49)

Wray Carlton scores Buffalo's first touchdown.

The home team scored again before halftime on Gogalak's second field goal that was set up by Gilchrist's 39y run. Bills 13 Chargers 7 (2:28)
San Diego looked like they would at least get a field goal before the break when they drove into enemy territory. However, it was not to be. The Chargers received a break when Stratton picked off a pass, but interference was called on Butch Byrd against Don Norton to advance the ball 25y. With 40 seconds to go at the Buffalo 15, the Chargers rushed to the line of scrimmage. Intending to kill the clock, Rote took the snap and tried to throw the ball over the head of Norton near the sideline. Instead, the pigskin landed in the arms of LB Stratton.

Rote: I made one awful mistake. I wanted to throw what we call a "clutch," when we run up to the line and I throw the ball out of bounds. I would have thrown that ball 40 yards up into the stands, but I got it too low. I didn't even see that guy.
Gillman on the missed opportunity: If we get a field goal, it turns the game around. We might even have got a touchdown.

Halftime score: Bills 13 Chargers 7

Chargers

gang up on Gilchrist.

The Bills continued to stifle the San Diego offense.

Quarter 3
Early in the half, Chargers HB Paul Lowe was felled by a leg injury. He ultimately returned but at half speed and was never a factor in the bruising game.
Jerry Robinson, Alworth's replacement who had yet to catch a pass, came close to putting his club back in front. He fielded a bouncing punt by Maguire on the SD 35, broke several tackles, and appeared to have an open lane down the sideline to the end zone. Instead, he cut back, and Maguire nailed him on the Buffalo 42. John Hadl had been warming up, and after two plays gained only a yard, Gillman sent him in. But Byrd picked off the rollout pass at the 18.

Gillman explained his quarterback change afterward. We wanted a rollout, and Hadl is a pretty good rollout passer. Still, Rote expressed disappointment in being taken out. I just felt that at that stage, I knew more what to do.


Gross and Ron Carpenter have their hands full trying to tackle Gilchrist.

A steady drizzle started falling that lasted the rest of the game.
The Bills enjoyed a large rushing advantage.
Final statistics:
First downs: Bills 21 Chargers 15
Rushing: Bills 41-219 Chargers 18-124
Passing: Bills 20-10-0/167 Chargers 36-13-3/135
Return yardage: Bills 7-64 Chargers 6-233
Fumbles-Lost: Bills 0-0 Chargers 1-0
Penalties: Bills 3-45 Chargers 3-20
Punting average: Bills 5-46.8 Chargers 5-36.4
The gross receipts were lower than expected because ABC paid only $60,000 for the TV rights. According to the league, the low figure may have been to a large extent because of the end of the line for ABC with the AFL.
Postgame
Buffalo Locker Room
Owner Ralph Wilson called the championship "the culmination of a long-awaited desire." I'm so happy, I don't really know what to say. They're two great football teams. And I guess the thing to say is that the better team won. But believe me, I won't take anything away from San Diego. They played their hearts out.
Saban was actually happy that the Chargers scored first. It jarred us quick. It jarred us to our senses. It woke us up. He admitted, though, that the early touchdown scared him. I thought immedi­ately - could it be another 51-10 rout? He was referring to San Diego's beatdown of Boston in the 1963 title clash.
Stratton had no doubt his jarring hit on Lincoln hurt the Chargers. It definitely hurt San Diego.

Stratton had been one of 34 players taken by the Bills in the 1962 draft. He almost didn't make the team and didn't start out as a LB. As he recalled: Saban ... had become the head coach ..., and I wanted to be a tight end. Lou had called out all the names of the players we had in camp and what time we supposed to go out (onto the field), and he never did call my name. So afterward, I walked over to him and said, "Coach, what group would you like me to go out with?" He looked at me and says, "What was your name again?" I told him, and he said, "Ah, just go out there with someone! Anyway, they had already got Ernie Warlick from the Canadian League, and he was pretty well set as their tight end, so I didn't get much of an opportunity. They started me at defensive end, and I tried to play a little bit there. And then we got a bunch of linebackers hurt, thanks goodness, and they changed me to linebacker. It was just a series of very fortunate events. ... Most linebackers, I think, came to linebacker from tight end. We sort of all pictured ourselves as tight ends, although not very many other people did.

Kemp: This is even better than last week. These were the two greatest weeks of my life. We con­trolled it today as we did last week against Boston, and that did it. The wet field never bothered me. With that big one protecting me - Cookie and Carlton too - I had no worries.
Gilchrist, who wanted to be traded before the season, was asked if he would retire. I can't make a statement on that. But I'd be happy to come back on the right terms.

Lou Saban, Pete Gogalak, Jack Kemp, and Wray Carlton rejoice.
San Diego Locker Room
Gillman told his team before the press came in: You've had a good year. Forget about it. You gave it a real try. You did a good job.
By the time reporters were allowed in, he was puffing on a pipe philosophically. They just beat us. Buffalo is a fine football team with great balance, great running, great throwing. The Bills are truly great champions. He refused to fix the defeat on the loss of Alworth and Lincoln. Injuries are part of football. Still, he clearly missed two of his offensive stars. If there was a turning point, that pass interception was it. The loss of Keith Lincoln also hurt us. I would say, if anything, his loss helped Buffalo a great deal. We lost a lot of our football team when Lincoln was injured. We've got to have Lincoln, and we've got to have good throwing. But our kids have done well. They have won the Western Division championship four out of five years. They are to be congratu­lated.
Rote: We just didn't score. Our defense played good, but we just didn't score. ... If I hadn't under­thrown that pass in the second quarter, we might have gotten some kind of score and turned the game in a different direction.
Ernie Ladd helped Lincoln, in much distress, get out of his uniform. Later, Ernie Wright had to knot Keith's necktie for him.
Hadl said of his last play flattening: I just got knocked out. I can't remember anything.
Alworth: It's been a long season - and all for nothing. They won the championship, and they beat us three times this season, but I'm still not convinced they have the best team. I'd like to play them when all our people are well.

Ron Mix in 2003: The Bills are still fond of saying that they won because Mike Stratton broke Keith Lincoln's ribs. But as valuable as Keith was, he wasn't our whole team. We played many games without him. We played a lot of games without a lot of our stars and kept winning. The Bills were just a good team, period. They probably would have beaten us whether they knocked Keith out of the game or not.
1964 AFL Champion Buffalo Bills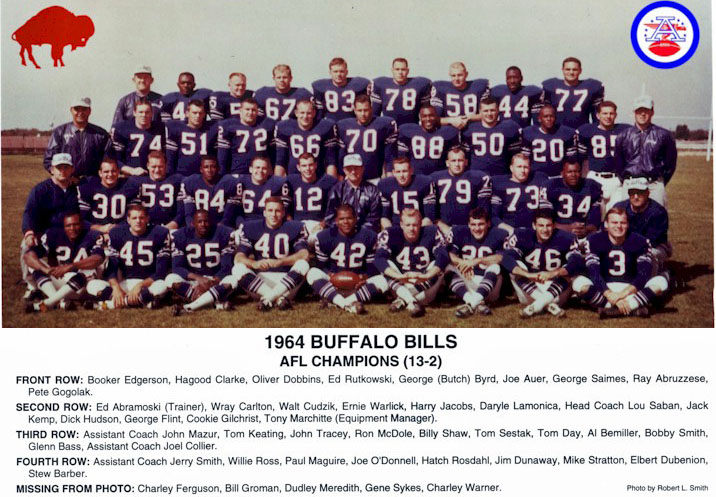 References:

War Stories from the Field

,

Joseph Hession

&

Kevin Lynch

(1994)

Going Long: The Wild 10-Year Saga of the Renegade American Football League
in the Words of Those Who Lived It: Jeff Miller

(2003)

Then Levy Said to Kelly...: The Best Buffalo Bills Stories Ever Told

,

Jim Gehman

(2008)

The Little League That Could: A History of the American Football League

,

Ken Rappoport

(2010)

The Games That Changed the Game: The Evolution of the NFL in Seven Sundays

,

Ron Jaworski

with

Greg Cosell

and

David Plaut

(2010)

Top of Page

<! END OF COLUMN ONE>