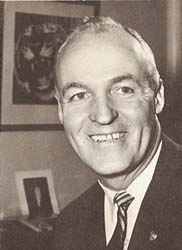 Jim Corbett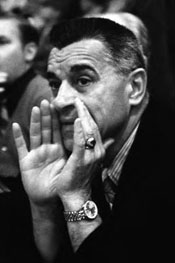 Press Maravich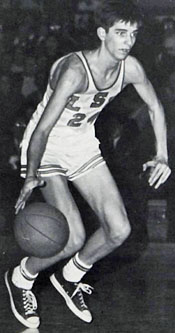 Freshman Pete Maravich

Greg Bernbrock as an LSU player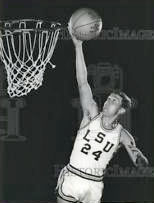 Rich Hickman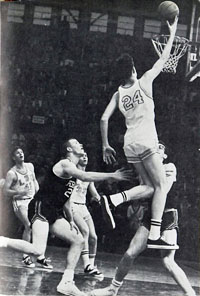 Maravich layup vs Auburn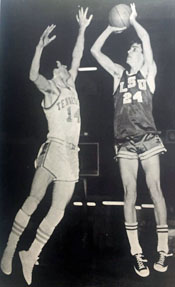 Pete shoots against Vols in season finale
Pete Maravich came to LSU with his father Press for the 1966-67 school year.
Pete didn't want to come to LSU even after his father got the job in Baton Rouge. He wanted to go to West Virginia, the alma mater of his idol, Jerry West.
But LSU AD Jim Corbett offered Press the LSU job on condition that he bring his son with him. The contract called for a salary of $15,000 per year for five years, estimated to be $5,000 per year more than Press was making at North Carolina State.
Pete couldn't make the 800 ACT minimum to enroll at an ACC school. So if Press was going to coach his son, he couldn't stay at N. C. State.
But Pete said, "LSU, that's a doggone football school. They probably don't even have a gym down there." Press retorted, "You go to West Virginia, you don't ever bring your ass back into my house again."
Finally, Pete offered a deal. "If I'm going to LSU, you got to buy me a car." But Press wouldn't agree. "Don't ever come home again." Eventually, Pete caved in.
The younger Maravich was more right than he knew when he said, "They probably don't even have a gym down there."
LSU played its home games in the Parker Agricultural Coliseum built in 1937 with a capacity of 12,000. At the time of its construction, it was the biggest coliseum in the U.S., measuring 6' larger than Maidson Square Garden.
The "Cow Palace," as it came to be called, was a multipurpose arena intended for use for livestock shows, rodeos, and boxing matches as well as basketball games.
So you can imagine the smell that permeated the facility even with a basketball court laid over the ground.
Since the Ag Center was under the control of the School of Agriculture, the basketball home schedule had to take into account the annual horse show in the fall and the rodeo in the spring.
Under NCAA rules, freshmen were ineligible for varsity competition.
1966-67 LSU Freshman Team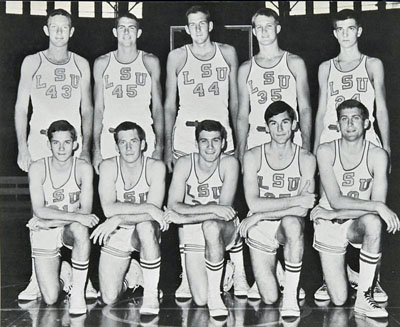 Rich Hickman is kneeling third from left. "Skinny Pete" stands at far right.
Here's the log of
Pete
's freshman season as recreated from newspaper accounts.
December 1, 1966: Southeastern Louisiana College
The largest crowd ever to see a freshman basketball game saw "the most highly regarded basketball player at LSU since Bob Pettit" score 50 points as the Baby Bengals of Coach Greg Bernbrock crushed the SLC frosh 119-70.
When he wasn't scoring, he was passing the ball to open teammates (he had 11 scoring assists out of a total of 20 for the team) or grabbing rebounds (14 of them). And he kept the crowd in a constant uproar with his dribbling and passing, which kept the defense in a state of near-panic and at times caught his own teammates unprepared to handle a round ball which suddenly loomed up in front of them.

Pete's teammates had to adjust to his passing skills, as sophomore C Ralph Jukkola explained. In high school, every pass was a chest pass or a bounce pass. Now the balls were coming from behind his back and between his legs. You were getting hit in the chest with perfect passes, but you had no idea where they were coming from. They were from angles we had never seen before. It took a lot of getting used to.
The players said that the only time you didn't have to be ready for a pass from Pete was when he was looking right at you.

December 6: Baton Rouge Hawks
A semipro team composed of ex-collegians, led by C Jimmy Cress, who was SLC's MVP his senior year, gave the Tigers a tussle before falling 83-79. Cress canned 40 points to Pete's 34. Maravich had the edge on the boards, though, grabbing 22 caroms to Jimmy's 10. Pete also collected eight assists.
December 9: @Loyola JV (New Orleans)
After trailing at halftime 33-29, the Tigers clawed back to defeat the Wolfpups 74-72 as Pete sank a jump shot "in the waning seconds" to finish with 34 points, including the last 11 for the Baby Bengals.
December 14: Tulane
LSU won (score unknown) as Pete scored 34.
December 17: @Mississippi State
Pistol Pete canned 35 points and added nine assists and nine rebounds in handing the Bullpups their first defeat in four efforts, 113-81.
December 19: @Ole Miss
Maravich dropped in 43 in drubbing the Rebel frosh 97-76.
January 3, 1967: @Auburn
Maravich scored 40 and recorded 18 assists in the 88-73 victory.
January 7: Bordens
LSU won 98-68 over the independent team. Pete scored 40.
January 9:

Southern Mississippi


Pete sat out the game but the Baby Bengals won anyway 97-82.
January 12: @Tulane
The Baby Bengals continued their unbeaten streak but just barely. They beat the Baby Billow 69-68 in OT as Pete scored 31, his season low. He dribbled out the last seconds to protect the one-point margin. A crowd of 5,200, largest of the season, packed Tulane Gym for the doubleheader.
January 30: Baton Rouge Hawks
In the second meeting with the Hawks, Pete outdid himself with a sensational 66-point performance in the 111-84 triumph. Pete canned 26 of 51 shots to set a new Coliseum record, breaking the old mark of Bob Pettit by 16 points.
February 4: Loyola JV
The Wolfpups brought only six players as 7,500 fans, "most of them members of the Pete Maravich fan club," watched Pete throw down 50 in the 105-59 lambasting before the varsity took on Kentucky.
February 6: St. Mark's Lutheran
Another independent team provided the opposition prior to the varsity game against

Tennessee

. While the Baby Bengals won 137-89, Pete had one of his poorest shooting nights and sat on the bench with the first-team unit part of the second half. He also lost the ball on the floor several times. But he did set a frosh record by making 20 of 21 FTs.
February 8: Auburn
Pete outscored the entire Auburn team in the first half, 33-30, on his way to 57 points as the Bengals romped to a 108-71 victory, their 14th in a row.
February 9: @

Southern Mississippi


Maravich suffered a cut over his eye that caused him to leave the court with 5:40 left in the first half. He returned after taking eight stitches at the university infirmary at halftime to lead LSU to a 94-86 win over the

USM

frosh. The

Southerners

rallied to take a 41-40 halftime lead while during his absence and led by five when he returned shortly after the second half started. Pete hit for 27 in the second half for a total of 42 and sank two FTs with 4:25 left to put the Bengals ahead to stay 83-82.

Paul Milanovich, Pete's teammate on the freshmen team: I don't think those southern boys appreciated the way we played. Pete was always getting roughed up.

February 18: LSU Alumni
The Tiger frosh beat a team of former LSU cage standouts 118-75 in a game that included "clowning and outlandish cage tactics." For once Pete wasn't alone at the top of the LSU scoring list as teammate Rich Hickman matched him with 28 points.
February 20: Mississippi State
7,000 fans watched Maravich & Company dispatch the Bullpups for the second time 106-71. Pete bucketed 53, well in excess of his season's average of 43.7, and "his general all-court play was better than usual, mostly because the rugged Staters presented a real challenge."
February 25: Ole Miss
The Baby Bengals outscored the Baby Rebels 110-98 in "a wild cage affair in which defense was tossed out the front doors." Maravich picked up 45 points on 41 shots while Hickman added 32.

Nobody could've imagined that fans would be turned away from a freshmen game, but that's exactly what happened for the last home game of the season. Attendance was given as 9,200 in a facility that seated 8,000.

March 4: @

Tennessee


The

Vol

frosh stunned LSU's unbeaten freshman team 75-74 when Pete missed a FT with four seconds to go that would have tied the game. He still gained high-scoring honors with 31 points. The Baby Bengals finished the season with a 17-1 record.

Student trainer

Billy Simmons

:

Pete couldn't believe he missed that shot. He talked about that his whole college career. But you've got to understand what he did to get those free throws. He got the ball off the inbounds and cut in front of a guy from

Tennessee

who was trailing the play. Nobody else even had the savvy to even think about that kind of thing.
Tiger fans began counting the days until Pete Maravich would perform on the varsity for the 1967-68 season.