What If?
The April 17, 2017 issue of
Sports Illustrated
had this interesting piece.
Early on the morning of July 24, 1916, more than 2,500 Western Electric employees boarded the SS Eastland tour ship outside Chicago for a short trip across Lake Michigan to the company's summer picnic in Michigan City, Ind. Arriving late to the port that morning was 20-year-old George Halas, a summer hire at the telephone manufac­turer who had planned to play in the company baseball game that day. Instead, he arrived at the Clark Street port to find the top-heavy steamer had rolled over in the Chicago River, killing 844 passengers.
Entire families were wiped out in the capszing. Because Halas had purchased a ticket, his name was even published in the local papers among the list of missing and dead.
Physically, at least, he was fine, and five years later Halas was working at a starch manufacturer in nearby Decatur, playing for and coaching the company's football team. In short time he took over the Decatur Staleys entirely, helped form the APFA (which became the NFL), moved the Staleys to Chicago, won the second league title and renamed the team as the Bears.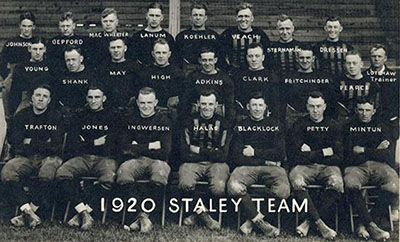 It Never Rains in Tiger Stadium, John Ed Bradley (2007)
Bradley, an offensive lineman at LSU 1976-79, learns that Charlie McClendon,
his coach at LSU all four years is dying.
Cancer had left him bedridden at his home in Baton Rouge; the prognosis wasn't good. It was December of 2001 ...
Susan Raborn
had called the night before and urged me to see him again. A friend from my
LSU
days, back when she was the most golden of the golden girls and the object of universal admiration among my teammates,
Susan
still lived in Baton Rouge. And she had stayed in touch with
Coach Mac
's daughter,
Dee
. "It's only a matter of time,"
Susan
had told me on the phone. "
Dee
says it probably won't be a week."
"Well, I appreciate the information. I'll try to get there as soon as I can."
"
John Ed
,
Coach Mac
won't be here much longer. You need to go now."
"But I can't,
Susan
."
"Then you'll never see him again." She waited a moment. "This can't be what you want, can it?"
My hand was shaking as I lifted a finger to ring the bell. I stopped myself and glanced back at the truck, wondering if anyone in the house had seen me. I could walk back to the street and leave without being noticed, send a note explaining the mechanical trouble I had on the way. But no, I turned back to the door in time to see it swing open.
Coach Mac
's wife,
Dorothy Faye
, was standing inside.
Susan
must've called to tell her I was coming. Otherwise, I was certain, she would've been more alarmed by the sight of a grown man weeping at her front door. "Why,
John Ed Bradley
," she said. "Come in. Come in,
John Ed
."
She put her arms around me and kissed the side of my face, then she used her fingertips to wipe my tears away. She was treating me better than I deserved, smiling and saying all the right things. I could only imagine the hell she'd been through. She looked sleepy, but she was still beautiful, still the best-looking coach's wife I'd ever known.
Coach Mac
had once lectured me on the importance of finding a good woman, using his own luck in mar­rying
Dorothy Faye
as an example of how the right choice can improve the standing of a man and make a life given to football tolerable. When we flew out of Baton Rouge for away games, I always looked for her on the team plane, knowing she'd add some class to the trip and boost our chances. After weeks in the locker room, there was nothing quite as wonderful as the smell of her perfume as she walked the aisle, tapping each of us on the shoulder. And letting me sit with her husband today was her kindest act yet. He didn't have much time left - three days, as it would turn out.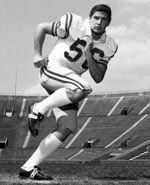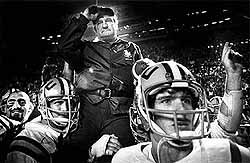 L: John Ed Bradley; R: Charlie McClendon carried off after his last game
"We're so glad you've come," she said.
"Thank you."
Dee
stepped up from behind her mother and gave me a hug. "Good to see you again,
John Ed
."
I nodded but found it too hard to say anything.
Dorothy Faye
led me down a hall to his bedroom, and I could see him be­fore I walked in the door, lying on a hospital gurney, white sheets and a spread covering his body from the chest down. His head was bald, the hair lost to chemotherapy. He looked much older than seventy-eight. And he was smaller than I remembered, his bones poking up against loose-hang­ing skin, an odd, yellow-gray color. I paused at the door. It had been twen­ty-two years, but that was
Coach Mac
, all right. I knew it for certain when he called out my name. "Is that you,
John Ed
?" he said, then patted a spot by his side on the mattress. "Come on over here and talk to me, buddy."
Dorothy Faye
found a chair for me, and I pulled it up close to the bed.
Coach Mac
reached for my hand and held it in his own, and then he let his head fall to the side so he could see me better. "Your old position coach was here yesterday," he said.
"
Coach McCarty
?"
"He sat right there." He nodded in the general direction, and we both look­ed at the empty space, as if waiting for
McCarty
to appear there again.
"And you're a writer now," he said.
"Yes, sir, I'm a writer."
"Well, I'm proud of you,
John Ed
."
He ticked off the names of the other assistants who'd visited in recent days, and then he listed the players from my era who had stopped by. I asked him what had become of some of them, and in every case he had an answer. "I was so sorry to hear what happened to
Marty
," he said. "When you see him, you make sure to tell him I asked about him. Will you do that for me?" [
Marty
was
Marty Dufrene
,
Bradley
's fellow O lineman who had been paralyzed in an accident.]
I considered telling him that I hadn't seen
Marty
in years, but I didn't want him to know that about me. "I'll be sure to tell him," I said.
He gave my hand a squeeze and asked me if I remembered the night
USC
came to Tiger Stadium and how the fans stood on their feet for four straight quarters and watched as we showed the
Trojans
what
LSU
football was all about. "I remember it all the time," I answered. "I don't always want to, because we lost, Coach, but I remember it."
"I remember it too," he said in a wistful way. He reached a hand up and raked it in front of his face. "They called face-masking against
Benjy
," he whispered.
"Sir?"
"That penalty. The one in the end."
"Yes, sir. They sure did call it. And it cost us the game. The officials stole it from us."
He swallowed, and I waited for him to castigate me for criticizing the refs. But he didn't correct me. In fact, he didn't say anything for a long while. And it seemed I could see moments from the game play out behind his eyes: the yellow flag going up, the fifteen yards marched off, the touchdown with less than a minute to play that gave the wrong team the win.
"Coach,
Benjy Thibodeaux
didn't face-mask anybody," I said. I could feel the pace of my heart quicken as I began to argue against a referee's call that would never change. "He didn't, did he, Coach? I still can't believe they did that to us."
Coach Mac
eased his grip on my hand and closed his eyes. Only about twenty minutes had gone by, but I understood it was time for me to leave.
I stood and moved toward the door, determined not to look back, not to cry again. His voice stopped me. "Hey, buddy?" He waited until I faced him. "Al­ways remember I'm with you. I'm with all you boys."
He lifted a hand off the bed and held it high, just as he'd done that night in Orlando [
LSU
's Tangerine Bowl victory over
Wake Forest
in
Mac
's last game as coach] when
Big Ed
[
Stanton
] and I carried him from the field on our shoulders and he waved to the crowd for the last time.
"I know you are, Coach. I know you're with us."
"And buddy?" A lopsided smile found his face. "Next time, don't wait so long before you come see your old coach again."
The Prodigal QB Comes Home - I
The Game Plan: The Art of Building a Winning Football Team, Bill Polian (2014)

There are parts of
Buffalo Bills
history that are almost too bizarre to believe. And there's one part that I can say I'm particularly glad to have missed.
It happened in early June 1983, while I was working in the Canadian Football League. Two months earlier, the
Bills
had made
Jim Kelly
, the star QB from the
University of Miami
, the 14th-overall pick of the draft ...
Jim
was the third QB selected in the now-legendary Quarterback Class of '83, after
John Elway
... and
Todd Blackledge
...,
Ken O'Brien
..., and
Dan Marino
..., who amazingly was the next-to-last pick of the first round.
Jim
made it clear from the start he wanted nothing to do with playing in Buffa­lo. He went so far as to instruct his agents to get the best offers they could from the United States Football League's
Chicago Blitz
, which had drafted
Jim
, and the CFL's
Montreal Concordes
, who also expressed serious interest in signing him.
Jim
even made a visit to Chicago and, not surprisingly, came away very impressed with the
Blitz
's coach, the late, great Hall of Famer
George Allen
.
Nevertheless, the
Bills
, with
Pat McGroder
serving as their interim GM ..., were undeterred. They kept negotiating with
Jim
's agents,
Greg Lustig
and
A.J. Faigin
, and finally put together a four-year, $2.1 million deal that
Jim
was going to sign. Or so it seemed.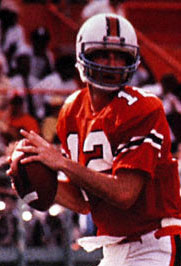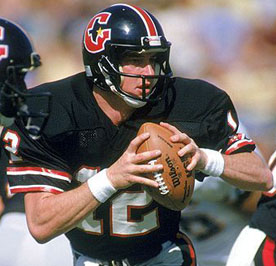 Jim Kelly,
Miami Hurricane
and
Houston Gambler
As the story goes,
Jim
and his agents were in
Pat
's office, with
Jim
literally on the verge of putting pen to paper. All of a sudden, a phone call came in and a secretary, sitting outside the office, picked it up. It was from
Bruce Allen
,
George
's son and the general manager of the
Blitz
, asking to speak with
A.J. Faigin
. For whatever reason, she put the call through.
Allen
was on a three-way connection that included the late
John Bassett
, prin­cipal owner of the USFL's
Tampa Bay Bandits
and one of the most influential voices of his league. About a month earlier,
Bassett
had invited
Jim
, his agents, and one of
Jim
's closest friends and former
Hurricanes
teammate, FB
Mark Rush
, to a
Bandits
game to give them a feel for the quality of play in the USFL. They spent several days at
Bassett
's plush condo in Sarasota, where they were treated like royalty.
Allen
and
Bassett
told
Faigin
to hold everything with the
Bills
, and that
Faigin
and
Lustig
should exit the building and meet them at
Bassett
's home in near­by Toronto to listen to an offer that would blow them away. They walked out, leaving behind a glaring blank spot on the contract where
Jim
was supposed to have signed his name.
Later that night,
Allen
and
Bassett
informed them that the USFL was so deter­mined to land
Jim
, he could have his pick of any of its teams.
Allen
said he would gladly trade
Jim
's rights to the team of his choice and he and
Bassett
promised that he would receive far more money than the
Bills
were offering. As a sweetener, they also extended the Pick-your-USFL-team proposal to
Mark Rush
, who had been a fourth-round pick of the
Minnesota Vikings
, and assur­ed
Jim
that any USFL club would sign them as a package deal.
The two of them put together their wish list of teams, and to no one's surprise, they were all warm-weather cities: Tampa Bay, Jacksonville, and Houston. Soon thereafter,
Dr. Jerry Argovitz
, the
Houston Gamblers
' owner and a den­tist, invited
Jim
and
Mark
to Houston, where he would have the attractive op­portunity to throw passes in the Astrodome.
Before making a contract offer,
Argovitz
wanted to make sure
Jim
's shoulder, on which he had undergone surgery after severely separating it during his senior year of college, was fully recovered.
Argovitz
took
Jim
to a park and asked that he throw him some passes as he ran routes. Not quite sure of what to make of the owner of a professional football team running pass pat­terns for him,
Jim
, who had one of the strongest arms of any QB to play the game, figured he should take it easy to enhance
Argovitz
's chances of catch­ing the ball.
But
Argovitz
told him he wanted more velocity on the throws.
"Okay,"
Jim
said. "If that's what you want."
The next pass wound up breaking the ring finger on
Argovitz
's right hand.
Right after that,
Argovitz
, after receiving
Jim
's rights from the
Blitz
in ex­change for four draft picks, signed him to a five-year contract worth $3.5 mil­lion, including a guaranteed signing bonus of $1 million. That made him the USFL's second-highest player after RB
Herschel Walker
.
Jim
would go on to have two brilliant seasons in Houston. Working in the run­and-shoot scheme, he threw for 9,842 yards and 83 touchdowns. He comple­ted 63 percent of his passes with an average of 8.53 yards per attempt. In 1984,
Jim
was MVP of the USFL, setting a league record for throwing for 5,219 yards and 44 touchdowns. ...
You could not have lived in Buffalo during that time and been unaware of how the loss of
Jim Kelly
affected the perception of the franchise. It was viewed as just an absolute, outright stumble. And it felt doubly worse due to the earlier loss of a talented RB,
Joe Cribbs
, to the USFL because the
Bills
had allowed it to happen with incorrectly worded language in his contract. So they lost two players who arguably would have reached marquee status because they didn't have enough acumen to get the job done. That was just another example, in the public's mind, of the bumbling
Bills
.
The
Bills
became fodder for
Johnny Carson
's late-night monologue. They were considered such an embarrassment, such a non-professional organization that, at one point, the late
Larry Felser
, a longtime sports columnist for the
Buffalo News
, wrote that the city just might be better off without them. That was a stinging commentary from
Larry
, who heavily influenced sports opinions in western New York.
And the perception by players from other NFL teams and those coming out of the college ranks was: "These guys are minor-leaguers. This is an awful place to play, it's not a good place to work, it's not a good place to live." There was a malaise that surrounded the franchise that resulted from the losses of
Jim Kelly
and
Joe Cribbs
. Those weren't losses on the field. Those weren't be­cause of injuries or poor coaching or anything that you could correct. They were because of poor business acumen, the inability to get the job done, or so people assumed.
To be continued ...
The Prodigal QB Comes Home - II
The Game Plan: The Art of Building a Winning Football Team
,
Bill Polian
(2014)
Part I
Bill Polian became GM of the Buffalo Bills in 1984.
In 1986, a potential trade materialized for
Jim
's negotiating rights, which we still owned. It would have involved some pretty high draft choices, and I thought it was something that
Mr. Wilson
[the
Bills
' owner] should at least consider. For one thing, it could have netted us, at the very minimum, a decent QB, along with allowing us to fill other positions. For another,
Jim
was going to be difficult for us to sign, because his price tag would be high for that time and he already had made it clear he had no desire to play for the
Bills
, so I thought we needed to look at a fall-back option.
"No!,"
Mr. Wilson
said emphatically. "We're not going to do it. We're going to sign
Jim Kelly
."
"
Jim Kelly
is going to cost a fortune to sign," I reminded him.
"I know. We're going to sign
Jim Kelly
." ...
In my mind, having actually seen him up close and personal for a whole season in the USFL, there was no question that he was going to be a great QB in the NFL. There were no questions about him physically, none about him mentally, none about him emotionally. He was so big, so strong, so tough, I honestly thought that we had a weapon that nobody else had. Guys like that are rare in professional football. ... They make everybody around them better ...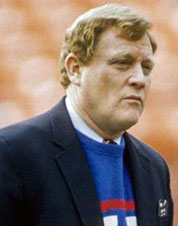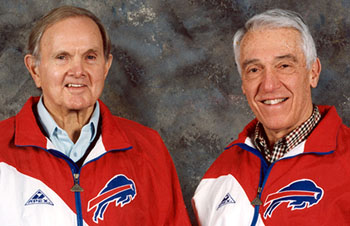 L-R: Bill Polian, Ralph Wilson, Marv Levy
On July 29, 1986, at the end of an 11-week trial in U.S. District Court in Man­hattan, a jury awarded the USFL all of one dollar in its $1.7-billion antitrust suit against the NFL. That was trebled to three dollars. But the hollow nature of that "victory" was based on the fact the jury rejected all of the USFL's claims that the NFL's contracts with the television networks broadcasting its games constituted a monopoly, which was the very essence of its case.
Five days later, USFL commissioner
Harry Usher
announced that the league was suspending operations until 1987 (although it would never resume play), and a week later, the NFL announced that more than 600 USFL players were available to NFL teams. Soon thereafter,
Al Davi
s, the late owner of the
Raid­ers
... called me and said, "I'll give you any seven players on our team for the rights to
Jim Kelly
. Name the players."
So I named
Howie Long
, an eventual Hall of Famer, and virtually every other star that they had. He said, "Well, I'll call you back." He never called back.
Greg Lustig
[
Kelly
's agent] then called me to say he wanted to meet. After receiving permission from the NFL office, I called
Lustig
back. The first thing he said was, "We don't want to go to Buffalo. We didn't want to go to Buffalo in the first place. We have no intention of going to Buffalo now."
All
Lustig
wanted to talk about was convincing us to trade
Jim
's rights to the
Raiders
. I told him that he wasn't necessarily in a position to make that de­mand, but that I thought it was still appropriate that we get together.
"Let me talk to
Jim
about what we have going here," I said.
I had a week to prepare. My plan was to sell
Jim
on the
Bills
, making sure he understood we weren't as bad as our record or reputation said we were. ...
We agreed to meet on August 14, 1986, in New York, at the Helmsley-Palace Hotel, which happened to be right across the street from Saint Patrick's Cathe­dral. I remembered being there as a little grade-school boy, touring that mag­nificent church. I considered that a good omen.
I opened the meeting by sharing an anecdote of being with the
Chicago Blitz
while
Marv Levy
[the
Bills
coach] and I were on the sideline of a game against the
Gamblers
in the Astrodome. In the second half, our S,
Doug Plank
, was blitzing. ...
Doug
came after
Jim
and he popped him right under the chin. It was a hit that in today's NFL would get you ejected and suspend­ed. You could see that he opened a gash in
Jim
's chin, yet, with blood pouring out,
Jim
stood back there and delivered a strike for a touchdown.
Marv
and I looked at each other and we both went, "Holy cow!" or words to that effect.
I told
Jim
, "It was that play, more than any other, that convinced me that you're the kind of QB we need with the
Buffalo Bills
. ..."
I also reminded him of when he beat us [the
Chicago Blitz
] in a Saint Patrick's Day blizzard in Chicago. I'm talking about 17-18 inches of snow. I said, "Heck, you played in a blizzard in Chicago. Why are you worried about a little snow in western New York?"
We were just two guys talking football. ... I think it put
Jim
at ease a little bit, allowing me to gain some trust from him.
After that, I went into my recruiting speech.
I told him about
Andre Reed
, an extremely talented receiver ... I told him a­bout
Pete Metzelaars
, who we had acquired in a trade with the
Seattle Sea­hawks
in '85.
"We've got
Bruce Smith
on defense," I said. "We got some guys who can make plays on this team. This is not the mediocre outfit that it was when you were originally drafted in '83. It's a new, young team that you're going to grow with ..."
"This whole thing has been built with you in mind. This is not an offense that we dreamed up out of whole cloth and we don't care who the QB is. This is an offense that requires a QB who can lead, who can make throws down the field, who can do the kind of things that are necessary to have a top-flight passing game. And we think that that's possible in Buffalo."
At some point the idea of a trade to the
Raiders
came up and I said, "Well,
Jim
, here's the issue: we control your rights. They belong to us unilaterally, and there's no place that you can go of your own volition without our agree­ment. And I'm quite sure that we would never agree to trade you."
"Well, what if I didn't come to Buffalo?" Jim Asked. "What if I just refused to play?"
"Well, if that happened, I guess at some point in time we'd be inclined to may­be entertain a trade, because what skin is it off our nose if you don't play? We would be no worse off than we are now. But I can assure you that we would­n't trade you to the
Raiders
, under no circumstances. It's not happening. Take it to the bank. It's just not happening." ...
"This franchise has a cloud over it because we didn't sign you. Conversely, when we do sign you, that cloud will be lifted. ... The fans of Buffalo will wel­come you with open arms. You're not just another football player coming to Buffalo. You're the prodigal son coming home to lead us to the Promised Land." ...
On the morning of August 15, 1986, I was at the airport in Buffalo, ready to head to Houston, where I would meet with
Jim Kelly
's agents later that day. ... I got to the airport, and people there knew I was on my way to Houston to do the negotiations. There were actually children from a Catholic church in a northern suburb of Buffalo that brought along a little scroll, which was essen­tially a group of prayer thoughts for me.
"We're praying for you when you go to sign
Jim Kelly
," a nun told me. ...
I think the first day we went five to six hours and the discussion was focused on the
Montana
and
Young
contracts. I was trying to figure out what their "magic number" was. By the end of the day, I got to the point where I was pretty confident in saying to myself,
I think a million a year is the magic number.
By today's salary standards, that would be laughable for a backup QB, but it was unheard of for anybody in the NFL at the time. ...
We called it a day. Our game against the
Oilers
was that night, and
Jim
at­tended as
Ralph Wilson
's guest in his suite at the Astrodome. ... I heard af­terward that
Mr. Wilson
did a great job of selling
Jim
on the
Bills
and Buffalo.
The next day, ... his agents were more receptive to what we were offering, which was a five-year deal worth $8 million, including a $1 million signing bo­nus. That made him, at least briefly, the highest-paid player in the NFL.
Mount St. Haslett
From
Tales from the Saints Sideline: A Collection of the Greatest Stories Ever Told
,

Jeff Duncan
(2004)
Jim Haslett


Jeff Blake


Doug Brien


Gerry Austin


Mike McCarthy

Jim Haslett

's hair-trigger temper is notorious around the

Saints

complex.

Anyone who has worked for or with the fiery coach has felt his wrath at one time or another.

Saints

ticket manager

Mike Stanfield

was one of the first victims.

It was the morning after a disappointing 31-22 home loss to

Oakland

in

Haslett

's first season. The

Saints

not only lost the game, they also lost QB

Jeff Blake

to a season-ending foot injury.

Haslett

was on a tear.

What set him off was the large contingent of

Raider

fans located in the lower section of the Superdome behind the north end zone. The gathering of notorious

Raiders

fans was so loud and unruly that the

Saints

offense struggled to call plays at that end of the field. The throng also did their best to throw off kicker

Doug Brien

during field goal and extra-point attempts.

When

Stanfield

arrived at work the following Monday,

Haslett

stormed into his office and lit into him. How could he be so stupid to sell blocks of seats in the lower bowl to opposing fans? From now on, every visiting team better receive upper deck seats or else!

From that point on,

Stanfield

sold only upper-deck tickets or scattered lower-bowl seats to the opposing teams.

Reporters felt Haslett's wrath, as well. At various times, Haslett has confronted or challenged every person on the beat.
He lit into Times-Picayune beat reporter Ted Lewis and threatened "to punch him in the face" in front of several players. Haslett was way out of line and was fortunate Lewis handled the matter with class.
Associated Press reporter Mary Foster told the Saints she planned to file a report on the incident, but Lewis did not want to make a big deal of the matter and asked her to drop it.
Still, a precedent had been set: When dealing with Haslett, treat the coach like nitroglycerin.

Haslett's favorite targets are officials. He disdains them. His detest for flag-happy referee Gerry Austin is known league-wide.
"He hates me and I hate him," Haslett once said.
One of offensive coordinator Mike McCarthy's earliest memories of Haslett came in a preseason game that Austin refereed against Philadelphia during the 2000 season.
Haslett, as usual, was on Austin's case from the start, and he didn't let up.
"He was screaming at him, 'Gerry, you're an asshole! You suck, Gerry!'" McCarthy said. "He wouldn't let up. And this went on for two or three series. I was laughing my ass off. I could hardly call plays.
"Finally, Gerry came over to the sidelines and said, 'You know I did referee the Super Bowl last year.'"

Early on, Haslett established himself as a notorious corner-cutter and envelope-pusher when it came to league rules. He routinely employed extraplayers on the practice squad. At the time, NFL rules allowed teams to keep five players on the practice or "taxi" squad each week. However, Haslett found a loophole in the process and managed to field an extra player or two at practice each week.
The practice was so common it became a running joke among reporters and team officials.
"How many players on the practice squad today, Haz? Seven or eight?" reporters would ask.
"We're actually legal today," Haslett would joke.

Haslett is a well-known gossip hound. He loves to talk. The juicier the information the better. Unfortunately, this gets him in trouble more often than not. His habit of talking to the media - both local and national - has always been a bane for general managers Mueller and Loomis.
Unfortunately for reporters, Haslett is just as loose with his facts as he was his lips. His penchant for inaccuracies and false facts became such a joke with local beat reporters that they kept a "Bad Haz Stat of the Day" listing on a marker board in the media room at the team facility. The list sometimes approached double digits from Haslett's weekly Monday press conferences.
All statistics purported by Haslett during press conferences were religiously double-checked for accuracy. Invariably, Haslett's numbers were off. More than one reporter who took Haslett's word on a story was burned by it.
His embellishment was legendary. When recounting stories, Haslett routinely stretched the truth. The old saying "Never let the facts get in the way of a good story" applies perfectly to Haslett.
"He'll say anything if he thinks it helps him," said Falcons coach Jim Mora, who is good friends with Haslett from their coaching days on Mora's father's Saints staff. "He's like the Iraqi Minister of Propaganda."
The New Reality
Jenny Vrentas, Sports Illustrated, September 19, 2016
A few minutes after 8 a. m.
LeSean McCoy
walks into a windowless room on the first floor of the
Bills
' headquarters in Orchard Park, N.Y. He ... straps on a virtual-reality headset to stare down an NFL defense. In the 13-by-16-foot room, which is lined with FieldTurf, the eighth-year running back stands over a hash mark and peers through the goggles at a wall-mounted TV. His position coach,
Anthony Lynn
, cues up a running play from practice.
"Oh, this is crazy!"
McCoy
says with a giggle. "Ha!
Jim Brown
would have loved to have this."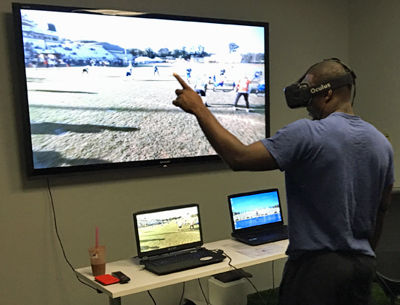 LeSean McCoy doing virtual reality practice
Reps, even mental ones, come at a premium 12 days before the season opener. In a 25-minute session designed to strengthen the mind's eye,
Lynn
applies constant pressure in the form of timed quizzes. Whether running the ball, staying in to block or releasing on a pass route, a back has about seven seconds between the breaking of the huddle and the snap to line up and pinpoint his assignment. That's how long
Lynn
gives
McCoy
to make his reads on this Tuesday morning. In between those bursts,
Lynn
teaches.
"Rewind that," he says, breaking down a pass play. "Now, if that was an option route, oh, my goodness! You'd kill them on the inside move right there."
McCoy
takes another look, reciting the defensive front, the protection call, the coverage and how he should run his route. "We are running option routes,"
Lynn
says of the Week 1 game plan for the
Ravens
, "and I have all these coverage looks on tape for you. Get you some mental visuals."
"Nice!"
McCoy
says, adjusting the mask. "Can I get this at home, too?"
This isn't
Jim Brown
's NFL, and it hasn't been for a long time. Virtual reality aside, today's game is an aerial spectacle; a league record for passing yards has been established each year since 2009. Backs are so devalued that only three were taken in the first round over the past four NFL drafts. (Ten were chosen over the previous four.)
The new way of thinking: The guys who run the ball are interchangeable and replaceable - even the veterans. ...
Buffalo
was one of four teams that ran more than they threw last season (509:465), and its 152.0 yards per game and 4.8 yards per carry were league highs. Yet the job of a running back is misunderstood even in
Buffalo
's locker room.
Defensive players occasionally mock the backs by asking,
What, exactly, do you do in the film room anyway?
Rookie
Jonathan Williams
, a fifth-round pick out of
Arkansas
, recently overheard one of the athletic trainers saying he wished he could be a running back, because it seemed so simple. "I told him, 'No!'"
Williams
says, still stunned. "We have to know a lot of stuff!"
The
Bills
' game plan against the
Ravens
on Sunday contained nearly 50 running plays. Each came with an alignment (where the back lines up), designated footwork (there are at least a dozen varieties) and an aim point (what to run toward). As the back approaches the line of scrimmage, he makes his primary read off one defender. The best backs can almost simultaneously read a second defender - just like top QBs can read two safeties at once - and sense where daylight exists amid the chaos of violent collisions. Each play also has something called a "big alert," a presnap read that signals a favorable matchup for the back to seize. Something as simple as taking the wrong first step can muck up the timing of a carefully orchestrated play. ...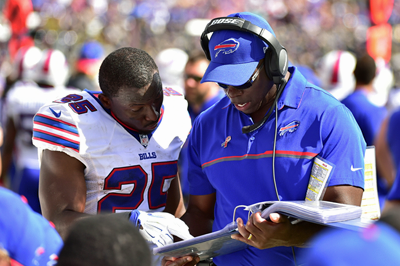 McCoy and Anthony Lynn
When
Lynn
retired [as an NFL RB], in 2000, backs were responsible for reading one or two defenders when blocking on pass plays. Because defenses have diversified in lockstep with offenses, and because blitzes are better disguised than ever, backs must often scan up to six defenders to identify and block the most dangerous potential rusher.
The
Bills
had 10 protections in last week's game plan, each requiring adjustments at the line; the backs had to study about 30 base and nickel pressures of the
Ravens
' defense. By kickoff,
Lynn
had held 10 mini-meetings to go over theses protections alone, but the
Ravens
(two sacks, six QB hits) cooked up some new surprises.
Whether the ball is on the ground or in the air,
Lynn
's primary goal is to find ways to slow down an impossibly fast game for his players. To help one of his younger backs,
Mike Gillislee
,
Lynn
asked third-string QB
Cardale Jones
to record audio of the Week 1 play calls so
Gillislee
could visualize responding (in seven-second increments, of course).
Lynn
also employs a method he calls "deep practice" - making the game harder during the week so it seems easier on Sundays. He has his guys do read-and-reaction drills from six yards deep instead of seven to give them less time to make a decisions. During a recent special-teams period
Lynn
put
McCoy
behind an "offensive line" of five garbage cans and rattled off
Baltimore
pressures at lightning speed, baiting
McCoy
into making mistakes as he made the protection calls.