Which one of the following stadiums has never hosted a Super Bowl?
(A) Los Angeles Coliseum
(B) Rice Stadium
(C) The Metrodome
(D) Soldier Field
The College All-Star Game pitted the college all-stars against the NFL champions in the opening game of each season from 1934-1976. Which stadium hosted the first and last games of the series and most all the ones in between?
Rose Bowl
Soldier Field
Yale Bowl
Yankee Stadium
Which FBS football teams play their home games in each of these stadiums?
Faurot Field (built 1926, capacity 62,000)
Glass Bowl (1937, 26,248)
Byrd Stadium (1950, 48,055)
Kibbie Dome (1975, 16,000 – smallest in the FBS)
What is the oldest college football stadium still in use? What are the second, third, and fourth oldest?
The design of both the
Rose Bowl
in Pasadena and
Michigan Stadium
in Ann Arbor were inspired by a stadium that is still used for football today. Which stadium and in what city is it located?
Immediately before and after World War I (1915-16 and 1919-1921 as well as 1923, 1925, and 1927), the
Army
-
Navy
game was played at a stadium more famous for baseball than football. What stadium?
LSU
's Tiger Stadium was originally nicknamed "Deaf Valley" because of the noise level. Over the years, the name morphed into "Death Valley." What other college stadium is known as "Death Valley"?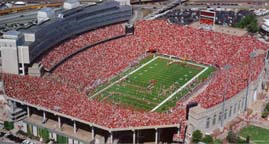 Grambling
and
Southern
moved their annual tussle to New Orleans in 1974 and renamed it the "Bayou Classic." After one year at Tulane Stadium, the game was moved to the Superdome where it has been played ever since except for 2005, when it was moved because of Hurricane Katrina. At what stadium was the Bayou Classic played in 2005?