Twenty-six years ago,
Ted Simmons
' Hall of Fame destiny appeared to be over before it began.
But time changed that - just like it did
Simmons
' off-the-field journey. And
Simmons
is grateful for both.
"The Hall of Fame: A lifetime of waiting," said
Simmons
, who has shared much of that lifetime with his wife of five decades,
Maryanne
. "And 50th wedding anniversary, which also is a lifetime waiting, right? There's all sorts of firsts."
Simmons
, who played 21 big league seasons with the
Cardinals
,
Brewers
and
Braves
from 1968-88 and later served with several front offices, was elected to the Hall of Fame by the Modern Baseball Era Committee as part of the Class of 2020. He is the first player elected to the Hall of Fame by a veterans committee after dropping off the ballot after one year in the annual Baseball Writers' Association of America election, where candidates must receive at least five percent of the vote to remain under consideration.
In 1994, his first year eligible for the Hall of Fame,
Simmons
received 3.7% of the vote from the BBWAA electors. It was one of the first times in his athletic careeer that
Simmons
was not at the ehead of his class.
"I was a typical three-sport athlete and excelled in all of them," said
Simmons
, who grew up in the Detroit suburb of Southfield, MI. "By the time I was 14, 15 years old, the entire metropolitan area of Detroit knew who I was. 'He's going to wind up in the major leagues.' That kind of talk. ..."
On the athletic field, the 5-foot-11, 193-pound
Simmons
appeared to be carved from granite. Besides his ability to switch-hit, hit for power and bat fourth in a major league lineup,
Simmons
also was known for his leadership abilities.
"His best attributes were his strong will to win and his dedication to being out there every day," said former
Cardinals
relief ace
Al Hrabosky
. "He could motivate me better than anybody I've ever been around."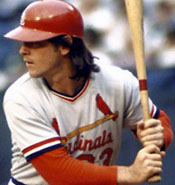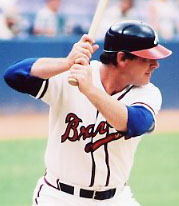 Ted Simmons with his three major league clubs.
Simmons
, who remains in the game as a major league scout for the
Braves
, had big numbers in his career, such as 2,472 hits (second all time among players who appeared in at lesat 50 percent of their games as a catcher) and 1,389 RBI (also second on that list).
An eight-time All-Star,
Simmons
never struck out more than 57 times in a season, and he is one of only 12 players in history with at least 240 HRs and fewer than 700 Ks. And he was durable:
Simmons
is one of only six catchers with at least two seasons playing at least 150 games behind the plate (1973, 1975), and he ranked eighth all time in games caught (1,771) at the time of his retirement.
But he said, "I started out as a little boy hoping I'd end up playing the World Series and probably be elected to the Hall of Fame ... For most of the guys and girls who have those dreams, they aren't able to realize them. But I've been able to stay in this Disneyland my whole life."
In
Simmons
' first year with the
Cardinals
,
Tim McCarver
was the catcher for a team that won National League pennans in 1967 and 1968 and a World Series in 1967.
McCarver
would be dealt to
Philadelphia
... after the 1969 season but returned to the
Cardinals
as an extra man in 1973.
"That year I came back,
Ted Simmons
hit more balls hard than anybody I've ever seen in the course of a season,"
McCarver
said. "Honestly, I felt he could have gotten 350 hits that year. His outs were just ridiculous. And he was a warrior in every sense."
Simmons
' defensive skills were questioned in some circles, but
McCarver
said, "Good catchers come in different ways. They come silently as far as calling a game. They come warrior-like from an offensive standpoint. They come in different ways as to how they help their team." ...
While still active in the game, until last December he didn't have too many things planned for late July. "I'd probably be across the street watching the
Cardinals
play some National League team," said
Simmons
, who wants to do something in baseball until the day "they vote me out."
But come July 26 in Cooperstown,
Simmons
will be inducted into the game's greatest fraternity - a place he will never leave.