By his senior year in high school in Maple Ridge, British Columbia,
Larry Walke
r had given up on his professional hockey dream and left his formal education behind.
Life, however, was about to take an unexpected and rewarding turn, sending
Walker
on a journey that has led to Cooperstown and his election to the National Baseball Hall of Fame - far from where
Walker
says he would have been had he pursued a hockey career.
"I'd be missing a few more teeth," he joked about how he'd look had he not hung up the skates a couple years before deciding to drop out of high school. "I don't know if the success would have been there in hockey that I enjoyed in baseball. I'd probably he home in Maple Ridge working in the real world right now."
Walker
had dabbled in baseball growing up, but the seasons were short because of the weather in Canada, and the game wasn't played at the high school level in British Columbia.
"You would play maybe 12 to 14 games from the end of April to the end of June," explained
Larry Walker, Sr.
, who had been
Walker
's coach on youth teams for three years in his pre-teen days.
Larry Sr.
later put together a fast-pitch softball team that had a lineup in which the first five names in the batting order were simply listed as:
Walker
,
Walker
,
Walker
,
Walker
,
Walker
.
Larry
, at age 15 the youngest of those
Walkers
, hit fourth. His three older brothers hit in front of him. His father hit behind him.
The experience whetted
Walker
's appetite, and by the next year, 1982, he began appearing on the radar of big league scouts. He was playing for the
Coquitlam Reds
, a British Columbia-based youth baseball team that played the bulk of its 65 games against teams from the state of Washington.
Bob Rogers
, a scout for the
Montreal Expos
who lived in the Evergreen State, was intrigued by
Walker
's talent and "called about two weeks [after
Walker
dropped out of high school],"
Larry Sr.
explained. "
Bob
wanted to talk to
Larry
right away, so we met him in Vancouver the next day and talked about a contract with the
Expos
."
"I looked at
Larry
and asked, 'Do you want to play baseball?' He said, "I think I might try that.' I told him, 'OK, sign your name on the contract and let's go home.'"
Little did the
Expos
and the rest of baseball realize the payoff that would come from that $1,500 bonus
Rogers
and the
Expos
gave
Walker
. But it was not an easy path.
He made his pro debut in 1985 with the
Utica (NY) Blue Sox
, a short season Class A team in the New York-Penn League that had players from six different organizations. Though Cooperstown may only be a 45-minute drive from Utica, at the time it had to seem a world away to
Walker
, who hit only .223. ...
"He was raw when he showed up," said coach
Gene Glynn
, who was on he
Rockies
staff when
Walker
signed there as a free agent prior to the 1995 season. "But he probably learned the game faster than anybody. He would recognize what needed to be done and learn right away. He was never intimidated."
By the end of that season in Utica, there was talk of
Walker
being released. But
Ralph Rowe
, the
Expos
' roving hitting instructor, lobbied on his behalf, extolling
Walker
's raw potential and convincing the
Expos
to bring him to the Florida Instructional League.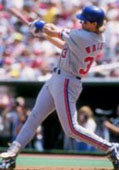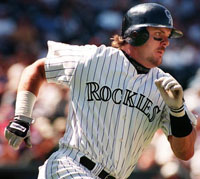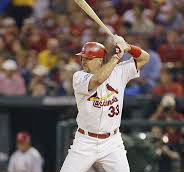 L-R: Larry Walker as an Expo, Rockie, and Cardinal
The rest, as they say, is history. In 1986,
Walker
opened the season at Low-A
Burlington
and finished it at High-A
West Palm Beach
.
"If there was a light at the end of the tunnel, I guess it started there,"
Walker
said. "I couldn't see it, but things got better. When I got promoted to
West Palm Beach
, that's when they started to talk about me actually having some ability."
He missed the entire 1988 season because of a knee injury suffered in winter ball, but on Aug. 16, 1989, Walker made his big league debut with the
Expos
. The next season - at age 23 - he became the team's starting right fielder.
For
Walker
, getting elected to the Hall of Fame was a bigger challenge than putting together a Hall of Fame-caliber career that spanned 17 seasons - beginning in Montreal, ending in St. Louis and with nearly 10 years as a member of the
Colorado Rockies
in between.
That time in Colorado was the last obstacle
Walker
had to clear to become the first player who wore a
Rockies
uniform to be enshrined in Cooperstown. The stigma of hitter-friendly Coors Field hung over him but a movement began following the 2017 season when he received 21.9% support from the Baseball Writers' Association of America. Over the next three years, that momentum built, resulting in January's announcement that he had received 76.6% of the vote from the BBWAA ...
"You know those old records?"
Walker
said with a smile. "I'm the 'B' side." To those who managed him and managed against him, however, he's a Grade-A addition to Cooperstown.
"It was a no-brainer for me," said
Jim Leyland
, who managed against
Walker
over several years and in 1999 managed him with the
Rockies
. "
Barry Bonds
is the best player I ever managed, but
Larry Walker
was the best five-tool player I ever saw. There was nobody more impactful in a game than
Larry Walker
. He beat you all five ways - defense, his throwing, his base running, his hitting and his power. I can't believe it was ever a question."
Yes, he had impressive numbers at Coors Field, but it takes more than a home-field advantage for a player to win three batting titles, earn the NL MVP in 1997, become a five-time All-Star and win seven Gold Glove Awards - along with three Silver Slugger Awards. Add all of that together and it underscores the complete nature of his game.
"I mean, just a gifted all-around everything," said Hall of Fame manager
Tony La Russa
. "In fact, I think he would probably be in the top three of just about every category: Base running, defense, handling the bat."
When you take into consideation his average, doubles, triples, home runs, RBI, slugging percentage and on-base percentage, the only players in the history of the game who can match him are
Babe Ruth
,
Lou Gehrig
,
Stan Musial
,
Jimmie Foxx
, and
Ted Williams
. Throw in
Walker
's 230 stolen bases and he stands alone. Of the five Hall of Famers who share that offensive platform with him,
Ruth
is a distant second in stolen bases with 123. His peers and the opposition understood that.
"He is better than one of the best," said Hall of Fame manager
Bobby Cox
during
Walker
's playing days. "He is the best."