CONTENTS
Strange Commissioner Candidates
Before It Was Wrigley Field
What is now called Wrigley Field went by three different names in its first three years of existence. Also it was not built as the Friendly Confines of the Chicago Cubs.

1914: Weeghman Park – named for the man who built it, Charles Weeghman, owner of the Federal League team usually called the Chicago Federals. It was the first ball park built in North Chicago. As a result, it was also referred to as North Side Ball Park. Its capacity was 14,000, and it cost $250,000.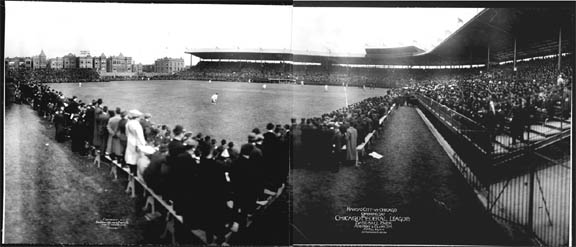 Weeghman Park on Opening Day 1914
1915: Chicago Federal League Baseball Park – home of the renamed Chicago Whales, still owned by Weeghman. The facility was more commonly called Whales Park. Weeghman expanded the seating to 18,000. The Whales won the second and final Federal League pennant.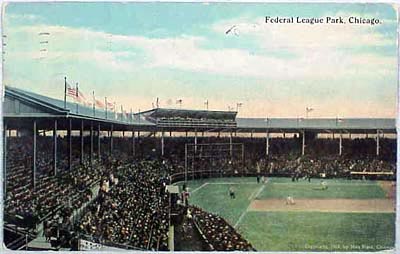 1916: Cubs Park – With the demise of the Federal League, Weeghman bought the Cubs with the blessing of the NL owners, who looked forward to playing in the new facility. However, financial setbacks forced Weeghman to sell his controlling interest in the team to William Wrigley, Jr., of the chewing gum family.
1926: Wrigley Field – The LF bleachers were removed, and the grandstand was double-decked to bring the capacity to 38,396. Thus it became basically the park that still houses the Cubs today.

Chief Wilson

Everyone knows about Joe DiMaggio's 56-game hitting streak and Cy Young's 511 wins. But here are some more baseball records that may never be broken.

Cy Young's 316 losses – an average of 15-16 losses per year for 20 years.
Chief Wilson's 36 triples in 1912 for the Pittsburgh Pirates. Nobody else since 1900 has had more than 26. Wilson himself never had more than 14 in any other season.
Mickey Mantle's 18 World Series HRs with the Yankees.
Jack Chesbro's 48 complete games in 1904 with the New York Highlanders. Jack started 51 games that season and won 41.
Connie Mack's 3,948 losses as a ML manager. The only reason Mack lasted so many years was that he owned the Philadelphia A's.
Grover Cleveland Alexander's 16 shutouts in 1916 for the Philadelphia Phillies. Old Pete also had 12 the previous season.


Jack Chesbro



Ryan Howard

Some major league players, past and present, made their college teams only as walk-ons.

Ozzie Smith: the HOF SS walked on at Cal Poly-San Luis Obispo in 1974. Attracting hardly any notice from pro teams out of high school, Smith went to Cal Poly to get more exposure. He received a partial academic scholarship his first year and a baseball scholarship the second.
John Valentin: the walk-on at Seton Hall says that he would have quit baseball if he hadn't made the team as a freshman. Making the squad set the stage for an 11-year MLB career.
Darryl Hamilton: since his high school didn't have a baseball team, he was a long-shot walk on at Nicholls State. He went on to hit .291 for 13 ML seasons.
Eric Karros: the future Dodger, Cub, and A's 1B was one of 60+ prospects trying out for two walk-on spots at UCLA. Redshirted as a freshman, he started as a sophomore before being drafted by LA in 1998 after his junior year. Eric played 14 years of MLB, smacking 284 HRs.
David Eckstein: the two-time World Series MVP walked on at Florida.
Ryan Howard: the 2006 NL MVP was invited to walk-on at Southwest Missouri State. The coach, who had no more scholarships to award to the freshman, gave Ryan a written guarantee that he would receive scholarship money starting his sophomore year. The Phillies signed him after his junior year.





David Eckstein
1958 vs 2008
It has become commonplace for older baseball fans to wax eloquent about the "Golden Age" of baseball in the 1950s. There were still only eight teams in each league (all confined to the northeast quadrant of the U.S.). Black players were contributing their talents to MLB, and the number of Hispanic players was increasing. As a result, many argue that the density of talent on big league clubs was the greatest it's ever been.

That may be the case. But if you measure success by the number of people in the stands, you get quite a different picture of the 1950s.

1958: The eight NL clubs averaged 16,500 fans per game. Their AL counterparts drew only 11,800 per contest. So the overall average was about 14,100 per game.
2008: With MLB now covering every area of the country, the 16 NL teams averaged slightly more than 34,000 fans per game. The 14 AL clubs drew about 30,700 for an overall average of 32,000 per game in the majors. So over the 50-year span, ML attendance increased 227%.

Compare the ethnic breakdown of the rosters over the same 50-year span.

1958: 75% of MLB players were white. About 20% were African-American. Approximately 5% were Hispanic.
2008: 60% white, 30% Hispanic, 8% African-American. And there's a sprinkling of Asian players as well.
Reference: "How Baseball Has Changed in 50 Years," Allen Barra, Wall Street Journal

Albert Pujols

Some facts about Albert Pujols following the 2008 season, his eighth in the majors.

Pujols has never won a HR or RBI title. However, he has never registered fewer than 32 HR or 103 RBI in any season. His highs in the two departments are 49 and 137.
In 2001, he became the fourth rookie in history to hit 30 or more HRs, with 100-plus RBI while batting .320 or higher, joining Hal Trosky, Ted Williams, and Walt Dropo.
Albert is just the third player to drive in 100+ runs in each of his first eight seasons. The other two are Al Simmons and Ted Williams.
Only Ralph Kiner, with 329, had more HRs than Pujols' 319 in his first eight big league campaigns.

Reference: "2008 Player of the Year," by Bob Kuenster, Baseball Digest, Jan/Feb 2009


Ted Williams

William Eckert with Ford Frick over his shoulder


Bowie Kuhn

Baseball has had some interesting candidates for the Office of Commissioner, some of whom actually won the job.

One of the candidates on an early list of possible replacements for Commissioner Ford Frick in 1965 was "Richard Nixon, former Vice-President of the United States." While Tricky Dick was an avid baseball fan, he had higher goals in mind.
The list that the owners actually drew from when they elected a successor to the retiring Frick included more than its share of men with a military background.

Stephen Ailes, former Secretary of the Army
Eugene Zuckert, former Secretary of the Air Force
General Curtis LeMay, retired Air Force Chief of Staff

The man the owners elected to replace Frick was career Air Force officer Lieutenant General William D. "Spike" Eckert. He earned his nickname while playing football (not baseball) at West Point. From his initial press conference, Eckert was assailed by reporters asking what qualifications he brought to the job of Commissioner.

At a time when Major League Baseball desperately needed credibility – the NFL was making great inroads in the public consciousness, the Players Association was just beginning to flex its muscle – the owners had hired a commissioner who couldn't be taken seriously, because he knew little about baseball and perhaps even less about big business ... (Rob Neyer's Big Book of Baseball Blunders)

Eckert lasted only three years of his seven-year contract before the owners replaced him with a lawyer, Bowie Kuhn, who served 15 years in the job.
Before the owners decided on Bug Selig as their Acting Commissioner in 1992 (he officially assumed the office in 1998), they considered one of their own, George W. Bush, co-owner of the Texas Rangers. And some suggest that George might yet get the job when Bud retires.
Patrick Schuster, a LHP at J. W. Mitchell High in New Port Richey FL, threw four straight no-hitters in April 2009.

Schuster, a 6'3" 195 lb senior, throws a 90 mph fastball and an excellent slider.
The fourth straight no-hitter broke the Florida record. He struck out 17 Pasco High batters in the 5-0 win.
In his attempt at a fifth straight, Patrick was the LP in a 9-4 state playoff defeat.
Pro scouts told Patrick that the no-hitters really didn't change the round they have him slotted in for the ML draft. In June, the Arizona Diamondbacks chose him in Round 13.
Having been drafted that low, Patrick will probably fulfill his commitment to play at Florida.

A big reason why the scouts were unimpressed is that no-hit streaks have been poor predictors of pro success.

Sam Militello threw three consecutive no-hitters in 1987 in Tampa. Taken in the sixth round by the Yankees in 1990, he was only 4-4 in his brief ML career.
In 1989, Tom Engle of Fairfield Union High in Lancaster OH tied the national record with six no-hitters in a row. Drafted in Round 2 by the Mets, he underwent two elbow surgeries and never rose above AAA. Engle now works for ESPN and assisted on an interview with Schuster during his streak.
Colt McCoy, who threw five straight hitless games for Memphis (TX) High in 2007, is at Cisco (TX) Junior College where he had a 4.95 ERA this past season.
An exception is Scott Kazmir of the Tampa Bay Rays, who tossed four straight no-no's at Houston's Cypress Falls High.


Patrick Schuster


Scott Kazmir
Pro baseball now has a switch-pitcher. His name is Pat Venditte (Ven-DIT-ty). The 23-year-old hurls for the Charleston River Dogs, the Yankees A club.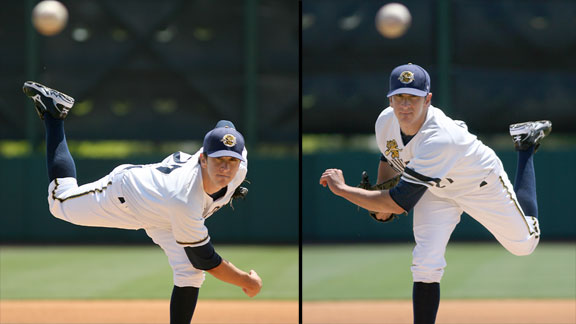 First of all, Venditte uses a custom-made six-fingered glove that he switches from one hand to another when the next batter hits the opposite way from the previous one.
A reliever, he warms up when called to the mound by throwing four pitches righty and four lefty.
He has an assortment of different pitches from each side. As a right-hander, he throws a 90 mph fastball, a curve, and a change. The lefty comes sidearm and has an excellent slider and change.
The Charleston club has fun with Pat's special ability. When he switches arms, the crowd is encouraged to switch seats.
It is interesting when he faces a switch-hitter. At first, the batter would play a cat-and-mouse game, switching sides between pitches to force Venditte to switch his glove constantly. The league umps now have the Venditte Rule: At the start of an at-bat, the P must declare his throwing arm so that the hitter can pick his side. Then either one can switch only once during that at-bat.
His manager feels that if Pat throws only 15 pitches from one side and 10 from the other in a game that he can use him again the next night.

Switch-pitching is not something Venditte came to lately.

His father noticed that Pat was throwing with both hands when he was three.
Rather than make him choose, Pat Sr. had him throw footballs both ways, punt both ways, and kick FGs from both sides.
He was homeschooled by his mother, who made him write both ways and eat both ways.
Venditte walked on at Creighton in his hometown of Omaha. His coach would not let him throw both ways his freshman year, fearing he would become a "circus." However, he relented the following season. During the 2007 season, he threw 43 2/3 straight scoreless innings.
Drafted by the Yankees in 2007, Pat decided to return for his senior year and lettered for the fourth time. Then New York drafted him again in 2008.
Assigned to the Staten Island Yankees in the "Short Season A" league, Pat saved 23 games in 30 appearances with an 0.83 ERA to earn a spot on the league's All-Star team.
Video on Venditte when he was at Creighton
Reference: "How Do You Beat a Guy Who Throws Righty and Lefty? You Don't," by Rick Reilly, ESPN the Magazine, Jan/Feb 2009


Mariano Rivera

Many regard Mariano Rivera of the Yankees as the greatest closer in baseball history. But did he ever start any games for New York?

In his rookie season, 1995, Rivera started ten games. In those ten starts, he went 3-3, pitched 50 innings, allowed 8 HR, walked 20, struck out 38, and compiled a 5.94 ERA.
Rivera has never started another game. The 39-year-old Panamanian recently recorded his 500th regular season save.
Mario has 34 more saves in post-season play, including 9 in the World Series.
Do you recall that, in his first World Series, 1996 against Atlanta, Rivera was the setup man for closer John Wettelund? He gave up one run in 5 2/3 innings over four games.
Which college has won the most baseball games? Is it Texas? USC? Florida?

The answer is "none of the above." It's Fordham, and it's not even close. The Rams have won a little over 4,000 games. Texas is second with 3,100+.

The reason Fordham is so far ahead is that it started playing baseball in 1859. To celebrate the 150th anniversary, the college hosted Williams, a participant in the first college game earlier in 1859, on April 7, 2009.

Fordham boasts 56 former players who appeared in the majors. However, there have been only four in the last 45 years.

Here are three Fordham alums who became involved in ML baseball.

At the top of the list is Frankie Frisch, Hall of Fame 2B who played 19 seasons in the majors, most prominently with the Giants and Cardinals. The "Fordham Flash" also managed several clubs, the most famous being the Gashouse Gang of 1934. Frisch held the Fordham stolen base record for 67 years.
Jack Coffey played and later coached on Rose Hill, as Fordham's campus in the Bronx is called. Jack has the distinction of being the only player to be a teammate of both Babe Ruth and Ty Cobb in the same season. He did so in 1918 when Ruth's Boston Red Sox purchased him from Cobb's Detroit Tigers in August.
The most famous Fordham alumnus for today's fans is Vince Scully, long-time voice of the Dodgers. Vin recalled how he hit one HR in his "inglorious career" in college. He explained that he swung left-handed. "I didn't say I hit left-handed." One of his fondest memories is playing against Yale and its 1B, George H. W. Bush. When Scully played golf with the former president decades later, he reminded George that they both went 0-for-3 in the game.

While no longer a big name in college baseball, Fordham has had 10 players selected in the amateur draft the last four years (2005-8).


Frank Frisch