CONTENTS
Two Grand Slams in One Game – by a Pitcher!
Mel Ott hit 511 career home runs, all for the New York Giants. Not one of them was hit in Shibe Park in Philadelphia. This may be because Mel was a line drive hitter and, as you can see from the picture, Shibe Park (later Connie Mack Stadium) had a high right field fence.
During 1968, Frank Howard of the Washington Senators hit 10 HRs in 20 at bats. He ended the season with 44 round-trippers.

June 8, 1961: The Kansas City Athletics hit three consecutive triples in a five-run third inning against the Yankees. On the same day, the Milwaukee Braves slugged four straight HRs in a loss to the Reds at Crosley Field, 10-8. Ed Mathews, Hank Aaron, Joe Adcock, and Frank Thomas belted the HRs.

Speaking of consecutive triples, Earle Combs of the Yankees hit a record-tying three straight triples on Sept. 22, 1927 against the Tigers in Yankee Stadum. In the same game, Babe Ruth hit his 56th HR (on his way to the record of 60 that stood for 34 years) as New York edged Detroit 8-7.
Two Grand Slams in One Game – by a Pitcher!


On July 3, 1966,

Tony Cloninger

achieved a feat that no pitcher before or since has matched. He hit two grand slams in a game for the

Atlanta Braves

against the

San Francisco Giants

at Candlestick Park. He also had an RBI single in the 17-3 rout. His 9 RBI broke the record of 7 for a pitcher by the

Yankees

'

Vic Raschi

in 1953.

Cloninger's first clout capped the 7-run first inning and came off Bob Priddy, who had replaced starter Joe Gibbon. When Tony came up in the fourth inning with the sacks full, C Joe Torre was on third. 3B coach Grover Resinger told him he could "feel it": Tony was going to set a record by hitting another slam.

No way, said Joe. "I've been up five years, and I've never seen anyone come close to hitting two in one game." One pitch later, lefty Ray Sadecki tried a fastball, and Cloninger sliced it toward RF. CF Willie Mays and RF Jesus Alou raced toward the ball, only to watch it sail over the fence. Resinger went wild at third. In the 90-year history of the National League, no player – much less a pitcher – had ever crashed two slams in one game.

Cloninger finished the 1966 season with a 14-11 record for the fifth place Braves. He hit a total of five four-baggers that year and 11 for his career. The righty compiled a 113-97 record in his 12-year career with Milwaukee/Atlanta, Cincinnati, and St. Louis.
The
Brooklyn Dodgers
played seven "home" games at Roosevelt Stadium in Jersey City in 1956 and seven more in 1957. It was part of owner
Walter O'Malley
's campaign to convince New York City officials that there was an urgency in finding a solution to the aging Ebbets Field problem. He had sold 43-year-old stadium to the city in October, 1956 and leased it back for three years to give him time to build a new stadium. By playing in Jersey City, he also hoped to ignite enough fan interest to persuade New Jersey officials to build him a stadium.
Roosevelt Stadium, a 1937 WPA project named for FDR, seated 24,500, which was only 7,400 less than Ebbets Field. The New York Black Yankees played some games there in the 1940s. On April 18, 1946, Jackie Robinson took the field for the Montreal Royals, the Dodgers' AAA affilate, against the New Jersey Giants in the opener of the International League season. Robinson thus became the first African-American player in professional baseball in the modern era. The Giants had sold 52,000 tickets for the game, more than double stadium capacity. Jackie was lustily booed in his first plate appearance. However, he had a sensational debut: three singles, a three-run HR, and two SBs in a 14-1 romp over the home team. Little did anyone know that Jackie would return 10 years later with the Dodgers.
In 1956 the Dodgers were coming off their first world championship. Yet they had drawn only 1,033,589 at Ebbets Field during the 1955 season. Although that figure ranked second in the league, O'Malley didn't consider it enough to keep the franchise healthy at its present location.
Some highlights of the Dodger games in Jersey City in 1956-7.
12,214 brave cold, rainy weather to watch the Dodgers nip the

Phillies

5-4 in the first MLB game at Jersey City. This turns out to be the largest daytime crowd the Dodgers will draw in New Jersey for their 14 games there.
Carl Furillo hits the Dodgers' first home run at Roosevelt Stadium on July 25, 1956. as Newcombe outdeals Brooks Lawrence of the

Reds

, 2-1.
August 15, 1956: Willie Mays of the New York Giants clouts the only HR ever hit completely out of the park to beat the Dodgers and Don Newcombe 1-0 before 26,385. This is Brooklyn's only loss in the seven New Jersey games that season.
The Dodgers average 21,196 fans per game in Jersey City in 1956, as compared to 15,217 at Ebbets Field, an increase of 40 percent. Their total for the season is 1,213,562 (2nd in the 8-team NL).
The Dodgers draw even more fans for their seven games in Jersey in 1957, compiling a 4-3 record. The total home attendance for the season is 1,028,258 (fifth in the league).
Don Drysdale pitches the first of his 49 shutouts on June 5, 1957 in Jersey City, beating the

Cubs

, 4-0.
September 3, 1957: Brooklyn plays its last game in New Jersey, losing to the

Phillies

3-2 in 12.
Despairing of getting a new stadium in New York or New Jersey, O'Malley moved his team to Los Angeles for the 1958 season. Roosevelt Stadium was demolished in 1985.
It is instructive to compare the rosters of the 1936
New York Yankees
with the players on the 2000
Yankees
.
| | | |
| --- | --- | --- |
| | Position | |
| 6' 186 lbs | Pitchers | 6'3" 204 lbs |
| 5'11" 180 | Catchers | 6'2 1/2" 200 |
| 5'11" 171 | Infielders | 6'1" 190 |
| 6' 180 | Outfielders | 6'3" 206 |
| 6' 181 | Team Average | 6'2" 200 |
Here's some other comparisons of Depression-era baseball to today's game.
In 1935, the eight American League teams averaged 87 complete games in a 154-game schedule. The National League averaged 67 complete games per team.
In 1941, AL staffs still averaged 71 complete games. The NL averaged 66.
In 2001, AL pitchers completed an average of 7.6 games per team. The NL average was 8 complete games per team.
Sunday, June 6, 1993:

Detroit

defeated

California

, 11-4, at Tiger Stadium. In the third inning, the

Tigers

pulled off a rare feat by hitting for the cycle in a four-hitter span. Here's what happened with one out against RHP

John Farrell

.

SS Travis Fryman singled.

1B Cecil Fielder homered.

DH Kirk Gibson doubled.

C Chad Kreuter tripled.

Of the five

Angels

pitchers to take the mound that day, the only one to retire

Detroit

in order was IF

Rene Gonzalez

, who had not pitched since American Legion ball.
Unique Record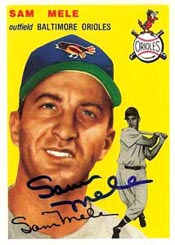 Sam Mele was a star college basketball player during the early 1940s, a major league baseball outfielder from 1947-1956 and later a major league manager.
Sam owns a unique "record." He is the only person to accomplish all three of these feats.
Lead his college team in scoring in a NCAA Tournament game –18 points in 1943 for New York University.

Lead the American League in doubles with 36 in 1951 with the Washington Senators.

Manage an American League team to a pennant - 1965 with the Minnesota Twins.
What is the most hits given up by a pitcher who threw a complete game nine-inning shutout?

September 14, 1913: RHP

Larry Cheney

of the

Chicago Cubs

shutout the

New York Giants

despite surrendering 14 hits. The

Giants

had a hit in every inning but only one runner reached third base. Three of

John McGraw

's men helped

Cheney

by getting caught stealing while another was thrown out trying to stretch a single into a double.

Cheney

finished the season 21-14, the most wins (by 8) for the third place

Cubs

.

July 10, 1928: The

Cleveland Indians

matched the mark for futility with 14 hits without scoring against

Washington

pitcher

Milt Gaston

.

Gaston

, who two years earlier had hurled a 12-hit whitewash for the

St. Louis Browns

against the

Red Sox

, survived six leadoff hits and stranded five

Indians

on third.

Gaston

's mark for '28 was only 6-12 for the 4th-place

Senators

.
The 1914 "
Miracle Braves
," who came from last place in mid-July to win the pennant with a sensational 34-10 finish, started the World Series with two games at the
Philadelphia Athletics
' Shibe Park. When the Series moved to Boston for Game Three, the
Braves
did not play at their own field, "a shabby, run-down stadium" called
South End Grounds
. Looking like the grandstand for a medieval jousting tournament, it had been rebuilt in 1894 after a fire and seated only 6,800. Instead,
Boston
's home games were played at the
Red Sox
' Fenway Park, which had opened in 1912. 35,520 attended the
Braves
' 5-4 victory in Game Three, and another 34,365 saw them sweep the
Mackmen
the next day.

Fenway Park during 1914 World Series
1915 again produced a Boston-Philadelphia Fall Classic. Only this time it was the
Boston Red Sox
against the
Philadelphia Phillies
. Again the Series began in Philadelphia, at the
Phillies
' band box called
Baker Bowl
, whose capacity was increased to 20,000 with the addition of bleachers on the field in right-center. When the Series came to Boston, the
Braves
returned the favor and allowed the
Red Sox
to play in their new
Braves Field
, built with the profits from the glorious 1914 season. 42,300, a new Series record, saw the
Red Sox
beat the
Phillies
2-1. Then 41,096 watched
Boston
win the next day by the same score. The
Red Sox
closed out the
Phils
in the fifth game in the City of Brotherly Love.
The
Red Sox
played their home games at Braves Field again during the 1916 World Series. In Game 2 there, 21-year-old lefty
Babe Ruth
, in his second full season with the
Bosox
, defeated the
Brooklyn Robins
2-1 in 14 innings, allowing only six hits.
Boston
again prevailed in five games.
Joe Pignatano

had an undistinguished career in MLB. In five full seasons, the C played for four different teams, most notably the

Los Angeles Dodgers

from 1958-1960. (He played in 8 games in the

Dodgers

' last year in Brooklyn in '57.) He appeared in one game of the 1959 World Series against the

White Sox

without an at-bat. His career batting average is .234. However, he does claim a distinction that no one else can match, albeit a dubious distinction.

On September 30, 1962, the hapless expansion New York Mets played their final game before 3,960 fans at Wrigley Field. Casey Stengel's "ball club" was about to wrap up one of the worst seasons ever at 40-120, the first team to finish in 10th place in the National League since there had been only eight teams before 1962. Amazingly, the Chicago Cubs were about to become the first NL team to finish ninth. Their 59-103 record put them behind the other expansion team, the Houston Colt 45s (64-96).
In the 8th inning of that last game,
Sammy Drake
and
Richie Ashburn
led off with singles for the
Mets
off
Bob Buhl
. These turned out to be last ML at-bats for both players (
Drake
because he was no good and
Ashburn
, a future Hall of Famer, because he was retiring). Up stepped
Pignatano
.
"Piggy"
hit a broken bat shot to the right of 2B that at first seemed to be a hit. However, 2B
Kenny Hubbs
caught the ball and tossed to
Ernie Banks
at first to double up
Ashburn
.
Ernie
then threw it to SS
Andre Rodgers
for the third out.
Pignatano
retired after the season, making him the
only player to ever hit into a triple play in his last ML plate appearance
.
Two All Star Games Each Year

For four years in a row, 1959-1962, major league baseball staged two All Star games. The second game was added to raise money for the players' pension fund and for other causes but also to rejuvenate interest in the game. Here is a summary of the eight "doubleheaders." Click the date for details on each game from Baseball-Reference.com, including starting lineups, rosters, and play-by-play.
Year

Date

Site

Attendance

Winner

Winning Pitcher

Losing Pitcher

1959

July 7
Forbes Field, Pittsburgh
35,277
NL 5-4
Johnny Antonelli, SF Giants
Whitey Ford,

Yankees

Aug. 3
Memorial Coliseum, Los Angeles
55,105
AL 5-3
Jerry Walker, Orioles
Don Drysdale,

LA Dodgers

1960

July 11
Municipal Stadium, Cleveland
30,619
NL 5-3
Bob Friend, Pirates
Bill Monbouquette,

Red Sox

July 13
Yankee Stadium, New York
38,362
NL 6-0
Vernon Law, Pirates
Whitey Ford,

Yankees

1961

July 11
Candlestick Park, San Francisco
44,115
NL 5-4
Stu Miller, Giants
Hoyt Wilhelm, Orioles
July 31
Fenway Park, Boston
31,851
1-1 tie
–––––
––––

1962

July 10
R.F. Kennedy Stadium, Washington
45,480
NL 3-1
Juan Marichal, Giants
Camilo Pascual, Minnesota Twins
July 30
Wrigley Field, Chicago
38,359
AL 9-4
Ray Herbert,

White Sox

Art Mahaffey,

Phillies
Notes:
In 1960, the games were both played during one All-Star break for all teams. In the other three years, the games were at least 20 days apart.
Commissioner Ford Frick had discontinued fan voting for the All Star starting lineups after

Reds

fans stuffed the ballot boxes in 1957. The players, managers, and coaches of each league chose the teams for the next 12 years, including the four years of the double games.
The rosters were essentially the same for both games each year although some changes were made due to injury, especially when the games were several weeks apart. Also, the managers (the skippers of the previous year's pennant winners as has always been the case) were free to choose the starting lineup for each game.
Game #1 in 1959 provided a contrast in results from two future Hall of Famers. Don Drysdale of the

Dodgers

threw three spectacular innings: no hits, no runs, no walks, and four strikeouts. On the other hand, the

Yankees

' Whitey Ford allowed three hits, two runs, and a game winning triple by Willie Mays in only one-third of an inning. Drysdale was rewarded for his effort by being given the starting assignment in Game #2 also by Manager Fred Haney of the

Milwaukee Braves

.
Baseball reverted to a single All Star game in 1963 because the owners felt two a year diluted interest in the game.
Female Umpires
There have been six female umpires in the history of the minor leagues but none in the major leagues, although several women have called spring training games.
Ria Cortesio

In 1972, secretary Bernie Gera became the first female umpire when she won a five-year-long anti-discimination lawsuit with the New York State Human Rights Commission. Hired at the Class A level, she lasted exactly one game. When she reversed a call, the Auburn manager yelled that she had made two mistakes: "The first was you put on that uniform and came out here as an umpire. Your second mistake was you left the kitchen." When the game ended, Gera resigned.
Pam Postema lasted 13 years in the minors, the last seven of which were at AAA. She came close to making the majors, as evidenced by the fact that she called ML spring games for two years. However, she was not rehired after 1989, supposedly for ejecting too many players. She filed a sex-discrimination suit against the Triple-A alliance that was settled out of court. She wrote a book about her experiences with the interesting title You've Got to Have Balls to Make It in This League.
The last female professional umpire, 5'10" Ria Cortesio, was released after the 2007 season. She had worked nine years, including five at the AA level. On March 29, 2007, she became the first woman since Postema to umpire an MLB exhibition game.

Pam Postema
To most baseball fans, it is simply "

The Catch

." But to the man who made it,

Willie Mays

, it isn't the greatest of his career, maybe not even in the Top Ten. Of course, we're referring to

Willie

's catch off

Vic Wertz

in the eighth inning of Game One of the 1954 World Series in the Polo Grounds.

Mays ranks a diving, backhanded catch he made in Ebbets Field off Dodger IF Bobby Morgan in 1952 his best. "I was playing him toward right center, and he pulled it more than I expected. I just left my feet, stretched out, and the ball hit in the my glove. It must have knocked the wind out of me, because the next thing I remember, Jackie [Robinson] and Leo [Durocher] were looking down at me when I opened my eyes."

Regarding the Wertz catch, Willie didn't consider it all that great because he never had any doubt he would catch the ball. In fact, as he raced toward the wall, he was thinking that he had to get the ball back to the IF as quickly as possible or Larry Doby might tag up and score all the way from second. That is why you see him whirl immediately and throw the ball so quickly. Doby did go to third but was stranded to leave the score 2-2.

Since Joe DiMaggio's death in 1999, Willie has assumed the title of "Greatest Living Ballplayer." One wonders what Willie's totals might have been had he not missed most of the '52 season and all of '53 in the military during the Korean War. He, and not Hank Aaron, might have been the first to break Ruth's 715 career HR mark. He had 660 and probably would have hit at least 60 more in the two years he missed.


Willie Mays


Mays' Catch off Vic Wertz in 1954 World Series
Reference: "Where Are They Now? Willie Mays," Sports Illustrated, July 14-21, 2008