There was a fringe benefit of playing for
LSU
coach
Nick Saban
, something valuable to a couple of his players in addition to winning games and getting trained for the NFL. The coach had a pond with fish and he seemed much too busy to snatch those fish out of the water himself. So
Mike Clayton
, an
LSU
wide receiver, and
Marcus Spears
, an
LSU
defensive end, would make their way around the back of
Saban
's big house on Highland Road in Baton Rouge and drop lines into the coach's pond and fish. ...
Clayton
was from south Baton Rouge and
Spears
was from the Bottom, a poorer area of Baton Rouge, and the idea of fishing at the manor of an
LSU
coach seemed so preposterous if you understood the history between south Baton Rouge, the Bottom, and
LSU
.
Clayton
and
Spears
would never have fished in the pond of an
LSU
football coach before 2000. Peed in it? Yes, they would have done that.
LSU
was mistrusted in some parts of town. The football coach represented a hierarchy at
LSU
that did not blend with south Baton Rouge,
Clayton
said. The coaches were not racist, but their hands seemed tied by politics. Was it accurate? Were there politics? It doesn't matter. That's the way the
Claytons
... saw it and that's what mattered.
When
LSU
coach
Gerry DiNardo
, who was regarded as a skilled recruiter, did not show any interest in recruiting
Mike Clayton
, a star WR from south Baton Rouge, the rift between the neighborhood and the
LSU
campus grew wider. The
Claytons
had issues with the politics at
LSU
, which is to say they thought a good-old-boy element still lurked there when
Mike
was met with a cold shoulder by
DiNardo
. If
Florida State
and
Bobby Bowden
could recruit him hard, why couldn't his hometown school? The
Claytons
thought the worst of
LSU
.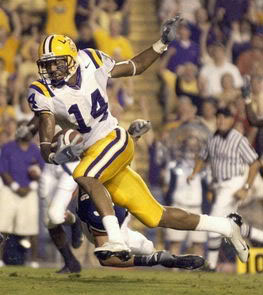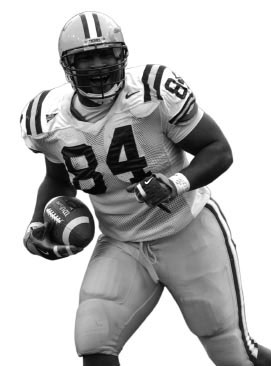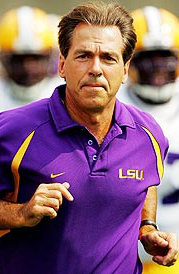 L-R: Michael Clayton, Marcus Spears, Nick Saban
When
DiNardo
was fired and
Saban
was hired in late November 1999,
LSU
began to recruit
Clayton
, but
Saban
started the chase from a hole. The hardest thing was not getting in the front door; it was getting through the barbed wire of emotions.
Clayton
lived in a nice neighborhood with manicured yards, modest but neatly kept homes. What the heck was so objectionable in this neighborhood that it took
LSU
so long to get in line and recruit a star?
Clayton
, who attended
Christian Life Academy
, already had his bag half packed for
Florida State
. The heck with
LSU
. The kids from the Bottom or south Baton Rouge never thought they got a fair shake at
LSU
, so they were always looking elsewhere first,
Clayton
said.
"I never got one letter until
Saban
and his staff got on campus,"
Clayton
said. "
Jimbo
[
Fisher
] would come watch me play basketball, and I would show off for him."
The
Claytons
let
Saban
in the front door. "The neighborhood was going, 'What are you doing talkin' to
LSU
? You know how things can go there,'"
Clayton
said. "A lot of guys just went to
Alcorn
, or one of the other HBCUs. We saw too many of our guys go to
LSU
and then transfer."
Saban
, who was in his first season as head coach at
LSU
, made his pitch to the
Claytons
. He was earnest, like a man selling Bibles out of the trunk of his car. He talked about college being a forty-year decision, not a four-year decision. He talked about life after football. You could go to your hometown school and come back after the NFL and own shares in a bank, own a clothing store, own real estate. There would be roots.
When the coach was finished vending
LSU
,
Milton Clayton
,
Mike
's father, tried to put his feelings in a gentlemanly sort of way to
Saban
: "There are politics at
LSU
, Coach. Things go on. Sometimes the best players don't play."
"There will be no politics,"
Saban
said. "Not as long as I'm here."
Well, how many coaches had said that before only to let politics creep into the locker room, into the meeting room, into the coach's ear? A kid from the
South Baton Rouge Rams
, among the elite of the Pop Warner football programs, was just asking to be trashed if he believed this blather.
"Don't be sorry,
Mike
," some of the neighbors told him. "Go to
Florida State
, go to
Miami
, go anyplace but
there.
" Years of mistrust were barking back at
Clayton
, and perceptions are hard to tear down.
LSU
had been one of the last SEC schools to embrace black players. The
Claytons
were not indicting the whole campus, but they were suspicious, as black folks have learned with justification to be suspicious.
Many
LSU
fans will likely scoff at
Clayton
's assertion that as late as 2000 racial prejudices affected the makeup of the
Tigers
' rosters.
Clayton
scoffs back a those who think sports is color-blind and that winning overrides all racism.
"Just the other day I'm on the golf course in Tampa, and this white guy rolls by in his cart and says to his friend, 'Hey, look at that nigger playing golf,'"
Clayton
said. "That's the day we still live in. Some people look at color. It's still not gone." ...
Clayton
scratched
Miami
off his recruiting list because on his visit there with
Spears
..., they found South Beach too raucous and too tempting. "All kinds of stuff was going on there,"
Clayton
said."
There was still time to decide before the February 8 signing date, but
Clayton
thought maybe he should give
Saban
a chance.
Clayton
liked
Saban
, the son of a gasoline-station operator from West Virginia.
Florida State
was still
Clayton
's top choice, but a window had opened for
LSU
, or was it a hole opening in a fence that had been built up between a neighborhood and a school?
On the night of December 29, 2000,
Clayton
and
Spears
... were sitting in a restaurant in Dallas before they were to play in a high school all-American game. On the restaurant's television,
LSU
was playing
Georgia Tech
in the Chick-fil-A Bowl in Atlanta.
A black QB, not a white QB, flashed across the screen and was making plays.
Rohan Davey
was taking snaps ahead of
Josh Booty
, the white QB, a Louisiana legend from
Evangel Christian
.
Davey
led the
Tigers
to a win with a strong second-half performance.
Clayton
and
Spears
looked at each other. "What just happened?" Maybe
Saban
could override the politics, after all. A black QB was allowed to be the star of the game they were watching on TV. It had happened before at
LSU
with
Herb Tyler
(1995-98), a black QB who shone, but
Clayton
saw a black QB in competition with a white QB. The black QB scooted ahead; he was allowed to scoot ahead.
In the Dallas restaurant, the Baton Rouge boys starteds doing something preposterous. They started recruiting for
LSU
. A south Baton Rouge kid and a kid from the Bottom, who would have stuck their fingers in a light socket before selling for
LSU
, became salesmen for the
Tigers
. Perhaps the place wasn't so bad at all. They worked on the high school players in Dallas at the all-star game who had still not made up their minds where to go to college. In all,
Clayton
said, six players in that game went to
LSU
.
"He meant what he said about there not being politics anymore,"
Clayton
said of
Saban
. "You could tell on the television that night. What
Rohan
did changed some people's minds."
Spears
flipped to
LSU
. ... "It was, who is your daddy? Who did your daddy play for? How much money did they give?" said
Spears
. "
Nick
got there and he could have cared less whose daddy played there." ...
In 2003,
LSU
(13-1) won a national championship. That 2001 class - headlined by
Clayton
and
Spears
, two Baton Rouge stars who had sworn they would not play for the
Tigers
- was the core of the first
LSU
team to win a title since 1958.