| | |
| --- | --- |
| | |
| OTHER RECENT POSTS | |
| | Golden NFL Rankings after Seven Weeks |
Review of My Preseason College Predictions after Seven Weeks
Just when I was calming down from the ridiculous targeting call on
Devin White
, I watched the replay of the
Ole Miss
-
Auburn
game on the SEC Network Sunday night and saw this play.
https://twitter.com/SDS/status/1053681369392578561
The
Auburn
defender smashed into the
Ole Miss
receiver's head and neck area, their helmets hitting, and targeting was called. YET THE TARGETING WAS OVERTURNED ON REVIEW! According to the announcers, the review determined that the defender led with his shoulder, not his helmet.
I'm even more outraged now. We need
Joe Alleva
to PUBLICLY call out the SEC Review officials and demand that they be consistent in interpreting targeting. It also shows the need for an appeals process to correct inconsistent, and therefore unfair, calls.
I posted this comment on the
Tiger Rag
website Sunday morning:
The NCAA needs to revise its targeting rule. The burden of proof needs to be reversed. If a player is facing ejection and sitting out another half, then the review must determine that there is incontrovertible proof that it WAS targeting, not determine that there's not enough evidence to overturn the call.
The SEC may defend the call but there's no way they can defend the brief amount of time taken to confirm it. There's also no way the league can defend not ejecting the Alabama lineman who punched his blocker three times last week.
Also, referee John McDaid and his crew called the LSU-Auburn game last month. Auburn fans were upset with the two interference calls on our drive to the winning FG. Not so much because they were bad calls but because (from their point of view) the crew had allowed LSU's secondary to get away with interference on their receivers throughout the game.
Golden College Rankings after Eight Weeks
LSU
still 3rd.
Alabama
leapfrogs idle
Notre Dame
to the top spot.
Georgia
back in at #10.
Golden College Rankings after Six Weeks
Team
Avg.
Games
Points
Win
Loss
Opp
Wins
Opp
Losses
Score
Value
Opp
Opps
Road
Win
Home
Loss
Last
Week
1
Alabama
15.02
8
120.2
8
0
28
0
7.96
55
0.0
0.0
2
2
Notre Dame
14.98
7
104.9
7
0
28
0
3.83
76
0.0
0.0
1
3
LSU
14.82
8
118.6
7
1
30
1
4.91
79
0.0
0.0
3
4
Clemson
14.80
7
103.6
7
0
26
0
5.04
39
0.0
0.0
4
5
Michigan
14.74
8
117.9
7
1
27
0
5.62
69
0.0
0.0
6
6
Oklahoma
14.25
7
99.7
6
1
20
1
4.03
55
0.0
0.0
9
7
N.C. State
14.09
6
84.5
5
1
17
0
2.40
41
0.0
0.0
5
8
Florida
14.09
7
98.6
6
1
20
1
2.71
60
0.0
0.0
8
9
Iowa
13.98
7
97.8
6
1
18
2
3.59
56
0.0
0.0
11
10
Georgia
13.97
7
97.8
6
1
17
1
3.90
47
0.0
0.0
13
"Opps. wins" is the number of victories by the teams the ranked team defeated.
"Opps. losses" is the number of losses by the teams that defeated the ranked team.
"Opp. opps". is the number of victories by the teams the defeated teams beat.
"Score value" is a measure of the margin of victory in relation to the defeated team's number of wins coupled with the margin of defeat in relation to the victorious team's number of losses.
"Road win" and "Home Loss" haven't kicked in yet because opponents have to win at least six games to earn a bonus for beating them on the road and opponents have to have six losses before you loss points when they defeat you at home.
Toughest schedule so far: South Carolina
Easiest schedule so far: South Florida
Biggest jump this week from previous week: Purdue
Biggest drop this week from previous week: Minnesota
MAC and CUSA flip-flop again. Otherwise, no changes.
Conference Rankings
Conference
Avg.
Last
Week
1
SEC
13.188
1
2
Big 12
12.690
2
3
Big 10
12.617
3
4
ACC
12.539
4
5
PAC 12
12.373
5
6
America Ath. Conf.
12.038
6
7
Mountain West
11.884
7
8
Sun Belt
11.582
8
9
CUSA
11.361
10
10
MAC
11.353
9
My Live Game This Week: LSU-Mississippi State
I've taken
LSU
over
Mississippi State
+7.

The pick expresses my confidence that the Tigers will not have a letdown following their tremendous performance against Georgia.
It will be hard to return to that level of play but it isn't necessary to do that in order to beat these

Bulldogs

, who have lost to

Kentucky

on the road and Florida at home.
Any smug overconfidence the Tigers might feel after last week's smashing triumph should be dispelled by remembering last year's 37-7 humiliation in Starkville at the hands of the Dan Mullen-led

Bulldogs

- the largest margin of victory by

MSU

over LSU in the history of the rivalry. (Remember the Fire Orgeron Now! hysteria after the game?)

MSU

is one-dimensional in its offense under their new coach, Joe Moorhead, who does bring a cachet as an offensive guru following

Penn State

's record-setting year with him as O-coordinator last season. I'll be surprised and disappointed if LSU's secondary doesn't get at least one pick Saturday night.

HOW ABOUT FOUR?

I am a bit concerned about NT Breiden Fahoko's uncertain status for the game.

MSU

QB Nick Fitzgerald likes to run up the middle on QB draws. Ed Alexander, who left the Georgia game twice with injuries, is the replacement.

NOT A PROBLEM

But I'm confident D-coordinator Dave Aranda will have a much better game plan against Fitzgerald & Company than last year although Moorhead and his staff have undoubtedly studied the video of Florida's victory over the Tigers two weeks ago. (It seems longer than that, doesn't it?) Dave will have Rover Devin White "spy" Fitzgerald every play, confident the secondary can cover

MSU

's mediocre receivers without him. No

Bulldog

receiver ranks in the Top 27 in yardage in the conference.
My thought is that

MSU

will not score enough points to finish within 7 of the Tigers, who will get a turnover or two that lead to scores while taking care of the ball themselves.
LSU has played more games against

Mississippi State

than any other rival and leads the series 71-37-3. Included is a 14-game winning streak from 2000-2013 that was broken by Zak Prescott in Tiger Stadium four years ago.
This year I'm participating in a Yahoo Pick 'Em Group that selects the winners against the point spread for all games involving Top 25 teams. Home team is in CAPS.
TEMPLE over #20

Cincinnati

+3.5
Owls play well at home.
#19 IOWA over Maryland +10
Hawkeye D makes Terps one-dimensional.
#6 Michigan over #24 MICHIGAN STATE +7.5
Spartans have difficulty scoring on Wolverine D.
Illinois +25 over #23 WISCONSIN

X


Illini cover against plodding Badgers.
#9 Oklahoma over TCU +8
Frogs can't score enough to keep up with Sooners.
#16 North Carolina State +16.5 over #3 CLEMSON

X


Wolfpack give Tigers a competitive game.
#18 Penn State over INDIANA +14.5

X


Nittany Lions stung by Sparty defeat.

Colorado

+15.5 over #15 WASHINGTON
Huskies win but don't cover.
#1

Alabama

over TENNESSEE +28.5
Vols improved but not enough to stay close to

Bama

.
#5 LSU over #22 Mississippi State +7
One reason Tigers won't be overconfident: 37-7.
EAST CAROLINA +21 over #10

Central Florida




Knights

not as good as last year.
Connecticut +34 over #21 SOUTH FLORIDA
After week off, Huskies manage to cover.
#2 Ohio State over PURDUE +13.5

X


Buckeyes due for excellent outing.
#25 WASHINGTON STATE over #12 Oregon +3
Ducks not as good on road.
#14 KENTUCKY over Vanderbilt +11.5

X




Dores

don't play as well on the road.
Record after six weeks:
91-60-1
FIRST PLACE BY ONE POINT!
Intriguing Numbers - Week Eight
4
Cincinnati's national rank in total defense
5
Turnovers by Maryland, fewest in Big Ten

2-17

Rutgers completions-attempts against Maryland for 8y with 5 INTs
1
Alabama's national rank in yards, scoring, and passing efficiency.
11
Consecutive wins by Alabama over Tennessee
556
Average yards per game by

Central Florida

's offense
49
Fewest points UConn has allowed in any game this year
1
QBs in Ohio State history with back-to-back 400y passing games after Dwayne Haskins did it last week against Indiana
Another

Bengal

Comeback?
The

Bengals

were on their way to their eighth comeback win since the start of the 2017 season when they scored on Joe Mixon's 4y run with 1:18 to play to take a 21-20 lead over the

Steelers

. But they left too much time on the clock. Ben Roethlisberger led a 77y drive that culminated in a 31y strike to Antonio Brown who split the defenders on a slant route and ran untouched into the EZ.
Red Zone Woes
It isn't often you see a game that contains two fumbles inside the opponent's 1, but that's what happened in Miami Sunday. In addition, there was a pick in the EZ.
First, on 2nd & Goal from the Miami 2 in Q2, the Bears' Jordan Howard took a handoff and fumbled as he was hit inches from the goal line, DB Kiko Alonso recovering at the 1.
Leading 21-13 in Q3, the Bears played 1st & Goal at the Miami 3 with a chance to go up two TDs. Mitch Trubisky threw an apparent TD pass to Tarik Cohen that was nullified by an Offensive Pass Interference penalty. So from the 13, Trubisky threw into the EZ again only to be intercepted by T.J. McDonald.
Eventually, the game went into OT tied at 28. The Dolphins took the kickoff and drove to the Chicago 1 intent to scoring a TD to end the game instead of a FG that would give the Bears a possession. But Kenyon Drake took a handoff and fumbled into the EZ just before crossing the goal, where Eddie Goldman recovered for Chicago.
The Bears got close enough to try a 53y FG but missed. With two minutes left in OT, the Dolphins marched deep enough for Jason Sanders to boot a 47y game-winning FG. No one was happier than Kenyon Drake.
Mason Crosby - The Sequel
A week after missing four FGs and a PAT against Detroit, the Green Bay kicker's 27y FG as time expired lifted the Packers to a 33-30 victory over San Francisco. Earlier in the game, he kicked three-pointers from 29, 39, and 51y for a total of four FGs to make up for the four misses seven days earlier.
R.I.P. Jaguars' High Hopes
As soon as Jacksonville lost to the Patriots in the final three minutes of their AFC Championship game in Foxboro last January, Jaguars coaches, players, and fans looked forward to the 2018 season in hopes that their relatively young team would get over the hump and make it to the Super Bowl. Expectations rose even higher when the Jags had a successful draft and added two starters and several critical backups via free agency. The season started strong with victories over the Giants (20-15) and the hated Patriots (31-20). At that point, some writers anointed the Jaguars as the best team in the NFL. But Jacksonville has gone 1-3 in their last four games, scoring a total of only 27 points in their three losses. The low point came last Sunday when the Cowboys belted their visitors 40-7.
So what happened? For one thing, injuries. Second-year RB Leonard Fournette has played in only two games - both victories over the two NYC clubs. TE Austin Seferian-Jenkins, OT Cam Robinson, and WR Marqise Lee were all on injured reserve against Dallas. With a limited running game, QB Blake Bortles has struggled and seems to be pressing. He's thrown 9 TD passes but also 8 picks.
There's still time to salvage the season, but it will be an uphill battle to live up to preseason expectations.


Intriguing Numbers - NFL Week 6
1
Teams in NFL history that have given up two 200y rushers in the same season after Todd Gurley ran for 208 against the Broncos last week
2-16

Bengals

' record at home against the

Steelers

during Marvin Lewis's 16 seasons as head coach, including two playoff losses
14-2
Ben Roethlisberger's record at Paul Brown Stadium in Cincinnati

43-40

Score of the Patriots-Chiefs game, the first NFL game in history with that combination of points
4
Road games for Green Bay in their next five outings
43.3
Average passes per game by Vikings QB Kirk Cousins this season, with a high of 55 in a 27-6 loss to Buffalo.
0-10
Third down conversions by Arizona in their 27-17 loss to the Vikings
155
Rushing yards by Minnesota's Latavius Murray - a career best - against Arizona.
512
Yards Atlanta surrendered to Tampa Bay in their 34-29 win over the Bucs
12/7
Hits/sacks for Houston QB Deshaun Watson Sunday in the 20-13 victory over the Bills
6
Dropped passes by the Colts in their 42-34 loss to the Jets, bringing their total to 15 over the past three games
2001
Last time the

Rams

started a season 6-0 - they lost to the

Saints

in Game 7 that year
Three One-Point Games
South Florida 25 Tulsa 24
The Bulls outscored the Golden Hurricane 15-0 in Q4 to remain undefeated. Coby Weiss booted a 22y FG with 0:02 left for the winning points.
Central Florida 31 Memphis 30
Like their in-state rival USF, the Knights overcame a double-digit deficit in the second half, shutting out the Tigers. UCF, which had defeated each of their first five opponents by double digits, extended their nation's best winning streak to 19. The first of two UCF second-half TDs came on 4th-and-1 and their own 29. First-year coach Josh Heupel sent his offense back on the field. With the Memphis D bunched at the line of scrimmage, Taj McGowan burst through for a 71y TD.
Ball State 24 Central Michigan 23
Similar script to the other two one-pointers. Ball State trailed 20-7 at halftime but fought back to take a 21-20 lead with 8:12 left in Q4. After a FG put the Chippewas back in front, Morgan Hagee booted a 36y FG with 0:47 left to pull out the victory.
Bruins Win! Bruins Win!
Off to their worst start since 1943, UCLA finally gave Chip Kelly his first victory as their coach, belting California 37-7 in Berkeley.
Purdy Good QB
In Week 6, Iowa State's true freshman QB Brock Purdy came off the bench in Q1 to replace Zeb Noland, who had started his fourth straight game in place of injured starter Kyle Kempt. All Brock did was lead the Cyclones to a 48-42 upset at Oklahoma State. Then proving that start was no fluke, Purdy outplayed Heisman candidate Will Grier in a 30-14 stomping of West Virginia.
Purdy's stats for the two games:

| Game | Com/Att | Yds | TD | INT |
| --- | --- | --- | --- | --- |
| Oklahoma State | 18/23 | 318 | 4 | 1 |
| West Virginia | 18/25 | 254 | 3 | 1 |

Oh, So Close
After kicking a FG, Nebraska led Northwestern 31-21 with just 5:41 to play. Cornhusker fans got ready to celebrate the first victory of the Scott Frost era. But the Wildcats drove to a FG with 2:27 on the clock. When Nebraska recovered the ensuing onsides kick, fans back home breathed a sigh of relief. The Cornhuskers ran the ball three straight times to force Northwestern to use all their timeouts. Isaac Armstrong got off a great punt that was downed at the Northwestern 1 with 2:02 on the clock. The Cats wouldn't drive 99y with no timeouts, would they? Not without some help from the defense, and that's what they got. The first play resulted in a roughing the passer penalty that moved the ball out to the 16. QB Clayton Thorson converted a 3rd-and-5 for a first down. On 2nd-and-6 from the 36, Thorson fired a 32y pass to Flynn Nagel for a 1st down at the Nebraska 32 with 0:20 on the clock. Another completion put the ball on the 5. Two plays later, JJ Jefferson caught a TD pass to send the game into OT.
Nebraska got the ball first and soon faced 4th-and-1 at the 16. Instead of kicking a FG, Frost had QB Adrian Martinez pass. That led to an INT in the EZ. Needing only a FG Northwestern gained 6y, then booted a FG to complete the comeback and keep Nebraska winless.
Bad Day for Pac-12
Oregon's 30-27 defeat of Washington almost certainly means the Pac-12 will almost certainly miss the CFP for the third time in five years. The league has some good teams but no great team. None of the 14 teams is undefeated after USC handed Colorado its first loss.
Intriguing Numbers - Week Six

1

Times Nebraska has been 0-6 - this season.

11

Consecutive SEC games Tennessee had lost before beating Auburn

-3

Yards rushing by Auburn in Q3 vs Tennessee
11
Consecutive games in which LSU has not allowed a Q1 TD
1
Plays

Georgia

had run as the trailing team in their first six games before LSU - a FG by

Vandy

followed by a kickoff return TD.
28
Games Florida had lost when trailing by 18+ points before rallying from a 21-3 deficit to defeat

Vanderbilt

37-27
2012
Last time Chip Kelly won a college game before Saturday's victory at California
4
Times LSU went for it on 4th down against

Georgia

, succeeding each time
4
Top 10 teams that lost Saturday:

Georgia

, West Virginia, Washington, and Penn State
81
Auburn's rank in the NCAA in rushing (12th in SEC)
Golden NFL Rankings - after Six Weeks
#
Team
Avg.
Total
Win
Loss
Opp.
Wins
Opp.
Losses
Last
Week
1
Los Angeles
17.39
104.35
6
0
14
0
1
2
Kansas City
16.92
101.50
5
1
13
2
2
3
New Orleans
16.66
83.31
4
1
8
3
5
4
Cincinnati
16.58
99.50
4
2
11
4
3
5
New England
16.58
99.50
4
2
13
6
14
6
Miami
16.50
99.00
4
2
10
4
10
7
LA Chargers
16.42
98.50
4
2
6
2
8
8
Baltimore
16.42
98.50
4
2
10
5
11
9
Pittsburgh
16.42
98.50
3
2
8
3
13
10
Chicago
16.38
81.91
3
2
6
4
4
"Opp. wins" means the total number of wins by the teams the ranked team defeated.
"Opp. losses" means the total number of losses by the teams that defeated the ranked team.
Division Rankings

| | | | |
| --- | --- | --- | --- |
| Rank | Division | Average | Last Week |
| 1 | AFC North | 16.333 | 1 |
| 2 | AFC East | 16.146 | 4 |
| 3 | AFC West | 16.104 | 3 |
| 4 | NFC South | 16.097 | 2 |
| 5 | NFC North | 15.998 | 5 |
| 6 | NFC West | 15.887 | 6 |
| 7 | AFC South | 15.729 | 7 |
| 8 | NFC East | 15.666 | 8 |
Overall: NFC 15.912, AFC 16.078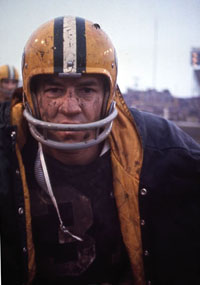 My first personal contact with
Jim Taylor
came in 2014 when I had to write a brief biography of him for the book on the
Green Bay Packers
1966 Super Bowl I champions for the Professional Football Researchers Association.
My interview was delayed because Jimmy was recover­ing from open heart surgery.
Finally, I had a 30-minute phone interview with him dur­ing which he talked freely about his high school days, time at LSU, and pro career with the

Packers

.
When the book was released in the summer of 2016, I contacted the Taylors to set up a meeting to present them with a copy of the book.
Our meeting was delayed by the severe flooding in the Baton Rouge area. But finally they hosted me for lunch at Mike Anderson's in Baton Rouge. We had a pleasant conversation during a fine meal. He autographed my copy of the book, and I autographed his.
I told Jimmy that the first time I saw him was at a playoff basketball game in New Orleans when I was a freshman manager at St. Aloysius High School. He was an excellent player and actually got more offers to play basketball than football at the college level.
He was very proud that he was the first of the great

Packers

of the Vince Lombardi Era to be inducted into the Pro Football Hall of Fame.
I would have mourned his loss as a fan of his from his LSU,

Packers

, and

Saints

days. But now I mourn him even more as someone who got to spend time with him.
GREAT DAY IN TIGER STADIUM!
96-year-old Brother Eldon and me after game at new Billy Cannon Statue
Sea of Red - Georgia fans invade Tiger Stadium
Post-game callers agreed this was the largest contingent of visiting fans we've ever seen.
And they were loud.
MEA CULPA, MEA CULPA, MEA MAXIMA CULPA.
Sorry,
Ed
,
Steve,
Dave
, and
Joe
. Sorry entire
Tiger
team. I didn't have faith in you to rebound from the
Florida
defeat.
Before the game,
Brother Eldon
and I spoke to a couple from Georgia. The
Auburn
-Tennessee was on TV in the concourse area. So I mentioned that
Auburn
was obviously overrated in the preseason poll. The lady responded that the talk back home was about the
Bulldogs
possibly being overrated at #2. They hadn't played anybody that was any good. She proved to be dead on in her fear that
Georgia
would be exposed as overrated.
It was one of the most amazing games I've ever seen. Shades of
LSU
-
Florida
2007 (which still rankS as the greatest game I ever saw in person), the
Tigers
went four-for-four on 4th downs, including a TD sneak.
The
Tiger
secondary did an incredible job of blanketing
Georgia'
s WRs. How many times did
Jake Fromm
stand in the pocket three or more seconds looking for an open receiver only to throw the ball away, dump it off or suffer a sack?
Jake
went 16/34 for 209y. That's only 6.1 yards-per-attempt.
Looking back to the
Florida
, we can appreciate how much the
Tigers
missed LB
Jacob Phillips
, who missed that game.
My remaining postgame comments are embedded in my preview of the game below.
Once again, I'm going with LSU's opponent and giving the points - Georgia over LSU +8.5.
One comment I have not seen about the Florida game is this: The Gators shut down Joe Burrow's running. Consider these stats for him:
Ole Miss: 9 rushes, 96y, longest 35, 1 TD
Florida: 10 rushes, 22y, longest 21, 0 TD
The big explanation for Joe's palty 2.2ypc vs Florida are the five sacks the Gators registered. But the result is the same regardless of the cause - Florida prevented the QB from gashing them with his feet.

Georgia

's D is at least as good as Florida's and probably better. They'll make the Tigers one-dimensional on offense and that's a recipe for defeat in the EC. Even accounting for LSU playing at home this week, if the Tigers could score only 19 vs Florida, they'll likely score less vs

Georgia

.
LSU will come out fired up and throw a few new wrinkles at the Bulldogs and perhaps take an early lead.
But today's football is more QB-driven than ever before. And Florida exposed Burrow for what he is - a Game Manager, not a Game-Breaker. That has been good enough over the last decade when LSU had a first class ground game, but that's not the case this year. JOE RAN FOR 66y THANKS TO A 59y GALLOP TO SET UP A TD IN Q4. THE TIGERS

SOUNDLY OUTCLASSED THE

BULLDOGS

ON THE GROUND - 275y TO 113.

He hit an electrifying 71y pass-and-run TD to Derrick Dillon to close the gap against Auburn to 21-19. Then Joe led the final drive that set up the walkoff FG to win 22-21.
But Auburn is proving to be a Top Ten pretender rather than contender.
Maybe Burrow will rise to the occasion and have the best game of his young starting career. But I wouldn't bet on it against a team like

Georgia

.

I LOST MY BET. JOE DEFINITELY HAD THE BEST GAME OF HIS YOUNG CAREER. NO TD PASSES BUT ALSO NO INT'S.

The Bulldogs' excellent secondary will force Joe to hold the ball a little longer to find an open receiver. And that gives the Front Seven an opportunity to get sacks.

THE

UGA

SECONDARY HELD JOE TO A 50% COMPLETION RATE BUT TIGER

RECEIVERS MADE SEVERAL SENSATIONAL CATCHES.

A positive for the Tigers is that they will start the same five O-linemen that started the previous week for the first time all season.

THE

LSU

O-LINE DID A GREAT JOB PROTECTING BURROW AS WELL AS BLOCKING FOR THE RUN.

But will that be enough to stand toe-to-toe with the

Bulldogs

. Probably not.

I'VE NEVER BEEN SO HAPPY TO BE WRONG!
NOW I HAVE HOPE THAT THE TIGERS CAN BEAT ALABAMA, NOT JUST PLAY THEM TOUGH. BUT DON'T LOOK PAST THE OTHER BULLDOGS THIS COMING WEEK.
About This Site
This site is devoted primarily but not exclusively to college and pro football. The unique feature of this site is the publication each fall of the author's rankings of all FBS college football teams and similar rankings for the NFL. I live in New Orleans and am a graduate of LSU and FSU. So I present a Southern and particularly an SEC point of view but one that is reasonably objective. I also publish a monthly Football Magazine with stories from the past and a monthly Baseball Magazine with a similar format. During the winter and spring, there's a monthly Basketball Magazine.
web counter

Hits since 8/3/12

<!END COLUMN ONE>

For Your Reading Pleasure

Tiger Den: 1963 Bluebonnet Bowl
Saints Saga: Fourcade to the Rescue
Seminoles Sidelines: 1964: Gators Come to Tallahassee
Super Bowl X - Cowboys vs Steelers
Football Odd Facts
Short Story: From South Bend to Bataan
How Well Do You Know the Rules?
Football Quiz

Cardinals

Clubhouse

:

Rogers Hornsby

- VII

Post-season Surprises:

George Whiteman

1918

FMemorable Game

-

Tigers

@

A's

9/16/09


How Would You Rule? -

DH Plays in Field


Baseball Quiz

- First P to fan 300 after 1900

Short Story

-

Indian

Summer