| | |
| --- | --- |
| | |
| OTHER RECENT POSTS | |
| | Golden Basketball Magazine |
I'm off to Wheeling WV Thursday for the National Academic Games Tournament. I'll be back next Tuesday. In the meantime, I've left several new articles.
LSU Baseball's Sad Story
Since we last visited
LSU
baseball, the
Tigers
have lost three of four.
They pulled out a gutty 4-3 win in the second game at

Kentucky

last Friday night.
But before and after that victory, they were bombed by a combined 22-7 score by the #1 hitting team in the country in their bandbox of a park.
Then they dropped another midweek game, this one to Tulane to give the Green Wave their first sweep of LSU in back-to-back seasons in 40 years. Add their sweep by UNO and a loss to

McNeese

, and the Tigers have their worst in-state record in many, many years.
The main reason? Inconsistency, especially from the bullpen.
LSU is definitely showing the impact of losing pitchers Alden Cartwright and Doug Norman for the season. In addition, junior Austin Bain and senior Russell Reynolds have not performed to the level they set in previous years.
2016
Bain: 4.60 ERA, 32 K, 14 BB
Reynolds: 4.08 ERA, 23 K, 10 BB
2017
Bain: 4.88 ERA, 30 K, 19 BB
Reynolds: 9.69 ERA, 11K, 10 BB
As a result, true freshman Todd Peterson has pitched 24 1/3 innings with a 4.44 ERA instead of redshirting. Senior Collin Strall has a 4.38 ERA.
6'6" freshman Zack Hess saved the victory over the

Wildcats

with 3 1/3 innings of one-hit, shutout work. Coach Manieri was so impressed with the way the true freshman was throwing agaginst the heavy-hitting

Cats

, that he did not bring in senior closer Hunter Newman for the 9th.
Fast forward to Tuesday night at Tulane. The Tigers had taken a 6-4 lead in the top of the 6th on Greg Deichmann's three-run HR. Caleb Gilbert, who had taken a turn as closer when Newman had back problems but had blown the rubber game of the Texas A&M series, pitched a scoreless 6th but ran into trouble in the 7th. So Manieri turned to Hess, the hero of the Battle of Lexington who had not allowed a run since he was moved to the bullpen. But Hess gave up two hits and two walks and hit two batters. Boom! - Tulane had five runs.
The rally began when Deichmann, on his way to being the hero of the evening, misplayed a high fly to RF that landed a few feet behind him on the warning track and wound up as a triple.
In one of my earlier postings during the LSU season, I predicted that it might be hard for LSU to host a regional and Manieri would do well just to get his team into the NCAA Tournament. That prediction, unfortunately, is looking better (but really worse from an LSU fan's perspective) every week.
Adrian Peterson - Right for the Saints?
Which
Adrian Peterson
did the
Saints
just sign for $7M over two years (with a club option for 2018)?
The Peterson who gained 1485y for the Vikings in 2015, an average of 92.8ypg?
Or the Peterson who played in only three games last year, gaining just 72y on 37 carries because of a torn lateral meniscus?
Peterson is 31 years old and has toted the leather 2,418 times for 11,747y over his ten-year career.
How much does he have left in the tank?
Is he worth the $3.5M they're paying him this year?
The Saints had over $30M in available cap space for 2017 before this deal. Since that's their most in years, they're not taking that much of a risk in signing Peterson.
And, if he regains even a majority of his peak form, the Saints considerably improve their running game, which takes pressure off of Drew Brees and allows the offense to control the ball longer, thereby helping the beleaguered - but hopefully improved - defense.
Sports Illustrated
's latest edition is the "What If?" issue. Its authors had great fun rewriting history based on certain decisions or events going a different way in various sports. Included is an article entitled "CSI: Miami." Here are excerpts:
The year was 2006. Drew Brees, a free agent, met with the Dolphins and the Saints. Miami coach Nick Saban defied the advice of team doctors and convinced the QB to sign with him. Even as the Dolphins went 8-8 in Brees's firt season, Saban knew he had something special brewing - which is why, when somebody asked him that year about the vacant

Alabama

job, Saban uttered the words that have made him beloved in Miami: "I'm not going to be the

Alabama

coach."
A year later Brees's Dolphins stunned the undefeated Patriots in the playoffs before losing to the Giants in Super Bowl XLII ... Still, football's greatest rivalry was born: Pats vs. Fins; Belichick vs. Saban, his former pupil; Brady vs. Brees. It's so weird to think that people used to say Brady's biggest rival was Peyton Manning. ...
Meanwhile, ... when ... Saban said no,

Alabama

turned instead to Louisville's Bobby Petrino. ...

Tide

fans have finally come to accept what was obvious to the rest of the world back in 2006: There will never be another Bear Bryant. ...
After Brees chose Miami, the Saints compounded their QB woes by trading a second-round pick for Daunte Culpepper. Then they lost 15 games. ... Worse for Saints fans was owner Tom Benson's following through on his threat to move his team to San Antonio.
There was consolation for Bayou State fans, though, in the form of the sport's most beloved coach of the last 30 years:

LSU

's Les Miles. Miles beat

Alabama

in 10 straight seasons, won 10 straight SEC West titles and earned four national titles to establish himself as arguably the greatest college coach of all time.
What If? - 1
The April 17 issue of
Sports Illustrated
had this interesting piece.
Early on the morning of July 24, 1916, more than 2,500 Western Electric employees boarded the SS Eastland tour ship outside Chicago for a short trip across Lake Michigan to the company's summer picnic in Michigan City, Ind. Arriving late to the port that morning was 20-year-old George Halas, a summer hire at the telphone manufac­turer who had planned to play in the company baseball game that day. Instead, he arrived at the Clark Street port to find the top-heavy steamer had rolled over in the Chicago River, killing 844 passengers.
Entire families were wiped out in the capszing. Because Halas had purchased a ticket, his name was even published in the local papers among the list of missing and dead.
Physically, at least, he was fine, and five years later Halas was working at a starch manufacturer in nearby Decatur, playing for and coaching the company's football team. In short time he took over the Decatur Staleys entirely, helped form the APFA (which became the NFL), moved the Staleys to Chicago, won the second league title and renamed the team as the Bears.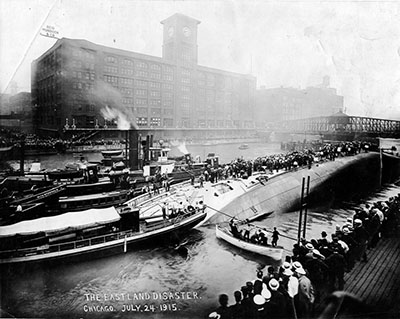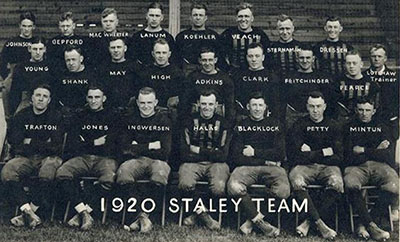 Parallels: Les Miles and Bud Grant
This periodic series compares players, coaches, or teams across sports and/or eras.
Les Miles compiled an outstanding record at LSU.
He won 114 games against only 34 losses, a .770 winning %. He basically won 3/4 of his games in the toughest conference in the land.
He took LSU to a bowl game in every one of his 11 full seasons, winning 7 and losing 4.
He won the SEC championship in 2007 and 2011 and the BCS Championship in 2007. He also played in the 2011 BCS title game.
That 2011 BCS title game was the beginning of his downfall.
It came at the end of what many commentators called the greatest regular season in college football history: 13-0 against nine SEC teams, including

Alabama

on the road in another "Game of the Century," and Oregon and West Virginia away from Baton Rouge.
But Les had the misfortune of having to face the

Crimson Tide

again after the final BCS poll put them back at #2 following Iowa State's upset of unbeaten

Oklahoma State

late in the season. Beating Nick Saban once is difficult enough. But beating him twice in the same season? Next to impossible.
To win a rematch with anyone but especially a coach as good as Saban, you have to make changes. Your offense scored only 9 points in the first contest, with 3 of those coming in OT.
But the Tigers did nothing new in the rematch, and

Bama

held LSU to five first downs and 92 total yards. Tiger fans started wondering in Q2 why Miles kept Lee on the bench. Jefferson was like a deer in the headlights.
The defense played their guts out and held the

Tide

to five FGs until finally succumbing to a TD in Q4 in the 21-0 humiliation.
A large percentage of Tiger fans jumped off the Miles bandwagon after that game and never came back.
The inept performance against the

Tide

in the Superdome may also have dampened Miles's chance of recruiting a top-notch QB.
Since 2007, Matt Flynn's senior season, LSU has not had a QB play in the pros except for Zach Mettenberger, who started 10 games in 2014-15 but failed to make a roster in '16.
Another reason for Miles's downfall was his faith in his buddy from their coaching days at Michigan, Cam Cameron. An offensive coordinator with the Chargers (2002-06) and the Ravens (2008-12), Cameron was expected to improve LSU's QB play and passing attack and help attract outstanding high school signal-callers to Baton Rouge.
But none of that happened. Many suspected that Miles was limiting Cam's flexibility with the offense, and that may be partially true. However, reports from Baton Rouge, especially since Miles' and Cameron's joint firing last September, indicate that Cam was very difficult to work with and quite inflexible in his approach.
Bottom line: Miles should have jettisoned Cameron after the 2015 season when Les barely held his job after the F. King chancellor chickened out of firing him.
Instead, Miles and Cameron promised a "new look" LSU offense for 2016. But after four games, including two losses, when it was obvious Miles-Cameron hadn't changed a thing, both got canned.
So where does Bud Grant come into this discussion?
Bud coached the Minnesota Vikings for 18 years (1967-85). His record was 158-96-5 (.621).
His teams represented the NFL in the Super Bowl four times from 1969 through 1976 but lost every time. He was also 10-12 in all his post-season games.
His teams were noted for their rugged defenses, led in the early years by the Purple People Eaters up front.
But like Miles's LSU teams, the Vikings generally did not have a varied enough offense to get over the hump and win the championship.
Bottom line on Miles and Grant: They were solid, successful coaches but not in the top tier of their professions.
Will Miles coach again?
An article on foxsports.com shortly after Miles's firing concluded that he would - and sooner rather than later.
"There are dozens of programs across the county who would love to get Miles. He will coach again in college football if he wants, and as soon as next year if he pleases."
"What school gets Miles will be getting one of the most accomplished living coaches in the history of the sport. ... Beyond the national title, he also has two SEC championships, and if he hadn't been in the same league as Saban - arguably the great coach of all time - for the last decade, he would probably have at leat another one or two of those as well."
"In a little over 11 years, Miles won 114 games, a staggering average of over 10 a year. Miles never won fewer than eight games a year at LSU, and topped the 10-win plateau in seven of 11 seasons ... He was also one of the sport's top recruiters, with LSU having more active players on NFL rosters than any team in college football."
But that last fact was one of the reasons for Miles's demise. With so much talent at his disposal, why did his teams lose 10 of the last 19 games he coached?
Most people would say it was because of the pedestrian offense he insisted on running. Miles might reply that he ran that offense because he didn't have a QB to lead a more open attack. But point/counterpoint, it was his fault that he didn't attract such a QB to Baton Rouge or, if he did (Brandon Harris was a four-star dual threat QB out of high school), Cameron failed to develop him.
We know the article referenced above was wrong in predicting that Miles would be coaching in 2017 - barring an unforeseen scandal as happened at Baylor last May or a sudden health problem for a current coach.
Scuttlebutt has it that Miles interviewed for the Houston job and made a distinctly bad impression.
The Cougars were replacing Tom Herman, the architect of high-scoring offenses at Ohio State (as O-coordinator) and Houston (as head coach).
Miles might take over a Big Ten program that runs a more traditional style offense but not a program like Houston (or Memphis or Baylor or any number of other schools I could name) that has gotten used to fast-paced, no-huddle excitement.
It's possible that Les set his sights too high for 2017. He might have had a chance at a job like

Purdue

, Indiana, or UConn. We don't know if those schools put out feelers to him or not.
Of course, Les is still receiving a handsome salary from LSU and so has no need to rush into anything. He says he's not finished as a coach but only time will tell if he'll get his wish.
I think we can say with certainty that he won't take an assistant's job anywhere in college or the NFL. Been there, done that.
As for radio/television, ESPN loved Les Miles because of his quirkiness. Their announcers kept condemning those who called for Miles's ouster. But he's not glib and I haven't heard of anyone offering him a commentator's job. But there's still time for that to happen.
About This Site
This site is devoted primarily but not exclusively to college and pro football. The unique feature of this site is the publication each fall of the author's rankings of all FBS college football teams and similar rankings for the NFL. I live in New Orleans and am a graduate of LSU and FSU. So I present a Southern and particularly an SEC point of view but one that is reasonably objective. I also publish a monthly Football Magazine with stories from the past and a monthly Baseball Magazine with a similar format. During the winter and spring, there's a monthly Basketball Magazine.
web counter

Hits since 8/3/12

<!END COLUMN ONE>

For Your Reading Pleasure

Tiger Den

: The First Bluegrass Miracle

Saints Saga

:

From the Archives - Lone 1980 Win

Seminoles Sidelines

: Profile -

Warrick Dunn

- III

Profile

:

Bill Walsh

- V

Super Bowl IV

- The Buildup

Short Story:

The Prodigal QB Returns - I

How Well Do You Know the Rules? Football Quiz

Basketball Short Story

Nervous Reporter Meets Legend




Tiger

Den Basketball

Season in Time: 2005-06 - NCAA Tournament Round 4




Profile

The Fab Five - VI

Basketball Quiz

Popular Move Banned

Cardinals

Clubhouse

---Four pennants in a row - 1888

---

Cardinals

Quiz

The Ultimate Game

2001 World Series - Game 7




Odd Baseball Facts

-

Confused Umpires and More


How Would You Rule? -

Three men on a base


Baseball Quiz

- Match player with record he set.

Short Story

- Life with

Charlie O.