OTHER RECENT POSTS

My College Football Predictions
NFL Preseason Magazines
From the Archives: When LSU Visited Wisconsin in 1971
2016 Pro Football Preview: Sporting News
Division Predictions
National Conference

NFC South

Carolina Panthers
New Orleans Saints
Atlanta Falcons
Tampa Bay Buccaneers

NFC East

New York Giants
Dallas Cowboys
Washington Redskins
Philadelphia Eagles

NFC North

Green Bay Packers
Minnesota Vikings
Chicago Bears
Detroit Lions

NFC West

Seattle Seahawks
Arizona Cardinals

Los Angeles Rams
San Francisco 49ers
American Conference

AFC South

Houston Texans
Indianapolis Colts

Jacksonville Jaguars
Tennessee Titans

AFC East

New England Patriots
Buffalo Bills
New York Jets
Miami Dolphins

AFC North

Pittsburgh Steelers
Cincinnati Bengals
Baltimore Ravens

Cleveland Browns

AFC West

Denver Broncos
Oakland Raiders
Kansas City Chiefs
San Diego Chargers
NFC South
Panthers
The NFC champions did lose a key component in CB Josh Norman, but the real strength of their defense, the front seven, stayed loaded and got deeper. Offensively, Cam Newton will get a huge weapon back in Kelvin Benjamin. That will keep them from having a big drop-off through their Super Bowl hangover.
With Newton just hitting his stride as a QB who sees the entire field and is deadly in or out of the pocket, the Panthers still look like the class of the NFC South. Getting Benjamin back will be big for a receiving corps that struggled with drops last season and couldn't get open consistently against the Broncos' DBs in the Super Bowl. Defensively, LBs Kuechly, Davis, Short and a stacked front seven should be able to compensate for a secondary in transition. It has been 23 years since a losing Super Bowl team made it back the following season. The Panthers have a shot.
Saints
Their offensive rebuild remains in progress as they try to reopen the championship window with Sean Payton and Drew Brees. They keep making the right moves to help make their defense respectable again, but it needs a little more time to get them back in playoff contention.
They can get going fast against the Raiders, Giants, Falcons and Chargers. But beware of the possible 4-0 being a mirage after everything gets ramped up after a Week Five bye. The Panthers sandwich a six-game stretch that includes the Chiefs, Seahawks, and Broncos. Even if New Orleans stays in contention going into December, three of the final four games are on the road.
Falcons
The Falcons are starting to build something good defensively with Dan Quinn, but they are bound to take a step back in wins with a much harder schedule. Their offense will need to somehow get revved up after a cold finish in 2015.
If offensive coordinator Kyle Shanahan and QB Matt Ryan don't get on the same page, the offense will continue to sputter about and there won't be a playoff revival in the last season of the Georgia Dome. Shanahan must also find some answers in the red zone for his offense, which has finished in the bottom half of the league in red-zone efficiency in six of his eight seasons as a coordinator. Quinn, a pass-rush specialist by trade, and defensive line coach Bryan Cox are on the spot also after finishing last in sacks and failing to draft any pass rushers.
Buccaneers
There are many pieces to like around their young superstars, Jameis Winston and Kwon Alexander. Although Dirk Koetter's offensive leadership is familiar, they still need to get used to a new head coach. They'll flash some more big moments despite taking a small step back in the standings.
After wallowing in the basement of the NFC South for the last five years, the Bucs are poised to start turning things around. The offense has the potential to produce record numbers yet again and the defense should be vastly improved ... The Bucs aren't likely to contend, but they should continue their climb back to respectability and could make a run at .500 if everything breaks well for them.
Excerpts from full write-up on Saints
In the last four seasons, the Saints have finished 7-9 three times, including in 2012 when head coach Sean Payton was suspended in the aftermath of the "Bountygate" scandal.
Most coaches would not survive such a stretch, or at least enter 2016 on the hot seat. Payton received a five-year contract extenson in March, a testament to his overall body of work since 2006 and the belief by GM Mickey Loomis that the Saints aren't that far removed from their 11-5 mark of 2013.
The Saints ... produced the NFL's second-best total last season ... but the defense was historically bad ...
OFFENSE
Pete Carmichael has one of the best gigs in the NFL - coordinating a perennially explosive offense anchored by an underrated line and the league's most durable and consistent QB ... If the GM is correct in suggesting RB C.J. Spiller's 2015 season was an aberration, Carmichael could have a ground game with Spiller and Mark Ingram that can match his air attack.
QBs
Someday Drew Brees will slow down. But entering his 16th sesason and coming off another big year, Brees looks like the youngest 37-year-old QB in NFL history. ... GRADE: A
RBs
This unit was a worthy complement to the Saints' air assault in 2014, but injuries limited the group to 93.2 ypg last season ... Spiller and Ingram, when healthy, provide the type of contrasting looks Deuce McAllister and Reggie Bush once offered ... GRADE: B-
Receivers
Second-round draft pick Michael Thomas ... is seen as the next Colston. With Watson leaving in free agency ..., the Saints signed Coby Fleenor to a five-year deal for a whopping $36M. Fleener put up solid numbers for a Colts team not known for targeting TEs ... GRADE: B
Offensive Line
Terron Armstead was viewed as a project on draft day in 2013 but has become a solid LT. ... Max Unger's play at C ... has been a stabilizing force. GRADE: B
DEFENSE
Unlike Rob Ryan and his complicated 3-4 base scheme, coordinator Dennis Allen runs a more simplified 4-3. .. Allen has the building blocks to improve quickly.
Defensive Line
The Saints signed free-agent Nick Fairley, who they hope will be a disruptive three-technique tackle. ... GRADE: C
LBs
Rookie Stephone Anthony ... led New Orleans with 112 tackles, a rookie team record. ... Hau'oli Kikaha ... had a productive rookie campaign. Kikaha ultimately could shit to DE ... James Laurinaitis, a former Rams captain, brings some much-needed leadership to the defense. GRADE: C+
Secondary
The Saints have made a habit of signing past-their-prime players to shore up the secondary ... P.J. Williams, a third-round pick from

Florida State

in 2015, is back after missing his rookie season with a hamstring injury. ... Jairus Byrd seems light years removed from his three Pro Bowl years in Buffalo and hasn't come close to living up to the big contract he signed in 2014. ... Kenny Vaccaro ... had a nice bounce-back year in his third NFL season. GRADE: C
Special Teams
The Saints hope a healthy Spiller can become the playmaker Darren Sproles once was ... He could help the Saints, who have ranked near the bottom of the league in kick and punt returns in recent seasons. ... Thomas Morstead ... remains a reliable punter. ... GRADE: C-
BOTTOM LINE
The Saints have been one of t he NFL's most disappointing teams over the last two seasons. Payton didn't so much earn a new contract as he received a "career achievement" extension. Though Brees is the most reliable, stabilizing force in the game, he can't play defense, where the Saints must show improvement if they hope to contend with a dominant Carolina team and the improving Buccaneers. Loomis didn't improve the Saints in the offseason so much as he managed the salary cap. A 7-9 record for the fourth time in five seasons would not be a surprise.
QUICK QUIZ
In what city will Super Bowl LI be held February 5?
Which team led the NFL in rushing last year?
Marcus Mariota threw for 2,818y for Tennessee last year. Who was the last QB to pass for more than 3000y as a rookie for the Titans franchise (formerly the Houston Oilers)?
Lunch with the Taylors
Friday, August 26, I had lunch with Jimmy Taylor and his wife Helen at Mike Ander­son's Restaurant in Baton Rouge.
The purpose of our meeting was to present Jimmy with his copy of the book on the '66 Packers and get him to autograph mine.
The Taylors were very gracious and we spent over an hour chewing the fat as well as some delicious food (which they generously paid for).
We talked about a number of topics, including their fabulous trip to Israel last year with other Hall of Famers courtesy of Patriots owner Robert Kraft.
They're enthusiastic about their trip to Green Bay this week when Jimmy will be LSU's honorary captain for the Wisconsin game.
For the special occasion, I wore the only Packers combination of shirt and tie from my wardrobe.
Von Miller, Texas A&M's gift to the Denver Broncos, said this about his recruitment in an article in the latest Sports Illustrated.
A&M really wanted me. You know that girlfriend that's really not that attractive, but she's going to do everything she can to keep you? That was A&M. ... That hot chick that just talks to you on Mondays? That was LSU.
Composite Preseason College Rankings
Below is the list of Top 25 teams in the compilation of the various college preseason rankings. Notice how closely the AP vote follows the composite of the magazines and websites.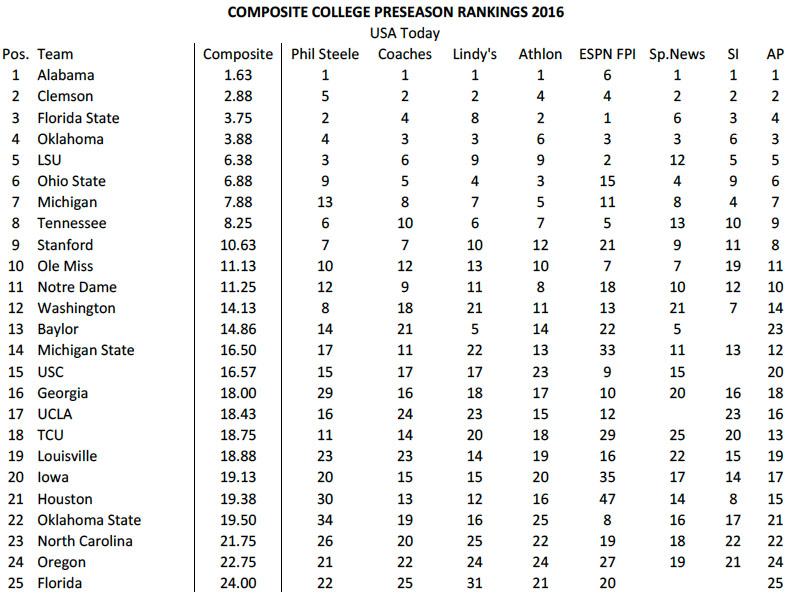 2016 Pro Football Preview: Athlon Sports
Division Predictions
National Conference

NFC South

Carolina Panthers
New Orleans Saints
Atlanta Falcons
Tampa Bay Buccaneers

NFC East

Dallas Cowboys
Washington Redskins
New York Giants
Philadelphia Eagles

NFC North

Green Bay Packers
Minnesota Vikings
Chicago Bears
Detroit Lions

NFC West

Arizona Cardinals

Seattle Seahawks
Los Angeles Rams
San Francisco 49ers
American Conference

AFC South

Indianapolis Colts
Houston Texans

Jacksonville Jaguars
Tennessee Titans

AFC East

New England Patriots
Buffalo Bills
New York Jets
Miami Dolphins

AFC North

Pittsburgh Steelers
Cincinnati Bengals
Baltimore Ravens

Cleveland Browns

AFC West

Kansas City Chiefs
Denver Broncos
Oakland Raiders
San Diego Chargers
Interesting Numbers from the 2015 Season

4

TD passes by Marcus Mariota in his first pro game - a first in history

24

Years since a QB threw a pick-6 on his first pass as a pro as Jameis Winston did

48y

Length of the PAT kicked by Cleveland's Travis Coons September 13 after two penalties pushed the ball back from the 15

0

Number of current franchises that have never lost the first three games in any season after the Ravens did so Sept. 27
160
Consecutive passes by Ryan Tannehill without an INT, a Dolphins record
2
Picks off Ryan Tannehill by Buffalo's Preston Brown Sept. 27 within a span of five passes
16
Consecutive passes completed by Brandon Weeden of the Cowboys to start his season - the most by a QB in 32 years
27
Streak of TD passes by Alex Smith of Kansas City to non-wide receivers before ending on September 28
247
Consecutive NFL games won by teams leading by at least 17 points during the 4th quarter until Seattle blows a 24-7 lead against

Cincinnati

October 11
26
Consecutive drives by the Broncos without scoring a TD, which does not keep them from going 6-0
2
TD passes by Kirk Cousins in the last 30 seconds of games within a month, making him the sole active QB to accomplish the feat
25
Consecutive losses by the Vikings in road games in which they trailed at the half before they come back to beat Detroit October 25
167/22
Yards covered on Tannehill's four TD throws October 25 and the yards the ball was airborne on them
4
Consecutive games Philip Rivers throws for over 300y in a defeat
10
TD passes by Kirk Cousins through November 8, none of them longer than 7y
20
Consecutive regular season losses by the Lions at Lambeau Field - an NFL record at any road venue - before beating the Packers November 15
170y
Total yards in two TD passes by Jay Cutler of the Bears although the ball actually travelled a combined -2y from scrimmage
2 for 666
Eagles games in which they surrendered five TD passes to an opponent before allowing a quintet of TD passes in each of two consecutive contests
21
Consecutive third-down failures - over three games - by the Dolphins before finally succeeding Nov. 29 vs Jets
2
Times in NFL history that a FG is blocked and returned for a game-winning TD to end a game after Travis Coons of Cleveland suffers his first FG miss of the season Nov. 30
8
Years since a player recovered his own fumble of a punt before Dallas's Chris Jones does it Dec. 6
6
INTs by

Cincinnati

's Reggie Nelson in seven meetings against Ben Roethlisberger of

Pittsburgh

0
TD's generated by QB Jimmy Clausen against Seattle during two games against them - first as a Bear, then as a Raven
2
Team-records streaks of consecutive passes without an INT that came to an end Dec. 13 - Alex Smith's 312 for KC and Tyrod Taylor's 222 for Buffalo
1987
Last time a former

Alabama

QB started and won an NFL game before AJ McCarron did so for the

Bengals

Dec. 20
5
Consecutive games that the Chiefs allow no Q4 points
24
Consecutive TDs by San Diego without any of them being on the ground
6
Offside or neutral-zone penalties by the 49ers in the first half of a loss to the Lions
0
3rd-down conversions by the

Bengals

in their 24-16 victory over the Ravens Jan. 3
22
Consecutive road losses by Jacksonville to a team with a winning record
8-of-56
Handoffs by Tom Brady on offensive snaps in New England's playoff victory over KC Jan. 116
212
Fewer times DeMarco Murray touched the ball with the Eagles in '15 compared to his total with the Cowboys in '14.
22
Number of playoff victories by Tom Brady, an NFL record
8
New assistant coaches hired by San Diego's Mike McCoy following a 4-12 2015 season.
$227.8M
League-leading amount spent by the Jaguars in the off-season.
2007
Last winning season for Jacksonville
14
Victories by the Jaguars the last four years
46
Regular season victories by Seattle's Russell Wilson, the most by any QB in history through his first four seasons.
13
Seasons since Tampa Bay won a playoff game - Super Bowl XXXVII.
Opposing Scouts Size Up NFC South Teams
Falcons
I'm not big on Matt Ryan, who is an overrated and overpaid commodity at QB. He is a streaky pocket passer who can be very productive when in rhythm but struggles to recover when hitting setbacks. ...The line and LBs were the weakness of this defense last year.
Panthers
The Panthers are poised to make another deep run into the playoffs thanks to Cam Newton and the defense. ... Newton ... is the consummate dual threat at QB. Though he is one of the NFL's least-accurate starters with his sub-60% completion percentage, Newton has elite ability to make plays on the move and is indefensible near the goal line.
Saints
Look for this team to be in a lot of shootouts in 2016. If the

Saints

can improve even slightly on defense, they will be in the playoff hunt. ... Cameron Jordan is a difference-making E who is effective versus both the run and pass. However, the

Saints

lack a bookend to provide much pass rush or run-stuffing opposite him. ... they will need new MLB James Laurinaitis to return to form after a disappointing 2015 season with the Rams. ... Delvin Breaux and Keenan Lewis are big press CBs but might not be great fits for Dennis Allen's blitz-happy scheme because they lack the requisite quickness and agility to match up on an island ... While there may be a slight decline in his play, Drew Brees is still a top-five QB, and

New Orleans

will be competitive as long as he is at the helm. ... They have a solid C in Max Unger but need improvement at the G spots ... Mark Ingram leads a pedestrian stable of RBs. ... New TE Coby Fleener should provide pass-catching production, though he is a little soft as a blocker.
Buccaneers
This team is poised to make another run at .500 - and maybe even finish a game or two better than that ... Much of Tampa Bay's success will depend on Jameis Winston continuing to develop in his second NFL season. ... his average mobility and immaturity issues could be hindrances ... While questions remain about his consistency and durability, Doug Martin is a hard runner who fights for extra yards and runs with good base and balance.
Saints in the Individual Player Rankings
QB Drew Brees #5 (#18 overall)
RB Mark Ingram #28
FB John Kuhn #5
WR - none in top 30
TE Coby Fleenor #13
C Max Unger #9
T Terron Armstead #7, Zach Strief #19
DT - none in top 20
LB - none
CB Delvin Breaux #5 (#48 overall)
S Kenny Vaccaro #25
QUICK QUIZ
All questions refer to NFL "firsts" of the 2015 season.
Which QB threw a TD pass in 54 consecutive home games?
Which QB came up with a four-TD game for a fourth different franchise?
Which team won a game after only 13 seconds of OT?
Which QB compiled a perfect passer rating of 158.3 in his NFL debut?
Which coach elminated from the playoffs the team he coached the previous season in the final game of the year?
2016 Pro Football Preview: Lindy's Sports
Division Predictions
National Conference

NFC South

Carolina Panthers
New Orleans Saints
Tampa Bay Buccaneers
Atlanta Falcons

NFC East

Dallas Cowboys
Philadelphia Eagles
New York Giants
Washington Redskins

NFC North

Green Bay Packers
Minnesota Vikings
Detroit Lions
Chicago Bears

NFC West

Arizona Cardinals
Seattle Seahawks
Los Angeles Rams
San Francisco 49ers
American Conference

AFC South

Houston Texans
Indianapolis Colts
Jacksonville Jaguars
Tennessee Titans

AFC East

New England Patriots
New York Jets
Buffalo Bills
Miami Dolphins

AFC North

Cincinnati Bengals
Baltimore Ravens
Pittsburgh Steelers
Cleveland Browns

AFC West

Denver Broncos
Oakland Raiders
Kansas City Chiefs
San Diego Chargers
Intriguing Numbers

12

Years since

Oakland

had a winning season and made the playoffs

$72M

Value of four-year contract Houston gave Brock Osweiler

5

Games Osweiler has started coming into 2016

5

Consecutive seasons Cleveland has finished last in the AFC North
24
Starting QBs for Cleveland since the franchise began in 1999
5
Years since the Giants made the playoffs
0-7

Bengals

coach Marvin Lewis's record in the playoffs
1991
Last year the

Bengals

won a playoff game.
106.3
Andy Dalton's passer rating for 2015, a record for the

Cincinnati

franchise.
9
Fumbles by

Bengals

RB Jeremy Hill the last two years, with six of them lost.
21
Years since Los Angeles last had an NFL team
8, 17
The Bears' total for INTs and turnovers last year, both record lows for the franchise
92.7
Aaron Rodgers' QB rating last year, the first time he's been under 100 since his first season as starter (2008)
17
Wins in two seasons by Teddy Bridgewater with the Vikings, tying Brett Favre and Warren Moon for most wins by a Minnesota QB through two seasons
5th
Rank of the Vikings in scoring defense (18.9 ppg) last year in Mike Zimmer's third seasons as head coach after finishing last his first year (30.0) and 13th in 2014 (20.3).
1
INTs by S Jairus Byrd in his two seasons with the

Saints

0
Times the

Saints

have missed the playoffs three straight years under Sean Payton - a record that may be broken if

New Orleans

fails to qualify again this season
1
Victories Payton needs to become the winningest coach in

Saints

history; he is 93-61 and tied with Jim Mora who was 93-76 in 10 1/2 seasons.
459
Passing yards Drew Brees needs to move past Dan Marino into 3rd place on the NFL's all-time list.
10
Consecutive seasons the

Saints

have finished in the top 10 in total offense in the NFL, a feat the club achieved only three times in its first 39 years of existence
6
Rushing TDs by rookie Jameis Winston for Tampa Bay last year, tying him with Doug Martin for the team lead
13
Times the Patriots have finished first in the AFC East the last 15 seasons.
10
Times the Patriots have played in the AFC title game in the past 15 years, winning six.
30th
Patriots' rank in rushing last season (87.8 ypg).5
5
Wins by the Ravens last year, their lowest total in eight years.
9
Coaches in NFL history who won 90 games in their first nine seasons, the latest being Mike Tomlin of the

Steelers

, whose 92 wins are tied for third-most of all teams over the past nine years.
35
INTs thrown by Blake Bortles in his first two NFL seasons with the Jaguars.
45
Times Chiefs QB Alex Smith was sacked in 2015.
4
Wins by San Diego last year, the Chargers' worst showing since 2003.
Players and coaches "On the Hot Seat"
Giants - Steve Spagnuolo
Armed with several new pieces, ... defensive coordinator Steve Spagnuolo should have all the pieces in place to lift the 32nd-ranked defense last season out of the cellar. While injuries did contribute to the defense's problems last year, Spagnuolo's lack of success as a coordinator since his first stint with the Giants in 2007-2008 (including a disastrous year with the

Saints

) have some wondering if perhaps he is the long-term solution to orchestrate the defense.
Redskins - OL Junior Galette
Galette didn't want a long-term contract. After his falling out in New Orleans, he had to take a "prove-it" deal from the Redskins last summer, but didn't get the chance to show what he could do thanks to an Achilles tendon injury. Galette fired his representative and hired powerhouse agent Drew Rosenhaus. If he has a great year - double-digit sacks - then he will cash in with a massive contract after signing yet another team-friendly one-year deal. If he doesn't? Then he will be two years removed from his last productive year and a 29-year-old free agent with a significant recent injury on his resume.
Falcons - QB Matt Ryan
Ryan is on the hot seat after a woeful showing in 2015. Before last season, the Falcons' struggles were clearly placed on a meek and timid offensive line. Last season, Ryan was at the heart of their woes as he threw interceptions, fumbled the ball and dropped snaps from center. Ryan admitted that it sometimes took too long to process the verbiage in the new offensive scheme.
Seahawks - TE Jimmy Graham
The Seahawks gave up a lot to get Graham before last season: their 2015 first-round pick and C Max Unger. The jury was still out at the end of his first year whether the trade was worth it. Graham had 48 receptions when he suffered a season-ending knee injury in Week 11, and had just two TDs. Seattle coaches defended Graham, noting he was on pace for 70 catches, down from the 85 he averaged with the

Saints

but something that was to be expected given that he went from one of the most pass-heavy offenses in the NFL to one of the most run-heavy.
Browns - QB Robert Griffin III
The riches to rags story of Griffin might not be over. The 2012 Offensive Rookie of the Year, 5-15 the next two years and inactive every game in 2015 with the Redskins, is getting another chance with the Browns. If he doesn't redeem himself this season, though, his football career could flame out before he turns 27 next February.
Saints in the Players and Units Rankings
QB Drew Brees #5
WRs - none in the top 56
TE Coby Fleener #14, Josh Hill #8 among "The Two's"
RB Mark Ingram #9, C. J. Spiller #10 among "The Two's All-Purpose"
C Max Unger #6
G - none in top 20
LT Terron Armstead #7
DE Cam Jordan #7 among "4-3 Right Side"
LB Cannell Ellerbe #9 among "Will"
CB Delvin Breaux #2 among "The Two's"
No

Saint

unit is ranked in the Top Five of its position group in the NFC.
QUICK QUIZ
What was the last team to win back-to-back Super Bowls?
Mike Tomlin is only the third Steelers coach since 1969. Who were the other two?
Listed below are the repeat winners of the NFL's MVP award. Which one of this distinguished group achieved that feat twice?
(A) Jim Brown
(B) Brett Favre
(C) Peyton Manning
(D) Joe Montana
2016 College Football Preview: Phil Steele
We always end our college previews with the best of them all, year after year.
Phil Steele's Preseason Top 10
Phil explains: My preseason rankings are NOT my Power Ratings. These rankings take into account the totality of the circumstances that I feel each team will face in the 2016 season, i.e., schedule strength, foes' schedules (coming off byes), experience edges at the start of the year and so forth.
Florida State

Alabama

Oklahoma

LSU


Since their last year to the Nat'l Title Game, LSU has lost 14 games the last 4 years and almost fired their head coach at the end of 2015. This year they have RB Leonard Fournette, two NFL caliber WR's and my #5 rated offensive line. New defensive coordinator Dave Aranda inherits more talent than he ever had at Wisconsin and yet he produced the #1 defense in college football from '13-'15. They will battle

Alabama

for the title of nation's top defense. The only question is at QB. None of their 5 away games are against a team in my Top 15, plus they get

Bama

and

Ole Miss

at home. I have them making the playoffs and that gives them a shot at the National Title.
Clemson
Ohio State
Tennessee
Washington
Notre Dame
Stanford
Phil's Power Poll Top 10
This ranking is based purely on a team's talent, experience, etc., without consideration of strength of schedule.
Alabama

Florida State

LSU

Oklahoma
Clemson
Tennessee
Stanford
Washington
Ohio State
Ole Miss
Phil's 2016 Surprise Teams

Washington
TCU
Iowa
Baylor [despite Briles's firing]
UCLA
Miami (FL)
Georgia
Houston
Michigan State
Ole Miss

Phil's 2016 Most Improved Teams

Texas
Nebraska
LA Lafayette
Georgia Tech
Boston College
Arizona State
Troy
UTEP
Minnesota
Connecticut

LSU's Rankings in Phil's Top Individual Units

QBs - 39th
RBs - 1st
If the Heisman Trophy was awarded mid year, Leonard Fournette would have won it by a landslide. If in '15 the NFL allowed true sophs to enter the draft, Fournette would have been the top RB taken as he rushed for 1,963 (6.5). Derrius Guice would start for a lot of teams and totaled 8.5 ypc and is a solid receiver. He can score any time he touches it.
Receivers - 7th
The

Tigers

don't throw the ball much so they don't have the stats of the other top units but Malachi Dupre and Travin Duval are two of the top WRs for the '17 draft. They have 3 experienced TE's and 6 Very Highly Touted (VHT) backup WRs.
Offensive Line - 5th
Having a RB like Fournette will help your stats and

LSU

's O-line stats were 257 ypg rush., 6.1 ypc and just 17 sacks allowed. They return 8 of the top 10 OLs and almost every one is an uber Very Highly Touted.

Defensive Line - 8th


LSU

allowed just 123 ypg rushing (3.8) with 34 sacks despite losing a pair of NFL draft choice's last year. This year the entire two deep returns and they switch from a 4 to 3 man D-Line. Lewis Neal, Davon Godchaux and Christian LaCouture all return and are backed by 7 VHT's. This year they get to play in Dave Aranda's disruptive defense.
Linebackers - 8th
Aranda's defenses make stars out of LB's so you can expect some AA's out of this unit. Arden Key is now 245 lbs and had 5 sacks as a true frosh. Kendall Beckwith is a projected #1 draft choice. Twelve VHT's are in the unit.
Defensive Backs - 1st
The

Tigers

have had 2 recent Jim Thorpe Award winners in Patrick Peterson & Morris Claiborne and CB Tre'Davious White or S Jamal Adams could be the next. White may have been a #1 choice in the '16 draft but opted to stay. At the other CB spot is 6'2" Kevin Toliver and true frosh Saivion Smith who was in for spring and impressive. The unit has 14 VHT's and six of them are ranked #10 or better out of high school.
Special Teams - 36th
LSU's Top 15 Rankings in Phil's Projected Units
Rushing Offense - 8th
Most Improved Passing Offense - 6th
Total Offense - 12th
Most Improved Passing Defense - 2nd
Most Improved in Points Allowed - 2nd
Rushing Defense - 6th
Pass Defense - 1st
Points Allowed - 1st
Total Defense - 1st
Phil's SEC Forecast
SEC WEST
SEC EAST

1. Alabama
1. LSU
3. Ole Miss
4. Auburn
5. Texas A&M
5. Arkansas
5. Mississippi State


1. Tennessee
2. Georgia
2. Florida
4. Missouri
5. Kentucky
6. Vanderbilt
6. South Carolina
Phil's comment on LSU in his SEC West forecast
LSU has the 2nd most experienced team in the SEC with 17 returning starters. They should get improved QB play and have a Heisman contender in RB Leonard Fournette. They add Dave Aranda as the DC and he did gret things with Wisconsin's D, which had less talent than he inherits here. While they play 4 SEC bowl teams on the road, they get their toughest SEC games (Ole Miss, Bama) at home. Five of my 9 sets of power ratings call for LSU to go unbeaten this year. Nov. 5th could feel like a playoff game in Death Valley. The Tigers are on the prowl for a 2nd National Title this decade.
Tigers on Phil's 2016 Preseason SEC Teams
1st team Offense - RB Leonard Fournette, C Ethan Pocic
2nd team Offense - WR Malachi Dupre, G William Clapp, T Maea Teuhema
3rd team Offense - WR Travin Dural
1st team Defense - DL Davon Godchaux, LB Kendell Beckwith, CB Tre'Davious White, S Jamal Adams
2nd team Defense - LB Arden Key
4th team Defense - DL Lewis Neal
Phil's Forecast on his LSU page:
OFFENSE - We can enjoy Leonard Fournette for 1 more year of college football and they have 2 super WR's, a veteran O-line and should have improved QB play. They avg. 32.8 ppg in '15 and will be even more potent in '16.
DEFENSE - I have marveled at the job Dave Aranda has done at Wisconsin the last few years and he is a great hire this year as the DC. Last year they had to replace their DC and slipped from allowing 317 ypg to 347 and from 17.5 ppg to 24.2. Aranda runs a defense that turns LB's into stars and he never had the amount of VHT's that he has to work with here. My computer says they go from 24.3 ppg down to 16.03.
2016 - LSU has won 8+ in 15 straight seasons (2nd longest in FBS). LSU has the 2nd most experienced team in the SEC behind Tennessee ... but getting DC Aranda for the defense should have them improve by a TD per game on that side. They can only get more effective QB play and still have Fournette at RB. They do face 5 bowl teams on the road but 5 of my 9 sets of power ratings are calling for 12-0 as they avoid Tenn. and get Bama and Ole Miss in Death Valley. Since their '11 Title game, LSU has lost 3, 3, 5, & 3 games but look like a National Title contender this year.
Intriguing SEC Numbers

1

Times

LSU

and

Missouri

have met - 20-15

Mizzou

win in 1978 Liberty Bowl

15-1

LSU

's record in its last 16 games against

Mississippi State

4

Consecutive years home team has won

LSU

-

Ole Miss

game

5

Consecutive wins by

LSU

vs

Texas A&M

, making the

Tigers

the only SEC West team

A&M

has not defeated since they joined the conference
15-3

LSU

's record against the SEC East in its last 18 meetings
23
Consecutive SEC openers

Alabama

had won until beaten at home by

Ole Miss

last year
1
Times

Ole Miss

has defeated

Alabama

in consecutive seasons (2014-15)
14-3
Record of home team in Egg Bowl in last 17 games -

Ole Miss

hosts

State

this year.
29
Consecutive non-conference home games won by

Auburn

1927-
29
Last time

Arkansas

won three straight vs

LSU

, something the

Razorbacks

can do November 12 in Fayetteville
1-8

Mississippi State

's record in last nine trips to Tuscaloosa
11
Consecutive victories by

Florida

over

Tennessee

9
Consecutive victories by

Alabama

over

Tennessee

10
Consecutive victories by

Georgia

over

Ole Miss

22-3

Georgia

's record vs

Kentucky

in most recent games, including six straight by an average of 21 ppg
9-1

Florida

's record against

Arkansas

, only loss being in the schools' first meeting in 1982
111-
13
Margin by which

Florida

has outscored

Kentucky

in Q1 of their last seven meetings
5-46-1

Vanderbilt

's all-time record against

Georgia

7
Consecutive times South Carolina has beaten Mississippi State
Quick Quiz
LSU is 4-0 in neutral site opening games the last six years. List the four opponents the Tigers defeated in those games.

LSU has won 49 consecutive regular season non-conference games. What was the last non-SEC team to defeat LSU in the regular season?
2016 College Football Preview: ESPN the Magazine
ESPN's Top 10
Alabama
Clemson
Oklahoma
Florida State

LSU

Ohio State
Stanford
Michigan
Tennessee

Notre Dame
Comments on LSU:
Brad Edwards' Playoff Forecast
IN IF ... it holds home field. The

Tigers

host

Ole Miss

and

Alabama

in Death Valley, so the SEC West will be theirs to lose. ...
OUT IF ... the D doesn't return to form.

LSU

allowed 24.3 ppg last year (10th in the SEC) - the first time outside the SEC's top four since 2008.

LSU

's dilemma? QB Brandon Harris works best out of the shotgun while Fournette shines in the In formation.
Yards for Fournette with QB under C: 2,384 (6.8 ypc)
Yards for Fournette with QB in shotgun: 540 (6.1 ypc)
FB J. D. Moore was injured for

LSU

's final seven games. If healthy, he opens lanes for Fournette as shown by this table.

Fournette's Yards/Carry in 2015

| | | |
| --- | --- | --- |
| Yards Per Carry | 2-Back Set | 1-Back Set |
| First 5 games | 8.7 | 5.4 |
| Final 7 games | 5.1 | 5.1 |

LSU

vs Wisconsin
Brian Griese: When you play Leonard Fournette, it's not just about the front seven, its how the safeties support, and Wisconsin lost both of theirs.
Todd McShay: Obviously, ... you expect Wisconsin to load up and do everything they can to get as many guys in the box as they can and challenge

LSU

to throw the football. Will that be enough?
Griese: It's time for

LSU

. We've been having these kinds of conversations: There's no question that they have the talent, but do they have that killer mentality? Do they have the mental focus to take it week by week?
McShay: For me, just from a pro talent perspective, they're right there with

Alabama

as one of the two most talented teams in the entire country.
Intriguing Numbers

3

Times

Oklahoma State

has upset a top-20 Oklahoma team since 2001, the last being in 2014

7

Consecutive SEC titles won by the SEC West

43.7

% of Stanford's rushing and receiving yardage that Christian McCaffrey accounted for last year, the most in nation.
42.0
% of

LSU

's rushing and receiving yardage that Leonard Fournette accounted for - 2nd most in FBS.
6-1
Las Vegas odds for

Alabama

to win the national championship, the lowest of any team.
18-0

Ohio State

's record in road games under Urban Meyer; the

Buckeyes

travel to Oklahoma September 17.
15-2
J. T. Barrett's record at starting QB at

Ohio State

13
Years since Michigan beat both Michigan State and

Ohio State

in the same year.
12
Losses by Chris Petersen in his first two seasons at Washington, which is as many as he lost in eight seasons at Boise State
20
Average margin of victory in

Alabama

's last four season-opening neutral sites games against Michigan, Virginia Tech, West Virginia, and Wisconsin.
Quick Quiz
Identify the last SEC East champion that won the SEC title.
Conference Football Rankings 2004-2015
You probably think that the SEC has been the dominant conference in college football the last decade. You're right and I have proof. Namely, the final conference rankings in the Golden Football Rankings, as shown below. The conferences are ranked by average rank over the years from lowest to highest. The conferences were ranked according to the average final "power score" of all the members for that season.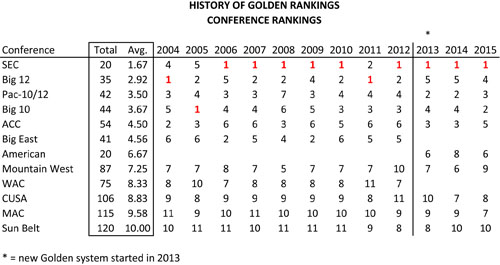 2016 College Football Preview: Sports Illustrated
SI's Top 10
Alabama
Clemson
Florida State
Michigan

LSU


OPPOSING COACH'S TAKE: "New defensive coordinator Dave Aranda is re­nowned for using multiple looks, but he's got so much talent that he could just play base defense if he wanted. A hulking line will once again rotate plenty of fresh bodies. Their linebackers are solid and have lots of speed. The secondary is as talented as it gets with future NFL picks in CB Tre'Davious White and SS Jamal Adams. Hopefully you can find a way to run the ball against them, but their front seven is so good that's a tough task.
Leonard Fournette isn't just the best RB in the country - he's the best to play the position in years. But they're not only a run-the-ball-down-you-throat of­fense. They do a really nice job with the play-action pass, which is hard to de­fend when Fournette is always one broken tackle away from the end zone. They've got a talented receiving corps to go along with a massive, physical of­fensive line, but the biggest question is QB Brandon Harris [54% completions, 13 TDs, six INTs]. He's a capable passer, and now that he's got a year of expe­rience as a starter, he should be better. From the start to the end of last sea­son, he made a lot of progress.
I don't see a lot of weaknesses in this team. They've got the talent to not only win the SEC, but also the national championship."
Oklahoma
Washington
Houston
Ohio State
Tennessee
Intriguing Numbers

18

Returning starters (nine of each side) for

LSU

, most of any team in the SI's Top 25

10

Number of

LSU

's 12 opponents that had winning records in 2015

5

Consecutive victories by

Alabama

over

LSU

, the longest such streak since 1981 when the

Tide

won their 11th straight.
76
Combined career carries among

Alabama

's five returning backs.
8
Consecutive 10-win seasons for the

Crimson Tide

, the longest current streak in the FBS
1
Clemson's rank in 3rd-down defense each of the last two seasons
8

Florida State

defensive players who left for the NFL.
+21
Turnover margin for Houston, the second best in the country last season
18

Ohio State

true freshmen that coach Urban Meyer ex­pects to play this year
67
Total TDs in 17 starts by

Ohio State

junior QB J. T. Bar­rett
Quick Quiz
Who are the only two schools to win back-to-back games against Ala­bama during Nick Saban's tenure?

Identify the three SEC players over the last 20 years who have passed for 300y and rushed for 100y in the same game.
Interesting Quotations
An opposing coach on

Alabama

offensive coordinator Lane Kiffin: He brings some flavor. He changes it up. It makes it hard to focus on one thing. You used to just worry about stopping the run. Now they spread you out. .... They're go­ing to miss Ryan Kelly tremendously at center. He was the QB of their line.
An opposing coach on

Florida State

RB Dalvin Cook: You try to slow him down. You can't stop him. You've got to limit him to singles and doubles, be­cause if he gets going, he's going to get home runs.
An opposing coach on Oklahoma: Coach Bob Stoops walks and talks with a lot of swagger, and his guys feed off it. They think they're the best, and they play like it.
An opposing coach on

Ohio State

: This is going to sound weird because they finished No. 2 in scoring defense, but new co-coordinator Greg Schiano will make them better. His specialty at

Rutgers

was third-down pressure packages - finding creative ways to get to the QB.

Ohio State

will force more turnoavers because of what he'll do on third down.
Opposing coach on

Tennessee

: This is one of the most complete teams I've seen. They're the team to beat in SEC East.
2016 College Football Preview: Athlon Sports
Athlon's Top 10
Alabama

Florida State
Ohio State
Clemson
Michigan
Oklahoma

Tennessee

Notre Dame

LSU

Ole Miss
2016 College Football Playoff Predictions
Peach Bowl:

Alabama

vs Clemson
Fiesta Bowl:

Florida State

vs Ohio State
Seven Coaches on the Hot Seat
Charlie Strong, Texas (11-14, two seasons)
Strong's brief tenure in Austin has produced more losses than any two-year stretch at the school since 1955-56. There have been some bright spots - none brighter than last year's stunning win over Oklahoma - but Texas has looked alarmingly uncompetitive far too often.
Darrell Hazell,

Purdue

(6-30, three seasons)
Three of Hazell's six wins have come against FCS opponents, and the

Boilermakers

are a woeful 2-22 in the Big Ten in the past three seasons. It's hard to envision Hazell keeping his job unless

Purdue

reaches bowl-eligibility.
Paul Haynes, Kent State (9-26, three seasons)
Haynes inherited a program that went 8-0 in the MAC in 2012 but has managed only a 6-17 league record in the three years since. In 2015, the Golden Flashes were second-to-last in the nation in total offense ... and last in the nation in both yards per play ... and scoring offense.
Gus Malzahn,

Auburn

(27-13, three seasons)
It might seem a bit odd to put a coach who played for a national championship in 2013 on a Hot Seat list in 2016, but this is quite normal at

Auburn

. Consider the cases of Tommy Tuberville and Gene Chizik. From 2000-07, Tuberville went 47-17 in the SEC, won or shared five SEC West titles and dominated rival

Alabama

(7-1). He was fired after going 5-7 in 2008. Chizik won a national championship in 2010 but was fired two seasons later. So that should explain why Malzahn, just 6-10 in league play in the past two seasons, is on less-than-solid footing ...
Tim DeRuyter, Fresno State (29-23, four seasons)
DeRuyter went 20-6 overall and 15-2 in the Mountain West in his first two seasons, but the program has taken several steps back in the last two years. In 2015, the Bulldogs went 3-9, and all but one of the nine losses came by 14 points or more. DeRuyter fired offensive coordinator Dave Schramm and reassigned defensive coordinator Nick Toth.
Dana Holgerson, West Virginia 36-28, five seasons)
There were reports that West Virginia considered dismissing Holgorsen after the Mountaineers lost to Kansas State in the 2015 regular-season finale. That, obviously, did not happen, but there's no denying that his job is far from secure. The Mountaineers have had a losing Big 12 record in three of four seasons and have only three Big 12 wins over teams that finished with a winning league record.
Les Miles,

LSU

(112-32, 11 seasons)
There was seemingly a 90 percent chance that Miles was going to be fired after the Tigers' final regular-season game, but the veteran coach received a stay of execution. Miles' record is extremely impressive, but he has lost five straight games to

Alabama

and has lost at three games in four straight seasons - a record of "futility" that does not please the natives. Recruiting top players to LSU has not been a problem. Developing that talent, especially on offense, has been the issue.
Athlon's A+ New Coaching Hires
Virginia Tech – Justin Fuente
Replacing a coaching legend like Frank Beamer isn't going to be easy. However, ... Fuente was the engineer behind one of the nation's biggest turnarounds, as he inherited a (Memphis) program that was arguably one of the worst and transformed the Tigers into a team that won 19 games over the past two seasons.
Tulane - Willie Fritz
Fritz doesn't have the national recognition of Mark Richt or Kirby Smart, but Tulane hit a home run by landing the former

Georgia Souther

n

coach. Fritz has been a proven winner throughout his career, with 193 victories over four different stops. ... The American Athletic Donferences West Division is tough ... but Tulane has the right coach in placeto compete with the rest of the division.
Miami – Mark Richt
At most programs, 145 wins in 15 seasons is more than enough to keep your job. But that wasn't the case for Mark Richt in Athens. ...

Georgia

- one of the top five jobs in the nation - made only two appearances in the SEC title game over the last 10 years, and the program lacked forward momentum. A fresh start for both parties was in order, and Richt landed at his alma mater with a chance to get Miami back on track. ... Richt didn't call plays in recent years at

Georgia

but plans to do so at Miami. That's a good thing. But can Richt beat

Florida State

and

Florida

for talent on the recruiting trail on a consistent basis?
Iowa State - Matt Campbell
Iowa State is one of the Big 12's toughest obs, so it was somewhat surprising when the program landed Campbell, one of the nation's top up-and-coming coaches. While winning at a high level ...will be challenging, Campbell noted the fan support and facilities in place as reasons Iowa State can compete with the rest of the Big 12. ... Campbell ... worked as an assistant at Toledo from 2009-11 before he was promoted to head coach ... In four seasons with the Rockets, Campbell recorded a 35-15 mark and guided Toledo to a share of the MAC West title twice. Campbell has already injected energy into the program and landed a solid recruiting class for 2016.
Syracuse – Dino Babers
Syracuse got a much-needed shot in the arm with the hiring of Babers ... The Orange have made only three bowl appearances since 205 and badly missed on the hire of Greg Robinson, which resulted in a major rebuilding project for Doug Marrone. Babers isn't inheriting the same type of mess, but he's got a lot of work to do and will be making a significant scheme change on offense. ... At Bowling Green, Babers went 18-9 in two years and guided the Falcons to consecutive MAC East titles. Babers is regarded for his work on offense ... A high-powered offense in a dome should be an advantage for Syracuse, and Babers should have no trouble recruiting talent to run his attack. This is a great hire for Syracuse.
12 Top Coordinator Hires
Don Brown, DC, Michigan
Dave Aranda, DC, LSU
Les Miles lost Kevin Steele to SEC West rival

Auburn

but rebounded nicely by luring Aranda to LSU with a lucrative three-year contract. Aranda has been a coordinator for six seasons at three schools (Wisconsin, Utah State, and Hawaii), and his defenses have finished first in the conference twice, second twice, third once, and fourth once.
Bob Shoop, DC,

Tennessee

Jeremy Pruitt, DC,

Alabama

Greg Schiano, Co-DC,

Ohio State

Joe Moorhead, OC, Penn State
Brady Hoke, DC, Oregon
Tom Allen, DC, Indiana
Chip Lindsey, OC, Arizona State
Clancy Pendergast, DC, USC
Walt Bell, OC, Maryland
Kevin Clune, DC,

Oregon State
Among the 2016 Breakout Players is Arden Key, DE, LSU.
New coordinator Dave Aranda plans to utilize Key as a hybrid end/linebacker this season. The Georgia native should thrive in that role, as he recorded five sacks and 6.5 tackles for a loss as a true freshman in 2015. Key is already one of the SEC's top pass rushers.
Teams on the Rise
Washington
Nebraska
Tennessee
LSU
Les Miles' LSU Tigers looked abysmal during a three-game, season-defining stretch last November. ... This very nearly got Miles fired and distracted us from the fact that LSU was awfully good the other nine games.
Thanks in part to one of the hardest scedules in the country, LSU finished the season 9-3 but ranked ninth in S&P ... With a kinder schedule, perhaps the young Tigers wouldn't have briefly run out of gas.
LSU wasn't as bad as you thought, and now the Tigers return more of last year's production than anyone in the country. They started only four seniors in the bowl win over

Texas Tech

and lost only two early entries to the draft. They return their Heisman favorite RB, their two deep-threat receivers, four starters on the line and 10 defensive starters. Plus, they likely made an upgrade in defensive coordinators, from Kevin Steele to Dave Aranda.
LSU has plenty of questions left to answer. The QB position has been in flux for a couple of years, and the defense was pretty weak against the run. But if Aranda can shore up the latter, Father Time might help with the former. Brandon Harris actually has some experience this time around. And he still has some murderous skill position weapons around him.
UCLA
Wake Forest
LSU Players on Athlon's Preseason All-America Team
First team offense – RB Leonard Fournette
First team defense – DB Jamal Adams
Second team offense - C Ethan Pocic
Second team defense - DL Arden Key
SEC PICKS
SEC WEST
SEC EAST

Alabama

LSU

Ole Miss

Arkansas

Texas A&M

Auburn
Mississippi State

Tennessee
Georgia

Florida

Kentucky

Vanderbilt

Missouri

South Carolina
LSU's units are ranked within the conference this way:
QB - 3 (ahead of Alabama, 5), RB - 1, WR/TE - 5, OL - 2, DL - 2, LB - 7, DB - 2
The top (low) totals for the conference teams from the unit rankings are:
Alabama

- 14
LSU - 22

Tennessee

- 28

Georgia

- 40

Ole Miss

- 42

Texas A&M

- 48


Florida

- 48
LSU players on Athlon's All-SEC Teams:
1st team offense
RB Leonard Fournette, C Ethan Pocic
1st team defense
DL Arden Key, CB Tra'Davious White, S Jamal Adams
2nd team offense
OL Will Clapp
2nd team defense
LB Kendell Beckwith
Excerpts from full page write-up on LSU
OFFENSE
Fournette will once again buoy a Tigers offense that broke out in a Texas Bowl win against

Texas Tech

but is still searching for a consistent passing game. Fournette will be a workhorse, but returning QB Brandon Harris gets his two leading receivers back - along with a new position coach in Dameyune Craig - in hopes of reinvigorating a stagnant passing attack. ... Harris said offensive coordinator Cam Cameron's move from the press box to the sidelines in the Texas Bowl aided his progression and said it'd be "paramount" to the unit's success this year.
DEFENSE
LSU's third D coordinator in three seasons, Dave Aranda, ushers in a new era bringing a 3-4 alignment ... for the first time in Les Miles' tenure. ... Kendell Beckwith headlines an otherwise thin linebacking corps ...
FINAL ANALYSIS
LSU's offense will need to, once again, refine its passing game and get consistent QB play if the Tigers hope to live up to their lofty preseason expectations.
TOP 100 HIGH SCHOOL SENIORS 2016-17 – Louisiana players
2. Dylan Moses OLB (playing at IMG Academy, Bradenton FL)
15. Tyler Shelvin DT Northside (Lafayette)
56. Todd Harris S Plaquemine
78. Devonta Smith WR Amite
91. Bruce Jordan-Swilling OLB Brother Martin
About This Site
This site is devoted primarily but not exclusively to college and pro football. The unique feature of this site is the publication each fall of the author's rankings of all FBS college football teams and similar rankings for the NFL. I live in New Orleans and am a graduate of LSU and FSU. So I present a Southern and particularly an SEC point of view but one that is reasonably objective. I also publish a monthly Football Magazine with stories from the past and a monthly Baseball Magazine with a similar format. During the winter and spring, there's a monthly Basketball Magazine.
web counter

Hits since 8/3/12

<!END COLUMN ONE>

For Your Reading Pleasure

College Football Preseason Magazines Summaries

Basketball Short Story

I'm Not

Stanley Roberts

.




Tiger

Den Basketball

Season in Time: 2005-06 - NCAA Tournament Round 3




Profile

The Fab Five - V

Basketball Quiz

Colleges Never in NCAA Tournament

Cardinals

Clubhouse

---Four pennants in a row - 1886

---

Cardinals

Quiz

The Ultimate Game

1991 World Series - Game 7




Remarkable Rookie

Boo Ferriss

1945


How Would You Rule? -

Batter Kicks Foul Ball


Baseball Quiz

- First million-dollar-a-year man

Short Story

- "I Decided to Cheat"

Tiger Den

:

Dietzel

and

McClendon

- Episode 1 Part 1

Saints Saga

:

Best and Worst Games

Seminoles Sidelines

: #1 Fan

Profile

:

Bill Walsh

- II

Super Bowl II Short Story: Bobby

and

Doak

- Nearly College Teammates Too

How Well Do You Know the Rules? Football Quiz