Sometime in the summer of 1941, two of the great legends of baseball narrowly missed making a connection that would have radically altered baseball. ...
Lawrence Peter Berra
, a then somewhat stocky, ungainly looking sixteen-year-old Italian-American kid from the "Dago Hill" area of St. Louis, had attracted the attention of the best organization in the National League for a tryout in Sportsman's Park.
Jack Maguire
, a scout for the
St. Louis Cardinals
told his boss, general manager
Branch Rickey
, that
Berra
had a powerful left-handed swing, a great arm, and heaps of potential.
Rickey
wasn't sure; he was more interested in another kid from the Hill,
Joseph Henry Garagiola
, a year younger than
Berra
.
Garagiola
was thought by
Rickey
to be faster, smoother, and more polished.
Dee Walsh
, another
Cardinals
scout, talked
Rickey
into signing
Garagiola
with a $500 bonus, but
Rickey
was skeptical about offering anything at all to
Berra
.
Rickey
had been getting reports on both boys all summer, not just from his scouts but also from two of his outfielders,
Enos Slaughter
and
Terry Moore
, who occasionally showed up to give pointers at the WPA baseball school at Sherman's Park.
Rickey
's initial offer to young
Berra
was a contract - but no bonus. To a boy that age, a professional baseball contract, even without a bonus, was nothing to be scorned. But
Lawrence
, displaying the kind of stubborn integrity that would, in just a few years, stymie the most powerful organization in sports, balked. "In the first place," he would tell sportswriter
Ed Fitzgerald
nearly two decades later, "I knew it was going to be tough enough to convince Mom and Pop that they ought to let me go away. But if
Joey
was getting $500 for it and I wasn't getting anything, they would be sure to think it was a waste of time for me."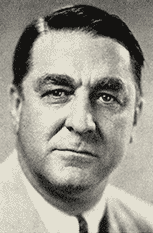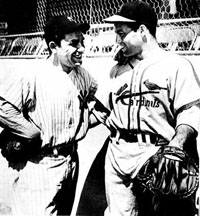 L: Branch Rickey; R: Yogi Berra and Joe Garagiola
Hedging,
Rickey
offered $250.
Branch Rickey
was the most influential executive in baseball - by the end of the decade. It was estimated that nearly 37 percent of all big league players had been developed in one of his farm systems - and
Larry
's brash reply took him aback: "No, I want the same as
Joey
's getting."
Rickey
did not mention to
Berra
how much a month he would be earning under the contract, and
Berra
never asked. "That didn't matter to me. I would have taken anything. All I was interested in was that if
Garagiola
was getting $500, I wanted $500, too,"
Yogi
would later take pains to emphasize that he wasn't jealous of his pal, but he was convinced, from years of sandlot and street games, that he was as good a ballplayer as
Joe
.
Garagiola
disagreed. "
Yogi
wasn't better than me," recalls
Joe
. "He was much better. There were a lot of good ballplayers on the Hill at that time, and '
Lawdy
' - as his friends called him, echoing his mother, who couldn't pronounce
'Larry
' - was the best. ..."
Jack Maguire
argued with his boss, but
Rickey
was intractable:
Berra
would never be more than a Triple-A player. He was too clumsy and too slow,
Rickey
said, to be a genuine big league prospect.
Maguire
never understood
Rickey
's decisions.
Berra
's coaches, and certainly his opponents, did not find him either slow or clumsy, though he often
appeared
to be both. ...
Rickey
had been a catcher himself and was capable of evaluating all body types. He understood that baseball was a game that benefited from all manner of physical tools. Yet,
Rickey
, against the advice of his own scout, would not put out the additional $250 to sign
Larry Berra
. It was the most colossally shortsighted blunder ever made by a baseball executive, surpassing even
Boston Red Sox
owner
Harry Frazee
's dealing
Babe Ruth
to the
Yankees
in 1920 ...
If, that is,
Rickey
's decision was a blunder. In later years, a counterstory would circulate that
Rickey
was actually being shrewd: he knew he wouldn't be with the
Cardinals
much longer, he was preparing to leave the
St. Louis
club for the
Brooklyn Dodgers
, and his real interest was to "hide"
Berra
and sign him for
Brooklyn
.
Joe Garagiola
points out that just a couple of months after the tryout, after
Rickey
had moved to the
Dodgers
, he contacted
Berra
to offer him a contract. "
Rickey
tried to sign
Yogi
after he went to work for the
Dodgers
," says
Joe
. "Why would he have kept a file on him if he hadn't intended to sign him for Brooklyn?"
In his 1961 ... autobiography ...,
Yogi
flat-out denied that
Rickey
had tried to "hide" him. "I've never believed that ... From everything I've heard about him, he's too big a man to do anything like that." ...