| | |
| --- | --- |
| | |
| | |
| | NFL Preview Magazine Summaries |
2019 College Football Preview: Sports Illustrated
Sports Illustrated's Top Ten
Alabama
Clemson

Georgia

Oklahoma
Texas
Ohio State
Notre Dame

LSU

Oregon

Florida
Other SEC teams in the top 25: 13 Texas A&M, 17 Auburn, 20 Mississippi State
Excerpts from the

LSU

article.
THE BIG STORY
After putting up the school's first first 10-win season since 2013, gaining a Fiesta Bowl victory over
UCF
and landing a top five recruiting class, expectations are sky-high in Baton Rouge.
LSU
has 16 starters returning, a stout defense and a potential star at QB in
Joe Burrow
directing a revamped offense that includes playmakers like receiver
Justin Jefferson
. There's one big obstacle:
Alabama
, of course. The
Tigers
haven't beaten the
Tide
in eight years and have lost by a combined 63-10 score the last three seasons.
CAN'T MISS
At the Fiesta Bowl last December, a
high school
player stole the show during
LSU
's practices.
Derek Stingley
, the top-ranked corner nationally in the 2019 class and the No. 3 recruit overall, graduated high school early and participated in the
Tigers
' bowl prep, and with his freakish athleticism he went toe-to-toe with
Tigers
starters on the field.
Stingley
was ineligible to compete in the bowl, but he'll be front and center this season as a lockdown corner and electric return man.
KEY QUESTION
The good news:
LSU
's offensive line returns four starters. The bad: That group allowed more sacks last season (35) than all but 24 CFB teams. Can the unit bounce back? They'll need better play on the line for the new
LSU
offense to fire on all cylinders.
X-FACTOR
LSU
fans have long been waiting for the
Tigers
' offense to advance schematically past the Stone Age and join the spread movement. That moment appears to have arrived. Coach
Ed Orgeron
hired
New Orleans Saints
offensive assistant
Joe Brady
to overhaul an offense that under
Les Miles
and in
Orgeron
's first three seasons was one of the country's most archaic units. (No
LSU
passing offense has cracked the top 50 nationally in six years.) Behind closed doors at spring practice, the offense featured five-receiver sets, no-huddle looks and a frenzied pace. How smooth the transition is under QB
Joe Burrow
will determine if
LSU
can actually have a real shot at upending
Bama
.
By the Numbers
| | |
| --- | --- |
| 7 | Number of new assistant coaches at Alabama after last year's 44-16 loss to Clemson in the CFP final |
| 12 | Starters Alabama has lost to the NFL the last two seasons |
| 2013 | Last season Alabama won fewer than 12 games |
| 1980 | Last year Georgia won the national championship |
| 4 | Consecutive years Oklahoma has won 11 or 12 games. |
| 11 | Takeaways by Oklahoma last season - third fewest in the nation. |
| 3 | Returning defensive starters for Texas |
| 22-4 | Notre Dame's record in its last 26 games |
| 0 | New Year's Six bowl victories by Notre Dame under Brian Kelly |
| 1 | Times Washington has had three straight seasons of double-digits wins - 2016, 2017, and 2018. |
| 6 | NFL draft picks from the Utah defensive line the last five years |
| 75% | Percent of his remaining contract that Auburn must pay Gus Malzahn if they fire him after the 2019 season. |
| 60% | Percent of Wisconsin's rushing yardage gained by RB Jonathan Taylor in 2018. |
| 5 | 200+y games by Taylor in 2018 |
| 1 | Mississippi State's natinal rank in yards-per-play allowed in 2018. |
| 20-18 | Michigan State's record the last three years |
| 1992 | Last time Virginia Tech had a losing season before 2018 |
| 3 | Consecutive seasons Virginia Tech has finished outside the nation's top 50 in scoring |
| 295.1 | Total yards per game of Nebraska's freshman QB Adrian Martinez in 2018, a school record |
Football Short Story
New Orleans Saints Gameday, August 9, 2019
It would be fair to say that Taysom Hill is a "do-it-all" QB for the Saints. But that doesn't necessarily begin to cover one of the most interesting stories in the NFL.
Hill's story began in Pocatello, Idaho where he played QB for Highland High School and was the All-Idaho Player of the Year, Gatorade High School Player of the Year and first-team all-state selection in 2009.
Hill received offers from many schools in the West including Arizona, Boise State, Washington State, Stanford and BYU. He ended up committing to Stanford un­der then-coach Jim Harbaugh but never actually landed on campus. Instead, he decided to fulfill a two-year Mormon mission trip in Australia. ...
When Hill completed the trip, he decided to return home and jump back into his football career at BYU, where the football program was more familiar with athletes serving mission trips than most programs. ...
By his junior season at BYU, Hill was a Heisman Trophy candidate with the likes of Marcus Mariota and Jameis Winston - both are now starting NFL QBs. That sea­son, however, was cut short due to an injury. That was all too familiar for Hill, as four of his five seasons at BYU ended in injuries - a knee injury, a broken fibula, a foot fracture and an elbow strain. What got Hill through all those injuries? ... Hill would go back to advice he received from Harbaugh, who he stayed in contact with after the recruiting process.
"He shared with me an experience that he had when he was playing at Michigan where he had just broken his arm his junior year and wasn't able to play and com­pete," Hill said. Harbaugh told Hill that the best way to fill the void of not being able to play football was to compete in something else.
"I went and competed in the classroom," Hill said. "That filled the void mentally and emotionally of where I was feeling like I was still contributing to Taysom Hill the person, as well as rehabbing and getting back and ready for the next season, which was also contributing to Taysom Hill the football player. ..." Hill ended up gradua­ting from BYU with a degree in finance. ...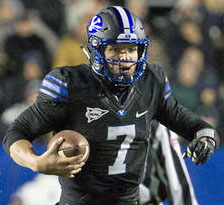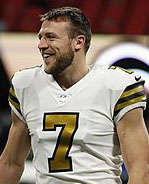 L-R: Taysom Hill with
BYU
and Saints and blocking punt against
Bucs
The Packers brought Hill to training camp in 2017 as an undrafted free agent. The coaches quickly liked what they saw and planned to sign him to their practice squad after preseason. Meanwhile, Sean Payton had been studying film on Green Bay WR Max McCaffery. He then noticed the person that was throwing the ball to McCaffe­ry. He was intrigued.
Not too long after that, the Saints picked up Hill off of waivers and he was in New Orleans. "There was no grace period," Hill said.
He found out that Saturday that the Saints had picked him up, he flew to New Or­leans on Sunday and was out practicing on Monday before the 2017 regular season opener against the Vikings.
His experience in New Orleans was culture shock compared to what he was used to in Idaho. But one thing stood out to him: "The city was unique, the people were unique and I felt the love for the Saints the second that I got to New Orleans," he said.
Hill was trying to learn as much as he could from QBs Drew Brees and Chase Dan­iel ... "I was just trying to do the best I could and trying to catch up and learn the system," Hill said. ... Hill's career took a fascinating turn late in the 2017 season when then-Special Teams Coach Mike Westhoff needed a player to cover kick re­turns. Hill was that guy.
In his career up to that point, Hill had done a lot of things. In high school he played WR, RB while also serving as the punter/kicker. Hill grew up a multi-sport athlete. He ran track, competing in the long jump and 200-meter run. But covering a kickoff in the NFL? That was a new one.
"When the special teams coaches came to me and they had this experiment of put­ting me on special teams, it was a whole other ballgame where I went through that experience all over again of trying to learn a new system and new positions that were so foreign to me," Hill said.
Hill worked with secondary coach Aaron Glenn on tackling drills, all while still wear­ing his red non-contact jersey, the week before he would take his first shot at playing special teams.
In his NFL regular season debut against the Panthers, Hill picked up two tackles and came close to blocking two punts. Payton gave Hill the special teams game ball following the win.
Payton continued to new ways to use Hill last season, which his stat line attests to: 3-for-7 passing with 64y, 37 rushing attempts for 196y, three receptions, 14 kick returns for 348y, six special teams stops and a blocked punt.
His first kick return was a 47-yarder against the Browns. The following week against the Falcons, he returned three kicks for 64y, made a tackle on special teams, was used as a TE to block and even ran the ball three times for 39y. Hill scored his first TD against the Redskins ...
Hill picked up the NFC Special Teams Player of the Week honor when he blocked a punt against the Buccaneers that led to the Saints comeback victory and clinched the division title. He was also a key part in the Saints NFC Divisional Playoff win against the Eagles. New Orleans was down by 14 points at the start of the second quarter when Payton called a fake punt on fourth down using the team's "secret weapon." Hill was able to get the first down, which ultimately sparked the comeback.
During this year's training camp, Hill could still be seen practicing with special teams covering kicks and working on his tackling drills, but Payton is seeing his progress as a QB. Payton raves about Hill's abilities as a leader and a teammate and says his grasp of the offense is continuing to increase.
For now, Hill will take any opportunity he can to get on the field. He might not have the starting QB position that he would like, but he's still been able to compete and throw himself in a role where he is successful. ...
"I had zero expectation that my career would go this way in the NFL," Hill said. ... I've always been a competitor. I've always loved being on the field and competing. I have had so much fun being able to get on the field, be in the huddle with Drew ... And it's been a really unique experience."
So, what exactly is Hill? You could call him a "do-it-all" player. Maybe even a swiss-army-knife type of guy. I would be fair to call him all those things. To Hill, he is and always will just be a QB.
"It's really been a fun experience for me," Hill said. "I couldn't ask for anything more."
2019 College Football Preview: Phil Steele
Steele's Top Ten
Alabama
Clemson
Michigan
Georgia
Oklahoma
Ohio State

LSU

Utah
Notre Dame

Florida
SEC teams in the top 25: 17 Texas A&M, 18 Auburn, 24 Mississippi State
Summary of #7 LSU:
"The Tigers were inexperienced, played a killer schedule, and came in just #25 with low expectations. They upset Miami, Auburn, and Georgia and finished 10-3 and #6. This year expectations are high and my Power Poll rates them the #4 team. LSU does have to travel to both Texas and Alabama. LSU has my #2 rated defense in the country and Joe Burrow will guide a much more potent offense. We have seen what Ed Orgeron can do with low expectations. Can they live up to 2019's larger expectations?"
SEC PICKS
SEC WEST
SEC EAST

Alabama

LSU

Texas A&M

Auburn

Mississippi State

Ole Miss

Arkansas

Georgia

Florida

Missouri

South Carolina
Tennessee

Kentucky

Vanderbilt
LSU Unit Rankings
QB - 4, RB - 3, REC - 3, OL - 4, DL - 3, LB - 2, DB - 1, ST - 10
LSU is projected to have the #2 yards per game differential offense/defense in the SEC (behind Alabama) and the #3 points per game differential (behind Alabama and Georgia).
LSU players on Steele's All-SEC Teams:
1st team defense
LB Jacob Phillips, CB Kristian Fulton, S Grant Delpit
1st team special team
LS Blake Ferguson
2nd team offense
WR Justin Jefferson
2nd team defense
DL Rashard Lawrence, LB Michael Divinity
3rd team offense
QB Joe Burrow, OL Damien Lewis
3rd team defense
LB Patrick Queen
3rd team special team
P Zach Von Rosenberg
4th team defense
DB Derek Stingley
National ranking for LSU's units:
QB 21, RB 25, Rec 10, OL 11, DL 6, LB 3, DB 1
Special teams not in top 57
Top Draft Eligible Players for 2020:
Joe Burrow #15 QB, Stephen Sullivan #17 TE, Lloyd Cushenberry #24 C, Ed Ingram #25 G, Saahdiq Charles #14 T, Breiden Fehoko #60 DE, Glen Logan #14 DT, Patrick Queen #3 OLB, K'Lavon Chaisson #5 OLB, Zach Von Rosenberg #6 P, Grant Delpit #1 SS, Blake Ferguson #3 LS
LSU had the #8 toughest schedule in 2018
Based on opponents' winning % from 2018, LSU has the #4 toughest 2019 schedule.
Based on 2019 projection, Steele ranks LSU's scheduled as sixth toughest.
On Steele's Experience Chart, LSU ranks #1 in the SEC
Based on a points system for All-Conference players returning and lost, LSU ranks #6 in the SEC.
In Steele's Power Ratings (not the same as his projected Top 40, which takes into account of schedule strength), LSU is #3 in the SEC behind Alabama and Georgia and #4 overall (with Clemson also ahead of them).
Not surprisingly, Steele ranks the SEC as the toughest conference for 2019 after they finished toughest in 2018.
Bowl Projection: LSU vs Oklahoma in the Sugar Bowl
Excerpts from the

LSU

article.
Position Outlook for 2019
QBs: The
Tigers
installed new RPO's in the offseason and
Orgeron
wants more QB runs.
Brennan
will see more action but
Burrow
is not an experienced starter. This position is much improved and
Burrow
is no longer just a game manager so we will call for him to take a big step.
RBs:
LSU
should have a 7th straight 1,000y rusher and this unit is in much better shape despite losing their top guy.
Receivers: Last year
LSU
lost their top two two ... This year the top five return.
O-Line: With better health, this should be the most improved unit on the team.
LBs: They could be just as good even without their star [
Devin White
] as they have more experienced depth.
DBs: This is our #1 secondary in the nation.
Special Teams: They lose K
Tracy
but
Connor Culp
was 11-16 fg's in '17 and will compete with true frosh
Cade York
and this unit remains strong.
Phil's Forecast
Offense: LSU has 8 starters back and QB Burrow improved weekly. My computer is calling for a large jump this year to 37.1 ppg.
Defense: This year eight starters are back and they will be among the nation's best.
2019: LSU has a top 10 offense and defense and my Power Poll has them the #4 team in the country so they are a legitimate national title contender.
13

Consecutive home openers that

LSU

has won, winning by average score of 42-9

32-1

LSU

's record against current CUSA foes (loss to Troy in 2017).

1954

Last time

LSU

played

Texas

in Austin

30

Consecutive victories by

LSU

over in-state opponents

16-3

Record of the home teams in the last 19 meetings between

LSU

and

Auburn

16-4

LSU

's record against SEC East teams since 2004

9
Consecutive games against Alabama in which

LSU

has been held to 17 or fewer points
Merkle's "Bonehead" Play
This series of articles covers crucial games in the 1908 National League pennant race involving the

Giants

, Cubs, and Pirates. But first, an innocuous letter to the editor.
July 19, 1908: "Inquisitive Fans," a column of letters to the sports editor each Sunday in the Chicago Tribune
In the last half of the ninth, with the score tied, two men out and a runner on third, the batter hits to left and the runner scores. The batter, seeing the runner score, stops between home and first. The ball is throw to first baseman, who touches his base before the runner reaches it. Can runner score on this? Joseph Rupp, Chicago
Answer: No. Run cannot score when third out is made before reaching first base.
Controversy in Pittsburgh
I. E. Sanborn, Chicago Tribune

Pittsburgh, Sept. 4 - In a magnificently pitched battle the

Cubs

received the short end of a 1 to 0 verdict in ten innings.

But there is an outside chance that the defeat will be wiped out and the

Cubs

and

Pirates

ordered to do it all over again on the strength of a protest which the

Cub

management will file with [National League President

Pulliam

. ...

Manager

Clarke

opened the

Pittsburgh

tenth with a single.

Leach

sacrificed him to second.

Wagner

then bounded a fast one toward right field.

Evers

almost made a brilliant stop but could only check the force of the ball enough to hold

Clarke

at third.

Gill

, a late recruit from the minors, was next and

Brown

soaked him in the slats with a curve, filling the bases with one out.

Abby

was then struck out.

Wilson

... was next and what did this recent graduate from the minors do but soak the first ball

Brown

pitched on the nose. It went like a shot past

Evers

, landing safely in short center, and

Clarke

scored the winning run.

Everybody thought it was over and started for the clubhouse. That everybody included First Baseman

Gill

and

O'Day

, and thereby hangs the protest.

Gill

ran halfway to sec-

ond base and as soon as he saw the hit fall safely, he returned to the Pirates' bench. He did not go within 30 feet of second base at any time.
Evers, seeing Gill's break for the bench, yelled for Slagle to throw the ball. Jimmy did and Evers touched second base with it, then wheeled to claim a force out, only to see Umpire O'Day making fast tracks for an exit with his back turned completely to what had been pulled off. Evers made his claim for the out, which retired the side and consequently wiped out Clarke's run, but the veteran umpire remarked: "Clarke was over the plate, so his run counted anyway."
If O'Day [the lone umpire for the game] had watched the finish of that base hit and had seen what really came off, he could not have decided otherwise than in Chicago's favor, ruling out Clarke's run and leaving the score tied at 0 to 0. Everyone knows no run can count if the third out is made before the batsman reaches first, or if the third man out is forced out. Gill hadn't touched second base yet, and so Clarke's run could not have scored but for the fact O'Day took it for granted the game was over when Wilson's hit landed safe.
| | | |
| --- | --- | --- |
| Fred Clarke | Johnny Evers | Hank O'Day |
New York Globe, September 9
President Pulliam has thrown out the Chicago club's protest of last Friday's game in Pittsburgh, and the 1 to 0 victory of Pittsburgh will stand. Chicago had affidavits of all kinds submitted by the Chicago club, but he and Chicago held that the game was fairly won, and that Chicago's kick was far-fetched. The Cubs couldn't prove their contention, so Mr. Pulliam backed up his umpire.
"I think the baseball public prefers to see games settled on the field and not in this office," said Pulliam.
More Controversy
September 24, New York Herald

Rioting and wild disorder, in which spectators and players joined, causing a scene never witnessed in New York before, marked the conclusion at the Polo Grounds yesterday of the game between the

Giants

and

Cubs

. By cleverness in seeing an opportunity to deprive the

Giants

of their final and deciding run and quickness in seizing it, the

Cubs

had forced the umpire,

Henry O'Day

, to declare the game a tie, after half of the spectators had gone home in the belief that

New York

had won 2 to 1, and many of the

New York

players had left the field.

Through what appeared to be the carelessness of a single player,

Merkle

, in leaving first base after

Bridwell

's winning run had been scored and retiring from the field without touching second base and with the ball still in play, the final score as it stood last night was 1 to 1 instead of a victory for the home team.

In the fight between members of the opposing nines for the possession of the ball and the efforts of spectators, who rushed upon the field, to prevent the

Chicago

players from enjoying the fruits of their quick-wittedness, several players and the umpire were roughly handled and more or less severely hurt. Efforts of special policemen to clear the grounds were unavailing, and it took the regular policemen, called in from the outside, half an hour to quell the disturbance.

No similar situation had ever been seen in the history of baseball in New York, When the eighth inning came to a close the score was 1 to 1, and the 20,000 enthusiasts that filled the grandstand and bleachers to overflowing were "rooting" for the

Giants

with desperate hope.

Chicago

failed to score in the first half of the ninth, and in the last half

Bridwell

went to bat with

McCormick

on third base and

Merkle

, who had replaced

Tenney

, on first.

Bridwell

made a clean hit over second base.

McCormick

raced home ... and there seemed nothing else to do but go home cheering. That is what most of the players did, and that, according to the decision rendered later by

O'Day

, is what young

Mr. Merkle

, the runner on first base, did. That little oversight of

Merkle

's gave

Chicago

their chance.

The runner had been forced off first by

Bridwell

's hit. The ball was in centerfield.

Hofman

, covering that position, saw

Merkle

leave first base and saunter toward the clubhouse. He threw the ball to

Evers

, on second, but it went wild and [

Giants

P]

McGinnity

caught it. He had seen the opening left by

Merkle

's mistake as quickly as the

Chicagoans

, and had rushed out from the coaching lines to take a hand in the pro­ceedings.

With the ball in his hand,

McGinnity

also started for the clubhouse. [

Cubs

manager]

Frank Chance

got into action at this point and succeeded in holding

McGinnity

until other

Chicago

players could join in the effort to recover the ball.

McGinnity

, overpowered,

threw the ball as far as he could into the crowd behind third base, the spectators having already begun to pile into the field.

Steinfeldt

and

Tinker

followed the ball into the crowd.

Tinker

seized it and threw to

Evers

, who stood proudly on second base holding the ball aloft, while

O'Day

, who had run down to second to see the play, was immediately surrounded by

Chicago

players.

Chance

ran to

O'Day

, claiming the run did not count because

Merkle

had been forced at second. A riotous mob at once surrounded the couple, and although most did not know what it was all about everyone evidently recognized a good opportunity to get a shot at the umpire. Those within reach began pounding him on all available exposed parts not covered by the protector, while the unfortunate attackers on the outskirts began sending messages by way of cushions, newspapers, and other missiles.

A flying squadron of real police, reinforced by the special men, rushed

O'Day

to

McGraw

's coop under the grandstand and

Chance

was escorted off the field. Then the mob ran about the grounds throwing cushions and generally preparing for

O'Day

's reappearance, when it was made known that the game might not be given to the

Giants

. The police cleared the grounds and order was restored.

O'Day

, under the press of circumstances, did not render a decision on the field, but after he had dressed he told a reporter of the

Herald

that

Merkle

had not gone to second and the run did not count. He said a run could not be tallied on the third out if the man was forced and put out at second.

Merkle

said after the game that he had touched second en route for the clubhouse, and

McGraw

refused to say any more than that the game had been won fairly.

O'Day

seemed very uncertain as to what he should do and was a long time coming to a decision, and when he did he seemed uncertain as to its justification. Should he report the game to President

Pulliam

as a tie the

New York

club will protest, for there was ample police protection on the grounds to clear the field and continue the contest.

The decision was really

Emslie

's, who was officiating on the bases, but he says he did not see the play, as he was watching first base, and

O'Day

had run out into the pitcher's box prepared to watch it.

The same situation arose in Pittsburgh on September 4 ... [

See article above.

]

Mr.

Pulliam

could not be seen last night up to a late hour, and he made no decision in the matter, but he gave out the following statement: "I made no decision in the matter, and I will not do so until it is presented to me in proper form." ... Last night he was closeted at the New York Athletic Club with

O'Day

and

Emslie

, and until he renders a decision the game stands on the umpires' decision that

Merkle

was forced at second.
New York
Evening Mail
, September 24
"If,"
Christy Mathewson
said, "this game goes to
Chicago
by any trick of argument, you can take it from me that if we lose the pennant thereby, I will never play profes­sional baseball again.
"I had started for the clubhouse when I heard
Chance
call to
Hofman
to throw the ball to second. I remembered the trick they had tried to play on
Pittsburgh
and caught
Merkle
by the arm and told him to go to second.
Merkle
touched the bag. I saw him do it."
New York
Times
, September 25
President
Pulliam
supported Umpires
O'Day
and
Emslie
and declared Wednesday's game a 1 to 1 tie. As neither club has an open date the tie contest will not be played off.
The end of the controversy, however, is not yet in sight, as [
Giants
] President
Brush
has served notice that he will appeal from the ruling, while [
Cubs
] President
Murphy
claims the game by forfeit, 9 to 0, owing to the fact that the
New York
team was not at the Polo Grounds yesterday at 1:30 to play off the tie game.
Cincinnati Enquirer, October 7
After two days of deliberation the National League Board of Directors reached a conclu­sion yesterday afternoon in the matter of the disputed game of September 23. The directors upheld the decision of the umpires and of President Harry C. Pulliam and declared the game a tie. They ordered it to be played off at the Polo Grounds tomorrow afternoon, or as soon thereafter as the weather will permit. Though the decision stretches the league constitution slightly, by extending the season beyond the date set by the regular schedule, the directors felt it was no more than fair to both clubs that this important contest be played off, and in this decision they have the baseball public with them.
About This Site
This site is devoted primarily but not exclusively to college and pro football. The unique feature of this site is the publication each fall of the author's rankings of all FBS college football teams and similar rankings for the NFL. I live in New Orleans and am a graduate of LSU and FSU. So I present a Southern and particularly an SEC point of view but one that is reasonably objective. I also publish a monthly Football Magazine with stories from the past and a monthly Baseball Magazine with a similar format. During the winter and spring, there's a monthly Basketball Magazine.
web counter

Hits since 8/3/12

<!END COLUMN ONE>

For Your Reading Pleasure

Tiger Den:

1935

Arkansas

Game


Saints Saga

: First Victory

Seminoles Sidelines

: From the Archives - Birth of the Fast Break

Offense

Super Bowl XIII

-

Cowboys

vs

Steelers Football Profile

:

John Heisman
Short Story

: "The

Johnny Bright

Case"

How Well Do You Know the Rules? Football Quiz

Cardinals

Clubhouse

: Season in Time - 1934: May-June

Memorable Game

- 1919 World Series Game 3

Odd Baseball Facts:

Baseball Hall of Famer who played

football and vice-versa


How Would You Rule? -

Fly ball bounces over the fence off LF's head


Baseball Quiz

- Rookie record holders

Short Story

-

Gehrig

's Streak Ends