The NFC Central was created on November 30, 1966, when the NFL split into four divisions for the first time ... The division had the two most recognizable coaches in
George Halas
and
Vince Lombardi
.
Halas
had been around since the inception of the
Bears
as an owner, player and coach. To many it seemed as if no major decisions in the NFL were made without the approval of the
Papa Bear
.
"We were playing the
Bears
at Wrigley Field and there was snow all over the field and everyplace," recalled former
Lions
MLB and Hall of Famer
Joe Schmidt
.
"We lost the game 3-0. We're skating around there and (
Chicago
halfback)
Willie Galimore
is running all over the place. So I tackle him one time and I just happened to look at his shoes and he had his cleats off; he just had the iron pegs. So I jumped up and called timeout and called the official over and told him this is illegal, that he can't have this. So he got up and ran off the field. I said, 'I want to show you this and he's standing behind
Halas
.'
"The official says,
'George
, we want to see
Galimore
's shoes, and
George
says his shoes are OK. I said bullshit he's got his cleats off and he's running all over the place. I said dammit these shoes are illegal and
George
says, 'I want to tell you guys his shoes are OK and both of you guys better get the hell out there and get the game going out there.'
"The official says, 'Come on, kid, let's go. I'm not going to argue with him.'"
Schmidt
chuckled as he told the story. "
George
carried so much weight that he practically could convince everybody what to do and how to do it."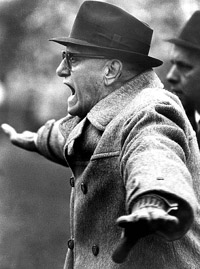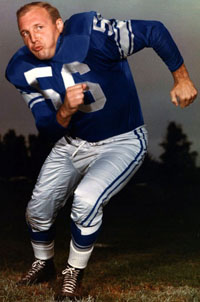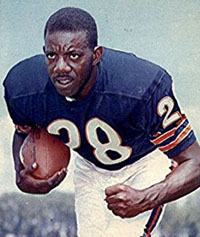 L-R: George Halas, Joe Schmidt, Willie Galimore
Dave Robinson
, the former
Packer
, recalled hearing stories that
Halas
owned an apartment building that overlooked Wrigley and he would be up on the top floor on a Saturday before the game spying on the workout of the next day's opponents. "There was always that rumor that
George
would be up there with binoculars, watching us," said
Robinson
with a chuckle. "
Vince
would put his trick plays in Saturday practice just for
George
. Football was fun in those days. The word was that at one time
George
offered one thousand dollars for one
Green Bay Packers
play and
Vince
said, 'Hell, for a thousand dollars I'd send him one.' Stuff like that went on all the time."
What also went on was a style of football loved by purists and played by people who gave every ounce of blood and sweat they had. The only thing that could get
Nitschke
and
Butkus
off the field was a stretcher.
Bill Brown
and
Dave Osborn
, the running back tandem for the
Vikings
, would rather run through people than around them.
Joe Kapp
, the QB on the
Vikings
' first Super Bowl team, was the same way. It was the mindset of that team, of the entire division.
"We had a guy by the name of
Bobby Bryant
who was our corner," said
Wally Hilgenberg
, who started in all four Super Bowls for
Minnesota
. "
Bobby
was about six-foot one and 167 pounds and I can tell you that on two different occasions after he made a tackle he came over to me and said,
'Wally
, my shoulder's out, put it back in.' And his shoulder was literally dislocated and I would jerk on it, pull down and it would pop back in. He would never leave the field. Today these guys get a little ding and they don't want to play for two weeks." ...
Hilgenberg
... was an All-American LB. "My brother was an assistant coach at the
University of Iowa
when I was playing for the
Hawkeyes
," said
Hilgenberg
. "The summer of my rookie year I went to the college all-star football game. The night before the game my brother and I were talking on the telephone, talking about the all-stars, the 1964 All-Stars playing the 1963 World Champion
Chicago Bears
."
During the conversation
Hilgenberg
was told by his brother to make sure that he opened up the game with a good lick on the player lined up opposite him.
"I'm playing LLB and we lose the toss and we kick off and the ball is on about the 30-yard line,"
Hilgenberg
recalled. "The
Bears
come out of the huddle strong on my side and number 89 (
Mike Ditka
) walks to the line of scrimmage. I'm this rookie LB and just before the snap, I kind of drop my shoulder a little bit and as soon as the ball was snapped I threw a forearm, hit him on the chin. I knocked his head right straight back, really hit him hard.
"He just stood there after I hit him and grabbed me and pulled me in and looked straight at me and said, 'You want to play rough, huh, rookie?' And I said to myself, 'Oh, no, I just made him mad.' He kicked my butt the whole game. It had been the biggest battle ever in my life up until that time, and it was funny. I knew after the game I had got my butt kicked. After the game he came up and said, 'You did a good job, kid. I'll see you around. You'll make it in this league.'
"Well, it was just a real encouragement to me. I knew he didn't have to tell me that."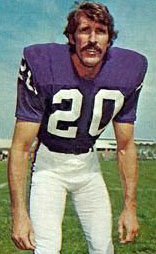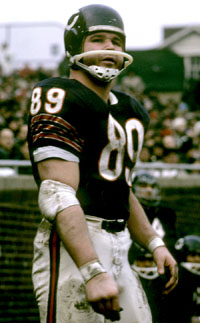 L-R: Bobby Bryant, Wally Hilgenberg, Mike Ditka