Next inning I saw
Craft
going back to his hip pocket with his right hand, so I called time and ran out to the pitcher's box.
Craft
was standing there looking at me with his hands down at his side to see what I was going to do. I went behind him, reached into his pocket and brought out a long piece of licorice, such as small boys chew.
I said to
Craft
: "You're out of the game," and turned and started for the plate. Just as I got to the plate,
Craft
had come up behind me. He grabbed me around the neck, and he was not trying to pet me, either. I was so surprised I could do nothing for a minute, but I finally managed to jerk loose.
I maneuvered until I was backed up against the backstop and was swinging my mask at his head, as he kept coming in and mixing it with me. By this time, four or five players crowded around and stopped the fight.
Larry Gilbert
put in another pitcher, and the game was finished.
A crowd milled around the dressing room after the game, but I was not harmed. They all thought
Craft
had tobacco in his pocket and was just reaching for a chew; but I knew better and, besides, had the licorice. I sent it into
President Martin
with my report.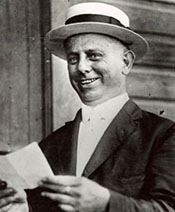 Jules Heinemann and the stadium that was named for him
It was in Heinemann Park, August 27, 1927, that one of the longest nine inning games on record was played, and one of the worst fights occurred that I ever saw on any ball field. There were 15,411 people in the park. Some 2,000 broke down the gates after they had been closed by order of
President Martin
, who was there to see the game, and rushed in.
Along in the middle of the game,
Ray Gardner
,
New Orleans
shortstop, was at bat.
Hollis McLaughlin
, the
Birmingham
pitcher, threw one so close to
Gardner
's head that
Gardner
took it for a bean ball. In a flash
Gardner
lost his temper and sailed out after
McLaughlin
.
Pel Ballenger
, the
Birmingham
third baseman, rushed over to help
Mac
. They be­gan to mix it up on the mound, and
Joe Sonnenberg
, a police captain who was at the game in civilian clothes, came out of the grandstand on the run to stop the fight.
Max Rosenfeld
,
Birmingham
second baseman, thought
Sonnenberg
was a fan and met him with a solid lick to the jaw. It was a fast, furious battle while it lasted, but the bluecoats stopped it and took
Rosenfeld
off to jail.
Umpires
Brennan
and
Shannon
and I, who were handling the game, told
President Heinemann
that we would not allow the game to be resumed until he got
Rosenfeld
out of jail, since the player had hit the police captain through a mistake. It took two hours to get
Rosenfeld
back from jail, and then we resumed play where we had left off.
The final score was 25 to 16 in favor of
New Orleans
. Fifteen two-base hits were made in all. The elapsed time from start to finish was 4 hours and 10 minutes.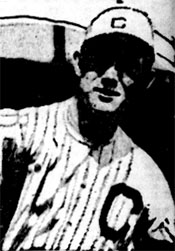 Late in the 1925 race
Atlanta
was playing in New Orleans. The game was close, and "
Red" Torkel­son
, usually an easy-going sort of player, was at bat. A good strike came over and I called it.
Red
turned around and said: "
Steamboat
, that ball was not over the plate."
"It was," I said.
Red
stepped out of the box and began calling me everything he could think of, and
Red
had an ac­tive mind.
"Out you go,
Red
," I said.
"You can't put me out," he said.
"But you already have been out for a long time," I said, and so out he walked.
Then
Buddy Rezza
came to bat, and he took up where
Red
left off, looking back and talking to me. I told him: "It will cost you less to look at the pitcher than at me."
Well,
Buddy
stepped out of the box and talked himself out of the game. That made two in all, and I knew I was in for it.
On my way to the dressing room I got a pop-bottle shower. The police rallied around and took the bottle shower, too, just to see that I got safely off the field. The crowd waited for me outside the park, so Superintendent of Police
, since deceased, took me down to the police station in his car and several hours later took me to the Hotel Monteleone where the umpires were stopping.