The spring of 1910 would be noteworthy for
Branch Rickey
... He had been hired as the
University of Michigan
's new baseball coach. ... When
Rickey
learned of the baseball opening, he sprang into action. He wrote about sixty of his onetime associates in the college and professional baseball ranks, asking for letters of recommendation.
Rickey
carefully orchestrated the requests so that every day, two of the letters in his behalf arrived at the office of
Michigan
athletic director
Philip Bartelme
. The admin­istrator did not know that a former Major League baseball player was on campus, but when he met the applicant, he was immediately impressed with his passion for the game and his principled views on the proper role of athletics on a college campus. ...
Eager to hire the earnest barrister-in-training, the administrator faced the hurdle of convincing law school dean
Harry Hutchins
that
Rickey
could handle his huge course load and coach a varsity team. After a two-hour, face-to-face meeting with the applicant, the dean reluctantly gave his consent on the condition that
Rickey
must be called on to answer questions every day in each of his law classes. ...
When
Bartelme
got the official word of the dean's approval, he called
Rickey
into his office with the good news. However, he made one earnest request of his new employee. "Stop sending me those darned letters!" ...
[The previous coach] had left
Rickey
an inexperienced but eager team, and
Rickey
rolled up his sleeves and went to work at educating them in the art and science of baseball. He taught his charges the proper way to run and to bunt. He instructed the catchers [
Rickey
's position in the majors] in the right technique of removing the mask on pop-ups so as to not to trip over it while locating the ball. At
Michigan
he also came up with the idea for what has become one of the most commonly used defensive strategies in baseball, "the daylight play." Designed to keep runners from taking too big a lead off second base, the strategy involved the pitcher whirling to second base on a pick-off attempt when he saw "daylight" between an unsuspecting base runner and a shortstop breaking to cover the base. Always interested in helpful technical innovations,
Rickey
also came up with the idea of sliding pits filled with sand to teach the players how to slide on each leg. ...
Not only did
Rickey
's first baseball season as
Michigan
coach end successfully, but he also continued to pile up good grades in law school. ...
The word about
Rickey
's coaching and baseball lecturing abilities was beginning to spread. Occa­sionally, on off days from the American League pennant race,
Detroit Tigers
players, scouts, and coaches came to Ann Arbor to sit it on
Branch Rickey
's practices and listen to his practical and inspirational instruction. At other times
Rickey
would take his players to Detroit to watch the gifted play of outfielders
Ty Cobb
and
Sam Crawford
, two future Hall of Famers, and other stalwarts on the
Tigers
...
Rickey
resumed his coaching duties at
Michigan
before the 1912 season started. ... One morning in late March, a tall, gangly, quiet left-handed pitcher appeared at the indoor practice session at the gymnasium and wanted to know if he could try out for the team. He said that his name was
George Sisler
, and he was a freshman from Manchester, Ohio, studying mechanical engineering. "Oh, a freshman,"
Rickey
said. "Too bad. You can't play this year. This inside work is only for the varsity." ...
Rickey
's captain ... came over and told the coach that
Sisler
had set outstanding high school records in Ohio. Never liking to give bad news to anyone,
Rickey
consented to take a look at the freshman. ... A one-minute workout was all
Rickey
needed to appreciate what kind of jewel was sparkling on his coaching field. "This boy was something in grace and delivery from the very first pitch,"
Rickey
wrote in
The American Diamond
. Although, as a freshman,
Sisler
could not play for the varsity,
Rickey
allowed him to work out with the team in the indoor drills. Restricted to throwing only fastballs,
Sisler
embar­rassed the varsity with the speed and movement of his pitches. "He was a major league pitcher right then!"
Rickey
marveled. ...
Sisler
's baseball exploits led local sportswriters to dub him "the boy wonder," and professional scouts started to flock to his summer industrial league games. ... Sometime between
Sisler
's junior and senior years in high school, ... a scout, acting in behalf of ... the
Akron
team in the Ohio-Penn­sylvania League, had offered a professional contract to the heralded prospect. Though
Sisler
accep­ted no money he did sign the contract. The young player soon began to have second thoughts about his action and the impact it would have on his amateur eligibility. He was concerned his father would be very upset that his son might forgo his education for the transitory pleasures of the sporting life. ...
What
Sisler
did not know was that his contract had been shifted from
Akron
to
Columbus
, Ohio, in the American Association and had been purchased in early 1912 for $5,000 by
Pittsburgh Pirates
owner
Barney Dreyfuss
. By the summer of 1912 the astute and powerful
Dreyfuss
was ready to raise a ruckus ... If
Sister
did not report, he would be placed on the "permanently ineligible" list of profes­sional baseball. ...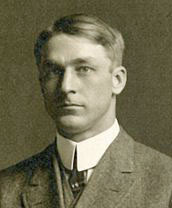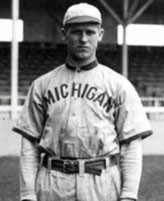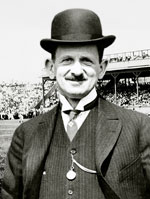 L-R: Branch Rickey 1912; George Sisler; Barney Dreyfuss
Rickey
was keeping close watch on the
Sisler
case. ... In August 1912
Dreyfuss
went public with his demand that
Sisler
report to
Pittsburgh
.
Dreyfuss
's argument was simple: he had paid the
Colum­bus
franchise $5,000 for
Sisler
's contract earlier in the year, and it was time to claim his property.
Sisler
's amateur eligibililty at
Michigan
was, of course, no concern for
Dreyfuss
.
Sportswriters ... warned
Sisler
that he risked being blacklisted if he refused to report to
Pittsburgh
. ... The young
Michigan
student-athlete was, of course, disturbed at the threat to his college eligibility, but he had many important people in his corner. His father ... wrote the National Commission, the gover­ning authority of Major League Baseball, explaining that his son was "a bashful, backward boy" who had been influenced by the flattery of the sout and had signed something that he did not "in any way understand." ... A trustee of the
University of Michigan
... wrote the Commission that
Sisler
was a student in good standing who had every reason to return to and play for the university. Last but not least
Branch Rickey
submitted a stirring defense of
Sisler
's blamelessness. ...
After tens of thousands of words were filed in the dispute, the Commission withheld judgment, in effect freeing the player to complete his college career.
Barney Dreyfuss
still claimed his rights to
Sisler
, and when the star player graduated in 1915, the case would arise once more. When
Dreyfuss
lost again it was the beginning of the end of the National Commission as baseball's governing body. That
Sisler
wound up going to play for
Branch Rickey
and the
St. Louis Browns
only rubbed more salt in
Dreyfuss
's wounds.