Alfred Surratt
would never tell where, along the way, he was dubbed "
Slick
." It was a
Kansas City Monarchs
thing, a Negro Leagues thing, a baseball thing. Brothers to the core, the men of the
Monarchs
kept one another's confidences, watched one another's backs, mourned team­mates' losses and failed dreams, and cheered on their brothers' achievements.
Never were the cheers louder, said
Slick Surratt
, than on April 11, 1947, the day
Branch Rickey
and the
Brooklyn Dodgers
signed
Jackie Robinson
, a one-time
Monarch
, to a major league contract. ...
The joy within the black baseball community was palpable. The destruction of segregation within Major League Baseball was at hand. Four days later, on April 15, 1947,
Robinson
would debut with the
Dodgers
, his first step onto Ebbets Field in Brooklyn tromping out the National Past­time's odious color barrier forever.
As we all now know, it wasn't just singing on to be a baseball player. Those opposed to integra­tion would push back, virulently, viciously, unrelentingly.
Robinson
, a former Army officer and one of the greatest ahtletes to come out of
UCLA
, was about to meet his great opponent: Jim Crow. And he would be asked to do so pretty much on his own. One black man against a nation in which large swaths were steeped in segregationist policies.
Raised in California,
Robinson
and his bride would be asked to step into hostile territory where racism ws not only codified by gentlemen's agreements, but mandated by law. The ugly cultural divide they were about to experience was not only enforced by men wearing badges, but also by nightriders hidden beneath hoods and wearing sheets.
The
Dodgers
and
Robinson
, daring to change in 1947 what legislatures, Congress and presi­dents had failed to do ..., knew both the risks and the responsibilities. Yet the man who carried the hopes of so many
Slick Surratts
,
Hank Aarons
, and
Willie Mayses
, never shirked. Incredibly,
Robinson
not only authored one of the most impressive inaugural seasons the game had ever seen, he also gave lessons in heroism each and every day he stepped onto a major league field.
For the record, the first time
Robinson
stepped on such a field was on that April 15 in 1947; the 28-year-old debuted against the
Boston Braves
before more than 25,000 fans at Ebbets Field. He played first base and went 0-for-3 at the plate. 155 games later,
Robinson
had authored the first chapter of what was destined to be a Hall of Fame career.
Likely no other player ever traveled quite so treacherous a path to the Hall as did
Robinson
. In an article printed in
The New York Times
on May 10, 1947, it was revealed that
Robinson
had received "threatening letters of anonymous origin" from the day he'd broken into the big leagues that spring. ... "This disclosure followed on the heels of a report that a strike of opposing players against the Negro players had been spiked."
"Harassment of
Robinson
... by unidentified persons was confirmed in Philadelphia last night by
Branch Rickey
, president of the
Brooklyn
Baseball Club. 'At least two letters of a nature that I felt called for investigation were received by
Robinson
,'
Rickey
said.
"
Robinson
himself admitted receiving several such letters. ... A high police official here disclosed that a letter warning
Robinson
to 'get out of baseball' had been turned over to the police department by the baseball club for investigation."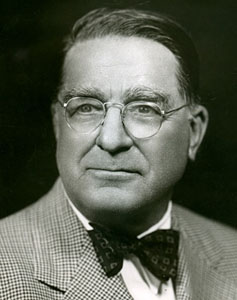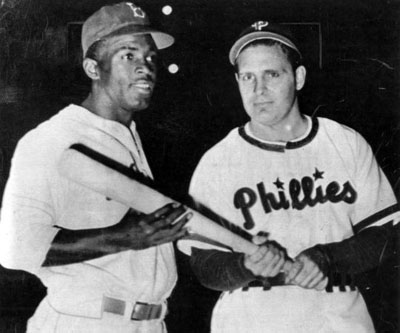 L-R: Branch Rickey, Jackie Robinson and Ben Chapman
The article went on to describe a short-lived attempt by
St. Louis Cardinals
players to engineer a strike in protest against
Robinson
's playing that was put down by team president
Sam Breadon
.
The indignities heaped on
Robinson
by others in baseball uniforms included spikes-high slides and head-high knockdown pitches. Racist epithets were the rule of the day. What historians came to understand was that
Robinson
would not, could not, lash out, because he, too, had made a gentleman's agreement with
Rickey
.
In his words, ...
Robinson
said, "I remember
Mr. Rickey
saying to me that I couldn't fight back, and I wondered whether or not I was going to be able to do this."
Nowhere was his resolve to honor his agreement with
Rickey
tested more than in
Robinson
's first games played against the
Phillies
in late April at Ebbets Field. The
Phillies
, led by manager
Ben Chapman
, infamously rained an unending torrent of racist slurs on
Robinson
, taunting the infielder about his physical features, telling him to go back to the cotton fields and calling him the "N" word. The onslaught was so relentless and debilitating that
Robinson
later said it pushed him closer to breaking than any other humiliation suffered that season.
"For one wild and rage-crazed minute, I thought, 'To hell with
Mr. Rickey
's noble experiment,'"
Robinson
once recalled.
He was physically and verbally abused, particularly when he was on the road, in certain cities," said
Rachel Robinson
,
Jackie
's wife, in ... 1998. "The taunts angered him, sometimes frightened him, but he turned away from them."
Said
Robinson
's teammate, CF
Duke Snider
: "He knew he had to do well. He knew that the future of blacks in baseball depended on it. The pressure was enormous, overwhelming and unbearable at times. I don't know how he held up. I know I never could have."
Author
Jonathan Eig
wrote of
Robinson
's brutal season in his book
Opening Day
. In a 2016 interview ...,
Eig
said the incidents with
Chapman
brought into focus what
Robinson
was being made to endure.
"It was so offensive that, for a lot of Americans, it was a wake-up call," said
Eig
. "It made people, white people in particular, realize for the first time just what burden
Robinson
was shouldering." As sportswriter
Jimmy Cannon
wrote: "
Jackie Robinson
is the loneliest man I have ever seen in sports."
Chapman
would later try to explain away his actions by saying that he was bench-jockeying, and, in an effort to say he wasn't being racist, described how he also hurled ethnic slurs at Italian-American players such as
Joe DiMaggio
and Jewish players like
Hank Greenberg
.
Chapman
told writer
Allen Barra
he was doing no less with
Robinson
, looking for a way to rattle a rookie. ...
What
Chapman
could not envision was that his action eventually won
Robinson
sympathetic - and vocal - allies. As
Eig
wrote in
Opening Day
, in the second game of the initial
Phillies
-
Dodgers
series, the
Dodgers
'
Eddie Stanky
, a veteran infielder and native Philadelphian, called out
Chapman
and the
Phillies
, deeming them cowards for railing against a man who could not fight back.
"It was the first time a lot of white people and white reporters in particular noticed the abuse
Robinson
was taking,"
Eig
said, adding, "I interviewed a fan who had been a teenager who went to one of those games, heard the heckling, and was shocked."
By the time the
Dodgers
visited Philadelphia in May,
Chapman
, prodded by baseball, asked to have his picture taken with
Robinson
. The
Dodgers
rookie would not shake his hand, so the two men grasped opposite ends of a baseball bat as photographers snapped away.
Off the field, many municipalities remained stubbornly unwelcoming. Even after
Chapman
's attempted truce, the
Dodgers
were not allowed to register at their chosen hotel in Philadelphis until other accommodations were made for
Robinson
. Sadly, this was nothing
Robinson
and the
Dodgers
had not experienced before.
Save for the Spring Trainings spent with the
Dodgers
in the Caribbean rather than segregated Florida and a minor league season spent in a welcoming Montreal,
Robinson
felt the hot breath of hate at every step even as he broke color barriers one ballpark, one town, one city at a time - with "Colored Only/White only" signs on water fountains and public bathrooms throughout the south and meals delivered through restaurants' back doors and eaten in solitude on the back of buses.
"He faced it in Spring Training, in every town in Florida that he visited. He faced it in Pittsburgh and St. Louis and Cincinnati,"
Eig
said. "I doubt that he would've singled out Philadelphia as the worst place in the world."
Larry Doby
, who became the second black major leaguer in the modern era when he joined the
Cleveland Indians
midseason in 1947, was often asked by youngsters of later generations why
Robinson
, he and others didn't just refuse to leave balking hotels, movie theaters and restaurants.
"Because we didn't want to die,"
Doby
told one such inquisitor ...
Dr. Martin Luther King Jr.
told
Don Newcombe
,
Robinson
's
Dodgers
teammate ... "You'll never know how easy you and
Jackie
and
Doby
and
Campy
(
Roy Campanella
) made it for me to do my job by what you did on the baseball field."
Thus, 72 years after 1947, we still marvel at a rookie who - by any measure - refused to fail.
Robinson
, buffeted by societal ills, but steeled by the challenge to change a nation, hit .297 in 151 games that season. He stole 29 bases, more than anyone else in the National League, scored 125 runs and ... helped
Brooklyn
win a National League pennant for only the second time since 1920. It would be the first of six league championships won by a
Brooklyn
team that featured a player
Dr. King
called "one of the truly great men of our nation."
For his efforts, as well as for the example he set,
Robinson
received the first-ever Rookie of the Year Award by the Baseball Writers' Association of America, an award that now bears his name. In the words of
Yogi Berra
, some might say that
Jackie Robinson
made that award necessary.