OTHER RECENT POSTS

Golden Football Magazine
NFL Rankings - Week 7
Officiating - Good and Bad
Two of my teams' games this past weekend were affected by crucial penalties. One call helped my team win; the other contributed to my team's loss.
Let's start with Florida State-Notre Dame. Watch this video and be convinced the call was correct.
One of the two

Notre Dame

receivers in front of the man who received the apparent TD pass, Corey Robinson, makes no pretense of being a receiver and simply pushes his man forward to clear him out of the way. He didn't even turn his head toward the QB as if expecting a pass.
The other key element of the play, which wasn't mentioned in some TV and online discussions, was the fact that the pass was completed beyond the line of scrimmage. Blocking downfield is allowed if the pass is caught behind the line. That's done all the time on traditional screen passes and bubble screens. I believe the referee gave the wrong number for the offender, which added to the confusion and lack of confidence in the call. Incidentally, former

ND

coach Lou Holtz said on ESPN after the game that the call was correct.
I want to comment on

ND

Coach Brian Kelly's snide, sarcastic, sour grapes remarks after the game and the next day. "

Florida State

blew the coverage, and they got rewarded for it." And "we'll have our conversation with the supervisor of ACC officials later this afternoon and I'm sure we'll get even less clarification." He also mentioned that they coach their players properly on such plays. Well, coach, your player didn't do what he was supposed to do. Instead of just getting in the way of the defender to keep him from running out to tackle the receiver, he clearly blocked him deep into the end zone. I'm not saying you should call out your player publicly, but you shouldn't blame the officials for calling the penalty that he committed. I already thought Kelly was an arrogant ass and think even less of him now.
An ironic aspect of the situation is that

Notre Dame

may not suffer from the loss. Since there will be at most two undefeated Power Five teams by the end of the regular season, the

Irish

can still make the CFP if they win out. And they also should be ardent

FSU

fans the rest of the season. If the

Seminoles

win out,

Notre Dame

's one loss will be "better" than most other team's lone loss, and the

Irish

might make the CFP as the #4 seed. Who knows? They may get another crack at the

Noles

.

Florida State

, on the other hand, may have to go 13-0 (counting the ACC championship game) to make the CFP. Other than

Notre Dame

, the

Noles

have no highly-ranked foes on their schedule. So if they stub their toe against an opponent from the weak ACC, they may not make the committee's Final Four despite a 12-1 record. So you could have the scenario where

Notre Dame

makes the playoff with one loss and

FSU

does not since "strength of schedule" is purportedly one of the major criteria for selecting the semifinalists. If that happens, then

Notre Dame

will gain sweet revenge for 1993 when the

Irish

beat the Seminoles in a battle of #1 and #2 late in the season only to loss to BC the next week and end up behind Nebraska and

FSU

in the final poll. When the

Seminoles

beat the Cornhuskers in the Orange Bowl, they gained the final #1 AP spot, which counted for the national championship in that pre-BCS era.
The other call in question was also a pass interference call, but it was on a Saints defender on 4th down against the Lions Sunday.
The play in question was 4th and 5 at the

NO

9 with a little more than two minutes remaining and the

Saints

leading 23-17.
Stop this play and you take over the ball and probably win the game. Matthew Stafford threw a pass in the short left flat to Reggie Bush. S Rafael Bush (no relation but wearing the same 25 jersey that Reggie did with

NO

) reached his left hand in front of Reggie and knocked the ball away. Replay showed that Rafael's right hand was behind Reggie - where else could it be? - but was not grabbing and twisting him. Yet an official threw a flag for interference. If that's interference, then there's no way anyone can play pass defense. In fact, the NFL has since admitted the call was wrong. Given a first down, the Lions scored a few plays later and held on to win the game.
Detroit fans are commenting on websites (like this link) about how the

Saints

O-line was holding on every play but were rarely called for it. Naturally, they have no sympathy for the

Saints

, and many call the

Saints

in general and Drew Brees in particular "classless" for their chippy play during the game and comments afterwards. One called Payton a "scumbag." Another said Brees was "overrated."
Drew did not have a good Q4 at all. His INT that set up the winning TD was something you'd expect

LSU

's Anthony Jennings to do - throw the ball late down the middle while under duress. Brees is not performing at a Pro Bowl level this year and, in fact, may be overrated right now.
The frustrating and depressing aspect of Sunday's game is that I don't think the

Saints

can play any better than they did - at least for three quarters. They dominated the Lions and should have won.
The bottom line is that they still could have won despite allowing Golden Tate to get loose for a 73y pass-and-run (mostly run) to make it 23-17 and Brees' INT if the ref had made the right call on Rafael Bush's excellent play.
Final note: Tate left Seattle as a free agent after last season and signed with the Lions. The Seahawks are 3-3 while Detroit is 5-2.
My Live Game This Past Weekend
Kentucky @ LSU
The Tigers showed great improvement on defense as they held Kentucky without a TD.
I noticed early in the game that John Chavis employed essentially a 3-4 defense. Only three down linemen with four LBs, one of whom was often DE Jermauria Rasco. When

Kentucky

gave the ball to the RB, the four backers would wait to see which way he went and flow to him. If down linemen are your weakness, why not remove one of them and replace him with a LB or DB? Rasco played well, but the other DE, Danielle Hunter, was great with two passes batted down and two tackles for loss.
Another point to note was that Kendell Beckwith played every snap at MLB until injured in the second half. He led the Tigers with nine tackles (3 solo, 6 assist). He's seems to have finally learned Chavis's system and how to read the offense so that he moves to the right spot.
We're also seeing the game-by-game improvement of 5-star freshman S Jamal Adams. He even threw a key block on Tre'Davious White's punt return TD.
Going into the game, the

Wildcats

obviously had as one of their chief goals to stop Leonard Fournette. They did so, holding him to 40y on 15 carries. But they failed to stop Terrence Magee who gained 127 on nine totes for a 14.1 average.
Anthony Jennings was OK, 7-for-14/120, 1 TD, 0 INT. But he must be much better against

Ole Miss

, which has the best D the Tigers will face this year. They will force him to pass by stuffing the running game. He can't just "manage" the game next week. He has to make plays through the air and even with his feet.
LSU will also need another stellar performance from the special teams to have a chance to upend the

Rebels

.
Golden Rankings Top Ten

Pos.

Team

Record

Average
Opp.
wins
Last
Week

1

Mississippi State

6-0

15.42

27
1

2

Ole Miss

7-0

15.08

27
2

3

Auburn
5-1

14.92

21
3
4
Florida State
7-0
14.52
25
6

5

Alabama

6-1

14.51

22
7

6

Marshall

7-0

14.48

20
4

7

Oregon

6-1

14.32

21
8

8

Notre Dame

6-1

14.06

19
5

9

Ohio State

5-1

14.04

17
19

10

Arizona

5-1

14.03

19
9

Golden Conference Rankings

Pos.

Conference

Average
Impressive Non-Conference Wins

1

SEC

13.399

Clemson, K.State,

Tex.Tech

, Wisc, WVU

2

Pac-12

12.916

Ill.,Mich.,Mich.St.,N'western,Texas,UVa

3

Big Ten

12.742

Miami, Missouri, Pitt., Syracuse, Wash.St.

4

Big 12

12.696

Maryland

, Minnesota, Tennessee

5

ACC

12.725

Cincinnati

, ND, Ohio St.,Ok.State, USC

6

Mountain West

11.920

BC, Colorado, UConn, Wake F., Wash.St.

7

C-USA

11.837

Akron, Houston, Navy, Tulsa

8

AAC

11.433

Mid.Tenn., UNC, Vandy, Va.Tech

9

MAC

11.156

Ind., N'western, Pitt., Purdue

10

Sun Belt

11.109

Tulsa, Utah State, Wake Forest
No change in the order from last week.
Synopsis of the ranking system: Each team starts with 12 points for each game. The winning team goes up from there depending on the number of wins of the defeated opponent and the margin of victory. The loser goes down from 12 depending on the losses of the opponent and the margin of defeat. Teams can gain a bonus for road wins or a penalty for home losses. Read complete rules.
Home team in CAPS.
#5 Notre Dame +12.5 over #2

FLORIDA STATE


Too many points to give the Irish against unproven

Seminoles

.

Tennessee

+16.5 over #3 OLE MISS

X


Rebels finally let down a bit.
WEST VIRGINIA +8 over #4 Baylor
Bears on upset alert.
#7 ALABAMA over #21 Texas A&M +13.5
Tide plays much better at home.
#8 Michigan State over INDIANA +15.5
Hoosiers lost their QB for the season.
Washington +20.5 over #9 OREGON

X


Huskies D has had two weeks to prepare.
#10

Georgia

over

ARKANSAS

+3.5
Do the

Hogs

finally prevail in an SEC or do they let down?
#14 Kansas State +7 over #11 OKLAHOMA
Sooners on upset alert.
#12 TCU over #15

Oklahoma State

+10


Cowboys

haven't beaten ranked team yet.
#13

OHIO STATE

over

Rutgers

+21.5
Rested

Buckeyes

pushing to make CFP.
#23 Stanford over #17 ARIZONA STATE +3

X


Cardinal play tough on road.
NORTHWESTERN +6.5 over #19 Nebraska

X


Wildcats' run D keeps it close.
#22 USC over

Colorado

+20.5
Trojans enjoy a breather.
#24 Clemson over BOSTON COLLEGE +5

X


Tigers stop BC's run game.
FLORIDA INTERNATIONAL +22.5 over #25 Marshall

X


Thundering Herd don't cover on road.
Other Games
Kentucky

+10 over

LSU

X




UK

5-1 against the spread in its last six games.

Missouri

+5.5 over FLORIDA


Tigers

cover in a battle of teams licking their wounds.

Purdue

+14 over MINNESOTA


Boilermakers

improving.
Intriguing Numbers - Week Eight

412

Yards given up by

Florida State

last week against Syracuse, which played a third-string QB

510

Yards surrendered by Notre Dame at home to North Carolina last Saturday

672

Yards gained by

Alabama

against Florida three weeks ago
227
Yards gained by the

Tide

last week at

Arkansas

12-1
Kansas State coach Bill Snyder's record against the spread as a road underdog
0
Times Ohio State and

Rutgers

have met in football
38
Consecutive games with a TD pass by Marshall's Rakeem Cato, tying Russell Wilson's NCAA record
118-7
Combined score by which

LSU

has beaten

Kentucky

in the

Wildcats

last three trips to Tiger Stadium
23
Q4 comeback wins by

LSU

since Les Miles became coach in 2005, most in the FBS in that period.
1
Team in the nation,

Arkansas

, with two RBs with 500y rushing
2-13

Colorado

's record in Pac-12 road games
10
Consecutive victories by Oregon over Washington
Goodbye, Baseball; See You Next September
The Giants completed their home sweep of the Cardinals to win the NLCS 4-1 and set up an all-wild-card World Series against the Royals.
No better epitome of the Cardinals' fortune - or misfortune - could have been concocted than Michael Wacha giving up the walkoff three-run HR while All-Star C Yadier Molina watched from afar with an injured quad.
Wacha's sensational pitching down the stretch and in the postseason propelled St. Louis's march to the World Series last year. But this season, he won only five games and spent almost the entire summer on the dis­abled list before returning to pitch a few games in September. He didn't deserve Mike Matheny putting him into the position he found himself - trying to keep Game 5 tied after not having pitched for weeks.
The Redbirds managed to eliminate the

Dodgers

in Round One but couldn't handle the redhot

Giants

. Shelby Miller, pitching in Wacha's place in the rotation, blew most of a 4-1 lead in Game Four, and the bullpen couldn't hold on.
I shouldn't feel too bad because I didn't expect the Cardinals to beat

LA

. So they went further than anticipated. Still, losing is no fun.
The two wild card teams making the Series reminded of the lesson that I learned in 2005-06 but forgot in recent years.
The '05 Cards led the majors in wins (100) but were eliminated in the NLCS by the Astros, whom they had bested in the Central Division by 11 games in the regular season.
The following season, the Cardinals limped into the playoffs with just 83 wins, edging Houston by 1.5. But with their injury-plagued lineup intact, the Redbirds won the World Series that they should have had the year before.
Moral of the story: Baseball's regular season, the longest of any sport, can be ignored until September.
So I won't bother with watching games or checking the daily scores next season until September 1, when I read the standings. If the Cardinals are in the running for a postseason spot - or, failing that, the

Yankees

- I'll pay attention during September.
If not, I may or may not watch the 2015 playoffs. It depends on who's in and whether there's anything else on TV. (Tuesday night, I watched NCIS and NCIS New Orleans with the sound on while

Royals

-

Orioles

played si­lently on a TV next to the other one. Ditto Wednesday night with Criminal Minds and Cards-

Giants

.)
If a crazy play or a spectacular catch happens before September, I'm sure the headlines on sports and news sites will attract my attention and link me to a video of it. But lamenting the Cards' lack of power or agonizing over Rosenthal's latest blown save - forget it!
A Tale of Two Games
Last Saturday, Georgia and Florida State both won to retain their places in the Top Fifteen.
The Bulldogs traveled to Columbia MO where they whacked the Tigers 34-0. The 34 was mildly surprising since UGa played without Heisman Trophy candi­date RB Todd Gurley, suspended while being investigated for possibly selling his autograph. The 0 was even more surprising since Missouri hadn't scored less than 21 points in any game and at least 27 in every home game.
The Seminoles also hit the road to Syracuse where they played an oppo­nent decidedly less formidable than Missouri. FSU won their 22nd straight with their autograph-signing QB in the lineup, 38-20, but gave up 412y to a team that had lost its starting signal-caller and had fired its offensive coordinator. As a result of the lackluster win, FSU lost its #1 ranking in the AP and USA Today polls.
What connection do these games have other than favored teams winning on the road?
Jeremy Pruitt, the defensive coordinator for Florida State's BCS champion­ship team in 2013, moved to Georgia last January, charged with recon­structing the entire defensive staff. FSU promoted LB coach Charles Kelly to re­place Pruitt.
FSU's defense has been a disappointment. Yes, they lost S Lamarcus Joy­ner, DT Timmy Jernigan, DB Terrence Brooks, and LB Telvin Smith to the NFL, and they've had some injuries on the front line. But there seemed to be enough talent returning to expect a better performance than the Noles have given. FSU currently ranks 44th in the NCAA in Total Defense (358.5 ypg), which is 15 spots worst than

LSU

. Georgia, on the other hand, is #11 (303.7 ypg).
Did You Notice? NFL Week 6
Giants Ups and Downs
How to figure Tom Coughlin's club? Start 2014 with losses to Detroit (35-14) and Arizona (25-14). Then take three in a row - Houston (30-17), Washington (45-14),

Atlanta

(30-20). But in a key division matchup on Sunday night at Philadelphia, the G-men laid an egg: 27-0. It's not just the loss, but the offensive ineptness: 12 first downs, 2-14 on 3rd downs, 254y.
Cowboys Stay Hot
The Giants' East rival, Dallas, extended its winning streak to five, 30-23, in supposedly the toughest place to win in the NFL - Seattle. The Cowboys didn't get flustered when they fell behind by 10 early against a team that had won 17 of its last 18 home games. DeMarco Murray added to his NFL rushing lead with 115y - his sixth straight 100y game - against what had been the league's best rush D. It was the Seattle QB, Russell Wilson, who struggled. He completed only 14-of-28 for just 126 (compared to 21-32/250 for Romo), 0 TD, and 1 INT. The much ballyhooed duel between Dallas WR Dez Bryant against Seattle CB Richard Sherman ended with two competions for 39y in six passes thrown Dez's way. Bryant summarized the bout like this: One of the best, arguably the best, and I had to bring my A-game today. And I made some plays, and he made some plays, but at the end of the day, we got the W.
Packers Come Back in the Heat
Sunny, 85 degrees, humid. That was Miami last Sunday. Surely, the visitors from the frozen tundra would wilt late in the game. It looked that way midway through Q4 after Miami scored twice in the period to take a 24-17 lead with 9:13 on the clock. But the Green Bay D shut down the Dolphins the rest of the way to give Aaron Rodgers an opportunity to work his magic. He drove his team 68y in 11 plays to set up Mason Crosby's 30y FG with 4:09 on the clock. Then, taking over with 2:04 left and 60y away, the Packers scored on Aaron's 4y toss to Andrew Quarless with a measly 0:03 left to pull out the victory, 2-24. On the final drive, the Green Bay QB picked on the right side of the Dolphin D, completing 4-of-5 outside the right hash. Miami ended up rueing a missed opportunity in Q1 when they had 2nd and goal at the 1 and failed to score. Knowshown Moreno gained nothing up the middle, Ryan Tannehill threw an incompletion, and Moreno lost 2 to turn the ball over on downs.

Bengals

and Panthers Kiss But Don't Make Up
"It's a weird feeling," said

Cincinnati

QB Andy Dalton. "I've never been part of a tie. We had our chances." The crowd at Paul Brown Stadium was standing and ready to celebrate when Mike Nugent set up for a 36y FG with 0:02 left of what had been a scoreless OT. But he missed wide right. "That was the worst ball I've ever hit in my career," Nugent said. "My plant foot was way too far forward. I think there was a little excitement. I was a little too quick." The kick was the sixth he has missed this season. The crowd stood stunned. The players walked onto the field to shake hands while trying to figure out what it all meant. Both divisional leaders were frustrated and felt like they had lost.
Slice of History: Did Ruth "Call His Shot" in the 1932 World Series?
New York Times article 10/2/1932 on the Third Game of the World Series in Wrigley Field, won by the Yankees 7-5 to take a commanding 3-0 lead on their way to sweeping the Cubs.
Yankees Beat

Cubs

For 3d in Row, 7-5, as 51,000 Look On
Ruth and Gehrig, Each with 2 Homers, Set Pace as New York Nears Series Title
Babe's First Tallies 3
His Second Brings Wild Acclaim - Hartnett and Cuyler Also Deliver Circuit Drives.
by John Drebinger
CHICAGO, Oct. 1. - Four home runs, two by the master hitter of them all, Babe Ruth, and the other pair by his almost equally pro­ficient colleague, Columbia Lou Gehrig, advanced the New York Yankees to within one game of their third World's Series sweep today. ...
Those four blows made the final score 7 to 5. They crushed not only the National League standard-bearers, but a gathering of 51,000 which jammed Wrigley Field to the limits of its capacity and packed two wooden tempo­rary bleachers outside the park. Included in the gathering was Gover­nor Roosevelt of New York, the Democratic Presidential Candi­date.
It was by far the most turbulent and bitterly fought engagement of the series thus far. The

Cubs

, inspired by a show of civic enthu­siasm, battled fiercely and courageously. ...
Both the game and all its trimmings pro­vided a much livelier spectacle than either of the two previous encounters. In sharp contrast to the rather matter-of-fact manner in which New York had accepted the first two battles, the crowd today was as keyed as the play­ers, if not more so.
It was a warm day, clear and sunny, though rather windy. There was a gay, holiday spirit in the air that never forsook the gathering, for Chicago puts a great deal more fervor in its baseball than does New York. ...
Ruth's Drive Awes Throng.
They roared their approval of every good play made by the

Cubs

. They playfully tossed bright yellow lemons at Babe Ruth and booed him thorougly as the great man carried on a pantomime act while standing at the plate.
Then they sank back, awed and spellbound, as the Babe, casting aside his buffoonery, smashed one of the longest home runs ever seen at Wrigley Field.
It was an amazing demonstration by base­ball's outstanding figures, who a few weeks ago was ill and confined to his bed. ...
Ruth and Gehrig simply dominated the scene from start to finish, and they began their performance early. When the two marched to the plate during the batting rehearsal they at once thrilled the crowd by uncorking a series of tremendous drives into the temporary wooden bleachers.
Almost Clears Bleachers
The Babe's very first practice shot almost cleared the top of the wooden structure, and he followed it with several more prodigious drives. Gehrig produced some more, and each time the ball soared into those densely packed stands the crowd gasped. The spec­tacle certainly could not have been very heartening to the

Cubs

. ...
There was a sharp wind blowing across the playing field toward the right-field bleachers that threatened to raise havoc with the players, and it did very shortly. ...
Cheers and jeers mingled as the great Yank­ee batter [Ruth] made his first official appearance at the plate ...
[Charlie] Root pitched cautiously, fearful of what would happen if he allowed the Babe to shoot one high in the air with that brisk breeze behind it. His first two offerings went wide of the plate. Then he put one over, and away the ball went. It was a lofty shot that soared on and on until it dropped deep in the temporary stands. ...
That left the

Cubs

only one run in arrears, and in the fourth they drew even amid the most violent vocal demonstration of the afternoon. [SS Billy] Jurges ... slapped a low liner to left, and the crowd howled with glee as Ruth failed in a heroic attempt to make a shoe-string catch of the ball. Jurges gained two bases on the hit.
Ruth Doffs His Cap
Good naturedly, the Babe doffed his cap in acknowledgement to the adverse plaudits of the fans and the play went on. ...
But it seems decidedly unhealthy for any one to taunt the great man Ruth too much and very soon the crowd was to learn its lesson. A single lemon rolled out to the plate as Ruth came up in the fifth and in no mistaken mo­tions the Babe notified the crowd that the nature of his retaliation would be a wallop right out the confines of the park.
Root pitched two balls and two strikes, while Ruth signaled with his fingers each each pitch to let the spectators know exactly how the situation stood. Then the mightiest blow of all fell.
It was a tremendous smash that bore straight down the center of the field in an enormous arc, came down alongside the flagpole and disappeared behind the corner formed by the scoreboard and the end of the right-field bleachers.
It was Ruth's fifteenth home run in world's series competition and easily one of his most gorgeous. The crowd, suddenly unmindful of everything save that it had just witnessed an epic feat, hailed the Babe with a salvo of applause.

An accompanying article in the

Times

gives further tidbits about the game, including these paragraphs:

Left-field bleacherites gave

Ruth

the sa­ lute accorded

Hack Wilson

when he went out to his position for fielding practice. Every time a fly floated out to the

Babe

a couple of lem­ons were tossed from the lofty bleachers overhead. The

Babe

threw them back, but when the game started the fans showed sportsmanship in withholding their fire.

Babe Silences Jeering

Cubs

.


The

Babe

had a good laugh at the expense of the

Cubs

on the bench who directed some uncomplimentary remarks at him just before he wallopped his second homer. The drive effectually silenced the bench-warm­ers.
Babe Ruth taking batting practice at Wrigley Field

before Game 3 of the 1932 World Series.

Charlie Root
Franklin Roosevelt with managers Charlie Grimm and Joe McCarthy before
Game 3 of 1932 World Series at Wrigley Field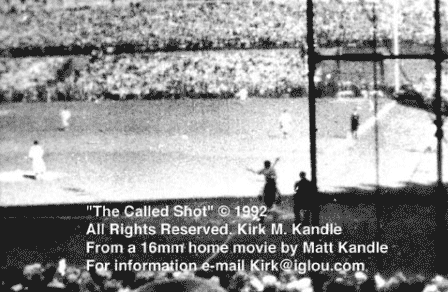 No mention in the articles of
Ruth
pointing to the bleachers, then hitting the HR to that spot. Where did that story come from?
Read an article from the Golden Archives
about whether
Babe
"called his shot."
College Football Predictions - Midyear Checkpoint [10/14]
After seven weeks, it's time to evaluate my preseason predictions. One has come true while others are almost certainly going to be false.
Don't be surprised if ...
LSU loses to either

Mississippi State

or

Ole Miss

at home.
One of my predictions last year was that LSU would lose a game in which it was favored and win a game in which it was an underdog. That came to pass when the

Tigers

lost at

Ole Miss

but beat

Texas A&M

at home. This year, LSU has an even younger team with no experience to speak of at QB. That means inconsistent play.

Ole Miss

has its most talented team in some time and is predicted by many to finish ahead of LSU in the West. And the law of averages may catch up with the

Tigers

in regard to

Mississippi State

, whom they've beaten 14 times in a row.
STATE HAS ALREADY WON, AND OLE MISS WILL BE FAVORED TO WIN IN BATON ROUGE OCTOBER 25 AS WELL.


LSU beats

Alabama

.
No, this isn't a contradiction to the previous prediction. By November 8, both young QBs will have nine games of experience. The

Tigers

have the week off before the clash (although

Bama

does too). The

Tide

's QB situation is uncer­tain also. Tiger Stadium will be jumping. Miles & Company remember how close they came to an upset two years ago when A. J. McCarron led a last minute winning drive. Saban doesn't have a McCarron under C this year.


AFTER THE

AUBURN

GAME, I WROTE THIS PREDICTION OFF AS PREPOSTEROUS. BUT FOLLOWING

LSU

'S WIN OVER FLORIDA

AND

ALABAMA

'S ONE-POINT SQUEAKER AT

ARKANSAS

, THERE'S HOPE THE

TIGERS

CAN BEAT THE

TIDE

.




LSU's string of four consecutive double-digit win seasons ends.
Les Miles and his staff will do well to coax nine wins out of this team. Four losses ends any hope of ten wins. Back-to-back games at

Auburn

and Flori­da will probably produce two of those defeats. A loss to Wisconsin in the opener will make it hard to get ten wins with the conference schedule still ahead. Defeat the Badgers and the

Tigers

might get to ten wins with a bowl victory.


LSU

HAS TWO LOSSES ALREADY. DESPITE THE IMPROVEMENT SHOWN AGAINST FLORIDA, IT'S HARD TO BELIEVE THE

TIGERS

WILL GO 4-1 DOWN THE STRETCH AGAINST

KENTUCKY

,

OLE MISS

,

ALABAMA

, @

ARKANSAS

, AND @

TEXAS A&M

.


The winner of the

Georgia

-South Carolina game in Week 2 wins the SEC.
Predicting the

UGa

-SC winner captures the East crown is not going out on a limb. But taking the victor to win the Championship Game is a bold choice.
THIS ONE IS NOT OFFICIALLY DEAD BUT ALMOST CERTAINLY FALSE. THE LOSER OF THE

UGA

-

USC

GAME, THE

BULLDOGS

, HAS A SOLID CHANCE TO WIN THE SEC EAST AND EVEN BEAT THE WEST CHAMPION IN THE CHAMPIONSHIP GAME.



Auburn

doesn't finish in the Top Ten.
The

Tigers

were the biggest surprise of 2013. But their last two wins came on freak plays. One

Georgia

defender was ready to intercept or at least knock down the desperation pass when a teammate knocked it from him into the arms of the

Auburn

receiver. Nick Saban and his staff made numerous coaching mistakes in the Iron Bowl, including lobbying for a second to be put back on the clock and sending in the FG unit instead of throwing a Hail Mary. Of course,

Auburn

might still have won in OT. Also, the week before

AU

played in Baton Rouge September 21, Nick Marshall came off the bench and led a last ditch drive that culminated in a winning TD pass with 0:10 left. All in all, last season had enough breaks go

Auburn

's way to last a lifetime. Fur­thermore, opponents have had the entire off-season to study video of Gus Malzahn's offense.


THIS ONE HANGS IN THE BALANCE. THE

TIGERS

HAVE LOST ONLY TO

MSU

AND REMAIN IN THE TOP TEN BUT STILL MUST FACE

SOUTH CAROLINA

, @

OLE MISS

,

TEXAS A&M

, @

GEORGIA

, AND @

ALABAMA

.




UCLA wins the Pac-12 and makes the College Football Playoff.
This is my surprise Final Four participant. Jim Mora's Bruins have gone from nine wins his first year to ten last year. He has 16 returning starters including, best of all, QB Brett Hundley, who decided to come back for another year despite being eligible for the NFL draft.
FORGET THIS ONE. THE BRUINS ARE ONE OF 2014'S BIGGEST DISAPPOINTMENTS. AFTER BELTING ARIZONA STATE 62-27 ON THE ROAD, THEY'VE LOST AT HOME TO UTAH AND OREGON. UCLA IS STILL MATHEMATICALLY ALIVE IN THE PAC-12 SOUTH BUT CANNOT AFFORD ANOTHER DEFEAT.


At most one team nationally goes undefeated.
Only one squad,

Florida State

, finished the regular season unblemished last year. With eight SEC teams, including

Alabama

, South Carolina, and

Georgia

, deploying new QBs, it is highly likely no team in the nation's tough­est league will emerge without a loss. With the exception of

FSU

, no squad in any other conference seems capable of running the table. And I wouldn't be surprised if the

Seminoles

dropped a game along the way - hence the "at most one" in my prediction.


SIX TEAMS REMAIN UNDEFEATED:

MISSISSIPPI STATE

,

FLORIDA STATE

,

OLE MISS

, BAYLOR, NOTRE DAME, AND MARSHALL

. TWO ARE BOUND TO BE ELIMINATED SINCE

FSU

PLAYS NOTRE DAME AND

OLE MISS

HOSTS

MISSISSIPPI STATE

IN THE MOST IMPORTANT EGG BOWL EVER. THAT LEAVES AT MOST FOUR. IF THE

SEMINOLES

SURVIVE NOTRE DAME, THEY HAVE THE EASIEST SCHEDULE (EXCEPT FOR MARSHALL) TO 13-0. (THEIR BIGGEST OBSTACLE IS JAMEIS WINSTON AND HIS LEGAL PROBLEMS.) BUT BAYLOR AND THE SEC TEAMS WILL MOST LIKELY TRIP UP ALONG THE WAY. THERE COULD BE TWO UNDEFEATEDS WHEN THE REGULAR SEASON DUST CLEARS, BUT MY PREDICTION OF "AT MOST ONE" IS STILL IN PLAY.
Golden Rankings - NFL after Six Weeks
Golden NFL Top Ten after Six Weeks

Pos.

Team

Record

Average
Opp. wins
Last
Week

1

Arizona

4-1

17.36

13
1

2

Seattle

3-2

16.95

9
2

3

Dallas

5-1

16.93

11
5

4

San Francisco

4-2

16.90

13
4
5
Denver
4-1
16.90
11
3

6

Philadelphia

5-1

16.78

9
13

7

Cincinnati

3-1-1

16.60

8
7

8

Detroit
4-2

16.60

10
9

9

Baltimore

4-2

16.58

10
8

10

Indianapolis

4-2

16.58

9
14
Division Rankings after Five Weeks

| | | | |
| --- | --- | --- | --- |
| Rank | Division | Average | Last Week |
| 1 | NFC West | 16.533 | 1 |
| 2 | AFC North | 16.263 | 2 |
| 3 | NFC East | 16.181 | 3 |
| 4 | NFC North | 16.092 | 5 |
| 5 | AFC West | 15.975 | 4 |
| 6 | AFC East | 15.817 | 6 |
| 7 | AFC South | 15.688 | 7 |
| 8 | NFC South | 15.351 | 8 |
The NFC South continues at the bottom of the list.
Crazy Game in Dallas
At halftime of the Oklahoma-Texas game, the statistics read like this.
Plays: Texas 45, Oklahoma 14
First downs: Texas 14, Oklahoma 1
Yards: Texas 278, Oklahoma 29
Score: Oklahoma 17 Texas 13
The Sooners scored on a 91y kickoff return, a 44y FG after a 5 play-19y drive, and a 43y INT return.
The final statistics read:
Plays: Texas 84, Oklahoma 50
First downs: Texas 24, Oklahoma 11
Yards: Texas 482, Oklahoma 232
Score: Oklahoma 31 Texas 26
The 250y margin by which UT outgained OU represents the largest deficit by a winning team this season.
The Sooners started strong in the second half, scoring two TDs to take a 31-13 lead, then holding on as the Longhorns answered with two TDs of their own.
More Texas Madness
QB Bryce Petty did all he could to bring Baylor back from a 58-37 Q4 deficit. With the score tied with 0:04 left, he turned the game over to a kicker who had made only one of six FGs coming into the game. Chris Callahan's 28y 3-pointer gave the Bears an improbable victory over TCU. Petty fired six TD passes.
A controversial decision by Horned Frogs coach Gary Patterson gave Baylor the opportunity to win the game in regulation. Facing 4th-and-3 from the Baylor 45 with 1:17 left, Patterson used two timeouts deciding what to do. He chose a fake punt. "We make it ... you have an opportunity to go down and kick a FG, and you win it," he said afterwards. But the fade pass toward the sideline misfired, and Baylor took over. With the help of an interference call on TCU, the Bears marched to the 11 to set up Callahan.

More Razorback Frustration
Loser of seven in a row to Alabama, Arkansas gave the Crimson Tide every­thing it wanted in Fayetteville. The Hogs led in time of possession 34:13 to 25:47, first downs 18-10, total yards 335-227, passing 246-161, and rushing 89-66 (although 89 was far below the Hogs' SEC-leading 316.6ypg on the ground and only 5y came in the second half on 13 carries). Unfortunately, they also led in missed PATs and turnovers (3-2). A blocked conversion attempt made the final score 14-13 to extend Arkansas's SEC losing streak to 15. Second-year Coach Brett Bielema, who has yet to win a conference game, fought back tears af­terwards. "The part that kills me is for my players, their families. Because they are winners. I can't give them a 'W' ... They're getting frustrated. It is very frus­trating for me." Nick Saban is now 49-0 as the coach of a Top-10 Alabama team against unranked opponents, the best such record by any head man at a single school in AP poll history.
Winless Teams
Only three FBS squads have a gooseegg in the W column:
Idaho
Kent State
SMU
The latter two knew great success just two seasons ago. In 2012, the Golden Flashes finished 11-2 in the regular season to earn a trip to the GODADDY.com Bowl, where they lost to Arkansas State 17-13. But, as usually happens after a stellar season at FBS schools not in a Power Conference, Kent State lost its coach, Darrell Hazell, to Purdue. Last year, KSU fell to 4-8.
June Jones brought success to SMU quickly after he took over in 2008. After suffering a 1-11 disaster his first season in Dallas, June turned it around to 8-5, 7-7, 8-5, and 7-6 the next four years, taking the Mustangs to bowls each sea­son. But they finished 5-7 last season and started 2014 0-2, being outscored 88-6, when Jones abruptly resigned.
NFL Predictions
Don't be surprised if ...
... the winner of the Green Bay-Seattle game represents the NFC in the Super Bowl.
The Packers and Seahawks are expected to be the class of the conference. So the winner of the game (which was Seattle) has the tiebreaker on the other should they finish with identical records. And that could make the difference in determining home field for a rematch.


... the Saints make the playoffs.
I don't think I buy the notion that some have advanced that this is Sean Peyton's most talented Saints team. A few writers put them in the Super Bowl. But I do think that, with continued improvement in the defense, the Saints should win the NFC South after finishing 2nd to the Panthers last year.


... the following teams improve on their 2013 records.
Lions (7 wins in 2013)
Vikings (5)
Texans (2)
Bears (8)
Titans (7)


... the following teams do not do win as many games as in 2013.
Eagles (10 wins in 2013)
Cowboys (8)
Panthers (12)
Seahawks (13)
Chiefs (11)
About This Site
This site is devoted primarily but not exclusively to college and pro football. The unique feature of this site is the publication each fall of the author's rankings of all FBS college football teams and similar rankings for the NFL. I live in New Orleans and am a graduate of LSU and FSU. So I present a Southern and particularly an SEC point of view but one that is reasonably objective. I also publish a monthly Football Magazine with stories from the past and a monthly Baseball Magazine with a similar format. For most of the year, there's a monthly Basketball Magazine.
web counter

Hits since 8/3/12

<!END COLUMN ONE>

For Your Reading Pleasure

Cardinals

Clubhouse

---Surprising 1964 - September

---

Cardinals

Quiz

Odd Baseball Facts

Pennants Won by Player Managers

From the Golden Archives

Rapid Robert

and

The Babe

The Ultimate Game

1958 World Series - Game 7

Short Story

- Actors in the Drama


How Would You Rule? -

Runner Misses Base on Way Home


Baseball Quiz

-

Franchises That Have Never Met in World Series

Tiger Den

: Profile:

Young Bussey

- VI

Saints Saga

: 1987

Saints

- Games 4 and 5

Seminoles Sidelines

: "A Stand for the Ages"

NFL Championship Game

: 1952

Interesting Story

:

Blanda

's Incredible String - I

Football Profile

:

Jesse Harper Short Story

Teacher Extraordinaire

How Well Do You Know the Rules? Football Quiz

Basketball Short Story

Destroy the Russians!




Tiger

Den Basketball Profile: Bob Pettit - IV
Basketball Snapshot

1957 NBA Finals - Game 7




From the Golden Archives

Basketball Week in Time Jan. 1945

Basketball Quiz

Coaches of NCAA Champions