| | |
| --- | --- |
| | |
| | |
| | Golden NFL Rankings after 7 Weeks |
I APOLOGIZE, SAINTS
Oh me of little faith!
I underestimated your competitiveness and creativity on both sides of the ball.
No Kamara? No problem. Latavius Murray goes for 199y behind one of the best offensive lines in the league.
No Cook? No problem. As I predicted correctly, Payton used Taysom Hill in new ways as well as the other Hill, TE Josh, who caught three passes for 43y and a TD.
I also overestimated the Bears offense with Mitch Trubisky at QB. But maybe they looked so bad because the Saints defense made them look bad. Chicago's 10 first half points came from a kickoff return and a FG after recovering a fumble in Saints territory. And they added 15 points in garbage time in part because the Saints mishandled an onside kick. So you appreciate how dominant Dennis Allen's crew was when the game was in doubt.
Bleak Prediction for Saints
I'll be surprised if the Saints win today in the Windy City.
They scored only 13 points against the Jaguars last week, and that was with Alvin Kamara and Jared Cook playing crucial roles.
Without those two, I don't see the Saints scoring enough to beat the Bears on their field. Even Drew Brees would be hard pressed to score against DE Khalil Mack and the Monsters of the Midway without two key weapons.
My big question is whether Taysom Hill will play a lot at tight end in place of Cook. Maybe he'll be the secret weapon in Sean Payton's game plan.
Bottom line: If the Saints pull out the victory, Payton should have Coach of the Year clinched.
Golden College Rankings after 8 Weeks
Team
Avg.
Points
Win
Loss
Opp
Wins
Opp
Losses
Score
Value
Opp
Opps
Road
Win
Home
Loss
Last
Week
1
Ohio State
15.37
107.6
7
0
27
0
7.62
62
0.0
0.0
1
2
LSU
14.77
103.4
7
0
24
0
4.68
67
0.0
0.0
6
3
Clemson
14.61
102.3
7
0
22
0
5.09
55
0.0
0.0
5
4
Penn State
14.45
101.2
7
0
23
0
3.31
59
0.0
0.0
8
5
Auburn
14.43
101.0
6
1
23
1
3.87
53
0.0
0.0
4
6
Alabama
14.41
100.9
7
0
20
0
5.16
43
0.0
0.0
3
7
SMU
14.28
100.0
7
0
21
0
3.69
45
0.0
0.0
10
8
Wisconsin
14.19
99.3
6
1
21
4
5.60
49
0.0
0.0
2
9
Notre Dame
14.08
84.5
5
1
17
1
2.73
44
0.0
0.0
9
10
Oklahoma
14.06
98.4
7
0
18
0
3.79
41
0.0
0.0
13
"Opps. wins" is the number of victories by the teams the ranked team defeated.
"Opps. losses" is the number of losses by the teams that defeated the ranked team.
"Opp. opps". is the number of victories by the teams the defeated teams beat.
"Score value" is a measure of the margin of victory in relation to the defeated team's number of wins coupled with the margin of defeat in relation to the victorious team's number of losses.
"Road win" and "Home Loss" haven't kicked in yet because opponents have to win at least six games to earn a bonus for beating them on the road and opponents have to have six losses before you lose points when they defeat you at home.
Toughest schedule: Tulsa
Easiest schedule: Alabama-Birmingham
Conference Rankings
Conference
Avg.
Last
Week
1
Big 10
12.740
1
2
Big 12
12.711
2
3
SEC
12.647
3
4
ACC
12.535
4
5
America Ath. Conf.
12.523
6
6
PAC 12
12.456
5
7
Mountain West
11.976
7
8
Sun Belt
11.785
8
9
CUSA
11.536
9
10
MAC
11.206
10
Avg. means the average score of the teams in the conference (with 12 being the starting point for each game and going up/down depending on whether the team wins/loses).
LSU - Mississippi State Comments
I predicted
LSU
would start slow. Two factors worked together to make that happen.
First, the
Tigers
were coming off a tough, physical victory over
Florida
.
Secondly, the
Bulldogs
were coming off a disappointing loss at
Tennessee
.
So
State
played hard from the beginning and stopped
LSU
's offense three times in the red zone, forcing FGs. But emotion can carry you only so far.
So it was a workmanlike performance by the
Tigers
, who can now focus on
Auburn
.
My Week 8 Picks
14-8
Best Week So Far
I'm in a Yahoo Pick'em group that does Top 25 plus additional SEC games each week. Home team in CAPS.
#1 ALABAMA over Tennessee - no spread
Vols are improving - but not that much.
#2 LSU over MISSISSIPPI STATE +18*
Tigers start slow but still roll to big victory.
#3 Clemson over LOUISVILLE +24
Tigers back on track.
NORTHWESTERN +28 over #4 Ohio State

X


Wildcats cover at home.
WEST VIRGINIA +34 over #5 Oklahoma

X


Too many points to give the home team.
ILLINOIS +31 over #6 Wisconson
Illini cover at home for the second straight week.
#16 Michigan +9 over #7 PENN STATE
Wolverines play their best game yet.
#9 Florida over SOUTH CAROLINA +6
Gators bounce back from tough loss; SC comes back to earth after upset.
KENTUCKY +25 over #10 GEORGIA
Bulldogs still smarting from their first defeat.
#11 Auburn over ARKANSAS +19*
Tigers refreshed after bye week.
#25 WASHINGTON +2.5 over #12 Oregon

X


Huskies tough at home.
#17 Arizona State +13.5 over #13 UTAH

X


Sun Devils cover for second week in a row.
#14 Boise State over BRIGHAM YOUNG +6.5

X


Broncos just fine on non-blue turf.
#15 TEXAS over Kansas +21.5

X


Longhorns take Red River Rivalry frustration out on Les & Company.
OKLAHOMA STATE over #18 Baylor +3.5

X


Cowboys bounce back at home.
TEMPLE +7.5 over #19 SMU

X


Owls can knock off an unbeaten team for second straight week.
#20 Minnesota over

RUTGERS

+28.5*
Hard to pick the

Scarlet Knights

with any spread.
#25

CINCINNATI

over Tulsa - no spread

VANDERBILT

+21 over #22

Missouri




Vandy

plays better after last week's embarrassment.
Purdue +18 over #23

IOWA


Defensive-minded

Hawkeyes

don't score enough to cover.
#24

APPALACHIAN STATE

over Louisiana-Monroe +15
Mountaineers celebrated Top 25 ranking.
Texas A&M over OLE MISS +6.5*
Aggies find conference foe they can beat.
Record after five weeks: 98-63-4
Interesting Numbers
| | |
| --- | --- |
| 107 | Illinois' rank in rushing defense as Johnathan Taylor comes to town. |
| 5 | Average points per game allowed by Oregon the last five games |
| 1,094 | Rushing yards by Oklahoma State's Chuba Hubbard this season |
| 3 | INTs thrown by Georgia QB Jake Fromm, all last week vs South Carolina |
| 2 | Rank of Penn State's defense in points allowed |
| 9 | Penn State's rank in scoring offense |
| 46-7 | Average score in Penn State's three FBS opponents with losing records |
| 17-11 | Average score in Penn State's two victories over FBS opponents with winning records |
| 3-12 | Oregon's record against the spread in games following a game in which they covered the spread in its last 15 contests |
| 0 | INTs thrown by Utah QB Tyler Huntley this season |
| 8-2 | Arizona State's record against Utah in their last 10 matchups |
Golden NFL Rankings - after 6 Weeks
49ers Ease Ahead of Saints

#
Team
Avg.
Total
Win
Loss
Opp.
Wins
Opp.
Losses
Margin
Value
Last
Week
1
San Francisco
17.16
85.81
5
0
9
0
1.31
3
2
New Orleans
17.11
102.68
5
1
16
3
0.18
1
3
New England
16.83
101.00
6
0
10
0
1.68
8
4
Minnesota
16.83
100.96
4
2
9
3
1.41
6
5
Seattle
16.79
100.77
5
1
9.5
1
0.52
9
6
Green Bay
16.72
100.30
5
1
15
3
0.75
5
7
Kansas City
16.63
99.75
4
2
12
4
0.86
2
8
Los Angeles
16.59
99.55
3
3
11
5
0.55
4
9
Buffalo
16.50
82.50
4
1
5
0
0.43
10
10
Houston
16.50
99.00
4
2
9
3
0.49
14
"Opp. wins" means the total number of wins by the teams the ranked team defeated.
"Opp. losses" means the total number of losses by the teams that defeated the ranked team.
Team that moved highest amount from last week: New England and Chicago +5
Team that dropped the furthest: Detroit -7
Division Rankings

| | | | |
| --- | --- | --- | --- |
| Rank | Division | Average | Last Week |
| 1 | NFC North | 16.578 | 1 |
| 2 | NFC West | 16.540 | 2 |
| 3 | NFC South | 16.137 | 3 |
| 4 | AFC West | 15.965 | 4 |
| 5 | AFC South | 15.921 | 5 |
| 6 | AFC East | 15.833 | 6 |
| 7 | AFC North | 15.740 | 7 |
| 8 | NFC East | 15.495 | 8 |
Overall: NFC 16.187 AFC 15.865

This Week's Crazy Stats Game
First downs: Buccaneers 23 Panthers 17
Total plays: Buccaneers 75 Panthers 63
Total yards: Buccaneers 407 Panthers 268
Yards per play: Buccaneers 5.4 Panthers 4.3
Possession: Buccaneers 28:50 Panthers 31:10
Turnovers: Buccaneers 7 Panthers 1
Score: Panthers 37 Buccaneers 26
For the second straight week, Carolina's opponent had more first downs, yardage, and yards per play but didn't win. This time it was because of an incredible seven turnovers by the Bucs, six of which were credited to QB Jameis Winston - five INTs and a fumble. (He also had another fumble that a teammate recovered.) Coach Bruce Arians, a noted QB Whisperer, had been making progress with Jameis, getting him to quit forcing the ball and be content to throw the ball away when nothing was there. But after the game, Arians couldn't hide his frustration that Winston had returned to his "all or nothing" attitude. Time to bench the Heisman Trophy winner from Florida State?
Unbeaten/Winless Teams after 6 weeks
Undefeated teams: New England, San Francisco
Winless teams: Jets, Cincinnati, Miami, Washington
Three One-Point Games
Redskins 17 Dolphins 16
Cardinals 34 Falcons 33
Packers 23 Lions 22
Also a two-pointer: Jets 24 Cowboys 22

All Over in Atlanta?
The Falcons trailed the Cardinals 27-10 in Q3 before scoring 17 in a row to pull into a tie with 10:50 left in Q4. After Arizona went back in front on rookie Kyler Murray's third TD pass of the day, Matt Ryan connected with Devonta Freeman out of the backfield with 1:53 on the clock. But Matt Bryant missed the PAT. With two timeouts left, Coach Dan Quinn decided not to onside kick. But after stopping the clock after each of the Cards first two plays, the Falcons couldn't prevent the 3rd-and-5 conversion on a scramble by Murray, who then took a knee three times to preserve the one-point win. With Quinn appointing himself D-coordinator this year, Atlanta is 28th in yards allowed, 27th in yards/play, and dead last in points allowed. No wonder the Dirty Birds are 1-5.
Hot and Cold Cousins
Vikings QB Kirk Cousins has gained a reputation for inconsistency, looking great one week and lousy the next. Here are his QB ratings for this season:
@Green Bay (L 21-16): Passer Rating 52.9, Adjusted QB Rating 7.9
Oakland (W 34-14): PR 112.0, AQBR 83.5
@Chicago (L 16-6): PR 91.5, AQBR 17.7
@Giants (W 28-10): PR 138.6, AQBR 61.4
Philadelphia (W 38-20): PR 138.4, AQBR 91.4
In the three victories, he has thrown 7 TDs with 1 INT and 4 sacks.
In the two losses, 1 TD, 2 INT, and 7 sacks (6 against the Bears).
He must drive his Fantasy Owners crazy, not to mention Minnesota fans.
Major Statement by Niners
Despite being the only other undefeated team besides the Patriots, San Francisco wasn't getting much respect thanks to a lackluster schedule. But not any more after the 49ers went to L.A. and dominated the

Rams

20-7. After the home team drove 56y for a TD to open the game, the Niner D pitched a shutout the rest of the way, holding the potent

Ram

offense to just 109y the rest of the game.
Question of the week: What losing QB said: "It was a tough day. They're a good team. I missed some balls I can't miss." Answer below.
Intriguing Numbers - NFL Week 6

| | |
| --- | --- |
| 372 | Kyler Murray's total yards of offense against the Falcons |
| 3/0 | Murray's TD passes/INTs against Atlanta |
| 56 | Net passing yards by Jared Goff vs the 49ers last Sunday |
| 11 | First downs by the Jaguars against the Saints |
| 226 | Jaguars' total offense vs Saints |
| 11 | INTs thrown by Cleveland's Baker Mayfield in six games, tops in the league |
| 2-10 | Cowboys' conversion ratio on third-down opportunities against the Jets |
| 8 | Penalties by the Dallas offense |
| 55 | Net yards passing by Miami QB Josh Rosen in 25 attempts before he was benched against the Redskins |
| 1 | QBs in regular season NFL history who have 200+ passing yards and 150+ rushing yards in the same game - Lamar Jackson of Baltimore against the Bengals last Sunday |
Answer to this week's question:
Jacksonville
's
Gardner Minshew
Undefeated Teams (Underlined teams will play each other this season.)
American Athletic Conference: SMU 6-0, Memphis 5-0
Atlantic Coast Conference: Clemson 6-0, Wake Forest 5-0
Big 12: Baylor 6-0, Oklahoma 6-0
Big Ten: Ohio State 6-0, Penn State 6-0, Minnesota 6-0, Wisconsin 6-0
Mountain West: Boise State 6-0
SEC: Florida 6-0, Georgia 5-0, Alabama 6-0, LSU 6-0
Sun Belt: Appalachian State 5-0
C-USA, Independents, Mid-American Conference, Pac-12: None
Winless Teams
Rice 0-6, New Mexico State 0-7, Akron 0-6
Crazy Stats Game of the Week
First downs: Georgia 30 South Carolina 16
Total plays: Georgia 95 South Carolina 68
Total yards: Georgia 468 South Carolina 297
Possession: Georgia 36:04 South Carolina 23:56
Turnovers: Georgia 4 South Carolina 0
Score: South Carolina 20 Georgia 17

LSU #1 in ESPN Power Rankings
"The Tigers made a strong case for No. 1 by knocking off Florida 42-28 at home on Saturday night. Coupled with a win at Texas in the opener, LSU might have the most impressive pair of wins by any FBS team in the first half of the season. It was another big victory for LSU coach Ed Orgeron. His teams have seven wins over AP top-10 opponents since 2016; only Nick Saban and Urban Meyer had more, with nine each. LSU's offense continued to roll against Florida's well-respected defense. Quarterback Joe Burrow completed 21 of 24 passes for 293 yards with three touchdowns, and tailback Clyde Edwards-Helaire ran 13 times for 134 yards with two scores. The Tigers had two 100-yard receivers: Ja'Marr Chase caught seven passes for 127 yards with two scores, and Justin Jefferson had 10 receptions for 123 yards with one score."
#2 Ohio State, #3 Alabama, #4 Oklahoma, #5 Clemson, #6 Wisconsin, #7 Penn State, #8 Florida, #9 Oregon, #10 Georgia
Iowa TD Drought
The Hawkeyes went almost eight straight quarters without scoring a TD. After losing to Michigan 10-3 in Week 6, Iowa didn't cross the goal line against Penn State until 2:31 was left in the game when Brandon Smith caught a 33y pass from Nate Stanley to make the final score 17-12 PSU.
Next Two Weeks Critical for Harbaugh?
Is the Michigan fan base, and more importantLY, AD Warde Manuel, finally losing patience with their alumnus coach? Jim Harbaugh has won 74% of his games at Michigan but is only 2-7 against ranked opponents on the road. He is also 0-4 against Ohio State. The Wolverines travel to Penn State Saturday, then host Notre Dame October 26. Lose both those games and Jim's seat will start to get very hot.
Surprise Kentucky QB
During UK's bye week, junior WR Lynn Bowden took first-team snaps while banged-up starter Swayer Smith recovered. Coach Mark Stoops didn't announce that Bowden would start against Arkansas until just before kickoff. All the former high school QB and runner-up for Ohio Mr. Football did was run for 196y - second-most in program history - and complete 7 of 11 passes for 78y. After a sluggish start that saw the Razorbacks jump to a 13-0 lead deep into Q2, the Wildcats scored 17 straight before the visitors retook the lead at 20-17. But Bowden's 24y run with 6:53 left put the Cats back in front for good.

Is Minnesota for Real?
The Golden Gophers didn't attract much attention when they defeated their first three opponents, South Dakota State, Fresno State, and

Georgia Southern

by a combined 13 points. But since then the Gophers have won three straight Big Ten games, albeit against second tier teams: Purdue 38-31, Illinois 40-17, and Nebraska 34-7. With Rutgers and Maryland on deck the next two weeks, the Gophers should be 8-0 with no trouble. Then the fun begins with Penn State, Iowa, Northwestern, and Wisconsin down the stretch. Bottom line: Don't bet on Minnesota going undefeated or even 11-1 this season. 10-2? Maybe.
Twitter Wasn't the Problem
Although Washington State coach Mike Leach loves to spend time interacting with reporters (usually about himself) and sending tweets, he decided to ban his players from social media after losing to Utah several weeks ago. Setting a good example, he has posted no tweets since October 3. However, after an open date, the Cougars lost to Arizona State 38-34 last Saturday to fall to 0-3 in the Pac-12 for the first time since Leach's first season there in 2012. As defiant as ever, Leach told reporters after the loss, "If I had to do it [ban social media] over again, I would have done it when we started camp."
Interesting Numbers
| | |
| --- | --- |
| 3 | TD passes by LSU QB Joe Burrow vs Florida |
| 3 | Incompletions by Burrow (21-of-24) against the Gators |
| 1-9 | Jim Harbaugh's record at Michigan in games against AP Top 10 teams. |
| 15 | Consecutive wins by Georgia against SEC East foes before the upset by South Carolina last Saturday |
| 16 | Consecutive home wins by Georgia before the USC loss |
| 15-21 | Georgia QB Jake Fromm's completion % when not under pressure from South Carolina |
| 1-11 | Fromm's mark, with an INT, when pressured by the Gamecocks |
| 1 | Rutgers' net passing yards (5 of 13) in their 35-0 loss to Indiana |
| 3 | Times Rutgers has gained single-digit passing yards in a game since 2016 |
| 75 | Rutgers' total yardage against the Hoosiers |
| 320 | Rushing yards by Clemson in their 45-14 romp over Florida State |
| 80 | Combined points by which Clemson has beaten Florida State the last two seasons |
| 3 | Wins by the Mountain West Conference against the SEC this season: San Jose State over Arkansas, Wyoming over Missouri, and UNLV over Vanderbilt |
Football Short Story
Fatso: Football When Men Were Really Men, Arthur Donovan Jr. and Bob Drury (1987)
Art "Fatso" Donovan played DT for the Baltimore Colts from 1953-61.
Once, we were flying home from the West Coast after a win over the
Rams
in 1959. But first we had to wait four hours for the plane, and of course we all waited in the airport bar. The jet finally arrived, and since our famous coach,
Weeb Ewbank
, was too cheap to stock our flights with booze, we carried on our own. All of us had beer, except for
Big Daddy Lipscomb
, who was to wind up dead of an overdose a few years later.
Big Daddy
liked his VO, and he came strolling down the aisle of our plane with two fifths of whiskey.
We drank all the way back to Baltimore, and by the time we landed, the sun was up and everybody on the plane had a vicious hangover. Everybody piled off the plane in various states of drunken dishevelment except for our tight end,
Jim Mutscheller
, who halfway down the ramp decided he had to use the head on the jet because he couldn't make it the couple of hundred yards to the airport. The plane was refueling for the trip back to Los Angeles when
Mutsch
opened the door to the head, and who was sitting on the throne, passed out, but
Big Daddy
. He had his two fifths of VO, empty, cradled in his arms like babies. They would have flown back West with
Big Daddy
on that throne if
Mutsch
could have held his water another five min­utes.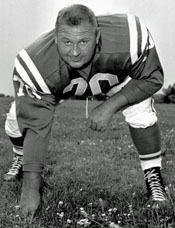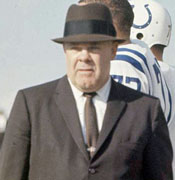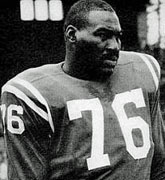 L-R: Art Donovan, Weeb Ewbank, Big Daddy Lipscomb
One of the best flights we ever had was after a loss in Detroit. Nobody was too happy to begin with, because we should have beaten those guys, and by the time we boarded the flight, half the team had a major-league pack­age on. It didn't take long for the other half to catch up. And up at around twenty-five thousand feet a huge brawl broke out between the offense and the defense. They were gouging and biting and blaming each other for the loss. Well, I was one of the guys trying to break up the fight but having no luck at all. Meanwhile, the plane was pitching back and forth as these behe­moths were throwing each other all over the goddamn cabin.
Weeb
would­n't get out of his seat because he was afraid somebody was going to throw him out the window.
Finally, the pilot got on the intercom and announced that if we didn't stop, he was going to have to make an emergency landing and we were all going to jail for air piracy or something like that. That was the only way to stop them. They were crazy animals. And
Weeb
never said a word throughout the whole trip.
Through my first four years in the league, before
Weeb
took over the
Colts
in 1954, I played at six-two, three hundred pounds. I was a light eater. When it got light I started eating. I had a bit part in a movie
Two for the Money
and when the wardrobe people asked me my clothes sizes they told them to check with Omar the Tentmaker. They used to weigh me on a scale downtown at a grain store. But after
Weeb
came in, I always had a clause in my contract stating I had to play at 270. They weighed me in once a week, and what a show that would be. I'd step on the scale, it would reg­ister something like 275. I'd take off my sweat shirt and drop two pounds. My pants would be another pound and a half. And I'd get down to 270 and a half by dropping my underwear. Just when everyone thought I'd be fined for coming in a half pound overweight, I'd pull the
coup de grace
and take out my false teeth.
Everything went fine until 1959. Toward the end of the season, the
Colts
were on the West Coast to play
San Francisco
and
Los Angeles
. We had to win both games to take the division title. We beat the
49ers
and stayed in San Francisco to practice, and that was a big mistake. How can you not gain weight in San Francisco? My tonnage shot to 280.
Weeb
was so preoccupied with the
Rams
game that he didn't have a team weigh-in beforehand. He only weighed a guy named
George Preas
and my­self. ... I had a $2,000 bonus clause in my contract. I'd collect if I stayed at 270 all season. Here we were in the last game of the year, and I had blown it. After he weighed me, I went up to
Weeb
and asked him about a deal. "Suppose I have a good
Rams
game," I said. His answer: "I'll talk to you about it after the game."
Anyhow it was about 110 degrees in L.A. by game time.
Big Daddy
begged out with a bad ankle, although I honestly believe he just didn't feel like playing in that heat, and I had to play the whole game. I was dying. Late in the game, with about three or four minutes left, we were murdering them by about five touchdowns. The
Rams
finally put in their rookie quarterback, a guy by the name of
Frank Ryan
, who went on to become a star with the
Cleveland Browns
... I said to myself, "Thank God," because I was sure he had been sent in to run the clock.
But no. This guy
Ryan
got the ball and started running all over the field and throwing bombs. And I was chasing him and screaming at him and calling him all kinds of names. I yelled at him, "I'm gonna kill you when I get you!" But, truth be told, I couldn't have caught him if he was crawling on his hands and knees. So I finally figured the hell with this, and went over to the
Rams
huddle and said to this guy, "Listen, rook ... Give up the ghost. Run out the goddamn clock."
And he just calmly looked up at me and said, "Drop dead, you big, fat SOB." I was shocked. Stunned. I wanted to kill him. Suddenly I realized my team­mate
Ordell Braase
was yelling at me, "Hey,
Fatso
, you're in the wrong goddamn huddle!" And sure enough, the refs penalized us five yards for being offside. When the game ended I crawled off the field and went look­ing for
Weeb
. I wanted to ask him about my money.
"Hey,
Weeb
, ... I guess I'm going to get my two thousand dollars back now that we won the game and everything."
"Hell, no,
Donovan
," he said to me. "You don't get nothing 'cause you're out of shape."
I asked him what the hell he was talking about. After all, I had played the whole game in stifling heat. And that rat bastard told me that if I was in shape I would have caught
Ryan
and ended the game that much earlier. I never got the money, either.
Tim Wiles, 2004 World Series Program
Luke Sewell
and
Billy Southworth
had a problem on their hands. The managers of the
St. Louis Browns
and
Cardinals
, respectively, had agreed to share an apartment during the 1944 season, never dreaming that the hapless
Browns
would rebound from their sixth-place finish in 1943 to capture the AL pennant by a game on the last day of the sea­son. With the
Cardinals
making their third straight World Series appearance that season, as well, the two managers were left wondering who would get to stay in the Lindell Blvd. apartment for the series.
Although both clubs shared Sportsman's Park during the regular season, the teams' sche­dule dictated that they would never be home at the same time. Ditto with the apartment. When
Sewell
's
Browns
were headed out on the road, his wife,
Edna
took the train back home to Akron, OH, along with their two teenage daughters,
Suzanne
and
Lois
.
When the road trip ended, the
Browns
returned home to find Sportsman's Park vacated, and the
Sewells
returned home to a clean and empty apartment, as
Mabel Southworth
and 9-year-old daughter
Carol
were on their way back to the farm in Columbus, Ohio.
The system worked well for both families, who were trying to economize during wartime and also do their part to ease the resulting housing shortage. The men of the house had a space crunch of their own, sharing the flat as they did with two wives and three daughters.
Luke
and
Billy
got one closet to split between them, with
Sewell
's clothes on one end and
Southworth
's on the other.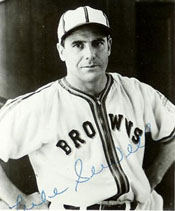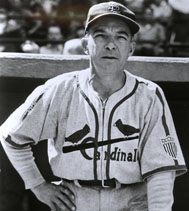 L-R: Luke Sewell, Billy Southworth
The novel living arrangement had received a brief mention in the local papers as the
Browns
made their rush toward the pennant, winning 11 of their last 12 games. "
Mrs. Sewell
would like to meet
Mrs. Southworth
some day but never has," explained a local paper, "as they are never in town at the same time." What will happen at home, asked the society columnist, if the
Browns
pull it out and win their first pennant?
Mrs. Sewell
found it a simple matter, declaring that she and
Luke
would stay put, and the
Southworths
would look for a new place.
The space crunch got worse when
Luke Sewell
, hoping for a
Browns
victory, had invited his mother from out of state to watch her first World Series. Eight people sharing one apartment just wouldn't do, and the idea of opposing managers trying to share the same living room while plotting out the next day's lineup just seemed more laughable than anything else.
Once the pennant was clinched, the two gentlemen decided to settle the matter like grown men: They flipped a coin.
Sewell
won the toss, thus making
Edna
's confi­dent prediction come true. The
Southworths
were on their own. Thankfully for the
Cardinals
manager, though, another resident of the building stepped forth and offered his apartment to the
Southworths
, as he would be away on business during the World Series.
Once the Series began,
Sewell
's upstart
Browns
shocked the
Cardinals
, who had just posted their third consecutive 100-win season, with a Game 1 win. The
Cardi­nals
rebounded for the second game, winning 3-2 in dramatic fashion on an 11th-inning pinch-hit single. But the
Browns
refused to succumb to their underdog status, cruising to a victory in Game 3, striking out 10
Cardinal
batters on the way.
Faced with a 2-games-to-1 deficit, the
Cardinals
returned to form, winning the next three games convincingly to claim their second championship in three years, ending the
Browns
' title hopes and sending both the
Sewells
and the
Southworths
back to their more private homes in Ohio.
About This Site
This site is devoted primarily but not exclusively to college and pro football. The unique feature of this site is the publication each fall of the author's rankings of all FBS college football teams and similar rankings for the NFL. I live in New Orleans and am a graduate of LSU and FSU. So I present a Southern and particularly an SEC point of view but one that is reasonably objective. I also publish a Football Magazine five or six times a year with stories from the past and a periodic Baseball Magazine with a similar format. During the winter and spring, there's a Basketball Magazine.
web counter

Hits since 8/3/12

<!END COLUMN ONE>

For Your Reading Pleasure



Cardinals

Clubhouse

: Season in Time - 1934: May-June

Memorable Game

- 1919 World Series Game 3

Odd Baseball Facts:

Baseball Hall of Famer who played football and vice-versa


How Would You Rule? -

Fly ball bounces over the fence off LF's head


Baseball Quiz

- Rookie record holders

Short Story

-

Gehrig

's Streak Ends

Tiger Den:

1935

Arkansas

Game


Saints Saga

: First Victory

Seminoles Sidelines

: From the Archives - Birth of the Fast Break

Offense

Super Bowl XIII

-

Cowboys

vs

Steelers Football Profile

:

John Heisman
Short Story

: "The

Johnny Bright

Case"

How Well Do You Know the Rules? Football Quiz