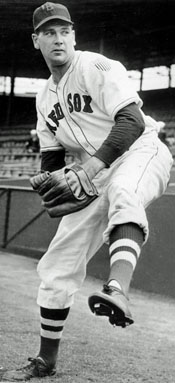 Boo Ferriss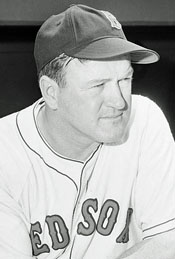 Joe Cronin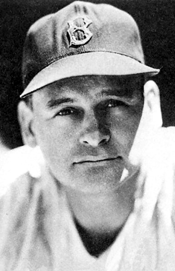 Bob Johnson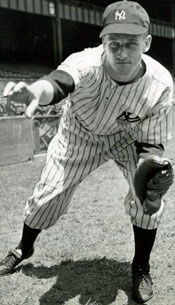 Hank Borowy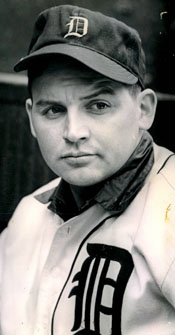 Stubby Overmire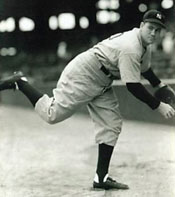 Tiny Bonham

Dave "Boo" Ferris was born in Shaw MS in 1921.
His nickname came from his inability to pronounce "brother" at an early age.
He received a full baseball scholarship to Mississippi State, where he pitched in 1941 and 1942.
Less than a year after signing with the Red Sox in '42, he was inducted into the Army Air Force but was discharged a little over two years later because of asthma. (Interestingly, that disease has not prevented him from living to the age of 94 as this is written.)
He was told by doctors not to play baseball because of his condition. But he didn't consider that an option. I had a ball in my hands as long as I can remember, and I like baseball. All I ever wanted to be was a ball player. I never wanted to be a fireman or engineer, just a ball player.
When the Red Sox lost their first eight games of the '45 season, Boo was called up and pressed into action.
To say that his big league debut was sensational is an understatement.
He made his debut in the first game of a doubleheader April 29 at Shibe Park. Throwing mostly a sidearm curveball, Boo twirled a five-hit shutout against the

Philadelphia Athletics

.
That started an incredible streak of pitching that included the most consecutive scoreless innings - 22 - at the beginning of a career.

Dave's winning streak finally ended Sunday, June 10 before 41,216 at Yankee Stadium.

Hank Borowy outdueled him 3-2.
June 15 at Griffith Stadium, Boo had to work extra hard to get back into the winning column. In his toughest outing, he gave up four in the 5th to the

Senators

but the Red Sox tied the game with five in the 7th. The 6'2" righthander shut down the home team until the Sox finally plated a run in the 14th to prevail 6-5.
Not getting any extra rest, he returned to the hill June 21 (on yours truly's fourth birthday) and lost to the

Yankees

again, this time at Fenway.

New York

pounded him for ten runs (only eight earned) in 4 1/3 innings. He gave up only seven hits but uncharacteristically walked six.
He took the mound again June 24, facing the

Nats

again, this time in Fenway. Amazingly, the final score was the same as his previous outing against them, 6-5, but in the regulation nine innings.
Boo won again the next Friday, his third victory over the

White Sox

, 4-2.
His winning streak reached four with victories over the

Browns

7-4 July 1 and

Tigers

4-3 just three days later as part of an Independence Day doubleheader.
He tossed his fourth shutout on the last day before the All-Star break. The

Indians

fell in Municipal Stadium 6-0.
Boston reached the All-Star break in 5th place at 37-35, just a half-game behind Chicago.

For the only time since it was inaugurated in 1933, the All-Star game scheduled for Fenway Park was cancelled at the last minute (July 10). (The

Red Sox

hosted the game the following season.) Seven out of eight interleague night games were played July 9 and 10 to help support the American Red Cross and the National War Fund. The

Red Sox

defeated the

Braves

8-1 before a crowd of 22,809 at Fenway Park.

Boo

started and threw three shutout innings.
After going 14-2 before the break, Ferriss faded some the second half, in part because the hot humid weather exacerbated his asthma.
Friday the 13th was lucky for Boo as he went 4-0 against the

White Sox

, 6-2.
He kept his record spotless against the

Browns

, 3-2 in St. Louis.
He then suffered his first two-game losing streak.

Ferriss held a 1-0 lead over the

Senators

until the visitors struck for three in the 8th to win 3-1.
The

Yankees

beat him 4-2 in ten innings July 31.

The

Senators

cured his losing blues August 4 when the Red Sox romped 15-4 in the nation's capital.
August 8 produced his fifth loss as Stubby Overmire prevailed 5-2 in Detroit.
Win #19 came on the road at the expense of the

Indians

7-1 August 12.
It took Dave three times to get the magic 20th victory.

His win-loss alternation continued as the

White Sox

finally got to him to the tune of 12 hits and six runs in four innings.
Dave again failed to win his 20th in St. Louis, the

Browns

touching him for 15 hits and eight runs although the Red Sox won 10-8 in 13 innings.
In the 7th and last game of a weeklong series in St. Louis (as part of wartime scheduling to cut down on travel), Boo got what today would be called a save by getting the last two outs in a 5-4 victory.
Back home in Boston two days later, Dave finally got his 20th 4-3 over

Philadelphia

.

The Mississipian lost his next two starts, both on the road as August turned into September, 7-1 to the

Yanks

and 11-5 to the

Senators

.
A week's rest helped Boo when he toed the slab again September 10. The result was a 9-2 romp over the

Tigers

to give him a 21-8 record.
That turned out to be his last victory of the season.

The

White Sox

collected 12 hits and 6 runs in six innings to give him a 6-1 loss September 16.
A week later, he lost a tough 2-1 decision to Tiny Bonham in the second game of a doubleheader that was called after five innings because of darkness.

Between games of the doubleheader, the Red Sox staged Ferriss Day before a paid crowd of 28,743 that turned out for the final home games of the season. A committee presented him a Lincoln Zephyr that was originally custom built for Mrs. Edsal Ford. The Red Sox gave their rookie of the year a radio along with a gold wrist watch and a gold key chain. The Rotarians of Mississippi supplied a big bunch of posies.

Cronin chose not to use his star rookie in the final two games in New York as his Red Sox sank to 7th.
Boo Ferriss final record for 1945: 21-10, 2.96 ERA, 31 GS, 26 CG, 5 SHO, 94 K, 85 BB.
Ferriss had another outstanding season in 1946 when all the stars returned from the military.
Boo gained 25 victories against only 6 defeats to lead the AL in winning % (.806).
The Red Sox won their first pennant since 1918 and lost to the

Cardinals

in a thrilling seven-game World Series.

Boo shut out

St. Louis

in Game 3 at Fenway Park, a six-hitter.
He started Game 7 but was taken out after 4 1/3, yielding 7 hits and 3 runs.

Boston was favored to repeat in 1947, but starters Ferriss, Tex Hughson, and Mickey Harris all developed sore arms.
None ever fully recovered. Boo went 12-11 in '47 and 7-3 in '48 but had no decisions in only five games the next two years before calling it quits at age 28.
Reference: "Dave Ferriss," David Pietrusza, SABR Baseball Biography Project (2000)
Teenager on First, Geezer at Bat, 4-F on Deck: Major League Baseball in 1945, James D. Szalontai (2009)