The 1978 World Series had one of the most controversial plays in Fall Classic history.
Reggie Jackson
's five HRs (including three in one game) had powered the
Yankees
to the championship over the
Dodgers
the previous year. He now played a major role in Game 4 in '78 with his bat, as you would expect, but also with his leg.
The Yankees trail the Dodgers 2-1 in games.
Bottom of sixth –

Los Angeles

starter Tommy John is cruising with a 3-0 lead.
However, New York scores a run on a one-out Jackson single that plates Roy White and moves Thurman Munsen to second.
Lou Piniella steps to the plate.
The future

Cubs

manager hits a sinking liner to the left of Dodger SS Bill Russell. The ball hits Russell's glove and falls to ground.
Munson takes off for third, but Russell steps on second to force Jackson and throws to first to try to complete an inning-ending double play.
Meanwhile, Jackson, expecting Russell to catch the liner, returns to first. As the throw comes in, Reggie, who has turned to face 2B, turns his right leg slightly into the ball. It hits his leg and bounces into RF, allowing Munson to score the Yankees' second run.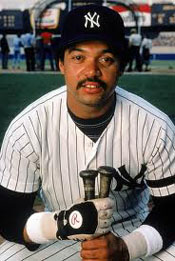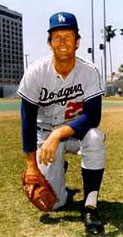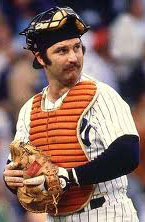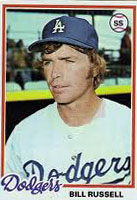 L-R: Reggie Jackson, Tommy John, Thurman Munson, Bill Russell
Dodger
manager
Tommy LaSorda
is livid.
He argues that "Mr. October" interfered with the throw and could not impede the play made on another runner. Piniella should be called out at first.
Frank Pulli, the NL ump at first base, disagrees, saying Jackson's interference was not intentional.
So Munson's run stands.
Dodger 1B Steve Garvey, the closest person to the play, later says Reggie's play was "quick thinking, but dirty pool."
New York ties the game in the 8th on a Munson double and wins in the tenth on a Piniella single. The Yankees also win the next two games to defend their crown.
After the Series, Lasorda said, "I think the Reggie Jackson play changed the complexion of the whole Series because Tommy John was winning that ballgame. It would have been the third out." (Baseball Digest, August 2007)