30-year-old
Bill Beven
, a strapping 6-3 215lb righthander, had an outstanding season with the
Yankees
in 1946, his third season with the club. He won 16 and lost 13 with a 2.23 ERA, completing 18 of the 31 games he started.
Big Bill
was the
Yanks
' second starter behind
Spud Chandler
(20-8, 2.10).
But he was not as successful in '47. He went from 120 Ks and 78 W in '46 to only 77 Ks against 77 W. His ERA ballooned to 3.82. He lost the same number of games, 13, as in '46 but won only seven.
Nevertheless,
Bevens
, "the 29-year-old giant from Oregon," was manager
Bucky Harris
's choice to start Game 4 of the 1947 World Series with the
Yankees
leading two games to one. Nothing in
Bill
's past would have enabled anyone to predict what would happen that sunny day in Brooklyn.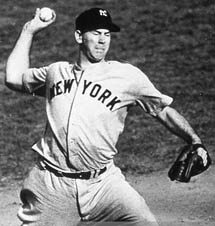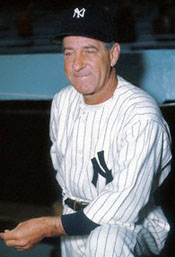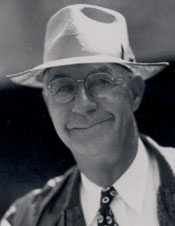 L-R: Bill Bevens, Bucky Harris, Bert Shotton
With two outs in the bottom of the 9th,
Bevens
stood on the mound at Ebbets Field within one out of baseball immortality. He had not allowed a hit to the National League champions. They did plate a run in the fifth inning on two walks, a sacrifice, and a ground out. The
Yanks
led 2-1 thanks to a bases loaded walk to
Joe DiMaggio
in the first and a triple by 3B
Billy Johnson
followed by a double by RF
Johnny Lindell
in the fourth.
Bevens' performance was even more amazing than anyone knew at the time. He had hurt his arm early in the game and lost some speed off his fastball. But he felt he could get one more out.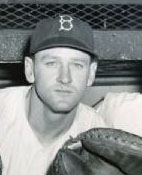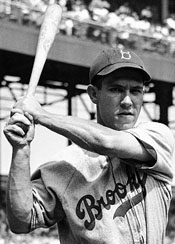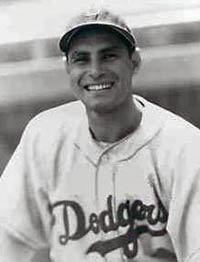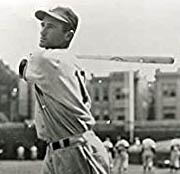 L-R: Bruce Edwards, Pete Reiser, Al Gionfriddo, Spider Jorgensen
C
Bruce Edwards
led off the ninth by flying out to deep LF.
RF
Carl Furillo
drew the ninth base on balls that
Bill
had issued - tying a World Series record. "He was wild, but he had great stuff," said Rookie C
Yogi Berra
.
3B
Spider Jorgensen
fouled to 1B
George McQuinn
. One out to go.
Brooklyn
manager
Bert Shotton
sent up
Pete Reiser
to pinch hit for P
Hugh Casey
and put in
Al Gionfriddo
to run for
Furillo
at first base.
Reiser was a "five tool" player. But he had a propensity for running into unpadded out­field walls. His latest encounter with the immovable object occurred on June 5, 1947 when he made a great catch at Ebbets Field and crashed into the CF wall. He was carried off the field on a stretcher, and a priest administered the last rites of the Catholic Church before he was transferred to a hospital. He couldn't move for eight days. He was eventu­ally operated on for a blood clot in his skull. He rejoined the club in August but had to be carried off the field after making a diving catch when he was unable to recognize anyone.
He was still having dizzy spells when the World Series began. In Game 3, he felt his ankle snap while trying to steal second. Back at the hospital, a doctor said he had a broken ankle and wanted to put a cast on it. Pete asked that he simply tape it to allow him to return to the Dodgers for the rest of the series.
On the first pitch to Reiser, a ball, Gionfriddo took off for second. Yogi Berra made a high throw, SS Phil Rizzuto slapped the tag on the runner, and 2B umpire Babe Pinelli signaled safe. When the count on Reiser reached 3-1,

Yankee

Manager Harris then made the fateful decision to walk Pete intention­ally, thus violating one of the Cardinal Rules of Base­ball - never put the potential winning run on base.
In response, Shotton made two more moves. Eddie Miksis ran for Reiser, and Harry "Cookie" Lavaget­to pinch hit for 2B Eddie Stanky.

Gionfriddo steals second.
Lavagetto was a 35-year-old veteran in his tenth season in the majors plus four years of service in the military. Stanky drew 103 walks during the season but Shotton wanted more pop.
By now,
Bevens
had throw more than 140 pitches. But the
Yankee
scouting report on the righthand-batting
Lavagetto
said you could get him out with fastballs away. So
Berra
put one finger down to indicate a fastball and waggled his hand to indicate high and away.
Bevens
threw the pitch right past
Cookie
on the outside corner for strike one. So
Yogi
gave the same signal, but this time
Lavagetto
got good wood on the ball and sent it soaring high into RF. It hit off the screen atop the 38' high fence and dropped straight down at the feet of RF
Tommy Henrich
. Off with the crack of the bat with two outs,
Gionfriddo
scored the tying run easily, and
Miksis
slid across with the winning run just before the relay arrived. The
Dodgers
and many fans mobbed
Lavagetto
in the center of the diamond. The new hero needed a police escort to make it to the dugout.
Cookie
later revealed that the
Yankee
"book" on him was wrong. "Fast and tight was the way to handle me. High and outside was just where I like them."
As
Big Bill
left the field, he started crying. In the clubhouse,
Yogi
sobbed with him.
Bevens
gained redemption when he hurled 2 2/3 scoreless innings in the
Yankees
' 5-2 victory in the seventh game.
Bill
never threw another pitch in a major league game after the 1947 World Series, and
Lavagetto
retired after the season.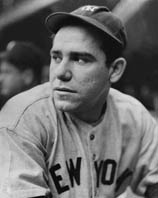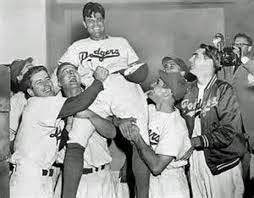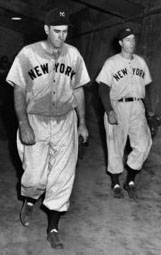 L-R: Yogi Berra in 1947, Lavagetto triumphant and Bevens disconsolate.