Harris Pulls a Fast One on McGraw
1924 World Series Game 7: New York Giants @ Washington Senators
One the greatest battle of wits in World Series history began before the game even start­ed. Giants manager John McGraw went with right-hander Virgil "Zeke" Barnes, the loser in Game 4. Senators player-manager Bucky Harris pulled a fast one on his older counter­part by employing a strategy concocted in owner Clark Griffith's office that morning.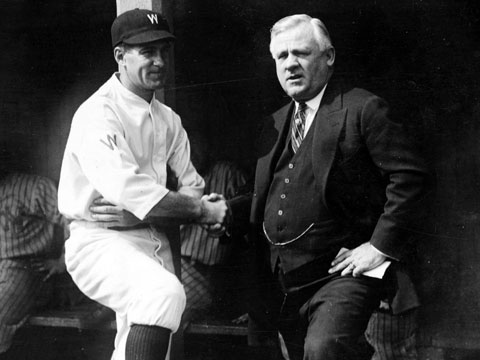 Managers Bucky Harris and John McGraw at beginning of 1924 World Series
With everyone expecting him to start left-hander George Mogridge, who had won Game 4, Bucky instead warmed up righty Curly Ogden, who had yet to appear in the Series. Since Curly had the fourth most starts on the club, the choice seemed reasonable, especially since Ogden had compiled a 2.58 ERA that was over a run less than Mogridge's 3.76.
But Bucky had no intention of letting Ogden pitch to more than a few batters. Mogridge would take his place in the first inning. If McGraw then switched to a right-handed lineup, he would lose a number of possible pinch-hitters. But if he decided to do that, Harris would bring in right-hander Firpo Marberry. "I intend to outsmart McGraw," Bucky told Griffith.
McGraw turned in a lineup card with young Bill Terry, a left-handed batter, playing first base and hitting fifth. Bill would eventually fashion a Hall of Fame career, but he had hit just .239 in his first full season in the bigs. However, "Memphis Bill" had blistered Washington pitching for 6-for-12 with a triple and a home run, which is why McGraw put him in the cleanup spot.
Harris figured he had a better chance of cooling off Terry with a left-hander while also putting Irish Meusel, a .310 batter from the right side in '24, on the bench. Kelly moved from first base to center field. McGraw didn't think Bill could hit southpaws and usually sat him against lefthanders.
John McGraw did not hold Bucky Harris in high regard. Mugsy told his buddies before the Series that the Senators' manager was "a punk kid" who needed a comeuppance. When Bucky heard about the putdown, he told owner Calvin Griffith, "I know as much baseball as that old buzzard."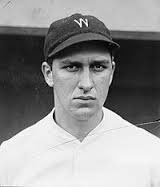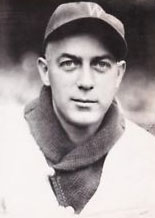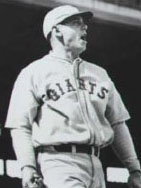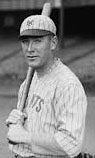 L-R: Curly Ogden, George Mogridge, Bill Terry, Irish Meusel
Washington fans couldn't believe their eyes when Curly Ogden took the mound - a journeyman who had won only nine games all season and was making his first appearance in the Series. Some must have wondered, "Has Bucky gone mad?" But they would soon see what their skipper had up his sleeve.
The leadoff batter for the Giants was 3B Freddy Lindstrom. Ogden struck out the right-handed batter on three pitches, the last a wide curve. Curly then started walking toward the bench, but second baseman Harris called him back to pitch to switch-hitter Frankie Frisch. When Frankie walked, Harris made his move. He replaced Ogden with George Mogridge as he intended to do all along. The southpaw had been warming up secretly under the stands.
Ross Youngs, a lefty, struck out on a wide curve. Then 3B Tommy Taylor threw out George Kelly to retire the side.
Mogridge shut out the Giants until he gave up a walk and a single to start the sixth. At that point, Harris brought in his ace reliever Firpo Marberry.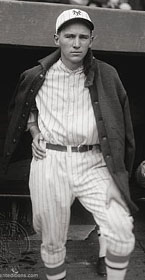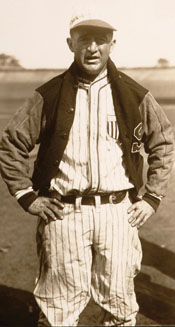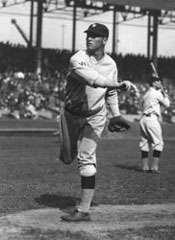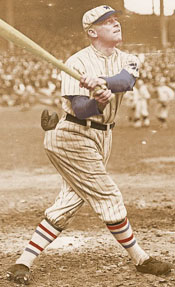 L-R: Freddy Lindstrom, Frankie Frisch, Ross Youngs, Firpo Marberry