Weaver Fires up White Sox; McGraw Sticks with Slim
1917 World Series Game 5:
New York Giants
@
Chicago White Sox
The
White Sox
won the first two games of the best-of-seven series at home. But they lost the next two at the Polo Grounds, being shut out by
Rube Bento
n 2-0 and
Ferdie Schupp
5-0.
John McGraw
's
Giants
taunted the
White Sox
. "We thought you were a fightin' ball club. Who're you yellowbellies now? Fightin' ball club? Hell!"
Sox
SS
Buck Weaver
decided his team needed a jolt. They needed to "let loose." So the team sharpened their spikes like razors. During batting practice at frigid Comiskey Park before Game 5,
Buck
signaled to teammate
Dave Danforth
to throw the ball low and outside so he could whack it down the RF line where the
Giants
were warming up. "I wanted to knock a couple of 'em cold," said
Weaver
. So without any warning, he smacked one in the
Giants
' direction. When they turned to see who hit the ball,
Buck
sent another one right at them. The
Giants
hollered at him,
Weaver
yelled back that he "was goin' to flatten a couple of 'em; that they thought they were a fightin' ball club; well, we'd show 'em a
real
fightin' team." Following
Buck
's lead, each of his teammates picked a
Giant
to hassle.
Weaver
took his counterpart, SS
Art Fletcher
.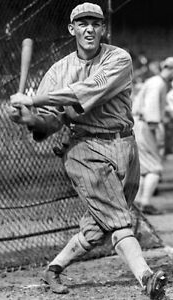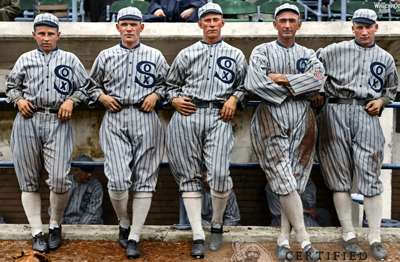 L-R: Buck Weaver, Nemo Leibold, Eddie Murphy, Shano Collins, Joe Jackson, Happy Felsch
At first,
Buck
's plan seemed to fire up the
Giants
instead of the
White Sox
.
New York
led 4-1 heading into the bottom of the 6th in "miserable baseball weather...overcoats and furs were needed to keep the fans from shivering in the stands" (
New York Times
). With one out,
Weaver
singled. C
Ray Schalk
followed with another single to RCF. As
Buck
headed for 2nd, he had to push
Giants
2B
Buck Herzog
out of his way, and as he headed to 3rd, he had to sidestep
Fletcher
, who was also trying to impede his progress.
Swede Risberg
's pinch hit single drove
Weaver
home to cut the margin to 4-2. However, the
Giants
got that run right back in the top of the 7th.
When 2B
Eddie Collins
popped out to start the
Sox
7th,
Giants
southpaw starter
Slim Sallee
was only five outs from giving
New York
a three-games-to-two lead.
Many were surprised that
McGraw
started
Slim
because "
Sallee
's long association with
St. Louis
made him distinctly a hot weather worker, and when the New York contingent arose this morning and found the thermometer hovering about the 32 degree mark, it was taken for granted that
Pol Perritt
or
Rube Benton
would pitch for the
Giants
."
Joe Jackson and Happy Felsch hit singles, and both scored on Chick Gandil's double to make it 5-4. With Pol Perritt warming up, Manager John McGraw decided to stick with Slim - a decision that would be roundly criticized in the New York press the next day. Up next, Weaver would have liked nothing better than to drive home the tying run. But with the crowd in a frenzy, all he could do was hit a grounder that sent Chick to third. Sallee walked Schalk, but McGraw still made no move. But that's when Chicago manager Pants Rowland decided to put his boys' sharpened spikes to work. He gave the steal sign to Schalk and the take sign to P Lefty Williams, the next batter. When Schalk took off with the pitch, C Bill Rariden fired the ball back to Sallee, who turned and fired it to second, but Herzog missed the peg, which allowed Gandil to cross the plate with the tying run and Schalk to scamper to 3rd. Rowland then sent up Byrd Lynn to hit for Williams, but that bit of strategy backfired as Lynn struck out.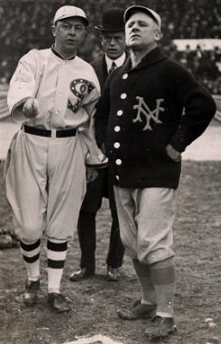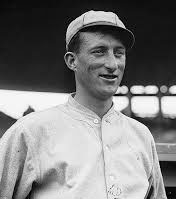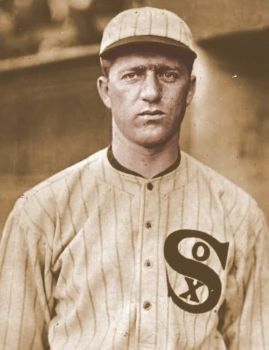 L-R: Managers Pants Rowland and John McGraw, Slim Sallee, Red Faber
Red Faber
came to the mound and set the
Giants
down 1-2-3. The
Sox
then continued their onslaught against
Sallee
. RF
Shano Collins
singled, and
Fred McMullin
sacrified him to second.
Eddie Collins
then singled to center to score the go-ahead run. Perhaps because a left-handed batter was next,
McGraw
let
Sallee
face
Jackson
, who slashed his third single of the game to send
Eddie
to third.
Joe
continued toward second on the throw to third, causing 3B
Heinie Zimmerma
n to make a wild heave to second to allow
Collins
to score. Finally,
McGraw
brought in
Perritt
, who was greeted by
Felsch
's RBI single.
Gandil
flied to LF for the second out. With
Weaver
at bat,
Felsch
was caught stealing to end the three-run inning.
Faber
disposed of the
Giants
in 1-2-3 fashion in the 9th to seal the 8-5 victory.
Back in New York two days later for Game 6, Faber pitched a complete game as the Sox wrapped up the Series with a 4-2 victory.
After the last out was recorded,
McGraw
made a beeline for
Weaver
. "I wanta shake your hand, kid," the
Giants
skipper said. "You're the best, and I wanta take my hat off to you."
John
liked feisty, competitive players like
Buck
.
McGraw later told sportswriter Fred Lieb that Buck Herzog "sold me out" during the 1917 World Series by playing out of position.