Scott Fails to Cover Second
1915 World Series Game 1
:

Boston Red Sox
@
Philadelphia Phillies
The
Red Sox
appeared in their third World Series against the surprising
Phillies
, who won their first National League pennant after finishing sixth the year before. First-year manager
Pat Moran
led the
Phils
to 90 wins, 16 more than the previous season.
Each team started its ace. That meant Grover Cleveland Alexander for the Phils, who won 31 games and lost only 10 with a microscopic 1.22 ERA. "Old Pete" as he was called was one of the first pitchers to throw what would later be called a slider.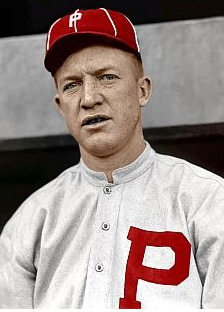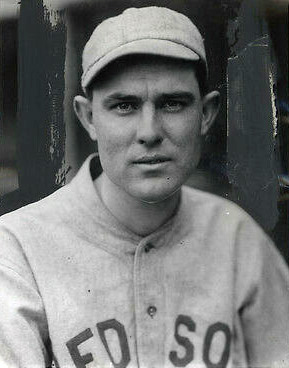 Grover Cleveland Alexander and Ernie Shore
While
Alexander
was clearly the ace for the
Phillies
, the
Red Sox
boasted five pitchers who won 15 or more games. Manager
Bill Carrigan
chose
Ernie Shore
, 19-8 on the sea­son, to open the Series at Baker Bowl in Philadelphia.
Decades later, Shore shared his recollections of the 1915 Series with author Donald Honig.
"Carrigan told me I was going to open the Series, which was just swell with me, and quite an honor considering the talent we had on our pitching staff. No, I wasn't a bit ner­vous. ... When I had my good stuff, I nearly always won. I was a fastball pitcher. I threw a ball that dropped, a natural sinker. And it dropped fast, too, real fast. When I had it going for me, they hit nearly everything to the infield, very seldom to the outfield."
The anticipated pitching duel didn't disappoint. The Phillies broke the ice with a run in the 4th on a single, a sacrifice, and an RBI single by LF Possum Whitted.
The
Red Sox
left a man on base in each of the first six innings before
Alex
finally set them down in order in the seventh. But they tied the game in the 8th on
Duffy Lewis
's two-out single that scored
Tris Speaker
from second.
Let Shore tell us about the fateful bottom of the 8th.
"I told you they didn't often hit me to the outfield. Well, in the eighth inning I gave up a couple of runs and not one ball left the infield the whole inning.
"With one out I walked Milt Stock. Then Dave Bancroft came up. He hit one right on the nose to Jack Barry, who made a terrific stop of it. But Everett Scott didn't cover second base. To this day I don't know why. Maybe he didn't think Barry would get it. When Barry wheeled to throw to the base, nobody was there, and he held the ball just long enough for Bancroft to beat it out.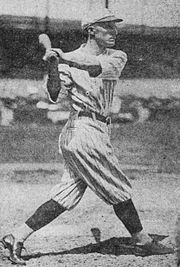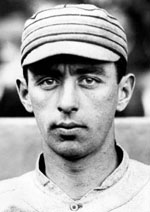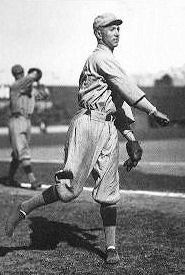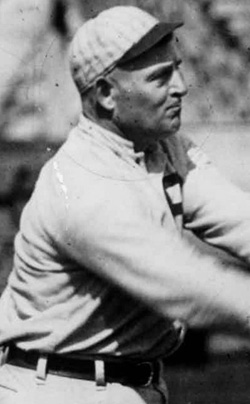 L-R: Dave Bancroft, Jack Barry, Everett Scott, Gavvy Cravath
"The next man walked and the bases were loaded. Then Gavvy Cravath stepped in. He was the great home run hitter of the day, you know. He had hit something like 24 home runs that year which was the new record for a single season. If I tell you that Cravath hit more home runs that year than most teams did, you'll get some idea of what a slugger he was. So you can bet I was careful with him. I got him to hit one on the ground, but the best we could do was get him at first, and a run scored.
"Then a fellow named Fred Luderus came to bat. He hit a little nubber toward the mound. Well, it had rained the night before, and the grass was still wet and slippery. In fact they had burned hundreds and hundreds of gallons of gasoline on the field before the game to try and dry it. It helped some, but not eough. I went after the ball, and my feet just flew out from under me, and down I fell. I still had a chance to throw him out, but the darndest thing happened. You see, in those days they had a path from home plate to the pitcher's box, a skin track without any grass on it. You don't see that anymore. With the ground so wet from the rain, there were spike marks in that path about an inch deep. Well, the ball hit one of those marks and curved right on away from me. All I could do was sit there and watch that little white ball roll away–so slowly I could see each stitch–while the run crossed the plate.
"Talk about bad luck. I should have been out of that inning without a run scored. You put their hits end to end, and they still wouldn't reach the outfield grass."
The two-run lead was more than enough for
Alexander
, who shut down the
Red Sox
in the top of the ninth despite a error. The second out came when
Babe Ruth
batted for
Shore
and grounded to first. It would be the 20-year-old pitcher's only appearance in the Series.
Reference: The October Heroes: Great World Series Games Remembered
by the Men Who Played Them, Donald Honig (1979)