Wood Guts It Out; Doyle, Snodgrass Blunders
1912 World Series Game 1: Boston Red Sox @

New York Giants
The Polo Grounds, the Crown Jewel of baseball parks, overflowed with 35,730 spectators. Included were 300 members of the Royal Rooters Club from Boston. An estimated 3,000 fans lined Coogan's Bluff high above right field, and more watched from the 9th Avenue El bridge.
Excitement in both cities was at a fever pitch for what had become in just ten years the most anticipated sports event in the country. It was estimated that over $1 million was bet on the Series just in the five boroughs of New York. Fans in both cities could follow the game on large scoreboards in Times Square and Herald Square in New York and at the Boston Commons as telegraph reports relayed the action.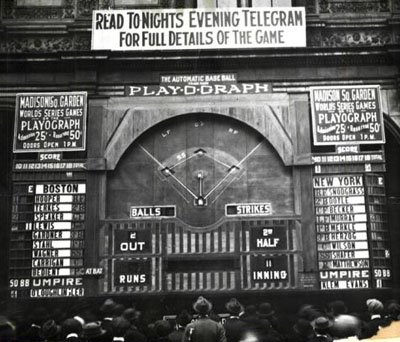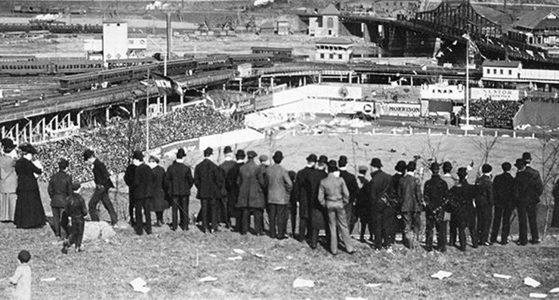 L: New Yorkers follow the action on the "Play-o-graph."
R: Spectators on Coogan's Bluff above the Polo Grounds
Everyone expected both managers to start their aces,
Christy Mathewson
for
John McGraw
's
Giants
and
Smokey Joe Wood
for
Jake Stahl
's
Red Sox.
And
Wood
did start for
Boston
. But
McGraw
surprised
New York
fans by starting rookie righthander
Jeff Tesreau
.
McGraw
later explained that he wanted to hold
Mathewson
for Game Two in Boston rather than start the rookie in a hostile environment.
Fans watching the scoreboards in downtown Manhattan couldn't believe their ears when the announcers gave the batteries. One disgruntled fan yelled, "How can we believe you'll get the scoring right when you can't even get the battery right!"
250 miles North in Boston, fans got the same news in front of the Herald's scoreboard on Boston Common. Some fans nearly revolted. "Don't lie to us! Only a fool would keep Mathewson on the sideline today! Only a fool or a crook on the take!"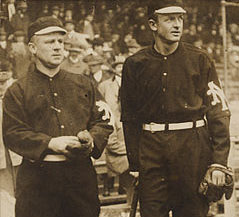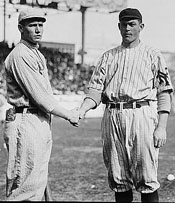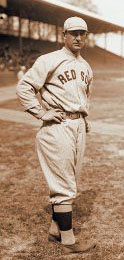 L-R: John McGraw, Christy Mathewson, Smokey Joe Wood, Jeff Tesreau, Jake Stahl
Tesreau
, who had a 17-7 record with a league-leading 1.96 ERA during the season, made his manager look like a genius when he held the
Red Sox
hitless for five innings. Meanwhile, the
Giants
took the lead in the third on RF
Red Murray
's two-run single.
Boston finally got to Tesreau in the sixth thanks to a misplayed fly ball. With one out, CF Tris Speaker hit a high, deep fly to left center field. Speaker slammed his bat into the dirt in frustration. As LF Josh Devore settled under the ball, CF Fred Snodgrass continued to race over. Tesreau screamed from the mound, "Stay away from him, Snow!" But one of McGraw's rules was the center fielder had priority on fly balls. So when Snodgrass scream­ed, "I got it!" Devore stopped to avoid a collision. But that distracted Fred, and the ball landed untouched. Running at full speed, Speaker ended up on third with a gift triple. He then scored Boston's first run on LF Duffy Lewis's groundout with the infield playing back.
McGraw fumed in the dugout. He could tolerate physical errors but not mental ones. "What the hell happened with that mix-up out there?" he asked as Snodgrass jogged in. "That was Josh's ball all the way."
"That's your rule," replied Snodgrass. "Besides, it's loud out there, and I never heard him call for the ball."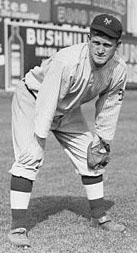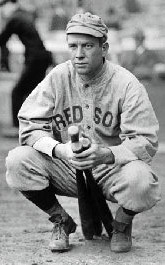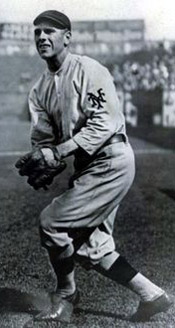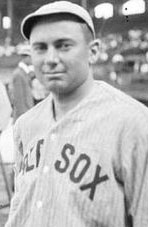 L-R: Red Murray, Tris Speaker, Fred Snodgrass, Duffy Lewis
Despite telling his manager he was okay, Tesreau ran into trouble in the seventh when his defense failed him again. After he got the first man out, SS Heinie Wagner singled, and C Hick Cady followed with another single to put runners on first and third. That brought up Wood, a good hitter as evidenced by his .290 average for 1912. Nevertheless, McGraw kept his infield back.
Wood
swung at a spitter and smacked a double-play grounder to 2B
Larry Doyle
. But
Doyle
slipped and fell down and was lucky to get the force at second as the tying run scored. The
Giants
' woes continued when RF
Harry Hooper
hit a high foul pop that should have been the second out, but C
Jack Meyers
had trouble picking up the ball and dropped it. Given a reprieve,
Hooper
cracked the next pitch for a double, sending
Wood
to third. Light-hitting 2B
Steve Yerkes
singled to left, knocking in
Wood
and
Hooper
to give the
Sox
a 4-2 lead.
McGraw was overheard to say at inning's end: "I have some ballplayers who in the fall cannot seem to stay on the ground. They wait until the big series to pull stuff that they would not be guilty of at any other time." Translation: They choke under pressure.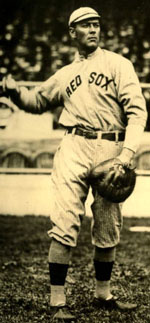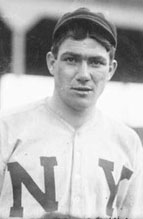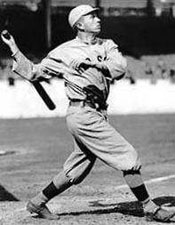 L-R: Hick Cady, Larry Doyle, Harry Hooper, Steve Yerkes
Smokey Joe
hit a batter in the eighth but set down the
Giants
without further damage. After the
Sox
failed to increase their lead in the ninth against
Doc Crandall
,
Wood
took the mound before a quiet crowd that seemed reconciled to losing the game.
But the
Giants
weren't going down without a fight.
Murray
flew to right, but 1B
Fred Merkle
–yes, the
Merkle
whose failure to touch second base negated the game-winning hit and cost the
Giants
the 1908 pennant–stroked a clean single to left, and 3B
Buck Herzog
put the tying run on base with a bloop single to the same spot.
Meyers
, intent on making up for muffing the pop-up in the seventh, smashed a line drive into the right center field gap.
Merkle
scored easily, and
Herzog
had every intention of following him across the plate with the tying run. But RF
Hooper
made a great play, cutting the ball off and firing it to the infield in one continuous motion. So
McGraw
, coaching third base, threw up his arms as
Buck
steamed into third and screamed, "No,
Buck
, no!"
Giants
fans had every reason to believe
Hooper
's great play had only delayed the inevi­table. They had runners on second and third with only one out, and
Wood
was clearly tiring.
Beals Becker
replaced slow-footed C
Meyers
as the potential tying run at second.
McGraw lived for situations like this where he could display his managerial dexterity. With the eighth-place hitter, SS Art Fletcher, due up followed by the pitcher, John needed pinch hitters. But his most reliable man, Moose McCormick, had batted for Tesreau in the seventh. So Fletcher would hit for himself. But McGraw described his shortstop as "a little nervous, especially in a big spot in a big game."
After Wood tried twice to pick off Becker, McGraw met Fletcher halfway down the third-base line. Putting his arm around his 27-year-old shortstop, John said, "Kid, just think of how great it's gonna feel in a few minutes when you knock these guys in, and these folks are carrying you off the field."
If that relaxed Fletcher, it lasted only as long as it took Art to foul off a nasty fastball. "That's it, kid!" yelled McGraw. "You're right on it! This is a Bush League pitcher from a Bush League team! You own this Boston bastard!"
By his own admission, Wood was exhausted. But he summoned the energy to throw a curve that started four feet over Fletcher's head before dropping over the plate at belt level for strike two.
"Be alert out there, Beals, you're gonna have to score this for us!" shouted McGraw to his runner on second. Then to Herzog on third, "Buck, you know this Busher is gonna bounce one past his catcher, and when he does, you're off like a flash! Let's go, Arthur, let's go!"
Wood went back to his fastball. "I heard it," Fletcher said later. "I didn't see it." "Stee-rike three!" boomed home plate umpire Bill Klem. "You're out!" It was Wood's tenth K of the game and the first one in his career, he admitted, "that I got solely on guts and will. I had nothing left but desire."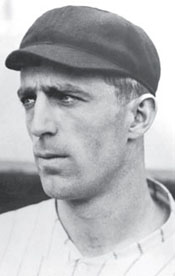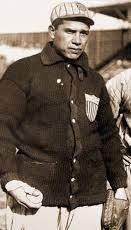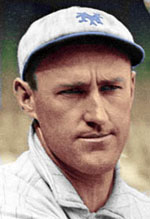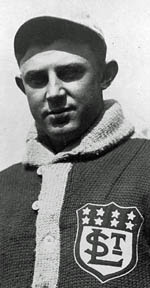 L-R: Fred Merkle, Jack Meyers, Art Fletcher, Doc Crandall
McGraw's best choice for a pinch hitter among the position players was backup C Art Wilson, who hit a respectable .289 during the season. The fans resurrected a cheer they'd used earlier in the game. "Watch Wood, knock Wood!" Others screamed "Good-bye, Joe!" Then they stopped when they spotted, not Wilson, but P Doc Crandell stepping to the plate to hit for himself as McGraw clapped his hands and yelled, "It's up to you now, Doc!" What the stunned fans may not have known was that Crandell had a higher batting ave­rage, .313, during the season than Wilson.
Knowing that Smokey Joe was pitching on fumes, player-manager Stahl walked over from first base and said, "One more, Joe, and you can rest that wing of yours for a few days." "One more," Wood repeated.
He fired a fastball that Crandell took at his knees. Strike one. Then two curves, one of which dove under Doc's chin, moved the count to two-and-one. Stahl visited the mound again. "It's OK to walk him, Joe. You don't have to be perfect here; remember that."
Wood threw a fastball and got the call on the outside corner to run the count full. With McGraw yelling himself hoarse, Stahl urged, "One pitch, Joe." Wood tugged at his pants and fired his 122nd pitch of the day. The whole stadium heard the pop of the ball in Cady's mitt. "Stee-rike three!" yelled Klem, instantly silencing the crowd. Stahl raced over to his pitcher and extended his right hand. He was shocked by how weak Wood's shake was. "I never threw a ball so hard in my life," Joe told his skipper. "Thank God that's over."
"Strike three!" yelled the announcers in Times Square and Herald Square, provoking groans and some boos from the crowds there.
"Strike three!" yelled the announcer on the stage in Boston Common, causing an explosion of joy among the estimated 50,000 people who hugged each other and gave three cheers for Smokey Joe Wood.
In the Polo Grounds, the Royal Rooters band struck up "In the Good Old Summertime" as the group triumphantly marched out of the stadium.
References: The First Fall Classic, Mike Vaccaro (2009)
My Greatest Day in Baseball As Told to John P. Carmichael (1945)