1908 World Series Game 4: Chicago Cubs @ Detroit Tigers
The Cubs led the Series 2-1 as the teams met on a balmy fall day at Detroit's Bennett Park before a Tuesday crowd of only 12,907. The Tigers needed a win on their home field to even the Series and avoid an elimination game the next day.
Chicago led 2-0 behind Mordecai "Three-Fingered" Brown as the Tigers batted in the bottom of the fourth. The inning started promisingly with singles by Charley O'Leary and Sam Crawford to put runners on first and second with Ty Cobb up next. The Detroit right-fielder had won his second straight American League batting crown with an average of .324. He also led the league in hits, doubles, triples, and RBI.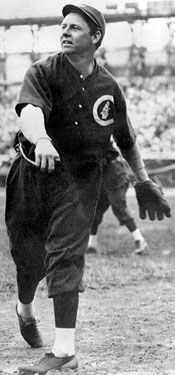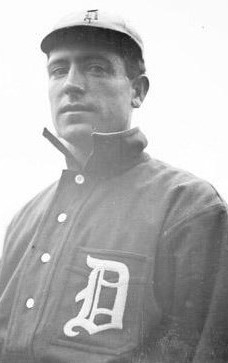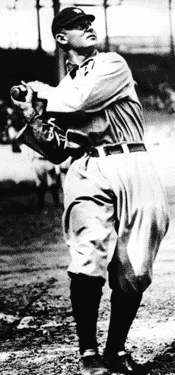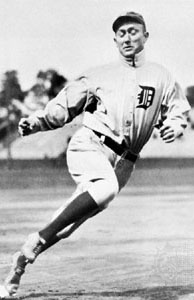 L-R: Mordecai Brown, Charley O'Leary, Sam Crawford, Ty Cobb
The Cubs' cagy C Johnny Kling strolled to the mound. According to the recollection of Cub P Ed Reulbach in Baseball magazine, Kling said to Brown: "Now Cobb will bunt. If the bunt goes to first base, all you can possibly do is get Cobb, and you will have to work hard to do that ... But if he bunts in the other direction, there will be a fair chance of nailing the runner at third and in any case the third baseman can get Cobb. ... Pitch one on the outside." Brown did as he was told. Sure enough, Cobb bunted, and the ball went directly to the pitcher, who threw to third to get O'Leary.
That brought 1B Claude Rossman to the plate. Reulbach: "Crawford was now at sec­ond, and Kling began to use the same kind of tactics to get him also. As a preliminary, he signed to (SS Joe) Tinker to go way off the bag to put Crawford off his guard. He then had another conversation with Brown in which he told him to pitch the next two wide, no matter what he might signal for. Brown did so, Kling got the ball and shot it down to second, catching Crawford off the sack by as neat a throw as I ever saw." Brown struck out Rossman to end the threat.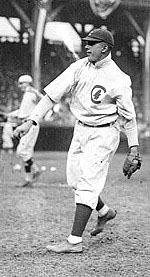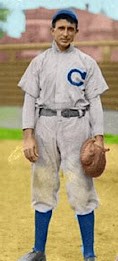 L-R: Ed Reulbach, Johnny Kling, Claude Rossman, Joe Tinker
The Tigers never got a runner as far as second base the rest of the way as "Miner" Brown twirled a four-hit shutout to win 4-0.
The Cubs closed out the Series the next day with another shutout, 2-0, to capture what turned out to be their last World Series championship of the 20th century.