Jones Starts Altrock and Rohe
1906 World Series Game 1: Chicago White Sox @ Chicago Cubs
On paper, the all-Chicago World Series looked like a mismatch. The
Cubs
had won an astounding 116 games to finish 20 games ahead of the defending World Series champion
New York Giants
. Despite their big lead,
Frank Chance
's
Cubs
didn't let up, winning 50 of their last 58 games. The
White Sox
had won a respectable 93 games despite having a team batting average of only .230, last in the American League. Included in their season was an American League-record 19-game winning streak in August.
The Cubs' 116 victories in 1906 is the record for a 154-game season. The Seattle Mariners won 116 games in 2001 for the record in a 162-game season.
To win a pennant with such a low batting average, a team needed, first of all an excellent manager. Fielder Allison Jones did not have the renown of Chance, but he was an excellent center fielder and a blunt take-charge leader, befitting someone named for a Civil War general. You also needed outstanding pitching. The Sox finished second in the junior circuit in ERA (2.13). Southpaw Doc White led the club at 1.52 followed by righthanded spitballer Ed Walsh at 1.88. You would expect Jones to choose one of those two to oppose Cubs ace Mordecai "Miner" Brown in Game 1. But Jones didn't choose either of that duo. Known for playing hunches, he went with another lefty, Nick Altrock, who won 20 games against 13 losses with an ERA of 2.06.

L-R: Fielder Jones, Nick Altrock, Whitey Rohe (picryl.com public domain photo)
One reason why
Jones
went with
Altrock
over fellow southpaw
White
might have been that
Nick
was the only
Sox
starter to defeat the
Cubs
in the previous year's postseason city series.
Fielder
also liked
Altrock
's "competitive spunk." Another factor in
Nick
's favor was his pickoff move, which might deter base stealing by the National League champs, who finished second in the league with 283 thefts, five behind the
Giants
.
In an article several years later in Baseball magazine, Cubs P Ed Reulbach explained Jones's reasoning like this: "Miner Brown was going at a wonderful clip. It was certain that Chance would pitch him in the opening contest. Fielder Jones attacked the problem somewhat in this light: 'If I pitch Walsh, who is my best pitcher, I will probably lose, for Walsh is certainly not as good as Brown. Then I will have opened the Series with a defeat and temporarily used up my best man. On the other hand, if I use another pitcher and he loses, I am no worse off and I can bring Walsh into the second (or third) contest and probably win."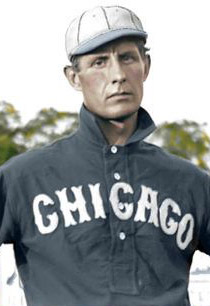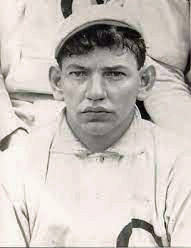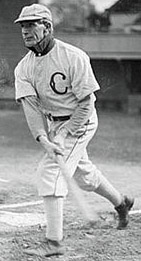 L-R: Fielder Jones, Nick Altrock, Whitey Rohe
In another hunch that paid off, the Sox skipper inserted light-hitting George "Whitey" Rohe into the lineup in place of injured SS George Davis, the American Leaguers' cleanup hitter who had a bad back. Jones listed Rohe in the fourth spot in his lineup even though George had been a part-time player with only 25 RBI to Davis's 80.
Two downtown movie theaters showed the progress of the game with information delivered by telegraph. Both halls were packed to the rafters with thousands of fans.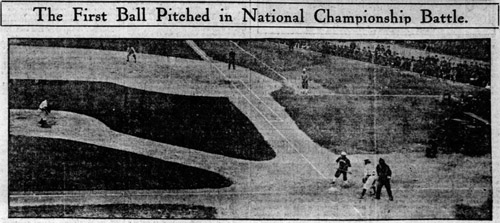 First pitch of Game 1 (
Chicago Tribune
)
Both surprising starters rewarded their manager's faith in them on a chilly day that saw snowflakes swirling around the Cubs' West Side Park on the 35th anniversary of the devastating Chicago fire. Altrock twirled a complete game four-hitter, holding the NL champs to a single run scored in the bottom of the 6th on a walk, a single, a sacrifice, and a wild pitch.
The White Sox also managed just four hits off Cub ace Mordecai "Miner" Brown but made them count for two runs. Rohe led off the top of the 5th with a stinging triple that bounded off LF Jimmy Sheckard and rolled under the benches down the left field line. Whitey scored the game's first run one out later when LF Patsy Dougherty laid down a bunt be­tween the mound and home. Brown scooped up the ball and tossed it to his catch­er. But Johnny Kling's "frostbitten fingers refused to close around the ball," allowing Rohe to cross the plate safely.
The Sox added the crucial second run in the 6th. Altrock drew a leadoff walk. After Ed Hahn bunted the runner to second, Jones singled to center only to have CF Solly Hofman nail Nick at home "by yards." The Sox skipper went to second on the throw-in and then to third on a passed ball. 2B Frank Isbell's single drove him home.
Rohe made an outstanding fielding play in the 7th when he snagged Harry Steinfeldt's liner headed out to left field.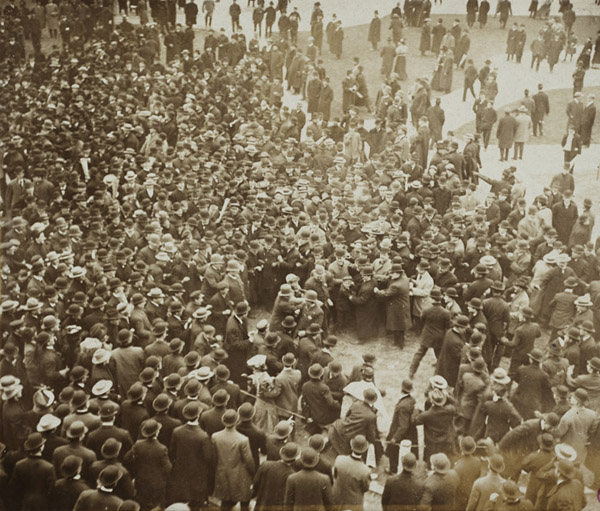 Police help Nick Altrock get to the dressing room amid adoring Sox fans.
When the final out was recorded, "the pent up enthusiasm of the American League ad­herents broke out in wild cheering and tooting of horns, while the supporters of the defeat­ed team for the most part filed solemnly out of the grounds. One crowd captured Rohe and carried him out on their shoulders while another contingent paid like homage to Altrock." Jones was more cautious in his assessment of the victory. "It seems to be our luck to have everything break right for us when it looks darkest."
The teams alternated hosting the Series games. The next day at South Side Park, grate­ful Sox fans presented Manager Jones with a sterling silver dining set before the game.