Waddell Hurt; Matty Superb
1905 World Series Game 1: New York Giants @ Philadelphia Athletics
Connie Mack's Philadelphia Athletics edged the Chicago White Sox by two games to capture the American League pennant. In the National League, John McGraw's New York Giants won 105 of their 153 outings to outpace the Pittsburgh Pirates by nine games.
The Series was resuming after a year's absence due to McGraw's refusal to play the Boston Americans after the 1904 season because of his enmity toward American League President Ban Johnson and his denigration of that league as a "minor league."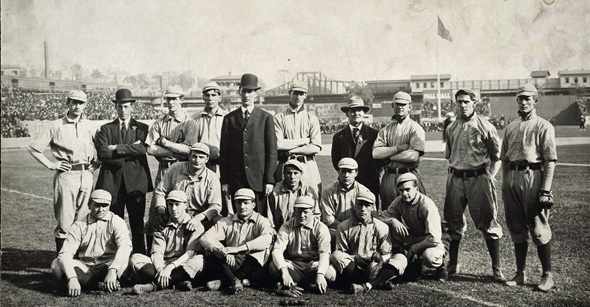 Connie Mack (tall man in the middle) and his 1905 Philadelphia Athletics before Game 1.
Rube Waddell is kneeling just to Mack's right.
(picryl.com public domain photo)
The top Athletics pitcher was southpaw Rube Waddell, who won 27 against only 10 losses and stuck out 287, which led the league by 77 over teammate Eddie Plank and Cy Young of Boston. Making the feat even more impressive is the fact he pitched only nine innings after September 5 following an injury to his left shoulder.
As was typical of the immature, undisciplined, erratic, unpredictable Rube, the injury occurred during horseplay with a teammate. As the team gathered on the station platform waiting for a train, Rube saw fellow pitcher Andy Coakley wearing a straw hat, which was taboo after Labor Day since summer was over. As Rube approached him to remove the straw hat in order to punch a hole in it, as was the custom, Coakley tried to fend him off. In the ensuing altercation, other players jumped on Rube to keep him off Coakley. They all tumbled over a stack of suitcases, with Rube falling on his left shoulder.
Two days later, Waddell told Connie Mack that he felt a "click" in his shoulder. When Connie told Rube to try some practice pitches, he could barely throw the ball. The best he could do the rest of the season was a six-inning outing at Washington October 6 during which he gave up six runs. The next day, he gave up two runs in one inning of work.
The Athletics managed to hold onto the pennant by two games but would play the World Series without their ace pitcher. Mack knew there was no way Rube could set down the mighty Giants.
As the regular season neared its end, rumors spread that Waddell was being kept from the game not because of an injury but by gamblers plying him with liquor and women.
Hoping that Waddell might be available later in the Series, Mack turned to his #2 man, lefty Eddie Plank, who was no slouch: 24-12 record, 2.26 ERA.
There was no doubt about the Giants' opening game starter. Christy Mathewson led the National League in games won (31 against only 9 losses), ERA (1.28), shutouts (8), and, for the third straight year, strikeouts (206). Christy's signature pitch was called a "fadeaway" at the time but has since been renamed as "screwball." It broke away from the left-handed batters and in to the right-handers. Matty also had a superior fastball and curveball.
A later teammate, OF Red Murray, described Matty's fadeaway this way: "We could al­ways tell when he was using it as the left-handed batters would usually duck away from the plate, thinking the ball was coming towards them and then curve over the plate." Murray added: "Matty told me it took years to develop it. He said he got the idea when he was a player at Bucknell University and used to umpire the freshman games. One day while um­piring he watched a left-handed pitcher throw an outcurve to a left-handed batter and the idea of the fadeaway took root then and there… He began practicing on it in college and he told me that it took years to master it."
The Giants took a train to Philadelphia the morning of the 3 PM game. A "great delega­tion" of rooters traveled with them.
When the American League began in 1903, McGraw declared that Athletics owner Ben Shibe and manager Connie Mack had a "white elephant" on their hands that was doomed to failure. So the Athletics adopted the White Elephant as their mascot. When A's captain Lave Cross greeted McGraw at home plate to present the lineup cards before the first game of the 1905 World Series, Cross gave McGraw a toy white elephant. McGraw ac­cepted it gracefully and placed it on his head as he returned to the dugout.
John McGraw presented with

Athletics

White Elephant.

Eddie Plank

Christy Mathewson

(picryl.com public domain photos)
Plank worked out of a jam in the first inning caused by hitting Roger Bresnahan (a rare catcher who led off) and surrendering a ground-rule double to 1B Dan McGann. But Plank struck out LF Sam Mertes to retire the side.
The Giants loaded the bases in the second on two bunt singles, a double steal, and an intentional walk. But Plank struck out Mathewson and retired RF George Browne on a groundout.
Plank sailed through the third and fourth before the Giants broke through in the fifth by getting the two-out hits that eluded them earlier. CF Mike Donlin lined a two-out single to drive in Bresnahan. Then Mertes hit a fly to center where fans were standing. CF Bris Lord leaped into the crowd and got a glove on the ball but dropped it for a ground-rule double. 2-0 Giants
Meanwhile, the A's could do nothing with Mathewson, who twirled a four-hit shutout. Only one runner reached third in nine innings.
The Giants added an insurance run in the ninth on Bresnahan's single.
Final score: Giants 3 Athletics 0
New York won the Series in five games in which every game was a shutout. Chief Ben­der beat the Giants 3-0 in Game 2. Mathewson threw two more shutouts in Games 3 and 5 with Joe McGinnity blanking the A's in Game 4.
Final score: Giants 3 Athletics 0
Reference:
The World Series: A Complete History, John Devaney and Burt Goldblatt (1972)
John McGraw, Charles C. Alexander (1988)
Rube Waddell: The Zany, Brilliant Life of a Strikeout Artist, Alan H. Levy (2000)
Major League Baseball Memorable Moments, Ken Leiker (2002)