Upstart Pirates Get to Cy Young Early
1903 World Series Game 1: Pittsburg Pirates @ Boston Americans
The American League was founded in 1901 as a competing major league with the 25-year-old National League. The new league poached players from the older league, much to the chagrin of the NL owners and managers, especially
John McGraw
of the
New York Giants
.
Since competing to sign the same players raised the payrolls of all clubs, the two leagues signed a peace agreement in January 1903 that ended the raiding of each others' talent.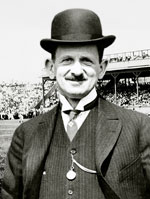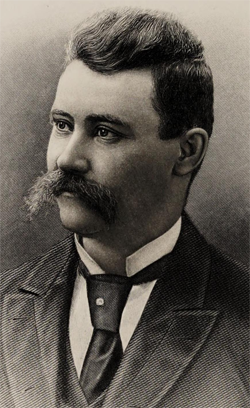 L-R: Barney Dreyfuss, Henry Killilea, Cy Young
Boston ran away with the American League pennant, and Pittsburg (as the city's name was spelled at that time) easily won the National League title. So in August, Pittsburg ow­ner Barney Dreyfuss issued a challenge to Boston owner Henry Killilea to meet in a postseason series for the baseball championship of the "world." Representatives of the two teams met in early September and planned a best-of-nine World Series.
The Americans started their ace, 36-year old Cy Young, who won 28 and lost nine during the season. The Pirates, however, had experienced problems with their staff.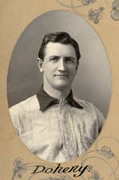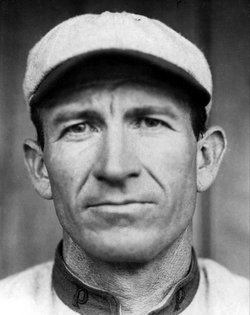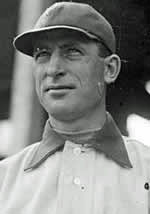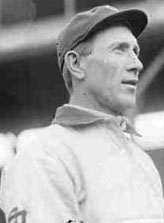 L-R: Ed Doheny, Sam Leever, Fred Clarke, Deacon Phillippe
Ed Doheny, 12-6 in July, began exhibiting strange behavior exacerbated by alcoholism. He became paranoid and left the team at the end of July. After a few weeks of rest, he re­turned to the team and improved his record to 16-8 when he fell into mental illness again and had to be hospitalized. To make matters worse, Sam Leever (25-7) injured his shoul­der in an off-field incident. That left player-manager Fred Clarke with only one of his top starters, Deacon Phillippe (25-9). To add to Clarke's woes, star SS Honus Wagner was hobbled with an injured right leg.
Upwards of $10,000 was bet at the Vendrome Hotel in Boston, the Series headquarters, during one morning.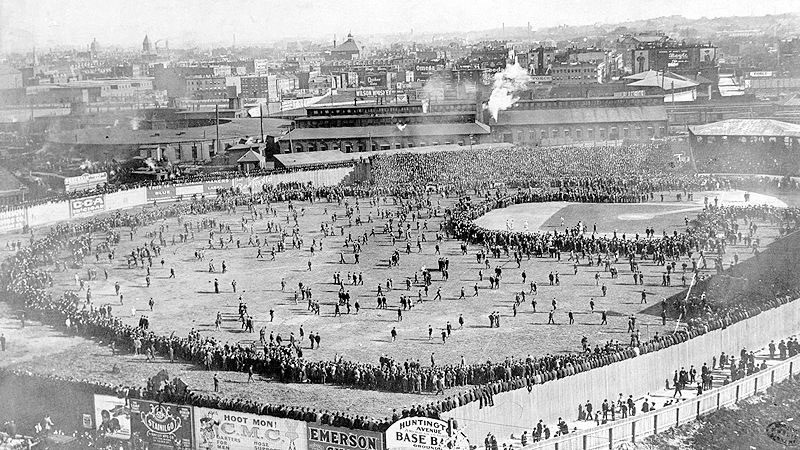 Huntington Avenue Baseball Grounds during the 1903 World Series (picryl.com public domain photo)
Most of the 16,242 spectators at the Huntington Avenue Baseball Grounds must have been shocked when the upstart Pirates jumped on Young for four runs in the first inning. The uprising started with two out and no one on base. Tommy Leach tripled to deep right field and scored on Wagner's single. Bad leg or no, Honus immediately stole second and reached third when 2B Hobe Ferris muffed Kitty Bransfield's grounder. Playing aggres­sively, the Pirates pulled a double steal, Wagner scoring and Bransfield reached third when C Lou Criger's throw to second went astray. Claude Ritchey drew a walk and stole second. Jimmy Sebring singled to left field, knocking in Bransfield and Ritchey. Even when Young struck out Ed Phelps, he didn't get out of the inning because the ball got away from the catcher to put runners on first and third. Finally, Phillippe, who probably never imagined he would bat in the first inning, struck out.
Eventually, the Pittsburg lead reached 7-0 in the 7th before the Americans got to Phillippe to make the final score 7-3.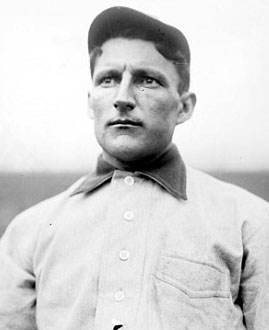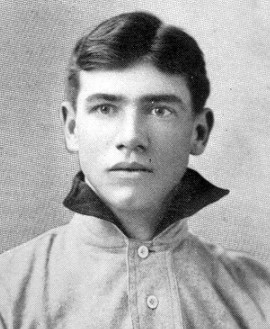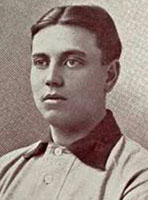 L-R: Tommy Leach, Claude Ritchey, Jimmy Sebring, Ed Phelps