The previous articles in this series featured players who had one year where everything clicked at bat or on the mound. This tale tragically does not follow that script.
Heading into the 1922 season, Austin McHenry of the St. Louis Cardinals was considered one of the very best players in the National League.
In his fourth season with St. Louis, McHenry put it all together.

BA - .350
H - 201
R - 92
RBI - 102

2B - 37
3B - 8
HR - 17
SLG - .531

Austin would have led the league in batting average and slugging % were it not for his teammate Rogers Hornsby, who compiled these incredible stats, where all the bold numbers led the league:

BA - .397
H - 235
R - 131
RBI - 126

2B - 44
3B - 18
HR - 21
SLG - .639

As it was, McHenry finished in the top five in the NL in the categories that are in bold in his list above.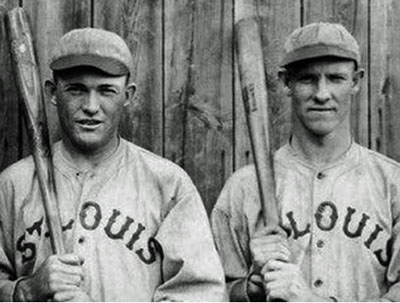 Rogers Hornsby (L) and Austin McHenry
McHenry
started professional ball in 1915 at age 19 in Class D and moved up the ladder year by year.
In 1917, he was at AA

Milwaukee

. A beaning when he was with the

Brewers

may have had effects that could not be predicted at that time. He resumed playing after a short rest.
Branch Rickey, the vice president (today's GM) as well as the manager of the Cardinals, purchased McHenry on June 12, 1918.
The next season he split time between St.Louis and

Milwaukee

.
1919 saw him with the Cardinals the entire season, appearing in 110 games. Writers compared him to Ed Delahanty and Ty Cobb because of his "arm of steel" and the fact that he was a "veritable demon at the bat."
Shaky on defense at first, he made up for it with a strong, accurate throwing arm as evidenced by his 14 assists, which put him in the top 10 among NL outfielders despite playing in only 80 games.
The Knothole Gang youngsters in the LF bleaches became great fans of the young LFer.
Rickey ordered his coaches to work with the youngster during spring training of 1919 to work on both his batting and his fielding.
Starting the season as the Cards' fourth outfielder, he supplanted the injured Burt Shotton as the regular LF by June.
McHenry improved across the board that year: .286 BA, 65 RBI, 66 R, .423 SLG.
In the starting lineup from the start of the 1920, he increased all his numbers except BA (down slightly to .282 from .286): 65 RBI (+18), 66 R (+25), 19 doubles and 11 triples - both oddly the same as the previous year, and 10 HRs instead of one. His numbers were undoubtedly inflated by the switch to a more tightly wound ball in 1920 and the banning of the spitball, two changes that marked the end of the "Deadball Era."
Adding to his value, he committed only three errors and recorded 20 assists, fifth best in the NL, despite shifting between LF and CF in the makeshift Cardinal outfield.
The

Reds

, realizing their mistake in selling McHenry to the Cardinals in 1917, offered Rickey $25,000 for him, but Branch rejected the offer. A newspaper article in September 1921 called McHenry "one of the most talented outfielders to break into fast company in some years" and one of the "reigning sensations" of the big leagues.
That presaged his breakout season of 1921.
His campaign was so impressive that The Sporting News named him one of the ten best LFers in baseball history. The writer added, "McHenry is without a question one of the game's greatest outfielders. And he is one of the game's greatest hitters."
One person who was impressed by Austin was

Giants

manager John McGraw, who offered Rickey $50,000 for McHenry that winter. But Branch refused to budge.
McHenry started the '22 season where he left off in '21.
By mid-June, his average had risen to .332 and he was slugging at a .511 clip. He seemed certain to equal, if not surpass, his 1921 numbers.
But he didn't sustain the torrid pace. He batted only .191 in his last eleven June games to drop his average to .306. That brought out the boo birds.
An incident in a game June 26 alarmed Rickey and made him suspect something was happening to his prized LFer.
McHenry started struggling to catch fly balls. When Rickey asked him if he was okay, Austin replied, "Yes, I feel alright, but I can't see. I don't know what it is. Maybe I'm going blind." The spot on his forehead where he had been beaned six years earlier had become sore again.
Rickey removed Austin from the game and ordered him to go home to Ohio to rest. He didn't rejoin the team until late July.
He went 0-for-4 in his first game. Then he didn't play until three days later when he pinch hit, getting a single in what would prove to be his last at-bat.
Seeing how much his young phenom was struggling, Rickey sent him home again.
McHenry was admitted to Good Samaritan Hospital in Cincinnati.
Doctors discovered a brain tumor and recommended a risky operation to remove it.
The God-fearing McHenry told relatives, "It seems hard that so young a man as I must die, but I am ready when the Master summons me." Right before the operation, he told Rickey that he felt like he was up to bat with the bases loaded with a 3-2 count but promised to "hit at the next one."
The operation took place October 19. Doctors could not remove the entire tumor because of its location. Still, they hoped Austin could make a full recovery.
However, that didn't happen. He was sent home less than a month after the operation and five days later he died with his wife and two children at his side. He was only 27 years old.
Rickey, a very religious man himself, issued this statement: "We do not look upon the death of Austin as that of a ballplayer, but as a dear friend. He was one of our most popular players and was a particular favorite of the younger fans ..."
In its obituary, the Sporting News said: "No ball club ever had a more loyal player and there are few outfielders in the game today who are as good as McHenry was at his best. His death is a distinct loss to baseball."
Reference: Baseball's Untold History: The People, Michael Lynch (2015)