"With his third World Series championship in five seasons and a 2012 National League 
Most Valuable Player Award
 accompanied by a 
batting title
, the 
Giants
'
Buster Posey
is charting a compelling course to join an exclusive club of legendary catchers in the Hall of Fame."
Those lines were written by Lyle Spencer of dplbaseball.com in January 2015.
Yet Spencer ignored Posey's subpar performance in the 2014 World Series just a few months earlier.
Here's
Buster
's stat line for the seven-game 2014 Fall Classic against the
Kansas City Royals
:
26 AB, 4 H, 1 R, 0 extra base hits, 2 RBI, 3 BB, .154 BA, .241 OBP, .154 SLG
Those aren't even close to Yogi Berra or Johnny Bench type numbers.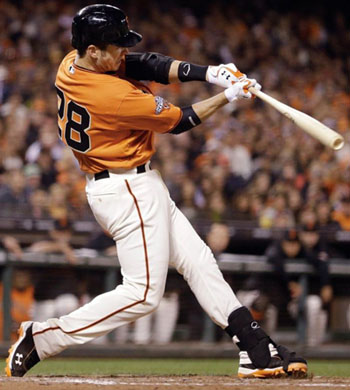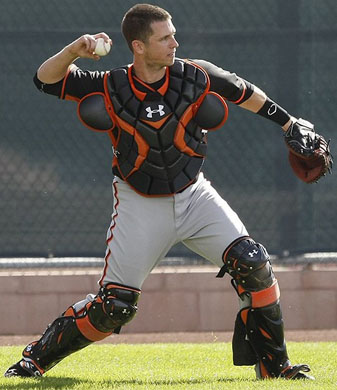 Buster
did better in his two earlier World Series.
2010 five-game World Series victory over
20 AB, 6 H, 2 R, 1 HR, 2 RBI, 1 B, .300 BA, .333 OBP, .450 SLG


2012
15 AB, 4 H, 1 R, 1 HR, 3 RBI, 1 BB, .267 BA, .313 OBP, .467 SLG
Here's the game-by-game breakdown of Buster's performance in the 2014 World Series.
Game One
Singled in the 1st inning, sending Gregor Blanco to 3rd. Scored on Pablo Sandival's HR as the Giants jumped out to a 3-0 lead on their way to a 7-1 victory. It was Posey's only hit in five ABs.


Game Two
Went 1-for-4 with a single to open the top of the 6th as the

Royals

evened the series with a 7-2 romp.


Game Three
0-for-4 but did drive in a run with a groundout in the 6th inning. Flew out leading off the bottom of the 9th in

KC

's 3-2 triumph.


Game Four
Contributed a single, two walks, a run scored, and an RBI in the Giants' 11-4 rampage to even the Series.


Game Five
Obviously called an excellent game as Madison Bumgarner shut out the

Royals

on four hits. Had a single and a walk but no runs or RBIs.


Game Six
Joined the rest of the Giants in a night of futility as the

Royals

, back home, romped 10-0. Went 0-for-3 and grounded into a double play.


Game Seven
Guided starter Tim Hudson and relievers Jeremy Affeldt and Bumgarner to a nail-biting 3-2 victory to take the Series. But went 0-for-4 at the plate with two Ks.
Posey may well end up in the Hall of Fame. But, as is the point of these articles, he was less than stellar in the 2014 World Series. Fortunately, his team won the crown anyway.