Perhaps the most famous play in
Gator
history was the
Gator
Flop against
Miami
in 1971. I never saw anything like what happened in the final minutes of the
Gators
' 45-16 triumph over the
Miami Hurricanes
in Orange Bowl Stadium.
This was the situation: The
Gators
had sloughed through a 3-7 season up to the
Miami
game.
John Reaves
,
Carlos Alvarez
,
Tommy Durrance
and other members of the sophomore class in the spectacular 1969 season (9-1-1, including a Gator Bowl victory over SEC champion Tennessee) weren't happy seniors in '71. The beatings had been severe, and several players were still disgruntled that
Tennessee
Coach
Doug Dicke
y had succeeded
Ray Graves
as
Gator
coach after the '69 Gator Bowl meeting.
Miami
was a slight favorite going into the '71 game in its first season under former
Miami
QB
Fran Curci
, an avowed
Gator
hater.
Reaves
, going into the final game of his college career, was within 344y of the national career passing record held by
Jim Plunkett
of
Stanford
(7,545y). That seemed to be a nearly impossible reach for
Reaves
, who had averaged 290 passing yards per game in '69, 232 yards in '70 and was averaging 176y going into the
Miami
game. ...
The two leading characters in this drama were to be
Curci
and
Reaves
, who didn't like each other. The year before when he was head coach at the
University of Tampa
,
Curci
had described the
Reaves
-led
Gators
as crybabies.
Reaves
had expressed his displeasure about
Curci
. Now they were opponents as
Reaves
took aim at one of the game's top records.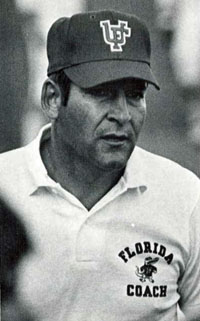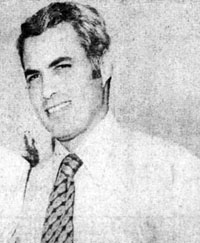 L-R: John Reaves, Doug Dickey, Fran Curci
Reaves
was hotter against
Miami
than he'd been in any game in two years. Late in the fourth quarter the
Gators
, amazingly, had a 39-9 lead, and
Reaves
, also amazingly, had thrown for 331y and was within 13y of the record.
Curci
's
Miami
team appeared to be running out the clock with a tedious series of running plays. The
Gators
got
Miami
stopped and forced a punt, but
Gator
CB
Harvin Clark
ran the punt back for a touchdown, and
Miami
got the ball again. More running plays.
Clark
apologized to
Reaves
for his touchdown, for depriving him of a chance at the record. Twice
Clark
called timeout and asked
Dickey
to allow
Miami
to score, because it was going to be the only chance
Reaves
would get one last shot at the record. Twice
Dickey
refused. With 1:20 left in the game and
Miami
at the
Gator
7y line, third coming up, the
Gators
used their final timeout. People in the press box and in the
UM
radio booth predicted the
Gators
would intentionally let
Miami
score.
Clark
begged
Dickey
a third time, and this time
Dickey
said, "OK, but don't make it look bad."
Clark
ran to the defensive huddle. I asked
John Clifford
, the
Gators
' junior free safety, to finish the story of what happened.
Clifford
was from Coral Gables, home of the
University of Miami
... I have heard several stories that
Clifford
was the only
Gator
that night who declined to flop.
"
Harvin
came into the huddle,"
Clifford
said, "and told us, 'Coach says to let 'em score! We're all going to lie down!' I didn't flop, but I've been told that I stood up on the play, and that isn't so. I went down to one knee and didn't make a move to make the tackle.
"I've looked at some pictures of the play, and one of our players WAS standing up, but it wasn't me. I don't know who it was. I've been told I tried to make the tackle, but I didn't do that either. What I remember best is the look on (
Miami
QB)
John Hornibrook
's face when he rolled out and saw all those people on the ground. He hesitated a moment, and maybe his instincts took over, and he kind of walked across the goal. I've often wondered how weird it would have gotten if he had declined to score the TD and had run back up the field with the ball. That play might have gone on a long time.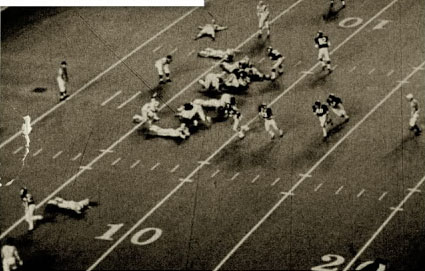 The Gator Flop
"After the touchdown, we got the ball back, and
John
hit
Carlos
for 15y to break the record." The coaches had
Reaves
throw one more pass in case the addition wasn't right, and he hit
Hollis Boardma
n for 2y.
"The coaches turned
John
loose a little more than usual in that game,"
Clifford
said. "Let him throw more. But I'll always believe we could have done it better on the laydown play ... done it without embarrassing anyone. But I never considered myself any better than anybody else because I didn't flop. There was a lot of frustration on that team. We'd had a lousy season, and we weren't going to a bowl game. The frustration of the whole season came out that night. Also, I remember a lot of enthusiasm among the players before the game about
John
having a shot at the record.
"When the game was over, I don't know who started it, but we all ran down behind the end zone where the pool was for the
Miami Dolphins
' mascot, Flipper. We all jumped in the water and just splashed around, whooping it up." ...
Curci
has devoted a lot of his life since that night to criticizing the
Gator
Flop. He had much to say about it from that night on. For years I thought
Curci
just saw an opportunity to get the spotlight off him and his team's poor performance.
Miami
was favored in the game and lost by a 45-16 score, and
Curci
installed a new offense the week of the game (the wishbone) and moved
Miami
's great RB,
Chuck Foreman
, later a longtime NFL star with the
Minnesota Vikings
, to flanker, where he didn't carry the ball a single time.
My thought was
Curci
was standing on the sideline with about a minute to play, thinking how he was going to be criticized, when the laydown play presented itself ... and presented
Curci
with a substitute scapegoat for everyone to focus on. People who have coached with
Curci
tell me, "No, he was really bitter about the laydown play, and many years later he was still cussing
Dickey
and blaming him for it."