"The Trojan Ten: The 10 Thrilling Victories That Changed the Course of USC Football History," Barry LeBrock (2006)
It is not far geographically from East Los Angeles to Westwood, but in so many ways, the two cities are worlds apart. Growing up in the fifties, an East Los Angeles kid named
Mike Garrett
was a hard-core
UCLA
football fan who watched hs heroes play on Saturday afternoons.
While the
Bruins
were stringing together three straight top-five finishes,
Garrett
was having some early success of his own on the athletic fields of his community. When he entered
Roosevelt High School
in the early sixties, a sports star began to take shape, and his college of choice began to take note. In his junior year,
UCLA
was first in contact and then in close contact. The interest was unmistakable.
And then it was gone.
"
UCLA
recruited me really hard my eleventh grade year, and then they just went cold on me," he says, looking back with nearly half a century of retrospect. "Many years later, one of the
UCLA
guys told me that they had backed off because they thought I was too small."
Not all schools were about to make the same mistake.
USC
's new coach,
John McKay
, felt strongly that there was enough talent in Southern California alone that he could put together a winning team made up mostly of local players. His focus turned to
Roosevelt High
and the blossoming 5'9" prep all-American.
"
McKay
and
USC
always recruited late,"
Garrett
remembers. "My senior year in high school, they came in and said, 'We want you,' and I said, 'OK. Let's do it.'" And just like that, colors changed, allegiances shifted and
USC
secured a spectacular superstar in the making who would lead them to new levels of greatness.
A member of the 1962 freshman team,
Garrett
caught wind of the troubles
McKay
had during the new coach's first two seasons at
USC
, and very early on,
Garrett
understood what lay ahead. one day, early in spring practice,
McKay
wanted there to be no misunderstanding.
Garrett
explains, "He had the entire team together and said, 'You sons of bitches are
not
gonna get fired.'"
Some players were taken aback, but not the bright-eyed freshman. He says, "You have no idea how hard we worked. And that made our history.
McKay
made
modern
USC
football. We always felt everything on the field. I loved
John McKay
. I just
loved
him. He was the first guy I ever met that matched my tenacity in gettin' after it.
McKay
was a tough guy. Our workouts were very much like
Pete Carroll
's. We scrimmaged so much. That's when we had 120 guys. Man, it was a meat grinder. If you were faint of heart or you couldn't play with pain or soreness, you couldn't play here."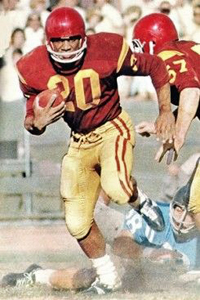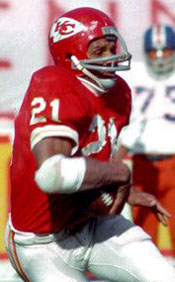 L-R: Mike Garrett with USC, John McKay, Garrett with
Kansas City Chiefs
Former
USC
coach
John Robinson
says, "
Mike
was the fiercest. He was like a bulldog."
Anybody who ever played with him, or even saw him play, speaks glowingly of
Mike Garrett
's talent.
OJ Simpson
: "He was almost kinetic in the way he moved, in his ability to juke guys."
Marcus Allen
: "Total scat-back. Moves, speed, strength - the guy had everything."
Anthony Davis
: "He was the forefather of the great runners at
USC
."
Rod Sherman
: "He had tremendous balance and tremendous explosion. He also had an enormous amount of enthusiasm. He approached every day in practice like it was game day."
Craig Fertig
: "He owes all of his success to me."
Fertig
, of course, is known for his sense of humor, and he points out that the only way for a running back to get the ball is for a quarterback to either hand it to him or throw it to him. By that logic, though,
Fertig
owes all of
his
success to the centers he played with throughout his career. A bit more seriously,
Fertig
says, "If I was in a street fight and I could have one guy on my side, I'm takin'
Mike Garrett
."
Steve Brady
, a tailback at
USC
in 1966 and 1967, says that
Garrett
is "the shiftiest runner I have ever seen in football. He could fake you out in a hallway."
As
USC
returned for the 1963 season as national champions and Rose Bowl winners,
Mike Garrett
was a sophomore determined to play a large role in the
Trojans
' success in the years ahead, and he got off to a great start. The 1963
Trojans
went 7-3, with
Garrett
establishing himself as an offensive force. He ran for 833y, averaging a whopping 6.5ypc.
The following year was even more impressive as the slippery tailback started to garner national recognition as one of the best runners in the country.
Garrett
's rushing total increased to 948y, and he was heavily relied on as
USC
made a run at another Rose Bowl.
The Biggest Game of Them All: Notre Dame, Michigan State, and the Fall of '66
Mike Celizic (1992)

Michigan State had roared through 1965, literally annihilating a tough Big Ten schedule, allowing fewer than 50 yards rushing per game. They had wiped out Notre Dame and Penn State, had beaten UCLA, and had gone to the Rose Bowl. But at the Rose Bowl they had lost to UCLA in their second meeting of that season. The loss cost them number one in the AP poll, which held up its final vote until the top contenders from the National Champ­ionship - Michigan State and Alabama - played their bowl games. They captured UPI's top ranking, taken after the end of the regular season, but the loss to UCLA ... left a bitter aftertaste to a spectacular season.
Most of the stars of 1965 were back. George Webster, Charlie Thornhill, and Bubba Smith headed the defense, and HB Clinton Jones, FB Bob Apisa, and E Gene Washing­ton had returned on offense. These were franchise players, and there was enough behind them to form a team that could claim to be one of the best ever. They knew it, and their goal was to fulfill that claim. ...
You could call them arrogant, and they were that, but it was the arrogance of great athletes who knew their own ability. Underlying that arrogance was a rare sense of team unity. Like Notre Dame, the Spartans had great coaching and great personnel, but other teams had had as much without reaching the same heights. It was the sense of family, of being in it not as individuals but as a team, that pushed them to another level. That and the sting of the lone defeat of 1965. ...
Notre Dame had always laid claim to a national recruiting program, but Michigan State coach Duffy Daugherty had made the Irish look positively parochial. He had scoured the country from top to bottom and shore to shore and beyond to assemble his team. When he was done, he had three Hawaiians, including a barefoot kicker, Dick Kenney. He had a black quarterback. He had eight blacks - most of them from the South, which was still practically a foreign country - starting on defense.
Blacks had been playing college football for a long time, but seldom in such numbers and seldom in such key positions. Both of Daugherty's captains, Webster on defense and Jones on offense, were black. A lot of people thought white players couldn't or wouldn't perform under black leadership. The same people thought you couldn't win with a black majority. Surely blacks and whites couldn't get along, couldn't find common ground, even on the field of play. But Michigan State took all of that as added incentive. They'd prove those ideas wrong. ...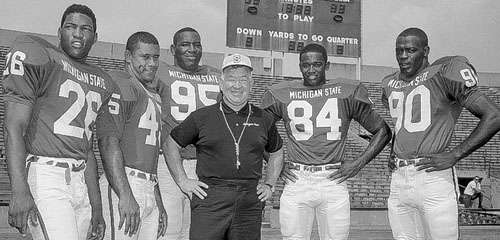 L-R: Clint Jones, Bob Apisa, Bubba Smith, Duffy Daugherty, Gene Washington, George Webster
In 1950 the National Football League began allowing free substitutions, and two-platoon football began. The NCAA, however, accepted the system only grudgingly and only over a long period of time. ... Gradually, the substitution rules were liberalized. By 1963 it was possible to substitute entire units, but the changes had to be made piecemeal, a limited number of men at a time. ... After that season ... college substitution restrictions finally were dropped entirely. The era of specialization had begun in earnest.
When
Ara Parseghian
went to
Notre Dame
in 1964, part of his stunning success could be traced directly to his ability to take advantage of the new rules. ... He put his best all-around athletes on defense and his best skill players ... on offense. Big, fast players went to the defensive line. Big, slower players to the offensive line. His talent was in being able to identify a player's best position. The result was a 9-1 season and instant celebrity status for
Parseghian
.
Duffy Daugherty
didn't catch on quite as quickly. Enamored with offensive football, he didn't give his defense the players it needed to succeed. He also didn't fully use all his players.
George Webster
, for instance, alternated between offensive and defensive end in 1964, his first varsity season. But because he alternated with
Bubba Smith
at defensive end, both were seldom in the game at the same time. Meanwhile,
Charlie Thornhill
, who would become a demon at linebacker, was playing in the offensive backfield, the same position S
Jess Phillips
first played when he arrived on campus in 1964.
When
Daugherty
brought in his 1963 freshman class and introduced them to one another, many of them wondered, "What am I doing here?" Even
Bubba
was in awe as the coaches introduced the players to one another. It seemed that every person in the room was a high school All-American or All State at the least.
Smith
, who had played anonymously in a black conference, wasn't all anything. One of his high school coaches had told him that when he got to college there would be other big men to compete with. "You might not make it," the coach said.
"I don't care what you or anybody else says, I'm going to make it,"
Bubba
told him.
But now, in this room surrounded by prime beef,
Bubba Smith
, the human mountain range, had doubts. Maybe the coach had been right. He turned to
George Webster
... and said, "Goddamn,
George
, all these guys are All-Americans." And
Webster
replied, "Screw it."
"Yeah,"
Bubba
said, the bravado swelling in him, "screw it."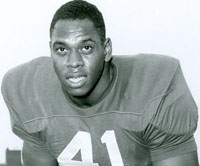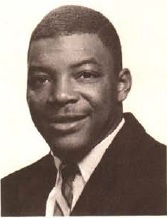 L-R: Ara Parseghian, Charlie Thornhill, Jess Phillips
They received their equipment and started practicing, and soon
Bubba
and the rest of them knew they could compete. After letting the freshmen work out for a few days,
Daugherty
liked to bring the best of them over to the varsity practice and feed them to the first team to see what they had. The first batch he called up included
Clinton Jones
,
Gene Wash­ington
, and
George Webster
. Later he added
Bubba
. From the start the newcomers beat up on the varsity and got in fights with the upperclassmen. They didn't take anything from anyone. Right then they started to think they were something special.
If they were, it didn't show right away. When they became sophomores in 1964 and eligible to play, they looked good on paper but not on the field as they stumbled through a 4-5 season. Before the season ended, stuffed
Duffy
dummies were being strung up on campus ... One of the few positive things that happened in that forgettable year was the emergence of
Charlie Thornhill
as a linebacker. ...
From Roanoke VA,
Thornhill
was one of the greatest high school running backs Virginia had ever seen. He led his team to three straight league titles and scored 219 points in his high school career. He was so good that even though he went to an all-black high school, the local white citizenry flocked to his games to watch him perform. ...
Thornhill
was good enough to attract the attention of
Notre Dame
... He wasn't impressed with the 10 P.M. lights-out rule or the fact that there weren't any women at school, but he was on the verge of going there anyway when
Paul "Bear" Bryant
intervened. ...
Bryant
couldn't recruit blacks because the
University of Alabama
was still busy fighting the Civil War, but he could scout them and tell his friends about them. One of his good friends was
Duffy Daugherty
.
As luck would have it, several years earlier
Daugherty
had been slavering over a hot young quarterback out of Beaver Falls PA by the name of
Joe Namath
.
Daugherty
recruited him heavily and dearly wanted him to run the
Spartan
offense, but ... he couldn't get
Na­math
's high school transcript past the
Michigan State
admissions office. Unable to take
Namath
himself, he told
Bryant
about him.
Alabama
's lofty admissions requirements, which had no place for blacks, proved no obstacle for
Namath
, who helped the
Crimson Tide
to a National Championship in 1964, his senior season.
When
Bryant
saw
Thornhill
, he thought of
Daugherty
and the favor he owed him. At a Virginia awards banquet,
Bryant
sought out
Thornhill
and told him that before he com­mitted to
Notre Dame
he would do well to listen to
Duffy Daugherty
at
Michigan State
.
Thornhill
visited the campus and liked it. He especially appreciated the fact that
Michigan State
allowed women to enroll and didn't make its students turn the lights out at ten.
Tumultuous Times
Football Nation: Four Hundred Years of America's Game from the Library of Congress,
Susan Reyburn (2013)
The 1969 season marked a turning point for many black athletes, who had, the previous summer, witnessed U.S. Olympians
John Carlos
and
Tommie Smith
raise gloved fists at their medal ceremony in Mexico City as a sign of black power. Amid the unraveling of tightly wound cultural values and widespread student unrest, black athletes actiely expressed long-held grievances regarding unequal treatment, hostile locker room environments, and pro­grams whose interest in them expired when their playing eligibility ended. Reacting to a heretofore-unknown type of player was a coach for whom the term "old school" was devised and who was flummoxed by the more freewheeling young men (white and black) who graced his roster and irritated his ulcers. The culture clash between that fraternity of coaches and their charges was even greater when it came to racial matters, and it was why so many players began asking that their teams hire black assistant coaches, who better understood them.
Of the many racial collisions affecting teams nationwide, perhaps the least expected occur­red in Laramie, Wyoming, a year after the
Cowboys
made their first appearance in the Sugar Bowl. Midway through the 1969 season,
Wyoming
coach
Lloyd Eaton
, who prohib­ited players from taking part in student demonstrations of any kind, summarily dismissed all fourteen black players from the squad for wearing black armbands the day before their game against
Brigham Young University
. The men were protesting the Mormon Church, which owned and operated
BYU
, for its policy that excluded black males from the priest­hood (a policy that was revoked in 1978). "The demonstrations are not against
BYU
because it doesn't have any black players - but because it is sponsored by the Mormon Church," said
Willie Hysaw
, one of the
Wyoming
Fourteen.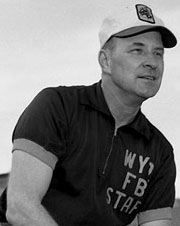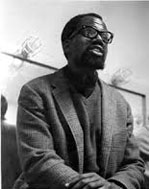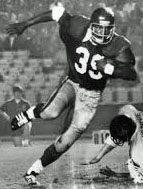 L-R: Lloyd Eaton, Harry Edwards, Sam Cunningham
Their banishment was the talk of the sparsely populated, nearly all-white state, which had high hopes for a fourth consecutive conference championship and a bowl bid. Most residents backed
Coach Eaton
. On campus, classmates supported the players; the student senate passed a resolution asking that they be reinstated and that student fees to the athletic department be put on hold. Black students at
Colorado State
suggested that their school not compete with
Wyoming
until the players were back on the team. The head of the Western Athletic Conference,
Wiles Hallock
, described the situation as a "crisis."
Eaton
thought perhaps his players had been egged on by other black students: "Look, most of these players are only marginal students. They come from split homes and poor families. They are usually C students at best, and we're trying as hard as we can to give them an education through football."
The coach's analysis was actually in sync with arguments sociologist
Harry Edwards
, author of
The Revolt of the Black Athlete
(1969) and orchestrator of the Olympic protest, was making in his condemnation of standard practices in collegiate athletics. Not only were many of these players brought into completely foreign environments and given little useful guidance, but, wrote
Edwards
, "lofty academic goals might jeopardize a black athlete's college career and thus wipe out the college's financial investment in him." Scandalous reports in the 1970s, revealing the extent to which so many college athletes - especially blacks, but whites as well - were shepherded through meaningless coursework illustrated the devastating effects of what had once been jokes about jock classes and low expecta­tions. Athletes were completing four years of player eligibility with little progress toward a degree and, in deeply embarrassing cases to both athletes and schools, with the same level of illiteracy they had the day they arrived.
Meanwhile, throughout the 1960s, desegregation lurched along in public schools throughout the country. It reached the farthest recesses of the Deep South in the early 1970s. At the
University of Alabama
, which had black students but no varsity gridders, Southern foot­ball's Lost Cause succumbed to the times and to the
USC Trojans
. Much has been made of the role
Trojan
TB
Sam "Bam" Cunningham
had on
Alabama
's decision to recruit black players, after he ran roughshod over the
Tide
in front of their fans, leading
USC
to a deci­sive victory in the first game of the 1970 season. (Said
Virginia Tech
coach
Jerry Clai­borne
: "
Sam Cunningham
did more for integration in sixty minutes than
Martin Luther King
did in twenty years.") Yet
Alabama
coach
Paul "Bear" Bryant
, who bristled at the notion that he was responsible for his team's monochrome appearance, had a black fresh­man in the pipeline and had, he said, invested "$100,000 ... recruiting Negro players all over the country." Considering local history, it was clear why blacks were not swarming to join the program.
Although the revered coach was frequently mentioned as a gubernatorial candidate, not even the influential
Bryant
could sway the state's powers-that-be to sign black players until the need arose and legal recourse ceased. "You must remember, these were dangerous times, fearful times,"
Frank A. Rose
, the university president, told
Howell Raines
, an Alabama native then reporting for the
New York Times
, shortly after
Bryant
died in 1983. Even before the
USC
game,
Rose
and
Bryant
preferred to quietly urge alumni and busi­ness groups to accept integration rather than publicly call for it. Within fifteen years of the
Bear
's death, the significance of integration's effect on football was most evident, and the majority of Southeastern Conference players were black.
Archie Manning (as told to Chuck O'Donnell), The Football Game I'll Never Forget:
100 NFL Stars' Stories as selected by Chris McDonnell(2004)

September 19, 1971
I was laying in the end zone after diving across the goal line with three seconds remaining in my first NFL game, in 1971 with
New Orleans
. My one-yard scamper around the left end had capped a dramatic last-minute march down the field, giving us a 24-20 victory over the
Los Angeles Rams
.
Maybe this win would send us toward a Cinderella season. Maybe I would be carried off the field by my teammates. Maybe this was a defining moment for me and the team. Or maybe not.
Lying there, I happened to notice a few referees, talking about the play. As they were discussing whether I had had possession and scored - or whether it was a fumble and we were about to lose - I thought to myself, "You can't take this moment away from us. Please don't take the touchdown away from us." We had worked too hard and come too far to lose like this.
I joined the
Saints
that season when they made me the second pick overall in the draft. During the offseason, the
Saints
had traded veteran QB
Billy Kilmer
to make room for me to take over the starting job. Coming from the Bayou - being drafted out of
Ole Miss
- I naturally was viewed as the hometown boy who would be a savior of sorts. The
Saints
hadn't had a winning season in their first four years of existence, and I was supposed to change all that.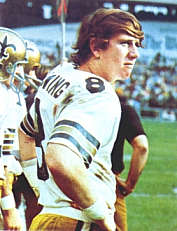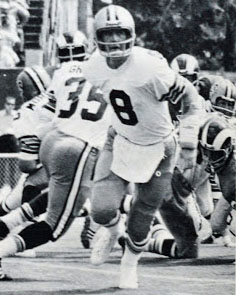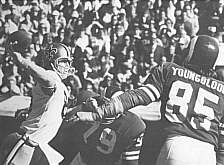 Archie Manning hands to Bob Gresham and passes against the
Rams
in 1971.
While I could see we weren't going to go out and win the Super Bowl, I thought we had the makings of a pretty good team, despite the fact that not one guy on the squad was older than 30. In fact, we had 13 rookies on the roster, and many other players were in their second or third seasons.
While we may have been short on experience, we had plenty of enthusiasm. We were upbeat entering the 1971 season opener against the
Rams
. They were one of the best teams in the league during that period, led by
Roman Gabriel
, who was a smart, strong-armed quarterback. Whether he was handing off to 1,000-yard rusher
Willie Ellison
or throwing to
Lance Rentzel
or
Jack Snow
,
Gabriel
was a superb field general.
The
Rams
defense was downright scary. On the front line, the team had
Deacon Jones
,
Merlin Olsen
and
Coy Bacon
starting with a young guy named
Jack Youngblood
- who eventually became an All-Pro himself - coming in to spell them.
As if it weren't bad enough having those guys breathing down your neck, it was an oppressively hot day in New Orleans for that season opener. The teams traded field goals in the second quarter, but we broke out on top in the third quarter. I hit TE
Dave Parks
with a 6-yard touchdown pass, then
Gresham
added a 2-yard touchdown run.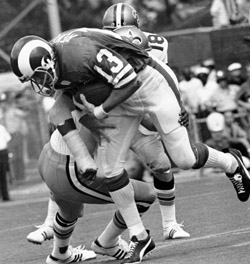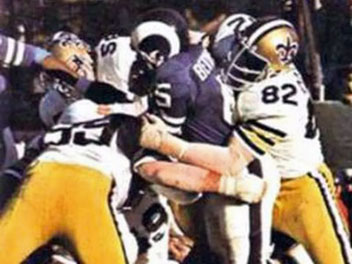 L: Roman Gabriel vs Saints; R: Bob Pollard (82) tackles a
Ram
.
We were sky-high at that point, leading the
Rams
17-3. But they weren't about to tuck their tails between their legs.
Gabriel
rallied his team, and the result was a field goal, a 29-yard TD pass to FB
Les Josephson
, and a one-yard scoring run by
Josephson
. Suddenly, our big lead had evaporated into a 20-17 deficit.
Doubt could have easily seeped in, but we just went out there determined to win the game. Starting at our 30 on our final drive, we methodically moved down the field. Mixing mostly passes with a few runs to keep the
Rams
honest, we got the ball down to the one-yard line.
There was enough time left for just one more play. We called a play where I would roll out to my left and would have the option of throwing the ball or tucking it under my arm and running into the end zone. As I took the ball from center and began to roll, I saw an opening. I told myself that I couldn't throw it - I had to run it. I put my head down and bowled into the end zone, with the ball coming loose at one point.
Was it a touchdown or a fumble? I sat and waited for the call for what seemed like an eternity. When the refs raised their hands into the air to signify a touchdown, it set off a celebration. Our players went wild. We had stolen a 24-20 victory from the mighty
Rams
.
So, was it really a touchdown? Did I fumble before I crossed the goal line? I honestly don't know - and looking back, I don't really care.