Now that nearly two decades have gone by, now that the 1999
Rams
team is officially cemented as one of history's most dynamic - fantastic moniker and all - and now that
Kurt Warner
is forever enshrined in the Pro Football Hall of Fame,
London Fletcher
has no problem telling the truth.
When
Rams
head coach
Dick Vermeil
sat forward in his chair that day in August, when he tearily talked about starting QB
Trent Green
's devastating injury and promised the world, "We will rally around
Kurt Warner
and we will play good football," he didn't have many buyers.
"I'm not sure,"
Fletcher
says, "any of us really believed him."
Fletcher
, the team's starting MLB, then laughed. Because these days, there are all sorts of folks saying they foresaw
Warner
's greatness. And every single one of them,
Fletcher
insists, "is lying."
As the Super Bowl returns to Atlanta, it comes back to the scene of perhaps the most unex­pected, and most magical, of football fairy tales. Before the 1999 season,
Kurt Warner
was a 28-year-old unknown never-had-been whose biggest body of work came in the Arena League and whose sum total of NFL experience was 39 passing yards. But by the end of that season, when
Vermeil
,
Fletcher
, and the rest of the
St. Louis Rams
hoisted the Lombardi Trophy high above their heads at the Georgia Dome, it was because they'd been buoyed by the arm of
Warner
. Some might call it "kismet."
"Without question, I hit the perfect storm,"
Warner
says, still marveling a bit, all these years later, at the way the football fates lined up. "I'm not going to sit here and tell you I thought it would work out the way it did."
Warner
was supposed to be the
Rams
' backup QB in 1999, moving up one slot on the depth chart after being the third-stringer the year before. That he'd even made the team - or was in the NFL - was a story in itself. He'd started exactly one year at Division I-AA
Northern Iowa
. He was his conference's Offensive Player of the Year but then went undrafted, and though the
Green Bay Packers
brought him to training camp in 1994, they cut him before the regular season even started. ...
Though he had a strong arm and deceiving athleticism,
Warner
wasn't particularly sea­soned, and so after a year stocking a grocer's shelves for $5.50 an hour, his next opportu­nity came with the
Iowa Barnstormers
of the Arena Football League. In 1996 and 1997, he played in the Arena League's title game and earned All-Arena honors. After the 1996 season, the
Chicago Bears
called, offering him a tryout.
He accepted the date and then had to cancel, forgetting that he was getting married on the same day. The
Bears
gave him a second date, but he got stung by something while on his honeymoon, ran a fever, and had his elbow swell up, and when he tried to postpone again, well, "They never called again,"
Warner
says. ...
After that 1997 season, the
Rams
signed
Warner
to a Futures contract and sent him off to the
Amsterdam Admirals
of NFL Europe. He played well enough that the
Rams
kept him stateside in 1998. He ran the scout team and, sure, he'd on occasion shred the
Rams
' stout defense. But he wasn't getting hit, and he admits never being as good a practice player as he was under the lights of game day. So when the 1999 expansion draft came and every NFL team had to expose five players,
Warner
was among those
St. Louis
left unprotected.
Once the (new)
Cleveland Browns
passed him by, the
Rams
knew they'd have him back, yet they still went out and signed
Trent Green
, who had spent the previous four seasons with the
Redskins
.
Warner
went back over all that and then chuckles, "
Trent
was what gave us hope!"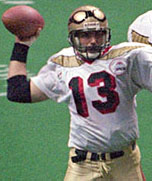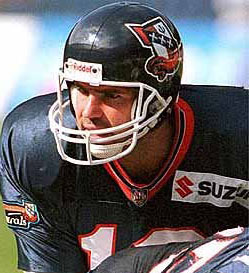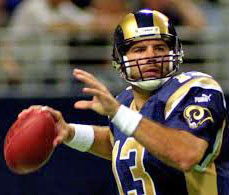 L-R: Kurt Warner in Arena Football, NFL Europe, and the Rams
At that point,
Warner
says he was just happy to be the backup. He wasn't truly competing for the starting job, and he was very famously offensive coordinator
Mike Martz
's favorite target.
"
Mike
would just destroy him. But we all knew what he was doing.
Kurt
would study and draw, study and draw. He obviously put in the work,"
Green
says. "The thought process was I wasn't going to get hurt and
Kurt
was going to have time to develop."
Green
did, of course, get hurt, tearing his ACL in the team's third preseason game.
Green
remembers discussions of the
Rams
trying to talk
Jeff Hostetler
out of retirement, but even through his own disappointment, he also remembers telling part-owner
Stan Kroenke
, "If
Kurt
goes out there and has some early success, it's just going to snowball.
"I thought he had potential. He needed experience,"
Green
says.
Warner
got a small dose of experience in the fourth preseason game; then, in the regular-season opener against the
Ravens
, he threw for 284y and three TDs in a 27-10 win. And, sure enough, the snowball started to roll. Lopsided victories over
Atlanta
and
Cincinnati
followed, then came a 42-20 drubbing of the
49ers
, a team that had beaten the
Rams
17 consecutive times before that game. It was during that week when
Warner
felt a change in the team.
"The way we came out and just dominated that game early on, we all started believing he had something,"
Warner
says.
"And "someone,"
Fletcher
adds.
"The thing that jumped out at me was
Kurt
's toughness in the pocket,"
Fletcher
says. "That game, the
49ers
came at him. There were times he knew he was about to get hit, and he just would not flinch. He wasn't out there chucking and ducking."
Each week,
Warner
found more admirers. He was ridiculously accurate, especially under pressure. He could release the ball a millisecond before the rush arrived, he saw the entire field, and he used every piece of what would prove to be an incredibly talented roster.
Looking back now,
Warner
believes he was uniquely prepared for his opportunity. The stints in the Arena League and NFL Europe gave him more snaps, he said, "than probably any backup in history." And then there was the style o those two leagues; in Arena football, the goal was to put up 50 points every game.
"My mindset was different from guys who play real football. In real football, you score 28 points, and that's a great game. Where I came from, if we punted twice, I was mad,"
Warner
says. "I'm asked a lot if I had the skills for arena football before or if I learned them there? I don't know the answer to that. But I know those skills became my greatest strengths in the NFL."
Fletcher
says
Warner
didn't change in any discernible way as the season went on ... and the
Rams
racked up wins. ...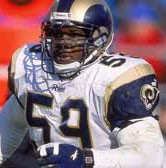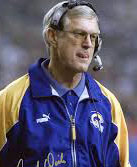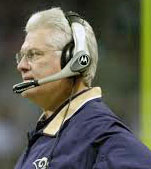 L-R: London Fletcher, Dick Vermeil, Mike Martz
The
Rams
' defense to this day is undersold; it generated turnovers and scored points itself. On offense, the team featured
Marshall Faulk
, a three-time Offensive Player of the Year, at RB. Rookie
Torry Holt
joined
Isaac Bruce
,
Ricky Proehl
, and
Az-Zahir Hakim
at WR, and the offensive line,
Warner
says, was one of the league's best. The unit became immor­talized as "The Greatest Show on Turf."
Warner
also had an attacking play-caller in
Martz
, a man who had designed a truly inno­vative offense that would ultimately set NFL records for scoring and yardage.
"The beautiful thing is that what we did offensively was just a perfect fit for me. It was designed around things I did well,"
Warner
says. "The throws they were asking me to make were right in my wheelhouse. And to the coaching staff's credit, even after
Trent
's injury, we still came out and did what we'd been doing before: We threw first."
And in
Vermeil
,
Warner
had a coach who truly ran a meritocracy. It was universally ex­pected that without a strong year,
Vermeil
would be out of a job at season's end. Still, he trusted his own eyes and not, as
Fletcher
put it, "the press clippings on somebody." ...
Warner
says he loves to joke that
Vermeil
's famous tears that 1999 preseason were "not for
Trent
's injury, but because they were stuck with me." But in the same breath, he adds, "Coach
Vermeil
believed in me. I'm a very realistic guy and I can see the big picture. It would have been very reasonable for him to say, 'I don't know if we can go down with this guy no one knows about.'"
By the time the 1999 playoffs rolled around, everyone in the football world knew about
Kurt Warner
and the
Rams
. They were undefeated at home, owned a conference-best 13-3 overall record, and their 526 points were 83 more than any other team. They beat the
Vikings
, 49-37, in the Divisional round and then their defense paced them to an 11-6 win over the
Buccaneers
in the NFC Championship Game.
Against the
Titans
in the Super Bowl, the
Rams
racked up yards early, as they always did, but couldn't punch the ball into the end zone. They held just a 9-0 halftime lead. In the third quarter,
Warner
hit
Holt
for the game's first TD - but then
Tennessee
came roaring back, scoring 16 straight points to knot the game with just 2:12 to play.
It was then that
Vermeil
grabbed
Warner
and told him that this would go as it always had when he was a big-dreaming kid playing in his yard. And it did. On the first play of the
Rams
' ensuing drive,
Warner
hit
Bruce
in stride at the
Titans
38. The receiver raced for the go-ahead TD, and although there was eventually a game-saving tackle from
Rams
LB
Mike Jones
to secure the win, that Super Bowl and that season are forever branded as the "Year of Kurt Warner." ...