CONTENTS
3-point Streak and Shoe Junkie
Some Rules Changes over the Years
Interesting Basketball Facts - III
Kenny George, UNC Asheville

UNC Asheville is the favorite to win the Big South conference this season. One of the reasons is the Bulldogs' 7'7" 360 lb. center, Kenny George, the tallest player ever in the conference. After 17 games, the junior from Chicago averaged 13.1 ppg and 8.8 RB. He had 74 blocks for his 13-4 team.

On January 19 [2008], George played only six seconds against VMI. Explained UNCA coach Eddie Biedenbach: "We didn't play Kenny today because I thought he needed a rest, and we need him for the whole season. But I'm glad we used him for those six seconds; it worked out well." Kenny entered the game with 12 seconds left in overtime and VMI leading 87-86. Asheville had the ball out of bounds on their end of the court. After a timeout, the Bulldogs lobbed the ball to George in the paint, and he laid it in for a one-point lead. The Keydets hurried down court but lost the ball out of bounds. George then left the game. UNCA made two free throws in the remaining six seconds to ice the game.

More info about Kenny George (New York Times, January 9, 2008)

With shoes on, he stands 7'9". He can dunk without leaving his feet.

He made the varsity squad his sophomore year at Latin School of Chicago when he was already 6'11". He has giantism (acromegaly) because of a tumor on the pituitary gland which causes an oversecretion of growth hormone.

By his senior year of high school, his feet had grown beyond size 23, which the largest size athletic shoe made. When his high school coach appealed to college and NBA teams, Shaquille O'Neal sent several pairs of his size 22's. The coach had to have the soles and soles cut off so that they could be reshaped to fit him. UNC Asheville has a contract with Nike, which makes 12 pairs of size 26 shoes for George.

His joints are under considerable stress. He is too tall to fit into the driver's seat; so he does not have a driver's license. When the semester ends, his father drives 650 miles from Chicago to take him home because he can't fit into any airline seat.

He averages 22 minutes per game, double what he did last season when he was coming off of two lost years due to a dislocated knee cap his senior year of high school and a first year at UNCA in which he was academically ineligible.
A Sports Illustrated article on the NBA D-League that features Randy Livingston also has some interesting points about Lance Allred, the hearing-impaired player that Rick Majerus was accused of verbally abusing at Utah.
"An illness at birth cost Allred 75% of his hearing ..."

"He was raised in polygamist communities in Montana and Utah before his parents left the Allred Group, which was founded by Lance's grandfather Rulon Allred, who was assassinated by rival polygamists in 1977."

Lance wasn't impressed with the polygamist lifestyle. "It's nothing I want any part of. Because marriage with one person, that's hard enough. Imagine being married to seven people?" Lance is single.

When he started playing basketball at 14, he had to learn how to read opponents' and teammates' body language "to compensate for what he couldn't hear on the court."

"He removes his $5,000 hearing aids before games because crowd noise ... renders them ineffective."

He earns $24,000 as the Idaho Stampede's starting center. He averages 18.8 ppg and 10.6 rpg.
Australian players are having an impact on major college basketball this season. One reason is because of the splash made by Andrew Bogut, the 7-footer from Melbourne who was 2005 national player of the year as a sophomore at Utah. (He was the #1 pick in the NBA draft that June.)



Patrick Mills

St. Mary's (CA) has four Aussies on its roster. The best of the bunch is freshman PG Patty Mills. He led the Gaels to their first AP ranking in 18 years (#24 in mid-December). (As this is written, SM is 18-3.) "Mills is one of the five best point guards in the country right now," according to Santa Clara coach Kerry Keating whose team was torched for 16 points and six assists by Patty. The reasons so many Aussies dot St. Mary's roster are assistant David Patrick, who grew up and played professionally Down Under, and head coach Randy Bennett, who has long tapped into Aussie talent. Bennett was the only head coach who visited Mills's parents during the recruiting process.

Vanderbilt has been sparked by 6'10" freshman Andrew Ogilvy from Sydney. Ogilvy is the Commodores' first impact C since Will Perdue (of Chicago Bulls fame) 20 years ago. Like most foreign players competing in the U.S., Ogilvy brings solid fundamentals to the U.S. game. "He's as dominant a big man as there is in the SEC," says UT's Bruce Pearl. Ogilvy averages 17.7 points and 6.6 rebounds for the 'Dores, who have lost four of their last six (all in the conference) after starting 17-0.

Andrew Ogilvy
The Texas Tech transition from Bobby Knight to his son Pat has garnered all the attention recently. However, another generational handoff occurred at the end of last season at Drake in Des Moines (IA). Dr. Tom Davis, renowned among his peers as an innovator and teacher of the game, turned over the reins to his son Keno. The younger Davis has guided the Bulldogs to a 22-2 record and a #15 ranking in the AP poll (although they will drop in the next vote because of their 65-62 loss at Southern Illinois February 13). Keno employs a spread offense based on his father's "flex" principles. Two of the starters are former walk-ons.
The Missouri Valley Conference Bulldogs made the NCAA tournament from 1969-1971 but not a single time since. Their last post-season action was the 1986 NIT.
Tennessee-Martin G Lester Hudson made the first quadruple double in NCAA Division I history on November 13, 2007 against Division II Central Baptist. The 6'3" junior's stats for the game: 25 points, 12 rebounds, 10 assists, and 10 steals.
Hudson has been no one-game wonder. He scored double doubles against #1 Memphis (35 pts. and 10 RBs) and Mississippi State (27/10). He also torched Vanderbilt for 36. Why isn't such a talented player competing for one of those schools?
Lester played only one season of high school ball at Central High of Memphis because of academic problems. Basically, all he wanted to do at school was play basketball to escape a troubled neighborhood environment. In his junior year, he averaged double figures in points and rebounds but was too old to play his senior year. At SW Tennessee Community College, he earned a GED, then played two seasons for the Saluqis, averaging 18 ppg his second year. His poor grades prevented BCS conference teams like USC, Michigan State, Illinois, and Tennessee from signing him. He even had to sit out last season at Martin. So now, at 23, he's finally playing Division I basketball.
The NCAA recognizes only one other quadruple-double: by Ann Meyers (the future Mrs. Don Drysdale) in 1978. The UCLA All-American tallied 20 points, 14 rebounds, 10 assists, and 10 steals against Stephen F. Austin.
The feat has been accomplished four times in the NBA: 1974: Nate Thurmond, Chicago; 1986: Alvin Robertson, San Antonio; 1990: Hakeem Olajuwon, Houston; and 1994: David Robinson, San Antonio.
Nevada Las Vegas has by far the longest streak of consecutive games with at least one 3-point FG: 695 (through its game of 2/26/08). The streak started November 26, 1986, in UNLV's first game under the new 3-point rule. That's right – the Runnin' Rebels have never finished a game without a 3-pointer since the arc was instituted. UNLV is the only school that can make that claim.


California G Patrick Christopher is a shoe junkie. He owns 50 pairs of Nike Air Force 1s and two dozen Air Jordans. He started his collection when he was five and donated them to a local church when he outgrew them. Christopher, a 6'5" 215 lb. sophomore from Compton CA, is averaging 16.6 ppg.
California Institute of Technology's men's basketball team has lost 273 straight Southern California Intercollegiate Athletic Conference games since 1985, which would seem to defy the odds that the math majors on the team could calculate. The Beavers ("nature's engineers," get it?) did win one game this past season, 81-52 over Bard College to end a 59-game losing streak. (In case you're wondering, Bard finished 8-17 this year.) CalTech competes in Division III, the NCAA's lowest category. Two league games went into OT but overall CalTech lost by an average of 29 points per game. A movie about CalTech's futility debuted in November 2007. Oh well, the school can console itself by bragging about the 31 Nobel Prize winners among its graduates and the fact that Einstein studied there.
1913: The bottom of the basketball net was left open for the first time. So it was no longer necessary to retrieve the ball from the net after a made basket.
1920: The backboards were moved two feet from the wall of the court. Before this, players would "climb" the padded wall to sink baskets.
1967: The slam dunk was made illegal in college basketball. This was done primarily to stop Lew Alcindor of UCLA.
1976: The dunk was made legal again.
Al McGuire

Remember when Dick Enberg and Al McGuire were the lead college basketball announcing team for NBC? Billy Packer, currently of CBS, also worked with them and frequently got into heated arguments with Al. McGuire took the position when he retired as coach at Marquette after winning the NCAA championship in 1977. Raised in New York City, the son of an Irish immigrant saloonkeeper, Al was always colorful as a coach and commentator.

Four years after Al's death from leukemia in 2001 at age 72, Enberg wrote a one-man play "McGuire" about his longtime friend and colleague. Dick wanted to share McGuire's wisdom in a way Al would have appreciated – honestly and humorously. The play debuted at Marquette and received favorable reviews.

In February, 2008, "McGuire" was staged at Hofstra University as a result of the men's coach, Tom Pecora, attending the play at the 2007 Final Four in Atlanta. After that performance, Enberg talked with the crowd, which included many coaches, and expressed his hope that the play could get some off-Broadway attention. Hofstra, on Long Island, could be considered "off Broadway."
Fans argue over which records are least likely to be broken in each sport, such as Joe DiMaggio's 56-game hitting streak or Georgia Tech 's 222-0 victory over Cumberland in football. In college basketball, the most unbreakable record may be Kentucky's 129-game home winning streak.

The streak began after a 45-40 loss to Ohio State on January 2, 1943.

It lasted until a 59-58 loss to Georgia Tech on January 8, 1955.

The streak covered two home courts. The first 84 games were in Alumni Gym. The last 45 were in 11,500-seat Memorial Coliseum.

In the 1953-4 season, Kentucky clobbered SEC foe Georgia Tech twice, by 52 and 51 points.

However, three top guns, Cliff Hagan, Frank Ramsey, and Lou Tsioropoulos, were gone from that team, which had finished 25-0 but declined a post-season invitation because three players were ruled ineligible for the NCAA tournament.
Nevertheless, #1-ranked UK (7-0) was a heavy favorite over John "Whack" Hyder's Tech team that limped into Lexington with a 2-4 record, including a loss to Sewanee in its preceding game.

In addition to the 129-game home winning streak, the Cats boasted two other streaks.

69-game SEC winning streak
32-game winning streak overall

Coach Adolph "Baron" Rupp hadn't even bothered to scout the Yellow Jackets.

The Wildcats admitted later that they looked past Tech to the next game against DePaul.
As a result, UK was sluggish and kept the visitors in the game with sloppy play.

1955

Georgia Tech

-Kentucky Action

Early in the second half, the Yellow Jackets, who never substituted the entire game, led Adolph Rupp's powerhouse by 8 points.

The Cats then came to life to take a 58-55 lead with 1:12 left. Tech G Bobby Kimmel, from Louisville, hit two FTs cut the lead to one.
With 18 seconds remaining, Billy Evans, Rupp's captain, lost the ball in a double team to 5'9" Joe Helms who hurried downcourt and hit a 12-foot jumper with 12 seconds left to put his team back in front.
UK's Linville Puckett misfired on a jump shot, and Phil Grawemeyer missed a tip-in before the horn sounded.
The capacity crowd of 8,500, most of whom had never seen Kentucky lose since games weren't televised in those days, sat in silence before they started leaving.
A puffy-eyed Rupp hurried from his bench to congratulate Hyder even before the Tech players could get to their coach.
UK football coach Blanton Collier appeared to be more upset than Rupp.

I'm sorry, Adolph. It's too bad - too bad.

Bob Burrow dunks.

Rupp was, for him, gracious in defeat.

They deserve everything they got. We have no one to blame but ourselves. We had the game won three times and lost it.

The Baron addressed the team after the game:

From this time until history is no longer recorded, you will be remembered as the team that broke that string. Even if you go on to win the NCAA championship, you must carry this scar with you the rest of your lives.

The Wildcats took out their frustration two nights later on DePaul 92-79.

They then won four straight conference road games leading up to a return visit to Atlanta.
Amazingly, Hyder's team whipped Rupp's boys again, 65-59.
Kentucky still won the SEC and finished #2 in the final AP and UPI polls.
They were ousted from the NCAA tournament by Marquette 79-71 in the Sweet 16 to finish 23-3.


John "Whack" Hyder


Adolph Rupp


Billy Evans in action


Linville Puckett


Phil Grawemeyer
Power Memorial Academy was an all-boys Catholic high school operated by the Irish Christian Brothers in New York City from 1931-1984. From the beginning, the Panther basketball teams were successful in the Big Apple's highly competitive Catholic league. However, Power's greatest era on the hardwood began in 1961 when a 6'10" freshman named Lewis Alcindor enrolled at the school.

Coach Jack Donahue immediately put the gawky youngster on the varsity.
As a sophomore, Alcindor, who also excelled in the classroom, averaged 19 ppg to lead the Panthers to 27 straight victories and the 1963 New York City Catholic High School championship.
Power's unbeaten streak continued the following year, as Lew increased his scoring to 26 ppg to spark another City Catholic High School championship.
Having grown to 7'2" as a senior, he averaged 33 a game. Of course, Power won the CHSAA championship again.
However, the 71-game winning streak was broken by DeMatha Catholic of Hyattsville, Maryland, another school nationally famous for its basketball tradition.
Power went 88-2 during Alcindor's four years.

Lew traveled across the continent to play for John Wooden at UCLA, leading the Bruins to three straight NCAA championships after sitting out his freshman year as required by the rules in force at that time.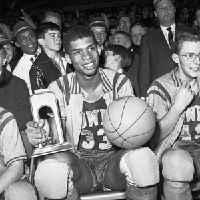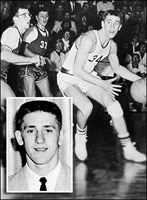 Lew Alcindor (L), Pat Riley (R)
Let's focus on the last game Power lost before the 71 straight victories.

The date was December 29, 1961.
Linton High School of Schenectady NY came to town and upset Power and its gangly freshman center, 74-68.
The star of the upstart upstate Blue Devils was Pat Riley. Turning down a football scholarship from Bear Bryant at Alabama, Riley played for Adolph Rupp's Kentucky Wildcats from 1963-7. His junior year, UK lost in the finals of the NCAA Tournament to Texas Western in a landmark game in which Western started five African-Americans. Pat played nine years in the NBA with the San Diego Rockets, Los Angeles Lakers, and Phoenix Suns.

Riley became head coach of the Lakers in 1981 and won the NBA championship his very first season. His Lakers lost in the finals the next two seasons before winning the title again in 1987 and 1988. They lost in the finals again in 1989. And who was the superstar C on all those teams? Kareem Abdul-Jabbar, that stringbean whom Riley faced in 1961 who had converted to Islam and changed his name ten years later.
Sporting News: "It was a ferociously waged game, a four-overtime thriller that left the Final Four crowd at Kansas City's Municipal Auditorium in awe. These guys were playing for something noble. They were, in fact, playing for third place. How 1960s. That Saint Joseph's and Utah would compete so valiantly in the national consolation game – Saint Joe's won, 127-120 – surely says a lot about who we were and what we have become. Third place is no longer to be admired, even it took the NCAA another two decades after the 1961 marathon to drop the game."
The 1961 Final Four was Saint Joseph's (Philadelphia) first – and to date its only one – and Utah's second. The Utes won the championship in 1944.
The follow-up to this inspiring story is very uninspiring. Saint Joseph's was eventually stripped of its third place award when three players were shown by New York DA Frank Hogan to have shaved points for gamblers during the season. Team captain John Egan, Frank Majewski, and Vincent Kempton were expelled from school.
| | | |
| --- | --- | --- |
| Jack Ramsey | The Saint Joe's coach in '61 was Jack Ramsey, who led the Hawks to 10 post-season appearances in his 11 years. He coached in the NBA for 21 years, winning a title with the Portland Trailblazers in 1977. One of the players on the '61 team was Jim Lynam, who coached his alma mater from 1978-81 and who has been a head coach in the NBA for ten seasons. | Jim Lynam |