July 9, 1915 - Comedy of Errors
SABR Games Project, sabr.org, Warren Corbett


The 1915
Cleveland Indians
, in their first year with that nickname after
Napoleon Lajoie
retired, were a woeful team with a near-bankrupt owner. They were in last place on July 19 when they made unwanted history as they lost their fifth straight to the
Washington Senators
, 11-4.
Washington
ran away with eight stolen bases in the first inning, still the major-league record — though it is a tainted one.
The
Senators
, who were on the fringe of the pennant race tied for fourth place, started their nonpareil,
Walter Johnson
at League Park in Cleveland, against a right-hander decorated with the name
Zerah Zequiel Hagerman
, who preferred to be called "
Rip
" for obvious reasons.
Hagerman
was a lanky Kansas farm boy like
Johnson
, but the resemblance ended there.
Hagerman
opened the top of the first by walking
Washington
leadoff man
Danny Moeller
. After
Eddie Foster
flied out,
Moeller
took second on a balk. By the rules of the time, he was credited with a stolen base; it is not a steal today. (The scoring rule was changed in 1955.)
Clyde Milan
walked, and he and
Moeller
executed a double steal. When
Cleveland
catcher
Steve O'Neill
threw to second,
Milan
got into a rundown while
Moeller
kept going around third to score, credited with two steals on the play.
Milan
escaped the pickle to complete a successful theft of second.
Hagerman
doled out his third walk, to
Howie Shanks
. Then the pitcher, asleep or shell-shocked, held the ball while
Milan
swiped third.
Chick Gandil
delivered
Washington
's first hit, a triple to left-center that brought home
Milan
and
Shanks
.
Cleveland
left fielder
Jack Graney
's poor throw allowed
Gandil
to score as well. At this point manager
Lee Fohl
mercifully relieved
Hagerman
, who had been ripped for four runs on one hit, three walks, an error, and five stolen bases.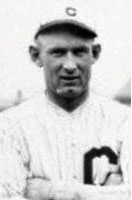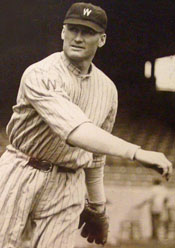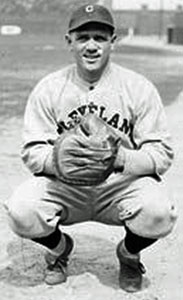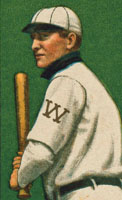 L-R: Rip Hagerman, Walter Johnson, Steve O'Neill, George McBride
The new pitcher, lefty
Sam Jones
, got
Tom Connolly
to fly to left for the second out. But
Eddie Ainsmith
singled to center, then stole second and went to third on catcher
O'Neill
's wild throw.
Jones
walked
George McBride
to keep the line moving. When
Jones
tried to pick
McBride
off first, the runner fled toward second and first baseman
Jay Kirke
's throw hit him in the back.
Ainsmith
raced home on the play, and
Kirke
's error allowed
McBride
to keep running. Center fielder
Billy Southworth
retrieved the ball, but his throw to third was wild, and
McBride
scored.
The official scorer ruled the Little League play a double steal,
Washington
's seventh and eighth thefts of the inning, with the
Indians
' third and fourth errors charged to
Indians
and
Indians
.
Indians
, the
Senators
' ninth batter, flied out to end the farce.
Johnson
walked to the mound with a 6-0 lead. The "King of Pitchers" had roiled the baseball world in the offseason when he signed with
Chicago
of the outlaw Federal League, then turned around and re-signed with
Washington
.
White Sox
owner
Charles Comiskey
had kicked in $6,000 to sweeten the
Senators
' offer and keep
Johnson
from joining the rival
Chicago
club.
Pitching just 18 days after the birth of his first child,
Walter Jr.
,
Johnson
knew what to do with a big lead: He coasted. "
Johnson
didn't exert himself in the least — he just shoved the ball over the pan and let the
Indians
hit it," the
Cleveland Leader
's
Charles W. Swan
wrote.
Cleveland
managed only two singles in six innings while the
Senators
built their lead to 8-0. Assured of his 15th win,
Johnson
retired to rest his arm. Indicative of his effort, he did not strike out a single batter for the only time in any of his starts that season
What's Old Is New Again
Sports Illustrated Spring 2020, Jack Dickey


Thomas Marshall
,
Woodrow Wilson
's vice president, threw out the first pitch at the
Washington Senators
' home opener against
Boston
; the
Indians
, behind CF
Tris Speaker
, got off to a 33-16 start. Yet it inaugurated a decade that remains one of the game's most memorable and dynamic. Small ball gave way to slugging. Total attendance, which had cleared 7 million just twice before, exceeded 9 million in seven of 10 seasons.
Lou Gehrig
,
Paul Waner
and
Lefty Grove
started their careers;
Speaker
,
Ty Cobb
and
Walter Johnson
ended theirs. And the lowly
Yankees
, stirred to life by their purchase of
Babe Ruth
just five days into the decade, opened Yankee Stadium and won six pennants and three World Series, en route to becoming the sport's signature franchise.
Any history-minded baseball nut (which is to say, any baseball nut) would likely recall the 1920s here in 2020, round numbers being what they are. But the resonance between those '20s and our '20s doubled with MLB's substantiation, in mid-January, of the extensive sign-stealing operation the
Astros
used during their '17 title run. The reason there is a commissioner of baseball to investigate and sanction
Houston
dates to the revelation, in 1920, that the 1919 World Series had been fixed for gamblers' benefit.
As with the
Astros
, a year's worth of whispers preceded a formal probe. (After his heavily favored team lost the best-of-nine World Series 5-3 to the
Reds
,
White Sox
owner
Charlie Comiskey
offered a $20,000 bounty, nearly $300,000 in today's money, to anyone with evidence of malfeasance.) Conducting the inquiry was a grand jury in Cook County, Ill., which had been convened to investigate game-fixing in baseball and then spent the final stretch of the 1920 pennant race hauling various stars before it.
Billy Maharg
, a gambler and onetime replacement player for the
Tigers
and
Phillies
, served as the scandal's
Mike Fiers
, telling all to the Philadelphia
North American
, and days later
Sox
righty
Eddie Cicotte
spilled to the grand jury. Though none of
Chicago
's so-called Eight Men Out was ever convicted of a crime, new commissioner
Kenesaw Mountain Landis
banned them all for life in August '21.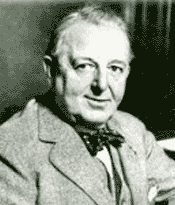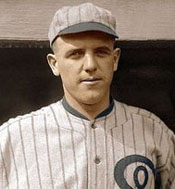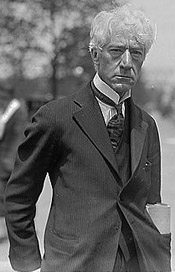 L-R: Charlie Comiskey, Eddie Cicotte, Kenesaw Mountain Landis
There are at least two salient lessons here, one for
Rob Manfred
and another for anyone with a stake in baseball's well-being.
The first - obvious, one would think, though it has eluded the commissioner - goes to the merits of decisive action against cheaters.
Manfred
slapped the
Astros
with a $5 million fine, stripped them of four draft picks and suspended G.M.
Jeff Luhnow
and manager
A.J. Hinch
. But his choice to release only a sliver of the evidence and offer
Houston
's players blanket immunity in exchange for their testimony nurtures suspicion and damns the cheaters, who, unpunished, are unable to pay their debt to baseball.
The second, and, again, Q.E.D.: Give the people who play and coach and think about this game the space to do what they do best and they can lift baseball from the mire of scandal to exciting new heights.
Vexatious Veecks - I
Bill Veeck: Baseball's Greatest Maverick, Paul Dickson (2012)
Shortly after persuading recalcitrant NL and AL owners to support the playing of the first All-Star Game in 1933, Bill Veeck Sr., General Manager of the Chicago Cubs, proposed another radical idea.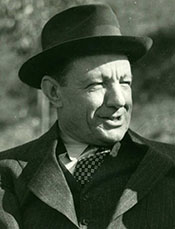 Veeck
senior was in New York City on August 22 (1933) for the
Cubs
-
Giants
game, but it was rained out. Gotham scribes were "looking for a rainy day story," which
Veeck
gave them. With an eye to
Cubs
attendance, which had shrunk by about 400,000 dur­ing the season, he proposed a series of mid-season games between American and National league teams as a means of stimulating interest in the game. He maintained that the game was in "critical condition" and that aggressive action had to be taken to revive interest before the 1934 season. "There is no use kid­ding ourselves any longer,"
Veeck
told
Alan Gould
of the Associated Press. "Only one big league club of 16 made money last year." He pointed out that anyone who looked at the attendance figures from July 5 until the middle of August saw that the game was in the doldrums.
Calling these weeks the game's "dog days,"
Veeck
urged their monotony be broken with interleague games that counted in the standings.
Veeck
's plan was quite specific: thirty-two interleague games for each club, with four against each team of other league - two home and two away.
Gould
's story appeared in every major city. The reaction to what the
Chicago Daily News
called a "radical prescription" was immediate.
Cleveland Indians
president
Alva Bradley
and
Brooklyn Dodgers
president
Stephen W. McKeever
had declared themselves definitely in favor of the idea, and the
Cardinals
'
Sam Brea­don
and the
Pirates
'
William Benswanger
felt it was worth considering.
Soon though, the "
Veeck
Plan," as it was known, was attracting serious American League opposition. Opined
Clark Griffith
, the gray-haired president of the
Wash­ington Senators
, "Nobody thinks of that sort of stuff unless he's deaf, dumb, and blind."
Col. Jacob Ruppert
, the owner of the
Yankees
, dismissed the notion, saying he had not given it "a single thought." The American League believed itself the superior circuit and did not want to share the box office draw of
Ruth
,
Gehrig
, and others.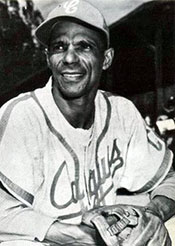 The day after
Veeck
's interview with
Alan Gould
was published, a letter dated August 23, 1933, was sent to
Veeck
's office from
Syd Pollock
, owner of the
Cuban Stars
, a semipro team playing in the Negro leagues. Addressing
Veeck
's statement that only one major-league club was profitable,
Pollock
urged that the ban on Negro teams be lifted, which would boost gate reve­nue throughout baseball. He proposed "pla­cing an en­tire Colored club to represent a city like Cincinnati in the National League and Boston in the American League." ...
Pollock
based his argument on having sent his
Cu­ban Stars
to play in thirty-two states during the previous season, in the process beating every white minor-league team they faced. He wrote about one of his stars,
Tetelo Vargas
, who he predicted would steal more bases during the season than any two cur­rent major-league players combined.
Vargas
had also hit seven consecutive home runs in two days against top semipro competition in 1931, but this feat was entirely ignored by the white press. "With a colored club in either or both circuits, these feats, common among colored ballplayers, would not go unnoticed and bring greater interest in baseball, with the necessary publicity to go with it."
To bolster his argument,
Pollock
quoted
Babe Ruth
's comment that "the colorful­ness of Negroes in baseball and their sparkling brilliancy on the field would have a tendency to increase attendance at games," [and]
Pirates
coach
Honus Wagner
's assertion that "the good colored clubs played just as good as seen anywhere" ...
The letter ended with the assurance that
Pollock
was in a position to assemble such a team or teams for the 1934 season. ...
Pollock
sent a copy of the letter to the local
North Tarrytown Daily News
, which published it the day after it was mailed to Veeck. In due course, it was picked up by the
Chicago Defender
,
Pittsburgh Courier
,
Amsterdam News
, and other Negro newspapers.
Whether
Veeck
had any thoughts of acting on the idea of a black team or teams in the majors is unknown. No surviving record exists of a response by
Veeck
to
Pollock
, which is most likely explained by the fact that
Veeck
was suffering the early stages of the illness [leukemia] that would take his life.
The Greatest Cardinal of Them All
"Player of the 1940s Decade: Stan Musial," St. Louis Cardinals 2017 Yearbook
The episodes that mark
Stan Musial
's performance in the 1940s have filled many pages in many books. He wasn't just the player of the decade for the
Cardinals
, he was the player of the decade in the National League, and arguably in all of baseball.
How he got to be that player was somewhat remarkable.
Musial
was a hard-throwing lefthanded pitcher growing up in Donora, Pa., so gifted that at 14, he was recruited to play for the semipro
Donora Zincs
. Standing all of 5-foot-4 and 140 pounds,
Musial
struck out 13 adult batters in his six-inning debut.
No question,
Musial
could throw hard. He just couldn't be certain where the ball was going.
Michael Duda
, who coached
Musial
in his only season of high school baseball at
Donora High
, recalled the quandary.
"The problem with him as a schoolboy pitcher was we couldn't find anyone who could catch him,"
Duda
said. "He might strike out 18 men, but half of them would get to first on dropped third strikes."
The good news:
Musial
had a knack for hitting, too. During that same season at
Donora High
, he batted. 455 and led the school to the Mon Valley High School championship. Passing up a possible scholarship to play basketball at the
University of Pittsburgh
,
Musial
signed a Class D contract with the
Cardinals
before the 1938 season.
In his organizational report on
Musial
, scout
Andrew French
wrote: "ARM? ... Good. FIELDING? ... Good. SPEED? ... Fast. Good curve ball. Green Kid. PROSPECT NOW? ... No. PROSPECT LATER? ... Yes."
But
Musial
's transition from suspect to prospect - to Hall of Fame - would include a dramatic change of direction, a shift that blossomed in the 1940s, and began by fate.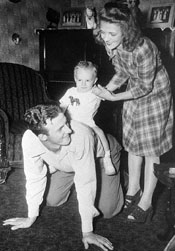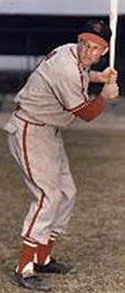 L-R: Young Stan Musial at Rochester; Stan and Lillian with their son Dick;
One of the most iconic stances in baseball history.
Musial
was still considered a pitcher by trade in 1940, and seemed to be progressing in Class D
Daytona Beach
. Manager
Dickie Kerr
was employing
Musial
as an outfielder on days he wasn't pitching, an approach that was working well as
Musial
won 18 games and batted over .300. But in August,
Musial
was playing in the outfield and hurt his left shoulder diving for a ball.
It was a bad break, probably the best bad break in the history of the franchise. His career as a pitcher would soon be over, and he was not disappointed. "More and more, I wanted to be a hitter,"
Musial
said years later.
The die, which would be underlined by 3,630 career hits, was cast. During the same season in which
Joe DiMaggio
hit safely in 56 consecutive games and
Ted Williams
batted .406,
Stan Musial
the hitter was born. In 1941, a 20-year-old
Musial
batted .379 at Class C
Springfield
, .326 at Class AA
Rochester
, and finally .426 in 12 late-season games in St. Louis.
During that September promotion, the
Cardinals
played a doubleheader with the
Chicago Cubs
in which
Musial
played left field in the first game and right field in the nightcap. In the first game, he made two diving catches, threw out a runner at the plate and collected four hits. In the nightcap, he stroked two more hits and made two more notable catches. Afterward,
Chicago
manager
Jimmie Wilson
offered, "Nobody can be that good.
Nobody
."
But
Musial
was just getting started.
Over the rest of the decade,
Musial
became the first player in baseball history to win three MVP awards and assumed his place as the National League's dominant gene. He won three batting titles and led the
Cardinals
to four World Series appearances (1942, '43, '44 and '46) in five years. In fact, the only year the club missed a pennant during that stretch - second-place in 1945 -
Musial
missed the season serving in the Navy.
From 1942 through '49, baseball's "perfect warrior" batted .346 with a .427 on-base percentage and .578 slugging average. He averaged 21 homers, 43 doubles, 100 RBIs and led the league in triples four times, and in doubles and hits five times.
"You could scout
Musial
by the sound of the ball hitting the bat," former teammate
Joe Garagiola
said. "You didn't even have to watch him."
You didn't have to watch him, no. But you couldn't help but watch him. While
DiMaggio
dated Hollywood starlets and
Williams
fought battles with the press,
Musial
was to baseball what
Andy
was to Mayberry. He married his high school sweetheart, signed countless autographs and represented wholesome values of his Midwestern surroundings.
"I remember one spring training I caught him entering the hotel lobby at 7 a.m.," recalled
Kerr
. "I thought he'd been out all night roaming the town. When I asked him about it, he said, 'No, sir. I'm coming back from morning Mass.'"
Bouts with appendicitis and tonsillitis pulled
Musial
down in 1947, as he "slumped" to a .312 average. He was determined to bounce back in 1948 and changed his batting approach to hit for more power. The result was one of the greatest seasons ever registered by a big-league player.
His .376 average won the batting title by 43 points. His .702 slugging average topped the category by 138 points. His 131 RBIs led the league, too, while his home run total (39) fell on shy of
Ralph Kiner
's and
Johnny Mize
's 40, denying
Musial
the Triple Crown. It was the only meaningful offensive category in which
Musial
did not rank first.
Perhaps one game in '48 best underscores the zone in which
Musial
was operating. The
Cardinals
were clinging to their pennant hopes when they faced the first-place
Boston Braves
on Sept. 22 and
Stan
was dealing with two swollen wrists. Carefully picking his spots, he took only five swings that game. And he went 5-for-5 with a home run, double and two RBIs. It was his fourth five-hit game of the season, tying a record set by
Ty Cobb
26 years earlier.
The
Cardinals
didn't catch the
Braves
that season (not for lack of effort by
Musial
, who hit .443 against them in 22 games), and they finished one game behind the
Brooklyn Dodgers
in 1949. A remarkable decade in
Cardinals
baseball had come to an end, but the legend of "
Stan the Man
" was just beginning.