What shortened the season
: The first major league players strike shut down the sport April 1 - just four days before Opening Day - and led to the cancellation of games through April 14.
Players had walked out near the end of spring training, demanding that owners in­crease contributions to their pension fund and cover higher premiums on their medi­cal insurance. Owners argued that their contribution of $5.45 million annually (from World Series TV revenue) was more than generous, especially because they were paying players higher salaries.
"I wouldn't give 'em a damn cent more,"
Cardinals
president
Gussie Busch
declared before the strike. "They (the players) are going to ruin baseball, the way they're go­ing. I intend to stand up to them."
The standoff ended just short of two weeks. Players got less than they wanted for the pension ($500,000 instead of $800000) but negotiated more for their health care fund ($490,000 vs. an initial offer of zero).
The final questions: Would the games be made up and would the players be paid for them? The answers: no. The strike cost each club an estimated $200,000 in lost revenue and each player 4.9 percent of his annual salary.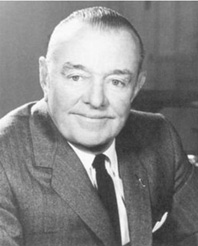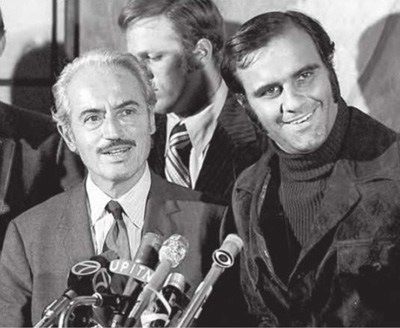 L: August Busch; R: Marvin Miller and Joe Torre announce end of players strike.
How it affected the Cards
: "On Opening Day, I was introduced in St. Louis ... as the most valuable player of the National League (for 1971). They booed me," recalled
Joe Torre
... As one of the
Cardinals
' two players-union reps (with SS
Dal Maxvill
),
Torre
became a visible presence during negotiations - and a target for fans.
Luckily for
Torre
, a crowd of only 7,808 showed up that day at Busch - a statement in itself. Fearful that fans would be angry, the
Cardinals
scrapped their traditional Opening Day pregame ceremonies. By June 1, the club was 14 1/2 games out of first and dead last in the NL East - another sore point for fans. They recognized a veteran-heavy roster hadn't stayed together during the strike and worked out as a unit the way some clubs had.
The
Cardinals
did climb into third place in July, but after winning 90 games and finishing second in 1971, the '72 team's final ledger (75-81, fourth place) did little for ticket sales. An average attendance of 15,544 per game remains the club's second-lowest since moving downtown in 1966.
It could be argued the prospect of a strike along with players demanding bigger sal­aries, both sore subjects with Busch, derailed not only the 1972 season but the rest of the decade. As talk of a strike grew, Busch reacted to contract holdouts by 20-game winner
Steve Carlton
and promising lefty
Jerry Reuss
by ordering them traded.
Carlton
, dealt in February, would go on to win four Cy Young Awards, 329 games and land in the Hall of Fame.
Reuss
, traded on Opening Day, pitched in the majors for 22 seasons and won 220 games.
"At that game,
Gussie Busch
wasn't going to have anyone dictate policy to him," said Torre, who also was a holdout that spring. "Over a couple of months, he traded both '
Lefty
' and
Reuss
. That sort of neutered our pitching staff."
Bottom line for baseball:
Perhaps the
Boston Red Sox
suffered the cruelest fate. Because the schedule picked up April 15, not all teams played an equal number of games.
Boston
played one fewer than
Detroit
- and lost the AL East by a half game to the
Tigers
. The
Oakland A's
... would defeat the
Reds
to win their first of three straight World Series.
He said it:
"Once the strike came around, that really turned him off. We were the only club in which the players were able to room by ourselves, without it costing us anything. There were a lot of little things about playing for the
Cardinals
like that, things he was responsible for, that made it special. I think, as well as he treated the players, he felt he deserved more than that. And I didn't disagree with him."
Torre, on why he sensed Busch never felt the same about the players after the strike.